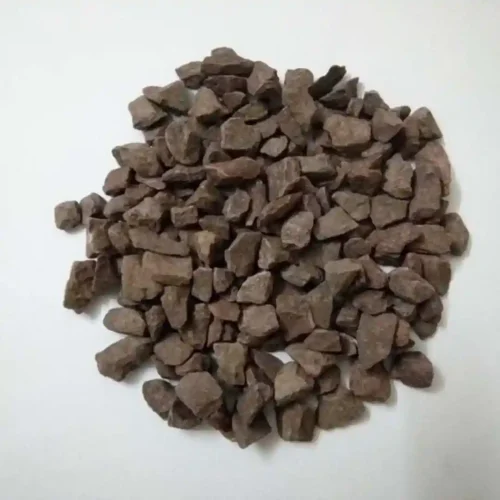 Description
Introducing Chocolate Stone Chips, an embodiment of natural richness that brings a warm and earthy touch to your landscaping and design endeavors. These unique chips, reminiscent of deep cocoa hues, add a sense of depth and sophistication to various applications. Whether you're enhancing pathways, creating borders, or adding a distinctive touch to your outdoor space, Chocolate Stone Chips offer a blend of elegance and versatility.

Color: Deep Chocolate Brown (resembling the warm and inviting tones of dark cocoa)

Size: Available in a variety of sizes, ranging from 1/4 inch to 3/4 inch, allowing for customization to suit your project's needs.

Texture: Featuring irregular and angular edges, these chips offer interlocking properties, making them ideal for driveways, pathways, and decorative installations.

Usage:

Landscaping: Frame your landscape with a touch of opulence by creating borders and accents using Chocolate Stone Chips.
Pathways: Craft inviting and rustic pathways that evoke a sense of nature's embrace, guiding you through your outdoor space.
Decorative Elements: Enhance the aesthetics of outdoor features, such as garden beds and water features, with a warm and distinctive touch.
Erosion Control: Utilize the interlocking nature of the chips to effectively prevent soil erosion in areas prone to water runoff.

Advantages:

Sophisticated Appeal: The deep chocolate brown color adds an element of refinement and warmth to your landscape design.
Durability: These chips compact effectively, creating a robust and stable surface suitable for driveways and pathways.
Low Maintenance: Embrace the convenience of low-maintenance landscaping, as Chocolate Stone Chips require minimal upkeep.
Versatility: Whether used for practical purposes or creative designs, these chips offer versatility to match various styles.

Installation:

Surface Preparation: Begin by thoroughly preparing the area, ensuring proper excavation and leveling to establish a solid foundation.
Application: Spread Chocolate Stone Chips evenly over the prepared area, achieving uniform coverage and desired thickness.
Compaction: Employ a roller or compactor to compact the chips, creating a durable surface capable of enduring regular usage.
Edging: Implement suitable edging materials to contain the chips and prevent them from spreading beyond their designated area.
Specification