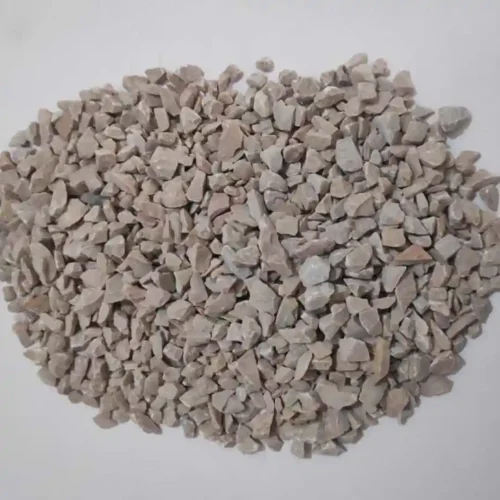 Description
Elevate your landscaping and design projects with the enchanting beauty of Pink Crushed Stone Chips. These exquisite chips add a delicate touch of color reminiscent of blooming flowers and romantic sunsets. Whether you're creating pathways, borders, or decorative accents, our Pink Crushed Stone Chips will infuse your outdoor spaces with elegance and charm.

Color: Delicate Pink (resembling the soft hues of blossoming petals)

Size: Available in a range of sizes, from 1/4 inch to 3/4 inch, providing flexibility for various applications.

Texture: Characterized by irregular and angular edges, offering interlocking properties suitable for driveways, pathways, and creative designs.

Usage:

Landscaping: Frame flowerbeds and garden features with a gentle and captivating border of Pink Crushed Stone Chips.
Pathways: Craft inviting pathways that exude romance and sophistication, guiding you through your outdoor haven.
Decorative Accents: Add a refined touch to fountains, planters, and other design elements, enhancing the overall aesthetics.
Erosion Control: The interlocking nature of the chips aids in preventing soil erosion, making them ideal for areas prone to water runoff.

Advantages:

Elegant Appeal: The soft pink color evokes feelings of romance and tranquility, enhancing the overall ambiance of your space.
Durability: These chips compact effectively, resulting in a sturdy and stable surface suitable for driveways and pathways.
Low Maintenance: Embrace the simplicity of low-maintenance landscaping, as Pink Crushed Stone Chips require no mowing or watering.
Versatility: Whether used functionally or decoratively, these chips offer versatility to suit various design visions.

Installation:

Surface Preparation: Begin by preparing the area, ensuring proper excavation and leveling to create a solid base.
Application: Distribute the Pink Crushed Stone Chips evenly over the prepared area, achieving uniform coverage and desired thickness.
Compaction: Employ a roller or compactor to compact the chips, establishing a durable surface capable of withstanding usage and foot traffic.
Edging: Install suitable edging materials to contain the chips and prevent spreading beyond the designated area.
Specification