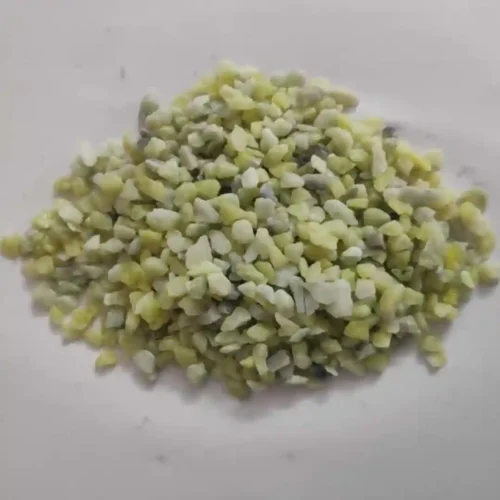 Lemon Crushed Stone Chips
Description
Introducing our Lemon Yellow Crushed Stone Chips, a vibrant and captivating addition to your landscaping and design projects. These carefully crafted chips bring a radiant burst of color reminiscent of sunlit fields and bright summer days. Perfectly suited for a range of applications, these lemon yellow crushed stone chips will elevate the aesthetics of your outdoor spaces with their distinct charm.

Color: Lemon Yellow (reminiscent of fresh, sun-kissed lemons)

Size: Available in various sizes, ranging from 1/4 inch to 3/4 inch, providing versatility in design and functionality.

Texture: Characterized by irregular and angular edges, offering excellent interlocking properties when used for driveways, pathways, and decorative features.

Usage:

Landscaping: Create eye-catching borders around flowerbeds, walkways, and garden features, infusing your landscape with the vibrancy of lemon yellow.
Driveways: Craft visually appealing and durable driveway surfaces that radiate warmth and elegance.
Pathways: Establish inviting pathways with a sunny ambiance, guiding visitors through your outdoor spaces with style and comfort.
Decorative Accents: Elevate the aesthetics of your outdoor or indoor areas, adding a pop of color to various design elements.
Erosion Control: The interlocking nature of the chips assists in preventing soil erosion in areas susceptible to water runoff.

Advantages:

Radiant Appeal: The lemon yellow color adds a lively and uplifting visual element, perfect for infusing energy into any landscape or project.
Durability: With their angular shape, these chips compact effectively, resulting in a sturdy and long-lasting surface for driveways and pathways.
Low Maintenance: Enjoy the benefits of a low-maintenance landscape as these chips do not require regular mowing or watering.
Versatility: Whether for functional applications or purely decorative purposes, these chips offer versatile solutions for a range of projects.

Installation:

Surface Preparation: Begin by preparing the area, ensuring proper excavation and leveling for a solid foundation.
Application: Spread the lemon yellow crushed stone chips evenly over the prepared area, achieving uniform coverage and desired thickness.
Compaction: Utilize a roller or compactor to compact the chips, establishing a stable surface that can withstand use and traffic.
Edging: Install appropriate edging materials to contain the chips and prevent them from spreading beyond the intended area.
Specification