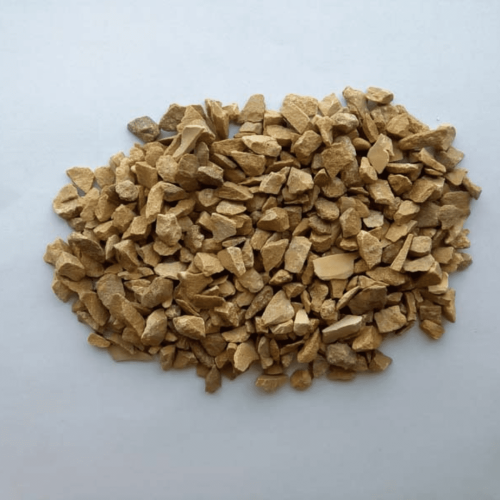 Yellow Crushed Stone Chips
Description
Yellow crushed stone chips are a type of decorative aggregate commonly used in landscaping and construction projects. These chips are created by crushing larger stones or rocks into smaller, uniformly sized pieces, resulting in a range of sizes from fine gravel to coarser fragments. The distinctive yellow color adds a vibrant and eye-catching element to various applications. Here is a detailed product description:

Color: Yellow (varying shades, from pale yellow to deeper golden tones)

Size: Available in various sizes, typically ranging from 1/4 inch to 3/4 inch, but can be customized to meet specific project requirements.

Texture: Irregular and angular edges, providing good interlocking properties when used in pathways or driveways.

Usage:

Landscaping: Yellow crushed stone chips are commonly used for landscaping purposes due to their vibrant color. They can be used to create visually appealing borders around flowerbeds, pathways, and other landscape features.

Driveways: The angular nature of these stone chips makes them suitable for driveway surfaces. When compacted, they can create a stable and durable surface that can withstand vehicle traffic.

Pathways: Yellow crushed stone chips can be used to create charming pathways in gardens, parks, and public spaces. Their natural texture provides good traction for pedestrians.

Decorative Features: These chips are often used to enhance the aesthetics of gardens, outdoor spaces, and even indoor spaces. They can be incorporated into various artistic and decorative designs.

Erosion Control: The interlocking nature of the stones can help prevent erosion in areas prone to soil loss due to water runoff.

Water Features: Yellow crushed stone chips can be used around water features like ponds, fountains, or streams to create a visually appealing contrast against the water.

Advantages:

Aesthetics: The distinctive yellow color adds a unique visual element to landscaping and design projects.

Durability: The angular shape of the stones allows for good compaction, resulting in a durable and stable surface when used for driveways or pathways.

Low Maintenance: Once properly installed, these stone chips require minimal maintenance. They don't need to be mowed or watered like natural grass, making them a low-maintenance landscaping option.

Versatility: Yellow crushed stone chips can be used in a wide range of applications, from practical uses like driveways to purely decorative applications.

Installation:

Preparation: The area where the stone chips will be installed should be properly excavated and leveled.

Laying the Chips: The crushed stone chips are then spread evenly over the prepared area, ensuring a uniform thickness.

Compaction: Using a compactor or roller, the stone chips are compacted to create a solid surface.

Edging: Installing edging materials around the area can help contain the stone chips and prevent them from spreading.
Specification