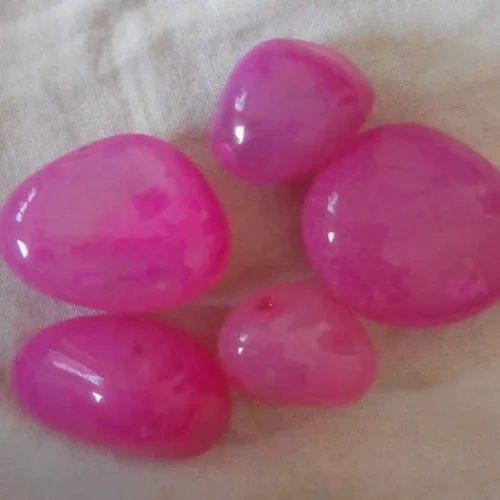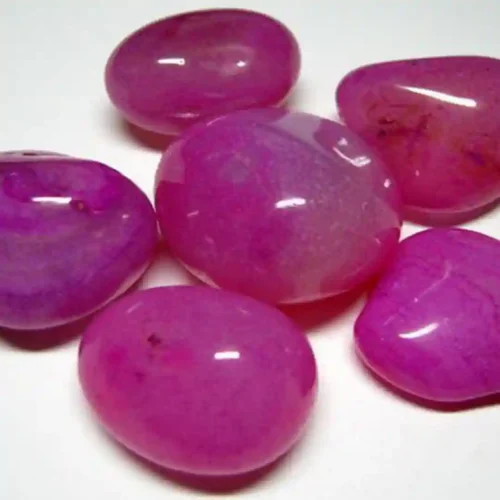 Pink Onyx Polished Pebbles
Description
Pink Onyx Polished Pebbles are exquisite natural decorative stones characterized by their delicate shades of pink and a polished finish that enhances their inherent beauty. Sourced from onyx formations and shaped by geological processes, these pebbles offer a unique and visually captivating option for landscaping and design projects, infusing spaces with a sense of elegance, warmth, and artistic allure.

Key Features:

Color: Pink Onyx Polished Pebbles showcase a range of delicate pink hues that evoke a sense of grace and charm. The pink colors add a touch of softness and sophistication to design settings, creating an inviting and elegant ambiance.
Polished Finish: The pebbles are meticulously polished to achieve a smooth and reflective surface. This polished finish intensifies the pink colors, adding a sense of refinement and refined beauty.
Texture: The polished surface of Pink Onyx Polished Pebbles is sleek and inviting to touch, exuding a luxurious and natural aesthetic.
Size and Shape: Available in various sizes with rounded and irregular shapes, allowing for creative design arrangements and layouts.
Translucence: Some onyx varieties may display a subtle translucence, creating a captivating interplay of light and shadow.

Applications:

Landscaping: Incorporate Pink Onyx Polished Pebbles to create elegant pathways, borders, and accents in gardens and outdoor spaces, infusing them with a sense of timeless beauty.
Water Features: Enhance water features such as ponds and fountains with a soft and romantic touch, imbuing them with an aura of serenity and charm.
Garden Decor: Thoughtfully integrate into garden beds, rock gardens, and planters, adding a touch of sophistication and visual interest.
Interior Design: Utilize Pink Onyx Polished Pebbles to introduce unique flooring patterns, decorative elements, or accents that celebrate the gentle beauty of pink tones.
Lighting Effects: Leverage the polished surface and potential translucence to create ethereal and enchanting lighting effects that evoke a sense of wonder and romance.
Elegant Spaces: Embrace the luxurious and timeless presence of Pink Onyx Polished Pebbles for designing spaces that exude elegance and refinement.
Artistic Installations: Incorporate these pebbles into artistic installations to create captivating focal points and evoke feelings of beauty and harmony.

Whether you're seeking to infuse your designs with an air of elegance, create intimate and romantic atmospheres, or enhance the visual allure of water features with a touch of sophistication, Pink Onyx Polished Pebbles offer a visually enchanting and creatively inspiring solution. Their delicate pink colors, polished texture, and potential translucence can add a sense of grace and artistic beauty to your design endeavors.
Specification