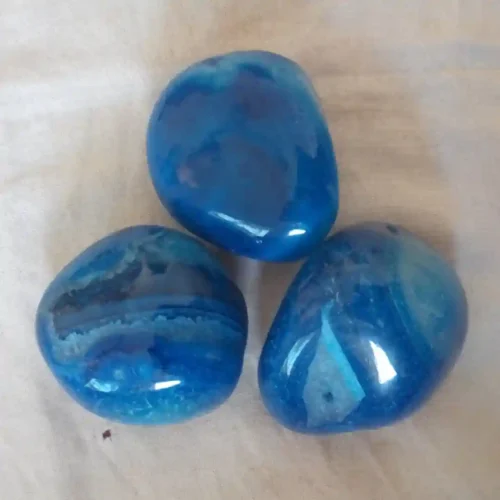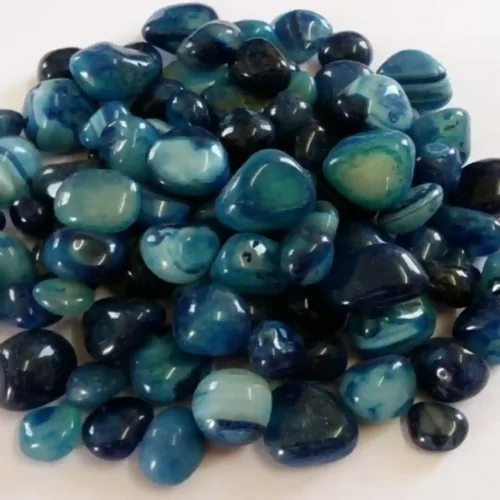 Blue Onyx Polished Pebbles
Description
Blue Onyx Polished Pebbles are captivating natural decorative stones characterized by their stunning shades of blue and a polished finish that enhances their inherent beauty. Sourced from onyx formations and shaped by geological processes, these pebbles offer a unique and visually captivating option for landscaping and design projects, infusing spaces with a sense of tranquility, depth, and artistic allure.

Key Features:

Color: Blue Onyx Polished Pebbles showcase a range of captivating blue hues reminiscent of serene oceans and skies. The blue colors add a soothing and calming element to design settings, creating a peaceful ambiance.
Polished Finish: The pebbles are meticulously polished to achieve a smooth and reflective surface. This polished finish intensifies the blue colors, adding a touch of sophistication and refined beauty.
Texture: The polished surface of Blue Onyx Polished Pebbles is sleek and tactile, inviting touch and interaction while exuding a natural and serene aesthetic.
Size and Shape: Available in various sizes with rounded and irregular shapes, allowing for creative design arrangements.
Translucence: Some onyx varieties may exhibit subtle translucence, creating a captivating play of light and shadow.

Applications:

Landscaping: Create captivating pathways, borders, and accents for gardens and outdoor spaces, infusing them with an aura of tranquility and artistic expression.
Water Features: Enhance ponds, fountains, and streams with a sense of serenity and aquatic allure, adding visual intrigue to aquatic environments.
Garden Decor: Thoughtfully integrate into garden beds, rock gardens, and planters, establishing a soothing and visually captivating ambiance.
Interior Design: Incorporate into interior design projects to introduce unique flooring patterns, decorative elements, or accents that celebrate the calming beauty of blue tones.
Lighting Effects: Utilize the polished surface and potential translucence to create serene and enchanting lighting effects, adding an ethereal quality to illuminated spaces.
Nautical and Coastal Themes: Embrace the serene and aquatic presence of Blue Onyx Polished Pebbles for designing spaces inspired by nautical or coastal aesthetics.
Aquariums: Enhance underwater landscapes in aquariums, providing a visually captivating and serene backdrop for aquatic life.

Whether you're aiming to create a tranquil aquatic retreat, infuse your interiors with the serene aesthetics of blue onyx, or enhance the visual allure of water features with a touch of natural elegance, Blue Onyx Polished Pebbles offer a visually enchanting and creatively inspiring solution. Their captivating blue colors, polished texture, and potential translucence can add a sense of tranquility and artistic beauty to your design pursuits.
Specification