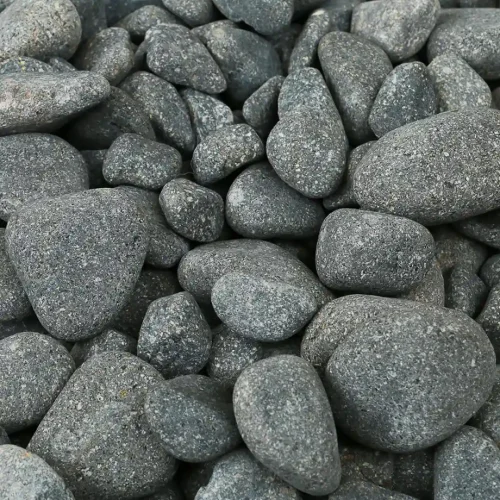 Description
Black Basalt Pebbles are natural decorative stones known for their sleek and dark appearance, originating from volcanic rock formations. These pebbles are typically found in riverbeds and along shores, where water has naturally shaped and polished them over time. Black Basalt Pebbles offer a modern and sophisticated choice for landscaping and design projects, adding a touch of elegance and contrast to various indoor and outdoor spaces. Here are some key features and details about Black Basalt Pebbles:

Key Features:

Color: Black Basalt Pebbles showcase a deep and rich black color that exudes a sense of modernity and luxury. The dark hue adds a striking and dramatic element to design settings.
Texture: The pebbles have a smooth and tactile texture, offering comfort underfoot and a pleasing tactile experience.
Size: Available in different sizes, Black Basalt Pebbles provide flexibility for creative design arrangements and layouts.
Shape: The pebbles typically have rounded and irregular shapes, contributing to their natural and organic appearance.
Origin: Black Basalt Pebbles are formed from volcanic rock, which gives them a unique appearance and texture that reflects their geological origin.
Durability: Black Basalt Pebbles are durable and well-suited for outdoor use. They maintain their appearance even when exposed to weather conditions.

Application Areas:

Landscaping: Black Basalt Pebbles are often used in landscaping projects to create pathways, borders, and accents that add a touch of modern elegance to gardens, outdoor spaces, and contemporary landscapes.
Water Features: The sleek and dark appearance of the pebbles makes them an intriguing choice for water features such as ponds, fountains, and streams, creating a sense of depth and contrast.
Garden Decor: These pebbles can be creatively integrated into garden beds, rock gardens, and planters to achieve a minimalist and sophisticated ambiance.
Interior Design: Black Basalt Pebbles can be incorporated into interior design projects to create unique flooring patterns, decorative elements, or accents that add a modern edge to spaces.
Zen Gardens: The sleek and calming presence of Black Basalt Pebbles makes them suitable for designing Zen-inspired gardens that emphasize simplicity and refinement.
Hardscape Elements: Black Basalt Pebbles can be used in hardscape elements such as pathways, steps, and retaining walls to create a contemporary and visually appealing design.
Aquariums: Black Basalt Pebbles can be employed in aquariums to create a striking and visually captivating underwater landscape, providing a modern backdrop for aquatic life.



Whether you're aiming to create a contemporary outdoor retreat, infuse your interiors with a touch of modern elegance, or enhance the aesthetics of water features with a sleek and dark contrast, Black Basalt Pebbles offer a visually captivating and sophisticated solution. Their deep black color and smooth textures can add a sense of refinement and modernity to your design endeavors.
Specification