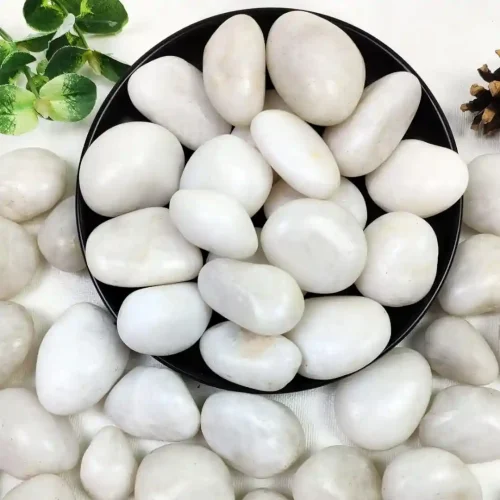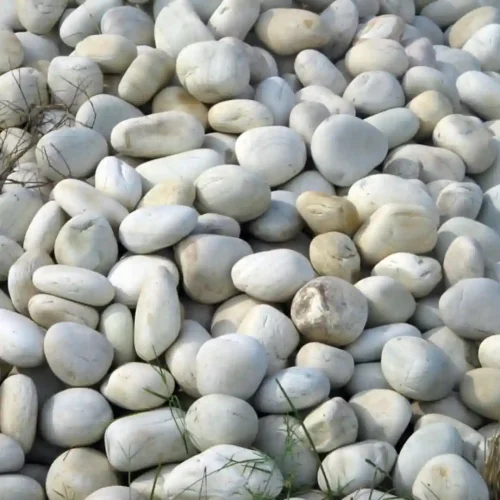 Description
White River Pebbles are natural decorative stones that are characterized by their smooth, rounded shapes and beautiful white color. These pebbles are typically found along riverbeds and shores, where the constant movement of water has shaped and polished them over time. White River Pebbles are popular for landscaping and various design applications due to their aesthetic appeal and versatility. They can add a touch of elegance and tranquility to both outdoor and indoor spaces. Here are some key features and details about White River Pebbles:

Key Features:

Color: The pebbles showcase a pure white or off-white color, creating a clean and serene appearance that complements various design styles.
Texture: The natural polishing process gives the pebbles a smooth and tactile texture, making them comfortable to walk on and pleasant to touch.
Size: White River Pebbles come in various sizes, ranging from small to large. Their diverse size range allows for creative and customizable design options.
Shape: The pebbles typically have rounded and irregular shapes, which contribute to their natural and organic look.
Durability: White River Pebbles are durable and can withstand outdoor weather conditions. They are resistant to fading and maintain their color over time.
Versatility: These pebbles can be used in a wide range of applications, from landscaping and pathways to water features and interior decor.

 

Application Areas:

Landscaping: White River Pebbles are commonly used for landscaping projects to create pathways, borders, and decorative accents in gardens, courtyards, and outdoor spaces. Their white color contrasts well with greenery and other plants.
Water Features: The smooth and white surface of the pebbles adds a serene and natural look to water features such as ponds, fountains, and waterfalls.
Garden Decor: White River Pebbles can be used in garden beds, rock gardens, and around planters to enhance the aesthetic appeal and create a cohesive design.
Interior Design: These pebbles can be used creatively in interior design, such as for creating accent walls, decorative bowls, and unique flooring patterns.
Zen Gardens: The calming and soothing appearance of White River Pebbles makes them ideal for creating Zen-inspired gardens or meditation spaces.
Driveways and Walkways: When combined with other materials like pavers or concrete, the pebbles can be used to create visually appealing driveways and walkways.
Aquariums: White River Pebbles are safe for use in aquariums and fish tanks, adding a natural and aesthetic element to aquatic environments.

Whether you're looking to add a touch of elegance to your garden, create a serene water feature, or enhance your indoor decor, White River Pebbles offer a versatile and visually appealing solution. Their natural beauty and calming effect make them a popular choice for a wide range of design applications.
Specification