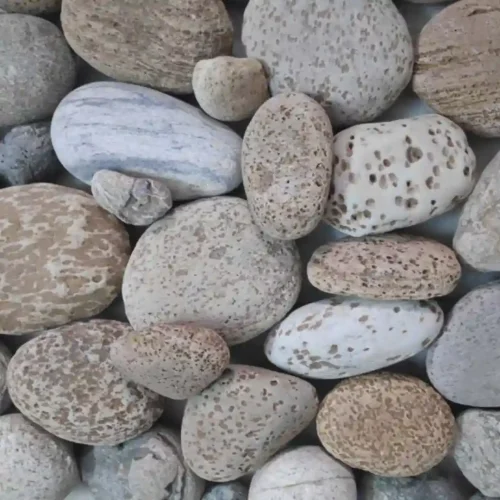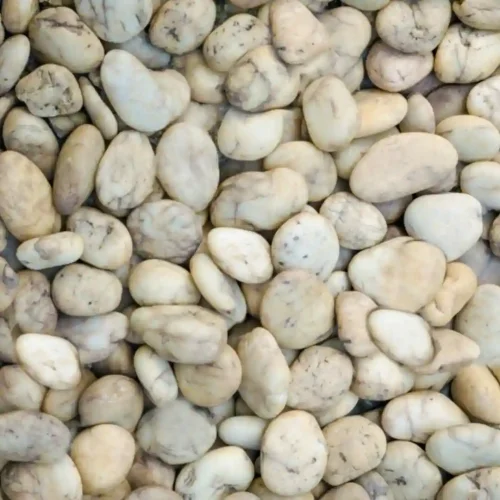 Description
Antique River Pebbles are natural decorative stones known for their unique character, smooth, rounded shapes, and weathered appearance that harks back to the past. These pebbles are typically found in riverbeds and along shores, where the constant movement of water has naturally shaped and aged them over time. Antique River Pebbles are a captivating choice for landscaping and design projects, adding a sense of history and nostalgia to various indoor and outdoor spaces. Here are some key features and details about Antique River Pebbles:

Key Features:

Appearance: Antique River Pebbles display a charming and weathered look, resembling stones that have been worn down by years of exposure to the elements. This aged appearance adds a unique and nostalgic touch to design settings.
Color: The pebbles may exhibit a range of colors, from subtle and muted tones to more pronounced shades, reflecting the natural aging process.
Texture: The pebbles have a smooth and tactile texture, offering comfort underfoot and a pleasing tactile experience.
Size: Available in different sizes, Antique River Pebbles provide flexibility for creative design arrangements and layouts.
Shape: The pebbles typically have rounded and irregular shapes, contributing to their natural and organic appearance.
Durability: Antique River Pebbles are durable and well-suited for outdoor use. They maintain their unique appearance even when exposed to weather conditions.

Application Areas:

Landscaping: Antique River Pebbles are often used in landscaping projects to create pathways, borders, and accents that evoke a sense of history and timelessness in gardens, outdoor spaces, and naturalistic landscapes.
Water Features: The weathered and nostalgic appearance of the pebbles makes them an interesting choice for water features such as ponds, fountains, and streams, infusing the design with a sense of antiquity.
Garden Decor: These pebbles can be creatively integrated into garden beds, rock gardens, and planters to add a touch of old-world charm and create a unique and captivating ambiance.
Interior Design: Antique River Pebbles can be incorporated into interior design projects to create distinctive flooring patterns, decorative elements, or accents that transport spaces to bygone eras.
Zen Gardens: The aged and contemplative presence of Antique River Pebbles makes them suitable for designing Zen-inspired gardens or serene meditation spaces with a sense of history.
Driveways and Walkways: When combined with other materials like concrete or pavers, the pebbles can contribute to the design of pathways, driveways, and walkways that exude an antique charm.
Aquariums: Antique River Pebbles can be employed in aquariums to create an intriguing and visually engaging underwater landscape, providing a backdrop that suggests the passage of time.

Whether you're aiming to create a nostalgic outdoor haven, infuse your interiors with a sense of history, or enhance the ambiance of water features with an antique touch, Antique River Pebbles offer a visually captivating and evocative solution. Their weathered appearance and smooth textures can transport your design endeavors to a different era, adding a layer of storytelling and intrigue to your spaces.
Specification