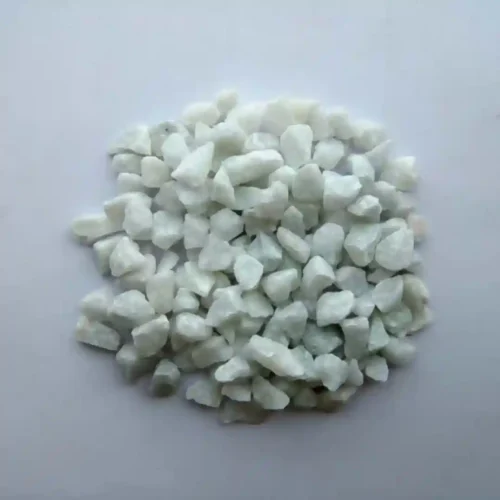 White Crushed Stone Chips
Description
White crushed stone chips are a type of decorative aggregate frequently used in landscaping and construction projects. These chips are produced by crushing larger stones or rocks into smaller, uniformly sized pieces, resulting in a clean and bright appearance. The white color adds a crisp and timeless element to various applications. Here's a detailed product description for white crushed stone chips:

Color: White (pure white or off-white shades)

Size: Available in various sizes, typically ranging from 1/4 inch to 3/4 inch, with customization options to meet specific project needs.

Texture: Irregular and angular edges, providing good interlocking properties suitable for driveways, pathways, and other uses.

Usage:

Landscaping: White crushed stone chips are valued for their elegant and classic look. They can be used to create well-defined borders around flowerbeds, walkways, and other landscape features.

Driveways: The angular stone shape makes white crushed stone chips suitable for crafting visually appealing and durable driveway surfaces. When compacted, they offer stability and can withstand vehicle traffic.

Pathways: White crushed stone chips can be used to establish pristine pathways in gardens, parks, and outdoor spaces. The natural texture ensures good traction for pedestrians.

Decorative Features: These chips are often used to enhance the aesthetics of various outdoor and indoor areas, adding a touch of sophistication and timelessness.

Erosion Control: The interlocking properties of the stones can help prevent soil erosion in areas prone to water runoff.

Water Features: White crushed stone chips can be placed around water features like ponds, fountains, or streams to create a striking contrast against the water.

Advantages:

Aesthetics: The white color lends a clean, bright, and timeless look to landscaping and design projects.

Durability: The angular stone shape facilitates effective compaction, resulting in a durable and stable surface for driveways, pathways, and other applications.

Low Maintenance: As with other crushed stone chips, white variants require minimal maintenance and do not need regular mowing or watering.

Versatility: White crushed stone chips can be used for various applications, from practical purposes such as driveways to purely decorative uses.

Installation:

Preparation: Prepare the installation area by excavating and leveling the surface to ensure proper placement of the white crushed stone chips.

Spreading the Chips: Distribute the crushed stone chips evenly over the prepared area to achieve uniform coverage.

Compaction: Compact the stone chips using a roller or compactor to create a solid and stable surface that can endure traffic and use.

Edging: Install appropriate edging materials to contain the stone chips and prevent them from spreading beyond the intended area.
Specification