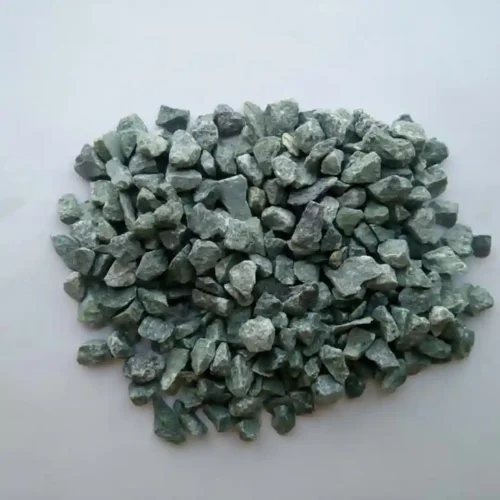 Description
Grey crushed stone chips are a versatile type of decorative aggregate commonly used in various landscaping and construction projects. These chips are created by crushing larger stones or rocks into smaller, uniformly sized pieces. The neutral grey color offers a subtle and adaptable element that can complement a wide range of design styles. Here's a detailed product description for grey crushed stone chips:

Color: Grey (varying shades, from light silver to charcoal)

Size: Available in different sizes, typically ranging from 1/4 inch to 3/4 inch, with the option for customization based on project requirements.

Texture: Irregular and angular edges, providing good interlocking properties suitable for driveways, pathways, and other applications.

Usage:

Landscaping: Grey crushed stone chips are valued for their understated and versatile appearance. They can be used to create well-defined borders around flowerbeds, walkways, and other landscape features.

Driveways: The angular stone shape makes grey crushed stone chips suitable for crafting visually appealing and durable driveway surfaces. When compacted, they offer stability and can withstand vehicle traffic.

Pathways: Grey crushed stone chips can be used to establish pathways in gardens, parks, and outdoor spaces. The natural texture ensures good traction for pedestrians.

Decorative Features: These chips are often used to enhance the aesthetics of various outdoor and indoor areas, adding a touch of sophistication that complements various design styles.

Erosion Control: The interlocking properties of the stones can help prevent soil erosion in areas prone to water runoff.

Advantages:

Neutral Aesthetics: The grey color provides a neutral backdrop that can fit seamlessly with a variety of design themes and color palettes.

Durability: The angular stone shape facilitates effective compaction, resulting in a durable and stable surface for driveways, pathways, and other applications.

Low Maintenance: As with other crushed stone chips, grey variants require minimal maintenance and do not need regular mowing or watering.

Versatility: Grey crushed stone chips can be used for various applications, from practical purposes such as driveways to purely decorative uses.

Installation:

Preparation: Prepare the installation area by excavating and leveling the surface to ensure proper placement of the grey crushed stone chips.

Spreading the Chips: Distribute the crushed stone chips evenly over the prepared area to achieve uniform coverage.

Compaction: Compact the stone chips using a roller or compactor to create a solid and stable surface that can endure traffic and use.

Edging: Install appropriate edging materials to contain the stone chips and prevent them from spreading beyond the intended area.
Specification