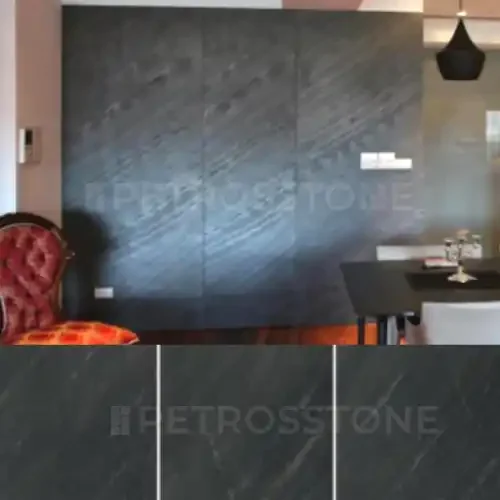 Description
Line Black Stone Veneer captures the modern elegance of black-colored stones while featuring linear patterns or textures that enhance its visual appeal. The deep black color gives it a contemporary and sophisticated look, making it suitable for a wide range of design styles. This veneer combines the visual charm of black stones with the practicality and versatility of stone veneer.

Key Features:

Sleek Modernity: Line Black Stone Veneer embodies a sleek and modern aesthetic with its deep black color and linear patterns, adding a touch of sophistication to design projects.

Versatile Application: Suitable for a wide range of design applications, it complements contemporary and minimalist design styles, both indoors and outdoors.

Customization: Available in various stone types, thicknesses, sizes, and linear patterns, allowing for personalized creativity and flexibility in design.

Durability: Offers the durability and longevity of natural stone, making it a practical choice for both interior and exterior projects.

Applications:

Interior Accent Walls: Create a striking focal point in living rooms, dining areas, or entryways with Line Black Stone Veneer as an accent wall.

Contemporary Fireplaces: Elevate the aesthetics of modern living spaces with Line Black Veneer used for fireplace surrounds, imparting a sense of luxury and sophistication.

Commercial Spaces: Enhance the ambiance of upscale restaurants, bars, hotels, and retail stores with the sleek and contemporary appeal of this veneer.

Architectural Features: Incorporate it into architectural elements like columns, partitions, and facades to create visually stunning and memorable designs.

Exterior Cladding: Give buildings a contemporary and minimalist look by using Line Black Stone Veneer for exterior siding, creating a bold and stylish facade.
Specification