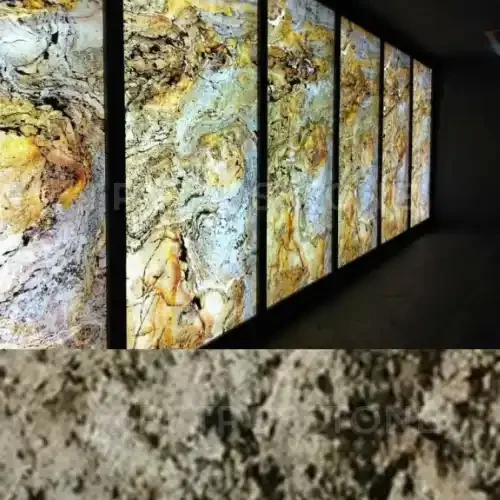 Auro Lumis Translucent Stone Veneer
Description
Auro Translucent Stone Veneer represents the pinnacle of modern design, where the timeless elegance of natural stone meets the captivating allure of translucency. Crafted with precision from the finest natural stone slabs, Auro Veneer undergoes a transformative process that infuses it with translucency, allowing light to dance through its exquisite surface. The result is a material that not only showcases the raw beauty of stone but also adds a dynamic, luminous dimension to any architectural or interior design project.

Key Features:

Transcendent Beauty: Auro Translucent Stone Veneer harnesses the inherent splendor of natural stone and elevates it with a luminous glow, creating an atmosphere of enchantment.
Versatile Applications: Suitable for a wide range of applications, from residential interiors to commercial spaces, enhancing any environment with its awe-inspiring presence.
Customization: Tailored to meet your specific design vision, with options for stone types, thicknesses, sizes, and lighting effects.
Durability and Longevity: Combines the timeless durability of natural stone with innovative technology, ensuring that your design will stand the test of time.
Energy Efficiency: The veneer's translucent properties make it an energy-efficient choice, offering an enchanting play of natural or artificial light.

Applications:

Backlit Feature Walls: Create captivating focal points in living rooms, lobbies, or reception areas.
Countertops and Bars: Infuse kitchens, bars, and restaurants with a touch of contemporary luxury.
Retail Environments: Set the stage for product displays that captivate and enthrall shoppers.
Hospitality Spaces: Elevate the ambiance of hotels, spas, and resorts with a magical glow.
Architectural Elements: Add dimension to columns, partitions, and architectural features.

Maintenance: Regular cleaning with a mild, pH-balanced stone cleaner is recommended to maintain the veneer's translucent properties. Lighting components may require occasional maintenance.

Auro Translucent Stone Veneer is a testament to the harmony between nature and innovation. With its breathtaking aesthetics and luminous quality, it transcends traditional design, inviting you to explore the boundless possibilities of light and stone. Immerse yourself in the enchantment of Auro Translucent Stone Veneer and bring a touch of magic to your design projects.
Specification