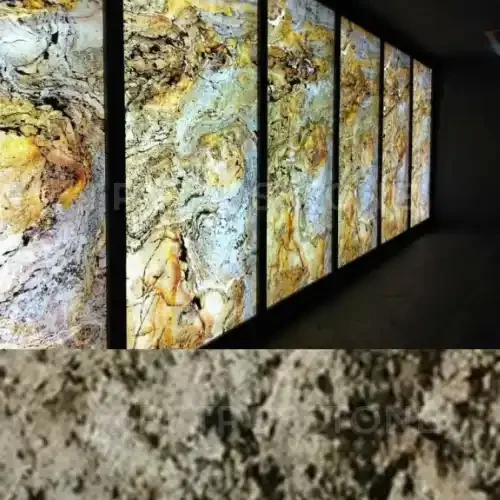 Auro Lumis Translucent Stone Veneer
Description
Auro Lumis Translucent Stone Veneer is a revolutionary architectural material that redefines the way we think about stone in design. Crafted from meticulously selected natural stone and enhanced with advanced translucency technology, Auro Lumis offers a captivating fusion of elegance and illumination. With the ability to transmit and diffuse light, this veneer transforms any space into a radiant masterpiece, making it a preferred choice for designers, architects, and visionaries.

Key Features:

Translucent Beauty: Auro Lumis Stone Veneer features the inherent beauty of natural stone while allowing light to pass through, creating an ethereal glow.
Versatile Design: Suitable for both interior and exterior applications, it offers limitless design possibilities.
Customizable: Can be customized to meet specific design requirements, including size, shape, and color variations.
Durability: Combines the durability of natural stone with innovative technology for long-lasting, stunning results.
Energy-Efficient: Utilizes natural or artificial light sources, reducing the need for additional lighting in some applications.

Applications:

Backlit Feature Walls: Create stunning focal points in residential or commercial spaces.
Countertops and Bars: Add a touch of luxury to kitchens, bars, and restaurants.
Reception Areas: Impress visitors with illuminated reception desks and feature walls.
Hospitality: Elevate the ambiance of hotels, spas, and resorts.
Retail Displays: Showcase products with a captivating and dynamic backdrop.
Exterior Facades: Make a bold architectural statement with illuminated exteriors.

Maintenance: Routine cleaning with a mild, pH-balanced stone cleaner is recommended to maintain the veneer's translucent properties. The lighting components may require occasional maintenance.

Elevate your design projects with the mesmerizing beauty of Auro Lumis Translucent Stone Veneer. Its ability to harness light and transform spaces makes it an exceptional choice for those seeking to create environments that inspire awe and wonder. Discover the endless possibilities of light and stone with Auro Lumis.
Specification