Italian marble is best known for its opulent nature, beautiful patterns and excellent sheen that it can bring to any space. Italian marble fits into any luxury space, interior or exterior. Lets look at some of the best Italian Marbles and Italian Marble price that are available in India.
Amongst all the Italian marbles, the most in-demand ones are the Carrara and Statuario marbles because of their design and beauty. Apart from these, there is Armani Brown, Bianco Beige, and Nero Portoro are also amongst the top Italian marbles available in India
---
Here is a list of the 50 Best Italian Marbles in India with Price:
Italian Marble Price List
---
Types of Italian Marble
---
1. Statuario Italian Marble
This Italian marble is highly renowned when it comes to imported natural stones. It is quarried from the famous Carrara region in Italy.
You can use Statuario marble for flooring, and kitchen and bathroom countertops. You can use this marble for both indoor and outdoor applications.
Statuario is a luxurious and expensive marble. Many Italian artists have used these marbles as a canvas. To give you one such example, Michelangelo's David sculpture is made out of a single block of Statuario marble.
Statuario marble is a popular choice due to its everlasting hardness, durability, and its transparent sheen.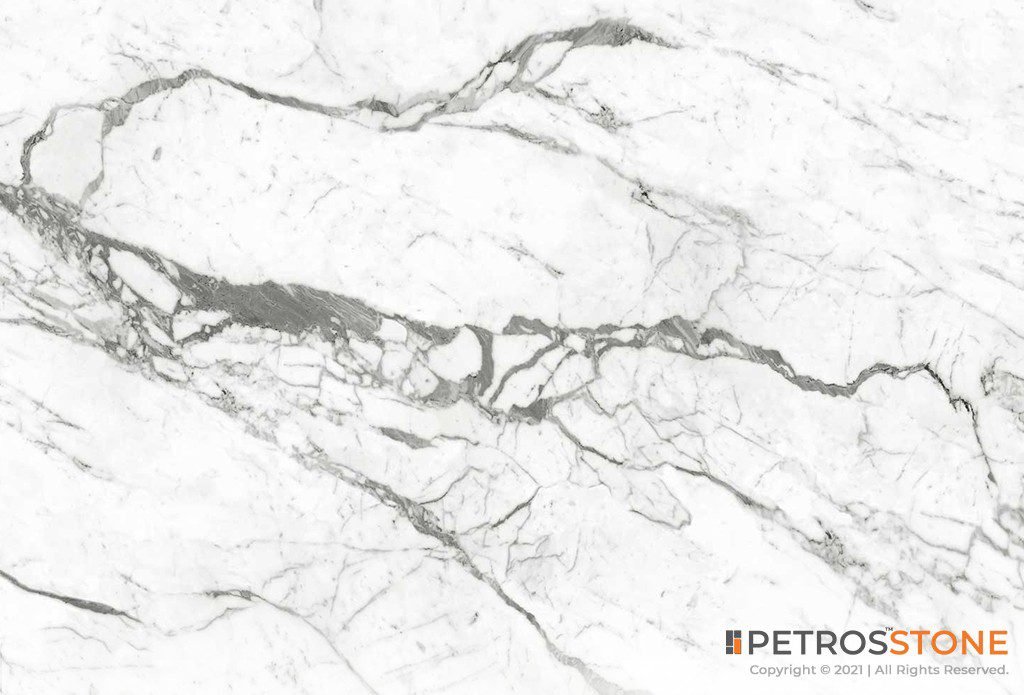 ---
2. Carrara White Italian Marble
Carrara Marble is another widely used marble mined from the town of Carrara in Italy.
It is a limestone-based rock. Its texture is formed due to microorganisms that have been fossiled in it, millions of years ago.
The main characteristic of this marble is its blueish-grey colour and so it can be used for a lot of niche space designs. Some of the examples are kitchen and bathroom countertops, vanity top, flooring, wall claddings, and pool decks.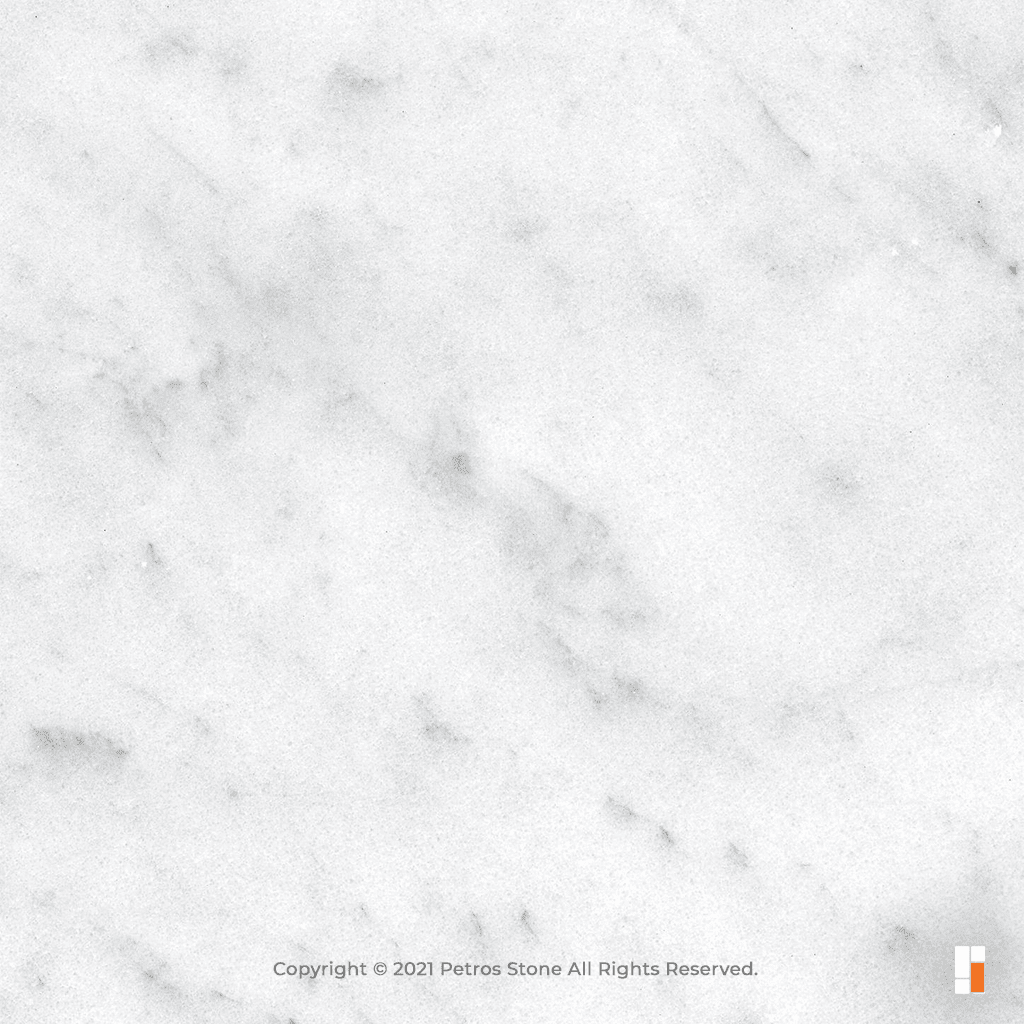 ---
3. Calacatta White Marble
Calacatta White marble also originated from the Carrara region in Italy. As we can see the top 3 marbles on this list are from the same region in Italy.
Calacatta white is a marble that finds application in many things such as kitchen countertops, flooring and bathroom walls.
This marble is durable and has a good sheen which can be utilised for flooring, wall cladding and countertop purposes.
This marble is one of many Calacatta marbles on this list, so one way to define this marble is by spotting the bluish gold streaks. Ideally, you would want consultation for your selection. Feel free to reach out to us for the same.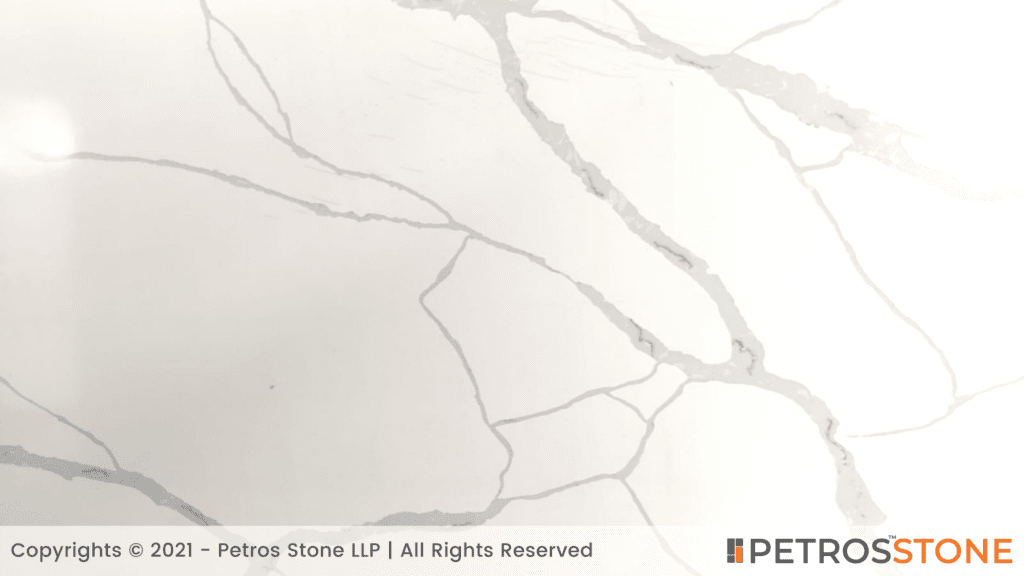 ---
4. Carrara Bardiglio Marble
A member of the Carrara marble, this is distinctly different from the rest due to its massive grey and black streams that run across a white background.
Carrara Bardiglio is available in grey and white tones, making it versatile in application depending upon the tone the application is decided. This is a great marble for flooring, kitchen and bathroom countertop.
Carrara bardiglio is also massively used for mosaic artwork. This marble is hard and durable which creates an everlasting piece of art.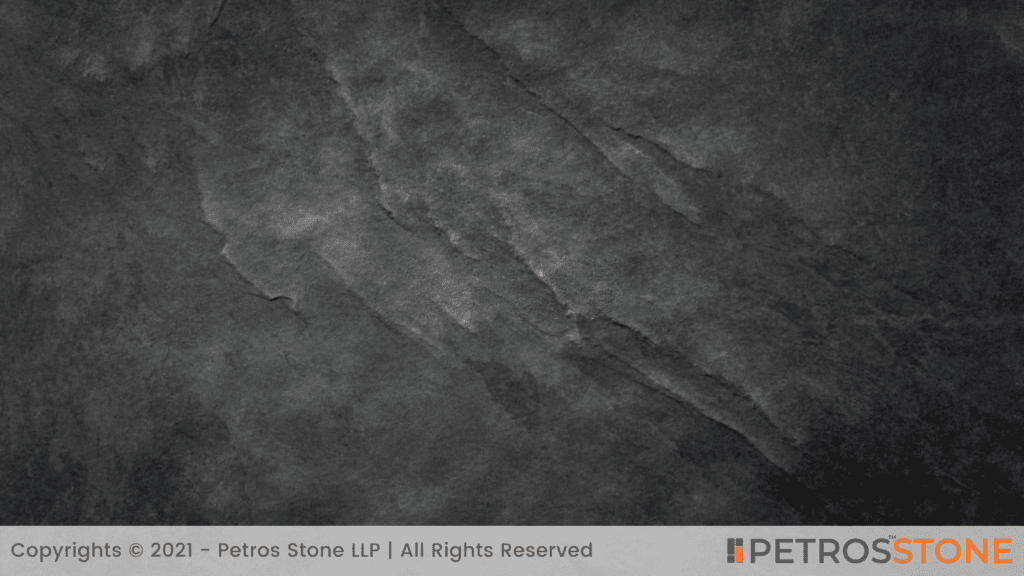 ---
5. Bianco Beige Marble
Bianco beige is a marble commonly quarried in Turkey. However, it closely resembles Italian Dyna marble. It is usually clubbed in with other italian marbles so we have mentioned it in this list. However, please note that this marble is from Turkey
This marble has a brown texture with soft white veins. So, it's easier to say that Bianco Beige finds applications for flooring and wall claddings.
Bianco beige is a brown beauty that can be combined with warm brown furniture and claddings, providing a soothing interior or exterior design.
This marble requires excellent polished finishing. Therefore, at Petrosstone we provide the best of these services for your natural stone selections as we have a range of high grit abrasives to choose from.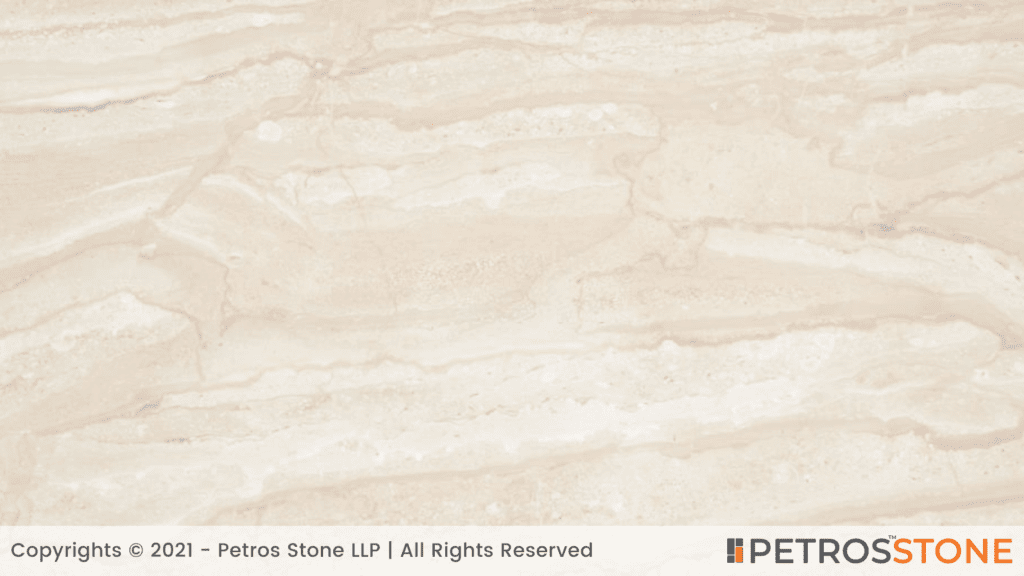 ---
6. Venatino Marble
This marble is from the Carrara family and is very similar to its parent marble. The only difference between them is the prominent grey veins of Venatino compared to a mix of both, veins and crystals, in a pure Carrara marble.
The reason behind including Venatino as a separate marble on this list is that it can be used for creating patterns that fit into more niche and artistic designs.
You can construct wall claddings and facades using Venatino marble. Since each slab has a distinct pattern, these form great shower or bedroom backdrops as well.
---
7. Botticino Sicilia Marble
One can find Botticino Sicilia marble quarries in Turkey as well as Italy. Particularly in Italy, these are found in the region of Trapani.
This marble is a light brown marble with white and dark brown soft streaks. This a soft stone and can be cut and modified for various purposes, even mosaic art.
The best use of these marbles is to use them as wall claddings in the bathroom and kitchen. For this purpose, you can cut Botticino Sicilia marbles into smile sized tiles and polish them for a smooth finish.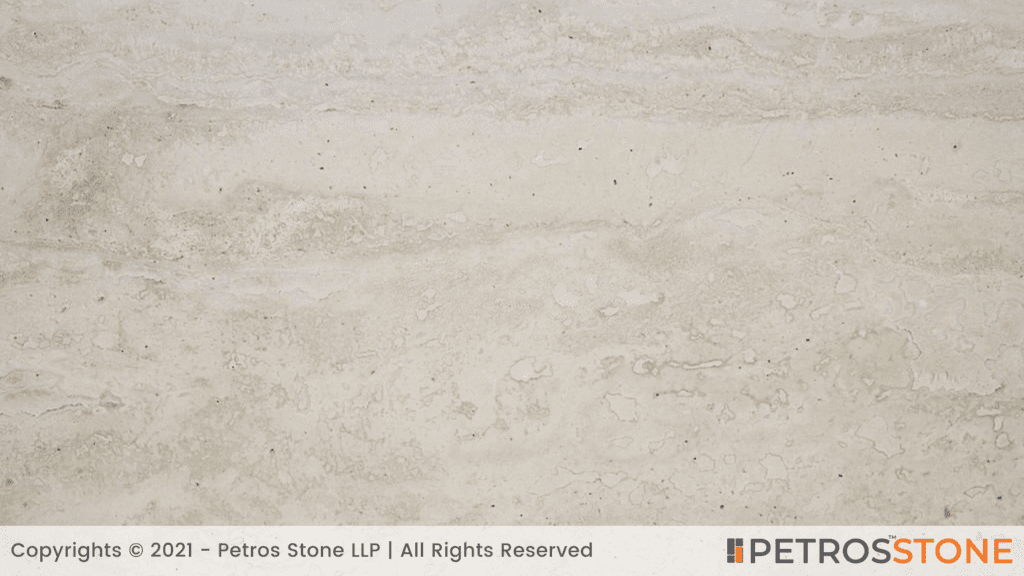 ---
8. Armani Brown Marble
This marble is primarily quarried from Turkey. But, due to its widespread popularity, it is usually grouped under Italian marble.
Armani brown is a deep brown marble with thin dark brown or white veins. It is a soft stone and can be cut easily into tiles.
Being a comparatively softer marble, Armani Brown requires a strong sealant. At Petrosstone, there are experts to take care of this task.
Armani Brown is best utilized to accompany brown furniture such as coffee tables and dinner tables. In the form of small tiles, you can use them as wall and floor claddings.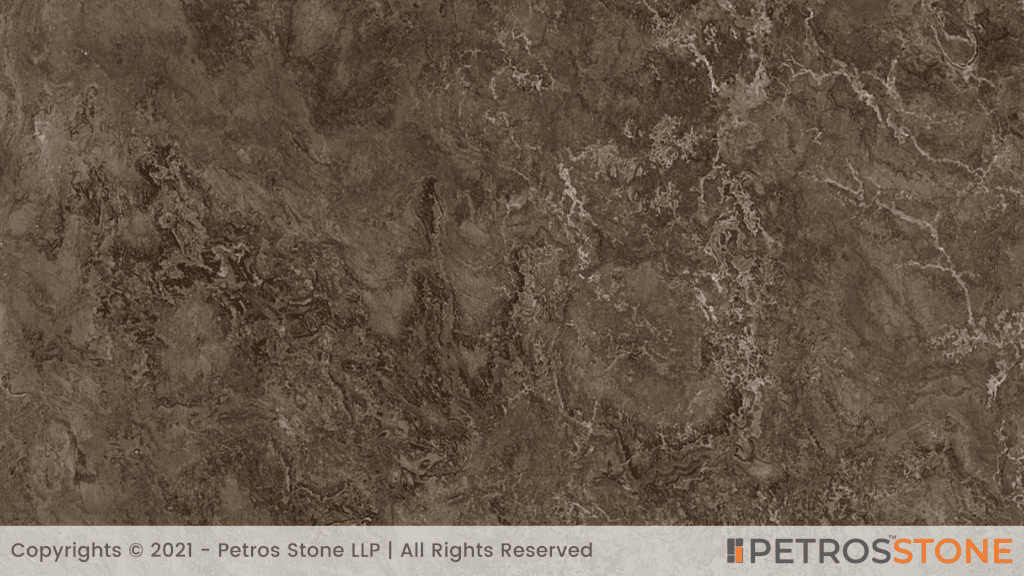 ---
9. Black Portoro Italian Marble
Portoro waves is an exquisite marble from the Portovenere province of Italy. It was first discovered by Dominico Casella, a famous Italian sculptor.
This marble is characterized by white and brown streaks that run parallelly across the slab. All the slabs of a block of Portoro will be uniform in pattern.
This marble is expensive due to its rarity and is massively applied in bathroom spaces to create a dark yet glamorous design. If you are looking to create that perfect countertop or bathtub out of marble then Black Portoro waves is a good option.
This is very similar to Nero Portoro marble and requires an expert's eye to differentiate.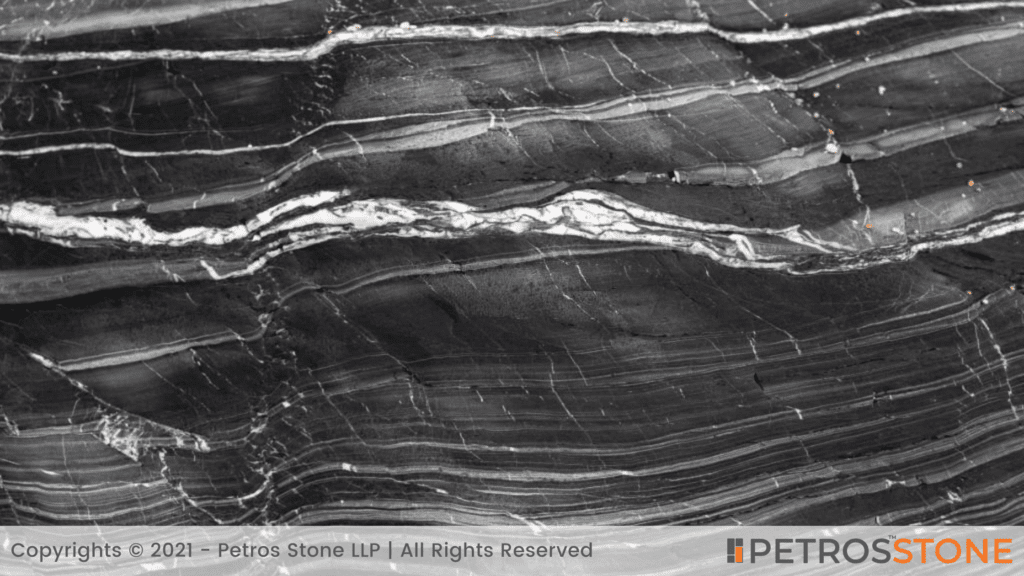 ---
10. Crema Marfil Marble
This is quarried from certain regions of Spain. Crema Marfil shares its resemblance to Light Emperador marble and is considered Italian marble due to its popularity.
It has a beige texture with light white, brown, or golden veins. The soft yet elegant texture of Crema Marfil marble is the reason for it being highly desirable amongst elite designers.
Crema Marfil can be used as stairways, flooring, wall claddings, and decorative pieces as well.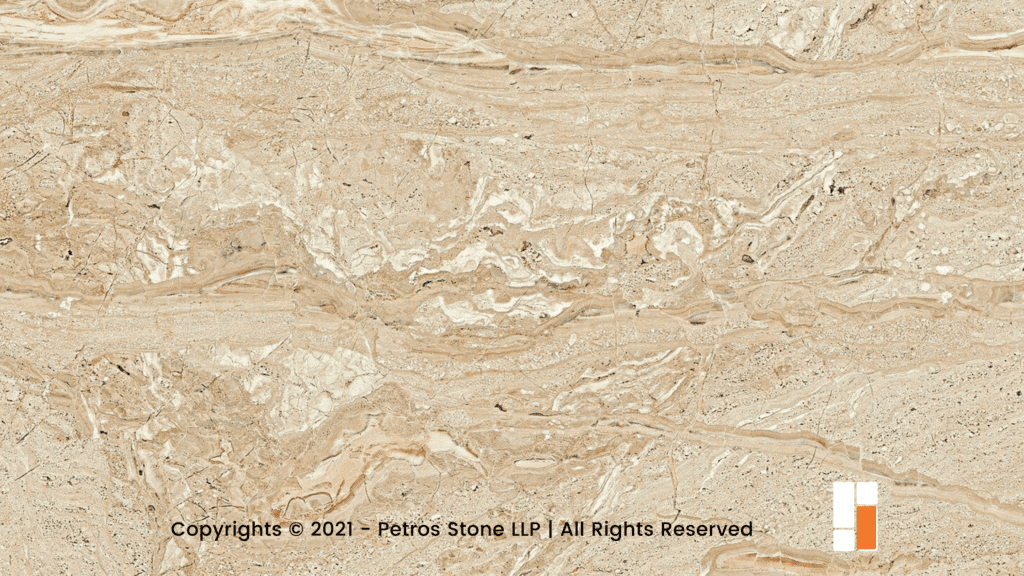 ---
11. Dark Emperador Marble
This is a Spanish marble that is in massive demand due to its texture and pricing. It is quarried from the region of Jumilla. However, this marble is also available in other regions of Europe, including Italy.
Dark Emperador is a dark brown marble with beige, grey, white spiderweb patterns.
There are four grades of this marble available, commercial, classic, standard, and first. These vary depending upon the number of spiderweb patterns on the marble as well as the darkness of the marble.
If you are looking for interior designs then this marble is perfect for it. If you combine it along with other marbles like Crema Marfil then it can create great flooring patterns.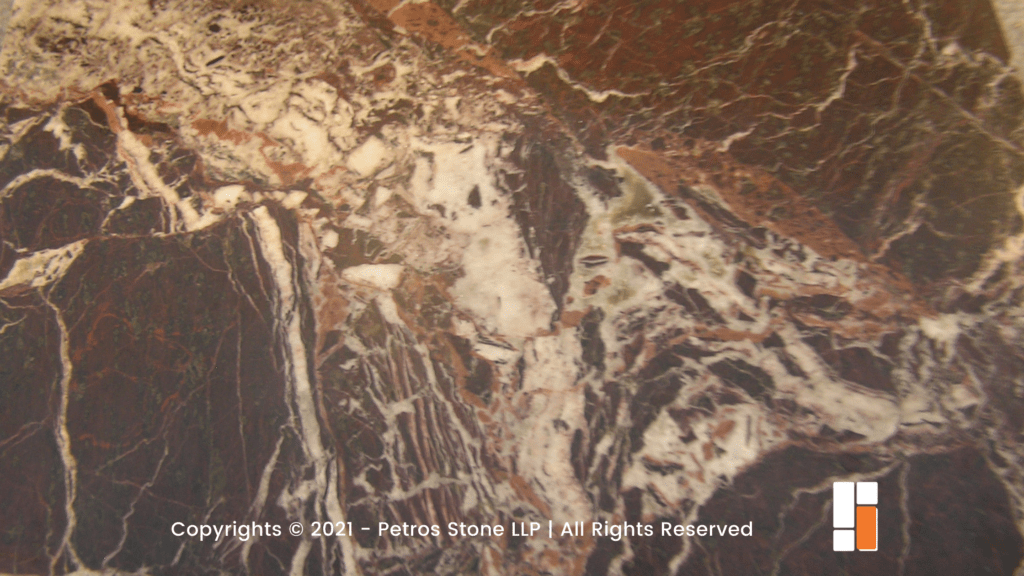 ---
12. Calacatta Gold Marble
Calacatta Gold belongs to the Calacatta group of marbles and there is no guessing its origin, Carrara.
This marble is a white marble with a distinctive gold and grey veins. This marble is available in honed and polished finish usually.
Calacatta Gold is an exquisite marble that can be used for kitchen and bathroom countertops, floorings, and backsplashes. You can combine this with other darker marbles like Nero Portoro to form great patterns for a wall facade.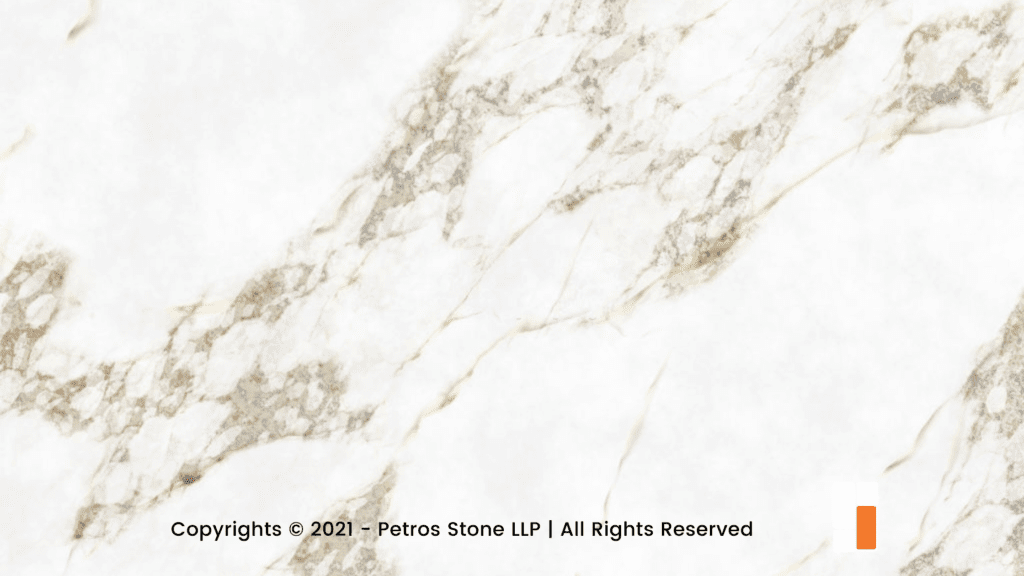 ---
13. Nero Portoro Marble
As in the case of Black Portoro Waves marble, this is quarried from the Portovenere regions of Italy and is rare. Its exclusivity defines its value and so this marble is meant for elegant and luxury spaces.
This is similar to Nero Portoro Waves marble with the addition of golden streaks. So this feature makes it a perfect marble for bathroom countertops, wall claddings, and vanity backsplash.
If you are looking to get the best out of this black and gold beauty then a high grit abrasive based polishing is recommended.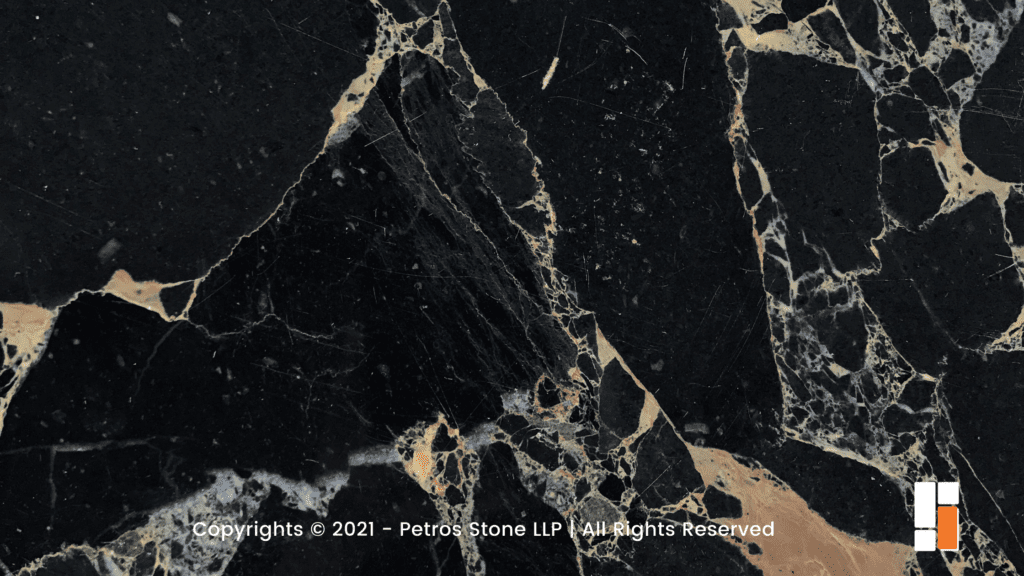 ---
14. Golden Portoro Waterfall Marble
Another Portoro family marble in this list. Golden Portoro Waterfall is defined by its golden streaks that run parallel across the black base tone of the marble.
If you are looking to get the best out of this marble then a polished finish is recommended. Golden Portoro Waterfall is best used as furniture tops and kitchen countertops.
This marble is an elegant one and can also be used for creating beautiful backsplashes and facades.
---
15. Black Marquina Marble
When it comes to black marble, nothing is more popular than this beauty which is primarily quarried from the Markina region in Spain.
Black Marquina, a name suggestive, is a black marble with light white streaks branching out across the marble slab. This can be used for wall claddings, floorings, bathroom backsplashes and even bathtubs.
Exquisite looking, this marble is easy to clean and maintain as well. Some preferred finishes with this marble are polished and matte.
---
16. Perlato Marble
This marble is also known as Perlato Sicilia due to its origins based on the island of Sicily in Italy. Perlato means pearl in Italian and it is quite definitive about its popularity.
This marble has a texture of a light brown base with spots of dark brown or copper peppered all over the slab. It is one of the most demanded and expensive marbles on this list due to its appearance, durability and hardness.
This marble is best utilised for flooring, especially when cut into small tiles and sealed. Do not consider using Perlato marble for any outdoor purposes.
---
17. Dyna Marble
Italian Dyna Marble is a beige marble with massive brown dark brown veins. If you have to describe this marble with a reference, then cappuccino could be the closest.
Dyna marble is the most popular Italian marble. It has a great pattern and rich history as it was used as raw materials for monuments in Roman times.
If you are thinking about flooring marble then you don't think beyond this marble. Tiles of this marble can form beautiful floors for office and residential spaces. You can also combine these with dark brown or white furniture.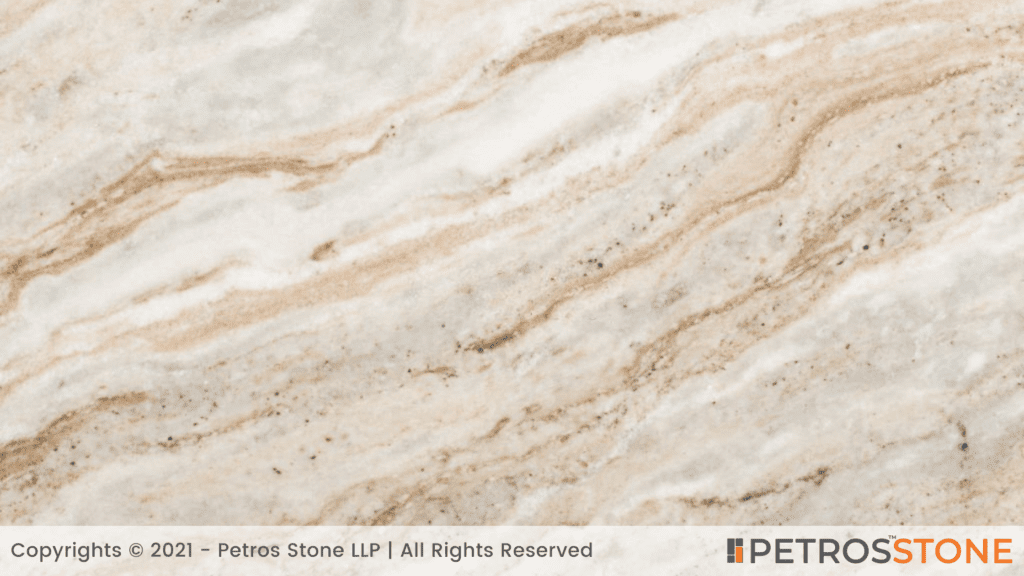 ---
18. Michel Angelo Marble
Named after one of the pioneers of renaissance art, Michel Angelo, this marble's appearance does not disappoint viewers.
Michel Angelo marble is a typical white marble from the Carrara region with soft and crude lines of grey, black, and green. This is an exquisite marble that you can use for your interior designs.
If you are planning to use an attractive furniture top as a centrepiece of your design then this is your stop. It has all the requirements for a countertop, flooring, bathtubs and benchtops.
The reason for this marble's surge in demand is its rarity as well as application in both commercials as well as residential purpose.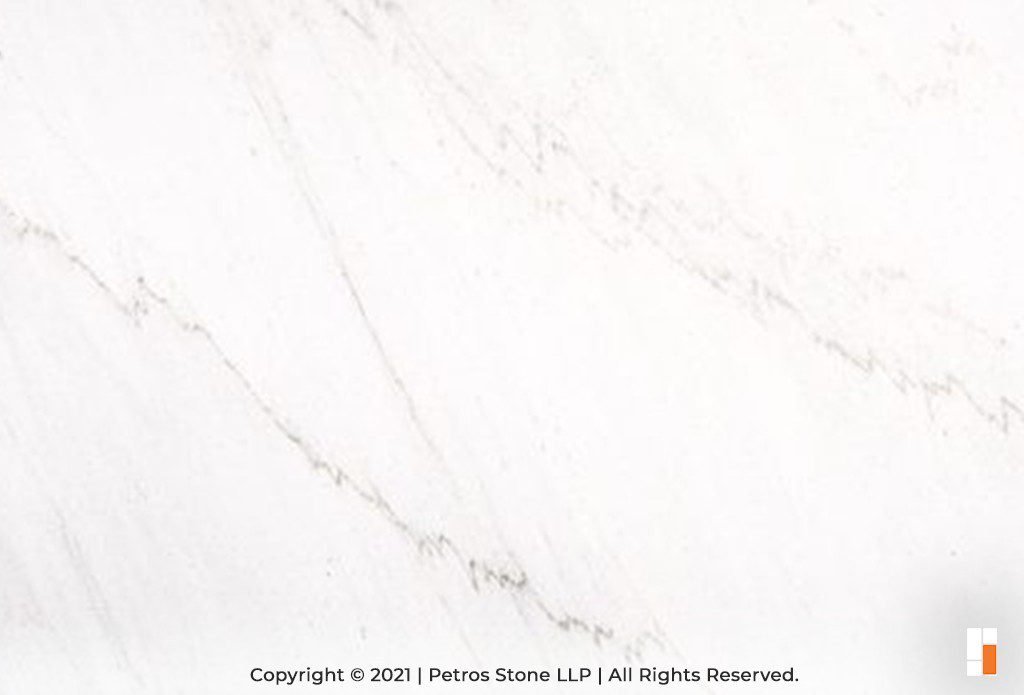 ---
19. Perlato Royal Marble
Million years of fossilizing marine creatures resulted in this Magnifique creation of Perlato Royal Marble. This is a beige marble with criss-cross patterns of white and is quarried from the regions of Trapani in Italy.
Thre are a lot of ways to apply this elegant natural stone. Some of the ways are flooring, bathroom wall claddings, and also fireplace surrounds. This is a highly versatile marble and you can cut and apply it for a lot of things.
Some other uses of polished Perlato Royal marble are to use it as countertops with brown wooden panels or base material.
---
20. Travertine Marble
This is a marble that is quarried from widespread geographical locations including Italy. However, Travertine is a natural stone similar to marble and often included in the Italian marble segment.
Travertine is a hard and compact stone. Its base tone varies from light brown to dark chocolate brown. It is massively diverse in terms of patterns and can have red, green, blue and black veins to name a few.
Some of the uses of travertine are to use it for residential or office flooring. Apart from this, its application can extend to patio flooring, recreation space wall designs, facades, and claddings.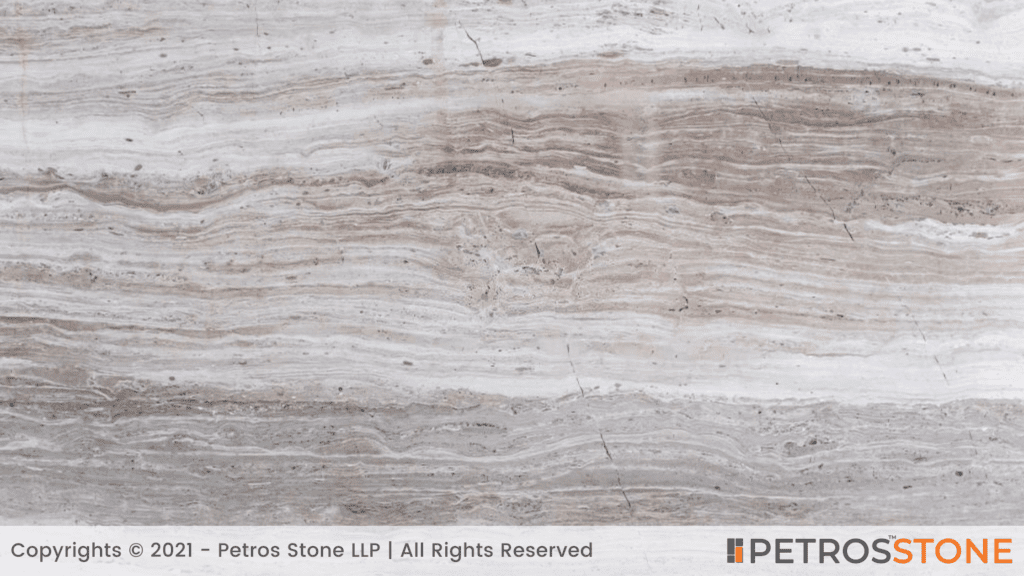 ---
21. Arabescato Marble
You can procure this from a particular mountain range in Carrara called Apuan. It has a lot of similarities with the Carrara marble in terms of appearance, mechanical properties and durability.
Arabescato marble has a white sheen with soft grey webby patterns. Arabescato is usually available in the polished or honed form. However, in certain applications such as facades and stairways, the leathered finish is recommended.
If you are looking for commercial marble to be used for flooring or wall cladding, then consider Arabescato as your option. This is a great marble for creating intricate patterns as well due to its webby pattern.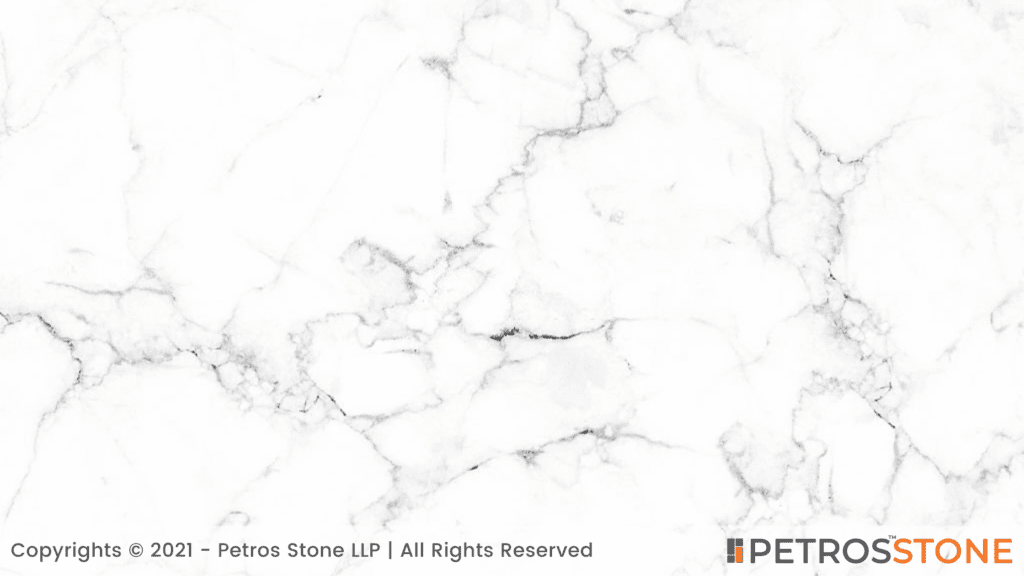 ---
22. Chianti Gray Marble
You can procure this marble from Turkey and a lot of other regions around the globe. Chianti is grey marble with soft white lines and dark grey patches. This marble has a very icy and earthly appearance.
You can provide various types of finish to this marble based upon the application. To provide you with some of the examples polished, honed, leathered, lepatora, brushed and flamed.
The best way to apply this marble is to use it as a centrepiece of your interiors such as an elegant looking countertop for a dining table. Apart from this purpose, other applications include flooring, souvenirs, swimming pool areas, and even auxiliary materials in construction.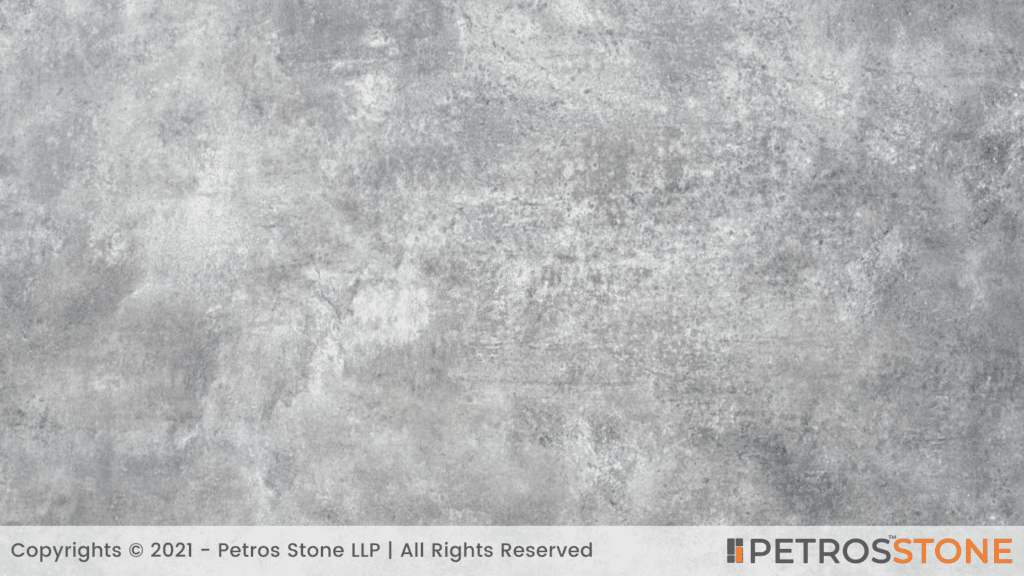 ---
23. Champagne Brown Marble
This is an Italian marble that has a strong resemblance to Dark Emperador. The difference lies in the design of the marble wherein Campagne Brown has fibrous golden, white, and red veins that are crisscrossing each other.
The design is very electric and apart from a polished and honed finish, you can also find this marble in a brushed and leathered finish. You can cut slabs of gangsaw and cutter sizes of this marble.
Some of the best ways to apply this marble are in your interiors by using them as countertops, floorings, or wall claddings. Due to its design and ductility, you can use Champagne Brown to create artistic pieces.
---
24. Brown Emperado Marble
Brown Emperado marble is very similar to Dark Emperador marble. You can consider this to be a higher grade of Dark Emperador marble as there are more cobweb patterns of white and copper along with a dark brown base tone.
Being the highest grade of Dark Emperador, Brown Emperado marble requires mirror-like polishing and regular cleaning. Therefore, you should use Brown Emperado only for interior spaces and not exterior.
Some of the best applications of this marble are to use it for bathroom countertops as they will go well with a similar material bathtub as well. The swimming pool area is another section you can use this marble.
---
25. Bronzite Marble
This marble is very common across the globe with its quarries in countries like Brazil, China, and India.
Bronzite is a great looking dark brown marble with lightning type white etches across the slab. If you are looking to create a statement of class in a commercial space, then Bronzite is the marble to choose.
You can experiment with this marble by providing various finishes such as bush-hammered, leathered, and even flamed. This is a great marble for luxury spaces and designer homes.
To get the best out of this marble use it as a furniture countertop. If you are looking to create an artistic pattern on the walls, then use the gangsaw cut sizes of this marble and align them according to your taste.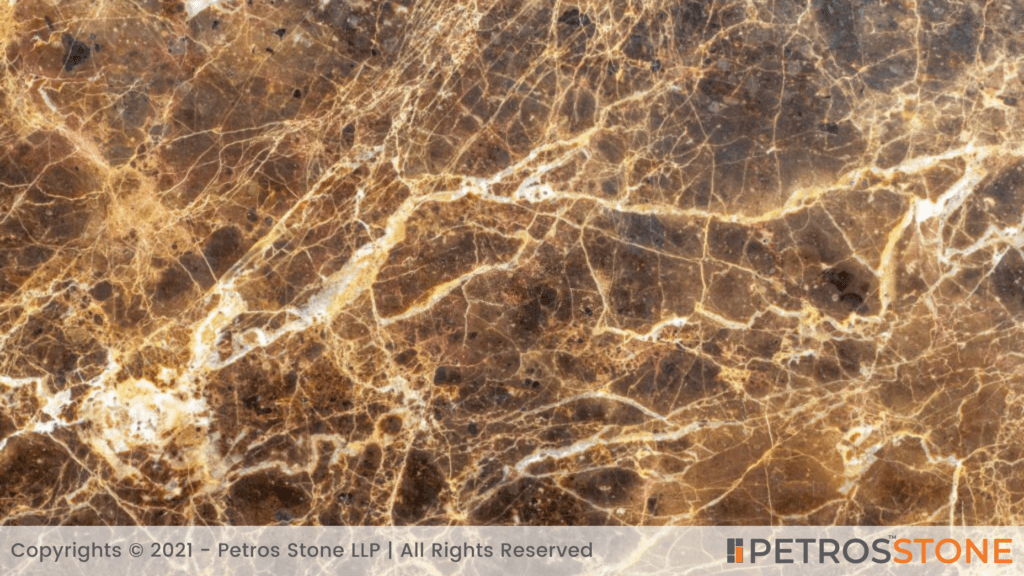 ---
26. Brescia Aurora Marble
This is a marble that is quarried from the Brescia region in Italy. If you observe then it bears resemblance with the Perlato series of Italian marbles.
So the design of this marble is beige with irregular brown streaks and veins. The quality of the base colour of the marble is the definitive vector for this marble.
You can find Brescia Aurora in various finishes. However, a mirrored polished finish will help you use it as floor tiles. Incredibly, you can also use it for decorative facades and backsplashes due to its abstract design.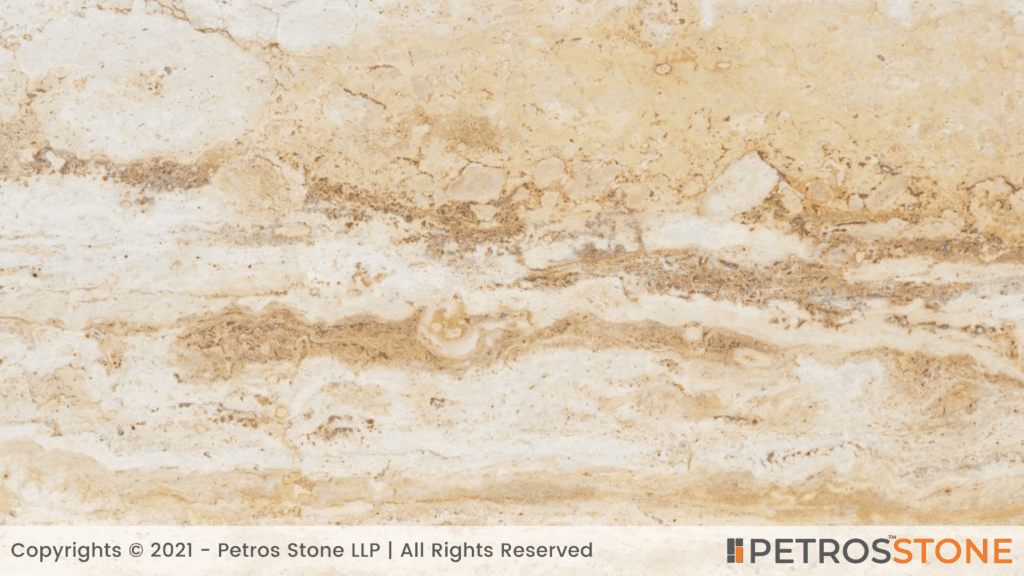 ---
27. Brescia Oniciata Marble
Name suggestive, another Brescia based marble with a close tie to the Aurora series. However, the appearance is contrasting as this is a marble that resembles the sandstones of Colorado.
This marble is an excellent choice for exterior purposes such as front elevation, entryway or pathway flooring. Because it gives an out worldly appearance to the construction, Brescia Oniciata is the perfect exterior marble.
If you are looking for that garden statue material then this is a great choice. Try getting creative and use it to construct fascinating wall facades.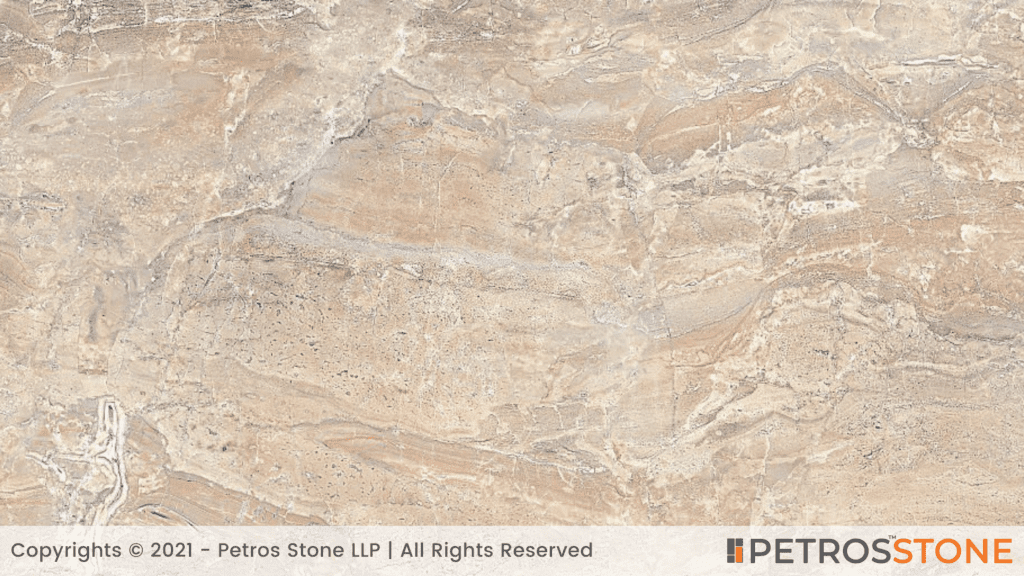 ---
28. Botticino Fiorito Marble
Now the name would be suggestive enough for you to understand this is a grade of the Botticino Sicilia marble. So what could be the difference here? The answer to this is simplicity.
It's a mocha brown marble with subtle spots of light brown and white. But the minimalism of its design gives way to a lot of finishing opportunities. Therefore you can use either leathered, bush-hammered, flamed, honed or quite simply polished. The choice is yours.
This marble is the perfect auxiliary material for economical spaces. Especially used as wall claddings, common flooring, and reference project material. This marble requires low maintenance as well.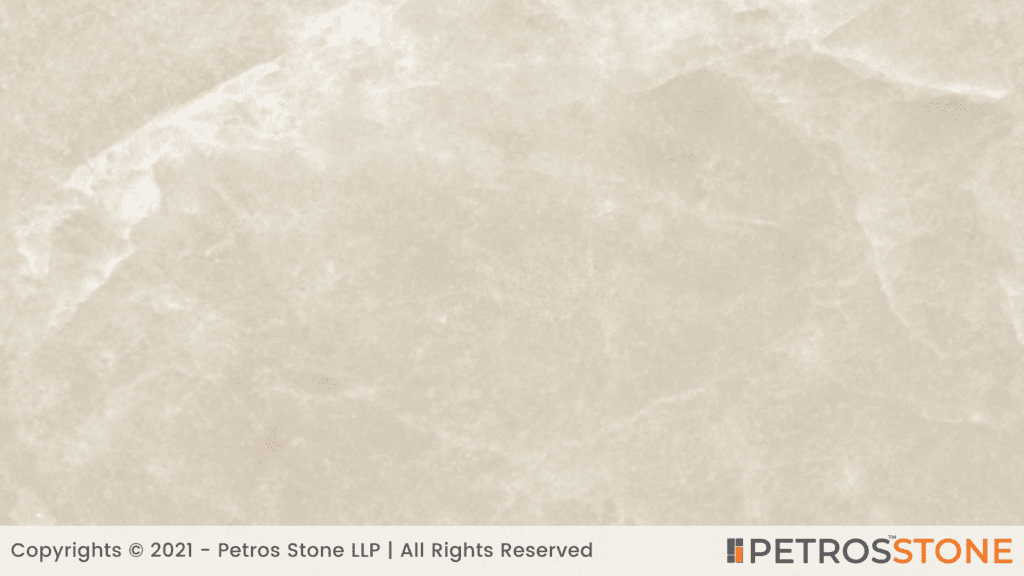 ---
29. Bianco Marfil Marble
Another beige marble in this illustrious list of natural stones which originates in Turkey and other parts of Europe.
The main characteristic of Bianco Marfil is the soft look with few mellow white veins formed due to crystallization. This is a soft stone with a very simplistic design. So, for this reason, it finds application in many spaces.
A smooth polishing is a bare minimum that you need to ensure here. You can use Bianco Marfil marble tiles as borders, floorings, and wall claddings.
Bianco Marfil is the most common marble used for flooring due to its simplicity and pricing.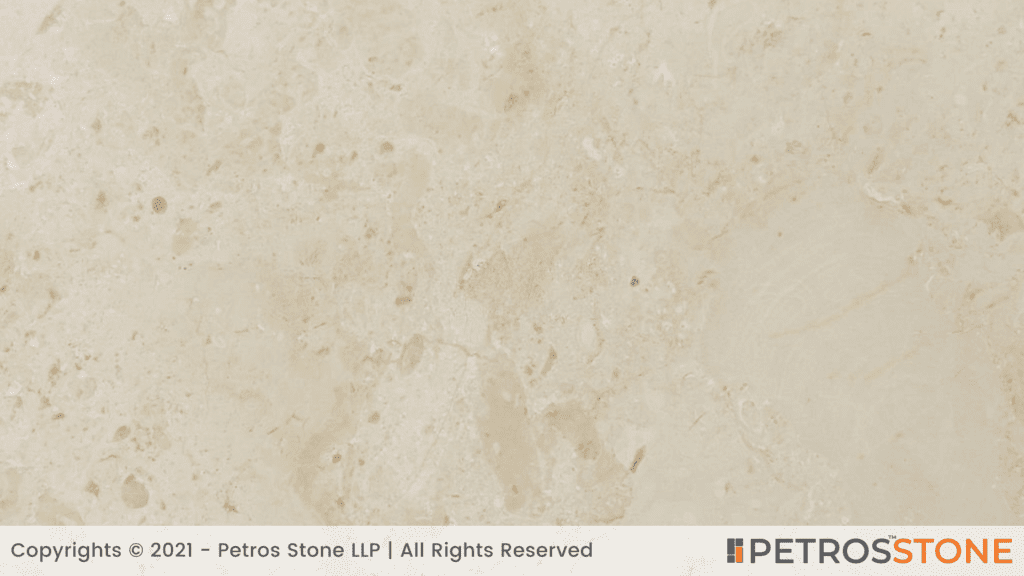 ---
30. Beige Serpeggian Marble
You can procure this marble from a lot of quarries spread across Italy. This marble is rich in heritage as ancient Romans used this marble for construction purposes.
This marble has the colorado springs appearance again. Its thin parallel lines of blue, green, red, and black, the stone has an out of the world appearance.
The best way to apply this marble in your exterior or interior space is by providing a matte finish and then using it as entryway flooring. This is also a perfect material for constructing pillars and statues.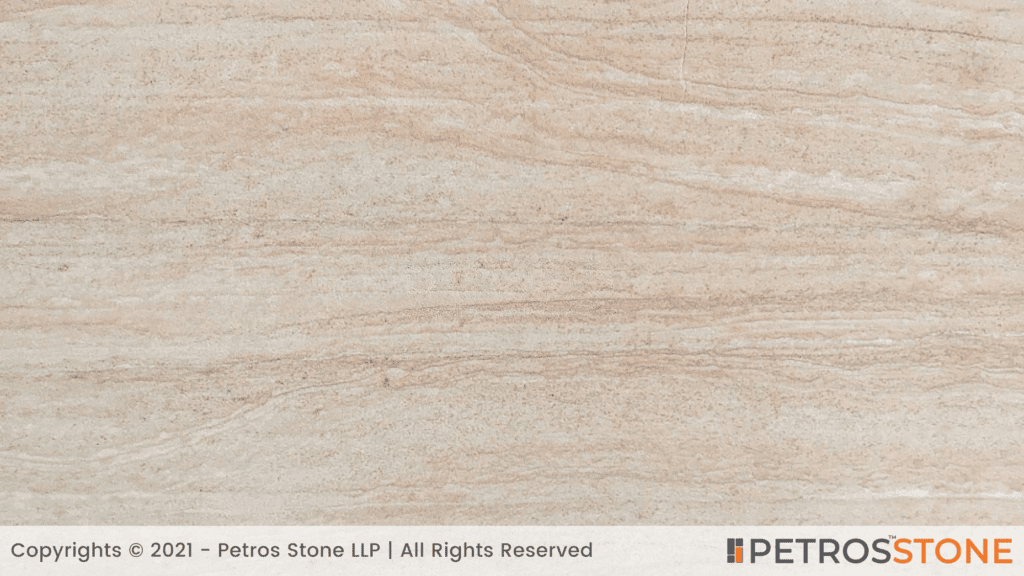 ---
31. Baltic Sea Wave Marble
As a supplier, you can find the quarries of Baltic Sea Waves marble in Turkey and Italy. This marble has a very unique pattern of dark grey waves that are symmetric across the marble slab.
If you are wondering what finish would be perfect for this, then don't worry we have you sorted at Petrosstone. Our expert's advice is to use only polished finishing. And the reason behind this is its application.
Baltic Sea Wave marble creates beautiful concentric patterns when combined as tiles for indoor flooring. Another way to use this marble is in creating elegant staircases with metal railings.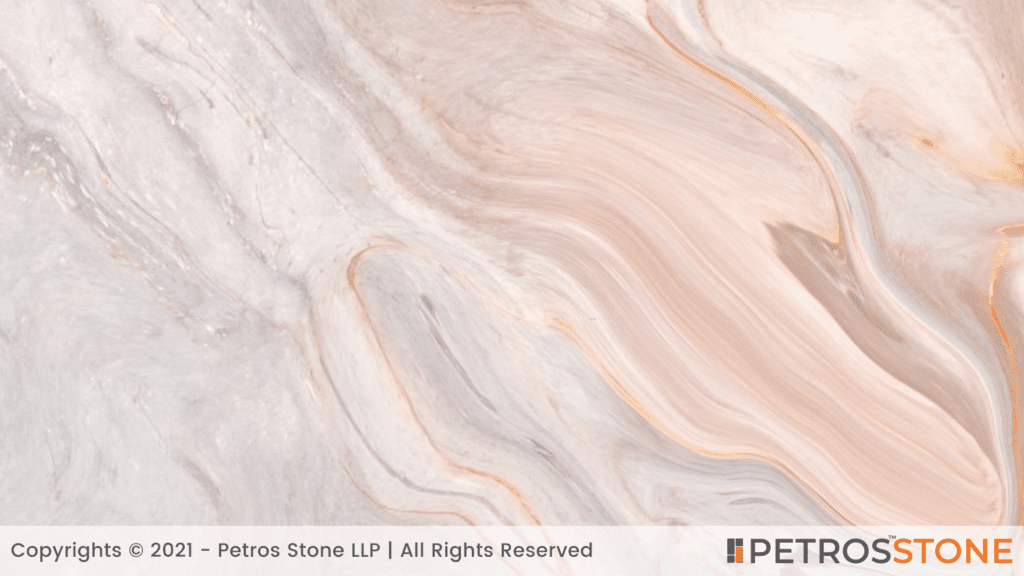 ---
32. Baltic Pink Marble
This marble is procured from all around the world including countries like Turkey and India. This is a marble that bears a very close resemblance to Brescia Onichita marble so it might be considered as Italian marble quite often.
Baltic Pink is a marble that has a cotton candy-like appearance with a pink base tone layered with subtle red patches and lines. If you are looking for a marble that can fill in the economical spaces around your house then this is the one. Ensure a honed or polished finish for this type of marble.
You can use Baltic Pink marble as borders, wall claddings, entryway flooring, bathroom flooring and even furniture countertop.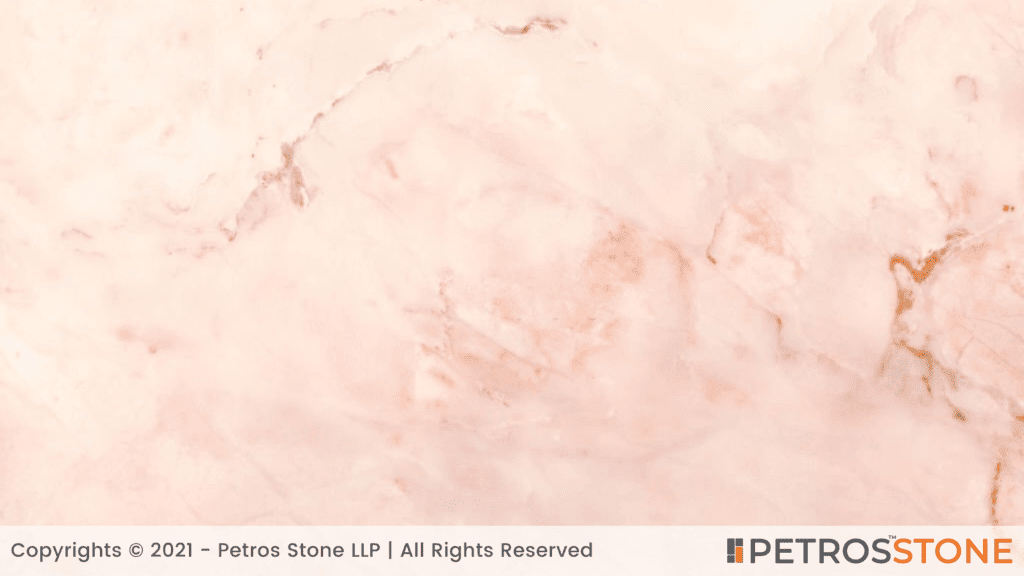 ---
33. Armani Grey Marble
Armani Grey is a fossil-based marble quarried from around the world including Turkey and Italy. The fossil remains of marine animals are the reason behind the texture of this marble. So, quite often you will find this marble as the centrepiece of an interior design.
If you are looking to get the best out of this marble then a mirror-smooth finish is a must. This marble is perfect for dining or bathroom countertops due to its convenient design.
You can also use this marble for exterior purposes such as swimming pools, jacuzzi, and wall facades.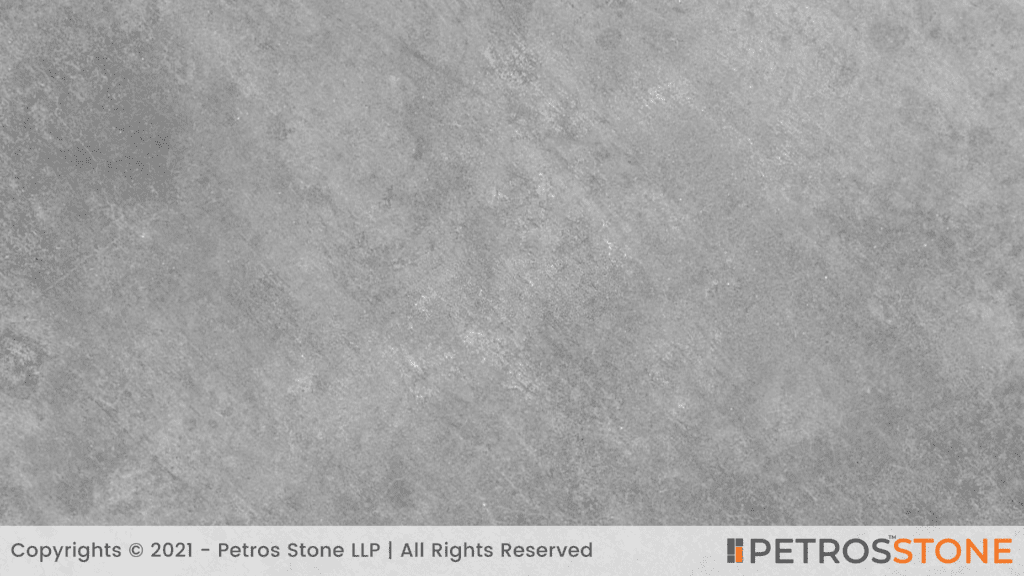 ---
34. Antique Beige Marble
This is a very simple marble from the quarries of Italy and Turkey. Antique Beige is marble for those minimal enthusiasts who prefer softer tones and for their interiors. This is a brown marble with subtle white cloudy patterns.
Antique Beige is another auxiliary marble that will fit into the nooks and corners of your interiors. Therefore, it will add depth to your interiors without being noticed.
So some of the ways you can apply this marble are by using it as wall claddings in bathrooms and kitchens, economical flooring and swimming pool decks. Honed or polished is the preferred finish for this marble.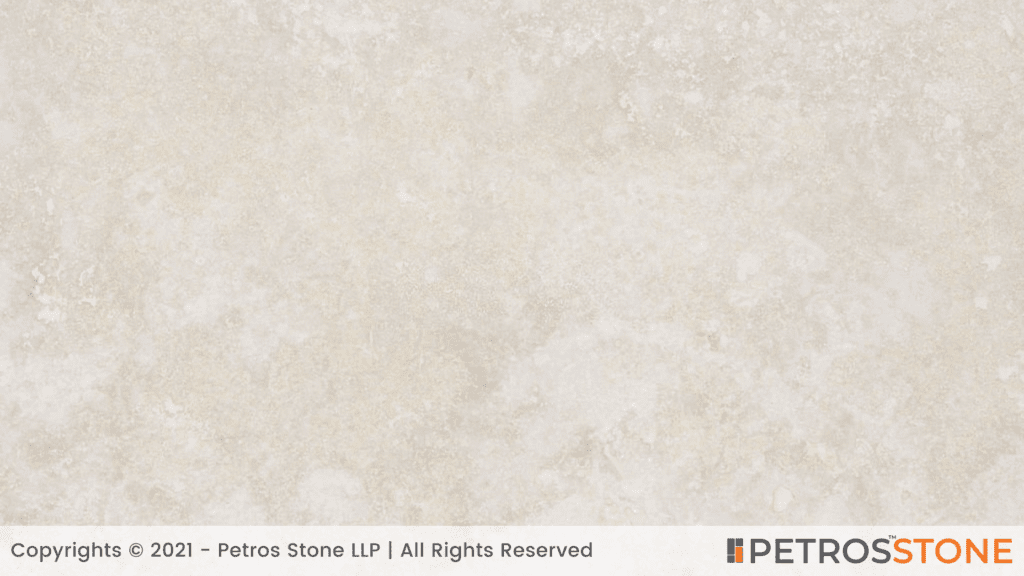 ---
35. Amazonite Marble
This is a rare piece of marble and you can find its quarries scarcely spread out across the globe. Years ago, it was discovered in the mountain ranges of Llemensky, Russia. Now you can find its quarries in China, South Africa, and Libya.
Amazonite has a major chemical ingredient of Microline. This is green in colour and so the texture of this marble is transparent green sheen with white, brown, red crystalline veins.
If you are a designer who is looking to create exclusive artistic interiors or ornaments, then Amazonite will help you achieve it. However, the procurement of this marble depends upon the supplier's ability. At Petrosstone, we have a wide network of suppliers to work and procure the rarest materials for you.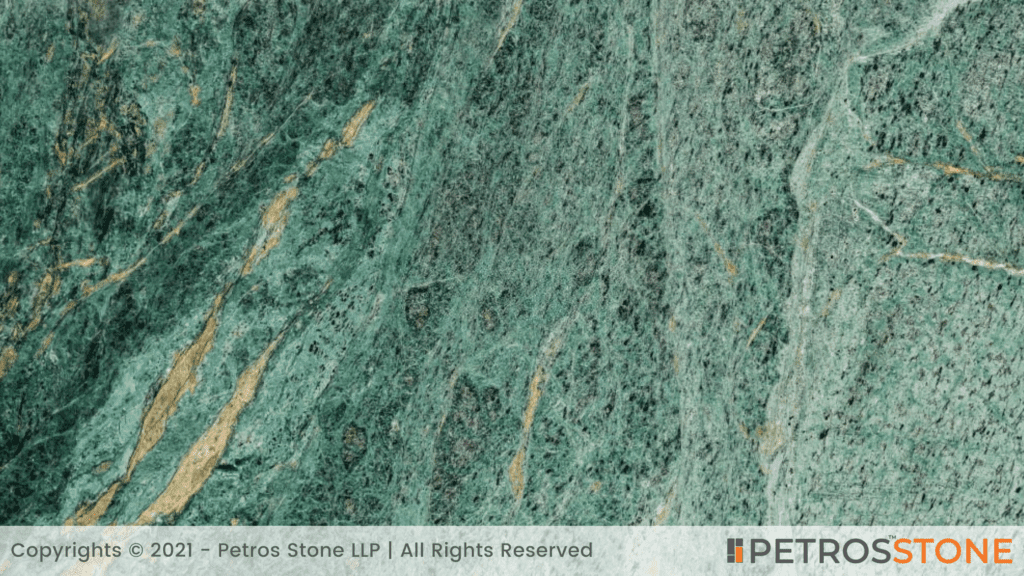 ---
36. Amazon White Marble
Anything to do with the largest river in the world in its name, Amazon, has to be extraordinary. So it has to be an obvious acceptance that Amazon White is a marvel in itself.
This marble has a unique abstract and artistic pattern. It contains a white base tone with black, green, and grey veins that form a cobweb pattern on the slab.
This is a collectors marble just like any Amazonite marble out there. So this is used in designer furniture, aquariums, and building exclusive wall facades.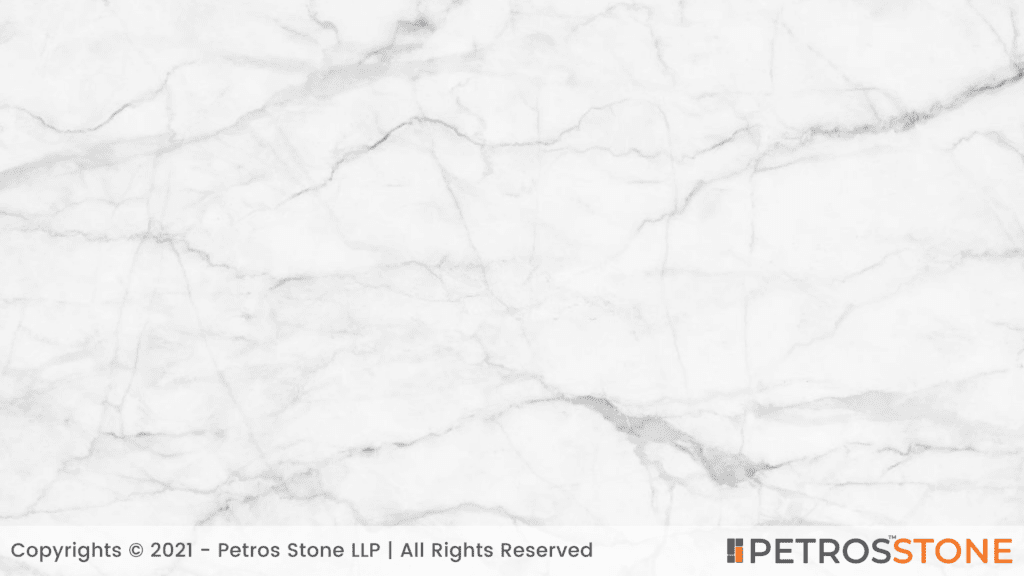 ---
37. Myra Beige Marble
This is a marble queried from certain regions of Europe, especially Turkey. This is another one of those fossilized marbles but with a simplistic pattern.
So if you are looking to create a pattern with your flooring by combining it with another marble such as Bronzite marble, then Myra Beige will make it stick out. It is a very good supporting marble material.
Myra Beige is a good marble for flooring and wall cladding. The usual finish is a satin or polished finish with this marble. For design ideas and suggestions, you can get in touch with our team of experts at Petrosstone by writing to us.
---
38. Pink Valencia Marble
The characteristics of this marble are that it has an orange or pink coloured base tone with subtle medium-sized grains and dark veins. This is quarried from all over Italy and is a simple marble.
In regards to the finish of the marble, our suggestion is a polished or honed finishing. Because of this, you can make subtle patterns of the main marble stick out in the flooring.
So, this is a perfect marble for combining with dark brown furniture and other marbles. You can even apply this marble as countertop and wall claddings.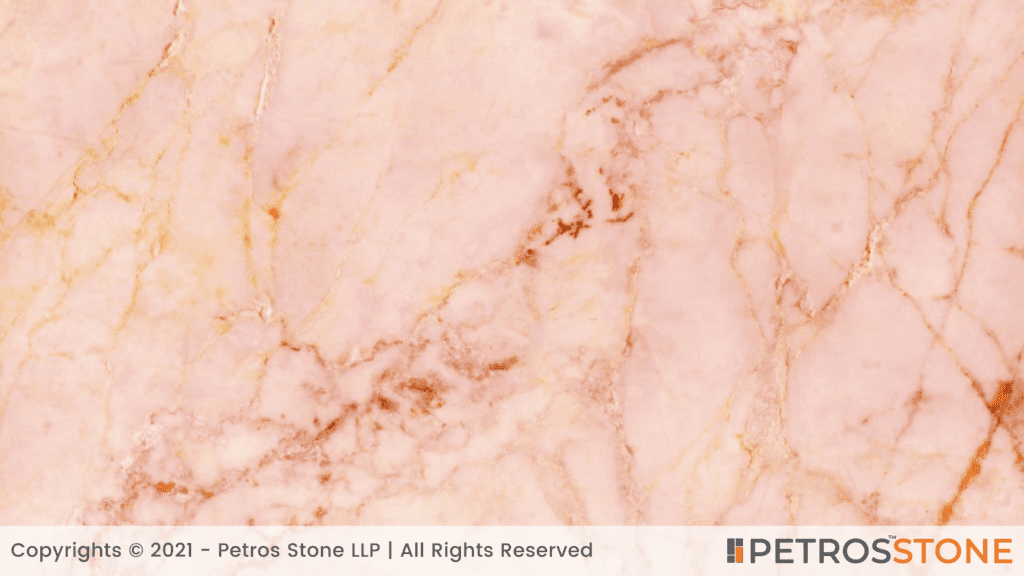 ---
39. Autumn Yellow Marble
An earthy textured marble with the base tone of orange and beige, Autumn Yellow marble is quarried from around the European continent and in some parts of Asia as well.
This marble has a very rough and abstract texture. So it resembles a desert stone, is very hard and durable. This makes Autumn Yellow a marble for main construction purposes.
If you are looking to use Autumn Yellow marble as wall cladding or flooring then a polished finish is a must. Quite often, you will find this marble as exterior walls or pillars. This gives the building a rough look with a hint of sophistication. In this scenario, a honed or satin finish is recommended.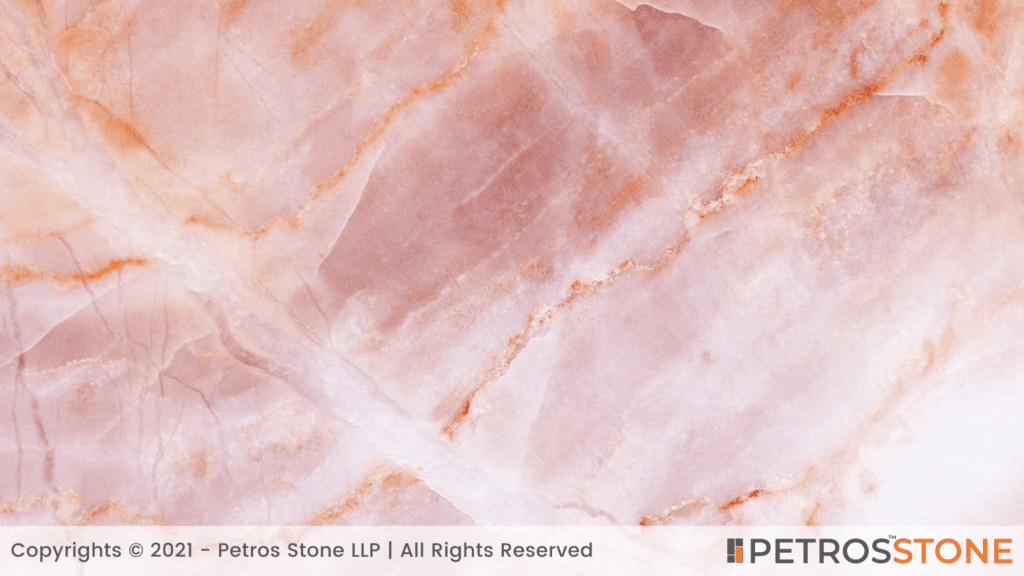 ---
40. Black Forest Marble
You can find the quarries of this marble across Europe. But China is the biggest supplier of this exquisite looking marble.
It has an interesting concentric pattern of white or grey lines spread across the slab. So, this makes it a fabulous looking black beauty that can be easily incorporated into your designer home.
Perfect material for your commercial or office interiors. This when combined and placed well can form soothing patterns on the walls or floors. For this result, you can combine Black lava along with other lighter marbles such as Carrara and provide an alternating satin and polished finish.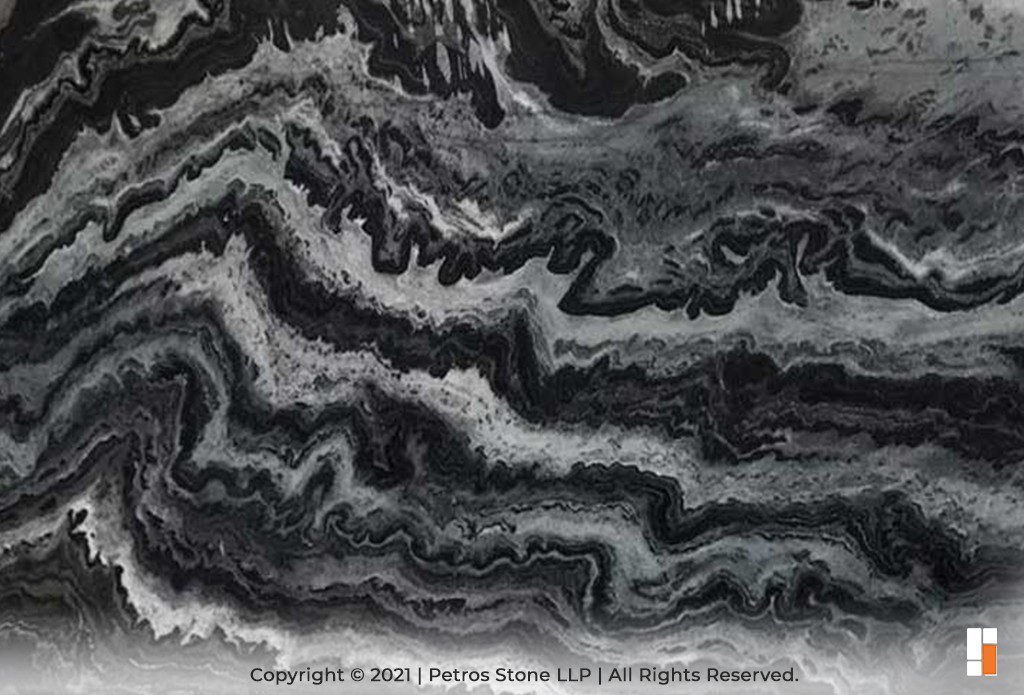 ---
41. Palissandro Marble
A marble that resembles a multi-layered cake! Pallisandro is a famous Italian marble that appears to be an extraterrestrial rock.
The appearance of Palissandro marble might overwhelm you due to its multi-coloured layers of blue, red, grey and white. But tiles of this marble in a satin finish are the most common staircase materials used in commercial and residential spaces.
So you might wonder what other uses it has other than the staircase and residential space. Well, in public spaces this is used to construct benches, statues and fountains.
This is a great marble choice for those who need low maintenance yet a good looking pattern for their design space.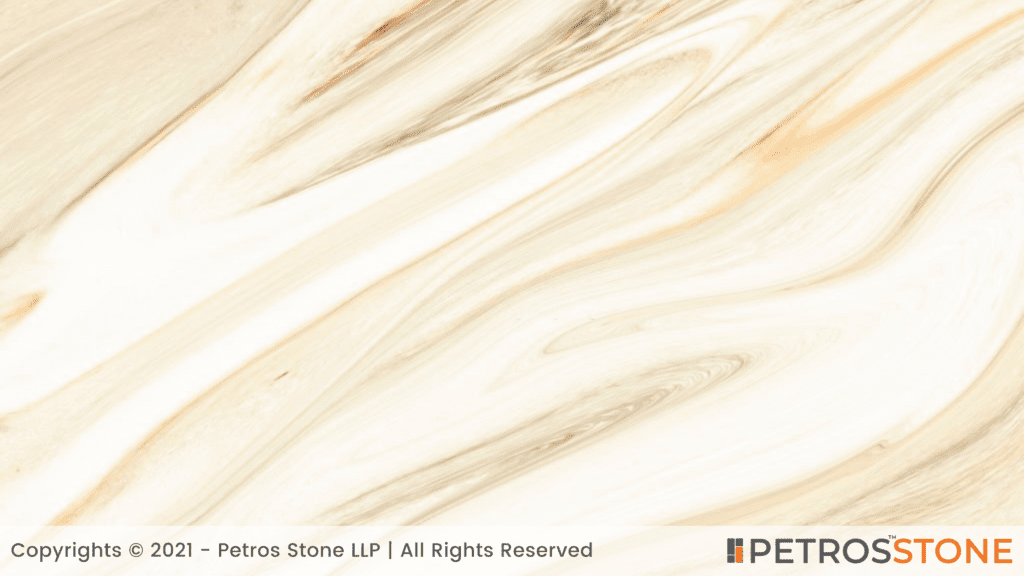 ---
42. Botanic Green Marble
A lot of marbles resemble extraterrestrial artefacts and this one makes the list for the same reason. Because this is a green Italian marble that looks like an emerald in rough. It has a bright and transparent sheen, with crystallized grains of brown and copper.
This marble is an excellent material for shower backsplashes, swimming pools, fountains, and bathtubs. This is because it has a very strong presence and so you need to place this marble carefully in any designer space.
Excellent use of this marble is to use it to design giant aquariums for a nursery of exotic fishes. Because of its aquamarine appearance, it is becoming quite a rage in designer aquarium space.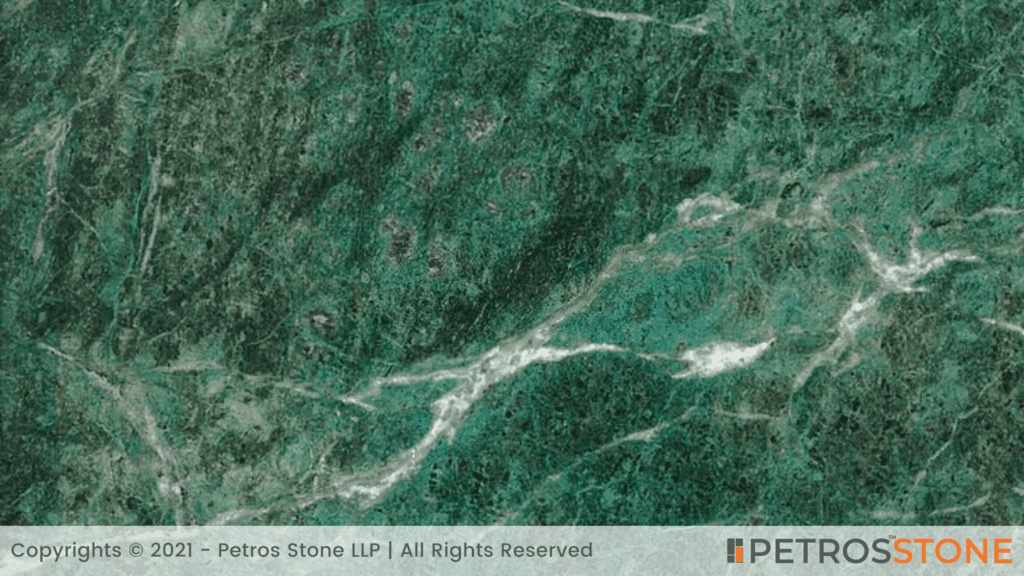 ---
43. Calacatta Borghini Marble
Calacatta Borghini is a colourful variant of the classic Calacatta White marble. So, it is not a surprise that it originates in the Carrara region in Italy.
This marble has a tinge of copper in its veins. So to get the best out of its colour pattern, a polished finish for a smooth surface is the bare minimum.
Just like any other Calacatta marble, you can use this for kitchen, bathroom countertops, sinks, dining countertops, bathtubs, and in some designs you can see it like the back shade of the kitchen wall.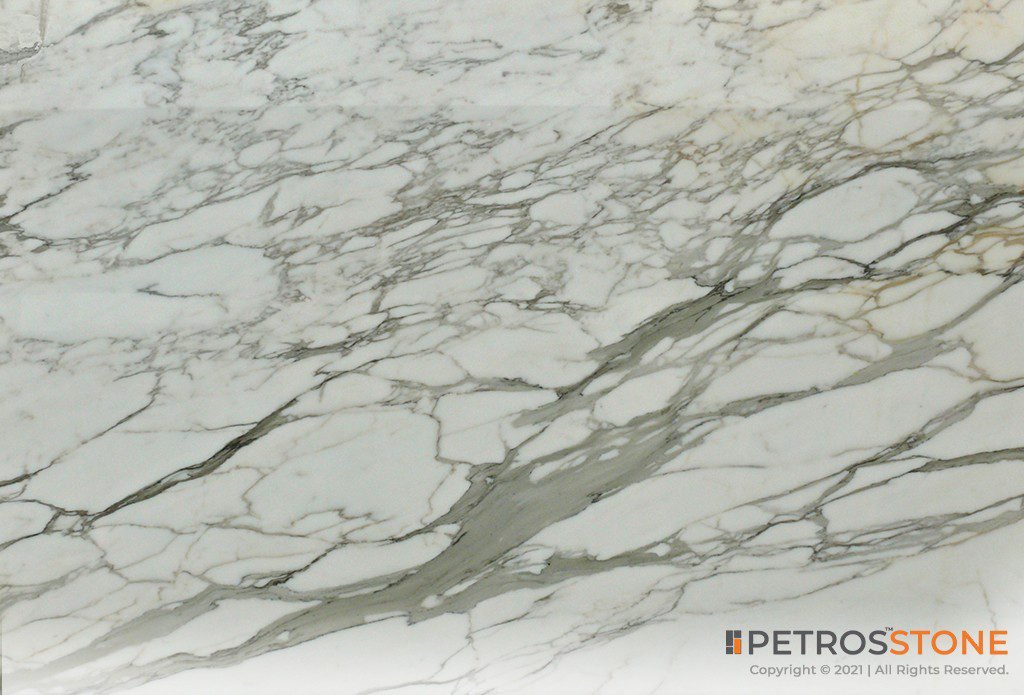 ---
44. Athens Beige Marble
A marble that looks very similar to Botticino Italian marble. If it isn't for the slightly beige base colour and distinct cracked veins of Athens Beige, then the two are inseparable.
If you are looking to create a monotonic design for your bathroom that soothes the eyes and creates a relaxed ambience, then use Athens Beige in the form of wall claddings and floor tiles.
Athens beige is the jewel of Greece and it fits into the bedroom flooring along with some Mediterranean white furniture.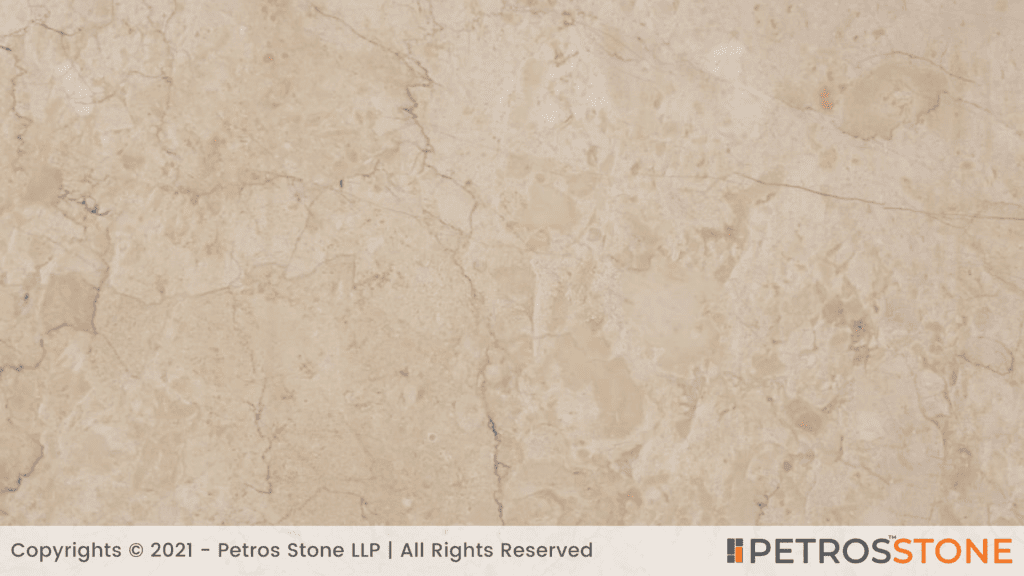 ---
45. Statuario Venatino Marble
A variant of the Statuario marble, Venatino has a bright white base tone along with fewer grey veins running across the slab.
Since it has fewer lines of grey, Venatino can be directly incorporated into the walls or flooring of the building. Thus making this marble a popular choice for commercial and office spaces.
If you're a residential homeowner who wants to add a touch of white elegance in your interior designs, then use Venatino as a kitchen countertop, sink or dining top. Because it has a bright white appearance with very few veins, Venatino can be used in polished as well as a satin finish.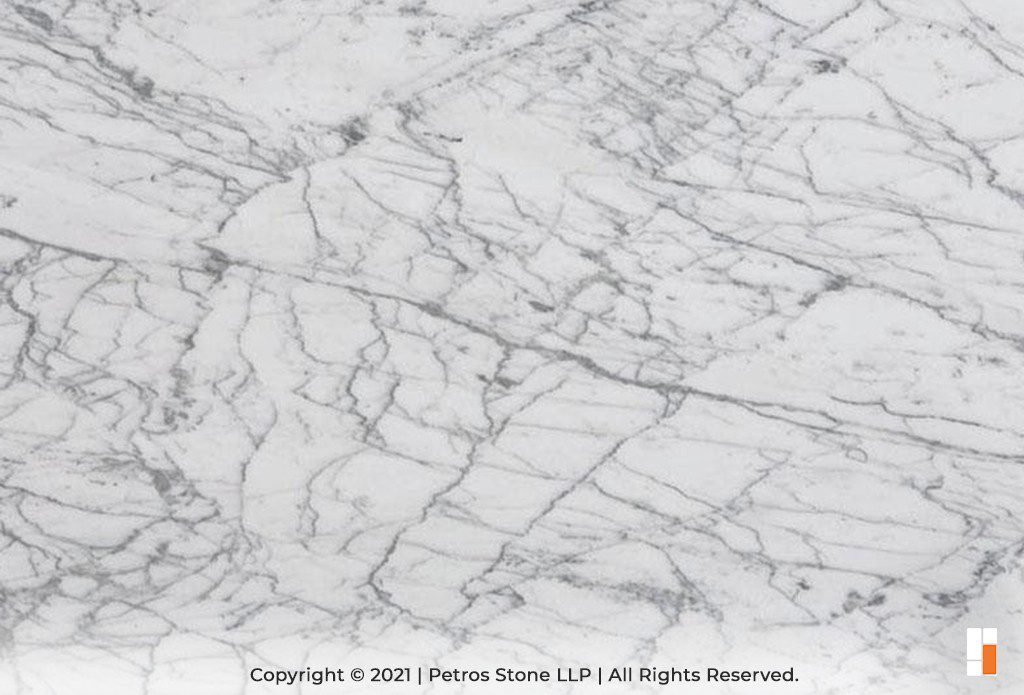 ---
46. Golden Spider Marble
This is quarried from Greece primarily and has an appearance that would give you the creeps if you are an arachnophobe. The name is a derivative of a spider-like pattern of orange and brown veins over a base colour of beige or pink.
The best way to apply this marble for interiors is to use it as flooring material with a high end polished finish because of its coarse texture. Similarly, the coarse texture of Golden Spider marble provides grip when used as a dining or kitchen countertop.
This marble is used for artistic and recreational spaces such as statues and decoratives.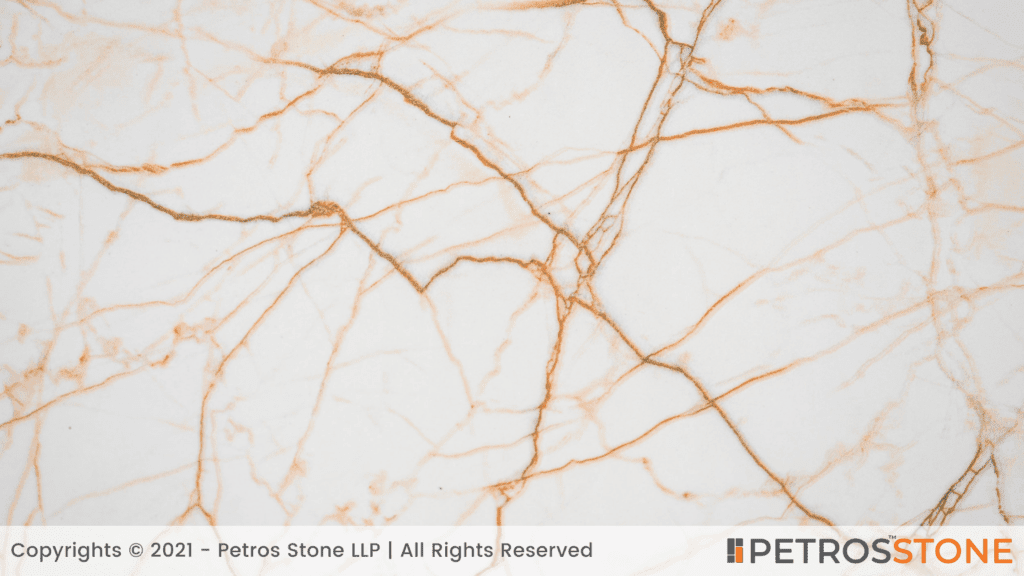 ---
47. Equator White Marble
This is a rare marble quarried from Turkey and other regions spread across the globe. It has a very symmetric and parallel pattern of grey lines across the slab. These grey lines vary in width and tone.
Equator White in a polished state is good for flooring and bathroom countertops as they create a very relaxed and smoky ambience.
Due to their symmetry, interesting patterns can be formed with the tiles of this marble. For example, if you place these tiles in right angles to each other, an interesting and symmetrical pattern can be formed with the flooring. So, this marble also makes a perfect exterior wall material.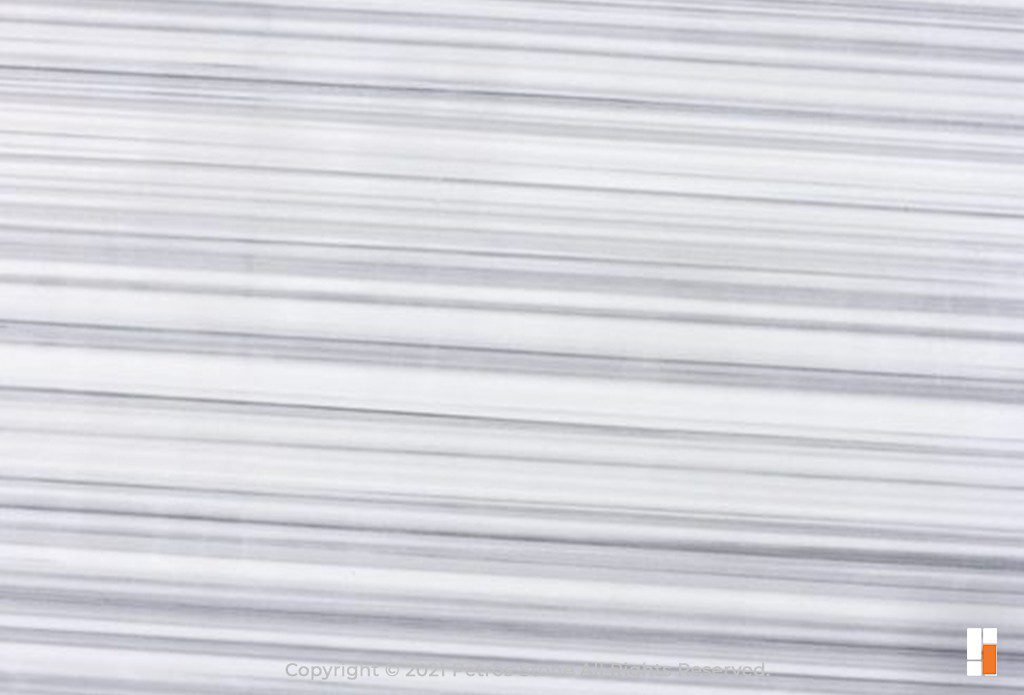 ---
48. Giallo Siena Marble
Name suggestive, this marble is quarried primarily from the Siena region in Italy. Also, it is a dark yellow metamorphic marble that has medium-sized grains in its texture.
As this marble is yellow with red patches and dark brown veins, it cant be used for mainstream purposes. Therefore, this marble finds application as the base material to build a luxury bathroom. You can base your entire bathroom on this marble and construct a countertop, sinks, and bathtub.
Giallo Siena is a heat-resistant marble and in some designer spaces, it is used to construct fireplaces. You can also use it for constructing stairways and kitchen countertops.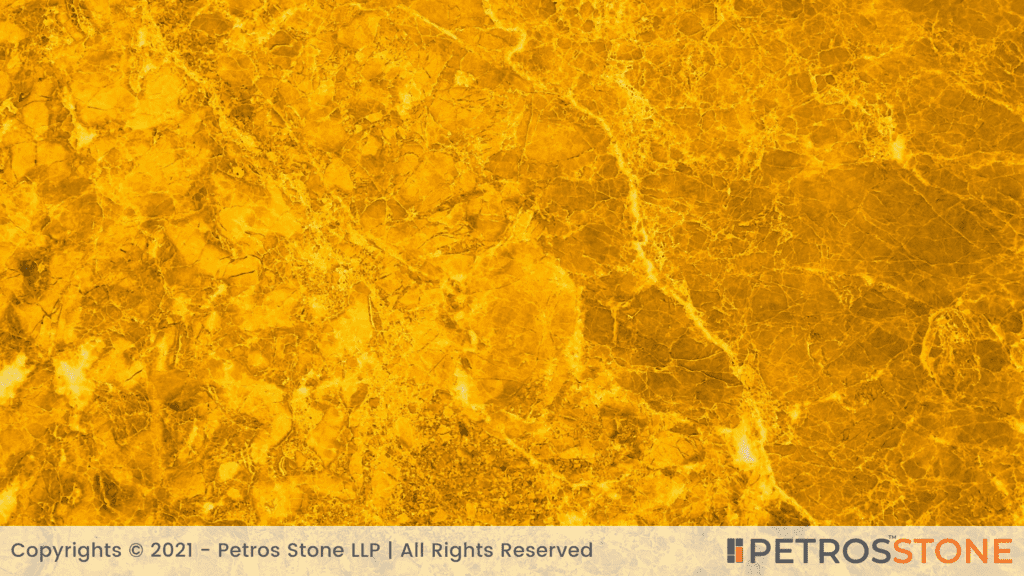 ---
49. Oro Calacatta Marble
Marble of the Calacatta family. So we know that it originates from the infamous Carrara region in Italy. But the difference between an original Calacatta and this is the base colour, which is paler in Oro. Also, the veins are more prominent in Oro compared to the original Calacatta marble.
This marble is great for flooring, bathroom countertops, and wall claddings. As a Calacatta series marble, it is strong, durable and heat resistant. So it makes for perfect pillar and exterior wall materials as well.
Calacatta Oro marble is even used for creating statues and pieces of artwork. They also make great bench materials.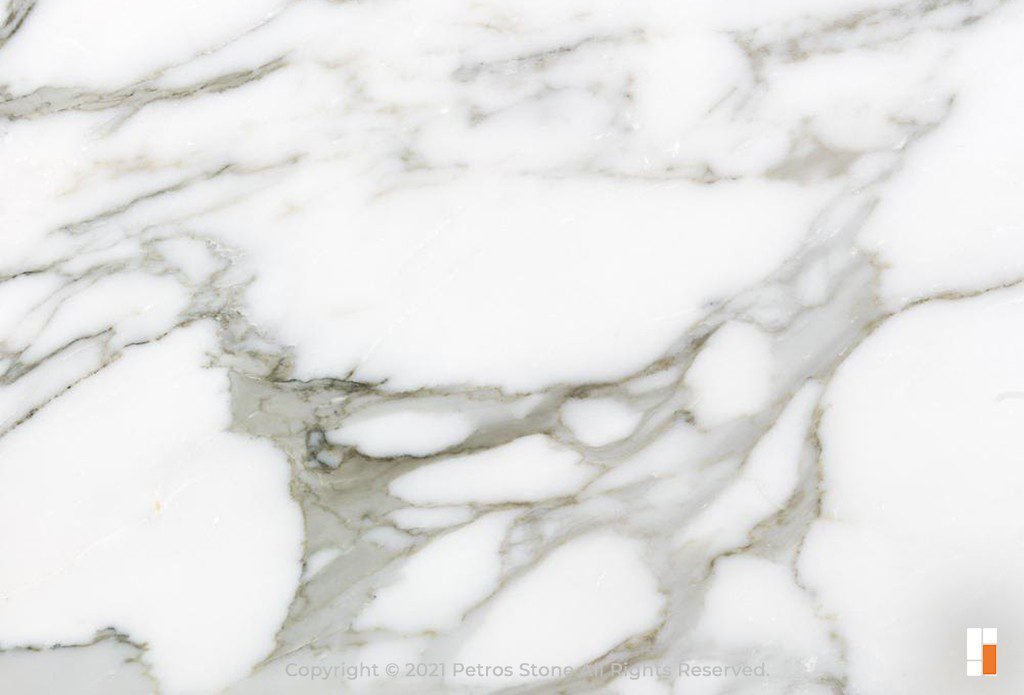 ---
50. Grigio Carrara Marble
Marble from the Carrara family, Grigio Carrara marble has a rich vein of history running through it. It has been used for prestigious monuments in the past and is still going strong in the marble popularity race. Hence, last but not least this marble makes our list.
Grigio Carrara marble's appearance is very simplistic with a grey base tone and subtle patches and veins of white and dark grey. Therefore, this particular pattern reminds the viewer of a certain tundra type appeal and looks simple yet enigmatic.
This marble is best honed for a matt book finish and used as flooring, wall claddings, bathroom countertops in residential uses. In commercial spaces, you can find the application of this marble in the form of flooring, pillars, wall claddings, and staircases. Due to such versatility, Grigio Carrara marble requires various kinds of finishing.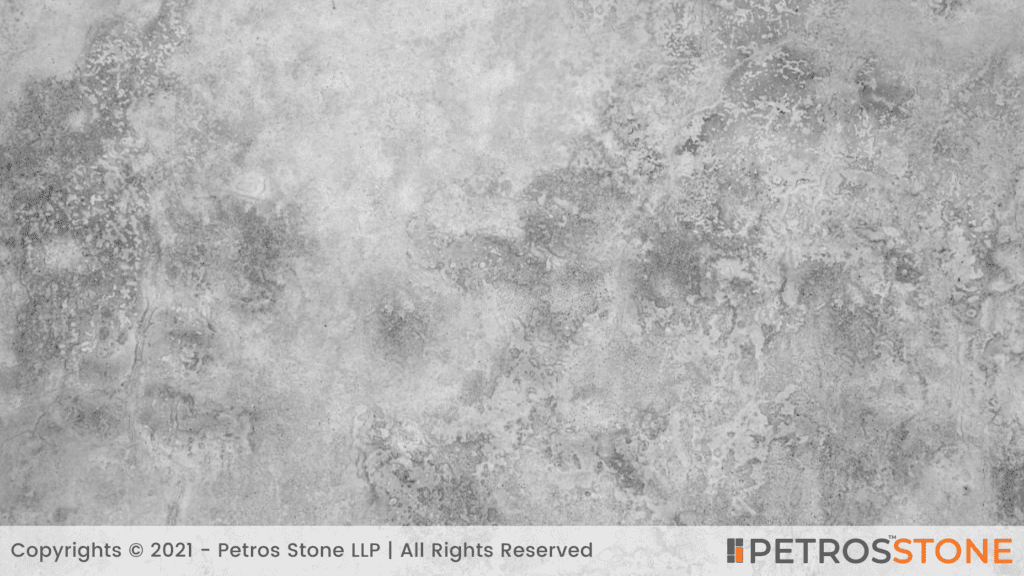 ---
AAt Petrosstone, we are one of the top suppliers of natural stones in India. With 30+ years of experience we have the industry expertise to help you with the best italian marble for your project along with its finished and applications. All you have to do is write to us about your requirements and we take care of the rest. Feel Free to get in touch with us for help.

---
Italian Marble Price List