Granite has turned out to be some of the most versatile natural stones for any kind of residential or commercial estate. With technological advancements leading to the development of new granite finishes apart from the traditional flamed, leathered and lapatro finish, granite has become an even better option to consider for any use.
Thus, it is important to know about the different types of surface finishes available for granite stone.
The most common types of granite finishes are: Flamed, Leather and Lapatro Granite finish – which offer anti-skid, non-slippery and textured look to the granite surface. Ziano Granite finish has come up as the most practical, most useful and versatile granite surface finish.
The 15 Most Important Granite Surface Finishes are:
Ziano FInish
Satin FInish
Leathered Finish
Lepatora Finish
Flamed Finish
Sand Blasted Finish
Bush Hammered Finish
Polished Finish
Matrix Finish
Calibrated Finish
Swooshed Finish
Caressed Finish
Tumbled Finish
Antique Finish
Natural Finish
---
---
Ziano Finish
Description
Ziano finish is combination of matte and polished surface finish -acquiring the best of both worlds.
Ziano Finish is the best, most versatile and useful granite surface finish.
Ziano is an anti-skid finish with an appearance that resembles very close to polished granite. This makes it a good finish for not just functional but also appearance sake.
This process is very extensive unlike other types of finishes. Ziano requires finishing over 7 times and usually, this process is automated using a state of the art facility.
Using the automated facility manufacturers get a consistent type of finish. This is uniform throughout the entire slab and usually lasts very long.
Ziano finish is very easy to maintain and requires not much upkeep.
---
Application
This type of finished product is best used for floorings, stiarcase steps, exterior ladnings, flooring, landscaping areas and similar applications due to its anti-skid nature.
Due to its smooth polish like finish and appearance, it can also be used as wall claddings, facades, decorations, carvings, backdrops, etc.
---
Satin Finish
Description
The satin finish is achieved by using abrasive pads to polish the surface after honing the granite slab. This is one of the most common granite finishes in the natural stone industry.
In this kind of granite finish, the tone of the granite is subdued compared to other finishes. However, the colour and depth remain unchanged.
A massive advantage of having satin or honed finish for your granites is that it can cover up a certain degree of scratches and etchings for a long period.
The satin finish is highly contemporary and natural-looking. Hence, the aesthetics of the stone is preserved post-processing and this is one of the most common forms of granite finishes.
---
Application
Satin finishing is usually preferred for floors, stairs, hallways, and entryways. The exclusive quality of satin finishing is that it doesn't get slippery when wet. This feature makes satin finishing good for anti-skid applications.
Heavy traffic areas such as kitchen and bathroom countertops can also find applications for satin finishes.
---
Leather Granite Finish
Description
Leathered granites is a new trend of finishing that is gaining popularity in the natural stone industry rapidly.
This type of finish generally has a textured look with a little bit of gloss. The finish is not uniform and differs from stone to stone.
Using a diamond-tipped brush against the granite surface, manufacturers provide a very rustic looking granite slab. This process gets rid of any unevenness of the granite surface while maintaining the natural aesthetics of the slab.
This type of finish tightens up the pores of the granite and ensures there is no damage done due to liquids seeping into the surface.
---
Application
Leather finish granite is used for staircase steps, floorings and even facade work. Its a minimal and simple type of granite finish that can be used a variety of applications.
Being very well sealed as well as naturally appealing, a leathered granite is perfect for a bar countertop or a bathroom countertop.
---
Lapatora Granite Finish
Description
This is a type of finish that may have originated in Italy. It is a combination of leather and polished finish.
In this type of finish, the granite slab is firstly uniformly polished using an automated setup. Then this granite slab is run through abrasives that get rid of some of the polish and create an uneven yet smooth finish.
Next, some of the scratches are evened out using a stone brush. This process is repeated several times until a less shiny and coarse finish is achieved.
Lapatro finish is a combination of polished and matte surface finish – with varying depth of finish.
Lapatro finish granite provides a rustic look while still looking extremely stylish.
---
Application
Lepatora is an anti-skid granite finish, making it perfect for building staircases, indoors and outdoors.
Lapatro granite is also used for foorings and facade work.
Lepatora finish is also applicable for granite slabs that are used for decorative or vanity purposes as well.
---
Flamed Granite Finish
Description
This type of finish is highly uneven across the entire granite surface as the granite is alleviated after the treatment. In the flamed finish the granite loses its original shade but retains the colour. It also provides a very rustic look to the granite.
To achieve a flamed finish, the granite slab is heated to high temperatures exposing the inner crystalline structure of the granite. Usually, a very high-intensity flame is used for such methods.
The flamed finish is very rough and has no shine.
If you are looking for an anti-skid granite surface that brings out the hidden textures and patterns then a flamed finish is the right fit.
---
Application
This type of finish is great for outdoor applications, especially pavements. The reason being it has a coarse appearance with a texture suitable for foot grip.
A flamed finish is also good for outdoor kitchen surfaces as well as exterior walls.
---
Sand Blasted Granite Finish
Description
Sand Blasted finish is rough and has a very natural rustic finish. Sandblasted finishing is achieved when pieces of metal or silica along with water are shot at high speeds using pressurized air. It has a very matte appearance with no gloss or shine.
This type of finish provides a very porous finish and so it is generally used for wall and decoarative purposes.
Sandblasted granites have a consistent pattern across the entire slab.
---
Application
One of the main characteristics of this type of finish is its ability to prevent slip. This feature makes sandblasted granites a purposeful material for heavy traffic areas.
Sandblasted granites are widely used for swimming pool decks, shower trays and patios.
---
Bush Hammered Finish
Description
This type of finish is achieved by the traditional method of chiselling away tiny pieces of the granite surface using a hammer. Bush hammered finish can be achieved using a high impact machine or hand tools.
Bush hammered is a very coarse finish as there are a lot of uneven pits formed post-process completion. It is a very rugged finish with less gloss.
This finish is used to reveal the tonal variations of the granite slabs.
---
Application
Due to its anti-skid nature, bush-hammered granite is used for bathroom floors and swimming pool decks.
Bush hammered finish has the best slip resistance and so it can be used for pavements and outdoor entryways.
Its texture also provides interior designers to include it in external facades.
---
Polished Finish
Description
Perhaps the most common type of finishing in the natural stone industry. The polished finish is almost a mirror-like finish with the complete aesthetics of the granite such as tone and pattern is completely preserved.
The idea behind this kind of finish is to create a sense of elegance and also amaze any viewer.
Polishing involves grinding and buffing the granite surface. This is done using an automated setup of abrasive pads that rub the surface based upon the intensity fed instructed to the machines.
This surface is very easy to clean and maintain and can be used for a diverse range of purposes.
---
Application
Due to its easy to maintain and design appeal, polished granites can be found everywhere – from kitchen and bathroom countertops to floors, steps, facade and any type of cladding.
In a lot of cases, polished granite is used for indoor flooring as it enhances the beauty and design of the stone and can be used to create a mirror-like finish.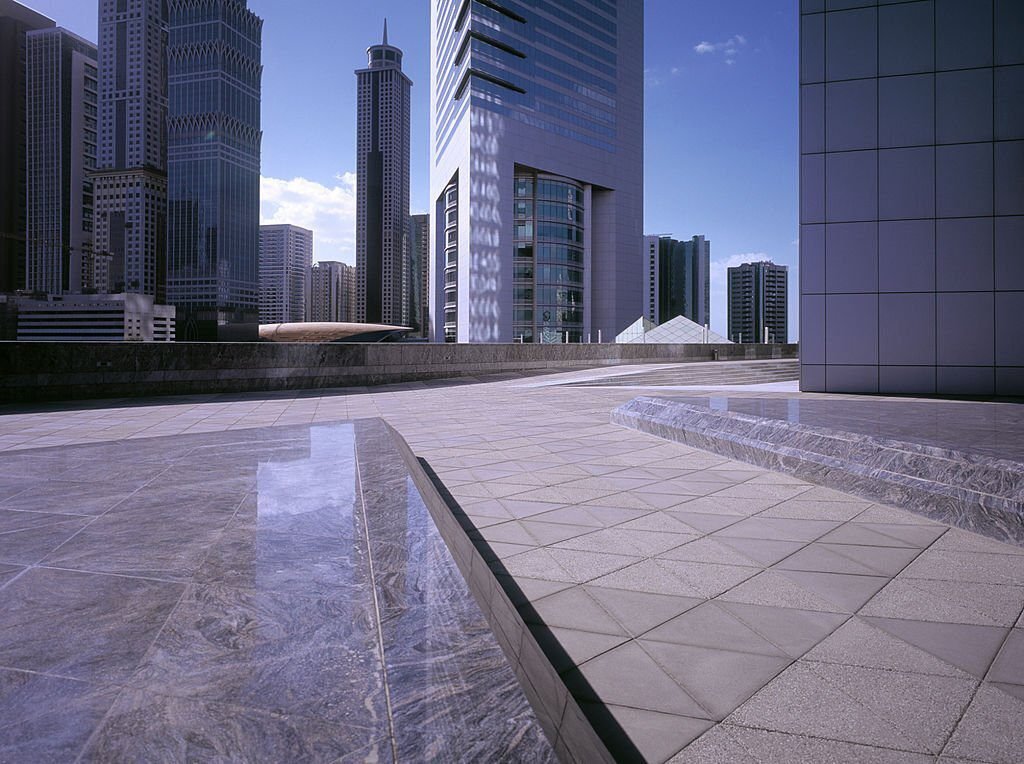 ---
Matrix Finish
Description
This is a type of finish between satin and lepatora. The idea is to create an artistic pattern on the granite surface that can create eclectic patterns for your design space.
The matrix finishing process begins with polishing the surface and then creating lava-like layers across the granite surface. This granite finish is not only functional but also aesthetic and is hence preferred for large spaces like facade and flooring.
The purpose of matrix finishes is to create tiles that will fit not only contemporary but also niche designs.
---
Application
The applications of matrix finish are very diverse. It can be used for economic purposes as well as luxury design spaces. One of the ways to use this kind of finish is by incorporating them into large floor spaces and facades.
Matrix finished granite is also applicable for sculpting, fountains, and monument purpose.
---
Calibrated Finish
Definition
Calibrated granite finish is purely functional but can also be used aesthetically by creating patterns.
Calibration is a process of evening out the granite surface – which in turns creates a linear groove-like pattern on the granite surface.
---
Application
Calibrated granites are best used for outdoor purposes as they are highly durable and also are weatherproof.
Its anti-skid nature finds application in parking, ramps, and claddings. Another unique feature of calibrated finish is that it can combine with another type of granite finish to good looking patterns.
---
Swooshed Finish
Description
Swooshed finish breaks up the extremely polished and irregular intervals on the granite surface with leathered or lepatora to create dazzling patterns across it.
This type of granite consists of a combination of finishes that are more useful when applied for commercial purposes rather than economic purposes.
A swished finished granite requires regular cleaning for dust and polishing for scratches as it could affect its appeal.
This type of finishing pattern involves simultaneously finishing the granite slabs in different patterns and then the architect or designer assembling them like an artist.
---
Application
Swooshed granite types are artistic and used purely for display purposes in commercial spaces to add to the design aesthetics.
These types of finished granites are used in commercial floors in theatres, banking halls, and even residential parking.
---
Caressed Finish
Description
The caressed finish is the glossier version of leathered finish. In this kind of finish, the elevated parts of the granite are levelled and polished out to just etch slightly. This helps the troughs of the surface to stick out as well.
The polishing of the accentuated portions makes the slab more stain-resistant than leathered finish. This process requires hand tools, but for precise calibration, it is better to process this in an automated setup.
Caressed finish requires not much upkeep and is easy to maintain. It is highly stain-resistant and the colour of the granite sticks out with this finish.
---
Application
This type of finish is required for spaces wherein you want to lighten up the tone, particularly as wall claddings or floorings.
Caressed finished granites also finds their way into exterior spaces such as countertops, front elevations and pathways.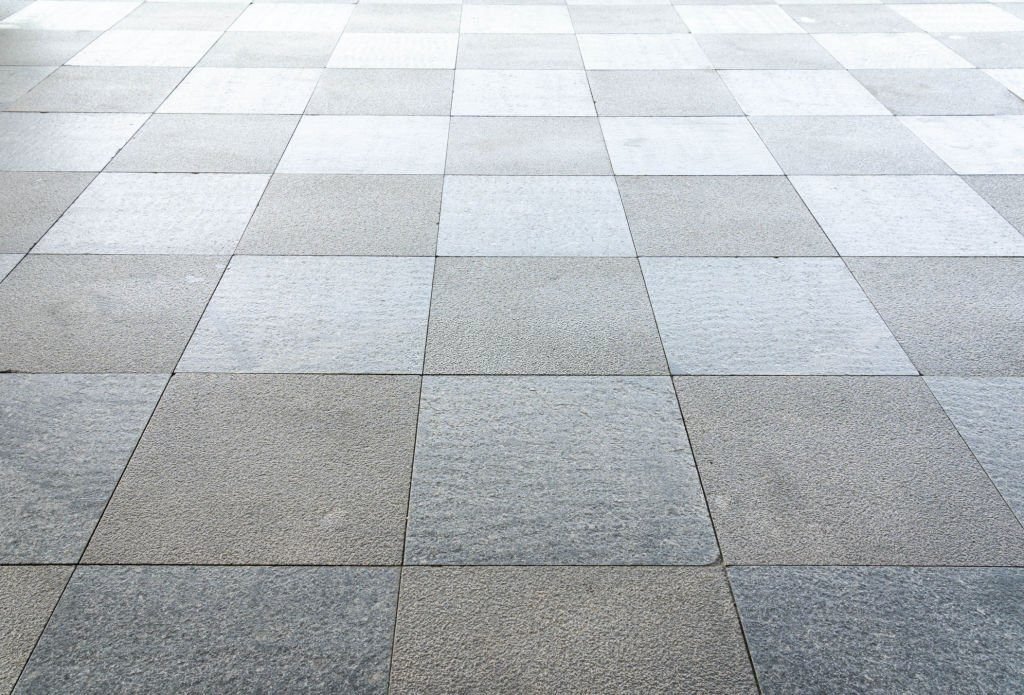 ---
Tumbled Finish
Description
Tumbled finish is the most rustic look for your granite slab with a very soft and worn out surface.
This is achieved by following a highly mechanical and rigorous process of tumbling the granite slab in a steel or plastic drum. The drum contains water, sand, and pebbles that rub against the surface providing this finish.
This type of finish is meant for only small and medium scaled granite slabs.
Tumbling creates soft edges and provides a very rugged look to the stone. These types of granites do not require much of maintainence as they are mostly used in heavy traffic and economical places.
---
Application
Tumbled finished granite is rough and worn out. Therefore these granites find application in landscapes and feature walls.
This type of granite can also be used for exterior pavements as well as facades. These don't need much upkeep and periodic sealing and cleaning are the most you have to sweat about.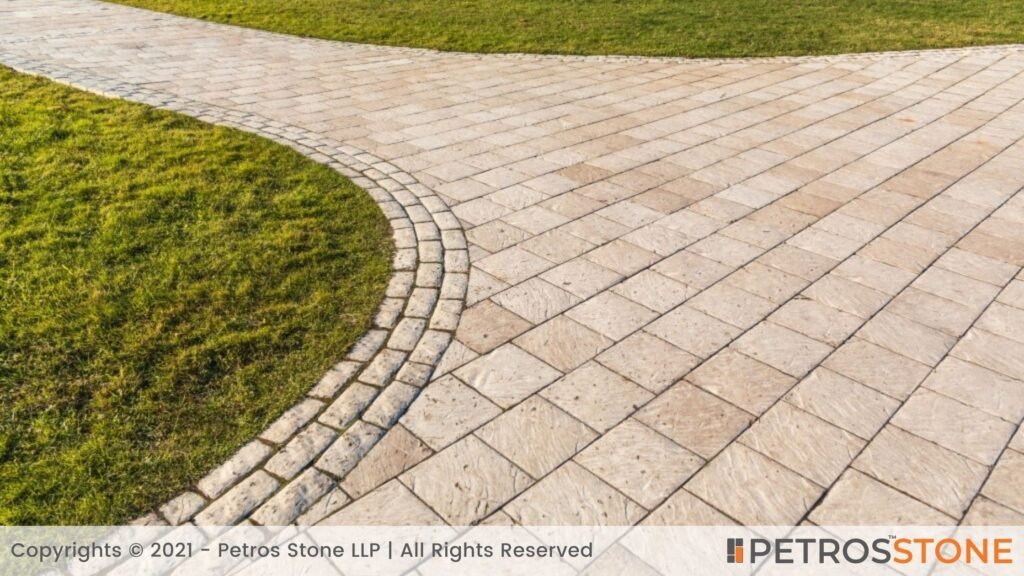 ---
Antique Finish
Description
Antique finish for granite is a process wherein the softer parts are polished away leaving only the harder parts behind.
There are a couple of methods to achieve this finish. One of the ways is to hone and polish down the surface using a metal brush of various shapes and sizes.
The other method would be to tumble the granite slab using sand and pebbles encased in a rubber or plastic drum. The method depends upon the size of the granite slab but results in the same finish.
This is a highly worn-out finish with great resistance to slip. Perfect material for outdoor applications. The maintenance of this type of granite is not required apart from periodic checks for wear and tears.
---
Application
This type of finish is perfect for institutional buildings such as offices and commercial spaces. Historically this has been used in palaces and heritage buildings.
Antique finished granites can also be used in luxury spaces as facades, wall claddings and entryways.
---
Natural Finish
Description
Name suggestive, this is unprocessed granite which is in its natural state and cut into various shapes and sizes.
Since there is no polishing to these slabs or tiles, there will hardly be any maintenance with these types of granite slabs.
The advantage of this kind of granite is its flexibility with dimensions as it can be moulded, cut or shaped based upon the architect's requirements.
These can be used for exterior or decorative purposes mostly and it is difficult to be used for any other purpose.
---
Application
Surprisingly, granite in its natural state has a wide range of applications. Mostly exterior purpose-based such as monuments and bridges. They can be used as building materials or as claddings.
There are some other uses of natural granite such as being an integral natural stone for constructing tombs and graves. Apart from this, there is also the use of natural stone for park benches and pavements.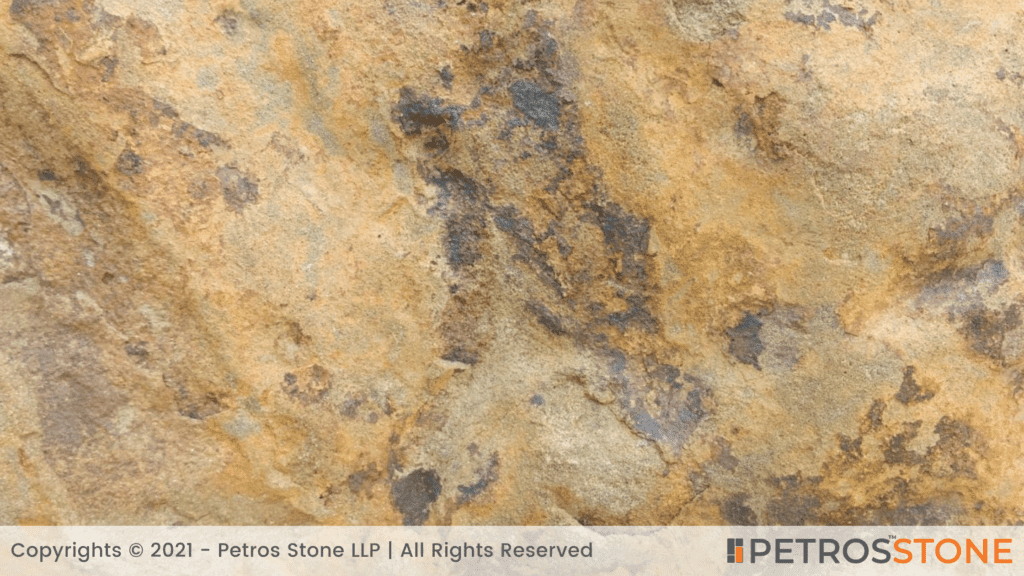 ---
At Petros® we specialize in a huge array for surface finishes of granite. We are passionate to help you find the right surface for your project – considering the practical, fucntional and aesthetic requirements of each and every space. Hence, feel free to get in touch with us for any assistance.