Black Italian Marbles signifies sophistication and mystery. There is a new surge in demand amongst architects and interior designers for black Italian marble. This is because you can combine black with other colours such as white, red, and blue to create great looking and elegant design spaces.
Nero Portoro is regarded as one of the best black italian marbles in the interior design space due to its fashionable texture. Besides,it has multiple applications, especially as bathroom countertops and flooring.
---
Here is a list of the 15 Best Black Italian Marble names, price and features:
Nero Portoro
Black Marquina
Black Portoro Waves
Armani Black
Black Lava
Black Forest
Saint Laurent
Noir Saint Laurent
Fossil Black
Sahara Noir
Baltic Sea Waves
Nero Di Ormea
Nero Kawala
Portoro Antalya
Devonian Black
---
List of Best Black Italian Marble – Names, Prices and Pictures:
---
1.Nero Portoro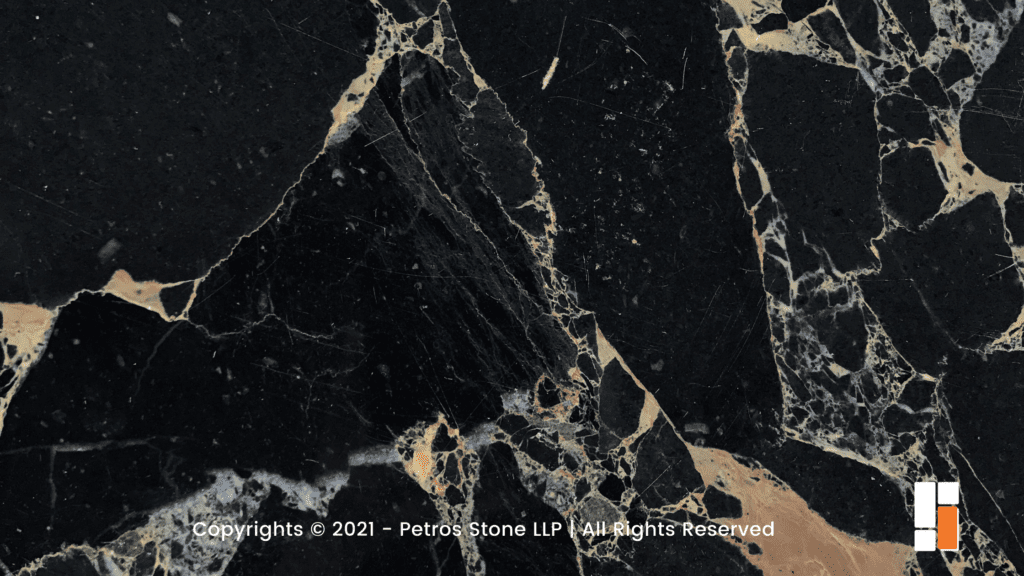 Origin
Suppliers procure this rare piece of marble from the quarries of Porto Venere, Italy. As colourful as the town of Porto Venere, the marble quarried from here is equally extravagant with streaks of gold, copper, and white on a lustrous black base tone.
---
Application
This marble has been extracted and used since the 7th century by the Roman Empire. This is because of its rich appearance of golden veins in a black background that indicates royalty and success.
This is a very fine-grained marble that is not very durable. Hence, it can be found in luxury spaces or designer projects. Especially, designers like to use this as a centrepiece of the project, like furniture or kitchen countertop.
This is a perfect marble for stylish bathrooms because when polished with a high grit abrasive, it can resemble a black mirror. So after a long day, it's time to reflect and relax in a Nero Portoro marble bathtub. Also, it can be used as the flooring of the bathroom.
---
Price of Nero Portoro Marble
This black italian marble is rare and delicate. Procuring Nero Portoro marble is an expensive affair, but nevertheless a collector's choice of natural stone.
Nero Portoro can cost anywhere between ₹350-₹750/sq.ft. or $61 – $115/SQM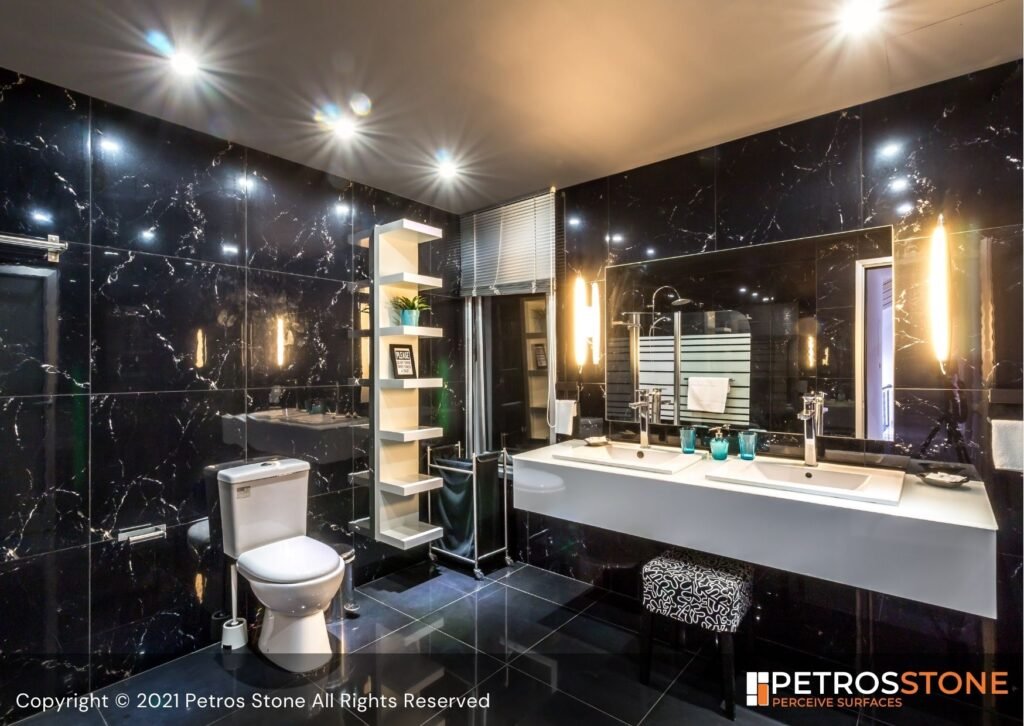 ---
2. Black Marquina
Origin
This is one of the most popular Italian marble available in India. A massive product of the Basque region in Europe, Black Marquina can be spotted in most of the residential or commercial spaces in India.
---
Application
This marble has a very high lustrous black sheen as a background, with white streaks that provide a very crumbled appearance to the marble. This elegant design of Black Marquina is an interior designer's go-to choice while designing a kitchen or bathroom. It is also common to find Black Marquina staircases in interior designs.
Black Marquina is an excellent choice for constructing interior spaces with black as the theme. In a bathroom, it can combine with a Calacatta marble sink and flooring. You can use it for flooring, wall cladding, and countertops.
It is a marble which is a great material for kitchen countertops as it is chemical and heat resistant. Also, it is one of the least porous Italian marbles available in India.
---
Price of Black Marquina Marble
Black Marquina arrives in various grades with the highest quality one having lesser veins and the deep black base colour. As the grade decreases, the veins are more prominent and abrupt with an inferior quality of base colour.
Black Marquina Marble Price: ₹350-₹750/sq.ft. or $61 – $115/SQM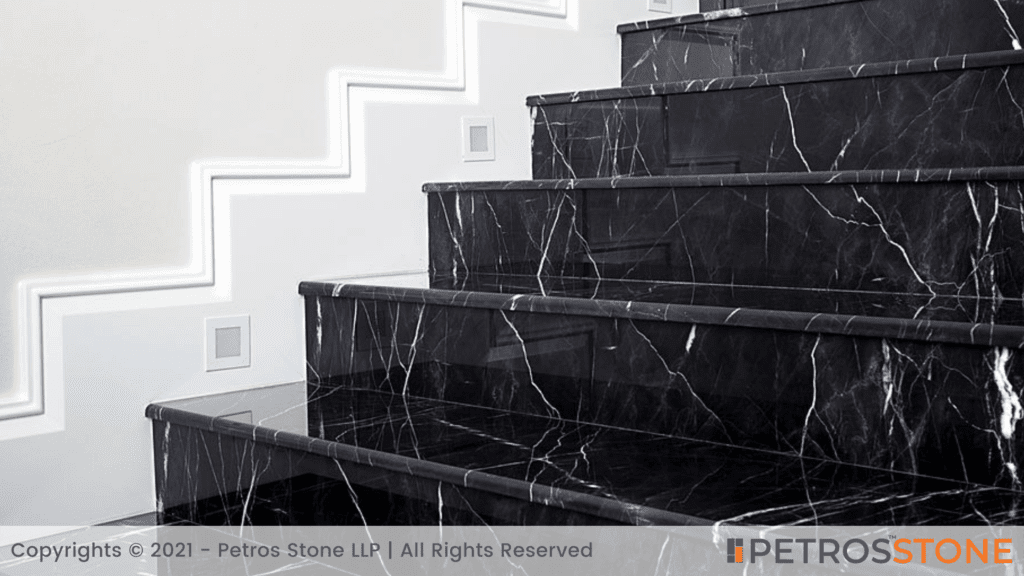 ---
3. Black Portoro Waves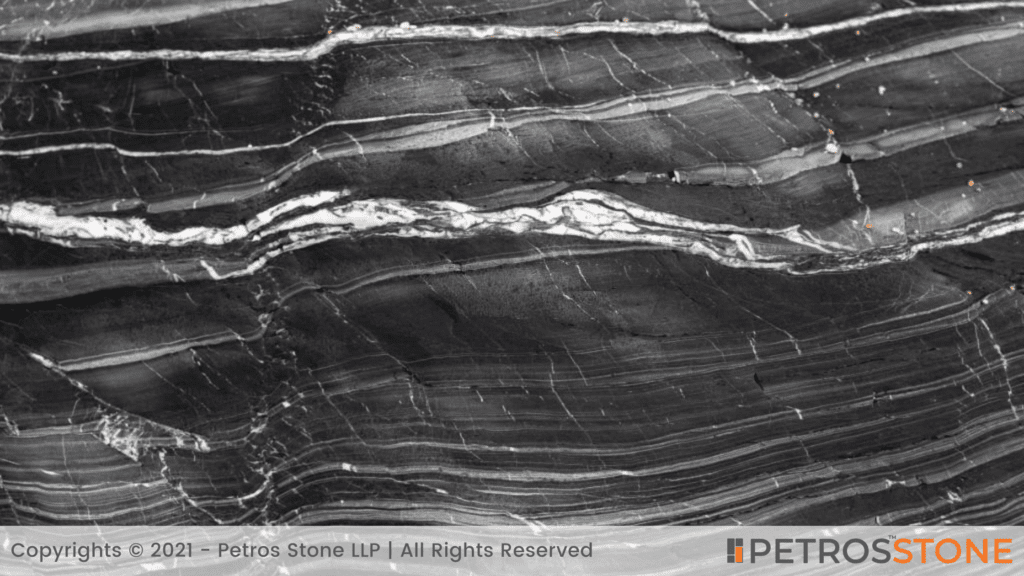 Origin
Not far off from Porto Venere is La Spezia which holds the quarries for this extravagant marble. It is a rare piece of stone that is the result of millions of years of marine fossil oxidation.
---
Application
This is a marble that has a unique design of white and grey waves along with a black base tone. Due to this unique ocean like pattern, the marble can be cut and placed to create interesting patterns. Also, the best way to use this marble is by providing a high grit polished finish for a reflective appearance.
Black Portoro Waves marble can combine with other lighter shade marbles and form artistic patterns for floorings, as well as wall claddings. Due to its artistic appeal, this luxury marble can be seen as part of cathedrals and palaces.
This marble is a great choice for furniture countertops and bathtubs.
---
Price of Black Portoro Waves Marble
Like any Portoro family marble, this is an expensive natural stone. The reason for this is its rarity and royal black and golden texture.
Black Portoro can cost anywhere between ₹350-₹750/sq.ft. or $61 – $115/SQM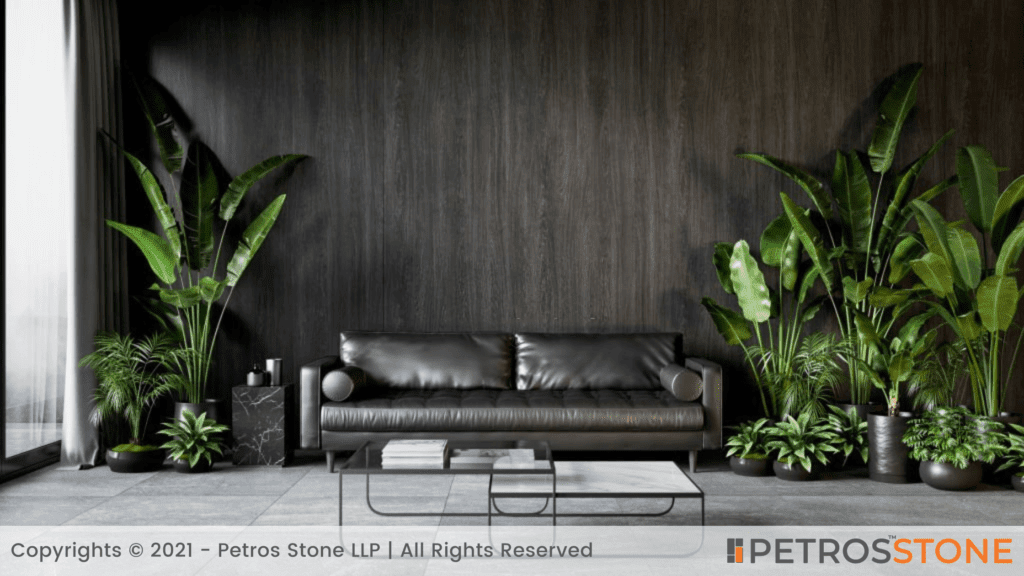 ---
4. Armani Black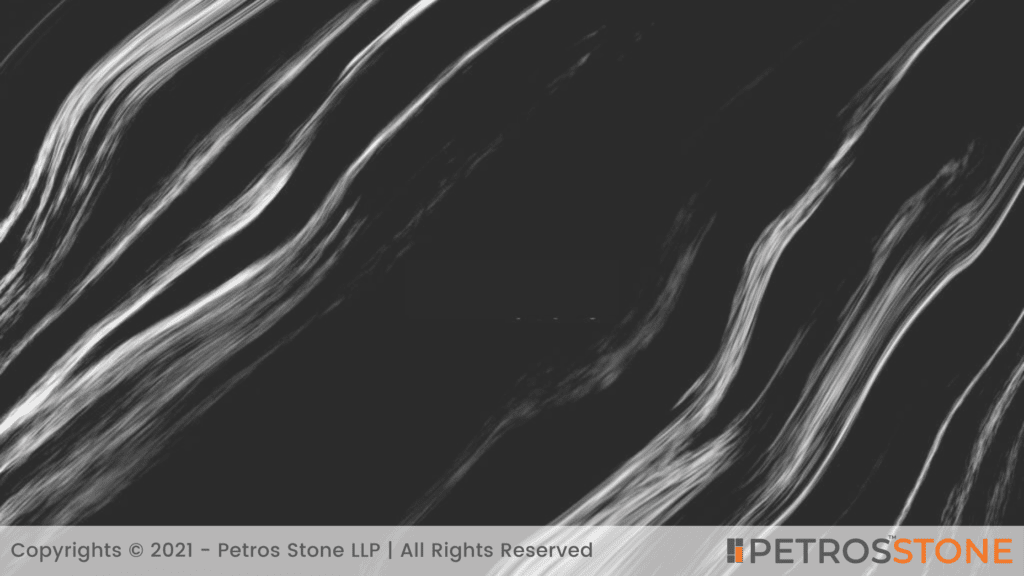 Origin
This marble shares its name with the most famous Italian fashion designer. However, the correlation with Italy ends with the name. Quarried massively in China, this marble makes the list due to its mistaken popularity as Italian marble.
---
Application
This is a marble that resembles burnt out wood more than marble. The reason behind this texture is the subtle and parallel calcite streaks that run across a bronze black base tone. This pattern of Armani Black makes it a great marble to be used as flooring in bathrooms and kitchens. Also, you can use this marble for wall claddings as well.
Its subtle but soothing design is the reason why you should consider this marble as your kitchen countertop. This way, you can use other elegant marbles such as Calacatta Gold as flooring and wall cladding.
It's a general rule of thumb that a marble that is good enough for flooring can be mostly even used for staircases. For all the aforementioned purposes, a satin finish will be the way to go
---
Price of Armani Black Marble
Armani Black marble has various grades with differences in the base black colour and the prominence of the white veins. To be precise, if the marble is closely resembling a piece of wood then it is a high-grade Armani Black marble.
Armani Black Marble Price: ₹250-₹750/sq.ft. or $36 – $115/SQM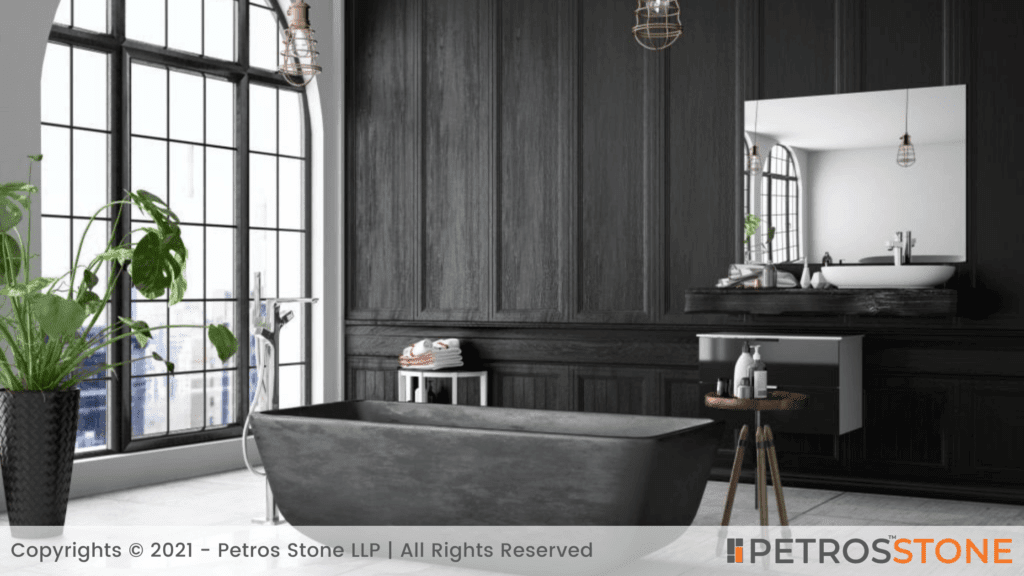 ---
5. Black Lava
Origin
Commonly sold as Italian marble, Black Lava marble has a wide range of quarries across the globe. However, it is primarily procured from China and Indonesia.
---
Application
Across Indonesia, this marble is used in Buddhist temples and is part of the biggest Buddhist temple in the world, Borobudur. This marble has the least porosity levels compared to other black Italian marbles. Therefore there is no doubt about using this as a kitchen or bathroom countertop.
If you are someone who is looking for a Balinese interior design for your kitchen or bedroom, then use this marble as your flooring along with teak Balinese furniture.
This is a great marble for exterior purposes as well due to its low water absorption rate. A good honing is a must for this marble type and it is easy to maintain as well.
---
Price of Black Lava Marble
If you are looking for high-quality Black Lava marble then check for low porosity.
Black Lava Marble Price: ₹180-₹230/sq.ft. or $26 – $35/SQM
---
6. Black Forest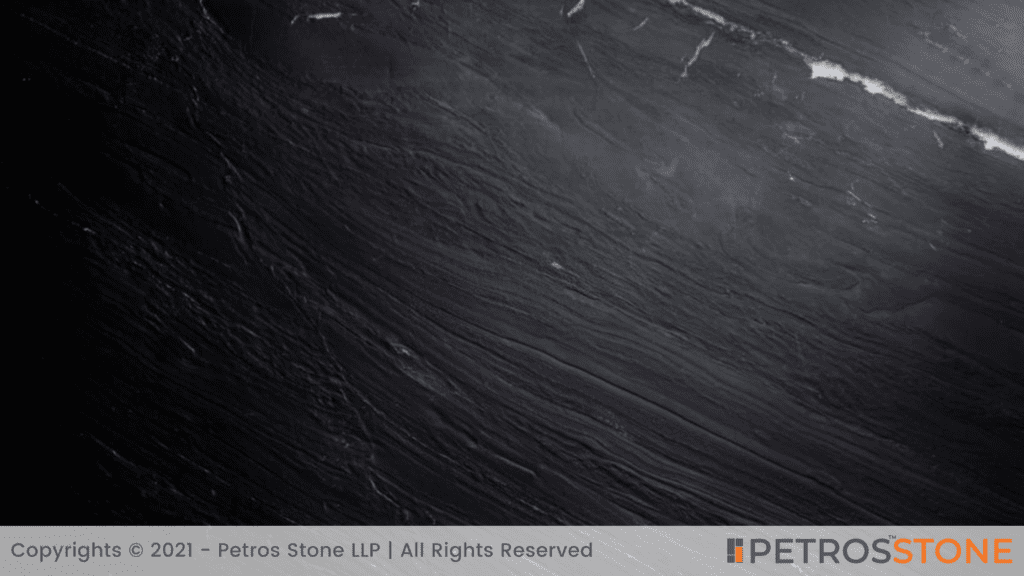 Origin
Recently there has been a massive surge in demand for marbles that resemble wood in appearance. Black Forest is quarried from many regions around the world but the most prominent source would be China.
---
Application
This is a marble that resembles the wooden appearance of Armani Black. So, it is quite often mistaken for Italian marble and so to differentiate between the two, you will have to pay attention to the more prominent wood-like pattern in a Black Forest marble.
This marble is generally a very good marble for flooring, staircases and kitchen countertops. For these mentioned purposes, it is best to polish the Black Forest for a glossy finish. As medium-scaled tiles, Black forest marble can form interesting geometric patterns with its grey and white veins.
If you are an artist who is looking for a natural stone for sculpting and creating niche furniture, then consider Black Forest marble. In a flamed finish, the grey undertones of this marble stick out. So this marble can now be used for mosaic designs, furniture countertops and souvenir designing.
---
Price of Black Forest Marble
This marble comes in various grades. The economical grades will have very few wooden like veins. Also, the base colour will be inferior if you compare it to the high-grade Black Forest marble. You can buy this marble by shelling out anywhere between
Black Forest Marble Price: ₹180-₹230/sq.ft. or $26 – $35/SQM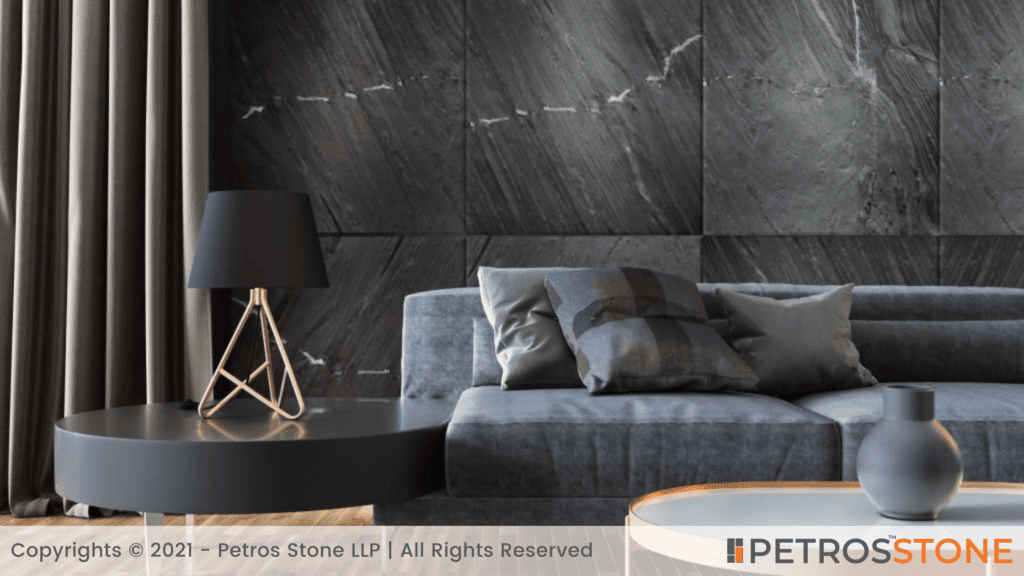 ---
7. Saint Laurent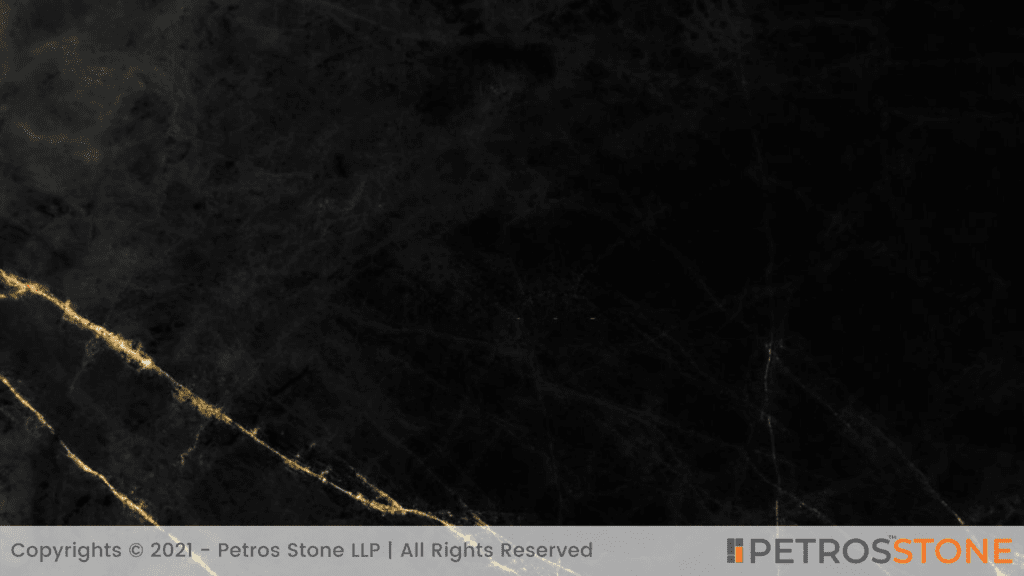 Origin
Saint Laurent marble has been a popular choice of natural stones in hotel and luxury spaces. Suppliers in India procure this marble from France, Brazil, and other parts of Europe.
---
Application
Saint Laurent is a marble that looks like a Shaun Pollock painting. This marble has a copperish black base tone with webby streaks of light brown, white, and copperish veins. These veins are haphazard and provide an Avant-Garde feel to the ambience.
If you are a hotel owner and looking to create a luxurious looking bathroom, then use Saint Laurent marble as the bathroom countertop. This combined with other marbles such as Armani brown or Dark Emperador can create a sophisticated look.
You can provide a polished, honed, flamed, brushed, and bush-hammered finish to this marble.
---
Price of Saint Laurent Marble
The best grade of this marble will have a bright copperish tinge and few, but prominent white veins.
Saint Laurent Marble Price: ₹380-₹600/sq.ft. or $54.7 – $87/SQM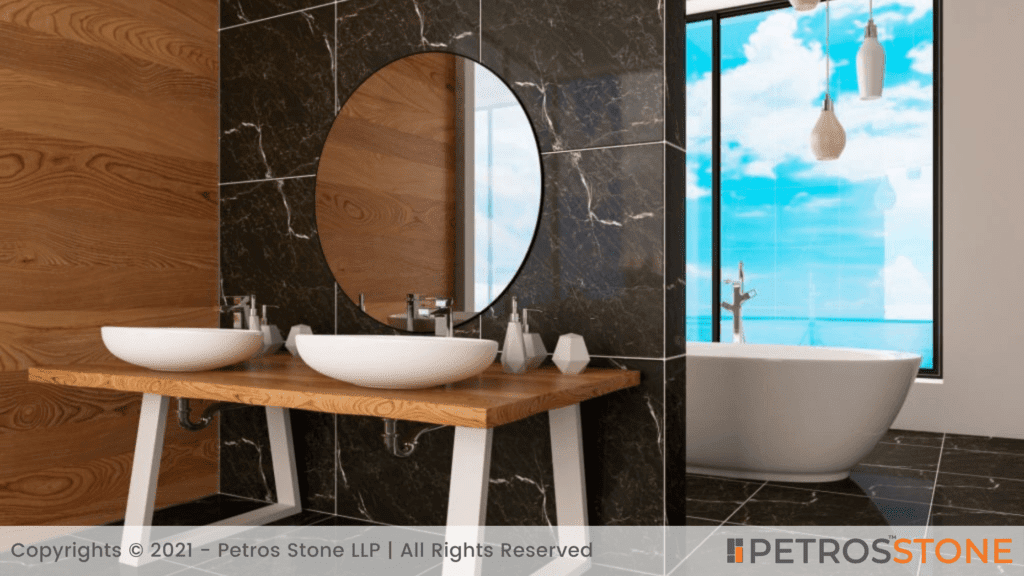 ---
8. Noir Saint Laurent
This is a grade of the Saint Laurent marble. So you can read about Saint Laurent marble above for its origins.
---
Application
The main difference between a Noir and Saint Laurent would be that the latter is predominantly filled with white veins. Whereas a Noir marble would have prominent and massive copperish veins over a bed of similar coloured web patterns.
Noir Saint Laurent is ideal for your dining, kitchen, or bathroom countertop. This marble is the centrepiece for your elegant interior designs.
Due to its intricate pattern of veins and bronze appearance, polishing this marble is the best approach.
---
Price of Noir Saint Laurent Marble
This is the high end of Saint Laurent marble and so it would cost you anywhere between
Noir Saint Laurent Marble Price: ₹380-₹600/sq.ft. or $54.7 – $87/SQM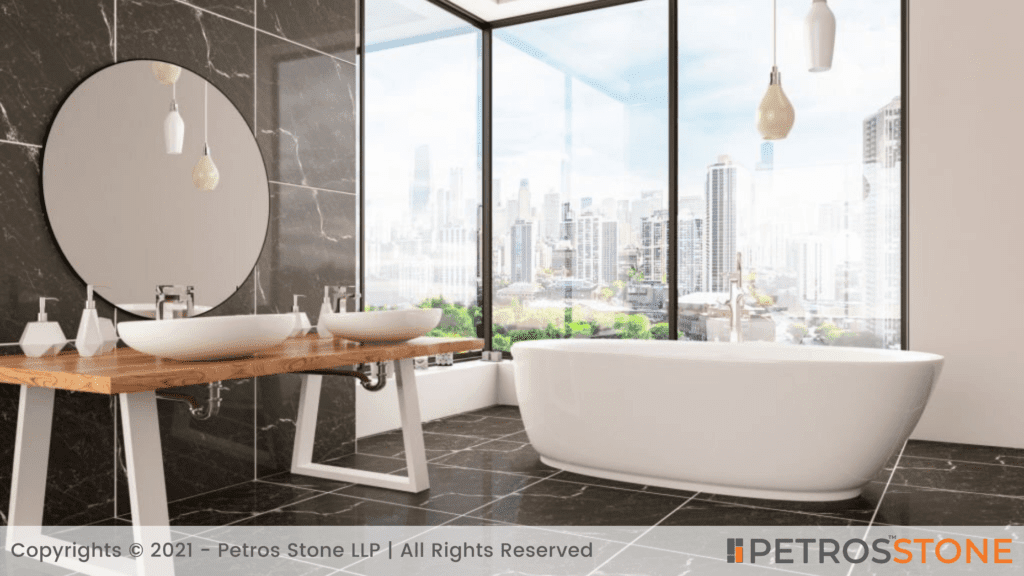 ---
9. Fossil Black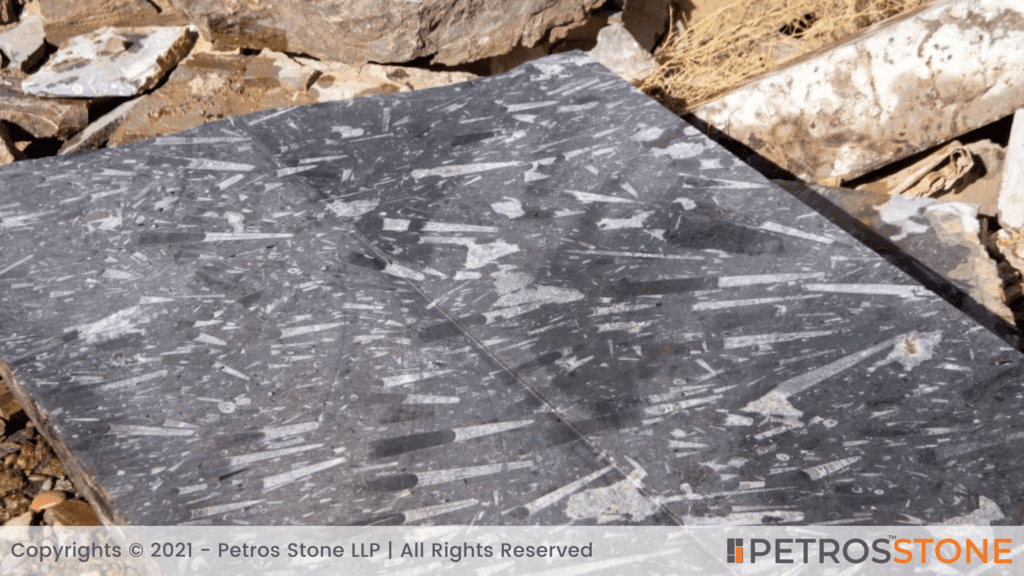 Origin
This is a special looking marble that is quarried from Morocco primarily and some other parts of southern Europe. Name suggestive, this is a marine fossil-based, sedimentary natural stone with a pure black base colour.
---
Application
Fossil Black is a highly exotic marble because it has the entire marine history in its texture. It is the darker version of a Bianco Beige marble and has naturally an interesting pattern with greys of various shapes peppered throughout the slab.
The perfect designer marble, Fossil Black provides versatility along with functionality. So, it can be used for multiple types of purposes such as wall claddings, countertops, columns, fountains, and decoratives.
This marble is best used in polished or honed finishing so that the fossil patterns are revealed and visible.
---
Price of Fossil Black Marble
As mentioned earlier, this is an exotic affair and so the price range for a premium
Fossil Black Marble Price: ₹330-₹600/sq.ft. or $47.5 – $87/SQM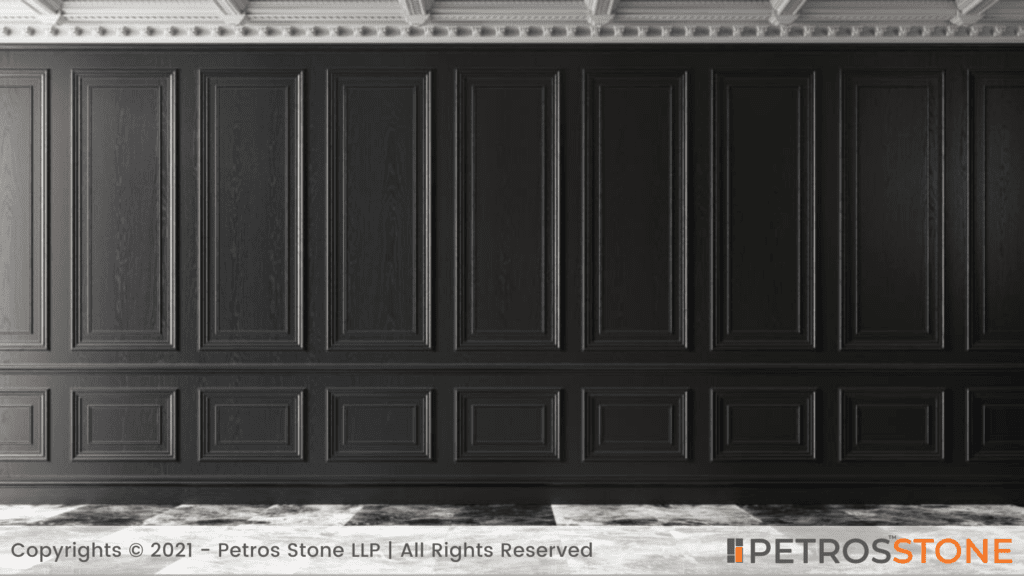 ---
10. Sahara Noir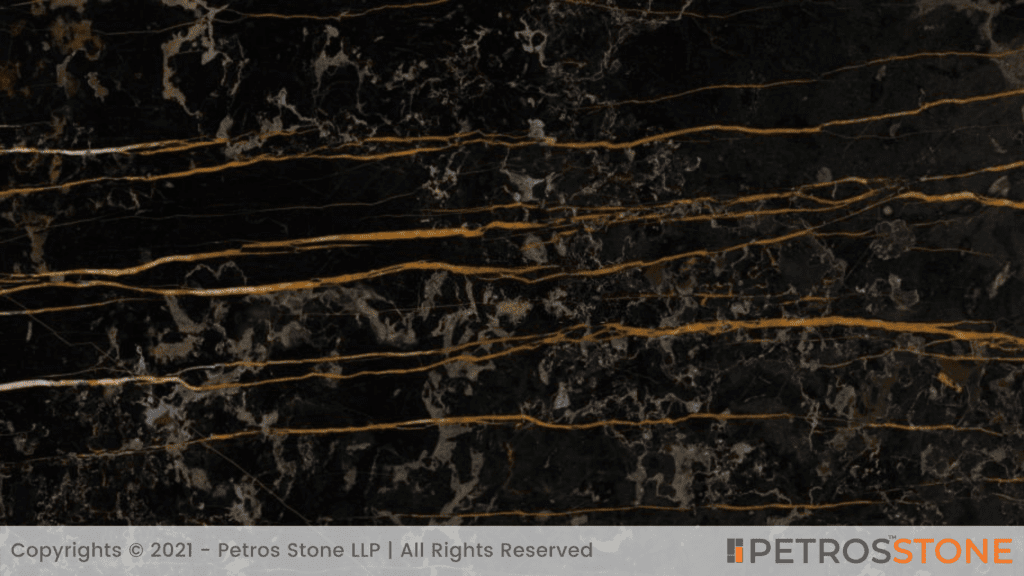 Origin
Sahara Noir is quarried from Tunisia and is an elegant piece of marble that can be found in certain other regions of Europe as well.
---
Application
This is one of those marbles that make your interiors look sophisticated. Its pattern consists of crystal streaks of copper and white on black marble.
These streaks are few and prominent and are at right angles to each other. Therefore, creating unique and sophisticated patterns when put together well.
These marbles are best for display based applications such as fireplace wall claddings, furniture countertops, shower backsplashes, and facades. A polished and glossy finish is the only way to treat this beauty.
---
Price of Sahara Noir Marble
The procurement of this marble is quite an expensive affair and so it could cost you between:
Sahara Noir Marble Price: ₹410-₹630/sq.ft. or $60 – $88/SQM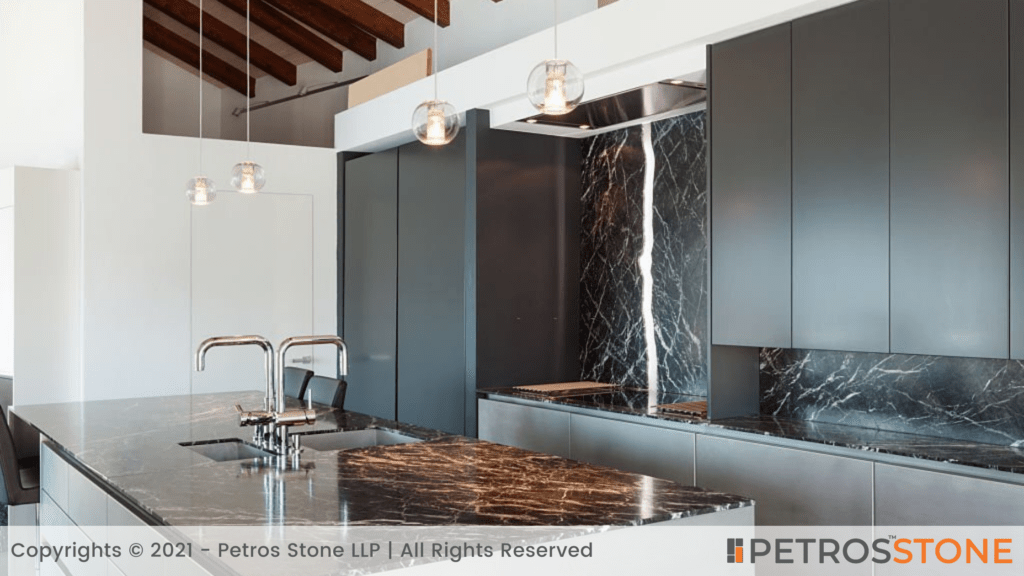 ---
11. Baltic Sea Waves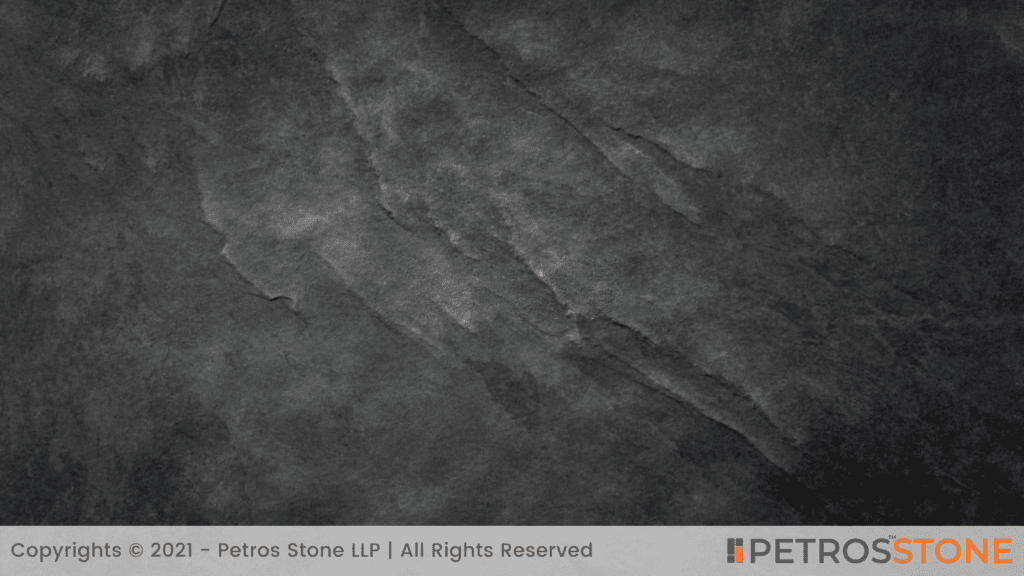 Origin
This marble may appear grey to you but technically it is black marble. You can find Baltic Sea Waves marble quarry in Turkey and surrounding areas of Europe.
---
Application
This is a unique looking marble with a pattern that resembles the ocean waves over a grey base tone. The pattern creates a sense of freshness just like the ocean waves and can provide a soothing appeal to the interior space.
Its geometric wavy pattern can form interesting designs when combined with the same marble or another. So if you are looking to create attractive flooring for your hallway or commercial space, then this is the best way to get one out of minimal resources.
As you can notice the crystalline structure of the marble, you can predict other applications of Baltic Sea Waves marble. You can easily apply it as wall claddings, especially if you hone or bush hammer it.
---
Price of Baltic Sea Wave Marble
High quality and premium Baltic Sea Waves marble have fewer crystal-like white veins and a superior base tone. This marble can cost you anywhere in between:
Baltic Sea Wave Marble Price: ₹260-₹380/sq.ft. or $37.7 – $54.7/SQM
---
12. Nero Di Ormea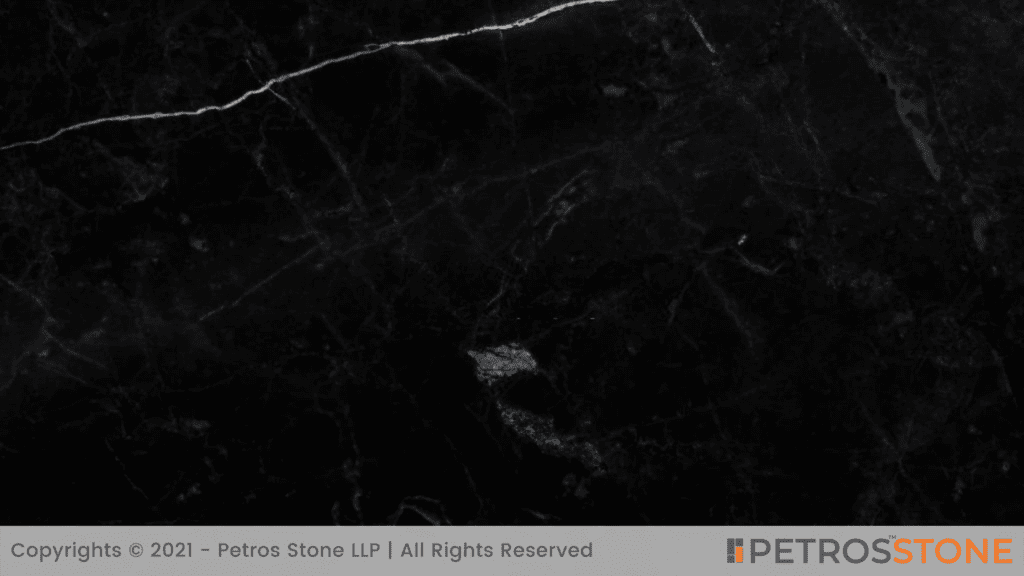 Origin
This is an Italian gem that is quarried from the province of Cuneo in Italy.
---
Application
This marble has a striking pattern as it encompasses medium-sized grains of grey on a black sheened background. It has a prominent white vein that would run across the entire slab.
Nero Di Ormea is a great marble for countertops in kitchen and bathroom spaces. For this kind of purpose, you should apply a polished finish to the slab.
This marble is easy to maintain and has a vibe of minimalism to it which can be artistically applied for backsplashes or facades.
---
Price of Nero Di Ormea
The quality of this marble depends upon the white streaks and the medium-sized dark grey patches. The fewer these elements in the marble, the higher the quality of this marble.
Nero Di Ormea Price: ₹210-₹330/sq.ft. or $30.2- $47.5/SQM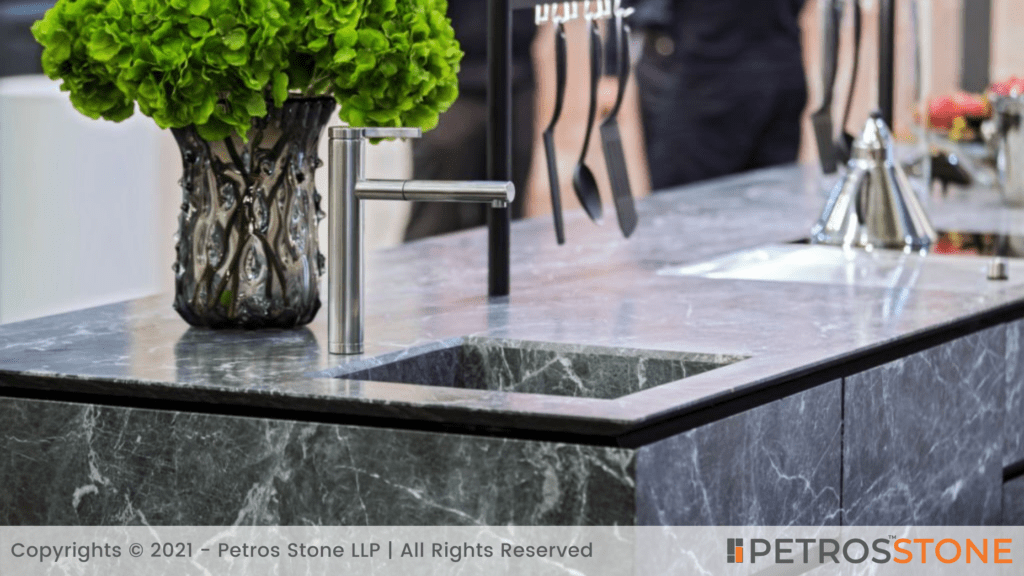 ---
13. Nero Kawala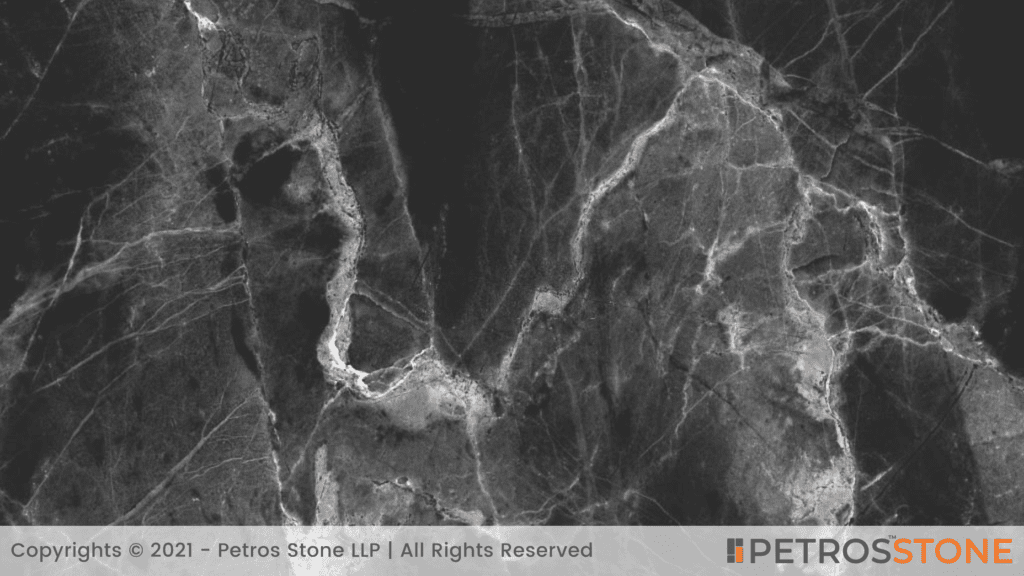 Origin
This is a marble that is primarily quarried in Greece but found in other regions across Europe under other aliases.
---
Application
This is a greek beauty with a medium-grained grey pattern across the slab. These grey patterns are formed due to marine fossils being compressed and oxidised over millions of years. So, with such an interesting and abstract pattern you can use this marble for flooring with a polished finish.
This marble is highly versatile and can also be used as wall claddings for bathrooms, showers, swimming pools, and even kitchens.
Also, if you are looking for marbles that can economically fit into your interior space as a bathroom countertop then look no further.
---
Price of Nero Kawala Marble Price
This black italian marble can cost you anywhere between:
Nero Kawala Marble Price: ₹380-₹600/sq.ft. or $54.7 – $87/SQM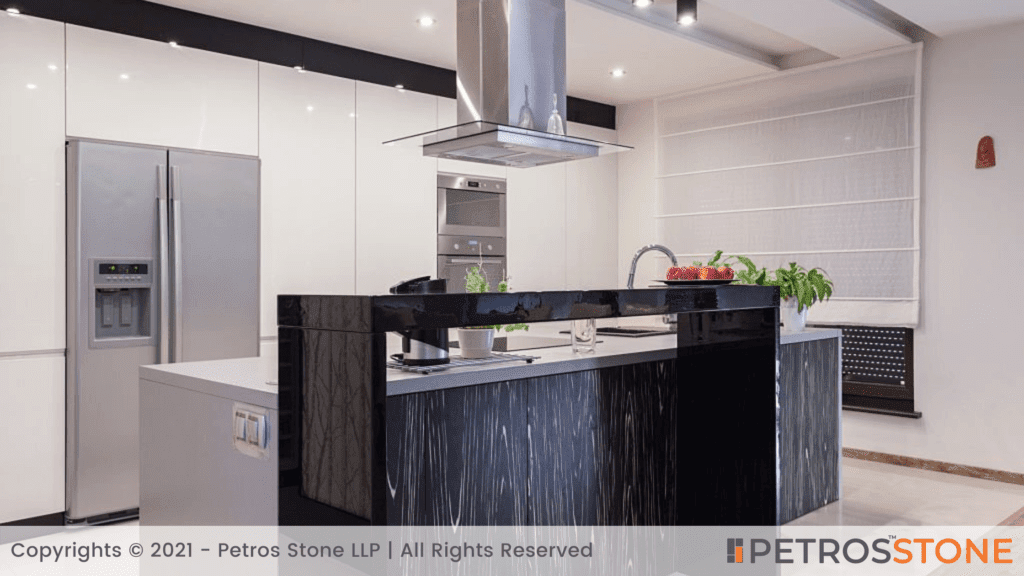 ---
14. Portoro Antalya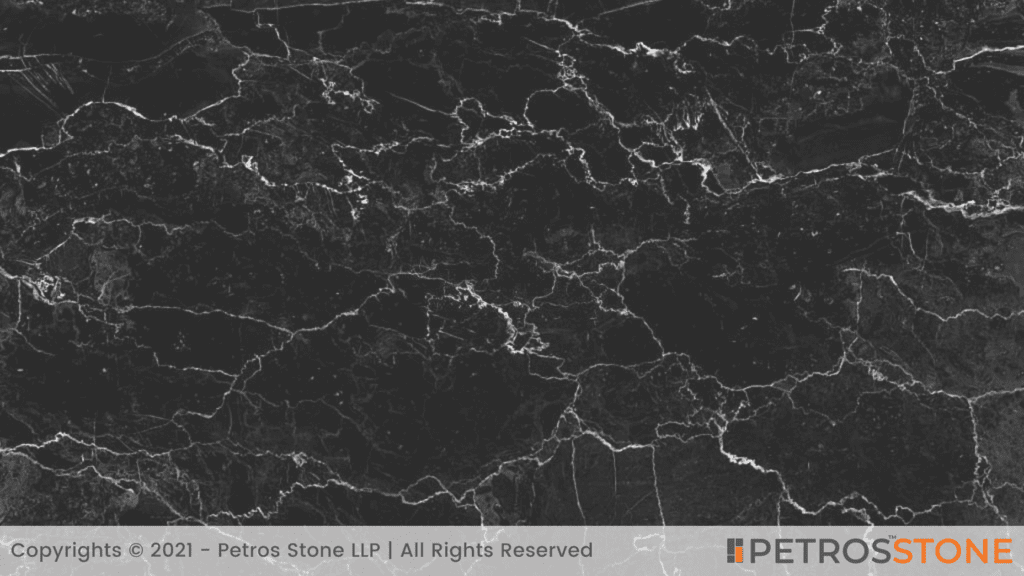 ---
Origin
This marble is quarried from the mines of Antalya in Turkey. But its resemblance to the Nero Portoro marble in Italy, not just in name but also in appearance, has created an Italian marble identity for it.
---
Application
Like any other Portoro marble, Portoro Antalya has a similar appearance without the golden or white veins. The veins in this marble are grey or pale yellow. Also, the veins form a webby pattern in this marble.
So, the design of this marble makes it a perfect material for flooring and wall claddings. Whether you apply it to the bathroom, kitchen, hallways or exteriors, this marble will create an intricate ambience.
This marble is best utilised when polished because of the subtle grey veins that can only stick out after this process.
---
Price of Portoro Antalya Marbe
The grades of this black italian marble depend upon how few the white veins are and the sheen of the black base tone.
Portoro Antalya Marble Price: ₹380-₹600/sq.ft. or $54.7 – $87/SQM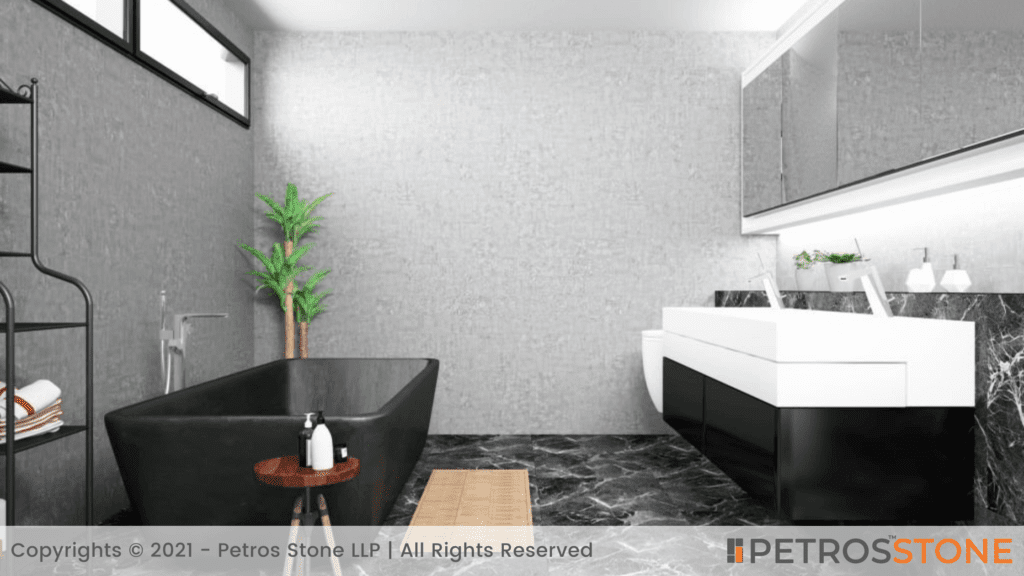 ---
15. Devonian Black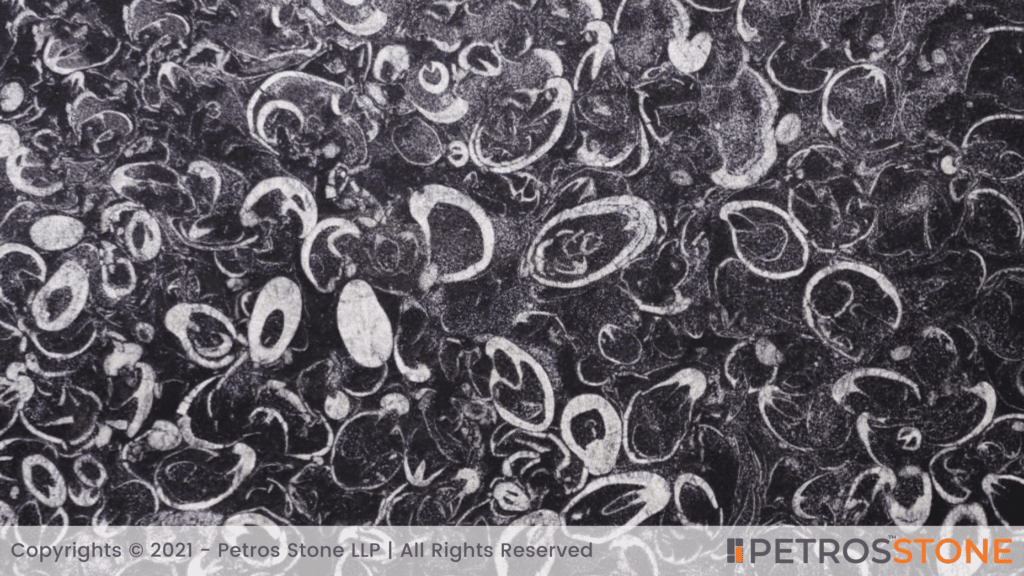 Origin
A marble that has many patterns and forms but can be characterized by geometric strokes of white and grey veins. A work of nature, this marble is primarily quarried in Spain, but also found in other regions of Europe and Central Asia as well.
---
Application
This marble is an artistic natural stone, almost like God used a paintbrush to mark it out. A marble that lives up to its name, Devonian can be used for fancy facades, and backsplashes primarily.
However, in recent times, this marble found its way into the interiors spaces of luxury houses as kitchen countertops and bathroom countertops. For these applications, a polished finish is a must.
This marble can also be used for wall claddings and exterior walls due to its sturdy nature and organic design. A great marble for all purposes.
---
Price of Devonian Black Marble
This black italian marble is for an artist's collector item and can cost you anywhere between:
Devonian Black Marble Price: ₹220-₹410/sq.ft. or $32 – $59/SQM
---
As you can see, black Italian marble fits in well with other lighter coloured marbles and furniture. Also, there are other factors such as type of finish and durability to consider while choosing that perfect black Italian marble for your kitchen countertop or walls. So, if your're confused then try out an expert's opinion at Petrosstone – feel free to get in touch with us here