The best manufacturers of quartz sinks in India are Petrosstone, Futura, Acrysil Limited, and Kaff.
Petrosstone is one of the best manufacturers and brands for quartz sinks in India. It has been producing high-quality products and awarded ISO 9001:2008 certification, which shows that it meets international standards of quality management excellence.
Acrysil Limited is also a high-quality manufacturer of quartz sinks in India that has been producing sinks in India for 40 years. The product line includes a variety of sinks including a variety of sinks, including double bowl, single bowl and undermount sinks in various shapes and sizes
---
The Best Quartz Sinks Manufacturer And Exporter In India | Trusted Suppliers
---
Petrosstone is a manufacturer of quartz sinks with a product line that includes both single- and double-bowl sinks.
The Petrosstone sink is made of natural stone and handcrafted by artisans in India. It comes in various sizes, including standard and custom, with options for under-mount or top-mount installation.
The Petrosstone sinks is available in many colors including the colorless white quartz sinks that gives it its name and is available in several styles, such as flat-bottomed, round-bottomed, or curved corners.
Petrosstone has a wide range of quartz sinks available, including under-mount sinks, double-bowl sinks, single-bowl sinks, and corner kitchen sinks. Their products are made of natural and synthetic materials such as quartz stone and porcelain enameled steel.
---
Futura has a long history of making quartz sinks, and they have perfected their craft over the years.
This company sinks are made from high-quality materials that are durable and long-lasting. They have a low water absorption rate and will not break down easily, even after extended use. You can purchase any size or shape that suits your needs from this manufacturer and be assured that it will last for years without showing signs of wear or tear.
---
Acrysil Limited is a premier manufacturer of quartz products in India. The company has been designing and manufacturing quartz sinks since 1987, emphasizing quality and design.
The company produces quartz sinks in various sizes and shapes, including rectangular sinks, round sinks, oval sinks, and under-mount sinks. They also offer several different finishes for their products: polished chrome, brushed nickel, stainless steel, bronze gold leaf, and satin nickel.
---
Kaff is a company that specializes in the manufacturing of quartz sinks. The company has been in business for over 15 years, and they have a reputation for high-quality products and services.
Kaff quartz sinks are available in various shapes and sizes, including rectangular, oval, square, and round. They come in various colors, such as white, black, grey, and brown.
Kaff quartz sinks are made from artificial material which makes it resistant to scratches and cracks. They are easy to clean and heat resistant up to 535 degrees Celsius (995 degrees Fahrenheit).
---
Different Types Of Quartz Sinks | Structural Architecture Explained
Drop-In Quartz Sinks
Drop-in sinks are popular for kitchen sinks, as they can be easily installed without hassle. The sink is placed into a countertop opening, making it easy to install and replace if needed. Drop-in sinks come in several different types, including double bowl, single bowl, and even undermount styles.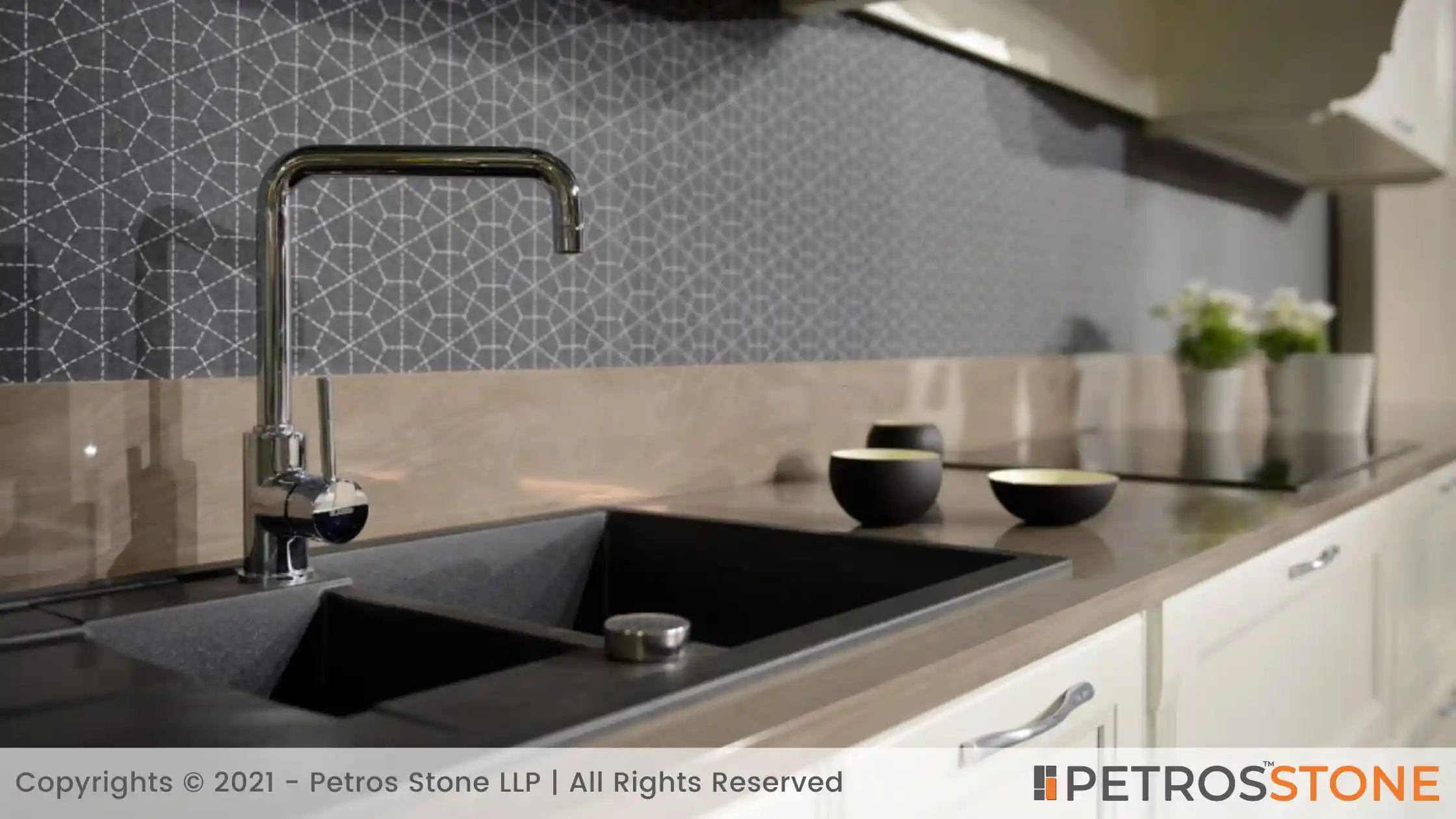 Drop-ins were once made of cast iron or cast steel, but these days most are constructed from stainless steel, quartz, or other materials that are less susceptible to rusting.
Pros:
Drop-in sinks are a great option for remodeling kitchens, bathrooms and other spaces. They come in different sizes and styles so you can find one that fits your space.
The sink is easy to install. Just place on top of your countertop and secure it with brackets.
Cons:
Some drop-in sinks don't have faucets included, so you'll need to purchase one separately.
The sink may not be as deep as you'd like it to be if you have a lot of dishes to wash at once.
---
Undermount Quartz Sinks
Undermount sinks are considered more durable than drop-in or self-rimming sinks because they don't have any exposed edges that could chip or crack over time. They're also easier to clean when using a faucet with a spray attachment because there aren't any gaps between the lip of the sink and the countertop.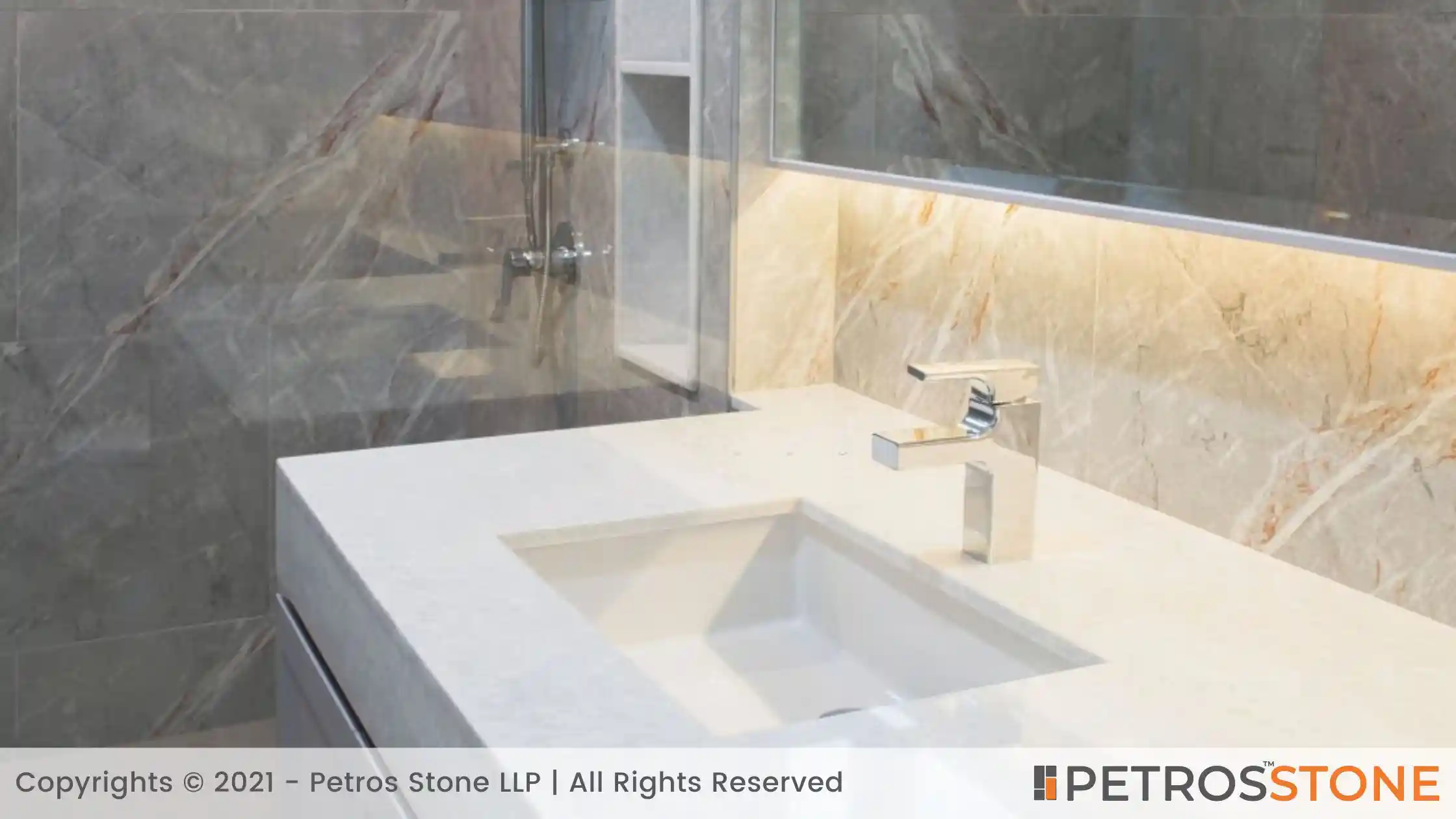 Undermount sinks are available in two styles: rolled edge and flat bottomed. The rolled edge style is rounded around the edges of the sink bowl, while a flat-bottomed undermount sink has no lip around its perimeter. A rolled edge style will be slightly more expensive than a flat-bottomed under-mount sink but has more options when it comes to faucet placement options.
Pros:
Looks great in a modern kitchen
Can be used for any style of decor
Looks great in an all-white kitchen
They can fit in tighter spaces than top-mount sinks. If you have a small bathroom or want to put in a sink without having to remove the countertop, an undermount sink is the way to go.
They're easy to clean. Because they sit flush with the countertop, there's no lip where dirt and germs can hide out when you're cleaning up after cooking or washing dishes. And because they'll be on display in your bathroom, you'll want it looking its best!
Cons:
Must have the right plumbing to support it
---
Farmhouse Quartz Sinks
Farmhouse sinks are quartz sinks typically used in country homes, as they have a rustic, old-fashioned feel. They are characterized by their large bowl shape, which can be either rectangular or round. The sides of the bowl can also be sloped, which gives the sink an even more old-fashioned look.
Pros:
Farmhouse sinks are an excellent way to add character and personality to your kitchen. They're also a great way to showcase your sink accessories, which can include dish brushes, dish soap dispensers, and other items.
They're perfect for all kinds of uses—they can be used as prep sinks and food preparation sinks, as well as hand washing sinks.
They offer more storage space than a standard drop-in sink or undermount sink because they're recessed into the countertop.
Cons:
They're not recommended for homes with young children or pets because the edges of farmhouse sinks are typically exposed. This makes them more susceptible to damage from accidental bumps or drops than traditional drop-in sinks or undermount sinks.
---
What should I look for when purchasing a kitchen sink?
Sink material
When purchasing a kitchen sink, you should consider the material from which it is made. The most popular materials for kitchen sinks are quartz, stainless steel, porcelain enamel, and cast iron.
Installation Type
The installation type of your sink is also important because it will determine what kind of sink configuration you can choose. There are three main types of installation: under-mount, drop-in, and vessel. Each type has its benefits and drawbacks; it's up to you to decide which is best for your home!
Sink configuration
The configuration of your kitchen sink will determine how much space there will be in the cabinet above it and where water will drain into your dishwasher or disposal unit. You'll want to keep these details in mind when choosing a sink so that everything fits perfectly together!
Bowl Depth
The first thing you want to look for when purchasing a kitchen sink is the bowl depth. This is the distance between the bottom of the sink and the top of the countertop. If your sink has a shallow bowl, you'll have to tilt your head down more than usual when washing dishes. If you have a deep sink, however, you'll be able to wash dishes while standing straight up saving time and energy!
Sink size
Not all sinks are created equal! For example, some sinks come with multiple bowls so that you can wash different dishes at once (e.g., one side for plates and another for pots). Other sinks have drains specifically designed to make sure that water drains quickly; this is especially important if you have children or pets who might accidentally dump water into your dishwasher or washing machine as they're filling it up!
Determine if you'll need to adjust the cabinets
If you are replacing a sink the same size as the one currently in place, this step will be optional. However, if you are building or renovating and installing a new sink, it may be necessary to adjust the cabinets.
Sink Gauge: The Importance of Thickness
Sink gauge refers to how thick the metal makes up your sink. The thicker it is, the more durable it will be and the less likely it will bend or dent over time. Thicker metal also means that there will be fewer crevices where food particles can hide and cause bacteria growth over time.
---
The Best Materials Used In A Kitchen Sink | Pros and Cons, Price, Quality
Granite Sink
Granite sinks are made from solid slabs, which are then shaped using a diamond-tipped saw. This gives them a smooth surface that's easy to clean but also makes them prone to scratches and cracks if you drop something heavy on them or use harsh chemicals.
Because they're made from thick slabs of stone, they're very heavy and hard to move around once installed. They're also expensive granite sink slab prices start at around $93 to $200 per square foot, so even a small sink may cost thousands.
Pros:
Granite sinks are durable. They can stand up to the wear and tear of daily use, and they're resistant to stains and scratches.
Granite sinks look great in any kitchen or bathroom. They'll fit in with any decor style, from rustic to modern.
Granite is a beautiful material that will add interest to your space and make it feel more luxurious.
Cons:
Granite is expensive. If you choose one of these sinks, be prepared for a big price tag on top of installation costs.
Granites can chip easily if you aren't careful when using them so be sure you have someone install it who knows what they're doing!
---
Marble Sink
Marble sinks are popular for their durability, strength, and beauty. They can be made from various materials but are most commonly constructed with porcelain or granite. Marble sinks can be found in various styles, including traditional and modern. Marble is a natural stone used since ancient times to create beautiful countertops and other architectural features. The stone is very hard and durable, making it an excellent choice for kitchen sinks.
The most common type of marble sink is made from polished marble and is available in several colors, including white, black, pink, and green. Other types of marble include honed, veined, or tumbled finishes, which provide more texture to the material but do not offer as much protection against scratches as polished finishes do. Marble sink start at $40 to $100 per square foot.
Pros:
Marble sinks are beautiful and unique, making them the perfect choice for a bathroom that's all about you.
They're also hard to damage, so your sink will stay looking great for years to come.
You can use them in any room in your house, so you can add marble accents to your living room or kitchen as well.
Cons:
Marble sinks aren't as easy to clean as other kinds of sinks because they're porous and absorbent. You'll need to scrub them often with soap and water (and maybe even a special cleaner) to keep them looking good!
---
Quartz Sink
Quartz sinks are made from a combination of quartz, fused under high pressure and heat. The resulting material is extremely hard, so you can be assured that your sink will be tough enough to withstand the wear and tear of daily life in your kitchen. Quartz sinks are also resistant to scratches and stains, so they'll look great for a long time.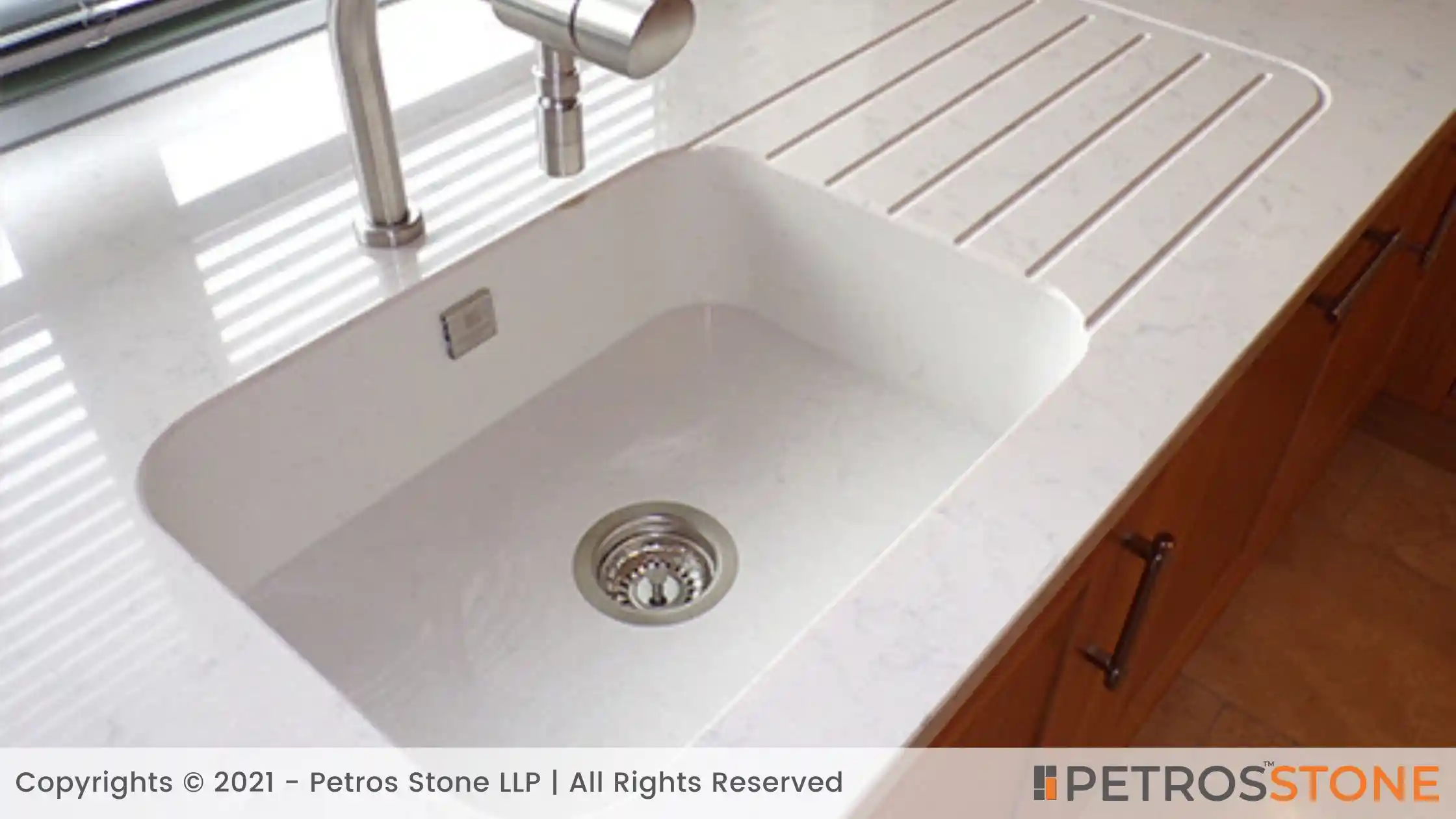 Quartz sinks come in various colors, including white, black, brown, green, blue, and pink. Some quartz sinks even have patterns or swirls mixed in with their coloration. If you're looking for something unique that will stay in style for a while, a quartz sinks may be right up your alley!
Pros:
Quartz is a beautiful, durable material that can add a touch of luxury to any bathroom.
Quartz sinks are highly scratch- and stain-resistant, making them an ideal choice for homes with kids or pets.
They're also very low maintenance: all you have to do is clean them with soap and water every once in a while.
---
Stainless Steel Sink
Stainless steel sinks are a great option for your kitchen. They're durable, easy to clean and maintain, and they can add a nice color to your countertops.
A stainless steel sink is made from a single piece of metal that has been formed into the shape of a sink. The sides of the sink are either welded or riveted together, while the bottom is typically held with clips or screws. The top edge of the sink may also be welded or held in place with clips or screws, but it is not necessary.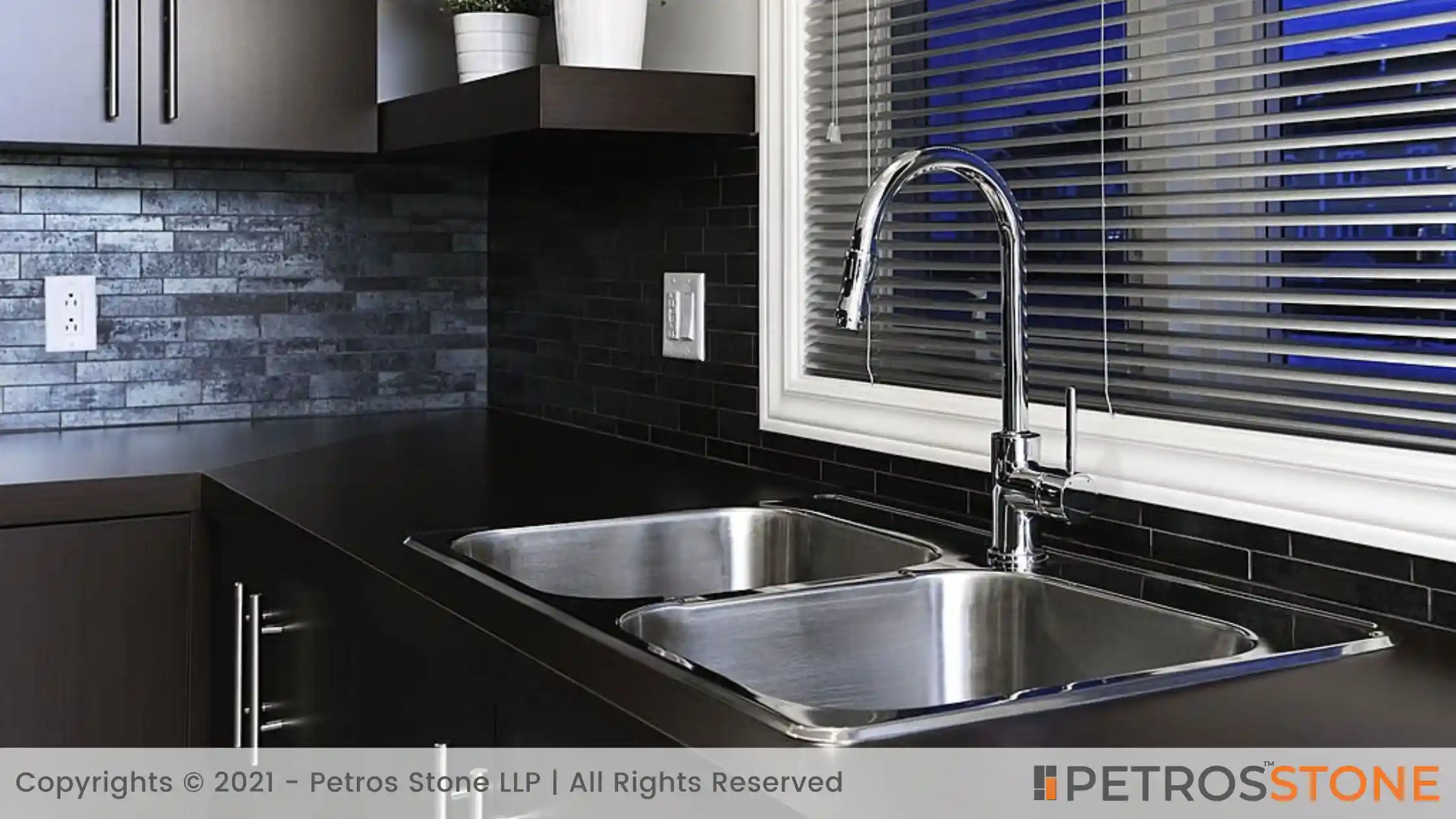 Stainless steel sinks come in many different shapes and sizes, so you'll have no trouble finding one that fits perfectly into your space and style preferences! Some have curved edges, which give them an elegant look, while others have straight edges that will fit nicely with your other kitchen appliances. Some have rounded corners, while others have square corners, so there's something for everyone!
Pros:
Durable, and can last for years
Cons:
Not always easy to find the right size for your kitchen (you need to measure before you buy!)
They're not all that cheap (but they are worth it!)
---
Best Things To Remember While Buying A Kitchen Sink
If you are planning to buy a kitchen sink, a few tips will help you make the right choice.
The grade of a sink is an important factor to consider when purchasing a kitchen sink. The higher the grade, the more durable it is, and it will last for years without any damage or scratches.
The finish of your kitchen sink can give it an elegant look. You can choose from different finishes such as satin, matte, rough, and bright. A bright finish gives your sink an outstanding look, while a satin finish gives it a smooth feel. A matte finish gives your sink an elegant look, but it tends to get scratched quickly due to its porous nature.
Quartz is available in a wide range of colors, including:
White
Black
Blue
Green
Red
Gray
Gold
Brown
Orange
Yellow
If you want a kitchen sink with a noise control feature, consider installing one with rubber feet because they absorb vibrations and considerably reduce sound levels.
Be clear about what type of faucet to choose.
Choose a faucet that suits your requirement and matches with other appliances in your kitchen or bathroom like taps or toilets etc.
---
Best Manufacturer & Exporter For Quartz Sinks: Petros Stone LLP
Infrastructure And Machinery
Petrostone is the best supplier of kitchen sinks because they have the best infrastructure and machinery. They use high-quality machines designed to ensure that every sink they produce is exactly what you want it to be and nothing less.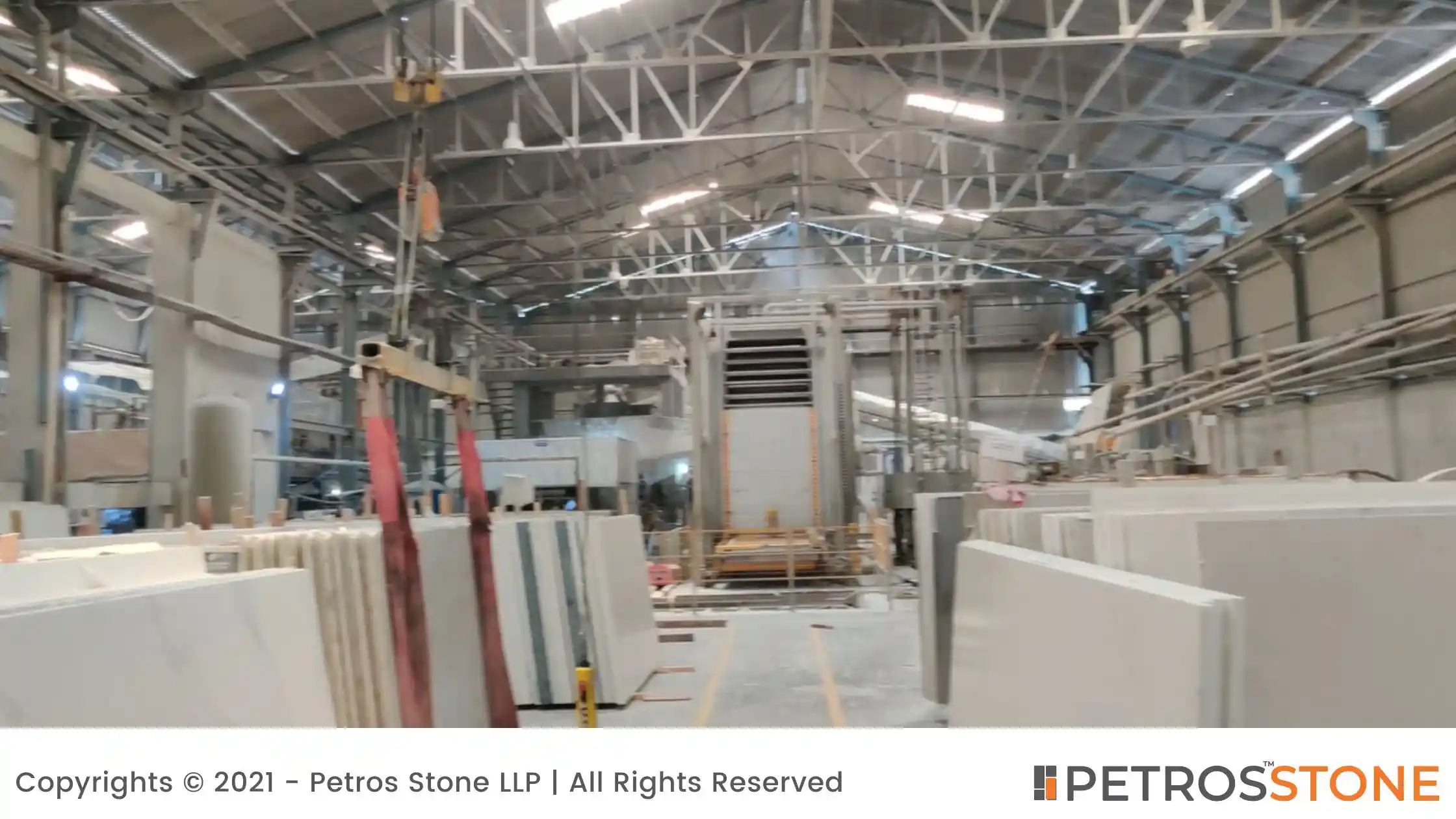 Each machine is designed to work with a specific task in mind to focus on doing just that one thing perfectly. This means that when you order your sink from Petrostone, you can be sure that everything about it will be perfect from the shape of the basin to the color of the finish.
---
The machines used by Petrosstone include: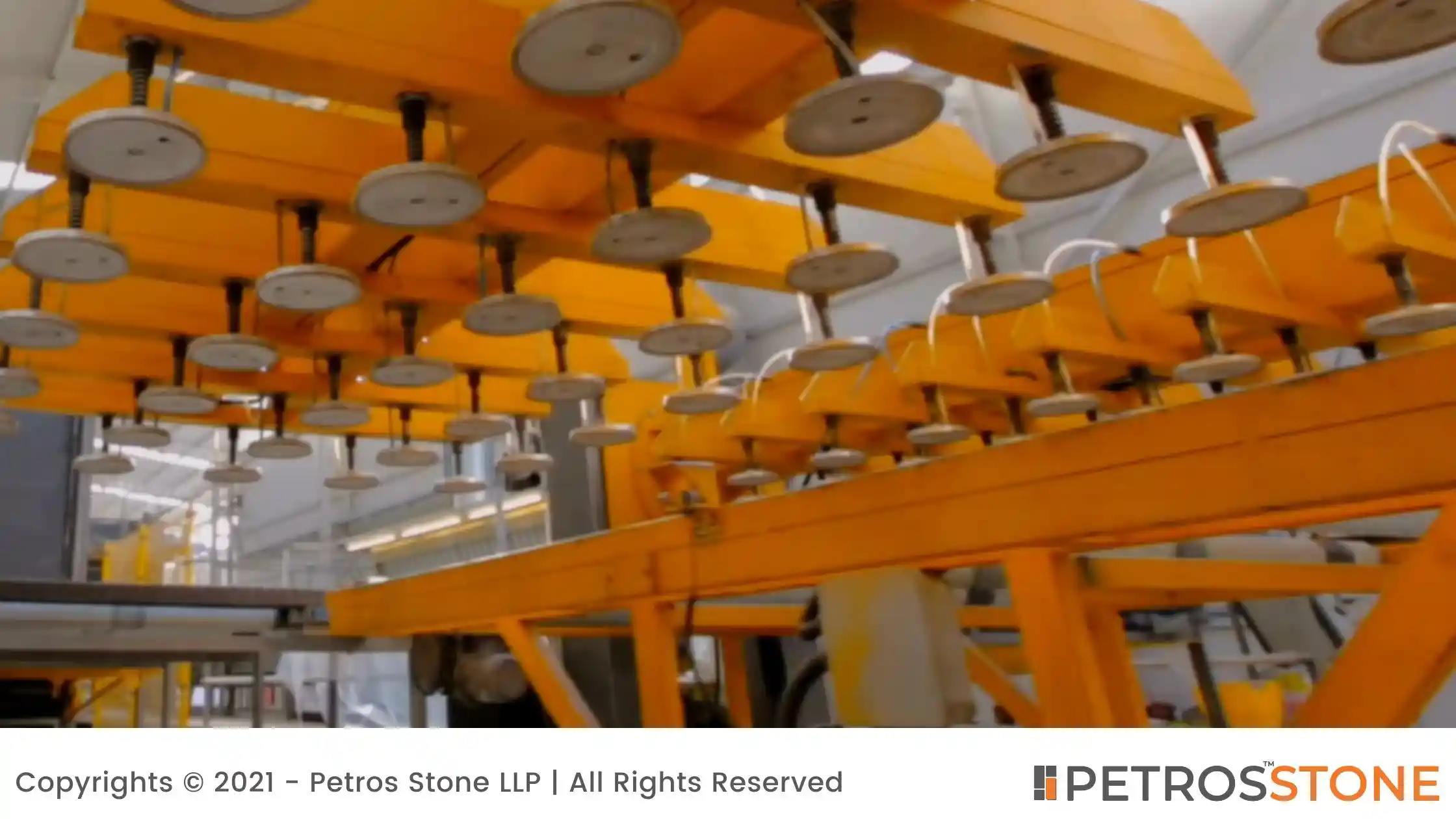 Dimensional Grinding Machine: This machine grinds raw materials into small pieces that can be used to produce kitchen sinks.
Wire Saw: This machine cuts steel bars into desired lengths to reinforce sinks.
CNC Milling Machine: This machine shapes metal sheets into pipes and other parts used to construct kitchen sinks.
A granite polishing machine that turns rough edges into smooth curves
An automated conveyor belt to move materials between machines and workers
A laser engraver for custom logos or monograms on your sin
---
Developed Inventory With a Variety Of Materials
Petrostone is the best supplier because of its inventory of a variety of materials. Petrostone has a wide range of sinks in different materials, shapes, and sizes. This enables you to choose the best sink that suits your kitchen design and functionality.
Petrostone has an array of different materials for kitchen sinks, such as:
---
Certifications and Licence
Petrostone produces kitchen sinks according to the ISO 9001:2015 standard, which ensures that our production processes are well-defined and documented. We also have a 100% quality assurance process so that every single sink we produce meets or exceeds these standards.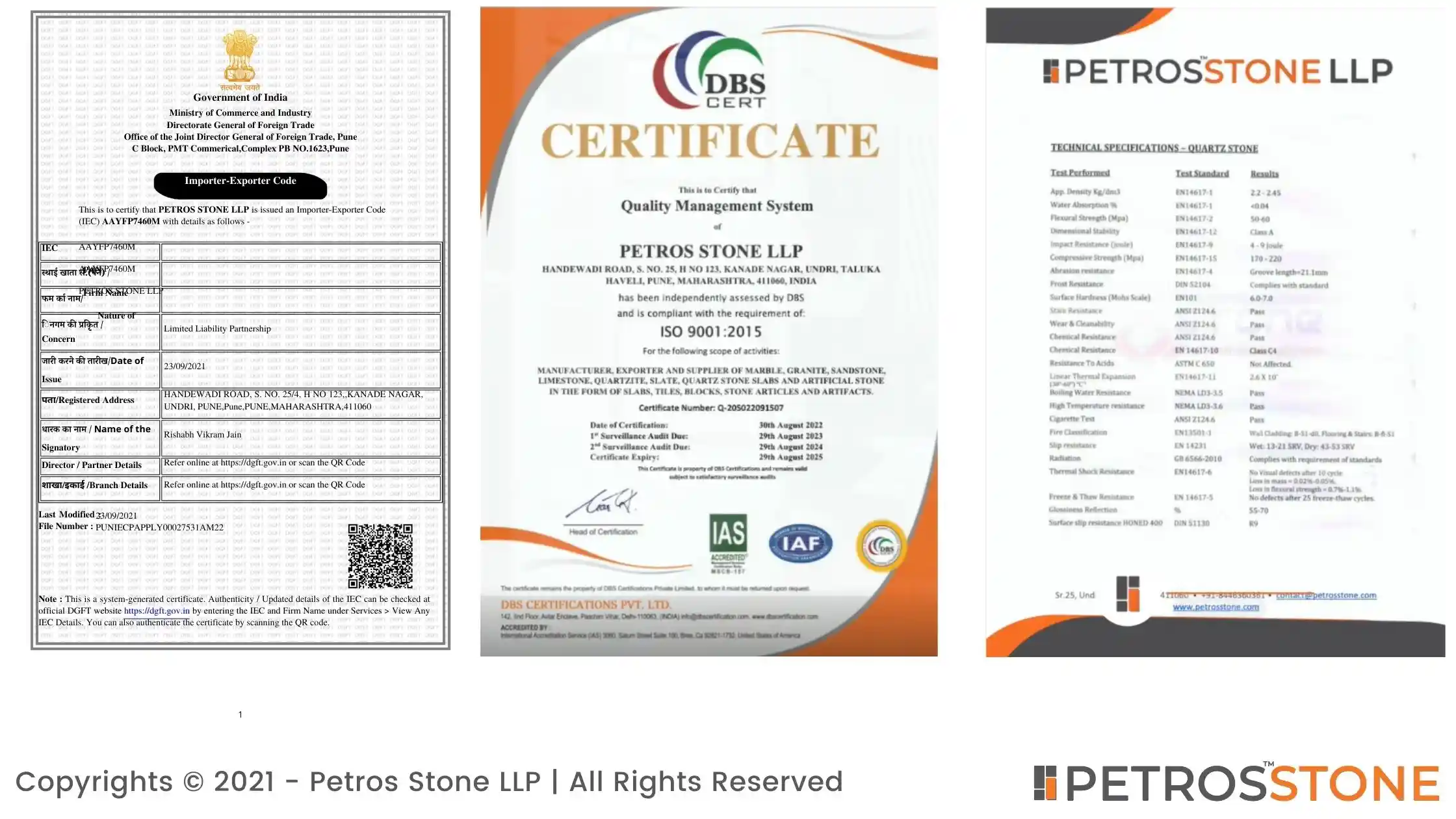 Our commitment continues beyond there: we also hold an ISO 14001:2015 certification for environmental management systems (EMS).
This EMS helps us reduce our environmental impact by improving energy efficiency and reducing waste at all stages of production. Finally, Petrostone holds an ISO 9001:2008 certification for management systems across all major business processes. These certifications ensure that Petrostone meets customer demands while following the best manufacturing and environmental management practices.
---
When you work with Petrostone, you can rest assured that your confidential information is safe. We have a strict privacy policy that ensures all of our client's information is kept confidential, and we will never share it with any third parties.
We know that you don't want to worry about whether your personal information is being shared, so we take extra precautions to keep it secure.
---
Petrostone provides you with the total estimated cost of a new kitchen sink is the sum of all costs involved in the purchase and installation of a new sink, including:
The cost of the sink itself including any taxes, shipping costs, and installation charges.
The cost of labor to install the sink includes labor time and any necessary materials.
---
Quartz is an excellent choice for a quartz sinks because of its durability. It can withstand high temperatures and will not scratch or chip easily. Quartz also has a smooth surface that makes it easy to clean.
If you're looking for a new quartz sinks, choose Petrosstone. We offer high-quality sinks at competitive prices. Our products are made from the highest quality materials, and our customer service team is always ready to help you find exactly what you need!
---
To obtain a quote from Petrosstone for your kitchen sink materials, you can either email [email protected] or

call +91 844-363-0361.
---