Best porcelain slab manufacturers in India are:
Petrosstone Porcelain Full Body Slabs
Liolo Porcelain Full Body Slabs
Adila Ceramic Porcelain Full Body Slabs
Porcelain slab Manufacturers by Petros are structurally composed of porcelain base material with glazed top. The base material is made from sand and aggregates, which are then heated to a high temperature to bond. The resulting product is strong enough to withstand the weight of heavy machinery, but also flexible enough to withstand large amounts of traffic.
Petros, Lioli and Adila Ceramic are among the best manufacturers because of their superior technology, structural and functional features.
---
Types of Porcelain Stone Slab
1. Full Body Porcelain Slabs
Full-body porcelain slabs are the most common type of porcelain slab. This is because they are made from a mixture of Feldspar, Quartz, mullite, and kaolin. These components are fired at a high temperature to create a strong material that does not break easily.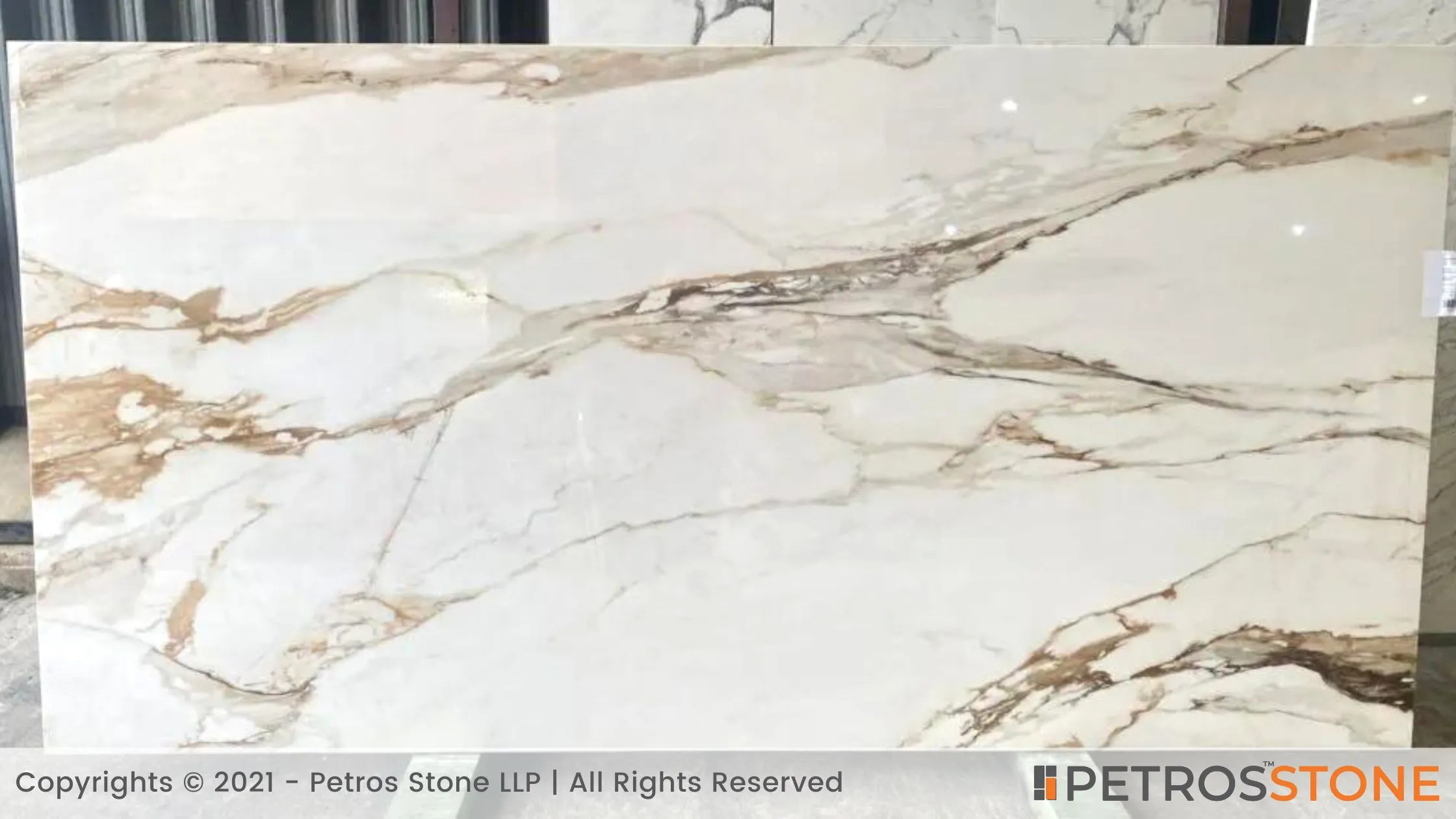 Full Body Porcelain Slabs are strong, durable, and resistant to heat. The porcelain slab can be as thick as 15 – 18mm. It is typically used for countertops and backsplashes in kitchens and bathrooms because of its durability.
Pros of Installing a Full Body Porcelain Slab:
Greater durability and strength than other tiles
More resistant to cracking and chipping compared to tiles
Stain resistant
Resistant to abrasion, chemicals, and heat
---
2. Sintered Slabs
There are a type of stone that has been mixed with pigments and polymers to bond the surface together.
Sintered Slabs are made from natural stones, such as marble, granite, or slate, which are then ground down into small pieces and bonded together with resins.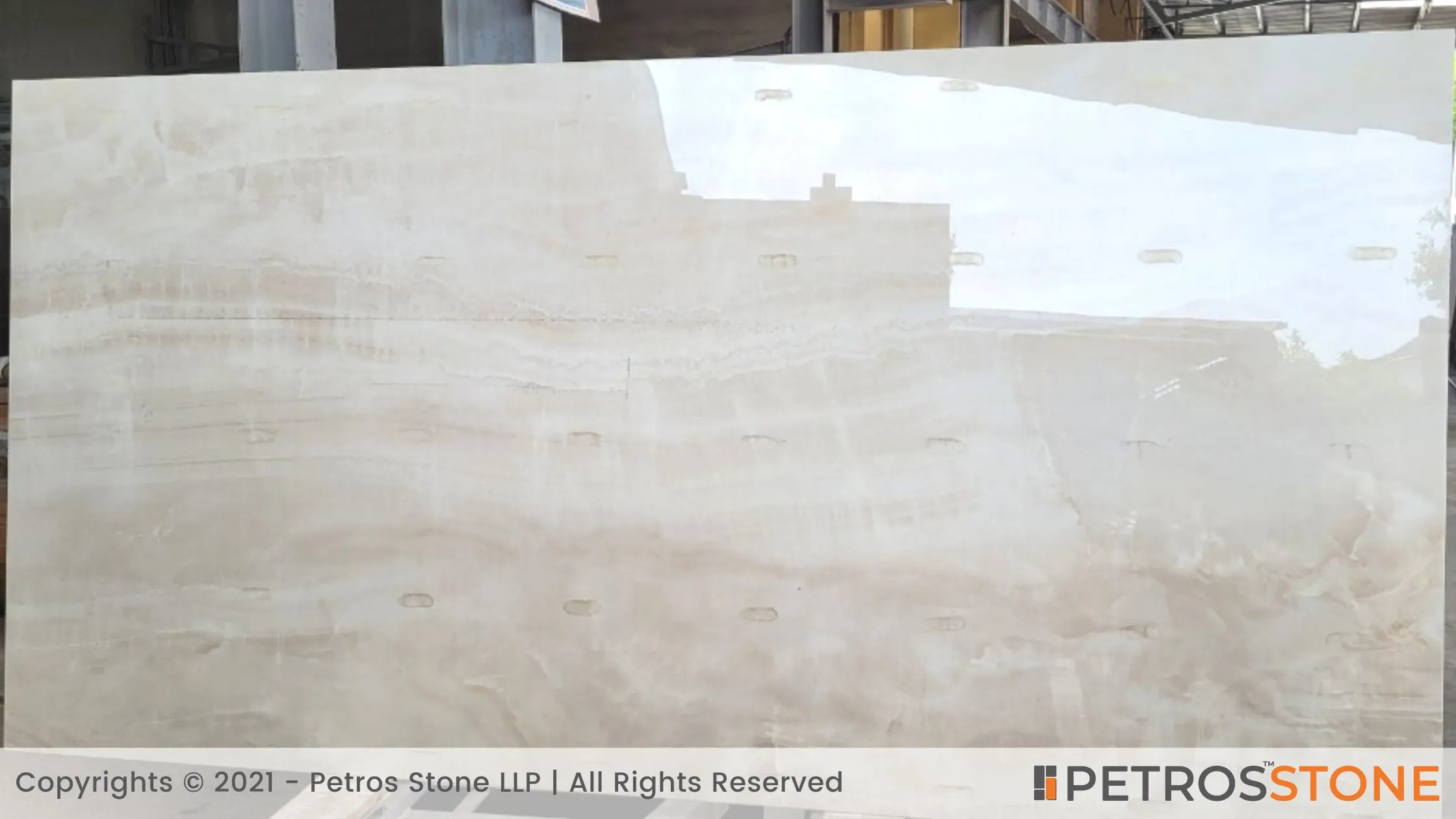 Pros:
Sintered slabs are weatherproof and waterproof
The cost is affordable compared to other materials like bricks or concrete slabs.
You can choose from a variety of colors and patterns, so you can create exactly what you want.
Sintered slabs do not crack, warp or stain easily.
---
3. Quartz Stone Slabs
Quartz Slabs are a popular choice for home and commercial countertops because they're easy to clean, durable, and affordable.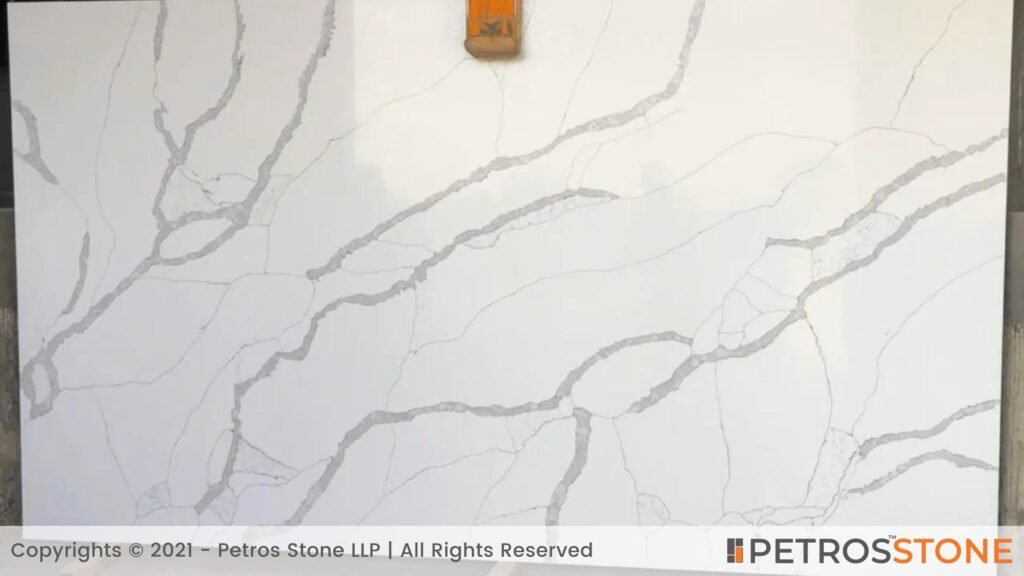 The main component of quartz slabs is quartz sand mixed with other materials like silica, aluminum oxide, or magnesium oxide. The mixture is heated to create a molten material poured into molds, which cools into solid pieces of Quartz. The molds themselves are made from aluminum or steel sheets that have been cast together with silicone rubber.
Quartz slabs are available in an array of finishes, including polished, honed (matte), flamed (brushed), tumbled (shiny), brushed (matte), and more.
Pros:
Quartz slabs are more durable and scratch resistant than granite
That offers a variety of colors, so you can choose one that matches your decor perfectly!
Quartz is much easier to maintain than granite you don't have to spend as much time cleaning or polishing Quartz as you do with granite slabs.
Because Quartz doesn't absorb stains like some other materials do (like wood), it won't discolor over time it will stay looking great for years to come.
---
Best Porcelain Full Body Slab Colours
1. Pure White
Full White is the best and standard color for a full body slab. It's perfect for large scale projects and will give you an even, uniform white finish.
---
2. Nano Brown
Nano brown is a solid brown shade with a very clean and reflective look unlike any other quartz or natural surface.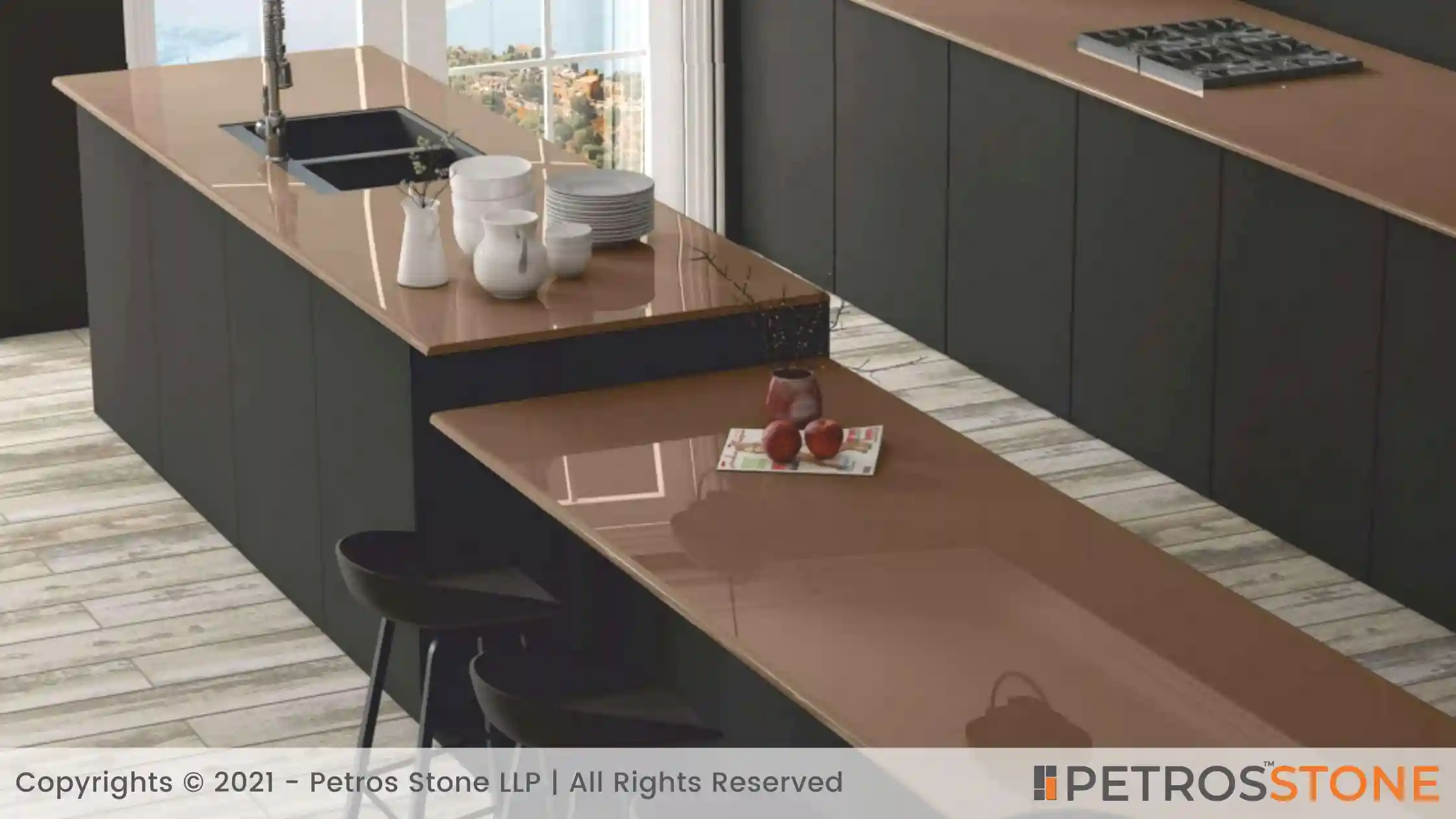 ---
3. Matt Black
This is a highly dark black with a matte surface. Its matte finish gives it an industrial look that works well in contemporary and modern spaces.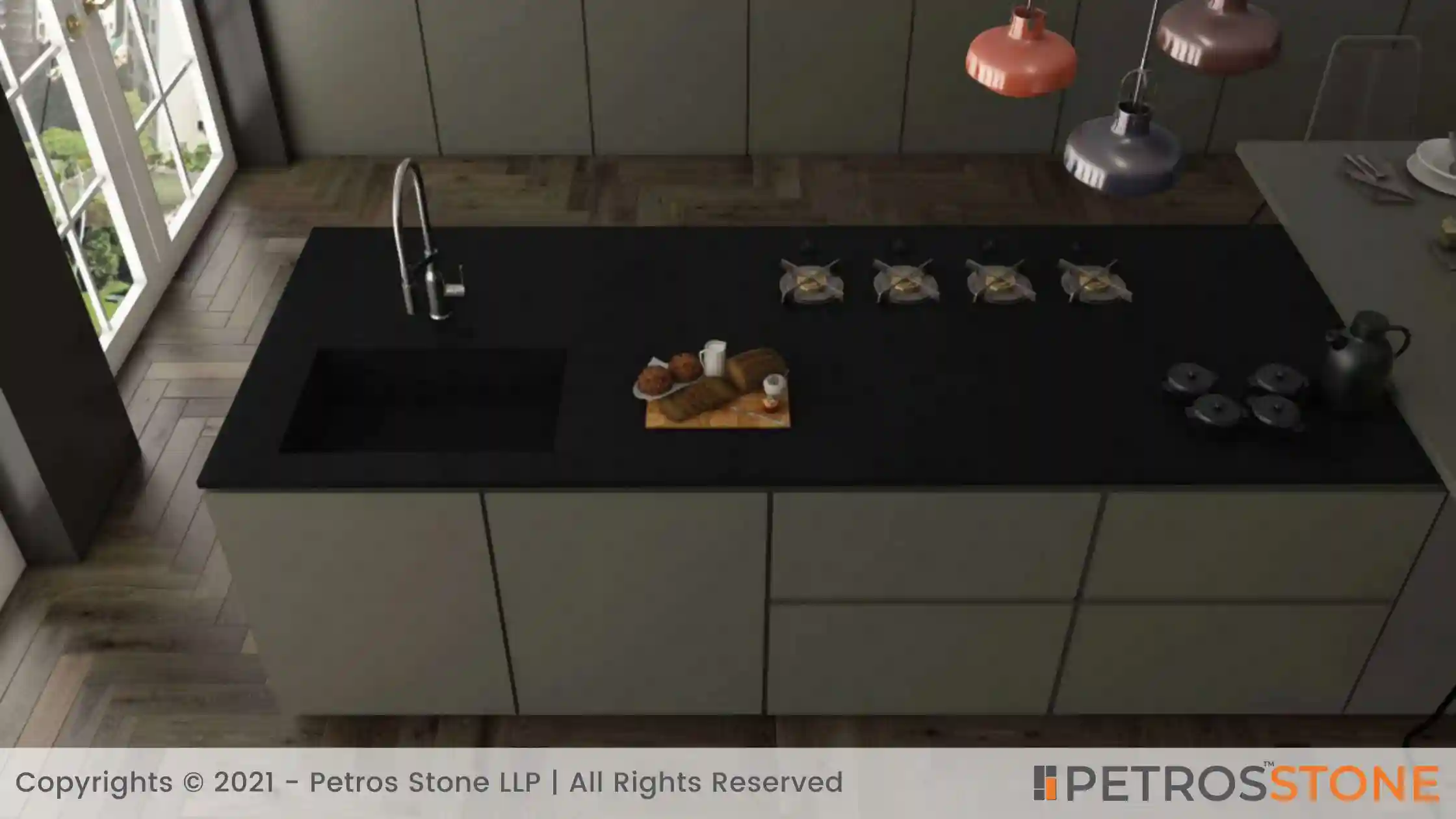 ---
4. Classic White
Classic white is exactly what it sounds like: solid pure white such a shade is also not found in any other alternative material like quartz, granite or marble. Hence, classic white is one of the most popular porcelain full body shades in India.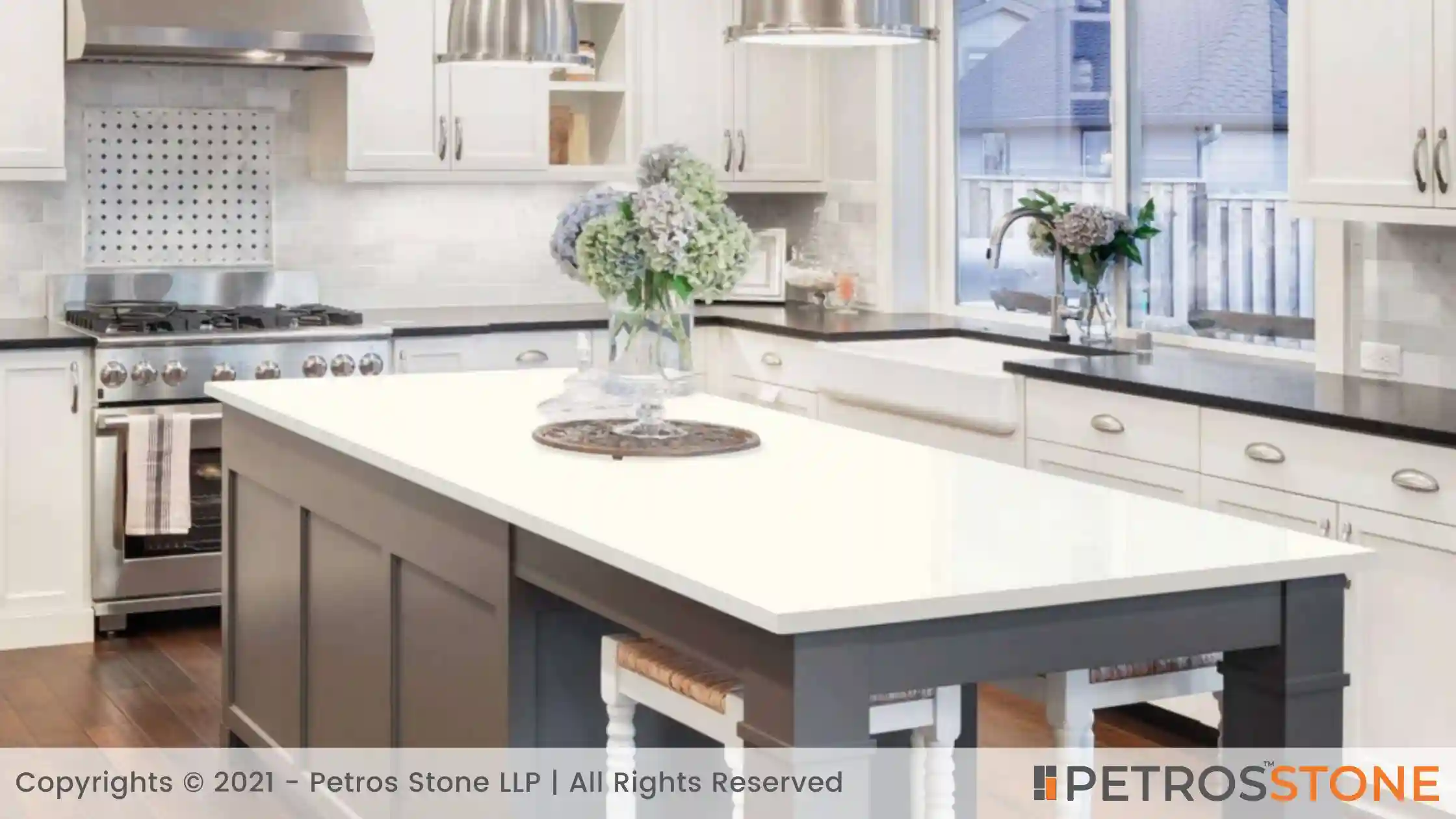 ---
5. Alps Statuario
Alps Statuario is a pattern of random veining patterns across the slab, usually in a light shade of gray or brown.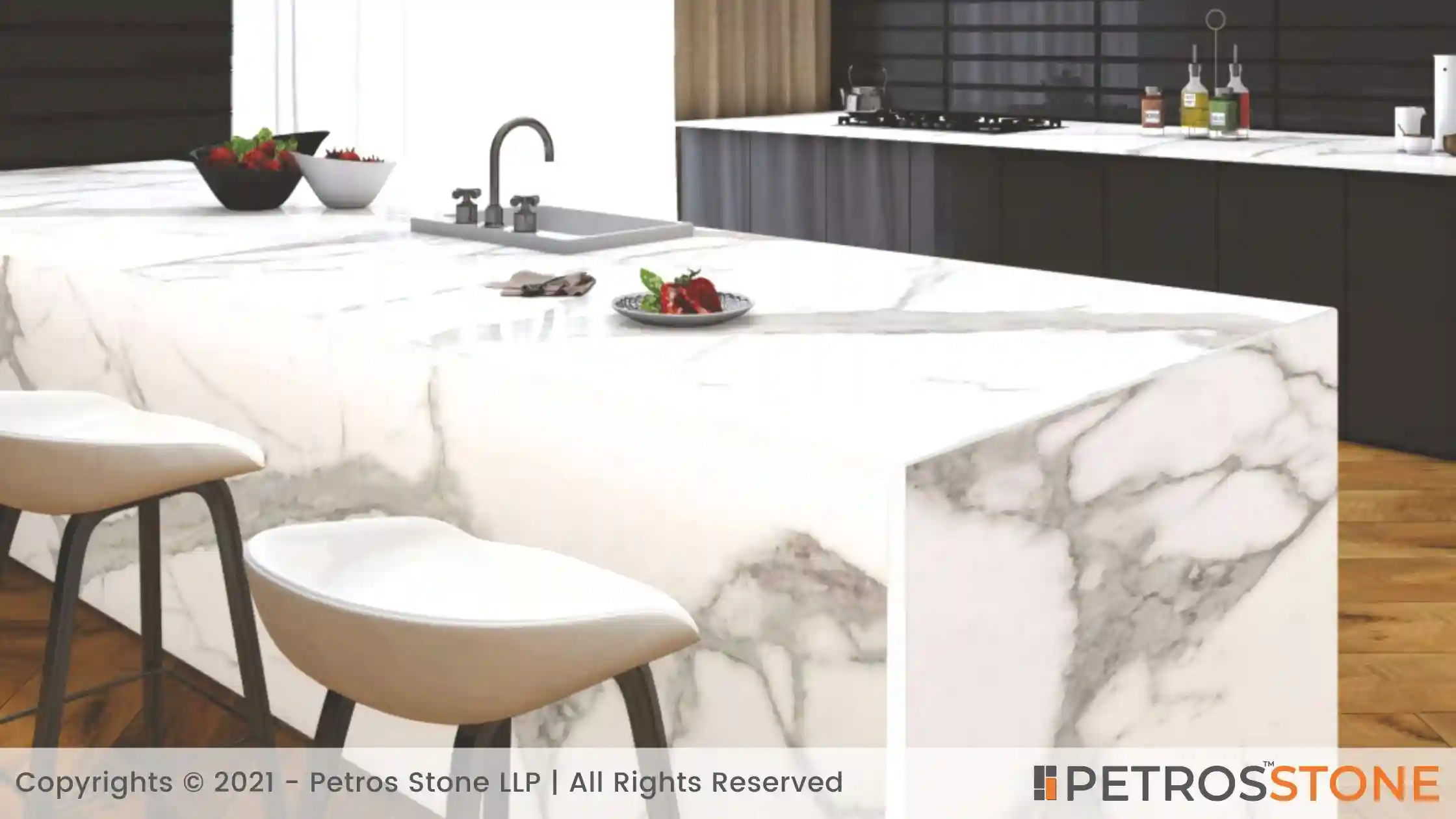 ---
6. Calacatta Borgini
Calacatta Borgini features a white background with a brownish line pattern that adds character to your space. The lines appear randomly across the porcelain full body slabs, creating a stimulating effect you will love.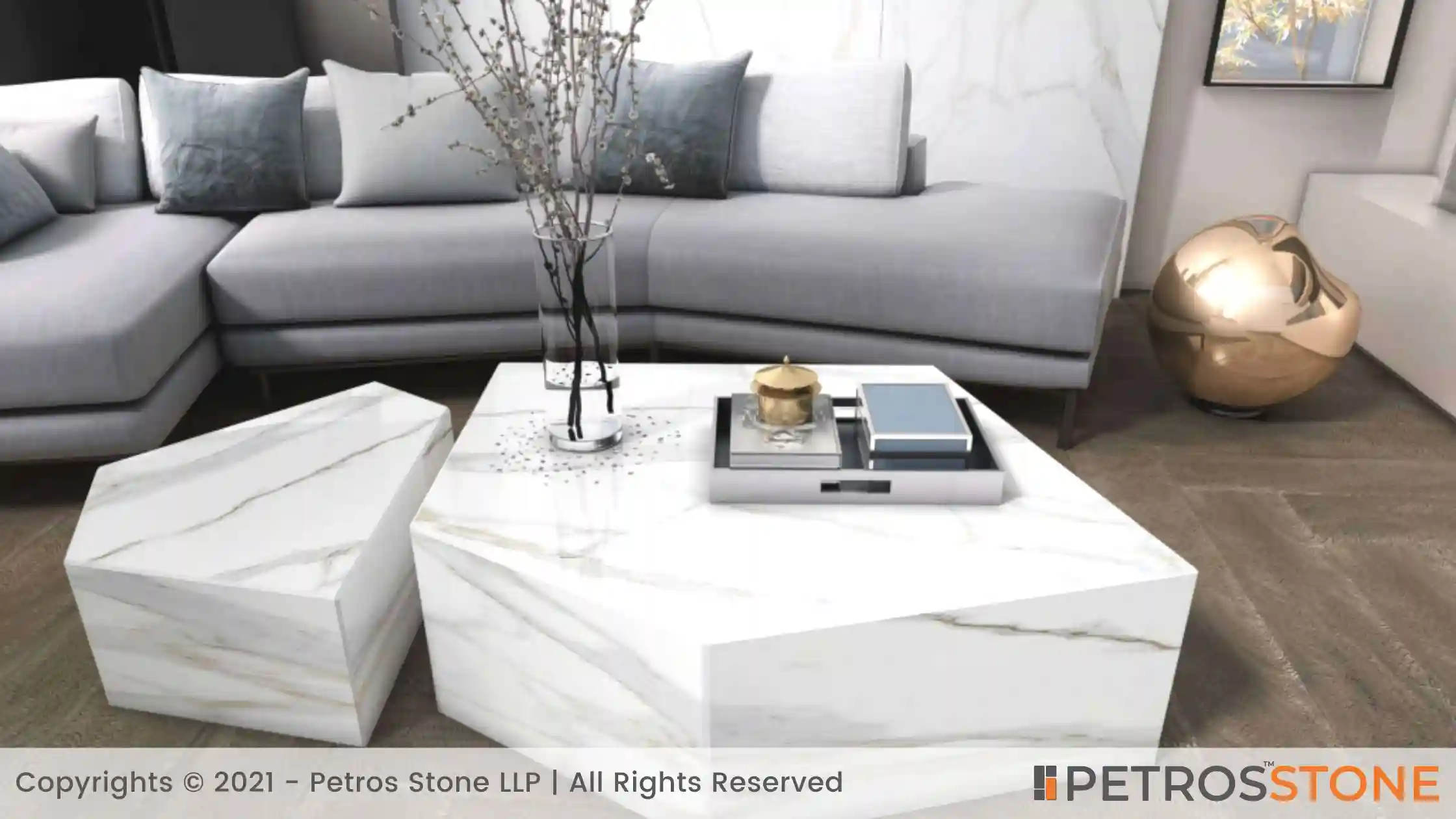 ---
Best Porcelain Slabs Manufacturers In India
Petrosstone is one of the best porcelain full body slab manufacturers in India because they offer a wide range of products.
Petros Stone LLP manufactures and processes porcelain full body slabs and a wide range of other products like:
Granite slabs
Marble slabs
Limestone slabs
Sandstone slabs
Quartz Stone Slabs
---
Lioli is also one of best porcelain slabs and tile manufacturers because they have a wide range of products, including bathroom tiles, kitchen tiles, and flooring.
They also offer a wide range of product functionalities, including anti slip and waterproof qualities.
The company was founded in 2016 and had been growing from strength to strength.
Lioli's focus on quality means that all its products have been tested under extreme conditions, such as extreme temperatures and high pressure.
This ensures that they are able to withstand even the harshest environments imaginable without losing any of their original aesthetic appeal or functionality.
---
Adila Ceramic is the best porcelain slab manufacturer because they provide a wide range of products, and their creation process is streamlined. It was founded in 2015, and they have quickly become one of the most innovative ceramic manufacturers in the world. Their product range includes everything from traditional to modern glass tiles, and they offer both glazed and unglazed options in many different sizes, colors, and styles. They use both manual labor and automated machinery to create their products.
Many different types of porcelain tiles, including:
Floor tiles
Wall tiles
Countertops
Vanity tops
Shower walls
Bathroom walls
---
Reya Impex, Inc. products are known for their durability, strength, and resistance to damage from water and other environmental factors. They are also renowned for their ability to withstand extreme heat and cold conditions, making them perfect for use in both indoor and outdoor environments.
The company has a product range that includes the following:
Porcelain Flooring Tiles
Porcelain Wall Tiles
Marble Tiles
Mosaic Tiles
Glass Tiles
Granite Tiles
---
Best Porcelain Full Body Slab Manufacturer in India | Petros® Stone LLP
1. State-of-the-art Porcelain Slab Manufacturing Facility
Petrosstone is a leading Porcelain Slabs Manufacturer with a state of the art manufacturing facility.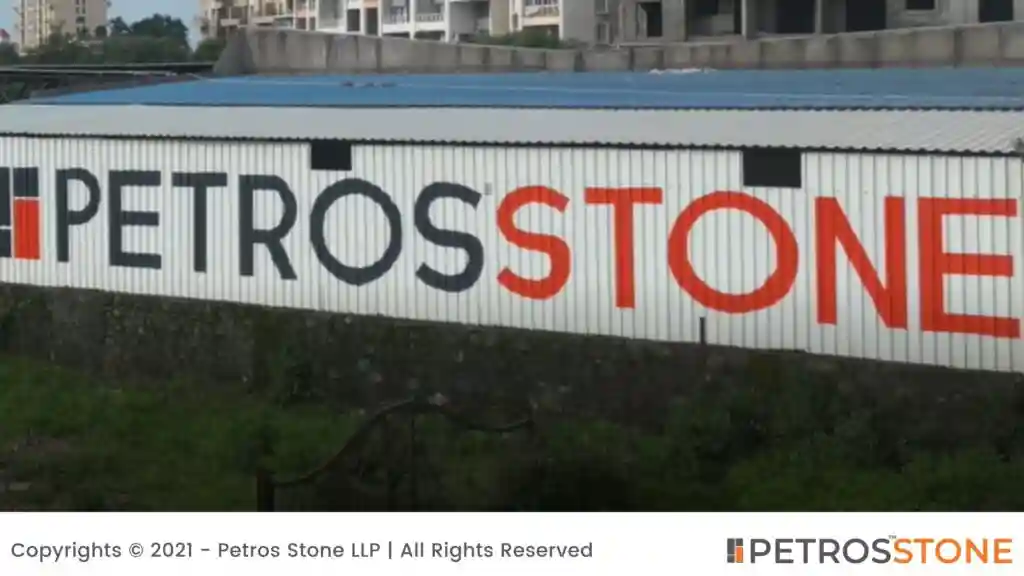 Petros Stone can produce high-quality products at an extremely fast pace and lower price than other competitors. This has made Petros Stone one of the leading exporters of porcelain full body slabs in India.
2. Wide range of Porcelain slabs designs
At Petrosstone, there is a wide range of Porcelain slabs to choose from to help you find the perfect collection for your business. With more than 100+ options to choose from, ranging from calacatta porcelain slabs to solid colors like white, black, brown porcelain full slabs.
Our porcelain is manufactured from high-quality materials and is able to withstand even the most extreme conditions. Our products will not fade or crack, making them ideal for indoor and outdoor use.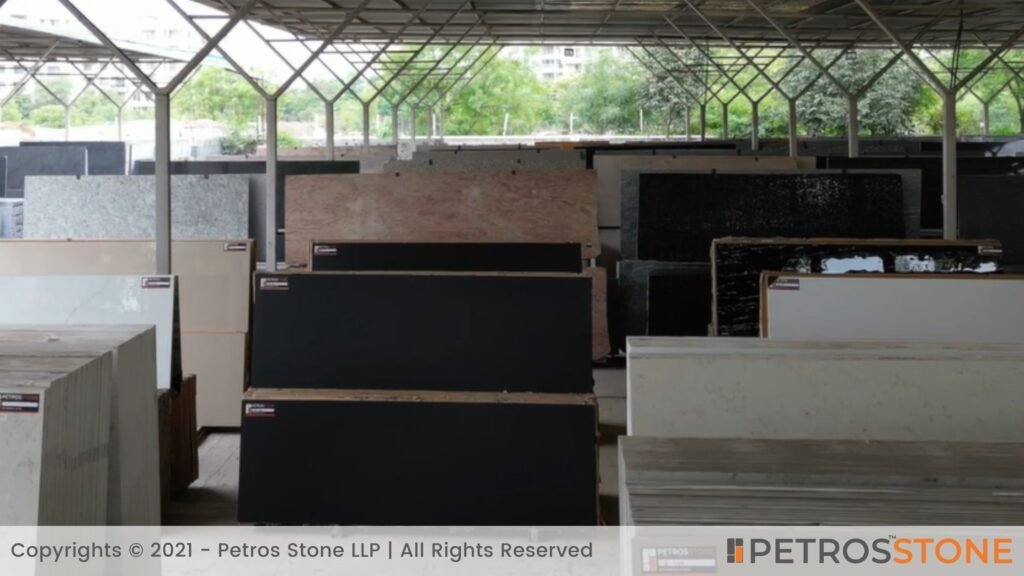 We offer a wide range of porcelain slabs to choose from, including:
Glazed Porcelain tiles
Matte Porcelain tiles
3. Certifications – By Petros®
When choosing the best Porcelain Slabs Manufacturer in India, it is essential to ensure they have all the necessary certifications. In order to be considered a certified Porcelain Slab manufacturer, they must have an ISO 9001 certification and an IS-17612 certification. These certifications ensure that the company follows industry standards when manufacturing its products.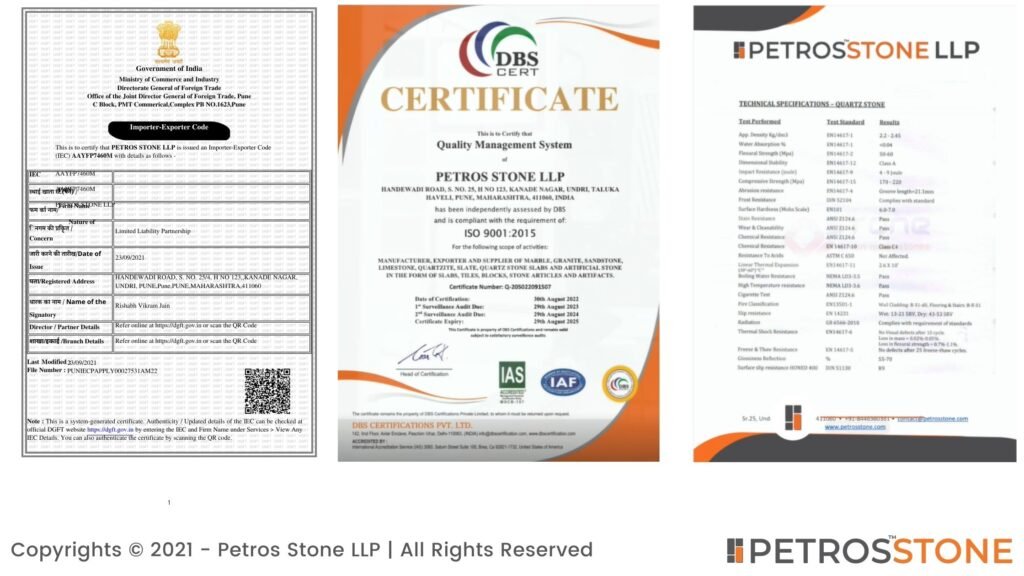 Furthermore, we have:
ISO 9001:2015. (Quality Management System)
4. Advanced Infrastructure
Petrosstone is equipped with state-of-the-art machinery that makes it possible to produce porcelain slabs. The plant is also equipped with a Spanish and Italian technology that allows the company to manufacture large slabs without damaging them. This technology is used to cut the slabs into smaller pieces so they can be transported more easily.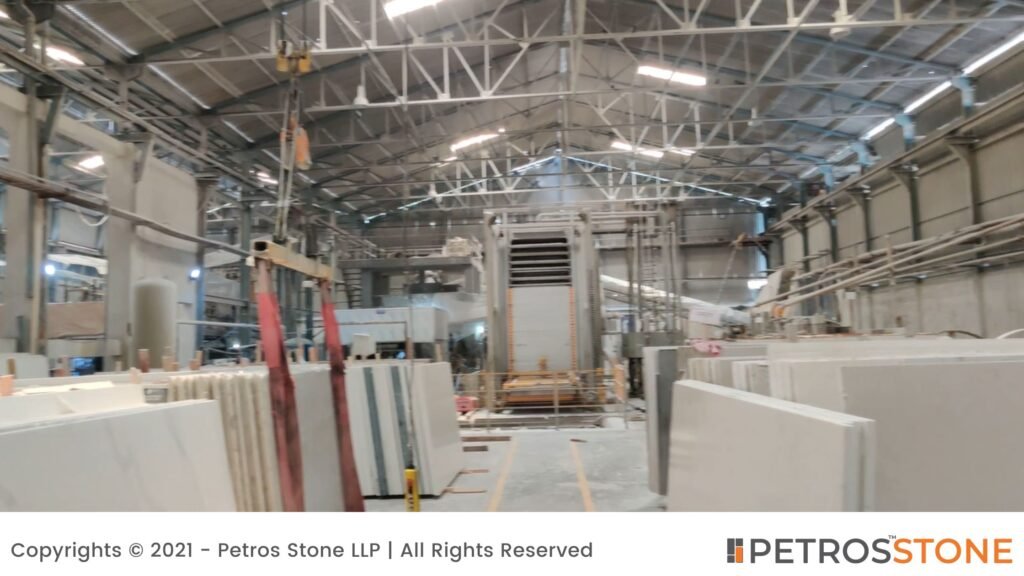 Porcelain Slabs are made using advanced machinery. The machinery used in the production of Porcelain slabs includes:
Drying Ovens
Molding Machines
Kiln
CNC Machine
Polishing Machine
5. Ready Inventory
Petros® are one of the largest Porcelain Slabs Manufacturers in the world, and we have an upgraded inventory. We have various colors, thicknesses, and styles to choose from. Our inventory is constantly being updated with new colors and styles to keep up with the latest trends in the market.
6. Reliable and trusted dealing, transparent and fair business policies
The last reason why Petrosstone is reliable and trustworthy is that it is transparent in its dealings. The company has a website that shows a wide range of products, including the price of each product, so customers can see what they will be paying for their purchase before making it.
The second reason why Petrosstone is reliable and trustworthy is that it has fair business practices. The company does not charge extra fees or taxes that are not listed on its website or in store displays.
---
Advantages Of Buying Porcelain Full Body Slabs
Durable and long-lasting.
Able to mimic other textures
Stain resistant
Able to withstand High Footfalls.
---
Different Types Of Porcelain Slabs
Full Colored Body Slabs
Speckled Body Slabs
Glazed Body Slabs
PORCELAIN FULL BODY SLABS VS QUARTZ STONE SLABS VS SINTERED STONE
| | | | |
| --- | --- | --- | --- |
| SR. No. | Porcelain Countertops | Quartz Countertops | Sintered Stone Countertops |
| 1. | Poreclain slabs are available in a variety of colours and can mimic the patterning of marble. They are available in smooth or polished finishes, with a less-than-deep depth. | Quartz countertops can be thick or thin depending on your needs. | Sintered Stone is made from a base of natural stone, with pigments and polymers added to bond the slab together. |
| 2. | Poreclain slabs are finished with either a high gloss glaze or a matte finish. The high gloss glaze provides an extremely smooth and glossy surface, while the matte finish is more textured and provides a rougher, velvety feel. | Quartz countertops are available in a variety of colors and finishes, including honed, polished and leathered. | Sintered stone are available in glossy or a matte finish. |
| 3. | Fragile upon Installation | Highly Durable | Sintered Stone has a Mohs hardness rating of 7-8. |
| 4. | Poreclain slabs are extremely heat resistant. They are unaffected by UV rays and can withstand temperatures up to 1220 degrees Celsius. | Quartz countertops are heat resistant ( 100 degrees celsius ), but they may warp or discolor at any time. They're also affected by UV rays when exposed for long periods of time. | Highly heat resistant and can withstand upto 300 degree celsius. |
| 5. | The poreclain slabs are resistant to scratching, but can chip and crack easily. They require professional repair to maintain their appearance and integrity. | Quartz countertops are both chip and crack resistant, but they require professional repair of any chips or cracks. | Sintered stone is a composite material, resistant to abrasions and scratches as well as chemical attack. |
| 6. | Poreclain slabs are available with either square or mitered edges. | Quartz countertops are available in bullnose, ogee, beveled, straight, dupont, no sealing edges. | Can have straight edges, reverse bevel, miltered edge, shark nose and Rpencil round profile edges. |
| 7. | Poreclain slabs are light to carry and easy to install, but we recommend professional installation. | Heavy to carry and install. | Sintered stone slabs weigh only 7kg per square meter because of their 3mm sheet thickness, making it extremely light. |
| 8. | Cost Ranges from $55 – $120 per square foot | Cost ranges from $45 to $200 per square foot. | Price ranges from $100 – $ 250. |
PORCELAIN FULL BODY SLABS VS QUARTZ STONE SLABS VS SINTERED STONE
---
Get in touch
Petrosstone is one of the best porcelain slab manufacturers in India. The company has a solid commitment to quality and customer satisfaction. We offer a wide range of sizes and colors, so you can get exactly what you need from us.
Petros Stone LLP is one of the best manufacturers of porcelain full body slabs in India. To learn more about the colors, price and quality, feel free to get in touch with our team at Petros stone LLP at +91-8446360361 or contact@petrosstone.com.
---
---