If you're looking for the best calacatta & statuario quartz in India, then look no further than these five companies:
Petrosstone
Quantra Quartz
Oswal Granite
Caesarstone
---
Best Calacatta Quartz Manufacturers in India
Quality, quantity, and variety are three of the most important factors when finding the best calacatta quartz manufacturer in India. Petrosstone has been delivering on all fronts for numerous years.
In addition to being one of the best quartz manufacturers in India, they also offer a wide range of other stone options such as granite, marble, porcelain tiles, sandstone, and slate all of which come with an industry-leading guarantee that ensures you'll receive top-quality materials every time you order.
Petrosstone uses Italian and German machinery to manufacture its products, which are made from the finest quality quartz sand.
Petrosstone's product range includes:
Quartz Tiles
Quartz Stone Slab
Calacatta Quartz Designs
Statuario Quartz Designs
Carrara Quartz Designs
Petros Stone has following quartz stone slab sizes
160cm x 320cm
80cm x 300cm
140cm x 310cm
200cm x 350cm
Customized sizing also available
Furthermore, Petrosstone has acquired ISO 9001:2015 certification, a globally recognized quality management system for the design, development, production, installation, and servicing of industrial equipment.
---
Best Design Patterns Of Calacatta And Statuario Quartz | Detailed Guide
1. Calacatta Ibiza
The Calacatta Ibiza is a slab with a white base and a grey branch-like pattern. The grey comprises small black spots, and the white base is used as an accent color. The different shades of gray create an interesting visual effect.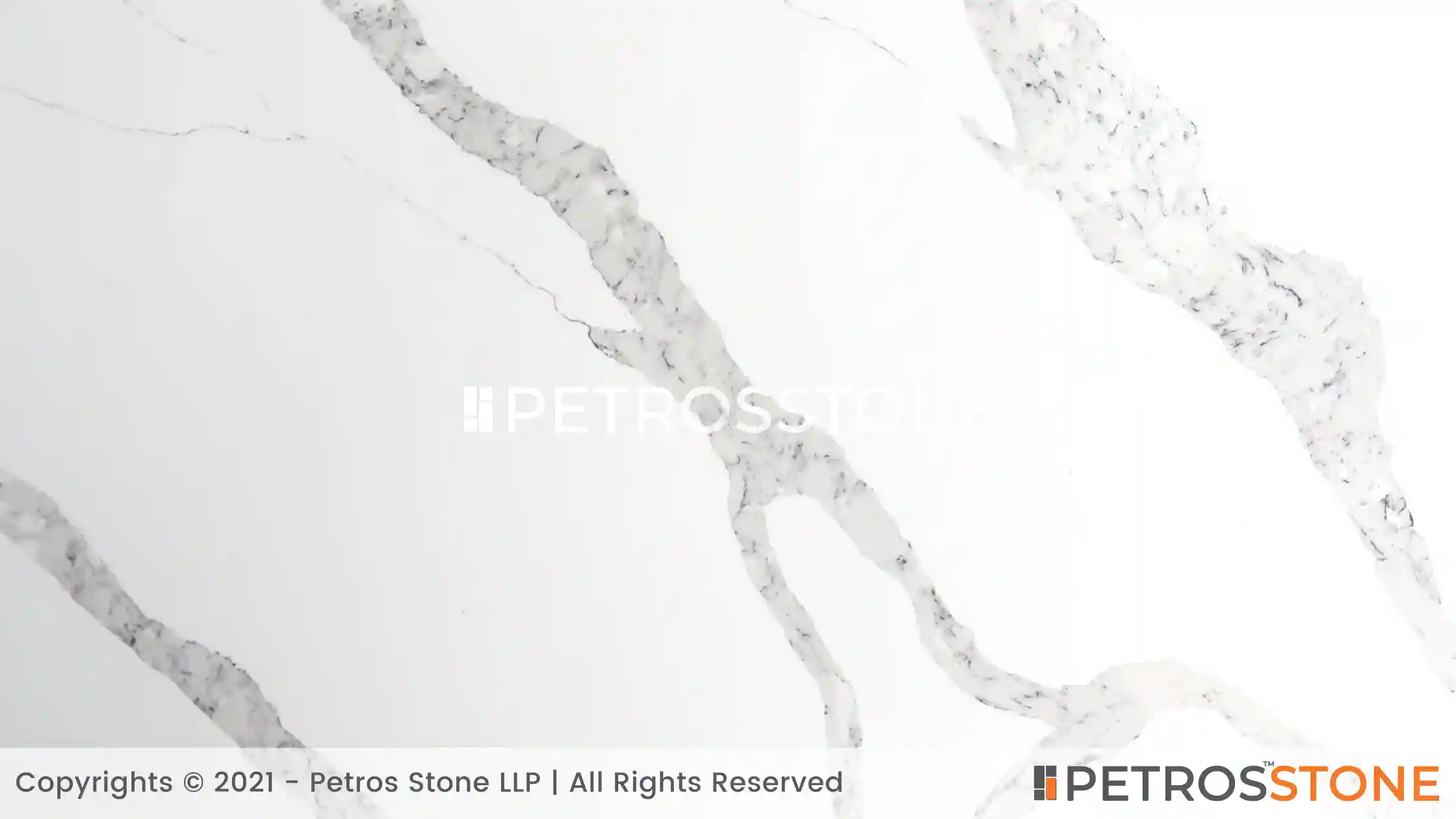 Price Range: $62.1/ SQM to $86.3/SQM
---
2. Calacatta Venatino
The Calacatta Venatino is a slab with an off-white base and some small greyish pattern. These patterns are made up of lines engraved into the marble's surface, giving it more depth and texture than other marbles. The off-white base provides contrast against which these lines stand out even more prominently.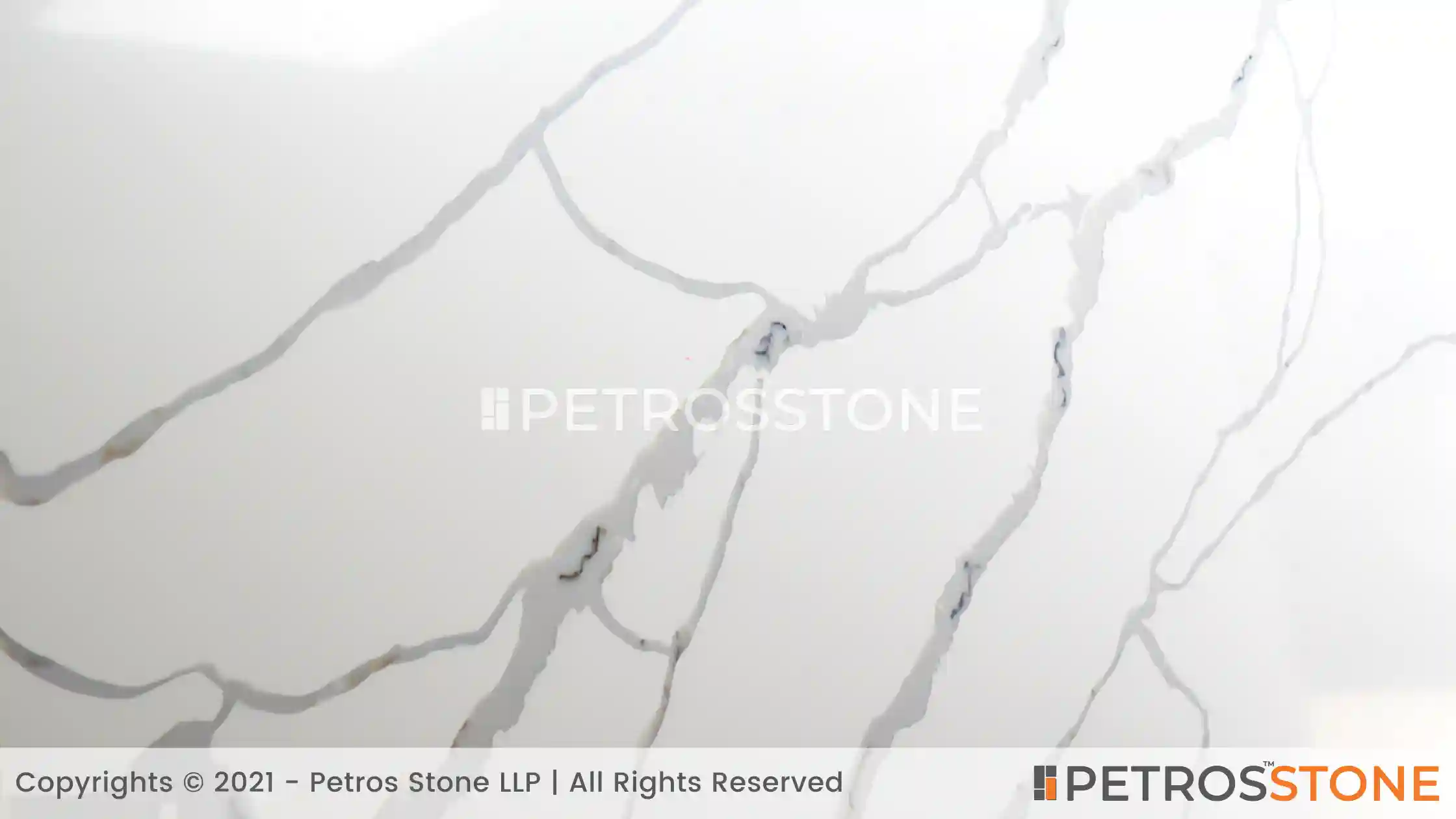 Price Range: $62.1/ SQM to $86.3/SQM
---
3. Calacatta Blanc Extra
The Calacatta Blanc Extra is a white marble polished to give it a smooth finish. Some black lines are etched into its surface, giving it depth and texture while maintaining its pure white coloration.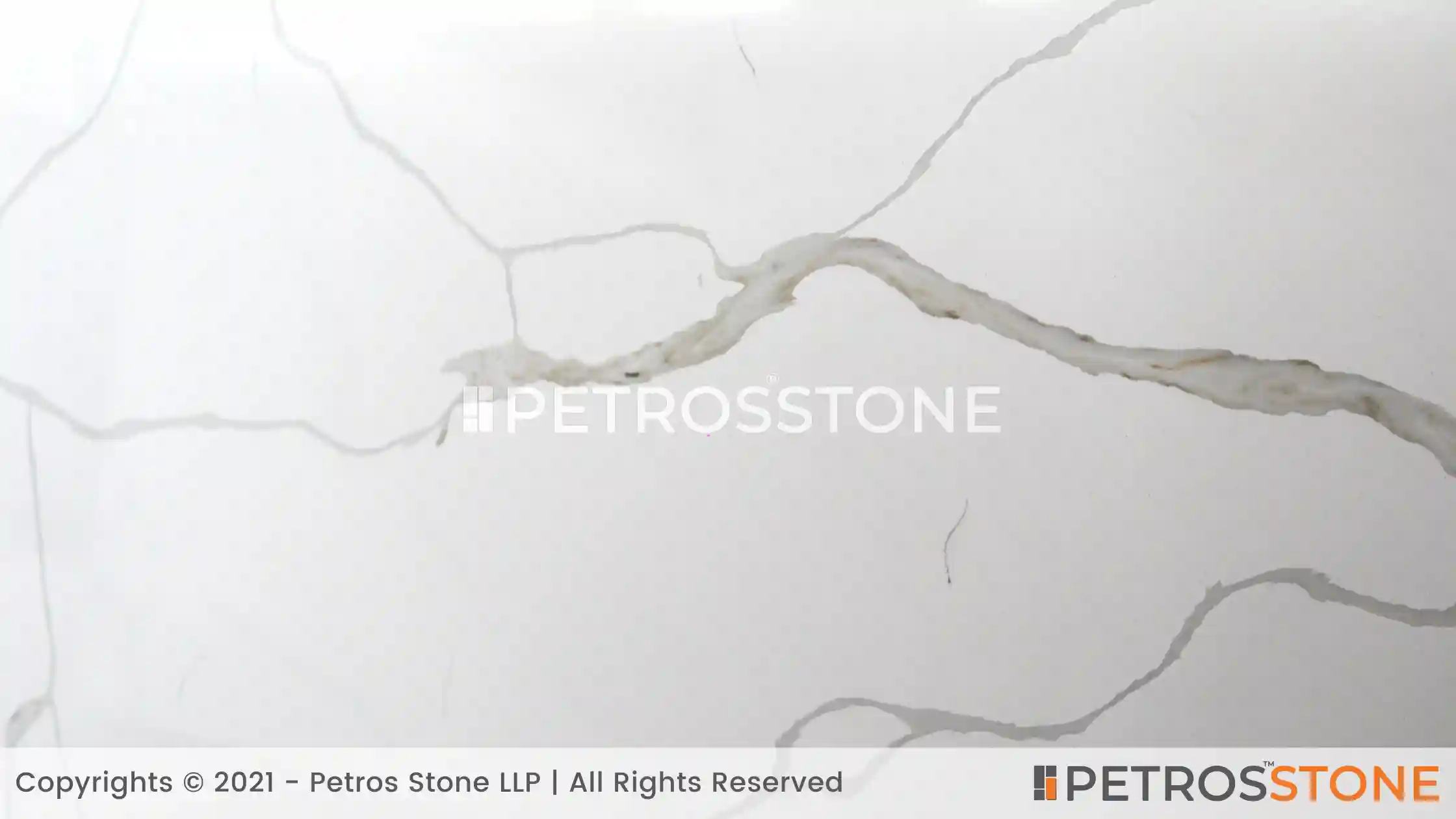 Price Range: $62.1/ SQM to $86.3/SQM
---
4. Calacatta Classic
This pattern has a white background with small dark grey random dots scattered over it. The dots have black lines inside them.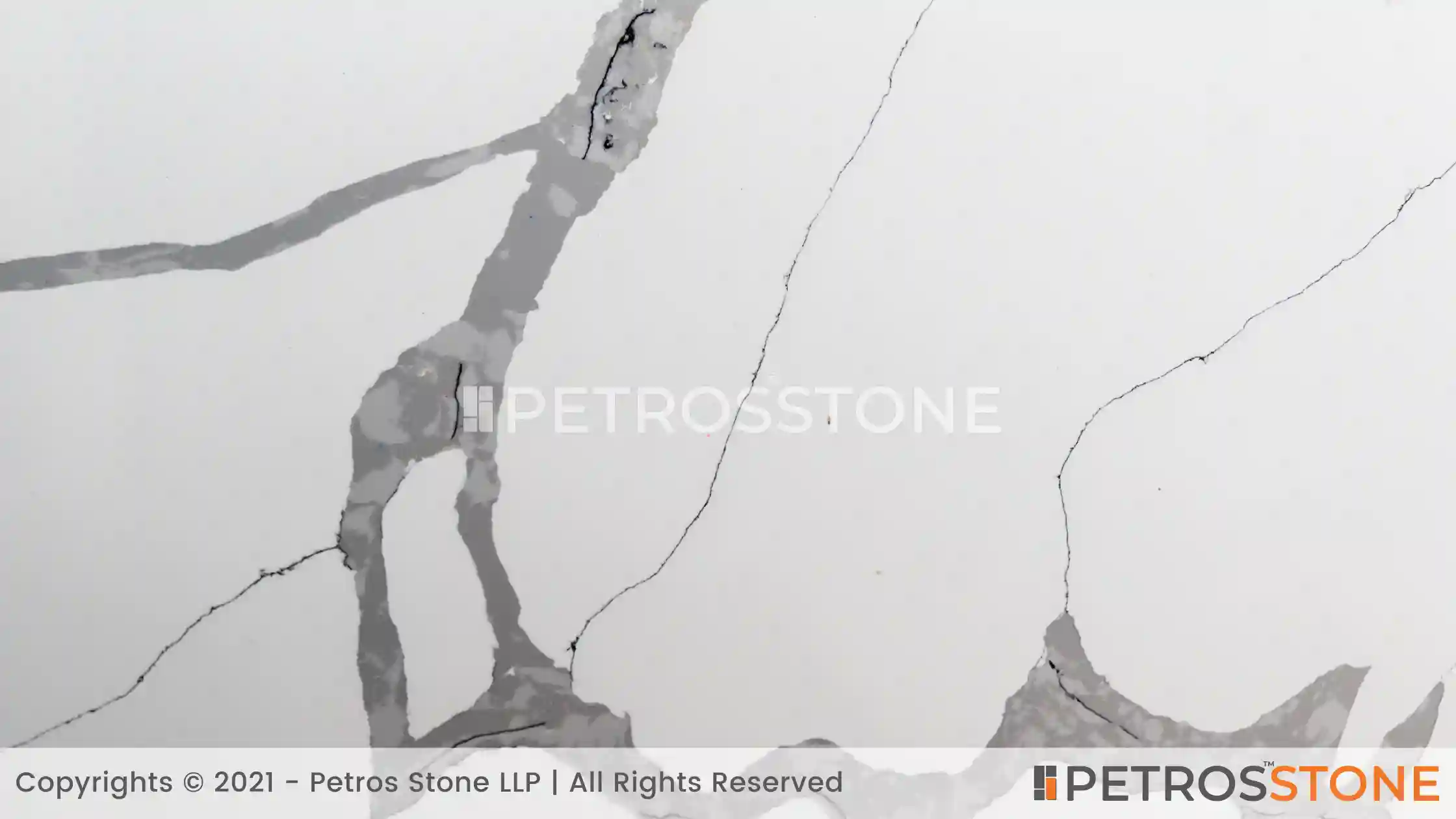 Price Range: $62.1/ SQM to $86.3/SQM
---
5. Calacatta Gold
This pattern has a white background with some light grey spots and brown lines. It's similar to Calacatta Classic, except that instead of dark grey dots, there are light grey spots on the surface, and instead of black lines inside those dots, there are brown lines.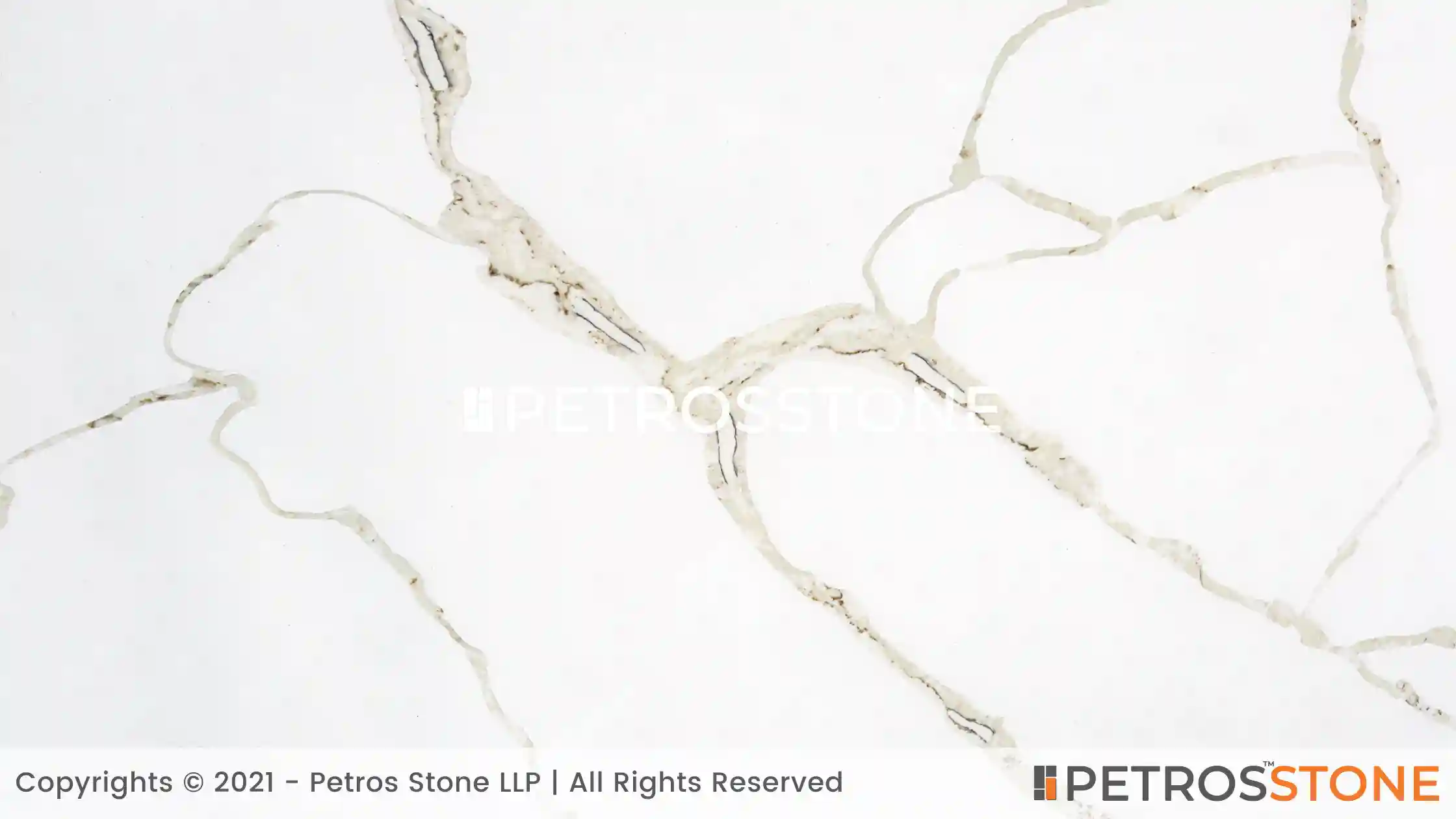 Price Range: $62.1/ SQM to $86.3/SQM
---
6. Calacatta Palazzo
This pattern has a white background with branches that appear lightish grey (but white overall). These branches are arranged in a pattern that resembles an arbor or trellis design.
Price Range: $62.1/ SQM to $86.3/SQM
---
7. Calacatta Lagoon
This pattern is a mix of white and grey, with some light grey spots. The white slab is also decorated with blackish lines, which gives it a more elegant appearance.
Price Range: $62.1/ SQM to $86.3/SQM
---
8. Calacatta Lava
This pattern has a darker grey color and some black spots in it. The border of this slab is also black, which makes it look more appealing than the previous one.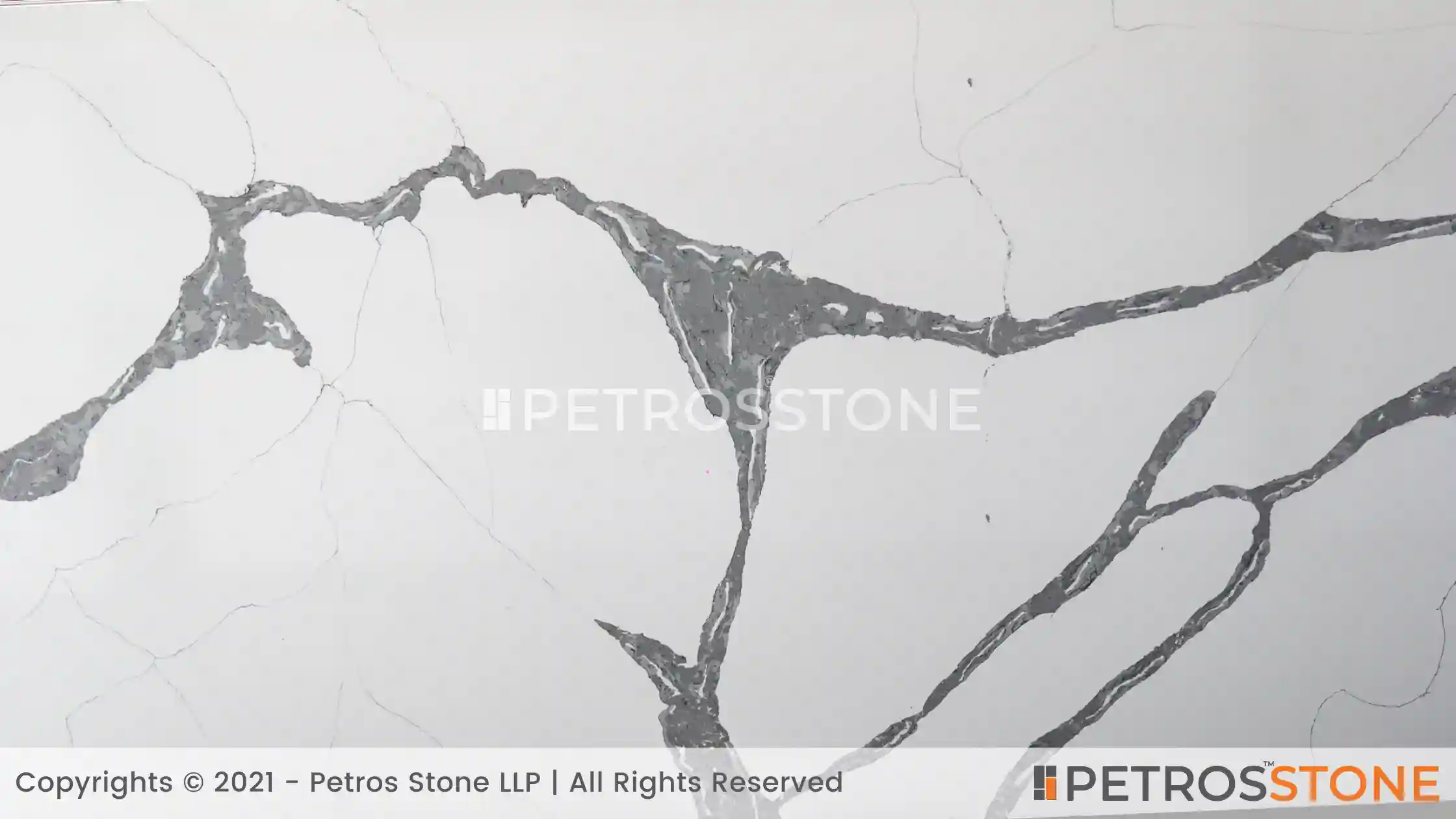 Price Range: $62.1/ SQM to $86.3/SQM
---
9. Calacatta Oro
This pattern has a dark grey color with some black borders around it. It looks very simple but elegant at the same time and can be used in any interior decoration.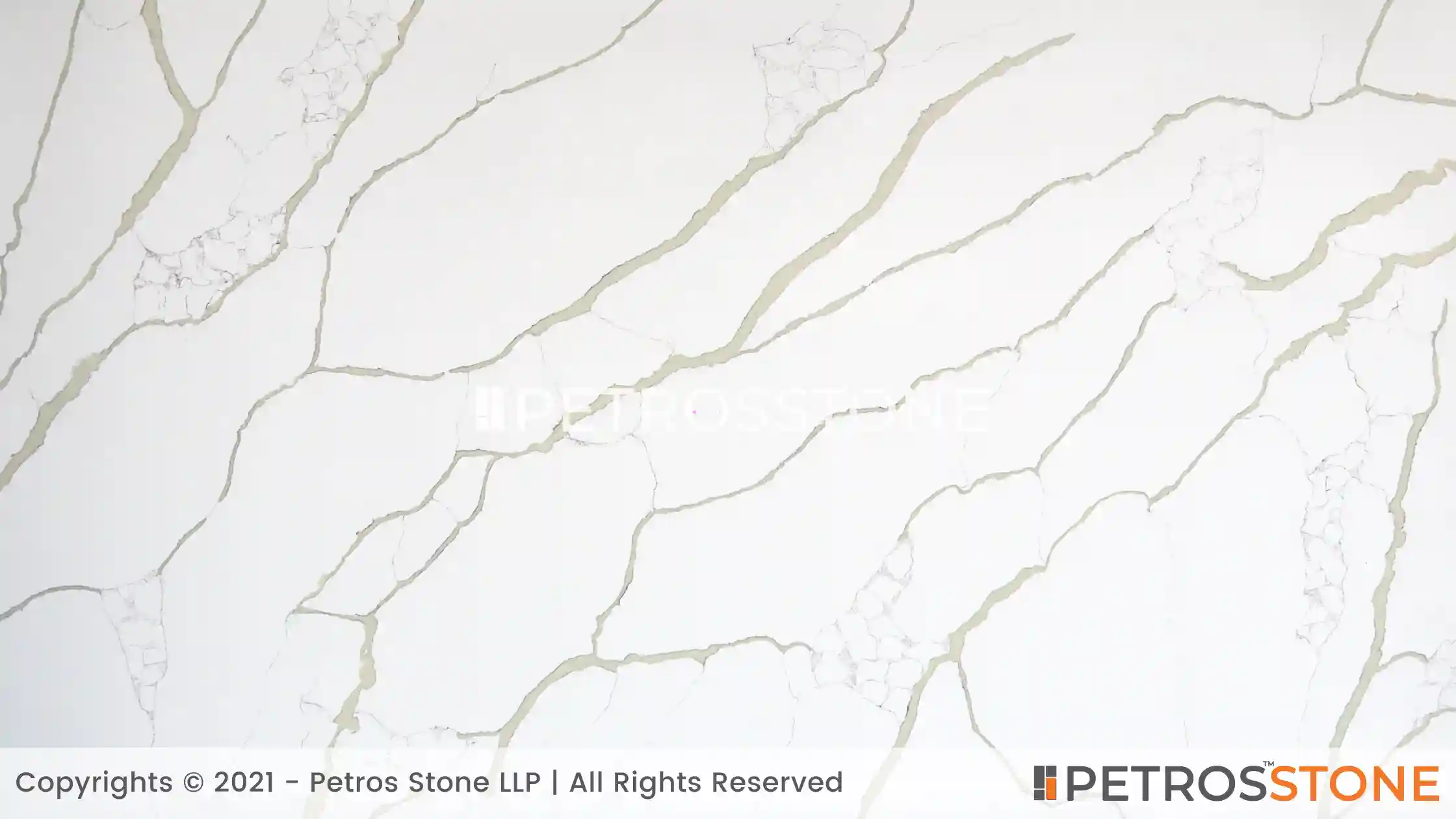 Price Range: $62.1/ SQM to $86.3/SQM
---
Quantra Quartz is one of the top Quartz Manufacturers in India. The company has been in business for more than 30 years and has an extensive product range that includes everything from quartz slabs to quartz tiles. Quantra's inventory includes more than 80+ different varieties of quartz, including natural shades like brown, grey, black, and white.
---
Oswal Granite is one of India's largest Quartz Manufacturers. The company has been in business since 1989 and has a long-standing reputation for quality, craftsmanship, and customer care.
The company's product range includes quartz slabs, tiles, countertops, and vanity tops. The company manufactures its products using the latest technology and traditional techniques. Oswal Granite is committed to providing high-quality products with fast lead times and competitive prices.
Oswal Granite's quartz slabs are available in various sizes and thicknesses from 1.5 to 3cm thick. They are available in standard sizes ranging from 80x300cm to 160cm x 320cm.
Oswal Granite's countertops come in various colors, including white, red, pink, and green. They can be customized to suit any kitchen or bathroom design theme, including contemporary, modern, or classic styles.
---
Hafele is one of the best Quartz Manufacturers in India. The company has been manufacturing high-quality products for over 100 years, and its dedication to innovation and excellence is evident in every item it produces.
Furthermore, Hafele uses a variety of machinery and technologies to produce their products, including:
Milling machines
CNC machines
Grinding machines
Lathes
Drill presses
---
Caesarstone is an Israeli company that has an experience more than 35 years. Their vast product range includes countertops, flooring, wall cladding, vanities, tile backsplashes, kitchen islands, and more. The company also offers a selection of natural stones used for countertops or flooring.
In addition to being durable, Caesarstone surfaces are easy to clean and maintain.
---
Calacatta And Statuario Quartz | Why Petrosstone is the best?
Petrosstone is one of the best Calacatta & Statuario Quartz manufacturers because it offers clients a wide range of quartz slab prices, which vary depending on the size and grade of the slab.
Petrosstone ensures that all information is confidential by using secure data encryption protocols and protecting all personal information with the latest security measures. The company also maintains strict internal procedures to prevent data breaches.
Certifications and Licence
Petrosstone is proud to be certified by ISO. This certification ensures that customers are guaranteed high-quality products at all times.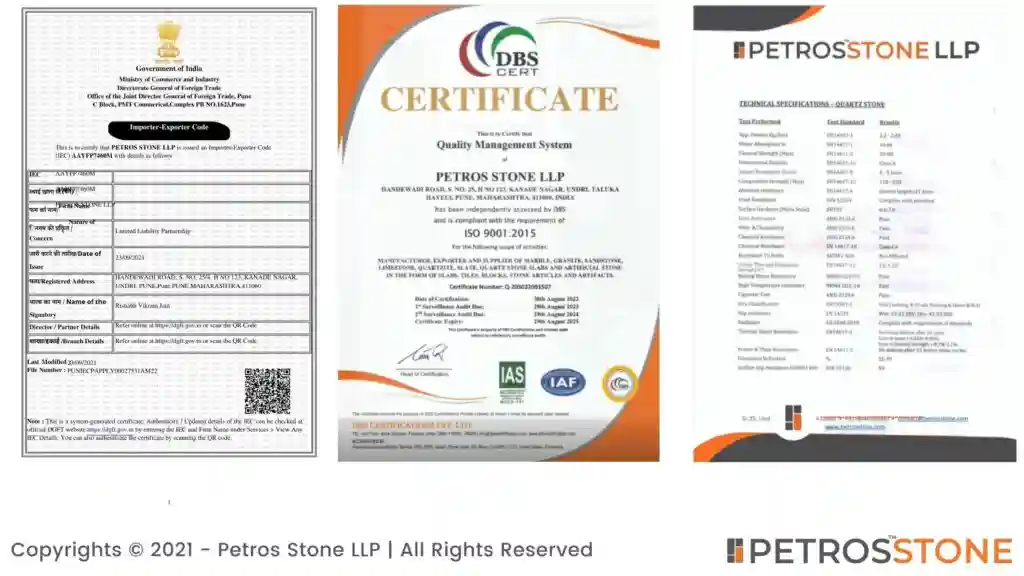 ---
Developed Inventory With a Variety Of Materials
Petrosstone has developed an inventory with various materials to ensure that its customers' needs are met. They have created an inventory with various colors, sizes, and styles like Calacatta and statuario.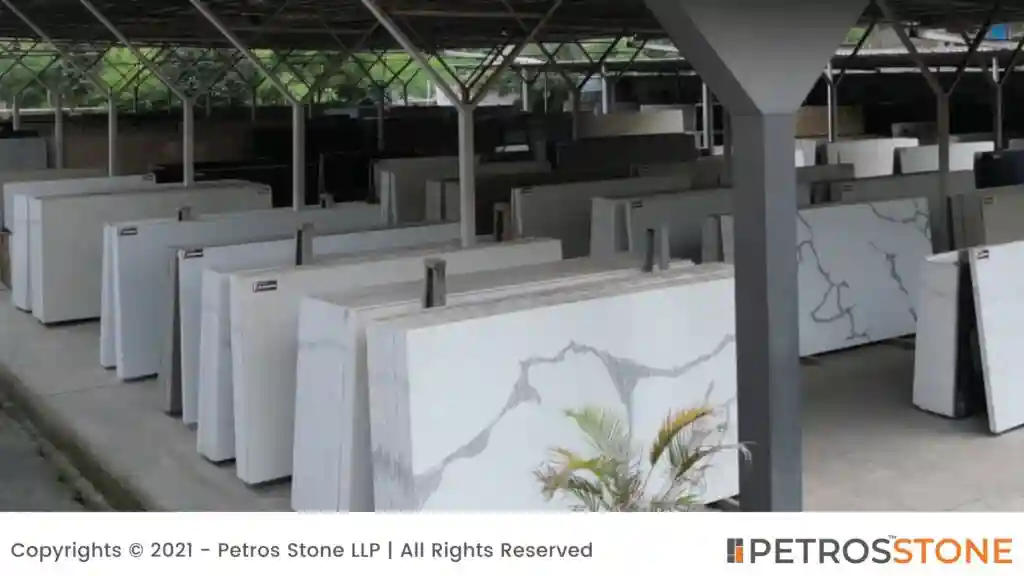 ---
Infrastructure And Machinery
Petrosstone has also invested heavily in its infrastructure and machinery to ensure that it can produce high-quality products at competitive prices. The machinery they use includes saws, grinders, polishers, and more.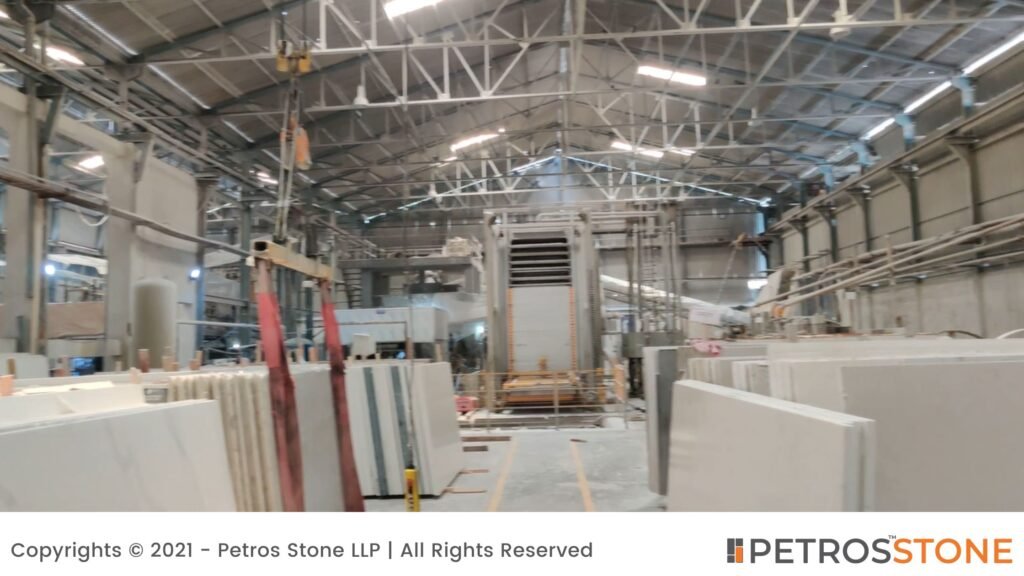 ---
How to import Calacatta and Statuario Quartz from India?
You can decide the selling price by considering the cost of production and other factors like demand, market trends, and competition.
You can choose the payment terms depending on your business needs. For example, if you are importing goods in bulk, getting credit from your suppliers or buyers may be difficult. In this case, you may have to pay cash on delivery (COD).
You should order materials from your supplier after confirming all details about the quality and delivery schedule.
Materials inspection is the first step in importing quartz from India. Quartz is a natural stone, so it must be inspected to ensure that it meets quality standards. An independent third party does this inspection.
Once you have ordered your container and specified where it should be sent, it's time for packet loading. Packet loading involves loading your products into their designated containers based on the information provided by your supplier during ordering time.
Before you can ship your goods to the US, you'll need to have the following documents:
Certificate of Incorporation.
Company Permanent Account Number.
Import Export Code* (IEC)
Registration-cum-membership certificate from the EPCs.
Customs clearance documents, such as Bill of Lading and packing list.
Once you are ensured that all of your documentation is in order, it's time to ship! The company will need to hire an international freight forwarder or customs broker to handle all aspects of documentation, shipping, and customs clearance.
---
Tips To Remember While Buying Calacatta & Statuario Quartz
Get A Sealed Finish
Cracks And Fissures
Check The Curving Of Edges
Check The Stone With Different Finishes
Consider Veining Patterns
Stain And Heat Resistance
Non-Porous Material
---
Petrosstone is the best choice for buying Calacatta & Statuario Quartz because they are the most trusted and reliable supplier. They have been in the business for an adequate time and have a lot of experience in designing, manufacturing, and selling quartz products.
If you want to buy Calacatta & Statuario Quartz, you should choose Petrosstone because they will give you what you need and ensure your project goes smoothly! To learn more about the colors, price and quality, feel free to get in touch with our team at Petros stone LLP at +91-8446360361 or [email protected].
---