India has the fifth largest granite reserves in the world with some of the reserves dating back to three hundred million years from now. Granite is a natural mineral and Granite slabs are a very versatile building material. Due to the high demand, large reserves, incredible manufacturing infrastructure, India is one of the largest exporters of granite. In this article, we look at some of the Best Granite colours to import from India.
One of the most imported finished granite from India is Black and White Granite which accounts for almost 40% of the total export quantity of finished granite from India. But apart from this, there are several other finished granite products, some known and some emerging. In this article, we will be discussing the 18 best granite colours imported from India.
---
18 Best Granite colours to Import from India are:
Himalayan Blue Granite
Petros® Black Granite
Alaskan Gold Granite
Aster White Granite
Petros® Mystic White Granite
Paradiso Bash Granite
Icon Brown Granite
Green Pearl Granite
Pearl Black Granite
Black Galaxy Granite
Indian Juprana Granite
Lakha Red Granite
Kashmir White Granite
Madura Gold Granite
Hassan Green Granite
Sadarali Grey granite

Colonial White Granite

Lavender Blue Granite
---
---
Himalayan Blue Granite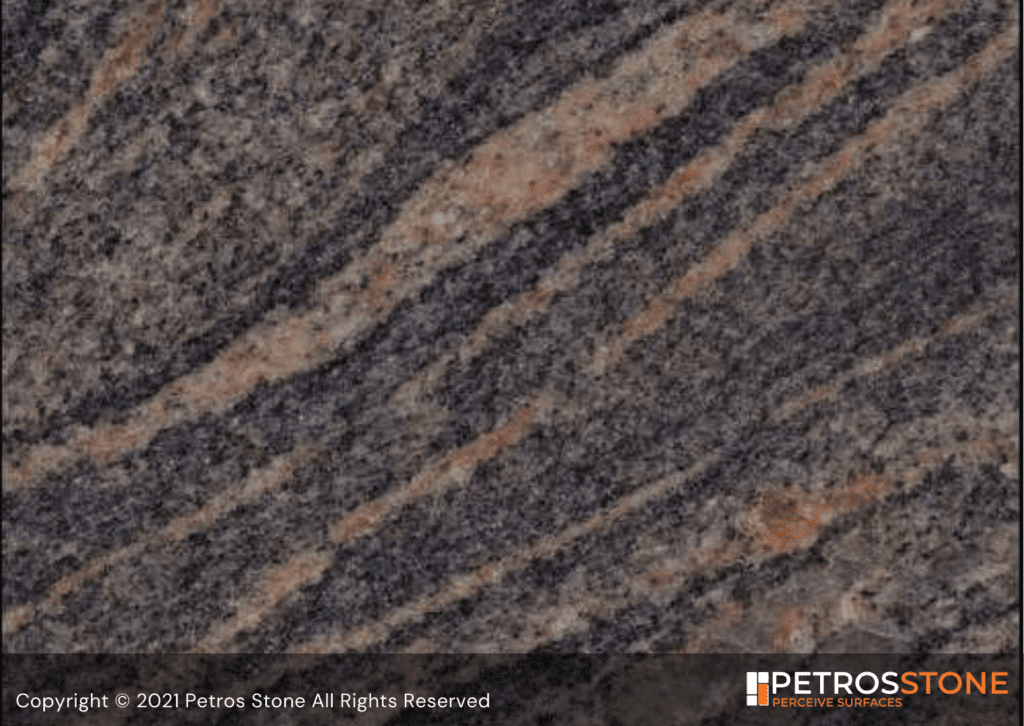 Himalayan Blue Granite is quarried from the southern regions of India, especially from the state of Karnataka.
This granite has orange swirls over a blue base. The patterns of this granite do not variate much but the base colour of the granite can vary from grey, blue, or black.
The differences in the thickness of the orange swirls of the Himalayan Blue granite can create beautiful patterns when used in the form of tiles or claddings.
These granites have a low water absorption rate making it perfect for bathroom floors and kitchen countertops.
Himalayan Blue granite is also heat resistant. Hence, Himalayan Blue granite tiles can be used for exterior purposes such as front elevation or pillar claddings.
They are generally mirror finished and exported to be used in floorings across luxury homes.
Himalayan blue is also a popular choice for headtones and gravestones.
---
Petros® Black Granite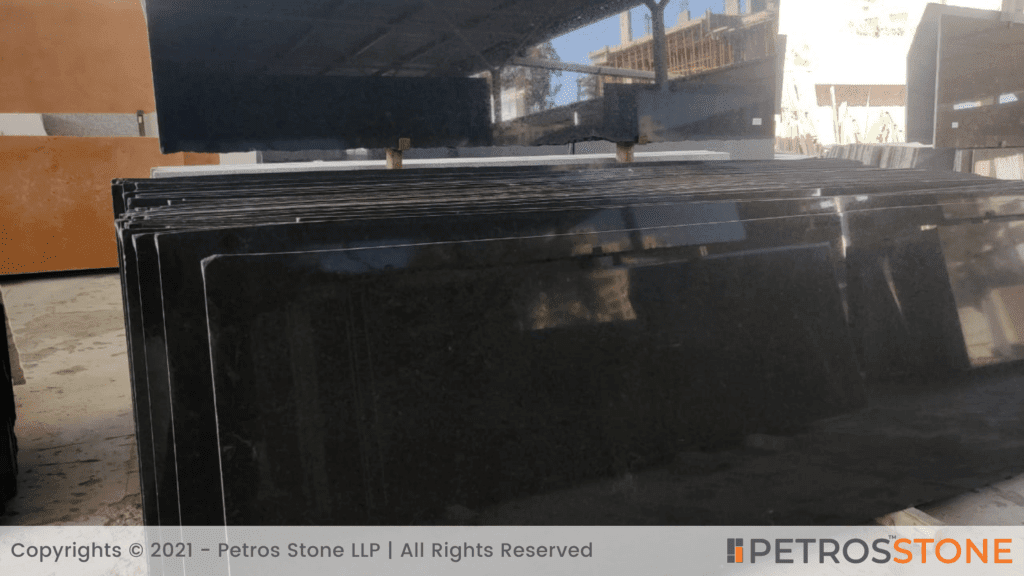 Petros® Black Granite is quarried from certain regions of South India and finished at Petrosstone. This is one of the blackest granites in India.
This granite is known for its pitch-black background with dark grey crystals spread all across the slab. The design is uniform and the finishing is matt or polished based upon the application.
Its durability and design find applications in every possible space of an interior design. It is used for flooring, wall claddings, and countertops.
Petros® Black Granite is hard, durable and with the high-quality finish that Petrosstone provides, it is one of the best granites to import from India.
---
Alaska Gold Granite
Alaskan Gold granite is quarried mostly from the northern regions of India, along with a few quarries from Rajasthan.
This granite has a golden base with patterns of black, white, and red of various shapes and sizes. This makes each block of this granite unique.
Alaskan Gold granite's patterns are best suited for wall claddings, fish tank base or back shades, artificial waterfalls, and entryways, due to its desert and rocky texture.
They have a very low water absorption rate, high scratch resistance and requires very little maintenance.
Alaskan Gold granite is finished rough or books finished depending upon the application.
These granites are not the toughest granite and is used for decorative and niche design purposes. Hence it is one of the most exported granites of India.
---
Aster White Granite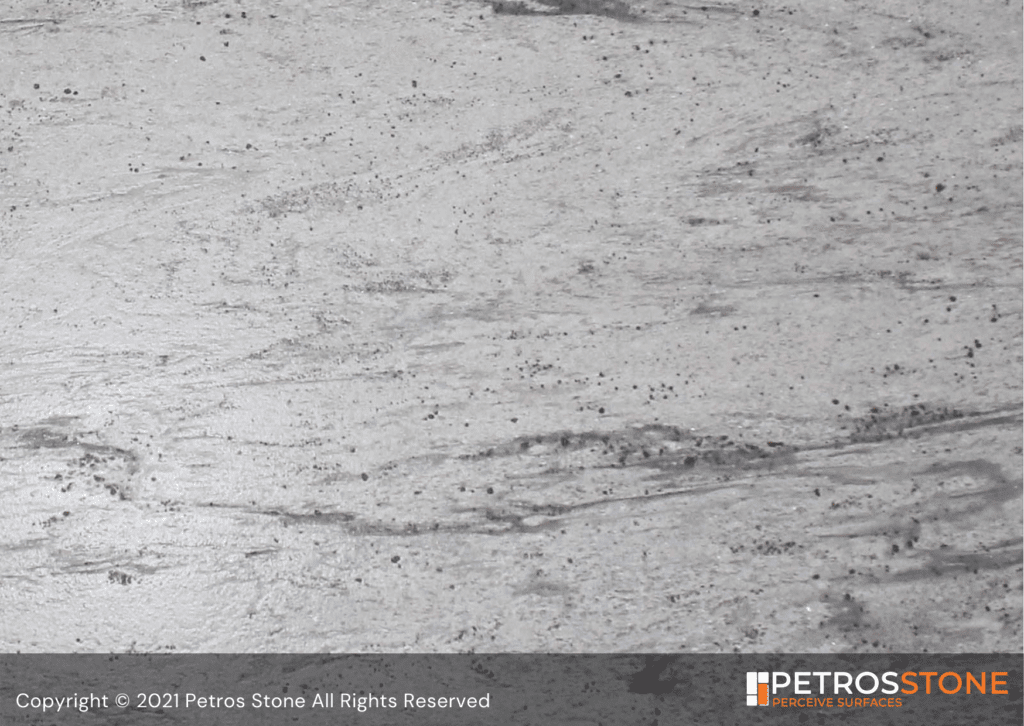 Aster White granite originates from the quarries of the eastern and southern regions of India.
This granite is white with thin dark grey veins and black spots running across the slab. These dark veins can differ in prominence and sometimes there are light red veins found as well.
Aster White granites are naturally crystalline and not strong. But when finished with resin and sealed, they are quite compact materials.
Due to their colour and texture, these granites are best suited for indoor floorings, stairs, front elevations, and pillar claddings.
Aster White granites are chemical, scratch and dustproof. They require regular sealing and maintenance.
Their wide applications are the reason why it is supplied for interior designs all over the world.
---
Petros® Mystic White Granite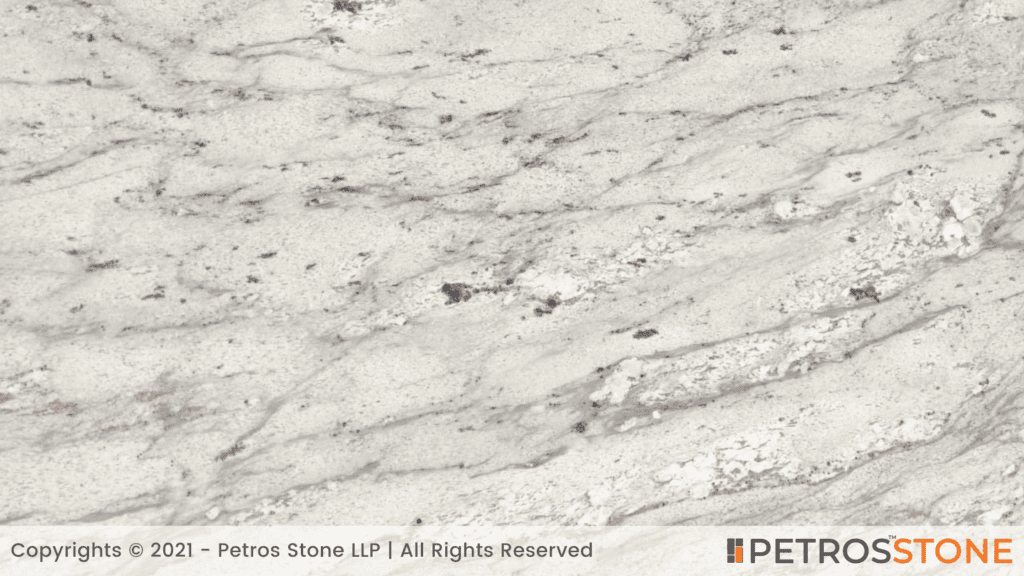 Another gem from the southern part of India, which is extracted and finished in the manufacturing unit of Petrosstone.
Petros® Mystic White Granite is defined for its elegant design, white or grey background with dark grey veins that are interlocked with each other. There are also copper speckles spread across this slab.
This design is very similar to Italian marble in appearance – but this is actually a granite. This reason makes Petros® Mystic White Granite even more exclusive as it not only provides the physical benefits of granite but also the superior and luxury look of marble.
Because of its interesting design, Petros® Mystic White Granite finds application in kitchen and bathroom countertops, wall claddings, flooring, and entryway.
This is an esteemed product moving out of India and into the luxury projects and stone dealers across the globe.
---
Paradiso Bash Granite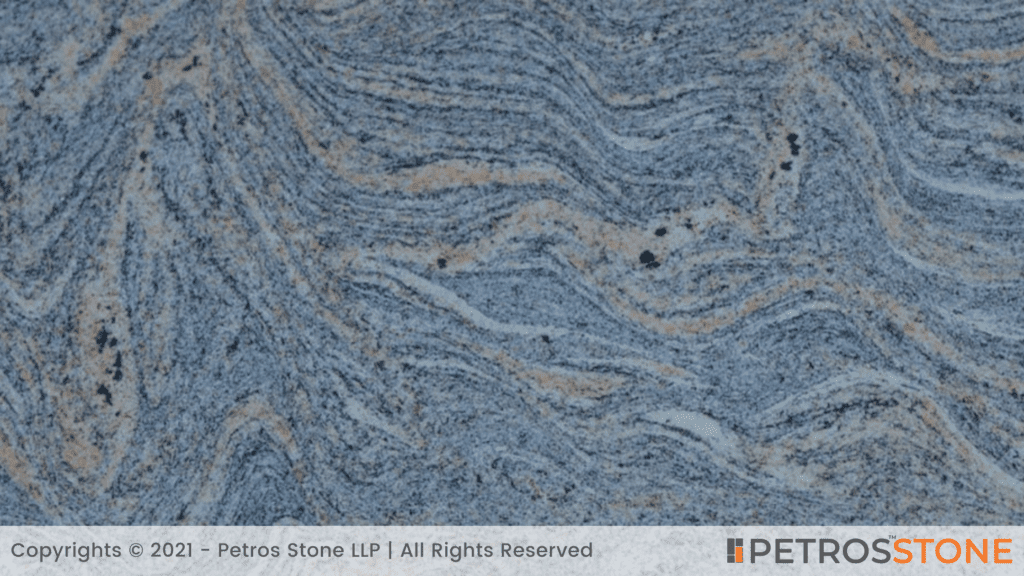 Paradiso Bash Granite is quarried from the southern region of India, especially from a few regions of Tamil Nadu.
Similar to Himalayan Blue Granite in terms of the orange veins running across the slab. The only difference being is that Paradiso Bash Granite has a lighter blue background.
These granites can be seen in almost any interior space of a luxury home. It is used for countertops, sinks, claddings, floorings, and stairs.
The reason for such a wide application is its popularity amongst granite enthusiasts and its availability.
The popularity of Paradiso Bash resonates with the quantity at which it is imported from India.
---
Icon Brown Granite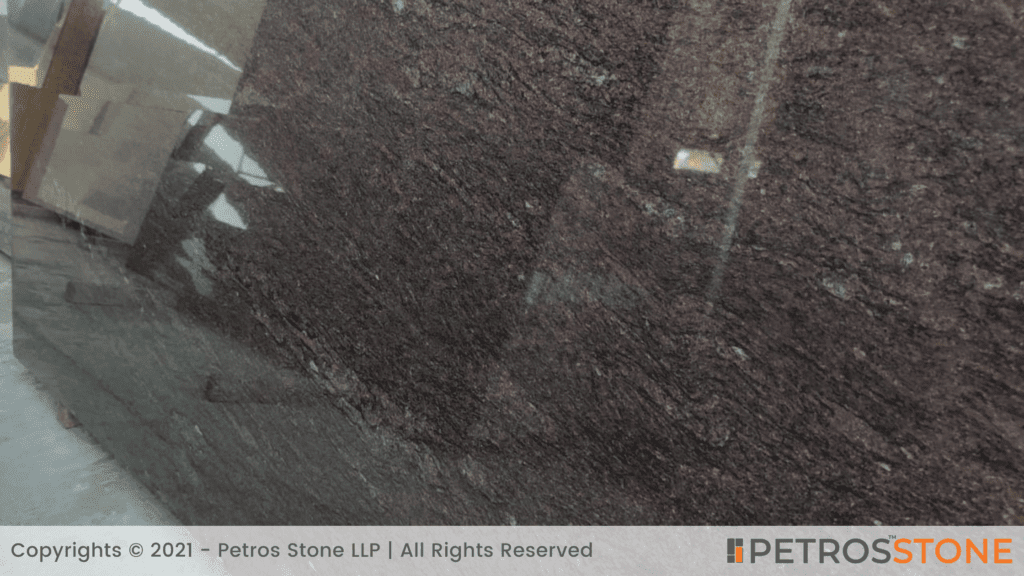 Icon Brown granite is quarried from the southern regions of India.
Its design is soothing to the eyes as it has black veins that run across a chocolate brown background along with a few crystals of silver scattered.
This granite is hard, water-resistant, and scratch proof. It makes a perfect material for countertops and floorings of any kind, interior or exterior.
Icon Brown is imported due to its design and appeal of creating a very relaxed look to your interiors. These are quite expensive but come with a promise of improving the look of your home space.
---
Green Pearl Granite
Green Pearl Granite is quarried from Andhra Pradesh in South India.
As the name suggests, this is a green granite with silver flakes and black veins running across the granite. There is very little variation in design with this granite. The difference lies with the tone of green amongst the obvious variants of Green Pearl granite.
Being green in colour this granite finds applications purely for design purposes and not an economic purpose. These granites form great countertops, wall claddings, window panels, and facades.
There are many soapstone based counterfeits of Green Pearl granite in the market due to its high cost and exclusivity. The best way to differentiate is to take a coin and test its scratch resistance. A true serpentine based Green Pearl Granite will be hard and scratch-resistant.
Due to its rarity, Green Pearl granites are expensive and massively imported from India. The other big exporter of this marvellous granite is Norway.
---
Pearl Black Granite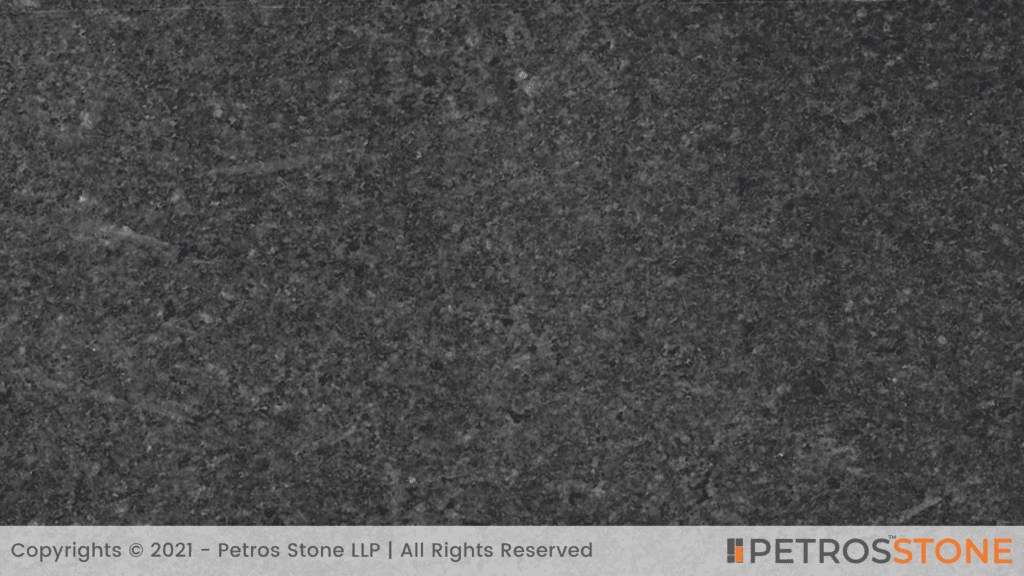 Another popular granite is quarried from Andhra Pradesh in southern India.
Pearl Black granite is grey or black coloured granite with speckles of silver, gold, green, and grey. The variants differ based upon the type and size of the crystalline speckles.
It is one of the most durable and toughest granites available and therefore finds applications in the interior as well as exterior purposes.
Some of the best applications of Pearl Black granite is to use them as countertops in the interiors and to use them as wall and pillar claddings in exteriors.
These are cost-effective granite, both in terms of price as well as maintenance. This is one of the reasons why a matt book finished Pearl Black granite is one of the most exported products of the Indian export market.
---
Black Galaxy Granite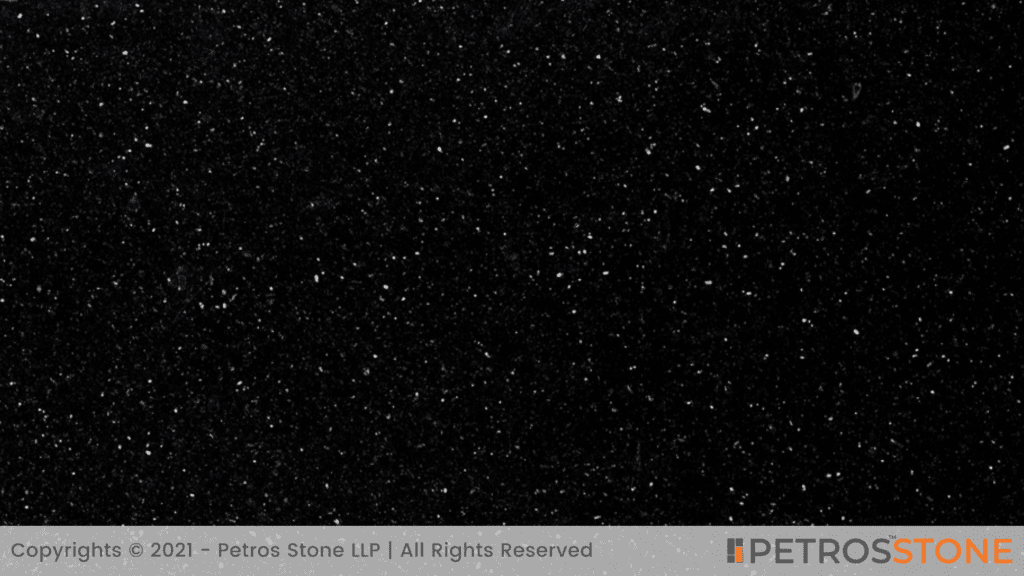 Black Galaxy granite is quarried from the region of Ongole in Andhra Pradesh, a state in southern India.
This is pitch black granite with crystals of gold in it. These crystals can vary in size and hence determine the quality of the granite.
Black Galaxy granites are strong, have high heat resistance, and high stain resistance as well.
These granites find application in both exterior and interior purposes and are primarily used as floorings, stairs, pillar claddings and countertops.
This natural stone is quite affordable, but they are the most generously used granite in an interior design space due to their wide range of applications. Thus Black Galaxy granites are the top–most export of natural stones from India.
---
Indian Juprana Granite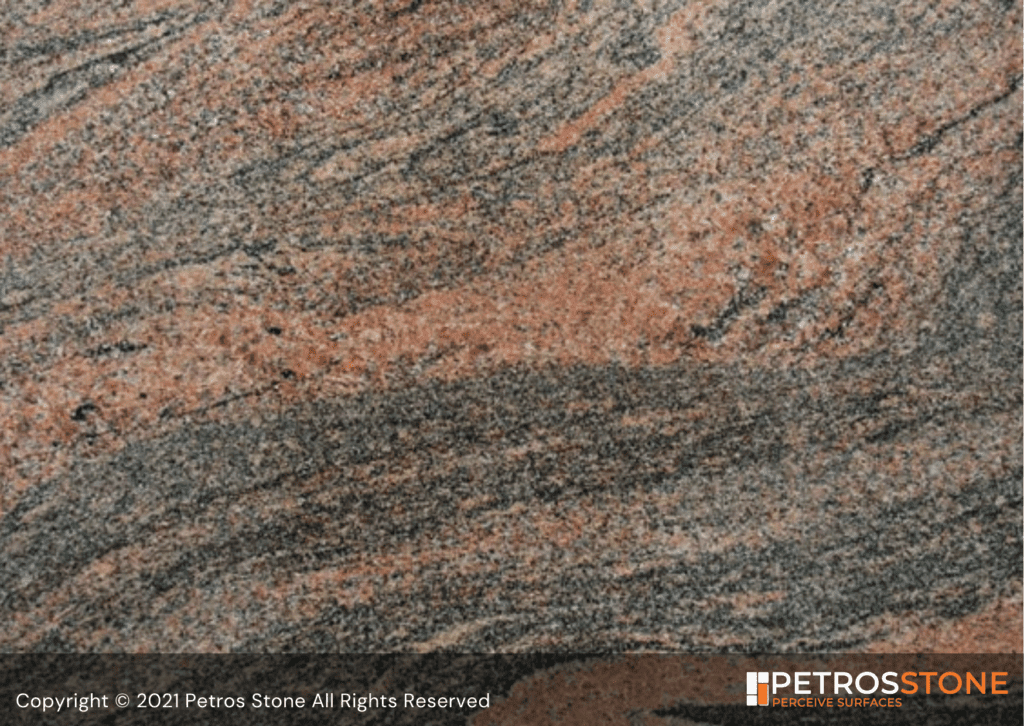 This granite is found in the quarries of Ramanagara, a district in the state of Karnataka, India.
The design of Juprana is grey spots and black prominent veins running across a pink background. The base tone of this granite can vary with different shades of pink, grey, red.
Indian Juprana granite is highly durable with a great design. These reasons make this marble perfect for outdoor flooring and claddings. India Juprana granite is seen being used in front elevations, pillars or support columns claddings, and floorings.
These granites can also be used indoors as they have one of the lowest water absorption rates and can easily make a kitchen counter or bathroom countertop.
Indian Juprana granite is one of the most exported granites from India.
---
Lakha Red Granite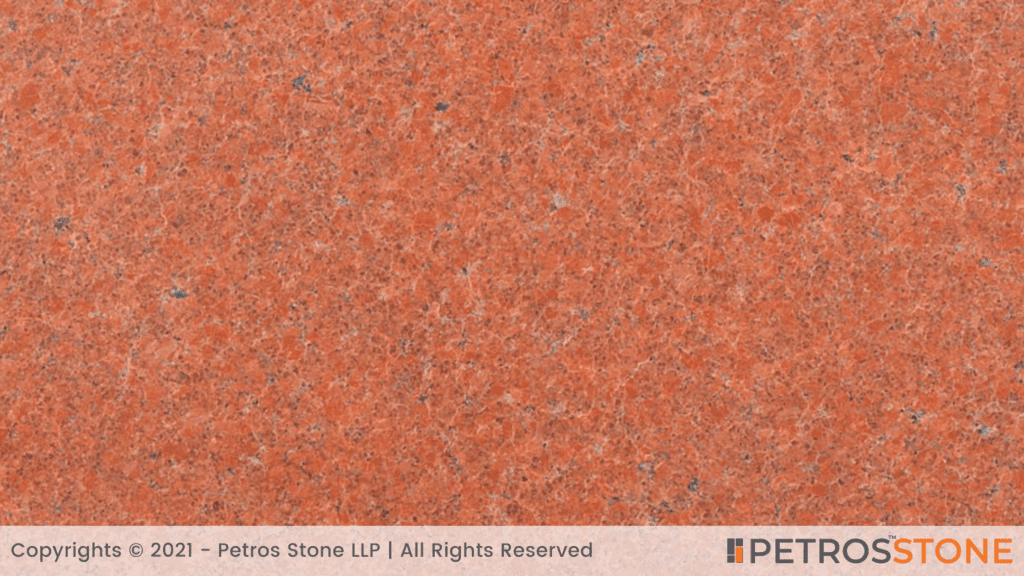 These are found in quarries all across Northern India, but predominantly it is found in the district of Jhansi. Hence this granite is sometimes referred to as Jhansi Red Granite.
The design is similar with very minimal variance in the shade of red.
Lakha Red granite is stain and heat resistant. These are also very strong and long-lasting materials.
They make great countertops for kitchens. This is one of the major uses of Lakha Red granite. Apart from it, they also make good materials for all types of purposes, residential, industrial or commercial.
Lakha Red Granite is usually polished and sealed for a high-quality finish. These are quite expensive granites with cheaper alternatives, but we would suggest you find the best finish disregarding the price tag.
---
Kashmir White Granite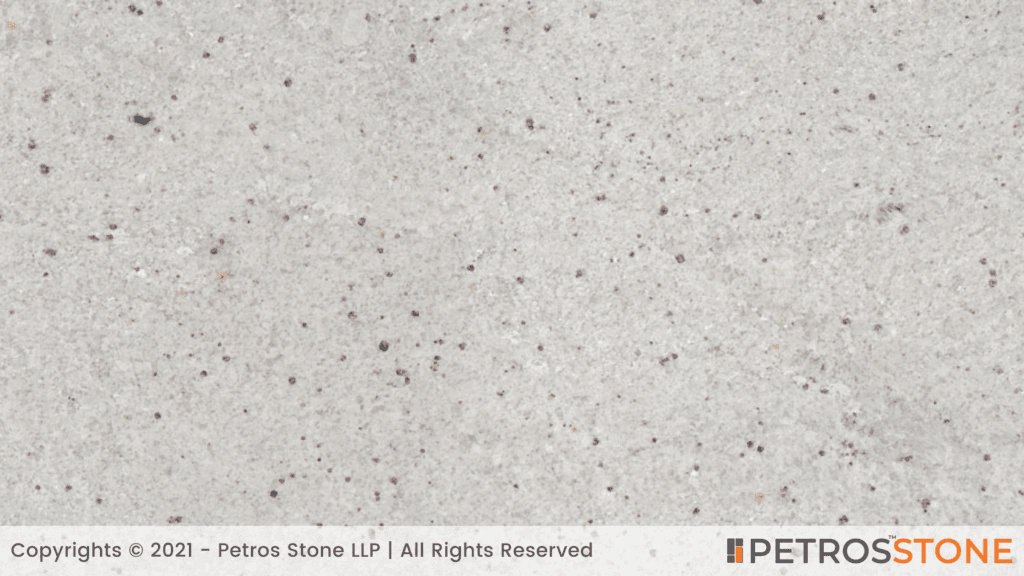 Kashmir White granite is found in the regions of Tamil Nadu and technically it is not granite. But has been accepted into the family of Indian granites due to its commercial success.
As name suggestive, it is a white granite with tiny copper and grey crystals. A good quality Kashmir White granite also shows hints of light grey veins running across the slab.
Each slab is unique in design with a very negligible difference in the prominence of veins. So this makes Kashmir White granite, an excellent granite to be used as floor tiles. High quality finished and sealed slab of this beauty is seen as countertops of kitchens as well.
Kashmir White granites are durable, strong, and have decent water resistance. This makes Kashmir White granite one of the most exported granites of India.
Madura Gold Granite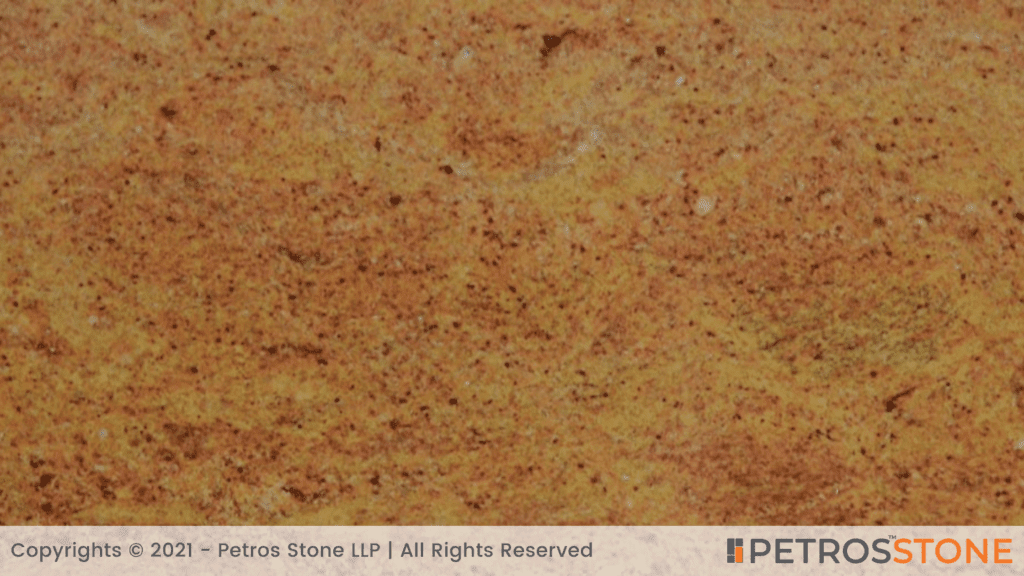 Another one of the granite marvels from Tamil Nadu, which seems to be a hub for granite quarries in India. Madura gold, as the name suggests, is quarried from the Madurai district of Tamil Nadu.
Madura Gold granite is gold in colour with crystals of copper and red veins running across the slab. These veins determine the quality of the slab as the more prominent these veins are the better the Madhura gold granite is.
These granites make great kitchen countertops due to their low water absorption rate as well as durability. Madura Gold granite is good for exterior purposes as well and can be seen applicable in pillars and front elevations.
A high-quality Madura Gold marble is well sealed and polished for a shine finish. Its design and popularity amongst kitchen countertops is the reason for it being imported massively from India.
---
Hassan Green Granite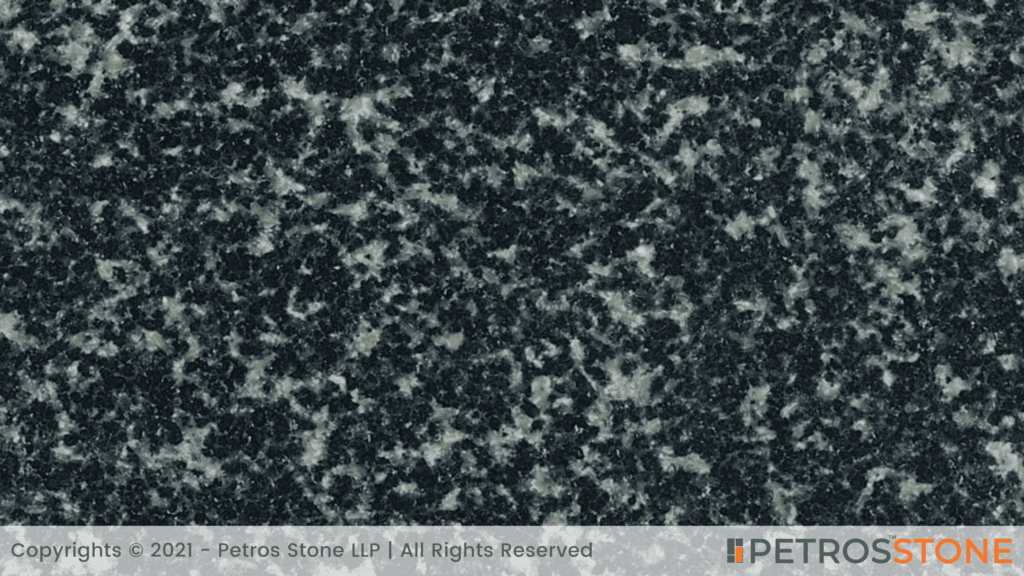 Hassan Green granite is mined from the regions of Sigegudi in Karnataka state.
This granite is dark green granite with white, black, and golden crystals. Hassan Green granite is strong, durable, and has decent water resistance.
These are another great material for kitchen countertops and bathroom sinks. The design and mystique of Hassan Green granite is the reason for it being used widely for countertops and bathroom sinks.
Hassan Green granite can mostly appear black but under white light, its true green colour comes out. Creating a sense of enigma and intrigue.
These green natural stones are imported because it has a massive application for kitchen countertops and at the moment looks like one of the rising parts of luxury kitchen designs.
---
Sadarali Grey Granite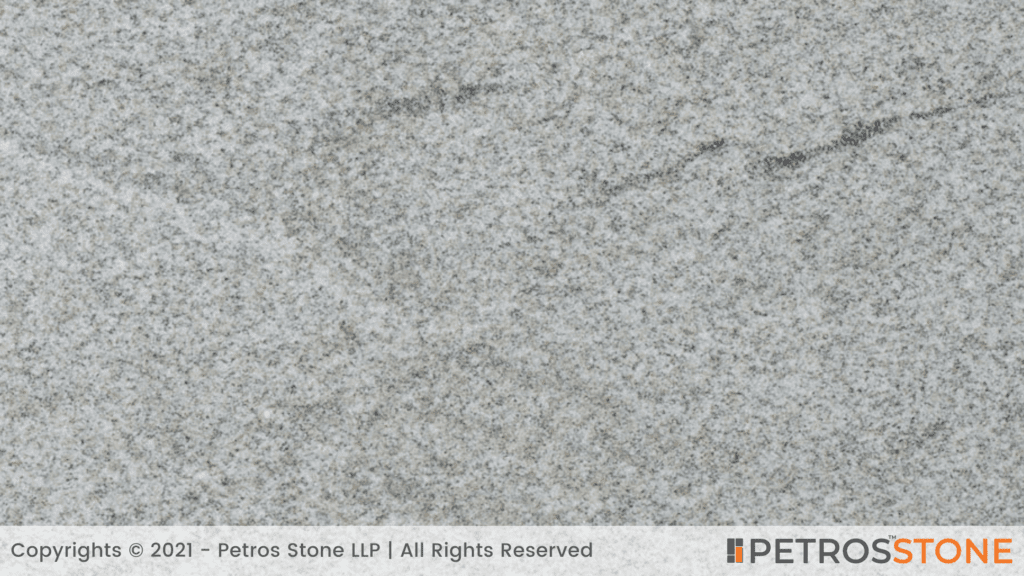 Sadarali Grey granite is a durable granite quarried from the mines of Karnataka.
More than its simplistic design, Sadarali grey granite is popular for its durability and economic purpose. The design is standard across any slab of Sadarali Grey granite.
Sadarali Grey granite is applicable in mostly exterior purposes, such as front elevation, pillars and columns, walls, and claddings.
The design also finds application in interior design as economic kitchen countertops.
This multipurpose nature of Sadarali Grey granite is the reason for its demand across the globe. It is used for commercial, residential and industrial constructions.
---
Colonial White Granite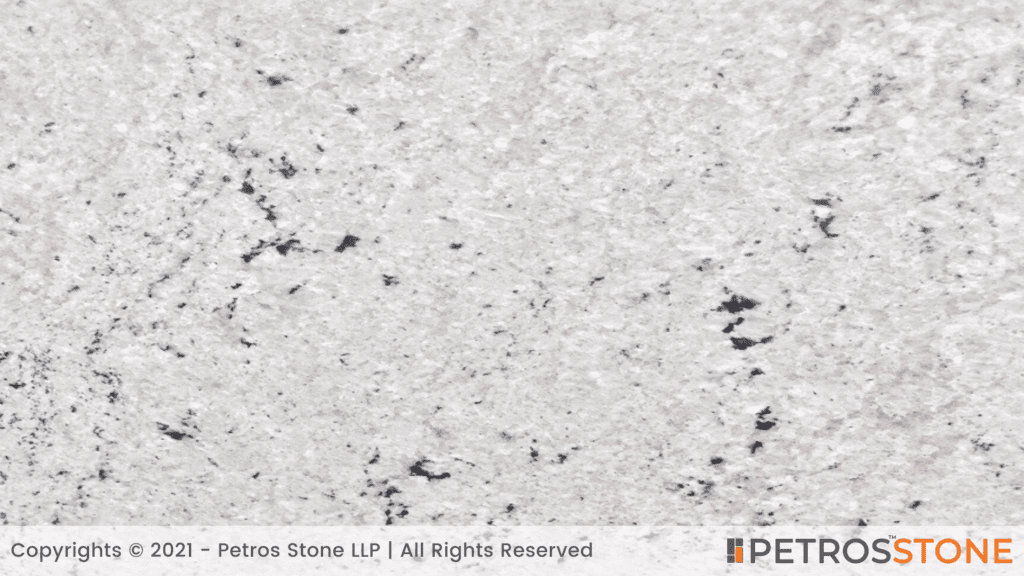 Colonial White granite comes from certain regions of Tamil Nadu as well as Rajasthan.
This granite has a basic white background with few but prominent copper crystals scattered across the slab. The design is very basic and uniform across all slabs.
Colonial White granite makes up for its simplistic design with an extraordinary range of applications. It finds itself in almost any aspect of the interior and exterior design. Therefore it is generously used in residential, commercial, and industrial constructions.
These granites are polished smooth or coarse depending upon the application. However, for both the finishes it needs excellent sealing and maintenance.
---
Lavender Blue Granite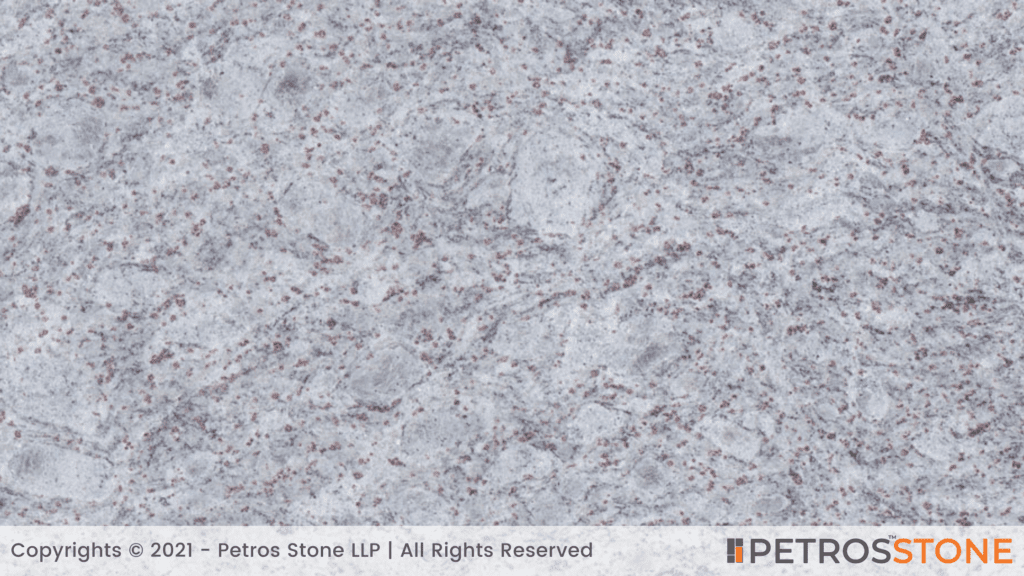 India is known for granite quarries spread all across this peninsula. Lavender Blue granite is the most in-demand granite imported from India at the moment. This granite originates from the region of Orissa and West Bengal in India.
Lavender Blue Granite has a pale blue base tone with grey veins running all across the slab. There are silver and copper crystals present in them.
This Granite not only has a great design pattern but is also durable and scratch–resistant. This makes it applicable for kitchen countertops, interior and exterior floors. Their design is the major appeal for indoor floors and kitchen countertop applications as it is minimal but yet elegant.
As discussed earlier that Lavender Blue granite is the most in-demand granite at the moment and it is because of its versatility.
---
At Petrosstone, we have one of the largest collections of granite from across the country. We provide high-quality natural stone, processed with state-of the-art machinery and more importantly a reliable, long-term and revolutionary solution to all your granite needs. If you are an importer of granite, looking to add a profitable range of Indian Granites to your business, you must definitely get in touch with us via – call – +91-8446360361 or mail: c[email protected].