Quartz stone slabs are the most preferred kitchen countertop option – especially for white kitchen countertops. However, there is a huge variety of white quartz stone slabs – ranging from marble imitation Calacatta Quartz and Carrara Quartz to the subtle pure white quartz countertops. To help you select from the enormous variety of shades, brands and colours, we are going to look at some of the most beautiful white quartz countertop shades.
Out of all the quartz colours, white is the most preferred. Calacatta Oro, Carrara and Statuario are some of the most beautiful white quartz countertops shades due to their attractive colour, pattern and design.
---
Considering a wide variety of shades, brands and colours, here are the 15 Most Beautiful White Quartz Countertop Shades:
Calacatta Oro Quartz
Helzin White Quartz
Carrara Classic Quartz
Carrara Lumos Quartz
Calacatta Gold Quartz
Carrara Haze Quartz
Bianco Extra Quartz
Statuario Quartz
Carrara Extra Quartz
White Glacier Quartz
Montblanc Quartz

Calacatta River

Quartz
Calacatta Alaska Quartz
Arabian White Quartz
Arctic Dust Quartz
---
---
---
---
---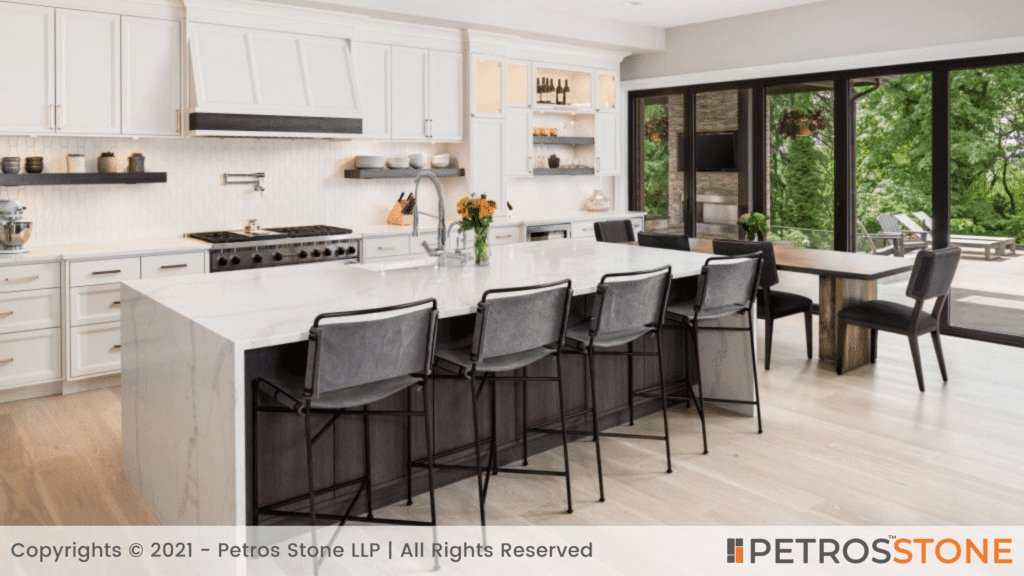 Calacatta Oro Quartz slab has a simplistic white background with thick, parallel veins of light grey. This slab is easy on the eyes but still adds elegance to your designs.
This quartz slab has a high polish for a smooth and reflective finish. Making those light grey veins stick out and come to life. There is a reason this slab is popular in interior designs, and it is purely its appearance being very close to the Calacatta marble from Italy – without all the drawbacks of marble.
These are very durable, water-resistant, scratch-resistant and easy to maintain. Calacatta Oro is cheaper than its marble counterpart and finds applications in kitchen countertops, tables, bathtubs and shower back shades.
Calacatta Oro can fit in well with black and white shades of furniture as well as wall and elevation cladding. High-quality Calacatta Oro quartz slab is a high-grade quartz by Petros® offerring some of the highest strength, durability, stain and heat resistance.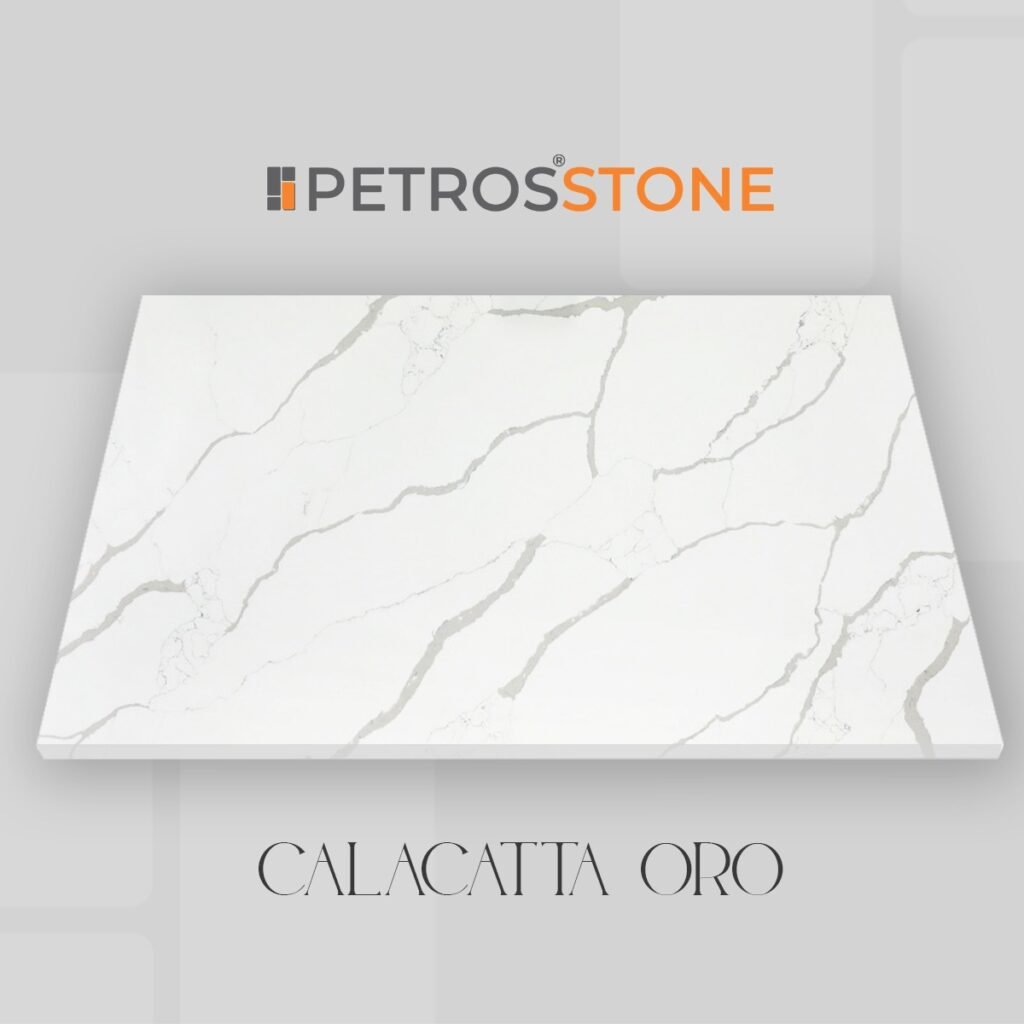 ---
---
It is defined by its rich, blue and black veins running criss-cross, interlocking over a pale white background. Helzin White is one of the most popular quartz slabs amongst interior designers.
Helzin White has a brilliant pattern and resembles the famous New York Marble. Its design reminds the viewer of blue cheese, and it also fits in well with light brown timber-based panels or furniture.
This quartz slab makes for a minimalistic yet brilliant countertop. High-quality Helzin White is easy to maintain.
Its design and pale colour mean that it doesn't require a lot of maintainence. A decently honed matt finish is also perfect for Helzin White Quartz.
Helzin White Quartz is perfect for a simplistic yet powerful interior design and bodes well with black, blue, brown and white interiors.
---
---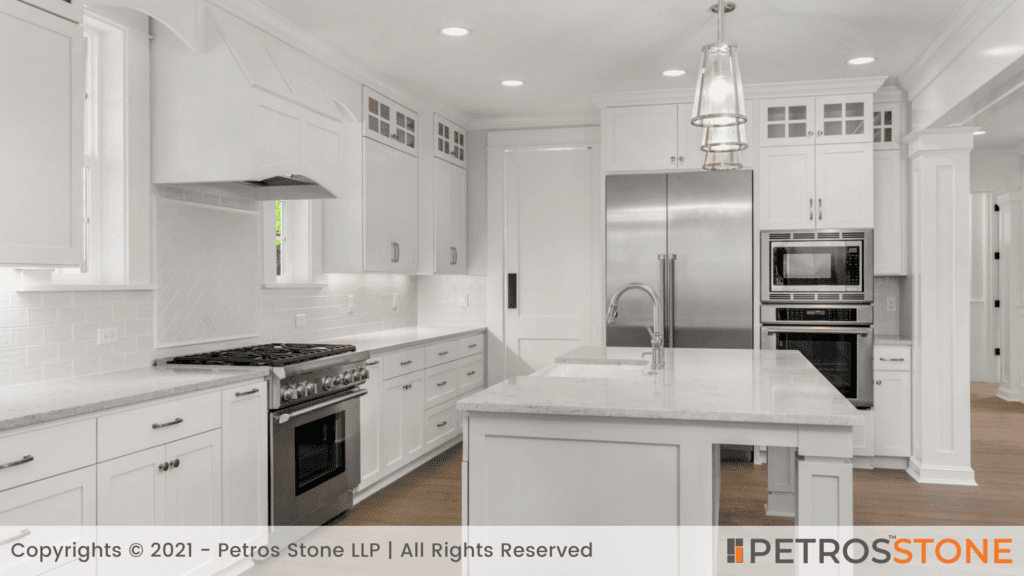 As the name implies, Carrara Classic is a rendering of the famous Carrara Italian marble. It has a smokey blueish-white background with an intricate pattern of interlocking thin grey veins.
This quartz is an excellent material for kitchen and bathroom countertops as they are very durable, water-heat resistant, and easy to maintain. The Carrara classic works well with grey tones and metallic cabinets and appliances in your kitchen.
Carrara Classic also goes well with white monotonic interior designs and can combine well with painted white wooden cabinets and furniture. Well-polished Carrara Classic quartz slab brings out the grey side of this quartz slab.
Because Carrara Classic is inspired from Carrara Marble with the benefits of a quartz slab, at the same time, it retains the beauty of the italian marble.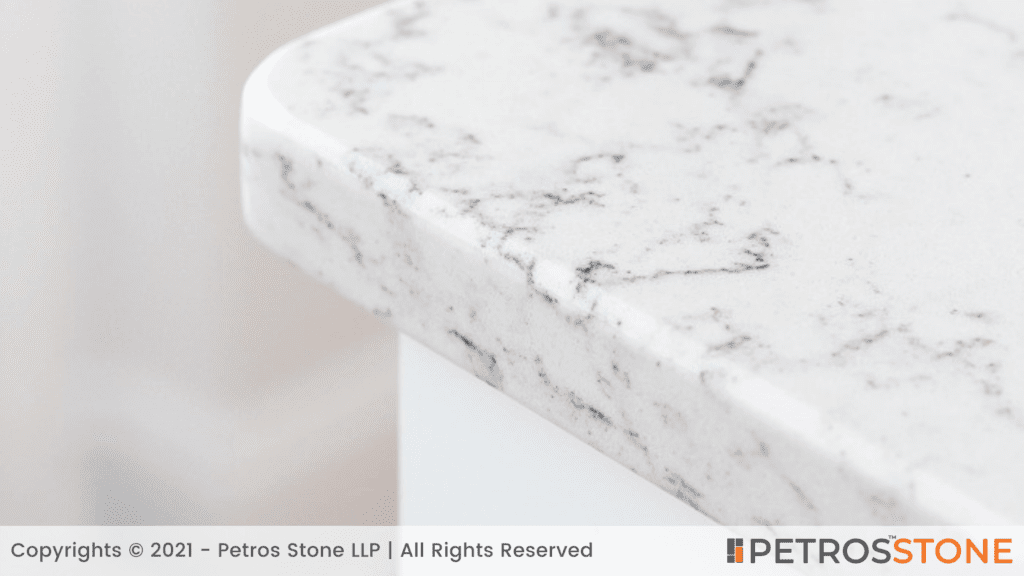 ---
---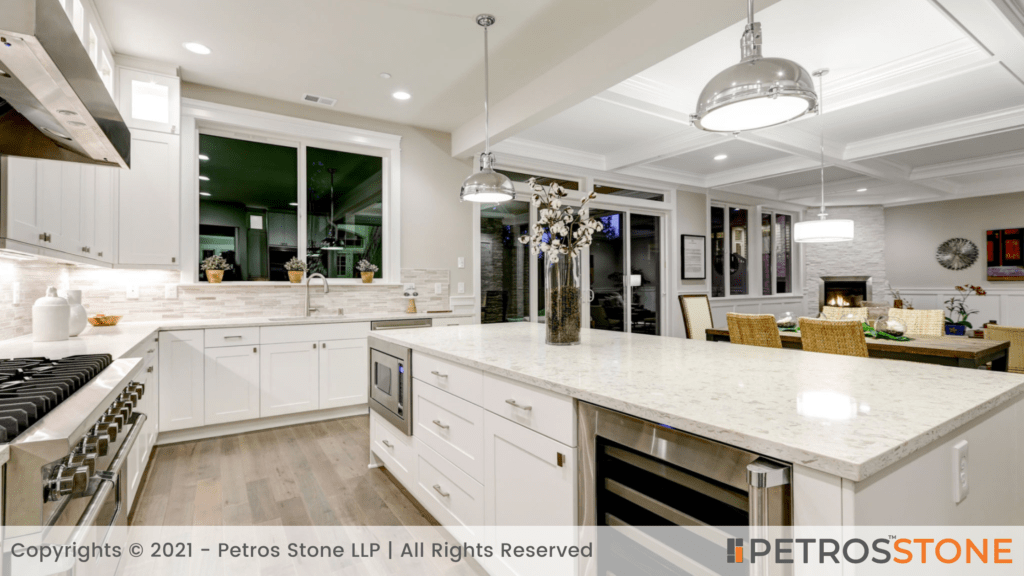 This is a white quartz with strokes of subtle grey and blue veins that look engraved in the slab. It is very minimalistic yet creates a sense of enigma in the eyes of the viewer.
The idea of using this slab in your interior space is to keep the theme monotonic white and then slip in the Carrara Lumos quartz countertop in the middle to create a very sophisticated appeal. Carrara Lumos mostly is honed for a matt finished due to its design. If polished for a reflective texture, it might subdue the subtle veins.
The best use of Carrara Lumos is to use it as a countertop or dining surface for kitchens. These are perfect for even retractable bar tables as well. Carrara Lumos is another easy to maintain natural quartz stone surface.
Carrara Lumos can be combined with beige or dark brown furniture as well to go along with the kitchen interiors.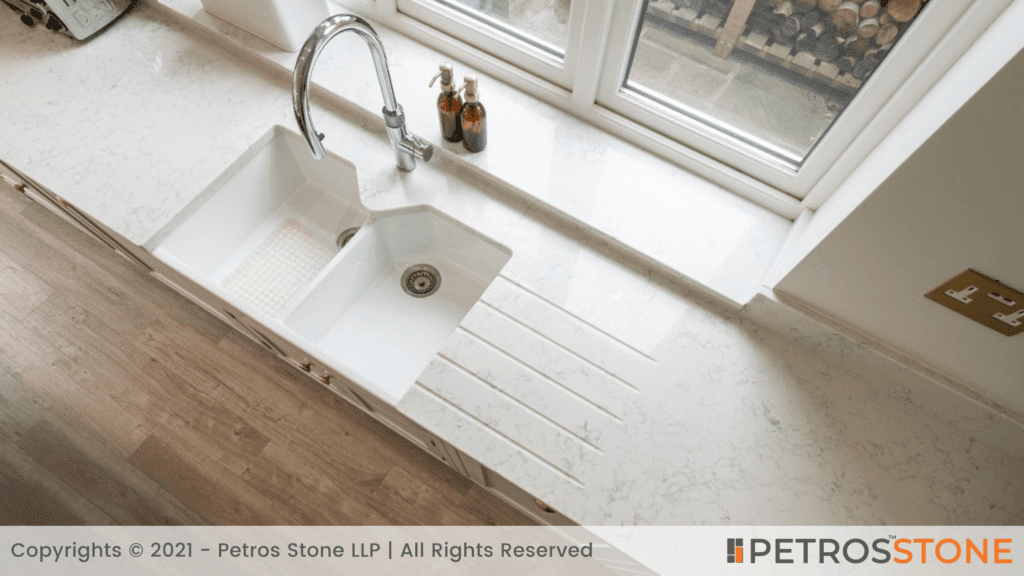 ---
---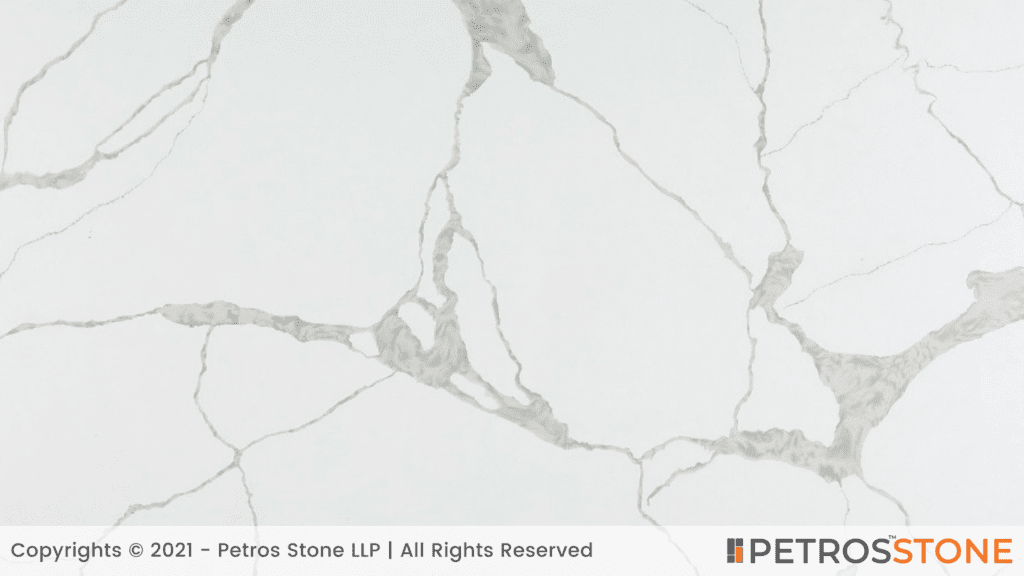 This Quartz is one of the most elegant pieces of quartz slab you will get your hands on. Calacatta Gold is defined by the subtle golden streaks that blend in with the grey veins on a white background. This is a design that is very close to the Calacatta Gold marble.
This marble is perfect for kitchen and bathroom countertops, shower back shades, bathtub claddings, and even artificial waterfall backdrops. As gold is the symbol of wealth and prosperity, this quartz slab needs a well-polished finish, allowing its golden streaks to shine.
Due to its combination of white divinity and the flamboyance of gold, it makes for some of the most distinctive quartz stone slabs on this list.
Calacatta Gold is an epitome of luxury – it works best when regularly cleaned, shined and maintained.
---
---
Similar to Carrara Lumos, Carrara Haze has a smokier beige background with thin multi-coloured veins. Carrara Haze makes for an excellent kitchen and bathroom countertop material.
This beauty is easy to maintain. Soap water and cotton cloth are enough to get rid of the accumulated dust. Carrara Haze is heat and water-resistant.
Since Carrara Haze has a very smokey look, either a fully polished surface or even honing for a matt finish provides a very rustic look to the slab. Following this process, Carrara Haze becomes a part of countertops, bathroom back shades, and dining tables.
Carrara Haze quartz is subtle rendition of any beige-stoned italian marble making it one of the most versatile quartz stone slabs in this list. Though not exactly white, this is one of the best light-coloured quartz stone slabs.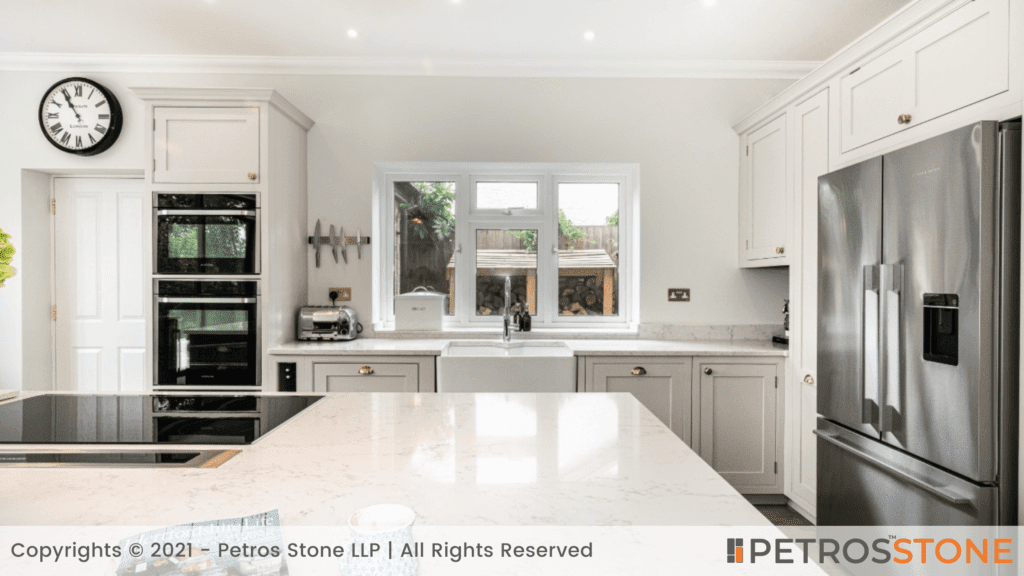 ---
---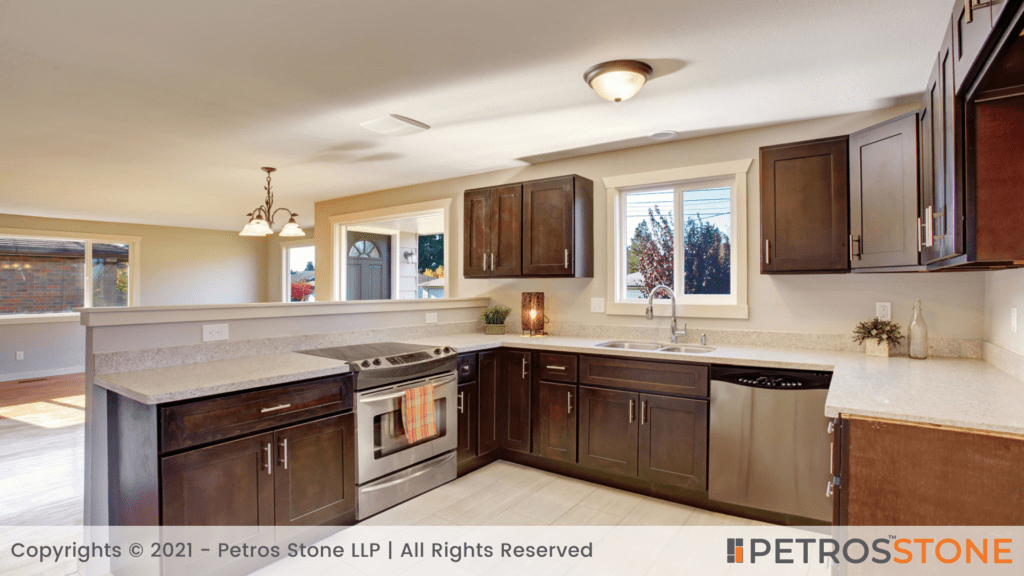 This quartz slab is found in two design textures, grained and veined. In both these cases, the background is bluish-white, and the elements are blue, grey, and golden crystal grains or veins.
Bianco Extra is a versatile quartz slab because it can be either polished for a smooth finish or honed for a matt finish, depending upon its application. The texture makes it easy to maintain. Also, a certain degree of scratches can camouflage in its design pattern.
This quartz slab is quite popular and utilized for kitchen countertops, wall claddings, bathroom countertops, dining top, and even flooring. Making it a very versatile quartz slab in our list.
Bianco Extra is a white quartz slab that blends well with wooden cabinets, claddings, and flooring. Being a multi-coloured quartz slab, it can fit in with a range of interior colours such as beige, white, blue and brown.
---
---
Named after the famous Italian marble, Statuario, Statuario quartz slabs are elegant, exquisite and simplistic. The design is simplistic as a few prominent grey veins run parallelly across the slab.
This particular design is perfect for constructing beautiful inlays, countertops, bathroom shades, wall claddings and stairs.
Statuario quartz slab is quite durable and comes close to the Italian Statuario marble. They are minimalistic and combined with other natural stones, wooden cabinets, and metallic frames of either black or white colour.
Statuario has been an epitome of prosperity. Its impeccable beauty is accurately captured into this non-porous, ultra-drable quartz stone slab.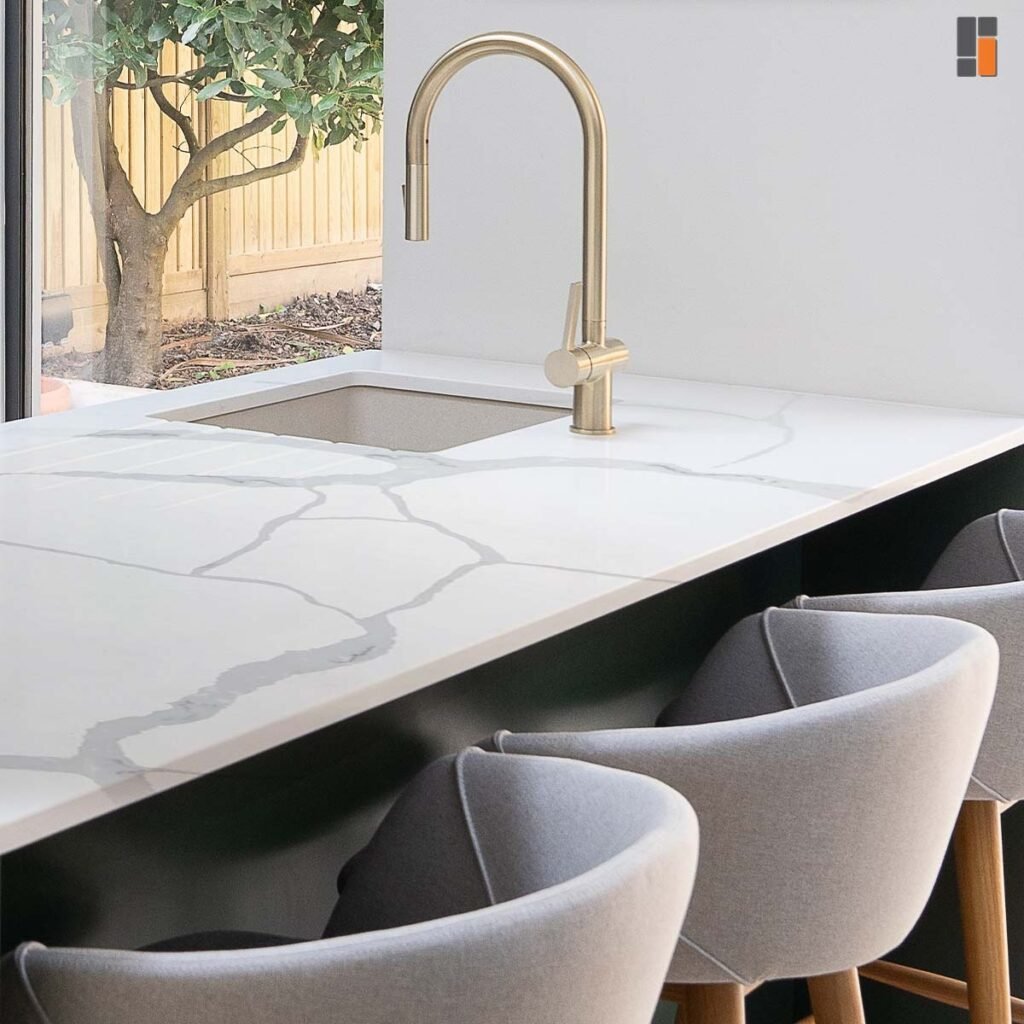 ---
---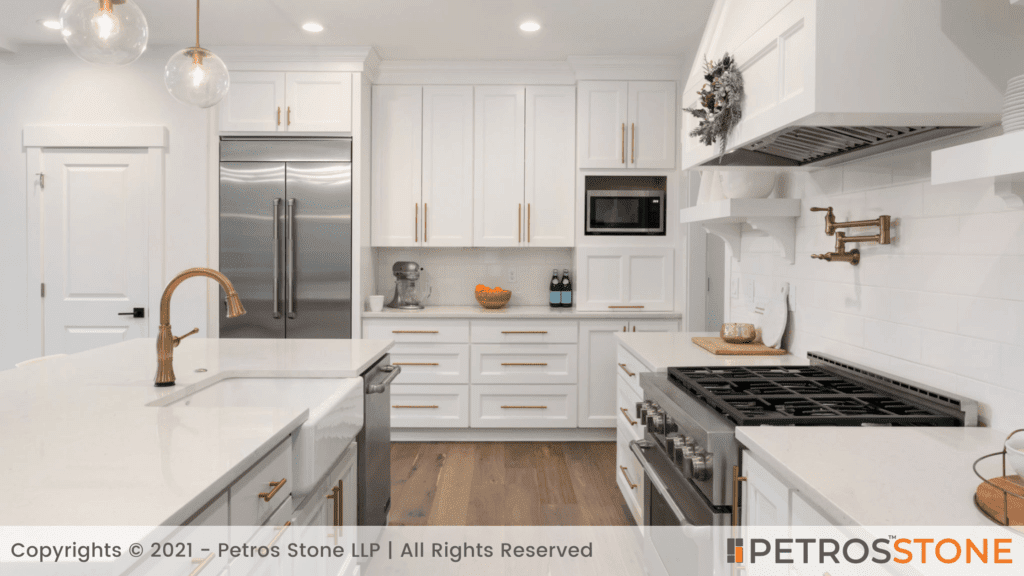 This is very similar to other Carrara marbles in this list, with the difference being that it has an extra blueish hue to it. The veins are more subtle than Carrara Lumos and are light blue.
The closest you can get to pure white coloured quartz slabs with hardly any design patterns on them is this one. These veins are uniform throughout the slab, creating a very convenient design for use.
These are durable and easy to maintain. Carrara Extra is alkali and acid resistant and hence finds massive application in kitchen and bathroom countertops.
Carrara Extra quartz slabs' design is simplistic, thus can be generously used around in the interior space. This feature makes Carrara Extra a versatile material to use and can be combined with various types of niche furnitures and modern appliances.
---
---
---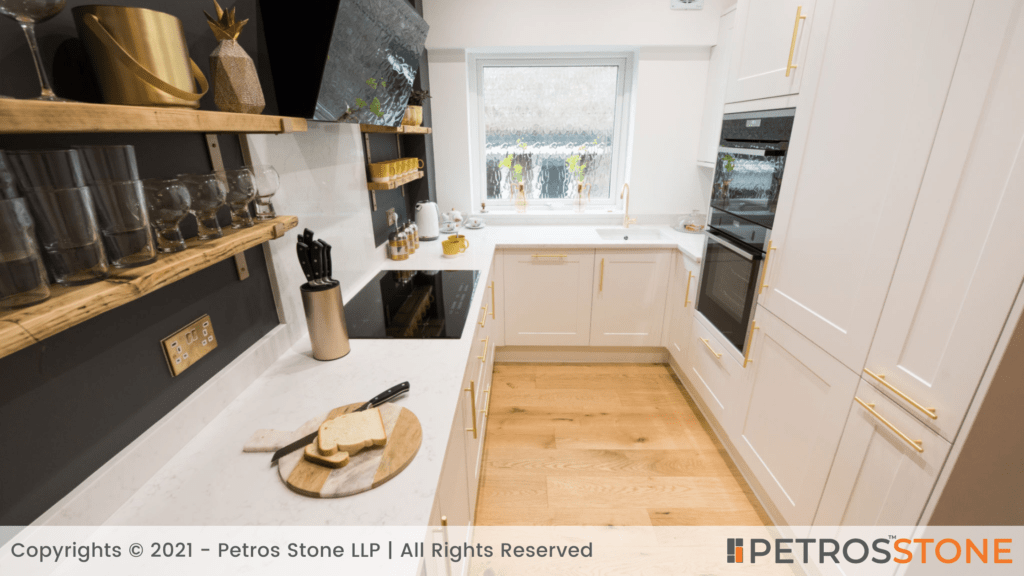 The quartz slab may appear grey to you, but if you carefully observe the pattern, it's just an illusion. Its white background is peppered with tiny sand-like crystals of light grey. Hence the name White Glacier depicts the sandy deserts or beaches.
White Glacier quartz slabs are becoming a popular trend in the interior space due to their simplicity and illusionary pattern. This multi-feature allows users to use White Glacier not only for minimalistic designs but also for experimental ones.
These slabs can be matt finished or polished depending upon the application. White Glacier can be used for kitchen countertops, inlay patterns, wall claddings, and these also make good staircase material.
---
---
When it counts down to the most interesting pattern of a white coloured quartz slab, then Montblanc tops this list. Montblanc has a very rustic appeal, thanks to its intricate and random grey veins, interlocking each other. To be precise, Montblanc's grid-like pattern is very avant-garde.
A popular choice amongst the elite space designers who experiment with the natural stones available around them, Montblanc has no one particular application. Designers can experiment with countertops, back shades, natural stone chairs, ornamentals, and even decoratives.
An original and high-quality Montblanc quartz slab is usually high in quartz composition, and therefore it is a durable slab of natural stone. Moreover, when it is polished for a smooth finish, it helps in projecting its hidden intricate grey patterns.
---
---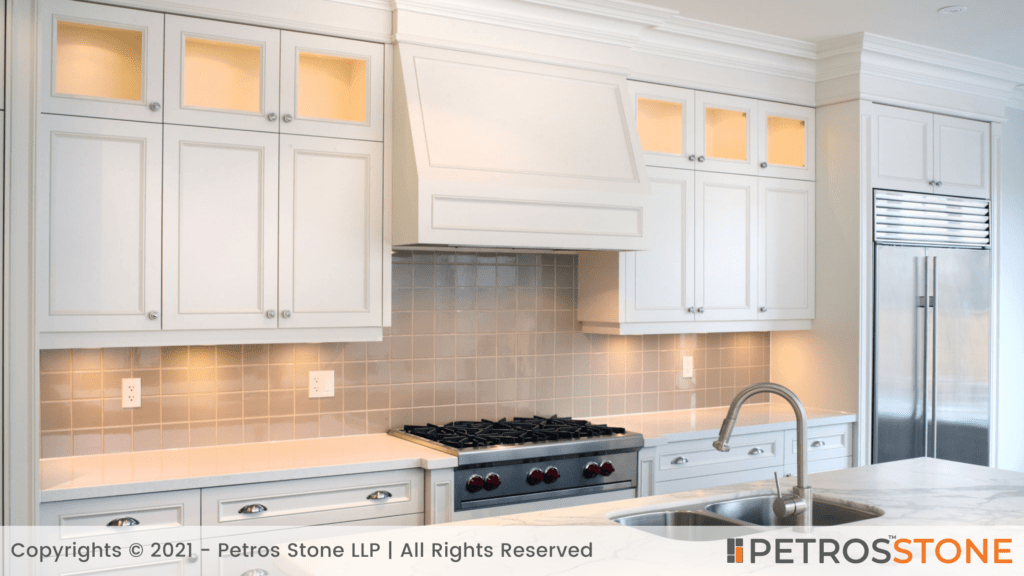 Appearing straight out of Greek mythology, Calacutta River resembles the lightning strike of Zeus. This quartz slab has a very electric appearance, with a single black or blueish-grey vein branching out across the entire slab of white.
This quartz slab is the centrepiece of luxury designs. If used as a countertop in the middle of dull interior space, the Calacatta River quartz can make a difference by lighting it up. Interior designers are selective about placing a this beautiful quartz slab, because of its high impact value and eccentric design.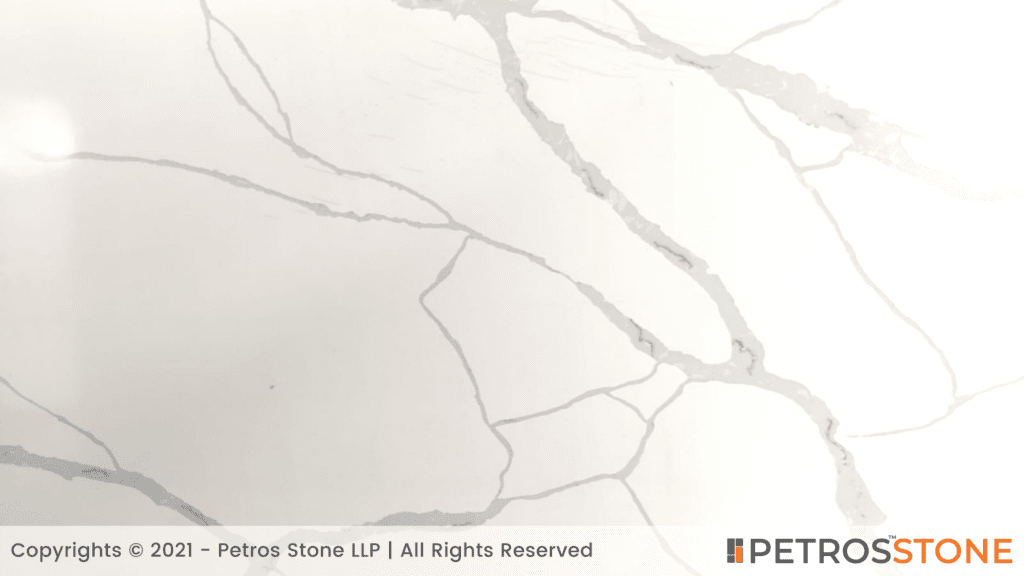 ---
---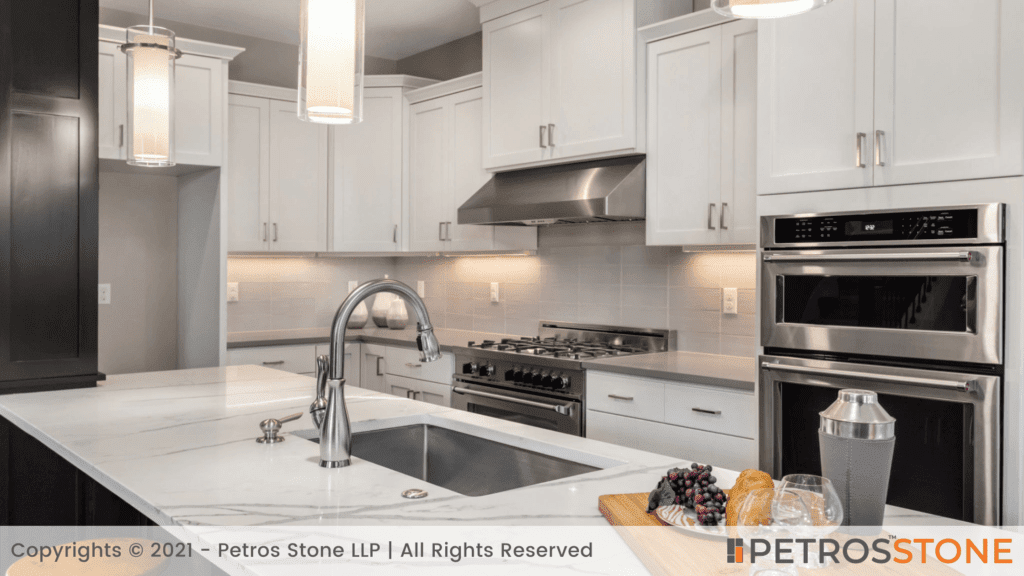 Another quartz slab of the Calacatta family, Calacatta Alaska, bears a very close resemblance to Calacatta Oro. To differentiate between these two, you have to spot the brilliant white tone and prominent dark grey lines of Calacatta Alaska.
It has a bold and minimal design, with one or two prominent lines of dark grey branching out slightly. This design finds application in space where the design is sophisticated, and you require a touch of eccentricity to make a countertop or a shower shade stand out.
Calacatta Alaska makes perfect kitchen or bathroom countertops due to its look. Calacatta Alaska is generally polished for a smooth and reflective finish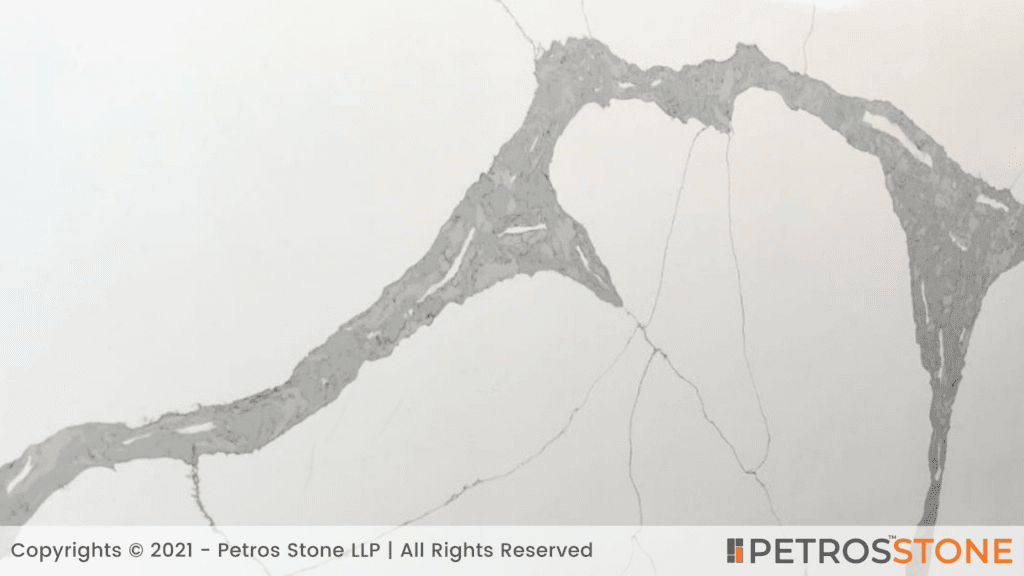 ---
---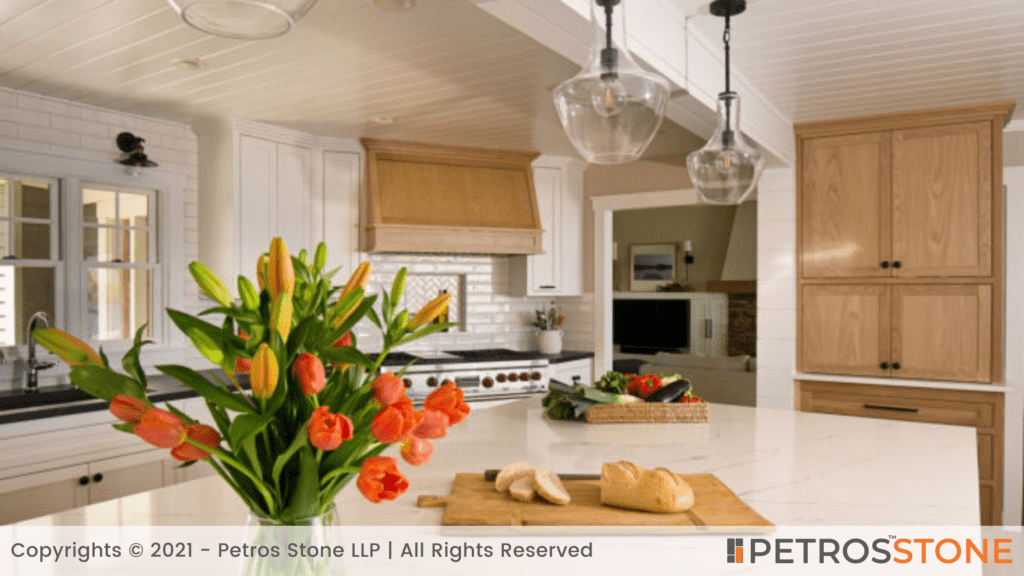 Towards the end of this article, we arrive at some of the complex designs of white quartz slabs. To explain Arrabetto's design we can use the reference of stilton cheese. Thin blue, grey and green veins run randomly across a pale white background, interlocking and overlapping.
Arabian White quartz slab poses as a niche choice of natural stone and particularly fits well with kitchen interiors as a countertop. It combines with white wooden panels and furniture, making the kitchen interiors attractive and stand out.
Due to its pale appearance, Arabetto is best utilized if it is honed to a matt finish. The veins are thin and light. A reflective finish might not be the best option for it. Arabian White is easier to maintain and requires periodic sealing.
Arabian White is quiet an expensive quartz slab but nevertheless it is still cheaper than its Italian marble counterparts.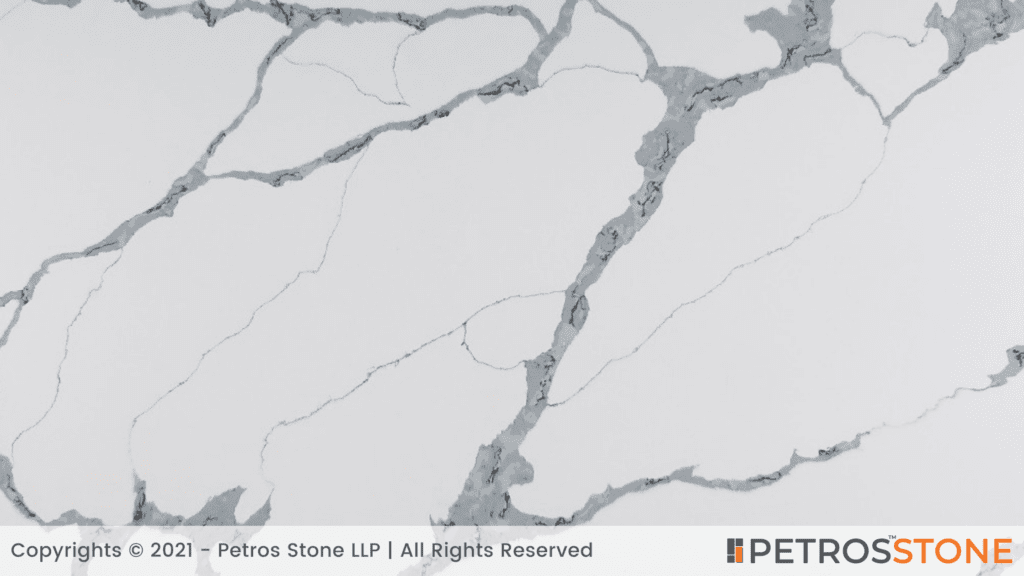 ---
---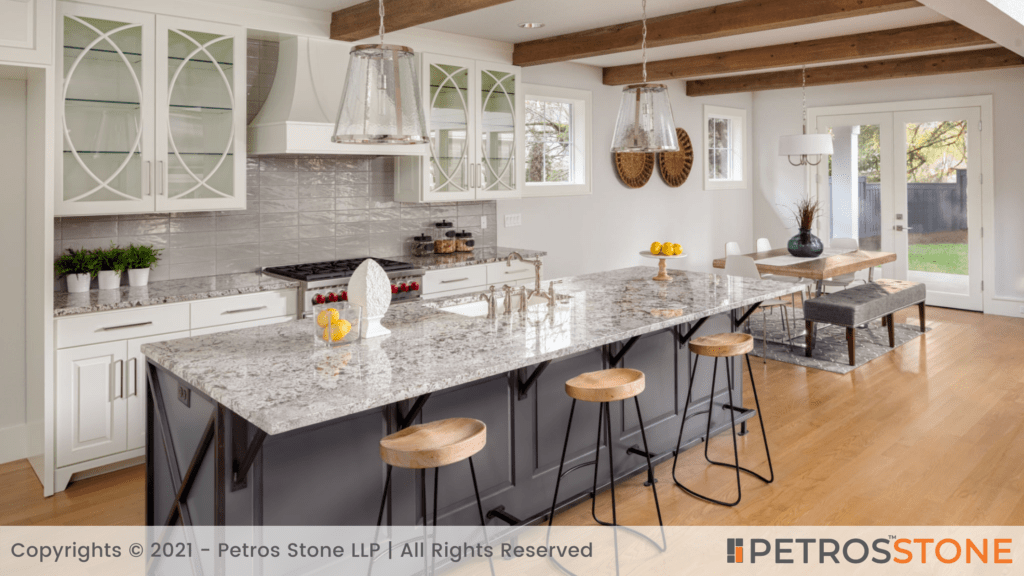 Just like White Glacier, Arctic Dust is an supernatural extrapolation. Arctic Dust has a very organic salt-like texture of random sized, grey grains across a white background. This design gives a very crystalline look to the slab. Arctic Dust is a perfect countertop material for those users who are looking to create an organic appeal in their kitchen space.
It is usually polished for a reflective smooth finish as this way the grain texture can stick out. Arctic Dust is easy to maintain and can be cleaned using essentials, but it does require periodic sealing.
Due to its appearance and unique texture, this granite is a designers choice who want to experiment with the interiors and not keep the theme monotonic. This quartz slab goes really well with metal, wooden, teak, polymer and other natural stones.
---