Limestone is compressed under enormous pressure and heat into large crystallized chunks called marble. It took thousands of years for these natural stones to form, and over the years, great Italian artists such as Michelangelo used marble to depict their best work. This evolution of marble continues into luxury homes in the form of tiles, claddings and elevation.
Every marble is construed based upon its design, durability and ductility. But the most popular Italian marble is Calacatta which is used for indoor, outdoor, as well as decorative applications. This article today will cover various Italian marble designs for the bedroom, entryway, elevation, design, and living space.
---
---
Best Italian Marble Designs For Bedroom Wall
Let us begin with the most important space in a home, the bedroom. There are a couple of ways how marble can be used in bedroom walls. One is by using them as wall claddings, and the other is by using the entire slab as a backdrop to the bed or the dressing area.
---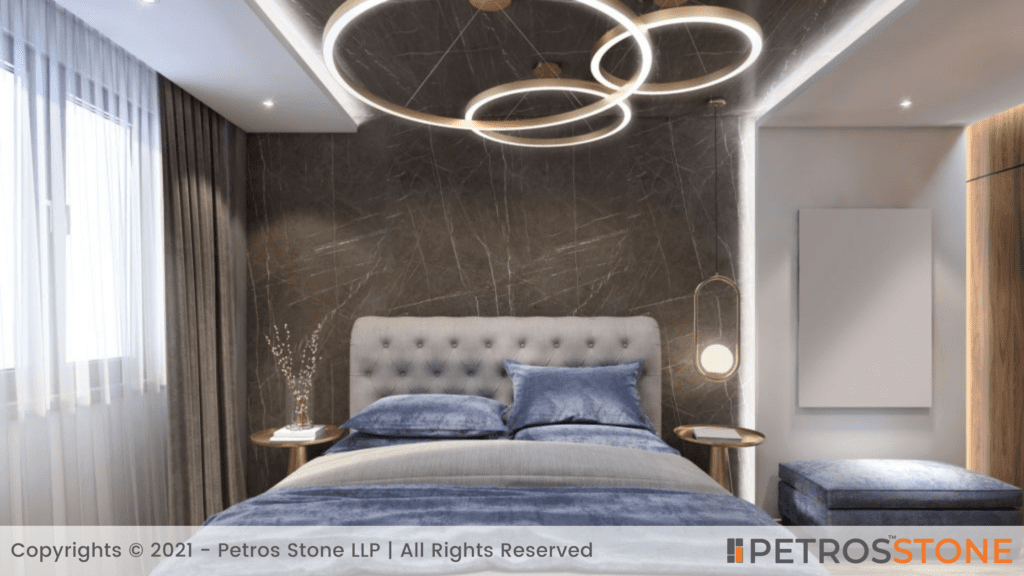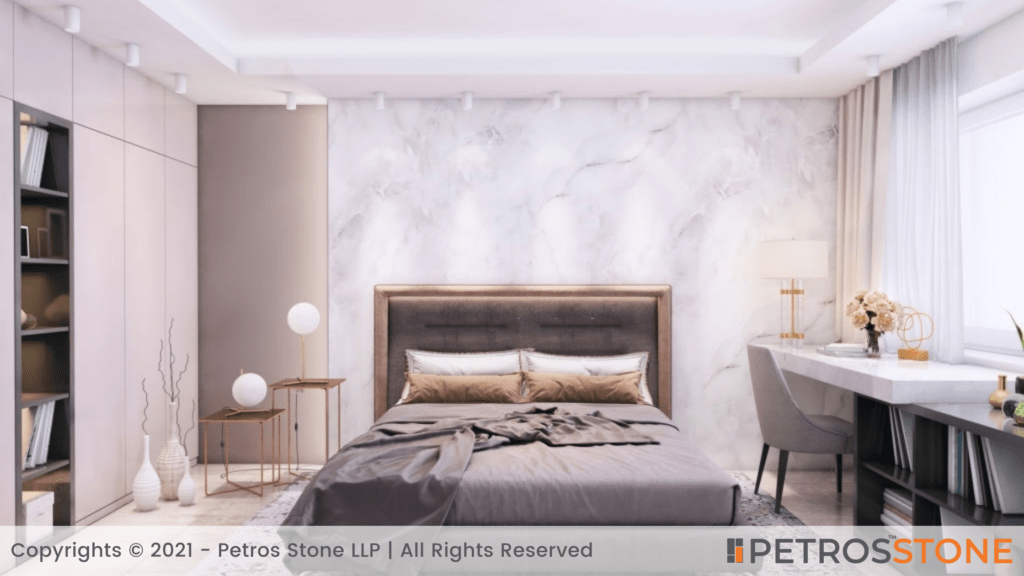 Italian Marble Slabs Used In The Bedroom Design
For bedrooms, the best Italian marble would be Tundra and Calcutta Alaska as they have the tendency to blend with a variety of floorings – marble, wooden flooring and walls.
In the case of calacatta marble, a leathered surface finish is adequate to give a rustic vibe to your bedroom. The white veins that run across the marble provide an etching pattern to your designs.
Tundra marble can be used as large-sized slabs to cover up the spaces on walls along with brown hardwood panels. You can even use them for ceilings along with a shiny brown fan.
Calacatta Alaska marble's white background with grey veins suits a monotone bedroom, especially if white or pearl is the theme of the bedroom.
Both these marbles, Tundra and Calcutta Alaska are strong enough to even be used as hanging dressing countertops in bedrooms.
These marbles are scratch as well as stain-resistant, making them perfect for long term use and low in maintenance cost.
---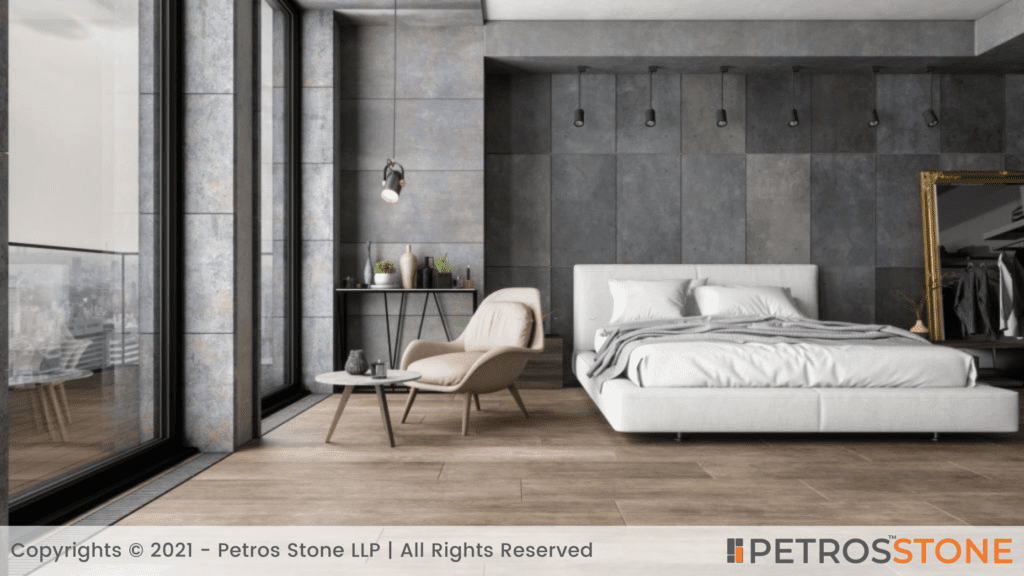 ---
Italian Marble for Wall Covering and Cladding
Cement Grey and Carrara Italian marbles tiles are setting a new trend of niche bedroom designs by being used as tiles for bed shades and pillar panels.
These are strong and heat-absorbing materials that not only enhance your design but also control the temperature of the room.
Carrara marble is best suited for luxury rooms with grey or white marble floors. You can throw in some wooden panels around the room corners and ceilings to complete the bedroom design.
The grey tiles of Cement Grey provide a smoky pattern to the backdrop of the bed, making it look very abstract. This feature makes this marble tile, a go-to pallet for art lovers.
To get the best out of these marbles you need to have them polished well that can get the abstract lines and patterns ches out.
---
Italian Marble Design For Entryway
An entryway of any building is the impression setter of the rest of the interior design. Italian marbles are generously used in this section of the house and the reason for this lies in its timeless nature and luxury appeal. Whether it is the lift lobby reception or door entrance, Italian marble can be seen as an omnipresent material in these spaces.
---
Calcutta Rafael is one of the best hallway or entryway Italian marble available in the market.
It has a very simplistic design of light grey veins on a white background that when honed and polished well form a mirror-like material. This fits in when you need to present a simple but yet power-packed insight to the rest of the building design.
It can combine well with either Moscato Beige or Black Lava marble to get the eliteness out of a lavish entryway design.
A lot of these entryways go through daily friction as well as wear and tear, especially the ones in the commercial buildings. Therefore, these marbles need to be durable and scratch-resistant.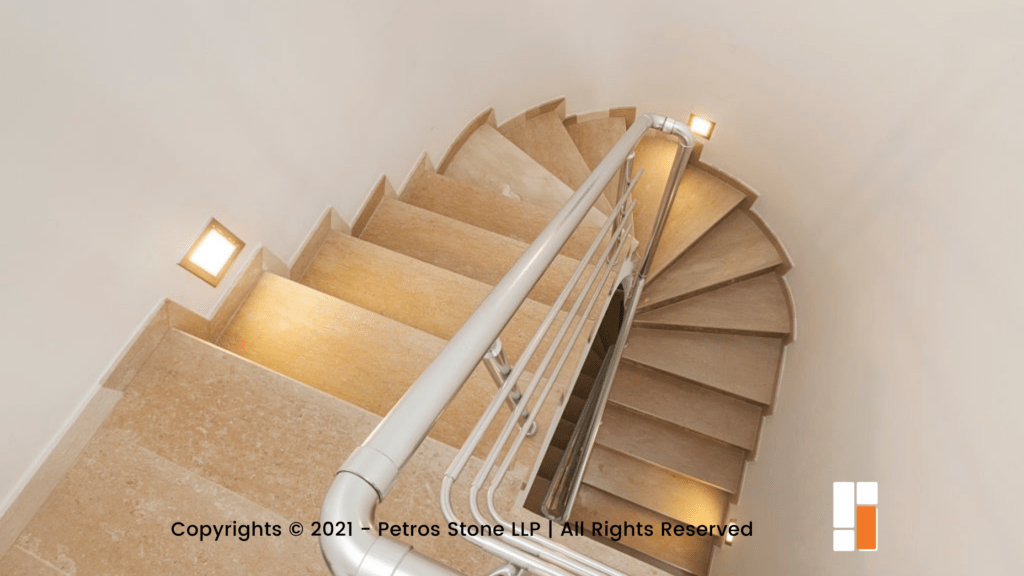 Calcutta Rafael, Carrara Beige are some of the most durable Italian marbles for this purpose and their design patterns can hide the slight scratches and continue to shine.
Italian marbles are best used in the form slabs for entryways, pillars and walls.
The beige colour of Carrara Beige marble can form intricate patterns due to its soft brown veins running across. When used as slabs and inlayed, they form intricate and eclectic patterns. These marble fit in well with Tundra or Armani Brown as they compliment each other.
Italian marbles such as Statuario can be used for decorative items and statues. Statuario marble is also used for sculpting artistic and niche water fountains at the entryway. These add collectors value to the design and architecture of the building.
Combinations of Calcutta Rafael and Black Lava marble form great entryway patterns, resembling a shiny chessboard.
---
Italian Marble Design For Front Elevation
Now we move on to the exterior applications of Italian marble. Some of the most famous landmarks around the world use Italian marble for their front elevation with Carrara and Statuario used generously. Unlike interior designs, exterior designs need to consider the durability of the marble and the effects of different weather conditions on them.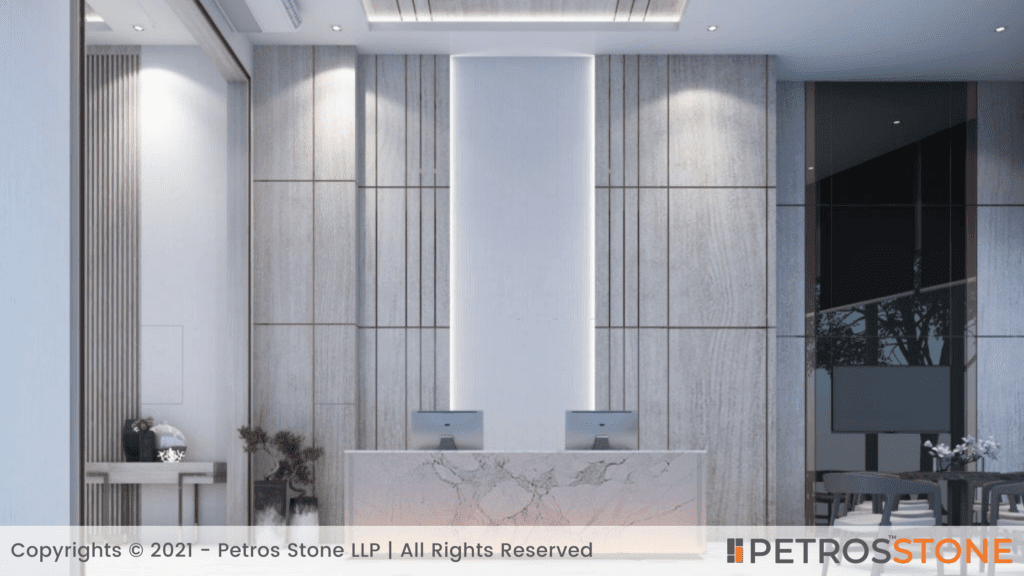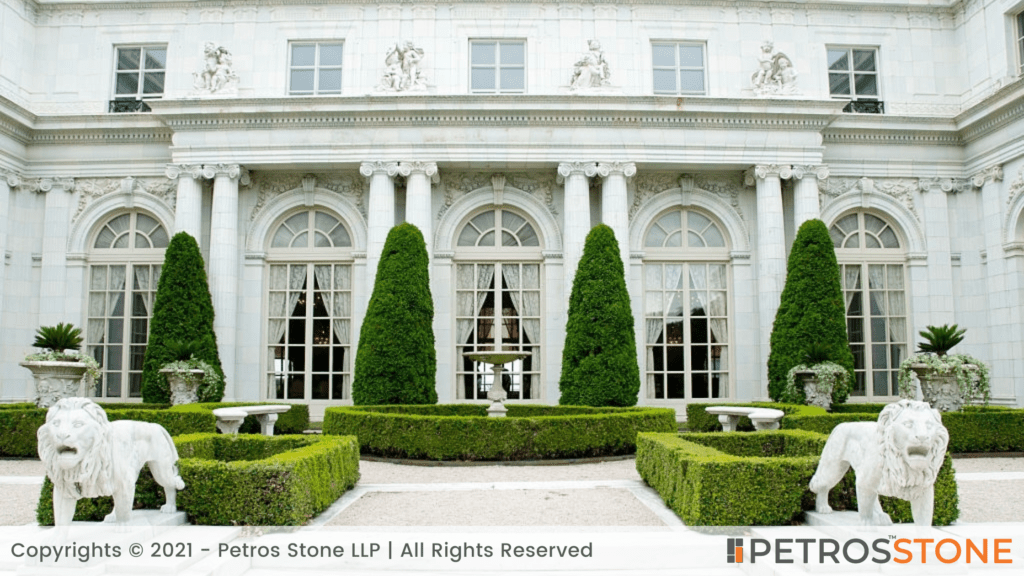 The best way to use Italian marbles on the front elevation is to sculpt them into arches and decorative pillars. Especially Italian white marbles such as Carrara and Satuario will provide a gilded vibe to the door front of the building.
Statuario and Carrara are the most durable and weather-resistant Italian marbles. These will withstand rain and heat over long periods and remain sparkling white for decades.
To make the best usage of Italian marble on your front elevation, use them in the form of tiles. This way you can use their random patterns to form an eccentric design.
Since we are discussing white marbles in the form of Statuario and Carrara, white wooden or metallic doors should be included in the discussion. Wooden or metallic frames along with plain non-tinted windows will complete the front look of your building.
Some more ways to use Italian marble for your front elevation is to use William Grey marble or Spider Grey marble tiles along with Calcutta marble slabs around the window and doors of the building. This will provide a Greek architecture vibe to your building front.
For front elevation, the honing and polishing of the marble needs to be coarse instead of a fine finish. This is because coarse finish marble will provide a rough aesthetic to the exterior of the building, resembling a castle.
When it comes to institutional buildings and commercial buildings, Giant Italian marble slabs are used to form the office front.
Some other designs include using Italian marble in the form of irregular tile patterns on the front wall. This random design is a bold way to showcase the coming together of various veins running across these glossy slabs.
Statuario is the best Italian marble for sculpting and so when it comes to adding designs and intricate details to the front elevation, artists use this marble.
Calcutta Venato is another great Italian marble that can be used for window countertops and arch overheads. Calcutta Venato needs to be polished and honed for a smooth finish in this particular application. This method of finishing Calcutta Venato helps the marble project in the vision of the viewer and catches the attention of any design observer.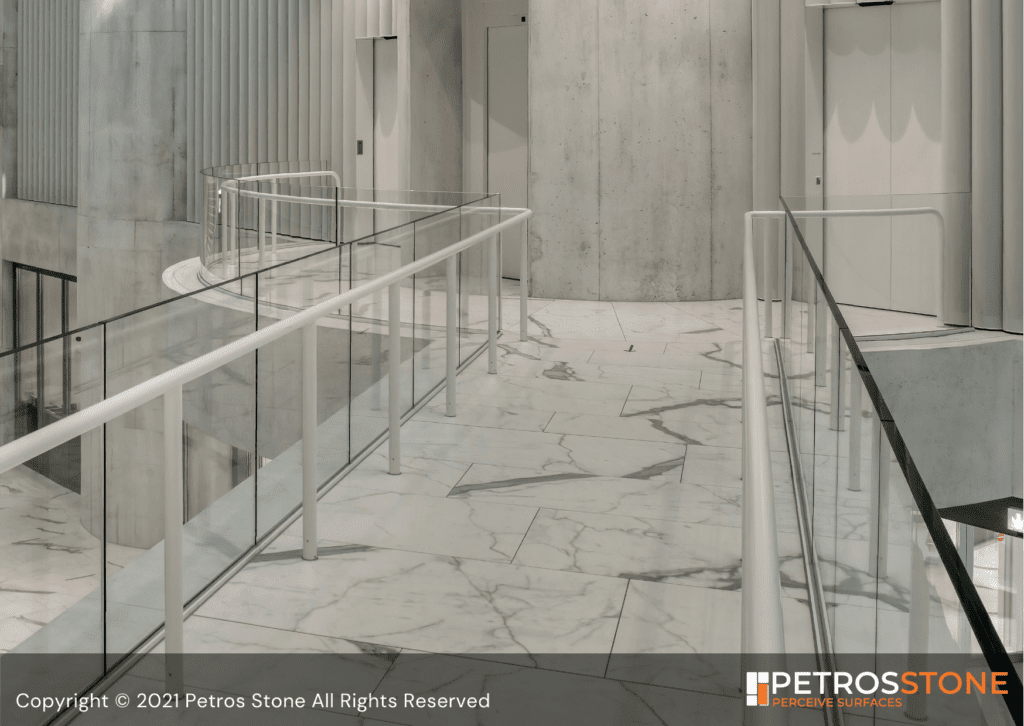 ---
Italian Marble Inlay Designs
Marble inlays are the art of using one type of marble as a part of another marble slap to create an ornamental effect. Due to the wide application of Italian marble inlays, we will be covering some of the specific designs about floors, window shades and doors inlays.
---
Floor Inlays using Italian Marble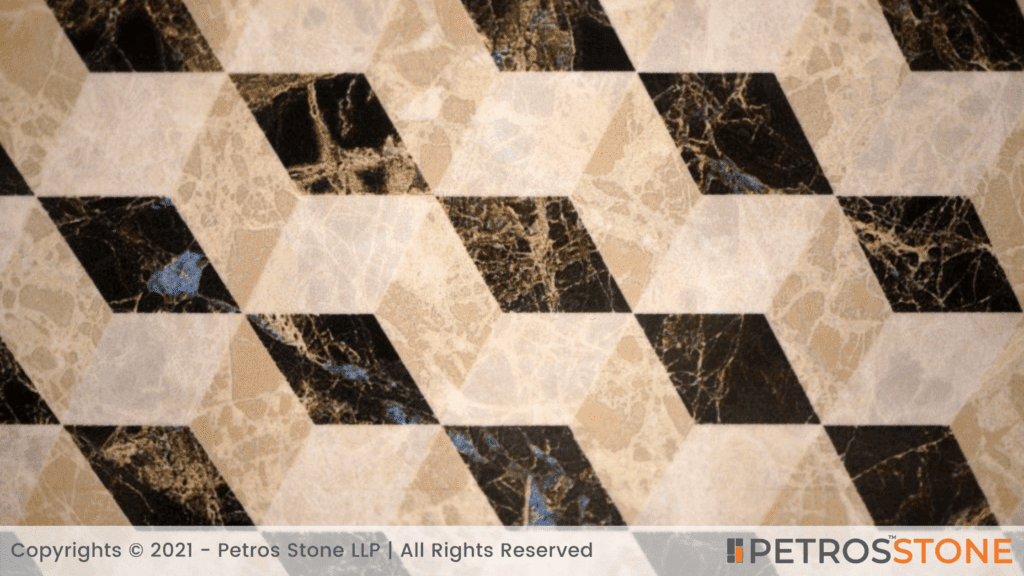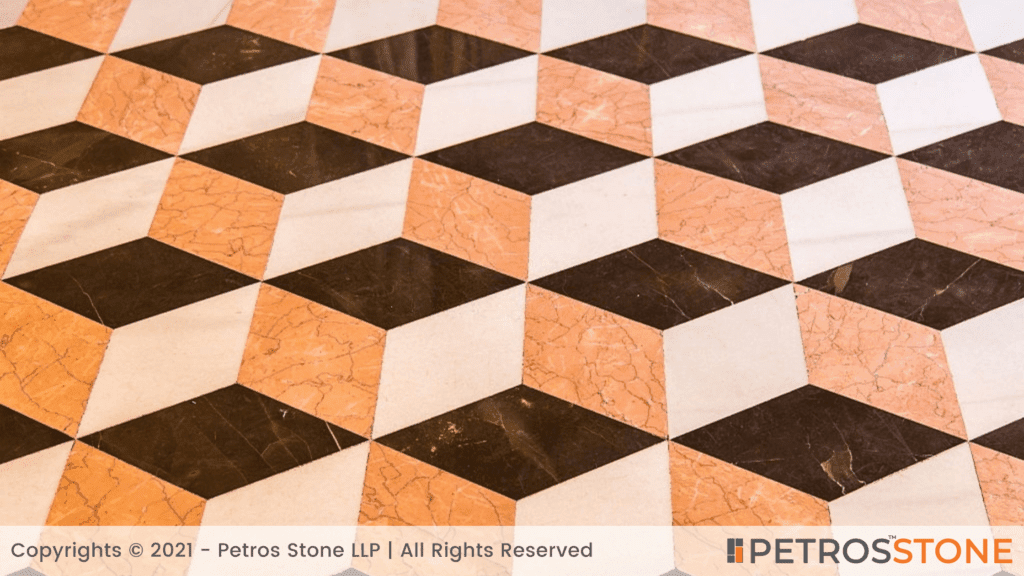 Perhaps the most common use of Italian marble inlays is to use different types or shades of marble tiles to form a creative pattern.
The most popular design pattern is to use Glitz Black marble along with Calcutta Raphael to form a chessboard type pattern for floors. Throw in some blueish grey Carrara marble and you have an interesting pattern to experiment with.
These tiles can be in any shape and size. The mixing, as well as matching of these tiles, is purely artistic with no boundaries to the imagination and design. The tile shapes can be square, circle, hexagonal, or sometimes even uneven to create an illusionary pattern.
Glitz Mud and Glitz Beige Italian marble can be used to form concentric floor patterns that can resemble the top view of a sand clock. They can be used in the form of blocks to form very warm and interesting patterns for your floors.
The finishing of inlay marbles is usually well-honed and polished. Sometimes a combination of rough and smooth finish can be provided to create interesting textures.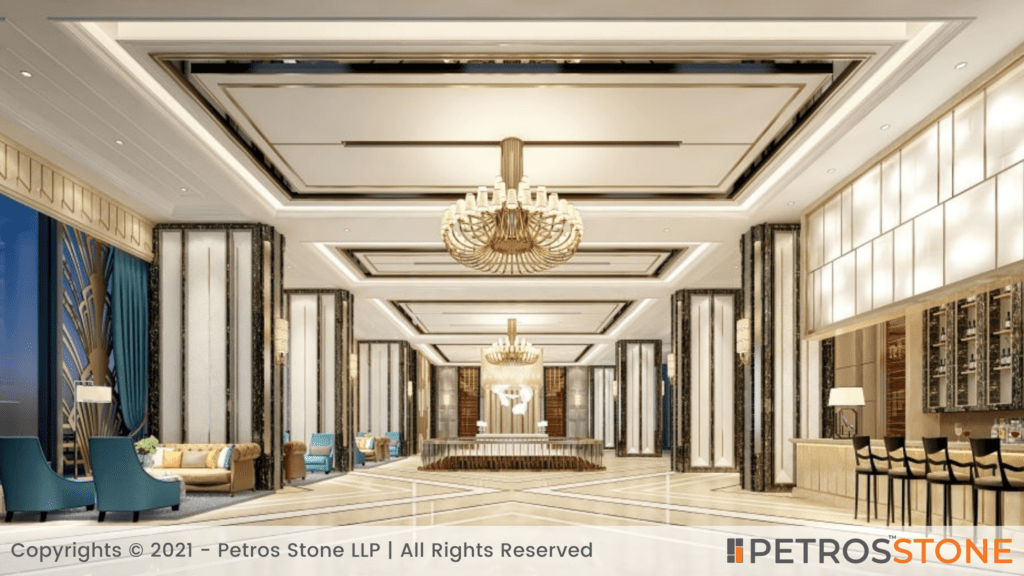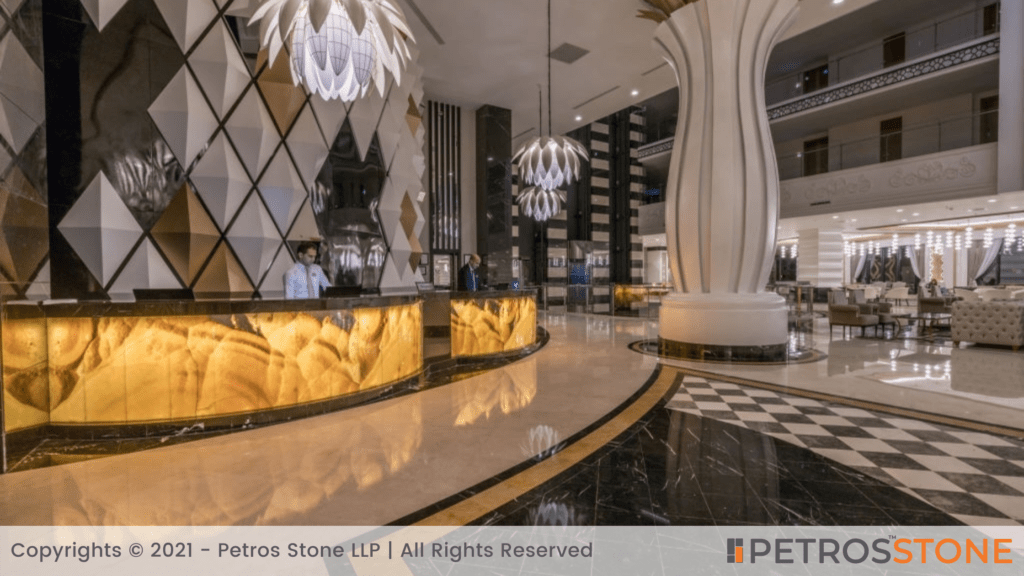 ---
Exterior Window Inlays using Italian Marble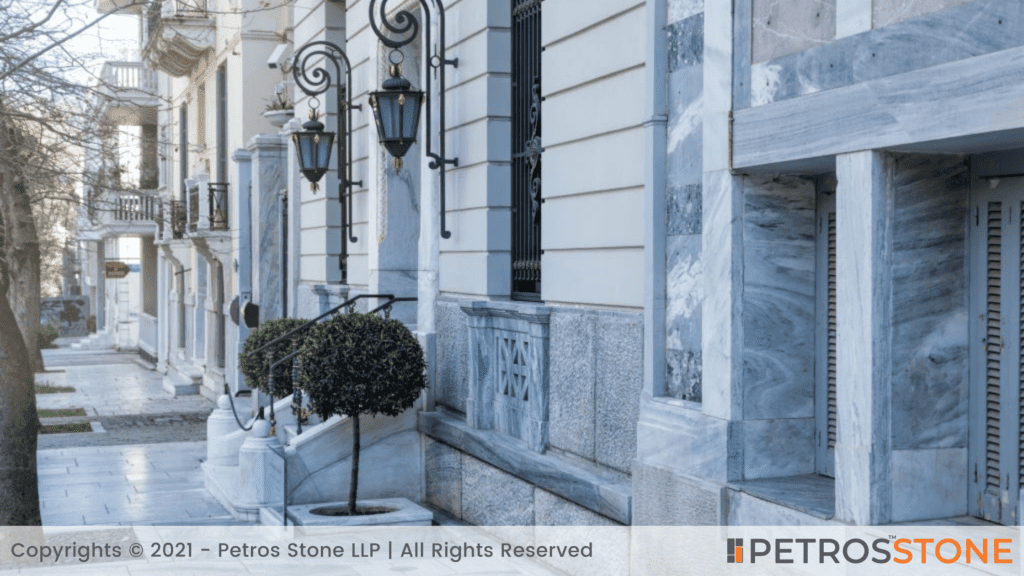 These are inlay designs for the outline or the panel of an exterior window. You can see a dark and fair tone combination of the same coloured marble used in this kind of application.
For example, Glitz Mud and Auburn Brown are good Italian marbles that can not only form the exterior of the window but also be sculpted into artistic designs.
Italian marble inlays such as the combination of Statuario and Glitz Black marble tiles can be used as window shades and countertops.
Italian marbles are weatherproof and can handle wear and tear for decades. This reason makes them the perfect material for exterior window inlay purposes. They are usually polished and honed for a smooth finish to reflect away heat from the sun. Therefore controlling the interior temperature.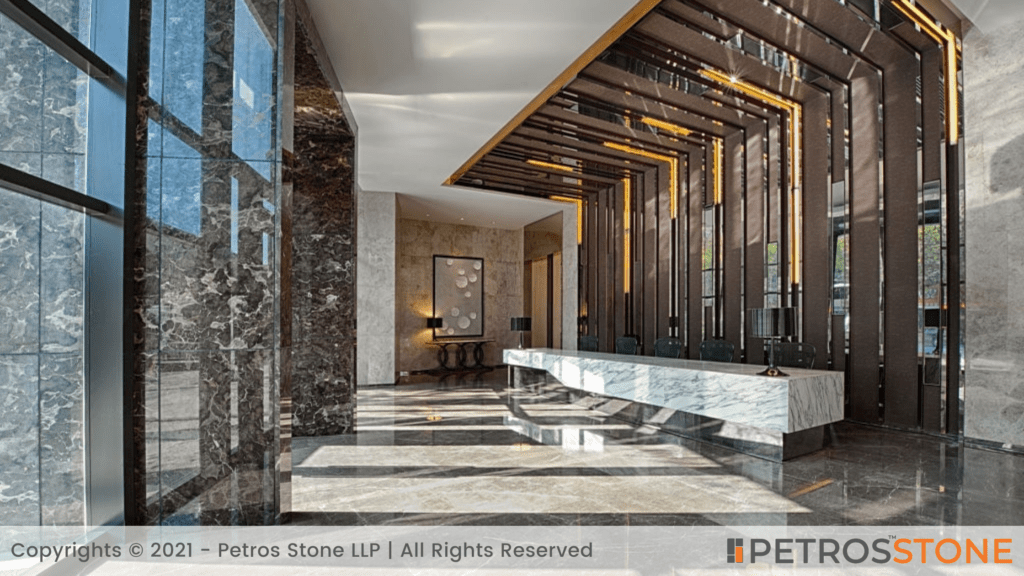 ---
Door Inlays using Italian Marble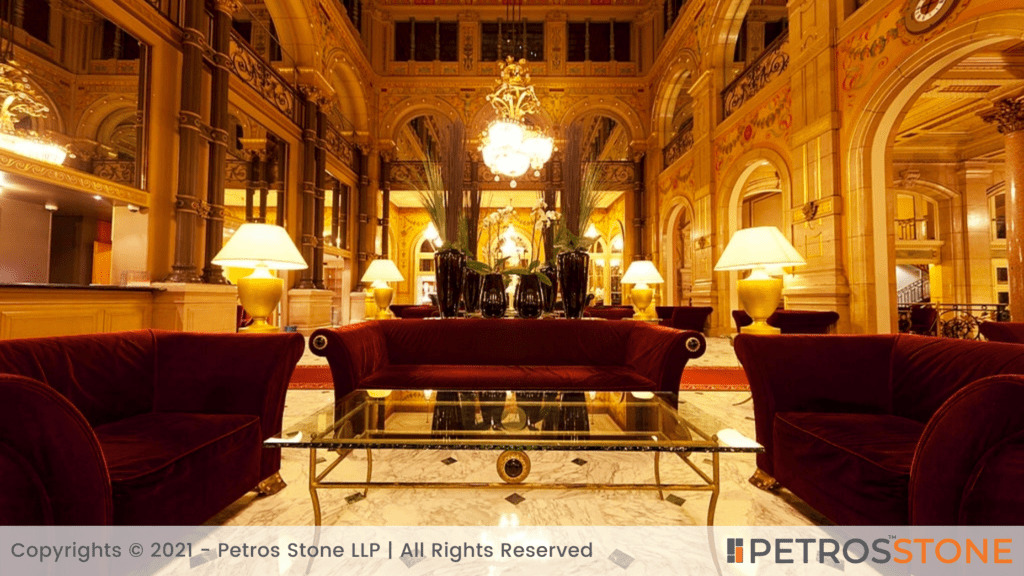 Some of the most famous ancient wonders around the world use marble inlays on doors. It can be seen in castles, palaces, and forts.
The most common Italian marble is Statuario used on the outer panel of the door along with Calcutta marble tiles forming the inside design.
Some of the designs include alternating square tiles, concentric tiles, block tiles patterns.
Italian marbles are hard and resistant to dust making them perfect for exteriors like these. Various other marbles can also fit into this pattern such as Lava black and Carrara marble.
These inlay designs can be used for front doors, bathroom doors, dressing shades as well as garden walls. Recent new trends can be seen of utilising marble in the form of ornamental inlays of the doors. This space is completely artistic and tiny intricate sculptures and patterns can be constructed here.
The type of finish required here is dependent upon the design and application. Varying from zero to fully smooth polishing and honing, Italian marbles of different colours and shades can be used to create an artistic space for the architect.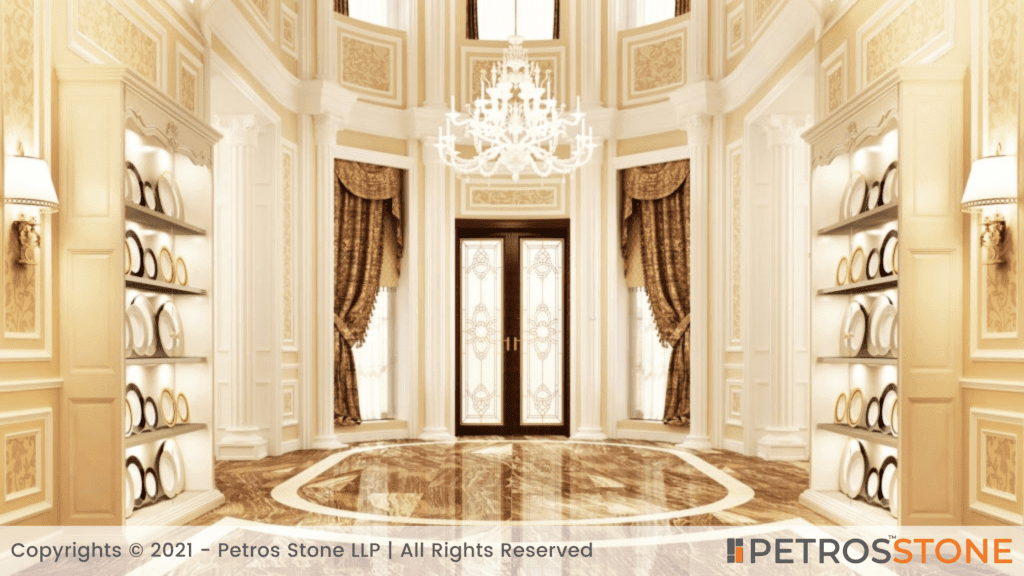 ---
Italian Marble Design For Living Room
Now we arrive at the last and the most used part of a luxury home or space, the living room. Most of the Italian marble is a good choice for this wide space in the house.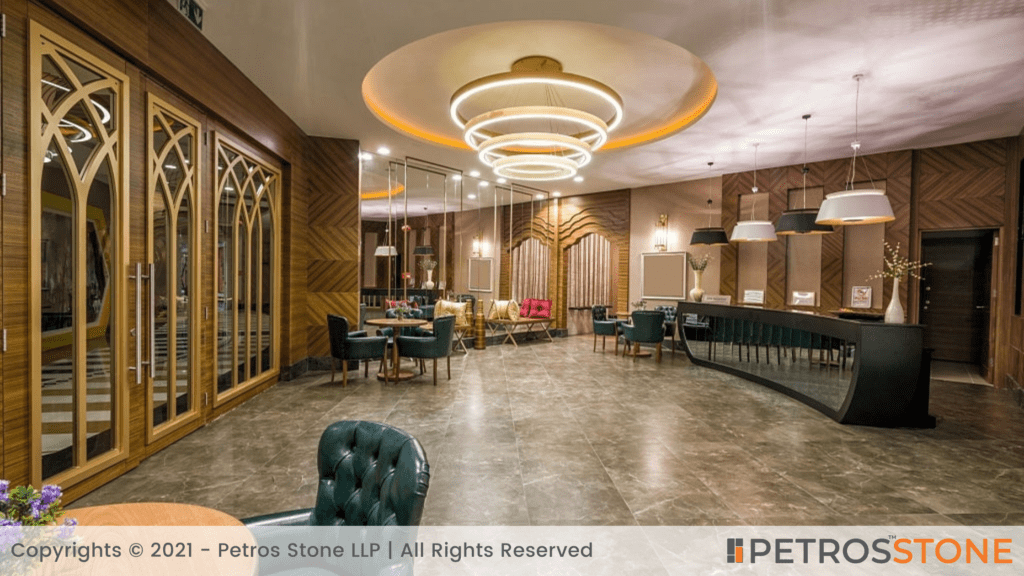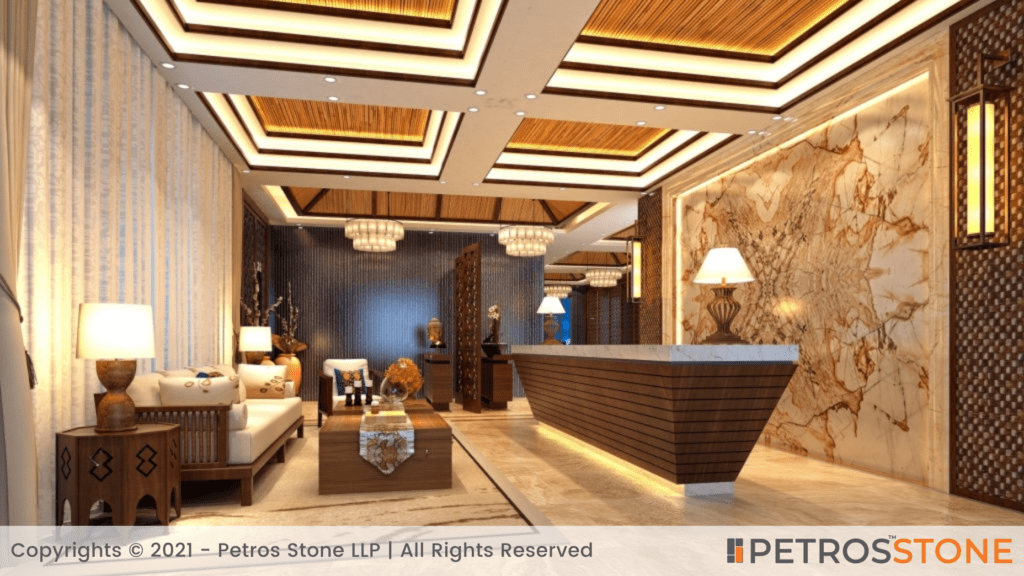 Some of the designs here are seen across most luxury homes. For example, using a Calcutta River marble for the walls of the living room, along with the greyish marble of Tundra. This forms a contrasting pattern that can liven up a dull living room.
Italian marbles are best suited for floors as well due to their durability, design, and low maintenance over the years. Perhaps a simple cloth and soap wash is more than enough to make it reflective.
In some of the examples of interior designs, you can find Italian marble used as fireplace countertops. Their heatproof nature makes them the best material for this purpose.
Statuario, Calcutta, and Carrara marble are the best Italian marbles for living room purposes due to their soft tones, simplistic design and great mechanical properties. These marbles can also form countertops or tabletops because of their light and strong nature.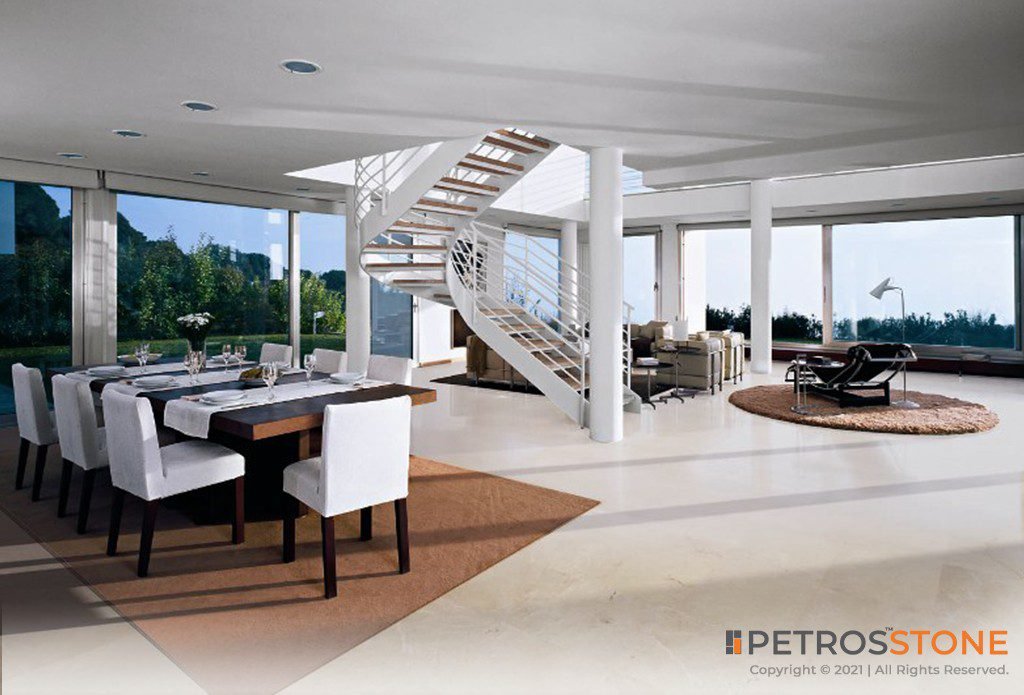 Italian marbles such as Nero Portoro is seen as an upcoming and trendy marble with streaks of gold running across a shiny and reflective black background. Along with Calcutta Raphael, Nero Portoro forms quite interesting patterns around the living room.
Italian marble such as Calcutta Alaska, White Galaxy and Lotus Carrara is good for the walls of the living room as they are reflective as well as dust resistant. Marble floors are best received with marble wall claddings of a contrasting colour.
The type of polishing for living room applications is typically a smooth honing with a slightly rough finish over the edges of the tiles. So, you need an expert to guide you with the requirements you have.
---
Italian marble is apt for your entire interior and exterior designs. Whether it is commercial, residential, or institutional space, Italian marble can fit in every nook and corner of these spaces. With many top suppliers of Italian marble around you, you need more than just a supplier.