In general, the floors in different spaces of our houses have to endure a lot of wear and tear due to refuse. However, if there is one spot in your house/hotel that requires not just an aesthetic finish but also high traffic flooring, it has to be the entrance, especially in commercial settings.
The ideal entrance flooring material must be able to resist not just moisture and dirt that gets tracked through a threshold but should also be easy to clean and maintain besides being resistant to scratches and abrasions that may result from walking shoes, umbrellas, keys and so on. This is why we would recommend using High Grade Natural Quartz stone surfaces for your entryway flooring.
Even apart from quartz there are several other natural and artificial flooring solutions that can be used for entryway flooring. The idea is to create an entryway flooring that is both functional and stylish at minimal costs and maintenance. Let us explore some of the most suitable entryway flooring options in this article.
---
10 Best Flooring for Entryway / Entrance
| | | |
| --- | --- | --- |
| Sl. No. | Entryway Flooring | Approx. Price |
| 1 | High G Natural Quartz | ₹170-₹780/sq. ft |
| 2 | Granite | ₹70-₹450/sq. ft |
| 3 | Porcelain Tiles | ₹35-₹175/sq. ft |
| 4 | Engineered Marble | ₹180-₹380/sq. ft |
| 5 | Ceramic Tiles | ₹35-₹95/sq. ft |
| 6 | Wooden Laminates | ₹85-₹160/sq. ft |
| 7 | Limestone | ₹65-₹120/sq. ft |
| 8 | Vitrified Tiles | ₹45-₹145/sq. ft |
| 9 | Terrazzo | ₹100-₹280/sq. ft |
| 10 | Travertine | ₹180-₹280/sq. ft |
| | | |
Entryway Flooring Price list
High Grade Natural Quartz
Artificially manufactured quartz proves to be one of the most suitable entryway flooring solutions for the modern home. The reason behind such a choice is not just the attractive colour and pattern variations in which quartz is available, but also the display of high strength and durability associated with this flooring solution. This makes quotes both an aesthetic and functional necessity in entryway flooring.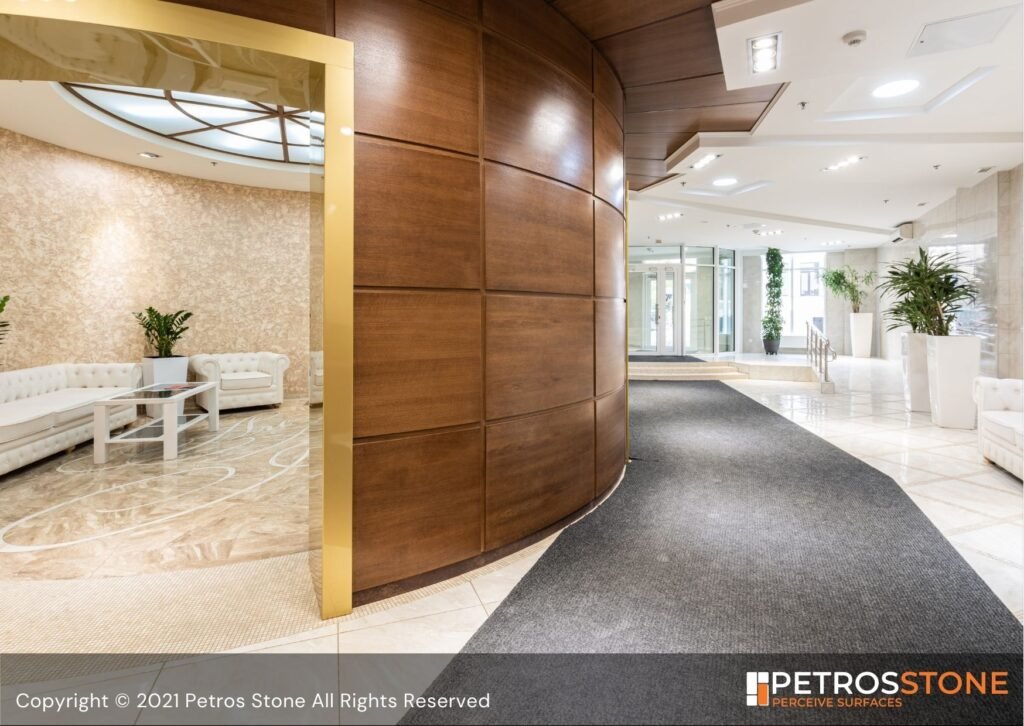 High grade Quartz is manufactured using high-grade minerals that lend its characteristic durability, extremely low maintenance, and natural non porosity. this means once you have installed a quartz stone surface in your entryway, you do not need to fret over repetitive sealing or buffing of the surface to protect it from damage.
Pros
Talking about the advantages of Petros® Quartz flooring, the first is the numerous attractive, vibrant, and colorful designs that it is available in. These variations do not fade away with time, considering the rough use entryways are subjected to in our houses.
At the same time, it does not require any harsh chemical cleaners for its regular maintenance. Simple grooming and occasional mopping with a damp cloth can help clean the surface to a satisfactory extent. The naturally nonporous surface offers perfect resistance against liquid seepage as well as stains.
The choice of quartz flooring can be customized to as much extent as you want, meaning there will always be some unique choice for the kind of interior you are imagining for your home.
Quartz is also slip-resistant; therefore, you do not have to worry about a dangerous entryway even in case the floor is wet.
Quartz is also quite environment friendly as its production or installation does not involve the release of toxic chemicals into the environment. Despite a borderline maintenance, you can rest assured that the surface will always remain free of moulds and mildew or any serious infestations.
---
Granite
Another natural stone that is highly preferred when it comes to entryway flooring, or for that matter any other space in our homes, is granite. Consider the luxury material that adds an automatic touch of elegance and a dash of sophistication to your home interiors, using granite for entryway flooring could turn out to be one of the biggest style statements of your home.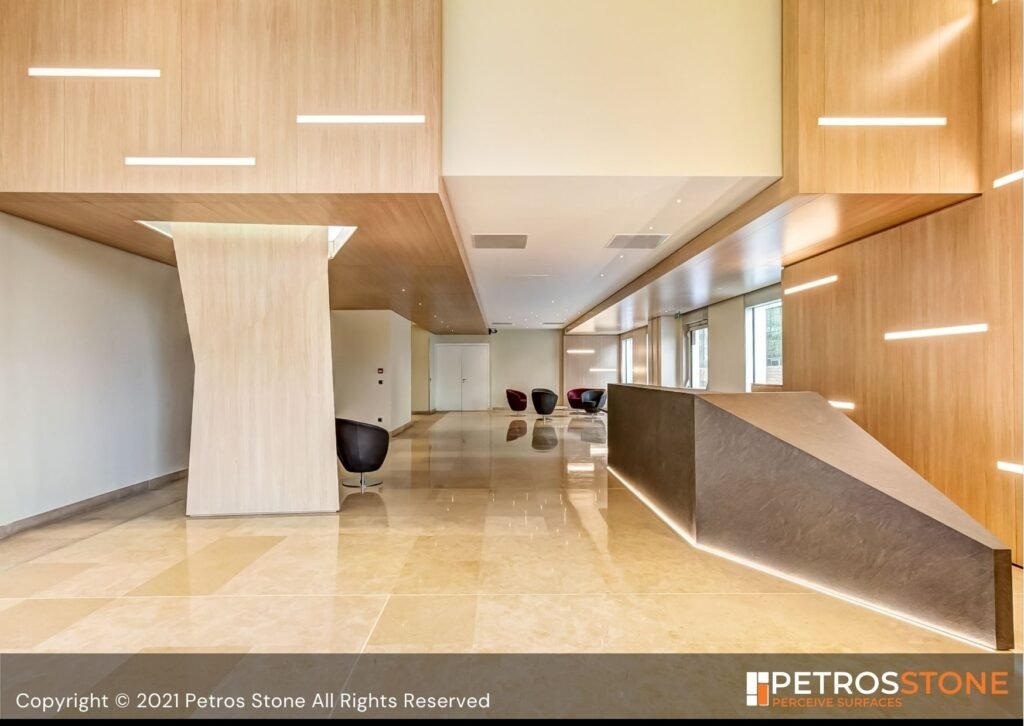 The best part about using granite for entryway flooring is that there is such wide variation of designs, colors, and patterns available, that it is always possible to match the stone surface with the interior theme.
Pros
The first advantage of granite that deserves a mention is its characteristic durability. One of the naturally hardest stones you will come across, granite does not get damaged easily due to movement of heavy furniture, rough wear and tear in high traffic areas, or through simple scratches and abrasions.
Impressive resistance to moisture and stains. Therefore, even if you live in an area with high rainfall an expect your entryway flooring to be damp on rainy days, you can expect that your granite entryway flooring will put up high performance against these damaging concerns.
Maintaining a granite surface is much easier, thanks to its characteristic natural beauty that is difficult to ignore.
Granite is available in both polished an unpolished, glossy and muted varieties, which means that you can easily opt for unpolished, non-slippery varieties if your home has children and the elderly, or if you simply want to keep your entryway safe from accidents.
Cons
However, granite flooring has its own drawbacks. The first it is not economical.
Also, the installation process of granite requires technical expertise and is quite tedious and time taking. Only experienced experts should be consulted and allowed to work with granite slabs lest anything should get damaged unnecessarily.
In case you end up heavily polishing your granite surface, it might turn to be quite slippery and prone to accidents. Also, while granite is suitable for in floor heating, it tends to get very cold under foot without such an installation. This is the reason many homes in colder climatic regions do not prefer using granite at all for their interiors.
---
Porcelain Tiles
What comes to your mind when we talk about porcelain tiles? If you ask us, I answer would be colours, design and beauty. Porcelain tiles have been in use in several notable buildings for decades now, and have traditionally been preferred because of their characteristic designs itself. This makes porcelain tiles a versatile floating option for entryways in your home as well.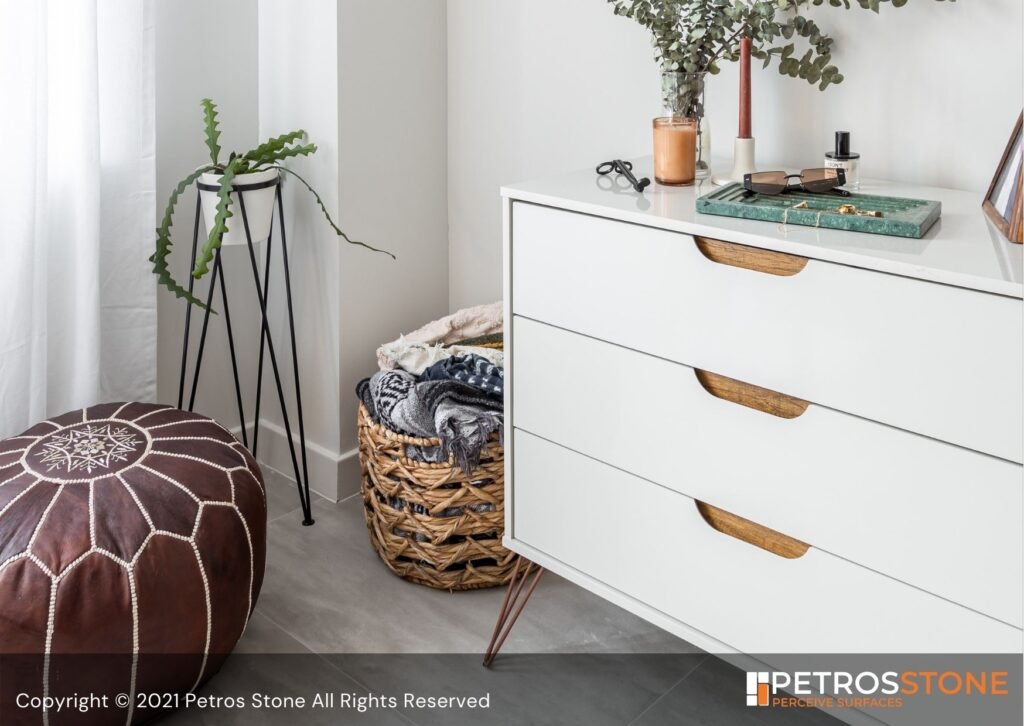 Porcelain tiles are already used in a wide range of applications, such as hotel lobbies, kitchens, and foyers where design is key.
Pros
With more and more attractive design options and colour variations available even in porcelain tiles. Manufacturers are coming up with some very interesting where I tease to suit the evolving tastes of the Indian homeowner. With time you will be able to find the exact solution for your interior theme.
Porcelain tiles are not highly durable but can withstand scratches, abrasions, and even high pressure with ease. Therefore, any furniture movement, constant movement from one place to another, use of shoe racks or tables, and plenty of traffic as well can be sustained.
Cons
Porcelain tiles might be strong, but they are still brittle. The surface can easily chip off if a sudden force is applied.
Another cause of concern with porcelain tiles is that the grouts in between them require sealing every now and then to prevent percolation and internal damage. Considering that porcelain tiles are already high, such a step adds to the high costs of maintaining and scaling this entryway flooring alternative.
---
Composite Marble / Engineered Marble
Composite marble also known as engineered marble is an industrial product. Though it does not offer the same strength or durability as quartz or granite services, it is also much cheaper. Composite marble uses a blend of various inputs such as marble chips, resins, strength polymers, gelcoat, and pigments, to name a few. The resulting artificial stone looks identical to natural marble while costing much less than it.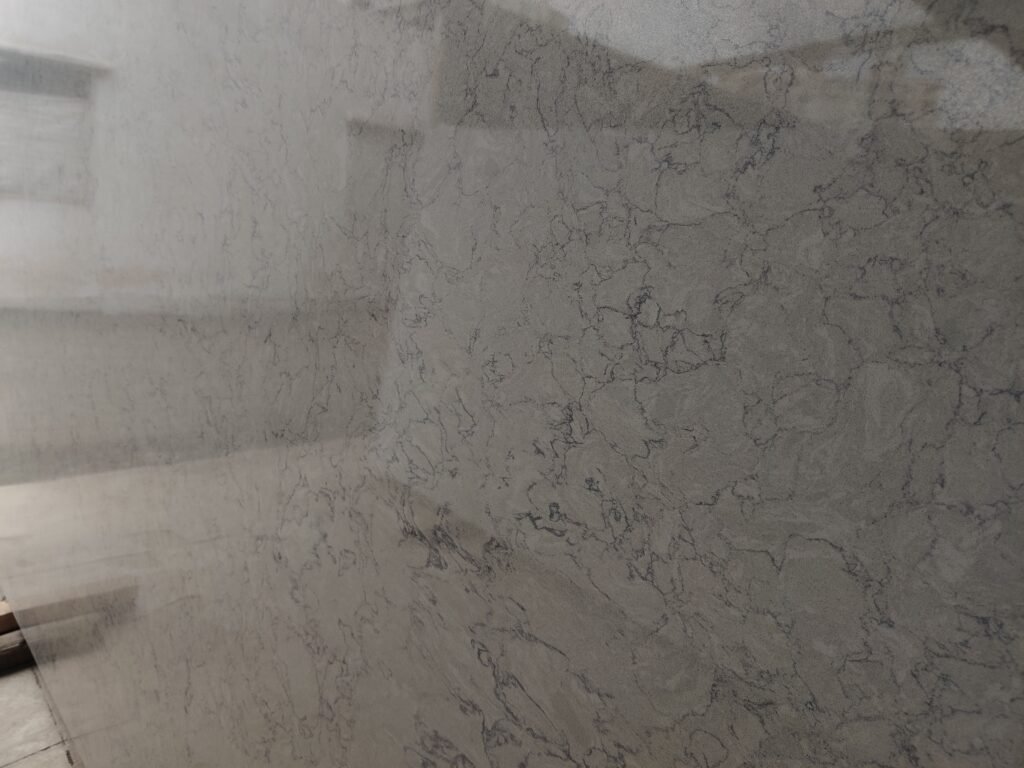 Pros
The first advantage of using composite marble has to be that it provides the same looks and elegance as natural marble without any of the disadvantages of Italian marble.
Composite marble is also quite easy to maintain compared to its natural alternative. In fact, it proves to be much better in this regard than most other types of entryway flooring alternatives. This is because composite marble does not attract any dirt or dust due to the presence of resin binders in its composition. Unless the composite marble has been textured over and above, there is no need for any sealing either.
Cons
Composite/Engineered marble is not as tough and hard as quartz.
---
Ceramic Tiles
Without a doubt, ceramic tiles have emerged as one of the most popular and affordable flooring solutions for almost any space in your home, and especially for entryway flooring. More preferably, ceramic tiles are used in spaces such as bathrooms and kitchens where there is greater risk of moisture and staining and associated damages. This makes ceramic tiles an ideal choice for high traffic areas such as entryways, no matter what the climate or geographic location.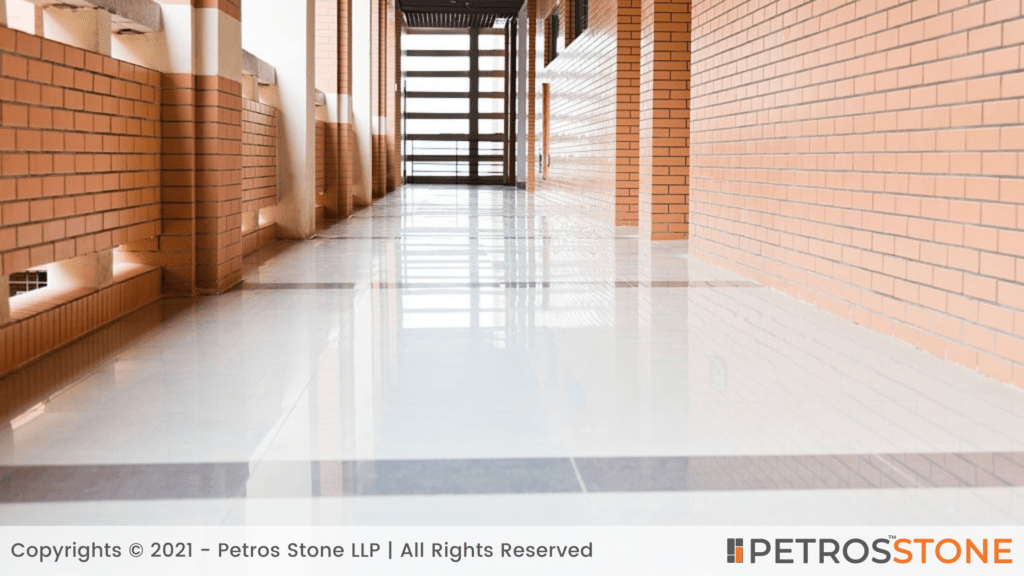 Pros
Ceramic floor tiles offer unmatched durability and imperviousness to water and stains along with resistance to scratches and abrasion.
From the point of view of sturdiness as well as in terms of maintenance and cleaning, ceramic tiles can be completely relied upon in those areas which can receive high foot traffic, such as entryway flooring.
Ceramic tiles also scored well when it comes to hygienic solutions and home health. These tiles do not attract dust, dirt, or pathogens, an also do not give off any toxic fumes during their life cycle. You do not need to use any harsh chemical cleaners to read the surface off dirt, making it easy to maintain the surface in the long run.
Cons
However, ceramic tiles can feel unnaturally hard under foot. Therefore, walking barefoot might seem problematic then using ceramic tiles for entryway flooring.
They are not as durable. Break easily on impact.
---
Wooden Laminates
A popular alternative to hardwood flooring, wouldn't laminates offer an attractive choice for entryway flooring. While giving you the same look and feel as hardwood floors, wooden laminates come at around half the price of the farmer.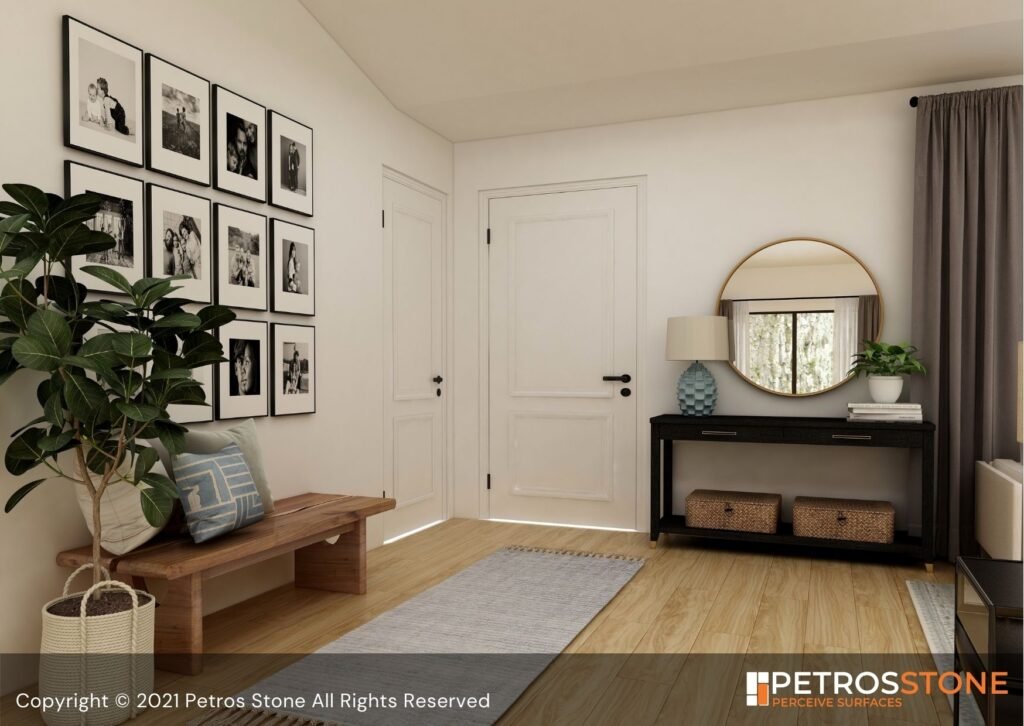 Add to that the advantages of incredibly easy maintenance and wider design variations, and it becomes clear while so many people are using wooden laminates instead of hardwood for entryway flooring.
Pros
The first advantage of wooden laminates has to be that it is so identical to hardwood flooring that it is difficult to tell the two apart. This is because these days laminate companies are offering high definition, improved seeming, and real wood veneer layers to provide an added sense of natural exoticness to your floors.
Oak, maple, heartwood, and so on are just some of the examples of the interesting species that are reflected in wooden laminates.
Wooden laminates are fairly stable, meaning that there are no seams from opening up due to changes in temperature or humidity, which is a common issue with hardwood flooring. These laminates are quite lightweight, and can even be installed over existing flooring by applying a thin form of cushion underlayment alone.
If you were wondering if wooden laminates are environment friendly, then yes they are. There are no VOC releases, as wooden laminates come with a characteristic snapping feature. The longer life of these laminates offers the advantage of lesser replacements with time.
Cons
Wooden laminates are not all powerful against moisture damage. Therefore, while it may be suitable for entryways that are well lit and not subject to standing water, they do not make for suitable options for bathrooms.
If the top wear layer of wooden laminates somehow gets damaged, it is not possible to refinish it because of its thin dimension. This would call for the entire plank to be replaced, unless you have invested in high quality wooden laminates that come with an optimally thick top layer that can be refinished for up to a few times
---
Limestone
Limestone has always been very much in demand as a natural flooring solution, because the stone has several interesting benefits and applications to offer. The stone is formed organically out of the disposition of calcium carbonate by sea animals in warm waters, such as corals algae and seashells. Such a rich history adds to both the aesthetic appeal and natural durability of limestone.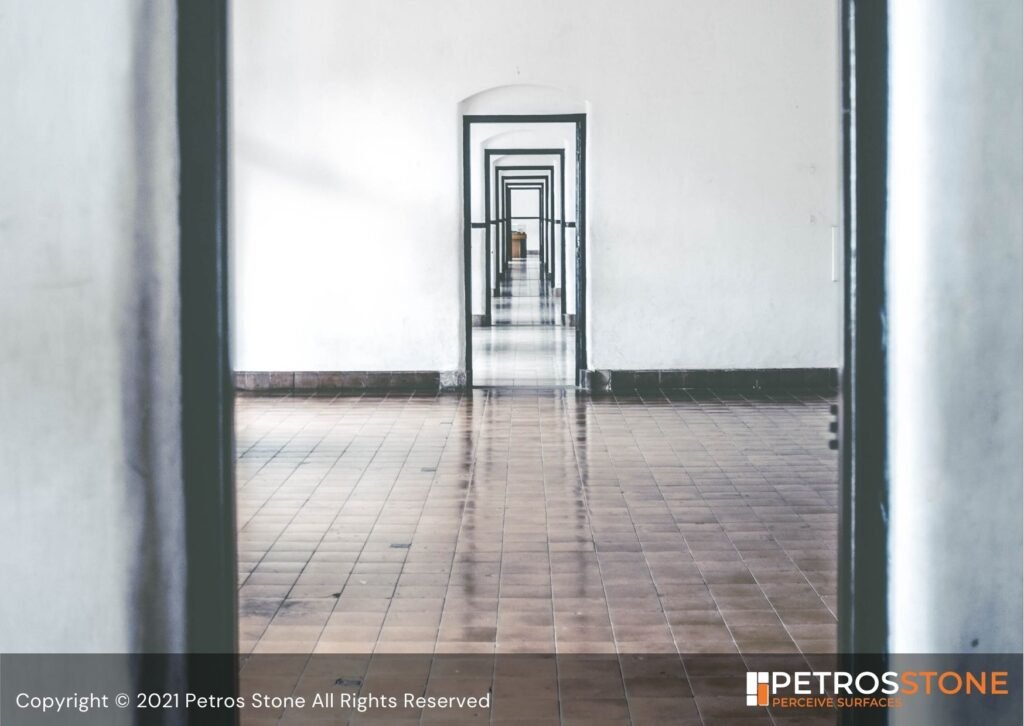 Pros
Limestone is an incredibly affordable natural stone, which is quite an anomaly considering options such as granite and marble which can prove to be quite costly. This is the reason many people actually prefer limestone to other natural stone alternatives, because it offers the same physical strength and your ability while costing much less.
When taken good care of, limestone and its natural mineral composition can linger on for your lifetime. Although it is called a soft stone, the material comes with impressive resistance against scratches and abrasions. Despite this toughness, the stone is easy to cut into desired shapes and sizes, making it a perfect choice for architects and designers who want to experiment.
Limestone is also available in an interesting variety of colours and patterns. You might even find some imprinted fossils of marine animals within limestone surfaces, which adds to the aesthetic and real estate value of your space.
This versatile stone surface is also one of the most environment friendly kitchen flooring options you could go for, as it has no toxic emissions to fret over.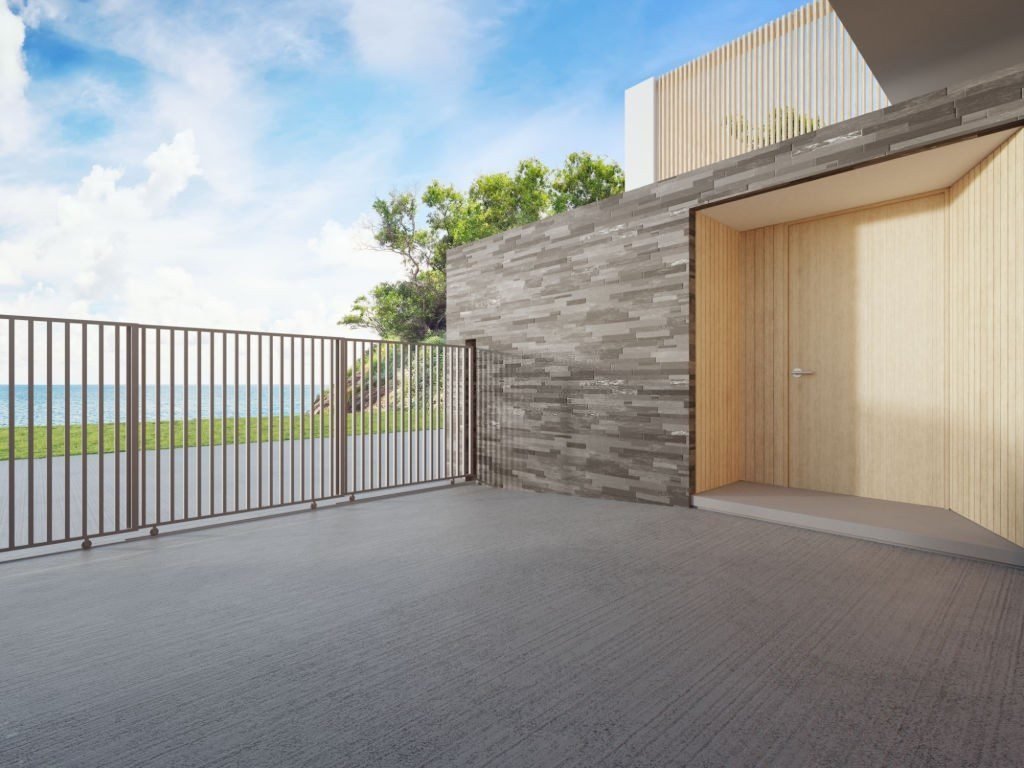 ---
Cons
One of the most significant drawbacks of limestone is that it is not as easy to maintain. The stone surface being quite porous, it easily gives into stains and chemicals. This is the reason why the surface needs to be sealed every now and then, which might bring in additional costs for you.
---
Vitrified Tiles
Vitrified Tiles have gradually become one of the most popular flooring solutions for homes as well as commercial spaces. The reason behind this popularity is their affordability without compromising over the aesthetics, allowing vitrified tiles to be used in almost any space you want them to. These tiles are specifically used in kitchens and bathrooms these days due to their brilliant resistance to moisture and staining, but have emerged as brilliant alternatives for entryway flooring as well.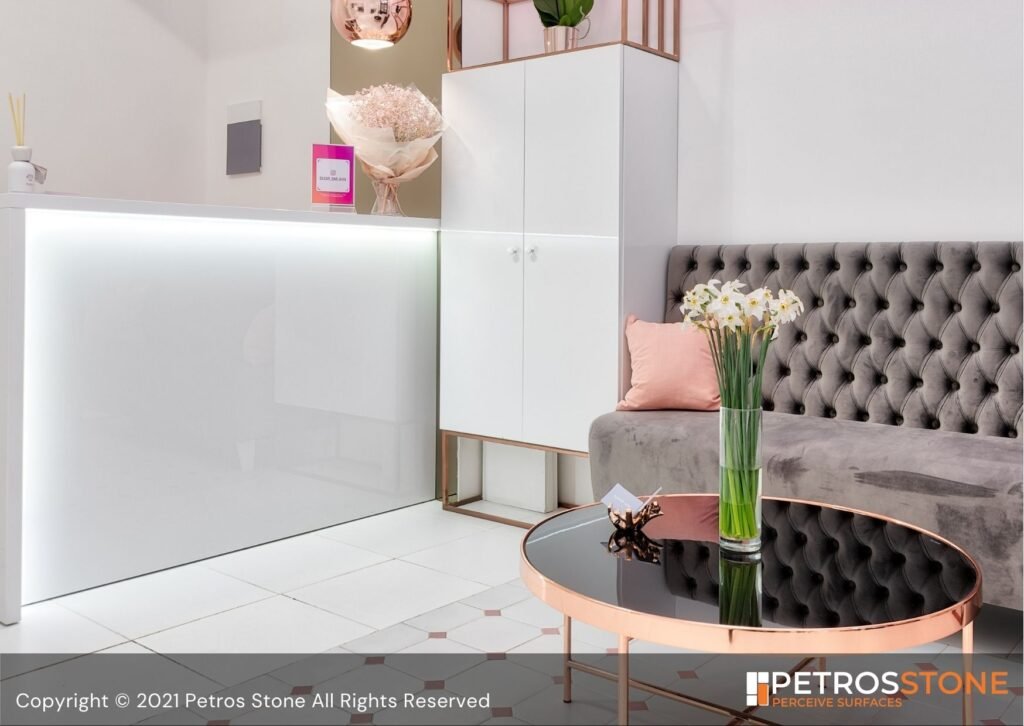 Pros
Impressive durability, and waterproof characteristics. You can absolutely rely on vitrified tiles when it comes to water absorption even during regular use.
Vitrified tiles offer brilliant resistance against scratches and abrasions, which means you can use it in not just your entry foyer but in any other space of your home with heavy or sharp objects.
The impressive design variety available when it comes to vitrified tiles is another cherry on the cake. There is no dearth of options when it comes to multiple colours, patterns, shapes, and sizes.
Vitrified tiles are also one of the most hygienic entryway flooring options that you could consider. These flooring solutions are nonallergenic in nature, and keep dust dirt and germs away while also preventing infestation from molts, mildew, and pathogens.
Cons
They can feel rather cold and hard under foot.
Very brittle and easy to break.
---
Terrazzo
The most unique floor surface solutions that you can opt for in your modern home has to be terrazzo flooring. Besides being an ideal choice for all homes, terrazzo comes with unmatched performance and durability for high traffic areas in your home such as entryway flooring.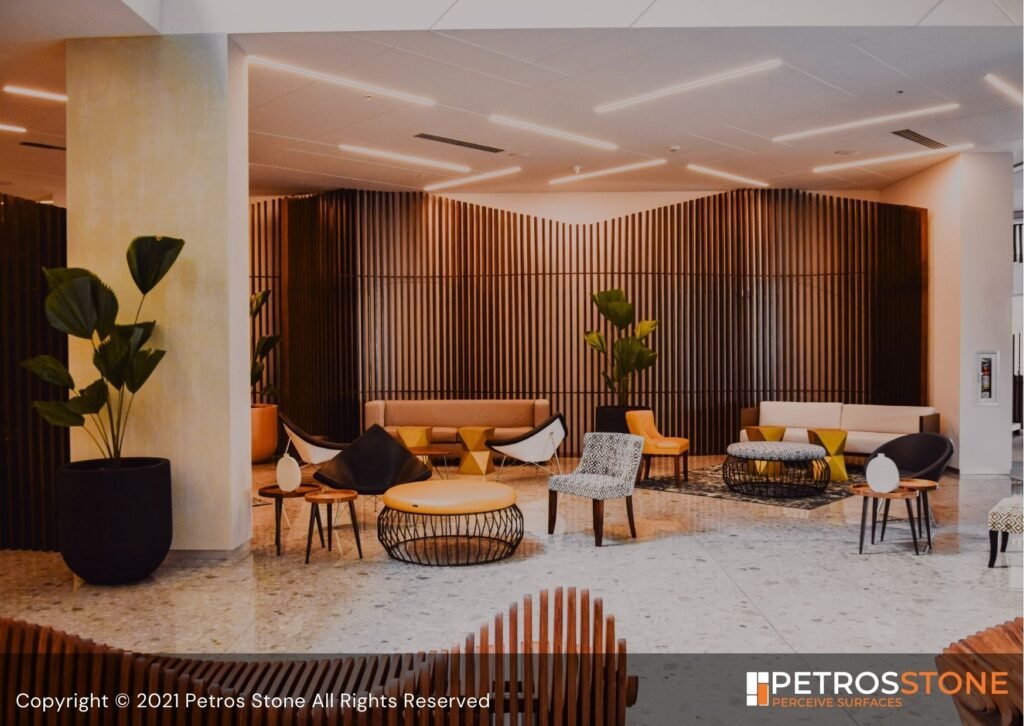 The composition of terrazzo is such that it boasts of embedded granite, marble, quartz and class ships bound together with epoxy resins. Therefore, besides the aesthetic qualities of all these materials combined, you can also expect high strength and performance from this flooring material.
Pros
As discussed earlier, the first advantage of terrazzo flooring has to be its impressive durability. The combined effects of high performing input materials along with proper sealing can make terrazzo impervious to water and highly resistant to stains. Compared to softer materials like Italian marble, that as a flooring does not dent or chip away easily.
Another important factor is the durability of terrazzo flooring. For somebody who wants to renovate or remodel their house on a budget, terrazzo would make a great choice for entryway flooring.
Just because terrazzo offers high performance does not mean that it lacks behind in terms of design and appearance. There are stunning, endless combination possible with the component elements of terrazzo including marble, granite, or glass chips.
This material is also quite environment friendly, as it is made using recycled materials without including any toxins during the manufacturing process. Terrazzo tiles have low VOC content an eliminate the emission of harmful gases into the atmosphere, thus maintaining a healthy indoor air quality for your home.
Cons
Terrazzo tiles are also not preferred in areas with cold climate, because they tend to feel quite cold underfoot.
---
Travertine
Travertine continues to be in less common use in the Indian context, though it is quite popular as a sustainable flooring solution in the western world. Offering similar looks an feel as marble, travertine saves up on the cost spectrum, proving to be a smart investment to your home. The urban tone colours an characteristic rustic charm of travertine are other advantages that this material offers to design lovers like you and us.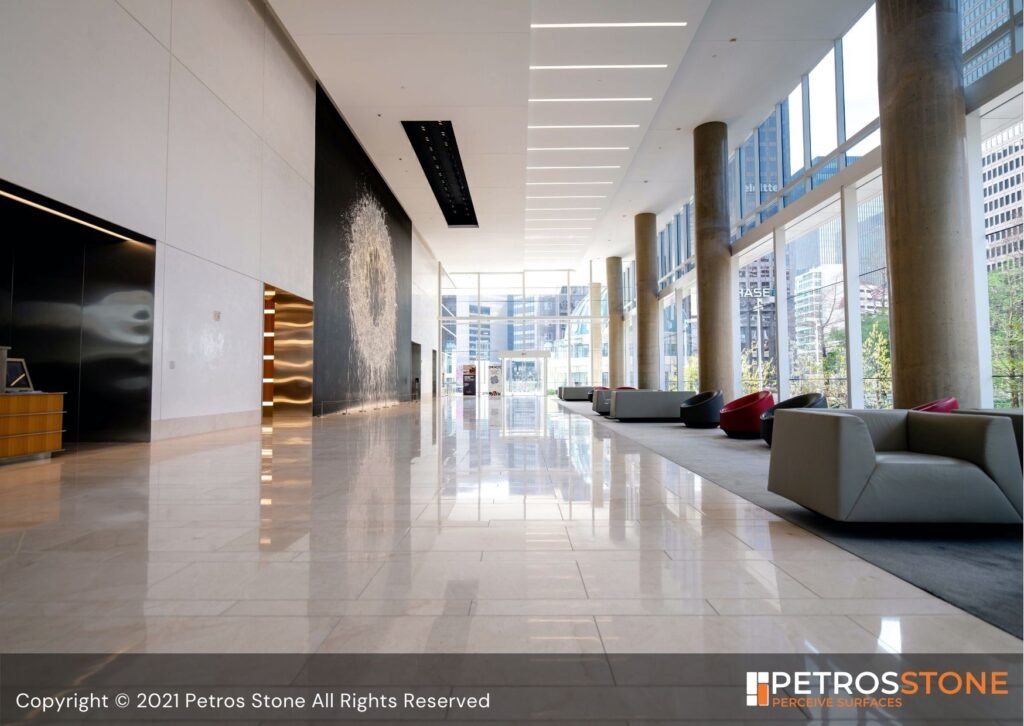 Pros
The most interesting aspect of using travertine is its characteristic earthy appearance. The material naturally forms around mineral spring deposits, which leads to its appearance in various shades of tans, Browns, rust, beige and more.
At the same time, travertine flooring is incredibly easy to maintain. Simple mopping with a damp cloth often does the trick.
The stone is also impressively tough as well, making it perfect for both high traffic an highly utilitarian areas such as entryways.
Cons
The material also needs frequent sealing from time to time because it does not put up the same level of performance against liquid or water percolation.
Despite all its advantages, travertine is quite costly an option for entryway flooring. Therefore, this material might not be suitable for homes that are looking for quick renovation a budget.
---
Get the Best Flooring Materials for your Project | Expert's Advice
Wondering which of these stone surfaces might be the perfect solution for your entrance flooring?
Get in touch today with Petros Stone!