Tailor-made, modern and stylish – that is how we would define the raging trend of modern kitchen design in India. Suited for Indian culinary and lifestyle, the kitchen brands of today are catering to both design and convenience when it comes to making cooking an enjoyable experience for Indian homes.
While there are many renowned brands catering to the modern Indian kitchen's needs, Petros stands out as an expert on kitchen countertops and flooring solutions. Taking care of both the aesthetics and performance of some of the most important areas of your kitchen, experts at Petros offer a one-stop solution to a kitchen's countertop and flooring needs.
At the same time, there are other brands of significance that deal with other kitchen solutions – modular kitchens, kitchen furniture and décor, fixtures and fittings, and more. While the list could be endless, we have compiled some of the Best Kitchen Brands in India you should know about.
Petros® Stone
Sleek
Hafele
Hive Home
Pepperfry
Kohler
Livspace
Address Home
---
---
The Best Modular Kitchen Brands in India for All Your Needs: Design to Function
Gone are the days when kitchens were viewed as secluded, private spaces off the home with no need for expression, design, or aesthetics. In fact, the modular kitchen has become an integral part of every modern home today. besides being an icon off modern style, these kitchens are also much more efficient, user friendly, and sustainable in the long run.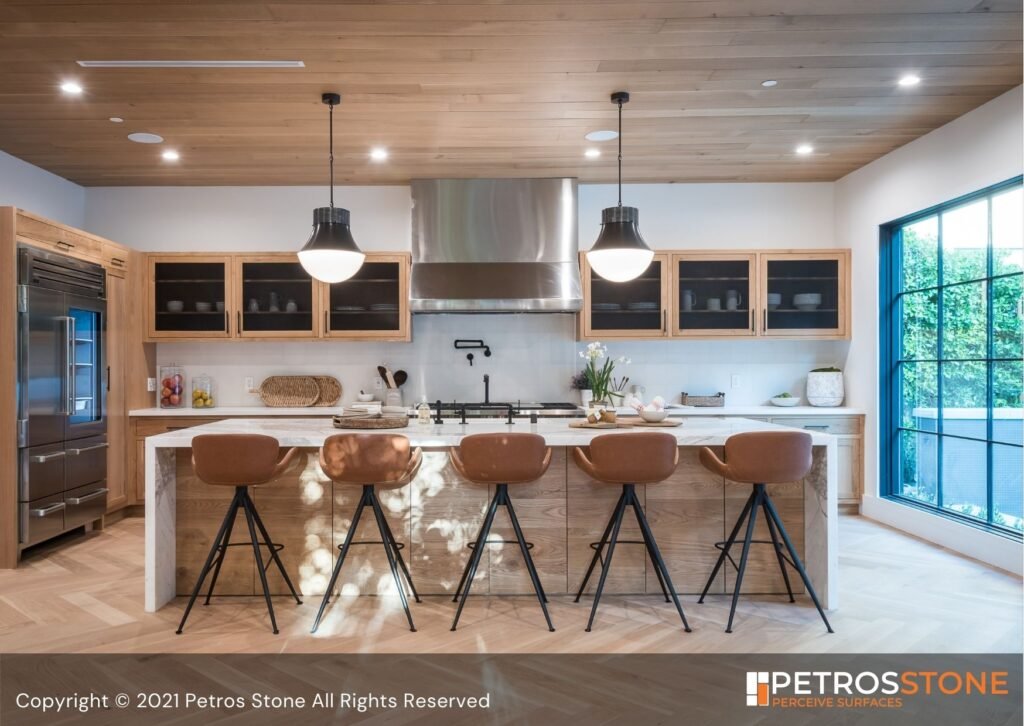 There are a range of brands dealing with various aspects of the modern modular kitchen today, some of which we've brought together for you so that you can get the best of the Indian modular kitchen market for your home.
---
1. Petros® Stone
High Grade Kitchen Countertops
Choosing the right kitchen countertop can really make or break the overall look and functionality off your kitchen. Your counters are, after all, where all the preparation, cooking, and final touches actually happen. In fact, kitchen countertops are both the backdrop and the main stage for any kitchen.
Besides, kitchen countertops also matter a lot when it comes to the real estate value of your home, making it very important to choose materials, design, and the overall theme very carefully.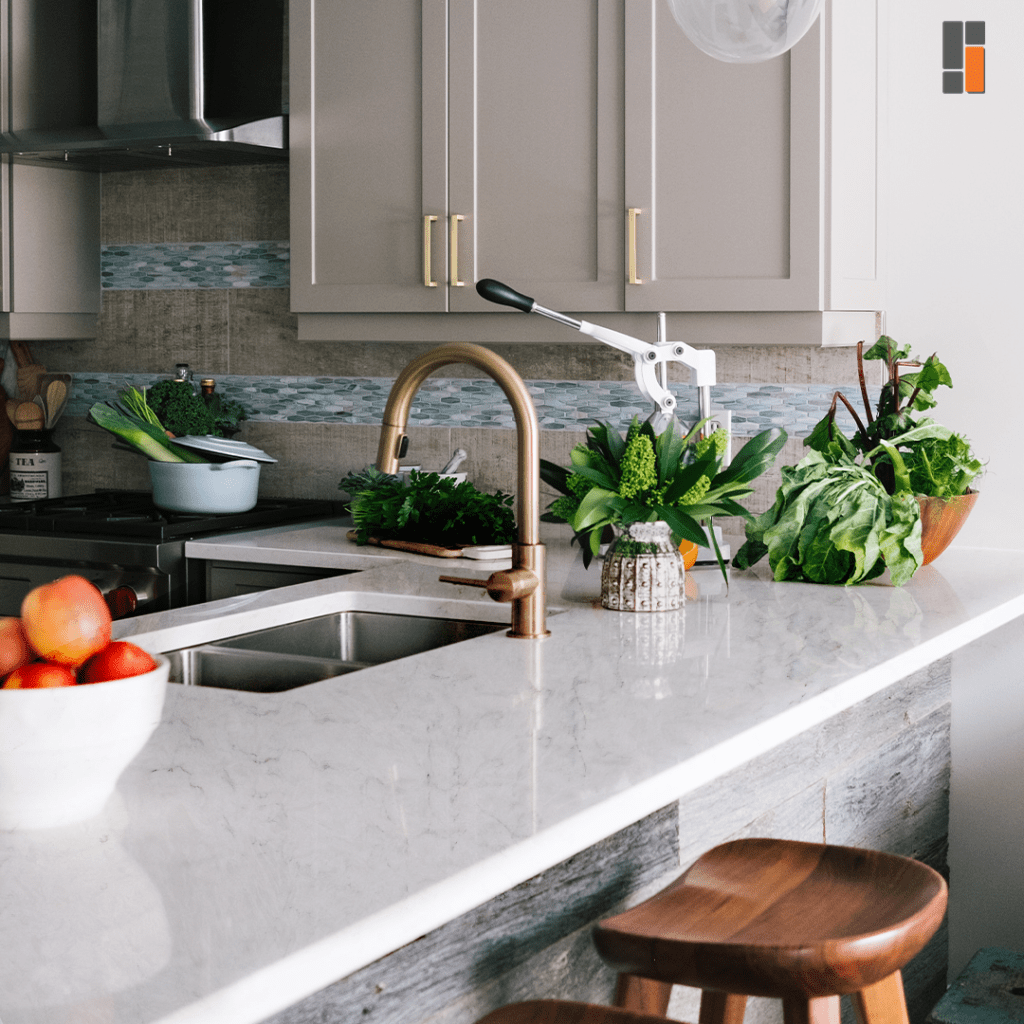 Therefore, our pick for the best countertops has to be Petros® Stone . With an array of high-grade raw materials, Petros has several quartz and granite stone slabs to offer ask kitchen countertops. Boasting of exhaustive colour palettes with more than 150 granite, quartz, and engineered stone slabs, Petros focuses on state-of-the-art manufacturing facilities, imported from Italy, to bring to its customers the finest stone surfaces from all over the world.
Not just kitchen countertops, Petros also offers several high quality, durable, attractive flooring solutions for different residential and commercial spaces. The high-grade engineered quartz and natural stone surfaces brand believes in offering modern technological advances in stone technology to the fields of architecture and design.
Why Petros?
While there are many kitchen brands to choose from, Petros stands out because of its ability to help clients find the right stone surfaces for their project. With the best Quartz in India, the brand boasts of a portfolio of designs with over 400 types of granite, quartz, marble, artificial surfaces such as Nano White, engineered marble and more.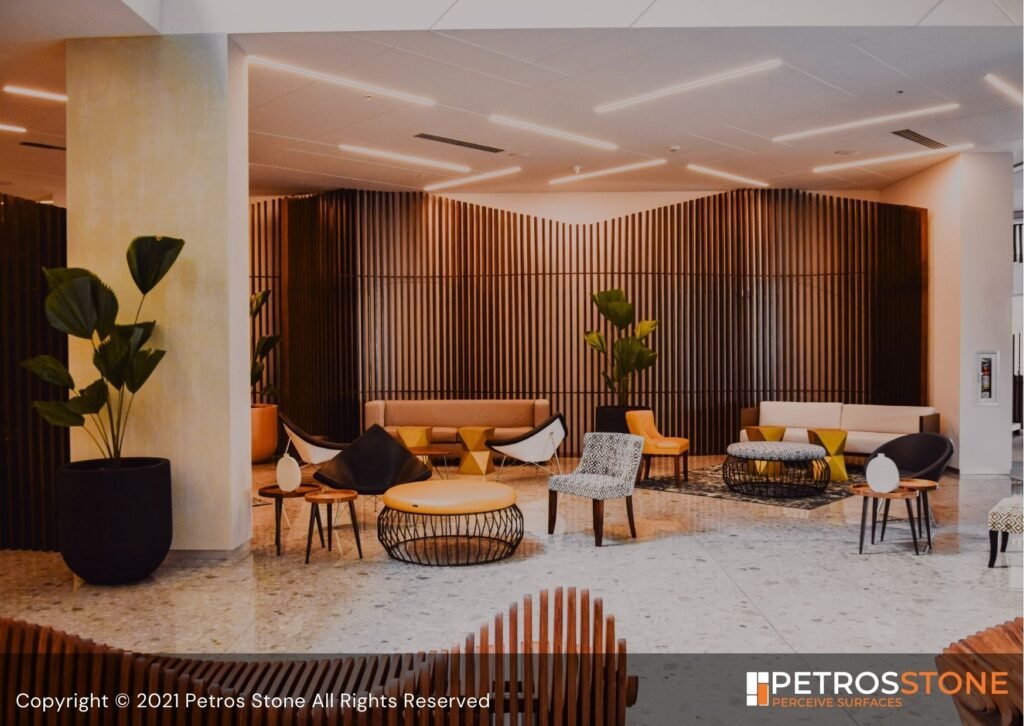 At Petros, you can rest assured that you will find everything you are looking for in a countertop or floating material for your kitchen.
This includes colours and design according to the style statement that you want to make, options in thickness, length, style of the slab, expert suggestions on integration with backlash, durability an ease of maintenance keeping the Indian kitchen in mind, and the most pocket friendly prices in all of the market.
No wonder, it is one of the few kitchen brands that has been recommended by several leading Indian architects and designers today.
---
---
Sleek: Modular Kitchens
Factory Fitted Kitchens
One of the leading names when it comes to the most stylish and aesthetic modular kitchens in India is Sleek by Asian paints. Bringing together world-class designs handpicked for customers, Sleek takes pride in their own manufacturing facility to produce factory-fitted kitchens that come pre-drilled, making the installation process quite seamless. Their focus is on crafting kitchens made from best quality materials and hardware selected from all over the world to match the evolving needs and style sense of the Indian audience.

Interestingly, Sleek offers a 10-year warranty on its durable modular kitchens. In their unit, they offer high quality storage solutions and inbuilt appliances based on the concept of the Sleek work triangle. There are over 200 finishes to choose from, with a focus on making cooking a joyful experience. Calling themselves "kitchen specialists", Sleek is one of the few kitchen brands that caters to rooms of all sizes, an array of materials and finishes, and complete detailing according to your budget and taste.
---
Why Sleek?
Sleep boasts of a talented team of designers who focused not just on exquisite craftsmanship and design innovation, but also the safety, hygiene, and sanitisation of your kitchen. The first step towards getting your customized modular kitchen flumps from Sleek is to talk to their expert who helps you plan and customize not just your kitchen structure but also the smallest design details.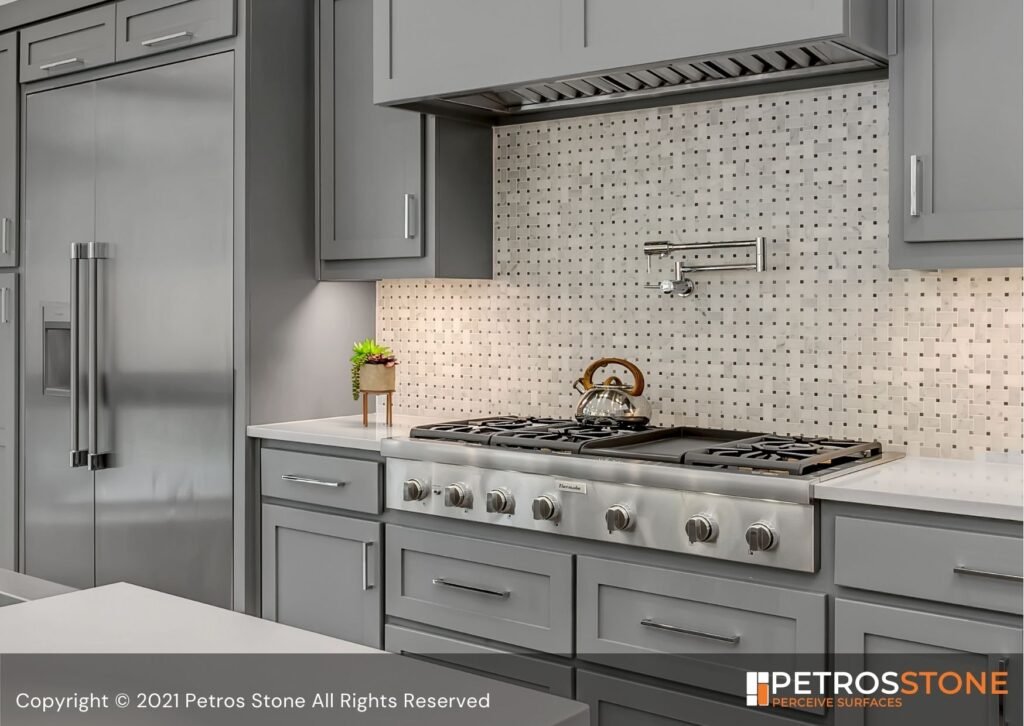 After this, you can select from the exhaustive range of materials, designs, colors, and finishes that Sleek has to offer in its modular kitchen variations. Lastly the brand itself provides a factor-fitted modular kitchen delivered and installed at your home without any hassles.
The brand caters to all kind of kitchens, including both compact ones starting from 8 foot by 6 foot, going all the way up to spacious, luxurious kitchens for large homes.
The high-quality materials are handpicked for customers and include boiling water-resistant marine plywood an MDF. Apart from this, Sleek also uses premium laminates, lacquers, and ceramics from India and the world as design components in their kitchen.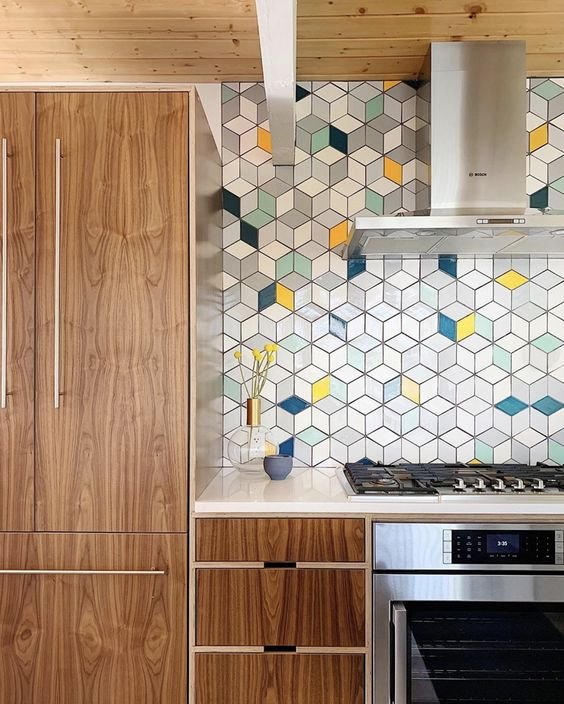 Sleek boasts of several international tie ups with leading brands such as to offer the best hardware and appliances for their modular kitchen sets. Depending on the size, layout, materials, accessories, and hardware you choose for your kitchen, you can expect a customized, pocket friendly quote from your nearest Sleek store.
---
Another name that comes to mind when talking about leading kitchen brands in India is Hafele. Dwelling on the concept of the kitchen being the heart of the home, Hafele ensures that all their kitchen fittings and accessories are designed as per the significance attached to this part of your home. Boasting of innovative storage solutions meant to organize kitchen necessities the way the user wants to, Hafele has something for everyone and something for every need.
The elegant and sturdy worktop surfaces by Hafele make kitchens a pleasure to use every day. Their services are based on the concept of planning every zone in the kitchen, including the installation of the right kind of drawers and cabinets, storage units, cooking appliances, washing as well as cleaning units, from zone to zone. Add to that their principle of maintaining ergonomic efficiency, and it becomes clear that investing in Hafele appliances is one of the smartest choices you can make for your kitchen.
---
Why Hafele?
Hafele's complete line of kitchen appliances, cabinet hardware, and accessories, including pull-out pantry and blind corner systems, drawer dividers, trash cans, recycling, and backsplash systems follow the same principle of comfort, convenience, and pleasure. No wonder, leading architects and designers rely on Hafele's appliances for their projects to bring in an added sense of luxury and comfort.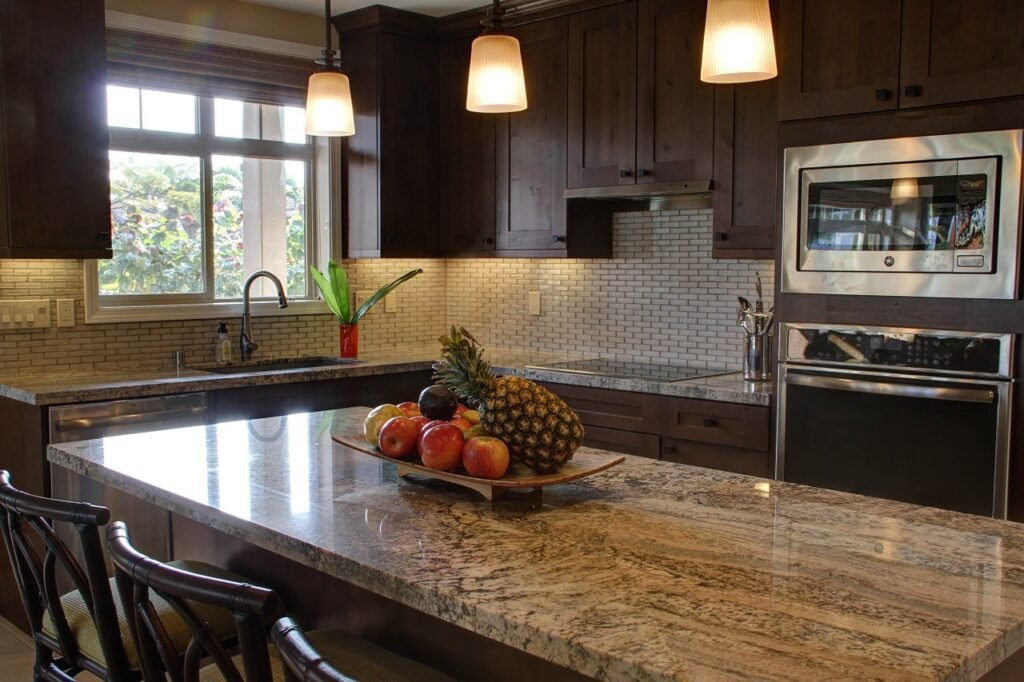 The aspects that seem most important when choosing the best appliances for your kitchen include longevity, durability, safety, and performance. While catering to all these parameters, Hafele also makes sure that the appliances you choose are tastefully befitting your overall interior style or theme. Therefore, you not only save more, but also invest in the right appliances that complete the picture of your kitchen.
---
Hive Home
Lighting Solutions
A well-lit and bright kitchen must be seen as a necessity for any home that wants to use this space as both a social and transit zone, food preparation and cooking hub, as well as an aesthetic element sealing together the whole décor. Besides improving visibility far functional aspects, proper kitchen lighting also brings in safety and precision along with optimal aesthetics.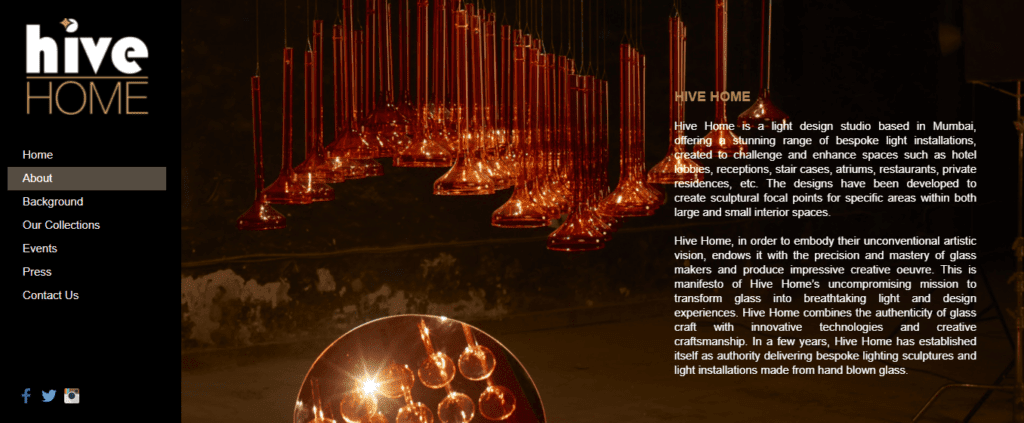 This is why the light design studio, Hive Home, based out of Mumbai features on our list of the best kitchen brands that you should know about. This studio offers an amazing range of bespoke light installations that both challenge an augment the beauty and function off your kitchen. The best part about high foam is that their lighting designs itself act as sculptural focal points, no matter what the size or style of your kitchen.
---
Why Hive Home?
The first highlight of his home that makes us recommend this brand for the modern kitchen is their unconventional artistic vision. Together with their team of designers and glassmakers, Hive Home brings to the table unmatched precision and creativity, transforming ordinary glass into breath-taking lighting experiences. Their craft has such authenticity and innovation that can completely transform the look and feel of your kitchen.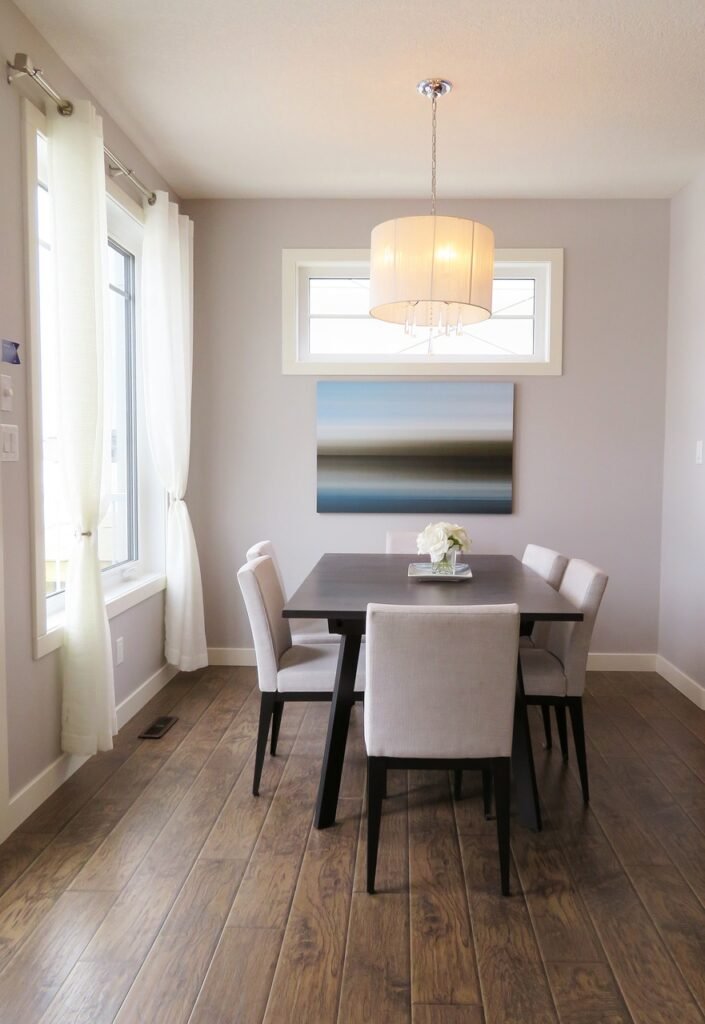 Lighting solutions for kitchens ideally fall into separate categories of ambient lighting, which is the soft overhead light that illuminates larger areas such as floor and walls, task lighting for illuminating the kitchen countertop, island, sink, and other work areas so that precision and safety are taken care of, and accent lighting provided in between ambient and task lighting to highlight the décor and architectural features, if any, in the kitchen.
The ideal approach is to layer these three types of lighting to reduce shadows and glare, and offer a seamless, enjoyable cooking experience. Luckily, Hive Home caters to all these different types of lighting solutions using recessed lights, ceiling, flush-mount or semi-flush-mount fixtures, pendant lights, multi-bulb LED strips and tapes, cove lights, profile lights, and more.
---
Pepperfry
Kitchen Storage Solutions
As the number of kitchen appliances, gadgets, and accessories have grown unprecedentedly in the recent times, there is greater need off understanding and deciding how to keep the kitchen organized. Storage solutions for kitchens happen to be one of the biggest questions before homeowners, and it is this quest for the perfect kitchen storage solution that brings us to Pepperfry.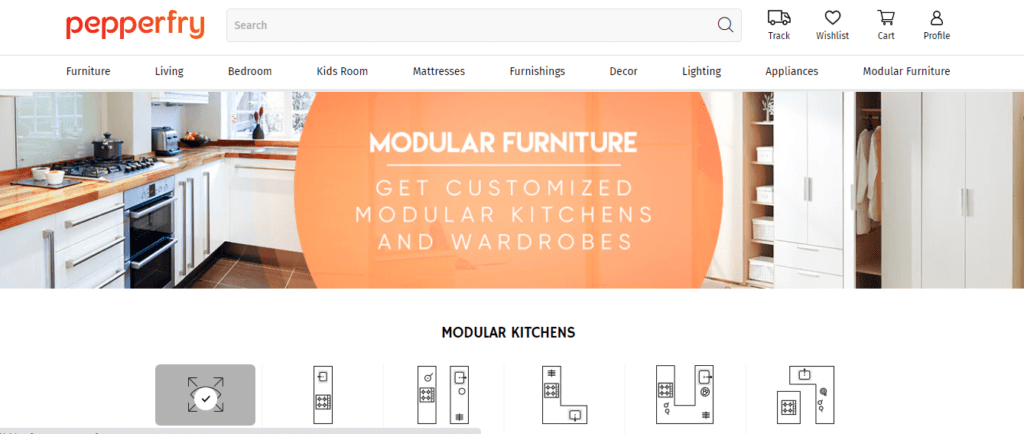 A leading home décor, appliances, and utilities brand in India, Pepperfry also happens to be one of the best kitchen brands when it comes to the ideal storage solution. With its presence in more than 500 cities, and with more than 1.2 Lac total products to choose from, Pepperfry has a huge user base of more than 60 Lac registered users. After this the benefits of multiple experience centres engaging directly with Indian customers and a highly engaging smartphone application enhanced with superior augmented reality features to help customers choose exactly what they want for their home.
---
Why PepperyFry?
When it comes to kitchen solutions, the idea is not just to use these spaces for storing objects and goods, but also to maintain the aesthetics and desired look of your kitchen. Whether this is sleek minimalism, or plastic royalty, the kitchen storage should be such that it completely blends with the overall outlook of your space.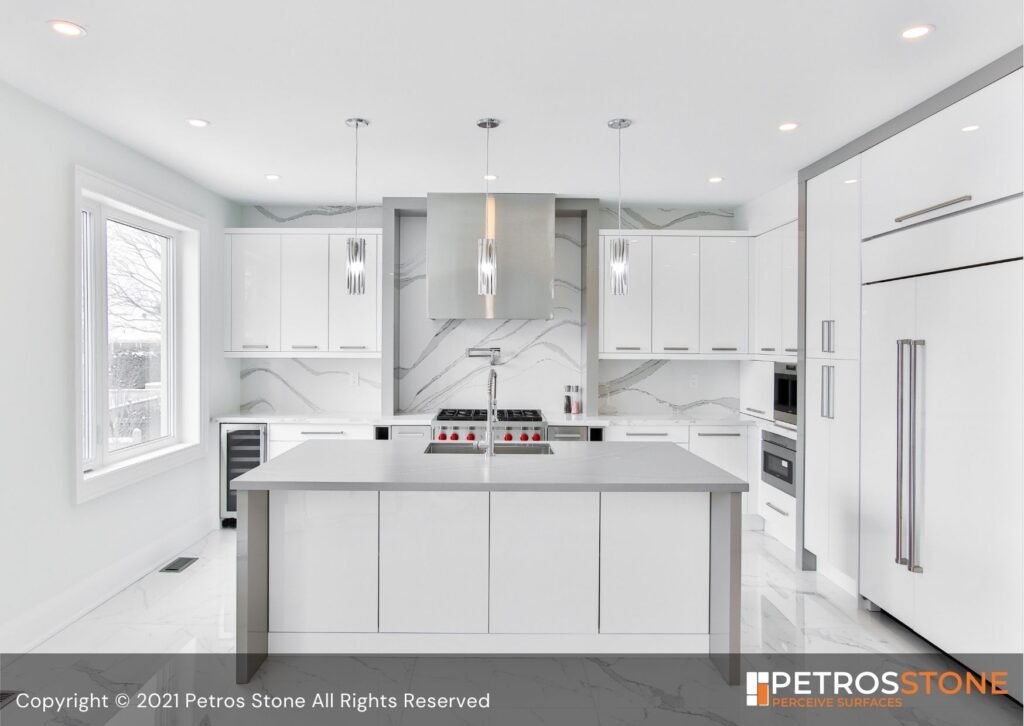 This is precisely why Pepperfry comes across as one of the best platforms for purchasing varied and assorted kitchen storage solutions. The sheer variety of options available on this platform means that there is something for everyone and for every style. No wonder, this is one of the biggest kitchen brands in focus these days and a favourite among architects, designers, and homeowners.
---
Whether renovating your existing kitchen or creating one from scratch, thinking about the finishing touches and styling options with the right fittings is equally important.
Suitable fitting choices for kitchens can automatically add grandness and class to the overall design of the kitchen. In fact these kitchen fittings and hardware are the easiest elements to transform and yet the most important details to look after.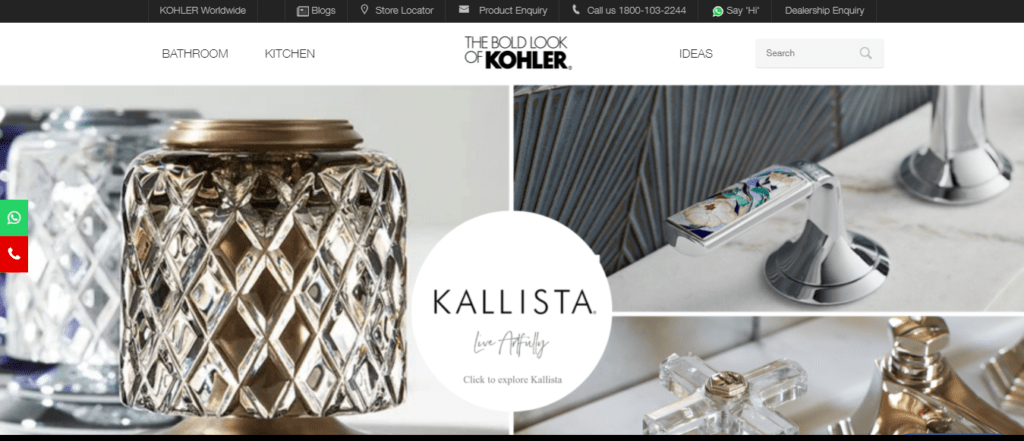 Imagine the impact of a rounded burnished brass handle and compare it with a sleek, minimalistic still one; this itself talks about the varying impacts that kitchen fittings can have on your overall interior décor.
---
Why Kohler?
Kohler has been known as one of the top kitchen brands for a long time now, specifically catering to a variety of kitchen hardware and fittings.
Chosen by most architects and designers who want to add an upscale appearance with the help of efficient hardware solutions, Kohler is one of the biggest names in the interior fittings' brands, offering the right design, finish, and sophistication.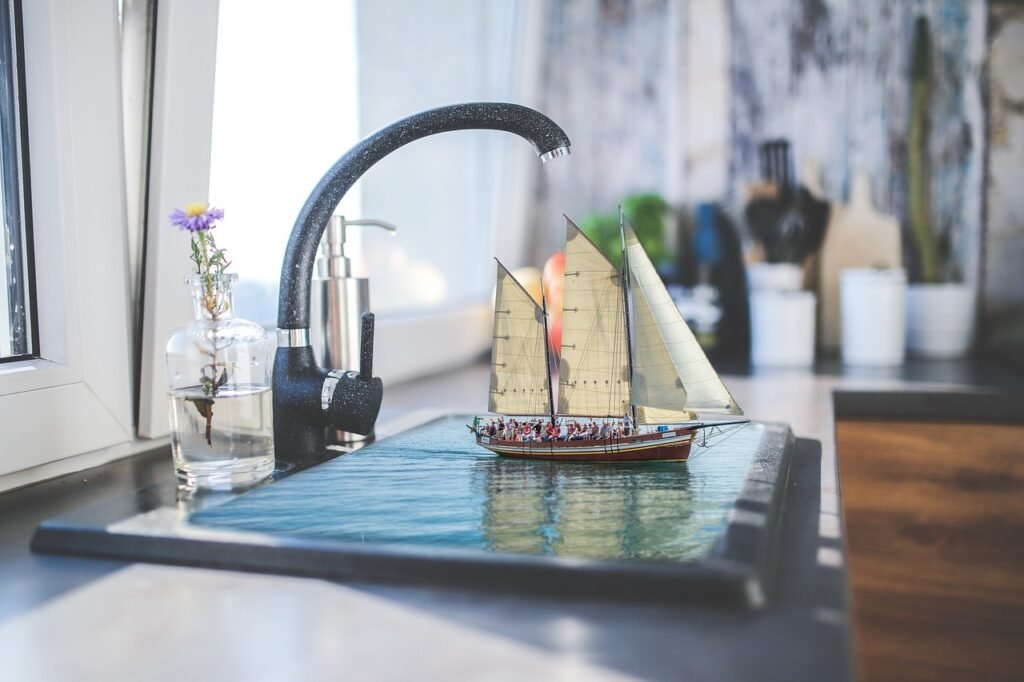 From sleek to ornate faucets and minimalist to eye-catching handles, and more, Kohler is the one stop solution for all your kitchen fittings needs. Whether you are somebody who wants to have a muted look to their kitchen, or you are looking for some grand, vibrant elements, Kohler can cater to all your needs.
---
Livspace
Interior Design Assistance
How would it be to get a one-stop shop for everything related to your kitchen interiors? Livspace, up complete home interior design and renovation brand catering to thousands of homeowners in India alone, is the perfect destination if you want end-to-end interior design solutions for your kitchen.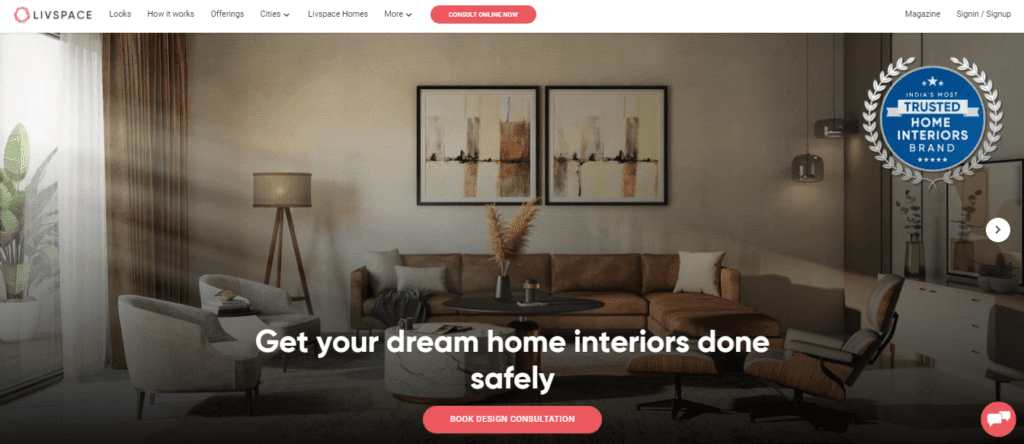 Whether you want a design from scratch or are happy to go with a factory-fitted modular kitchen design, Livspace caters to it all. With amazing varieties in the form of L-shaped, Parallel, U-shaped, and Straight kitchen layouts, Livspace also has a team of talented architects and designers who can create a stunning design based on your vision and within the constraints of your space.
---
Why Livspace?
The Livspace Select feature allows you to choose high-quality budget-friendly modular solutions for kitchens and more in your favorite colours, sizes and designs.
On the other hand, Livspace Vesta brings to you the complete home interior experience with award-winning designers service partners and the best brands at your disposal.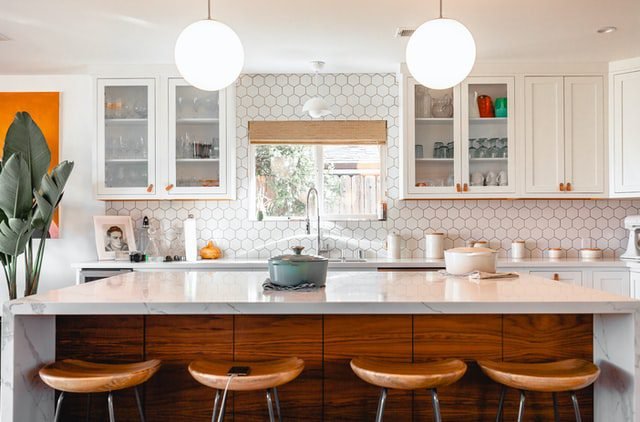 With a 45-day move-in guarantee and a 10-year warranty on their products and services, Livspace comes across as the most trustworthy and safe platform for your kitchen design needs, offering 146 quality checks.
The brand also uses superior technology for their solutions such as advanced connector mechanism for sturdy build, smooth and bubble free panel installation, moisture-free cores for long-lasting durability, and so on. No wonder, Livspace has quickly grown into one of the biggest kitchen brands that people of all backgrounds and from all geographic locations are seeking.
---
Address Home
Elegant Décor and Kitchen Accessories
We often take our kitchen accessories and decor for granted, paying attention only to the more obvious aspects of flooring, countertops, lighting, and walls.
However, if you think of it, kitchen accessories such as cutlery, crockery, furnishings, and so on, actually play a very important role in defining the overall vibe and theme of your kitchen. In fact, these small elements can talk a lot about you.
No kitchen is complete without a reflection of its owner in the form of its décor and accessories. If inimitable class and sophisticated vibrancy is your style, Address Home is the perfect destination for an off the moment yet timeless design credo.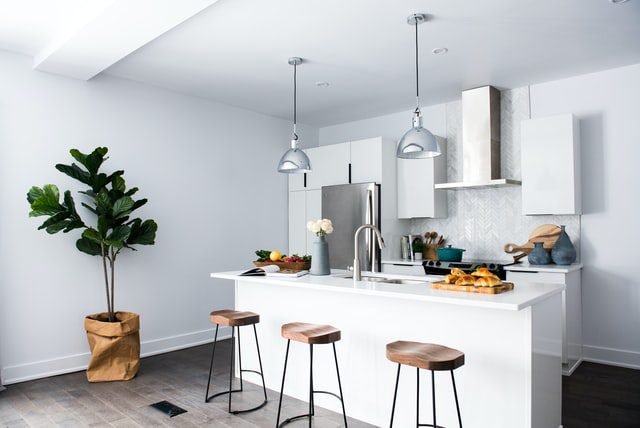 One of the leading home and kitchen brands in India, Address Home believes in reinventing the old, throwing the rule book out the window and turning convention on its head. The result is a one-of- its-kind brand that creates and curates luxurious and crafty kitchen accessories, with collections inspired from cultures and traditions across the globe.
Why Address Home?
Falling into the domain of luxury home décor, Address Home is the product of an innate design sense for the evolving tastes of Indian homeowners. It caters to exactly what Indian households are wanting today – home décor with style, minimalism, and contemporariness. In fact, it would not be wrong to say that a dress home has a collection that brings together global looks and Indian home concepts.
From sparkling candle holders two interesting world records, artistic cutlery, and crockery that you can use as décor .Beautiful sculptural artworks and frames that can complete your kitchens stylish outlook, address home has a lot of different materials, styles, objects, and themes to explore from.
We would call it the perfect destination for the most interesting kitchen accessories such as mugs, cups, furniture, spreads, and everything else that you could use to accessorize your kitchen these days.
---
Get Expert Assistance | Petros®
All being said, kitchen flooring and countertop solutions can actually define your space in a way that no other element can. This is why it is extremely important to focus on quality, function, and aesthetics when it comes to picking out the right flooring and countertops for your kitchen.
Wondering where you could get the best of these three world? Well, get in touch with our experts at Petros®, who can help you assimilate the best options for your kitchen's stunning new makeover!