From sleek minimalism to traditional rustic, there are so many design options to choose from for Indian bedrooms, and that many variations in terms of furniture, walls, accents, lighting, and more. The one deciding factor, however, that can completely transform the look and feel of your space has to be the bedroom flooring.
With limitless varieties in terms of design, and more than robust durability, Petros® emerges as one of the best bedroom flooring options you could consider. It has impeccable durability, strength coupled with a lot of options in appearance.
There are several other interesting bedroom flooring options, some natural and some artificial, with varying degrees of pros and cons. We have compiled a list of some of the best options that you must consider.
---
10 Best Bedroom Flooring Materials in India
| | | |
| --- | --- | --- |
| Sl. No. | Kitchen Flooring | Approx. Price |
| 1 | Quartz | ₹180-₹580/sq. ft |
| 2 | Granite | ₹70-₹280/sq. ft |
| 3 | Italian Marble | ₹180-₹880/sq. ft |
| 4 | Vitrified Tiles | ₹35-₹130/sq. ft |
| 5 | Indian Marble | ₹85-₹190/sq. ft |
| 6 | Hardwood | ₹78-₹180/sq. ft |
| 7 | Engineered Wood | ₹150-₹250/sq. ft |
| 8 | Porcelain Tiles | ₹35-₹160/sq. ft |
| 9 | Travertine | ₹150-₹250/sq. ft |
| 10 | Limestone | ₹55-₹170/sq. ft |
| | | |
Best Bedroom Flooring Price list
High Grade Natural Quartz
Most Preferred Bedroom Flooring
One of the most preferred bedroom flooring options has to be high-grade Petros® Quartz surfaces. Quartz is not just one of the hardest materials found on earth, but also one of the most aesthetically pleasing and varied flooring options that you could consider for your bedroom.
---
Petros® Quartz is made using high grade quartz minerals, which make the surface extremely low maintenance. Therefore, you do not have to worry over high-end cleaning and scrubbing of the floor from time to time. At the same time, there is no need for sealing or buffing, even without which this can prove to be one of the longest lasting bedroom flooring solutions that you can opt for. Quartz may not be a completely natural material, but has such impressive properties to offer that make it an instant preference compared to other bedroom flooring options.
Pros
As illustrated earlier, Petros Natural Quartz flooring offers attractive, vibrant and colourful design options that will match with your bedroom vibes perfectly. At the same time, you get a lot of flexibility in terms of design because you will always find the perfect quads face off as per your needs.
The already non-porous stone does not demand any external ceiling, saving you inherent costs that come with frequent ceiling and buffing that is required with other stone surfaces.
There is no need to use any harsh chemical cleaners for maintaining a quartz stone surface. Occasional brooming and simple mopping with a damp cloth is enough.
Petros stone services are naturally slip resistant; therefore, you do not have to worry if you have young children or elderly family members in your house, and want to keep them safe against slippery surfaces and related accidents.
They are also naturally resistant to moulds and mildew making them one of the most hygienic options that you could consider for your home. The stone is also quite environment friendly, calling for low to borderline zero maintenance and no toxic emissions at all.
Also, it is incredibly durable and long-lasting as a bedroom flooring material option. The surface endures scratches and abrasions.
---
One of the most preferred natural stone materials for bedroom flooring in the last few years has to be granite. This luxurious an exotic stone can add the much needed elegance to your home interiors, while also being incredibly durable and long lasting at the same time. Add to that the immense diversity of flooring choices that granite has to offer for your bedroom flooring, and it becomes one of the most obvious and preferred solutions adding luxury and style to any kind of interior theme.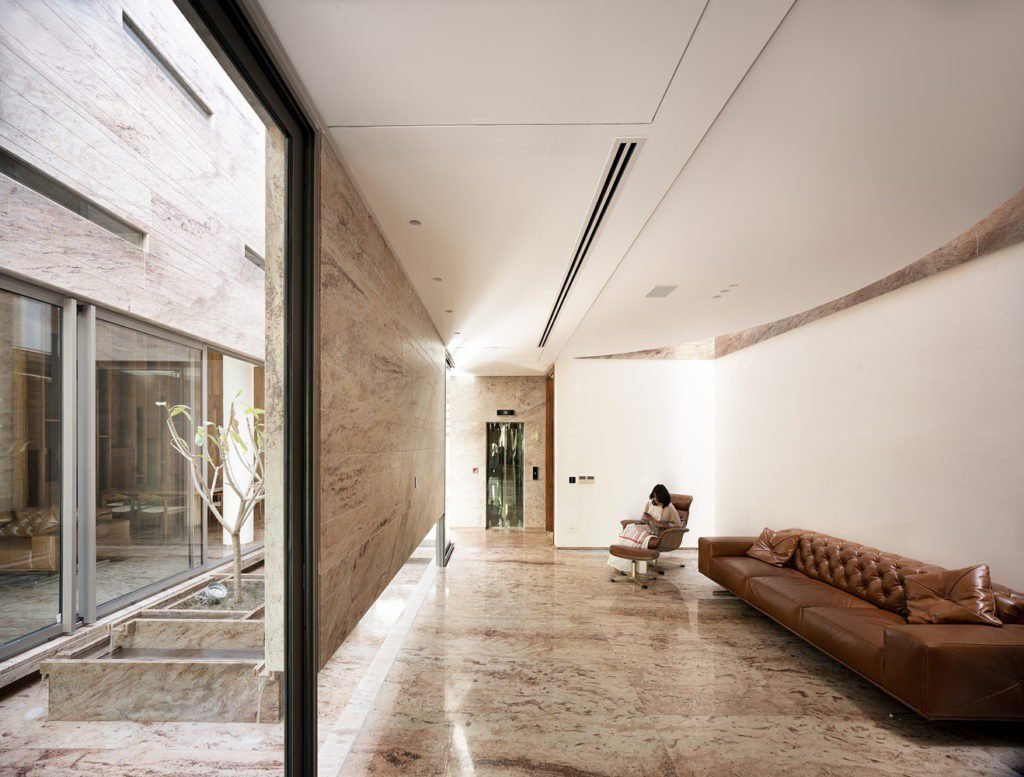 The most remarkable feature of granite has to be its natural characteristic beauty. Homeowners and designers have been using granite to make a solid statement when it comes to spaces such as bedrooms and living rooms. The best part is that with the kind of design variations that granite is available in, there is always a chance to explore options exactly matching the interior style that you are planning for your space.
Pros
Talking about the technical advantages of granite, first has to be its durability. the stone offers superb resistance against scratches and abrasions, being one of the naturally hardest stones you will come across. This means you can easily move around heavy furniture when using granite bedroom flooring without any hassles of damage to the floor.
With proper sealing and frequent maintenance, granite can offer superior longevity compared to other natural stones. You also do not have to worry about water percolation damaging the stone from within.
The incredibly low maintenance stone makes it easy to use it in bedroom flooring, without the hassles of spending time, energy, or money on cleaning the surface every now and then. Simple sweeping and occasional mopping with a damp cloth can do the trick well.
Cons
Another drawback of using granite is the extreme technicality and expertise required for its installation process. This is not just time taking but sometimes a costly affair if you do not have the right guidance or expert to assist you.
Granite also comes in highly polished varieties, making your bedroom flooring highly susceptible to accidents due to slipperiness. While the material is suitable for in-floor heating, it tends to get very cold under foot without such an installation. Therefore, granite for bedroom flooring might not be a feasible choice for places in colder climatic regions.
---
Italian marble continues to be one of the most preferred choices for bedroom flooring not just in India but across the world. The prime reason for this affection towards Italian marble is its high sheen, exotic appearance and an extremely glossy surface, which adds a certain sophistication and class to your interiors.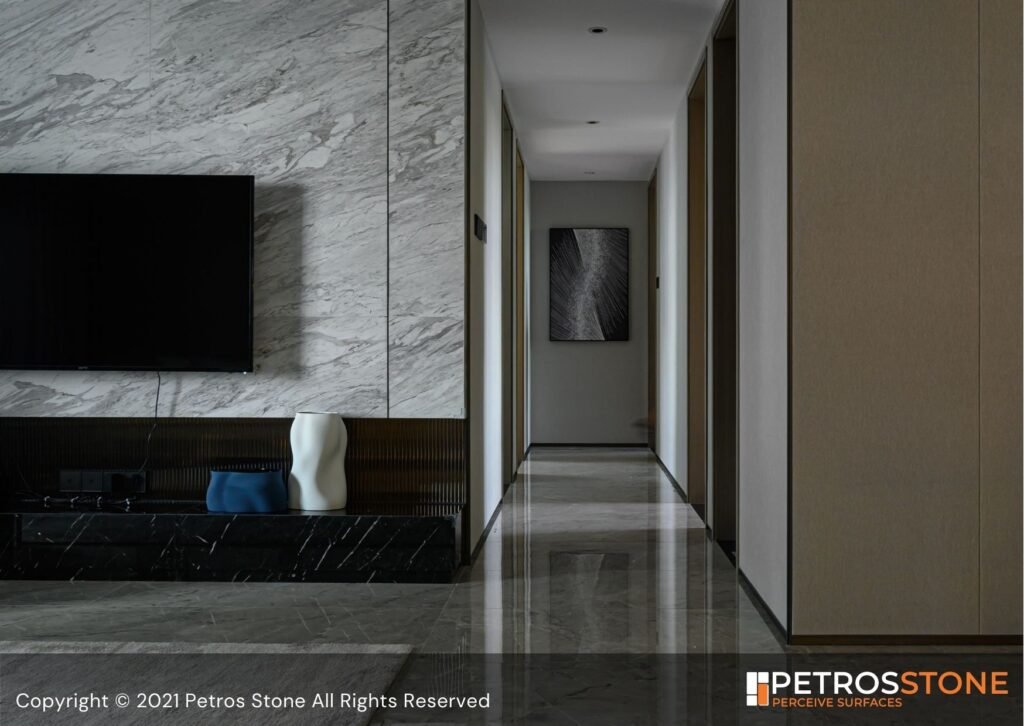 As the name suggests Italian marble is quarried from Italy, northern Italy to be more specific. This makes it clear that Italian marble entails much greater transportation and importing cost than its Indian counterpart. Despite the costs, however, Italian marble continues to be invoked today due to its exotic looks.
Pros
Italian marble is already available in several interesting colour variations such as white, grey, bluish greys, rose, green, and more. Add to this the highly lustrous and glossy surface of Italian marble, and it becomes clear why it is such a priority for some designers and homeowners.
High sheen and glossiness – imparts a sense of luxury to the interior
Durable – though not as strong as quartz or Indian marble, it is certainly durable and wont chip/damage easily.
Cons
Italian marble is softer compared to other options – reducing durability. This is why Italian marble requires nylon sheet backing an extra reinforcement with epoxy resins and gluing of hard stone on edges for an added layer of protection.
Italian marble is very slippery.
Italian marble also demands high quality, experienced craftsmen for laying out the stone perfectly. This is not just more time taking but also entails greater costs.
The environmental sustainability of Italian marble is also questionable. The epoxy resins and nylon sheets that it uses for reinforcement often release toxic chemicals to the environment.
---
Vitrified tiles have quickly assumed one of the most important and preferred positions when it comes to bedroom flooring. These high performance flooring alternatives are manufactured by the process of vitrification which helps reduce porosity of the tiles to a minimum, besides also offering it characteristic strength and stiffness. These strong and hard tiles offer stiff competition to materials like granite or marble. While also coming in assorted design variations making them a commendable choice for modern day bedroom flooring.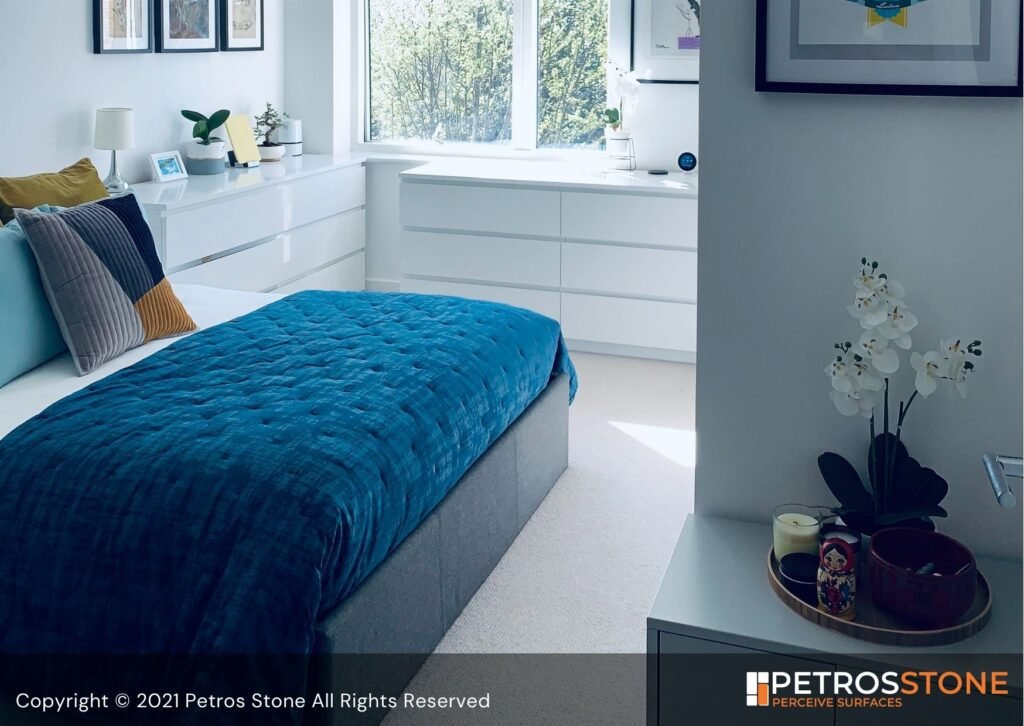 While the non-porosity of vitrified tiles might not come across as a specific advantage for bedroom flooring, this does play an important role when it comes to the long life and durability of the flooring solution. even for areas with high humidity and rainfall, these flooring solutions tend to last longer than traditional options such as marble which are porous in nature.
Pros
One of the biggest advantages of using with provide tiles for bedroom flooring has to be the variety of colour options available.
Vitrified tiles are also super easy to clean and maintain without requiring any strong chemicals for regular maintenance. These tiles can be polished to impart a glossy, lustrous finish that can compete with the natural brightness and appearance of even natural stone alternatives.
Can offer a more seamless look can perfectly ring, besides making vitrified tiles much easier to work with.
Cons
Not very durable – the are prone to cracking and breaking easily. This is because they are thinner and much more brittle.
Talking about the disadvantages of using vitrified tiles, not absorbing any water at all tends to make them more slippery when wet. This can be a cause for concern if you have children or elderly in your house and are planning to use vitrified tiles as bedroom flooring for them.
Vitrified tiles are also not a sustainable option in the long run. Their manufacturing process is quite energy extensive, and really releases huge amounts of carbon dioxide which is an atmospheric pollutant. Talking about economical sustainability, vitrified tiles are expensive to install, making them out of context for people wanting to renovate their home on a budget.
It is not easy to repair and renovate these tiles either. If any single tile gets damaged at any point of time, the only option left is to remove it by cutting the grout lines on the sides, the impact is that the surrounding tiles also end up getting damaged, and you are forced to spend extra on repairing all these tiles every few years.
---
Marble continues to be one of the most opulent and elegant bedroom flooring choices that people chase, despite there being several other alternatives to this natural stone. The reason behind marble being a top favourite among homeowners for decades has to be its exotic looks and subtle charm.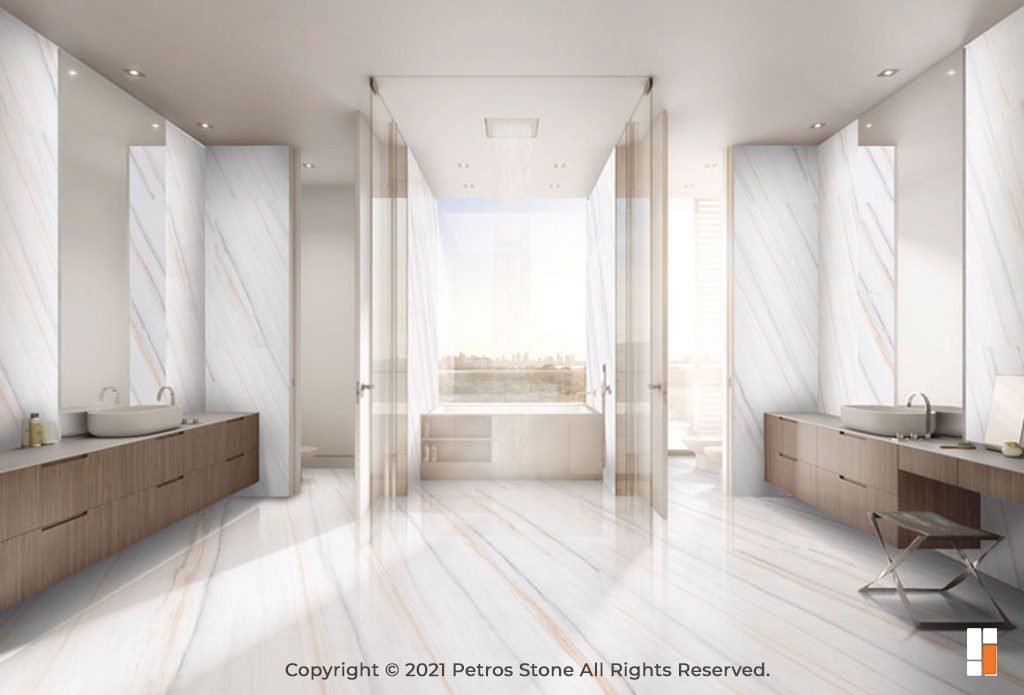 The most interesting aspect of using Indian marble for bedroom flooring is that it is harder than its Italian counterpart while still being as elegant. No two marble slabs are exactly identical and come in impressive colors and striations along with several design choices. There seems to be almost no limit to the kind of shade or pattern you want to pick.
Pros
Some of the reasons why Indian marble might seem like a superior choice for bedroom flooring is that it is quarried from the Indian states of Rajasthan, Gujarat, Andhra Pradesh, and Madhya Pradesh itself. Therefore, there are no hassles of extra costs of transportation or importing involved with Indian marble.
Indian marble is available in colour variations of white, grey, deep yellow, green, red, black and moon, making it a promising choice for those who want to experiment with their bedroom looks.
The harder nature of Indian marble makes it less susceptible to damage compared to its Italian counterpart, an even compared to other softer stones such as limestone. This makes the stone a more durable and long-lasting option for bedroom flooring, where dampness moisture and heat are not concerns.
The installation, removal, renovation of Indian marble requires lesser level of skills of or experience, and hence lower labour charges.
Indian marble also comes across as an environment friendly option, as no toxins or chemicals are used in its extraction, reinforcement, or application processes.
Indian marble also costs much lesser than its Italian counterpart.
Cons
There are a few downsides as well of using Indian marble, the first being that this marble variety does not offer too much sheen. In fact Indian marble offers medium lustre compared to Italian marble which offers very high lustre and gloss.
Even though Indian marble is harder than its Italian counterpart, it may come across as a brittle alternative to tougher stones such as quartz and granite. The hardness of Indian marble also comes with the added disadvantage of heaviness, which makes transportation, installation and renovation all hectic affairs.
---
Hardwood flooring is not just one of the most elegant choices for bedroom flooring, but also one of the most exotic options that can add real estate value to your project. Hardwood flooring has always been associated with special class and elegance, thanks to its natural brilliance of colour and striations along with its subtle touch and pleasant smell.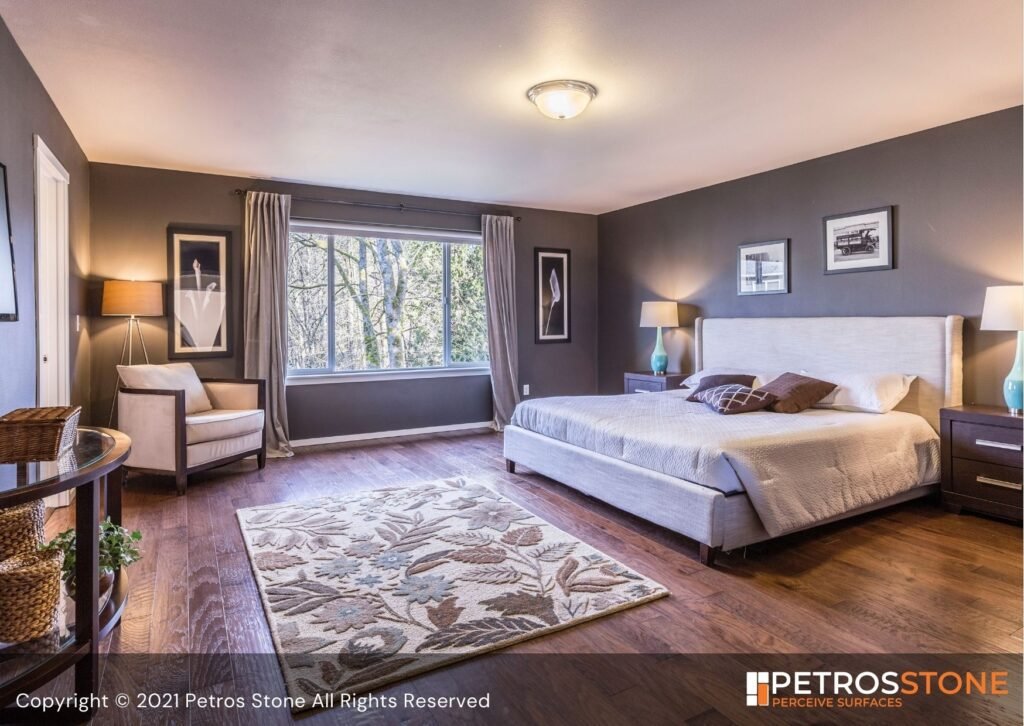 One of the most significant advantages that hardwood flooring has to offer to your interiors is that it can last over a lifetime. The impressive longevity of hardwood flooring comes in stark contrast to options such as carpets, linoleum, or laminates, which cannot resist wear and tear to such an extent as hardwood. This is why many homeowners prefer hardwood flooring as a smarter investment.
Pros
Hardwood flooring, contrary to popular perception, comes in a variety of colours, shades, patterns, and striations. Although one cannot call hardwood floors as extensively varied as materials like quartz or granite, it still offers a lot of interesting variety for people who want to add the real look of wood to their interiors.
The maintenance of hardwood bedroom flooring is also quite hassle free, with simple brooming, vacuuming, an occasional mopping enough to maintain the surface spic and span. This is because natural hardwood has an electromagnetic property, which keeps dirt, dust, and grime at pay. To some extent hardwood is naturally resistant to liquid spills.
Cons
One of the most serious shortcomings of hardwood flooring is that it is quite costly. Compared to cheaper alternatives such as vinyl tiles, carpets, linoleum, or even ceramic tiles, hardwood flooring might not fit everyone's budget.
Hardwood may be resistant to germs and dust, but it cannot resist the growth of termites, especially with poor quality hardwood. These termites ultimately lead to cavities and weakening of the hardwood floor overtime, leading to squeaky sounds every time there is a movement on your bedroom floor. Certainly, this is not the kind of experience that you want for your house.
Hardwood floors had also not completely resistant to abrasions and can also develop stains and scratches over their long life. Some prefer this because it ends up giving a natural rough and where to the hardwood floor, adding to the antiquity and elegance of the space.
However, most homeowners would have to polish their hardwood bedroom flooring every three to four years to maintain the same royal look as before. This calls for additional costs every now and then.
---
One of the most interesting technological products of the modern world when it comes to interior solutions is engineered wood. This material makes up for the poor performance of natural hardwood in terms of durability, waterproofing and design options.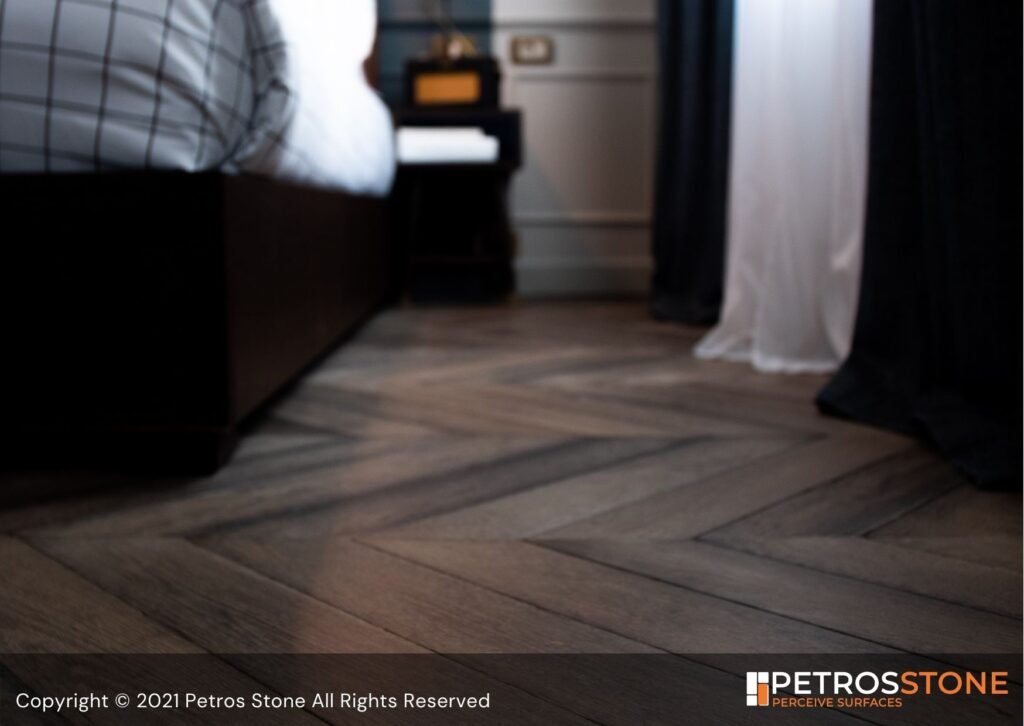 Engineered wood offers a very realistic and authentic appearance, thanks to the use of real hardwood veneer, while taking away the hassles of installation, maintenance of natural wood.
Pros
The most remarkable advantage of engineered wood, as mentioned earlier, is the immense identicality in appearance to natural hardwood. Engineered wood comes with the top layer of real hardwood veneer. This makes it the ideal choice for bedrooms that demand the look and feel of real wood. It is really difficult to tell the difference between real hardwood and engineered wood flooring in this case.
The installation process of these engineered wood planks is also quite simple, while offering the same exotic looks of real hardwood. Quicker, cheaper, and easier to install than their real counterparts, engineered wood planks come with a snap-together feature, making it easy to install.
Another great advantage of using engineered wood is that there is no dearth of options available when it comes to design varieties, colours, patterns, and more. Without much professional assistance required, this is one of the most interesting options you can avail for your bedroom flooring.
Cons
Engineered wood comes with a thin layer of hardwood veneer, which cannot be refinished once this layer has damaged. Hence, you might want to opt for a thicker veneer layer in engineered wood planks for a more long-lasting solution.
No matter how much resistance the engineered wood provides, it is always prone to some extent of damage from scratches, dents and abrasions if not handled well. Considering you wouldn't be exposing the bedroom flooring to standing water, you do not have to worry about water percolation and related damages. However, still make sure to pay attention to frequent sealing, lest the bedroom flooring should experience some trouble.
---
While not extensively used in the mainstream for bedroom flooring, porcelain tiles are all about strength, durability, and toughness. These flooring solutions have been used for several decades now, and have traditionally been preferred for their toughness and durability alone. However in recent times, porcelain tiles have emerged as one of the most flexible bedroom flooring solutions, available in a range of shapes, sizes, and designs as suit in your space.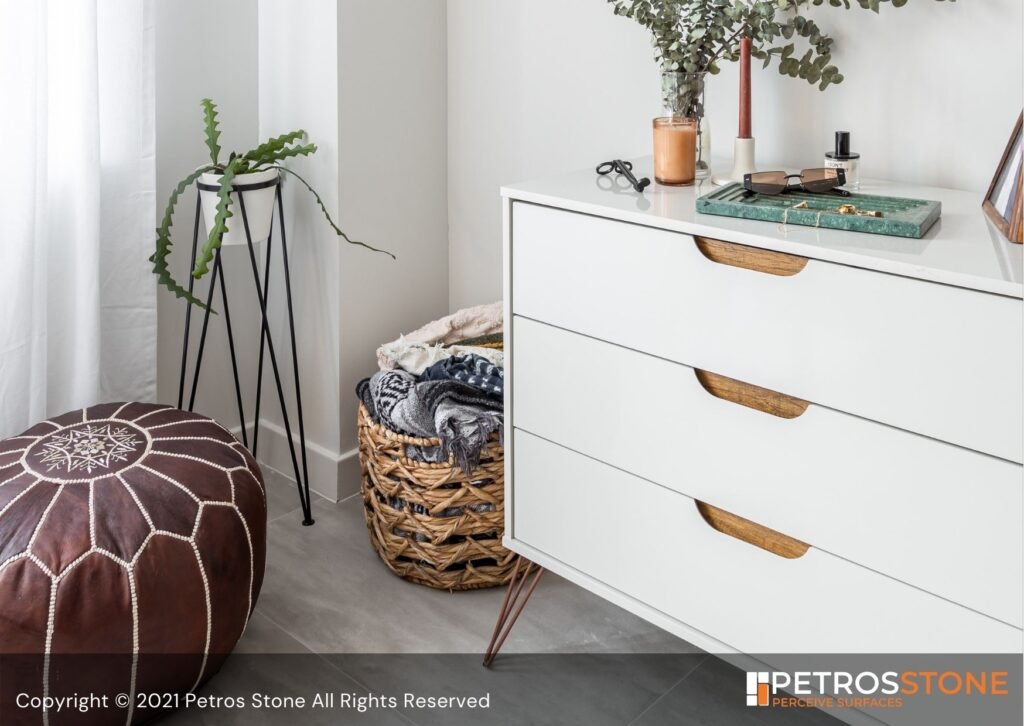 The manufacturing process of porcelain tiles itself incorporates a high level of strength and durability into these materials. As a result, porcelain tiles have emerged as one of the most preferred flooring solutions that come with impressive efficiency.
Pros
Talking about the advantages of porcelain tiles, the first has to be the limitless design variations that they are available in today. Unlike a few years ago, when the number of shades and patterns of porcelain tiles was largely limited, the manufacturers of today are coming up with several interesting variations of porcelain tiles that can suit the evolving tastes of Indian homeowners. Architects and Interior Designers find porcelain tiles very intriguing, because of the same extent of design variations available.
When talking about bedrooms, porcelain tiles and their waterproof nature entails incredibly low maintenance and the absence of any kind of staining.
Cons
Porcelain tiles might be rough and tough, but they are also brittle to some extent, therefore porcelain tiles might easily chip off with the application of a sudden force.
The surface may be too slippery and prone to accidents. This might be unwanted in homes with children and the elderly.
---
Travertine is yet another material that is not so commonly used as a bedroom flooring choice. However, contrary to popular perception, it turns out to be a smart investment if you seek the looks and feel of Italian marble without its huge costs. No wonder, travertine is also commonly used in the western world extensively in their interiors.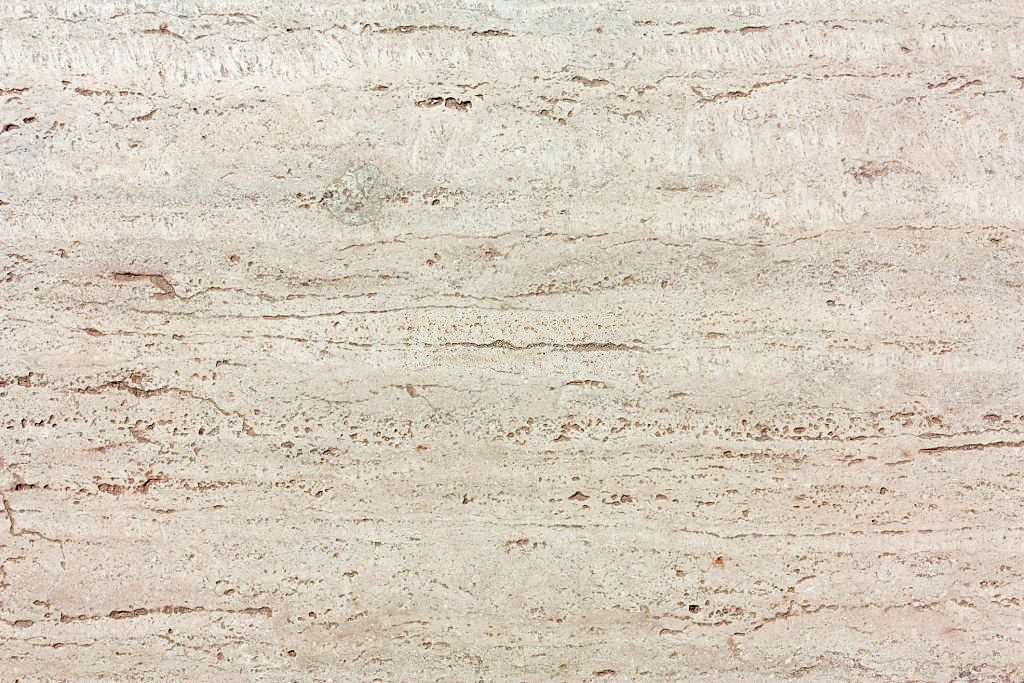 The characteristic of travertine has to be its brilliant earth end tone colours an characteristic rustic charm. this beautiful look of travertine is a result of its formation around mineral spring deposits, and the stone comes in shades of tans, browns, rust, beige and other attractive colours. Not just this, the stone is easy to maintain an impressively tough, but more about their advantages later.
Pros
The impressive hardness and rigidity of travertine makes it perfectly suitable for areas with high footfall.
At the same time, travertine is incredibly easy to maintain. Therefore, you can simply use regular brooming an occasional mopping to keep your bedroom flooring spic and span.
Cons
However, travertine flooring comes with its own set of drawbacks. Firstly, travertine is very costly compared to economical alternatives like floor tiles, carpets, or even wooden laminates.
Even though you plan on use travertine bedroom flooring, you might want to seal the surface frequently from time to time to reduce its porosity and hence susceptibility to water percolation as well as training.
---
There is good reason why limestone is always so much in demand, especially for bedroom flooring solutions. The natural attractiveness and aesthetic beauty of the stone comes paired with its impressive durability and strength.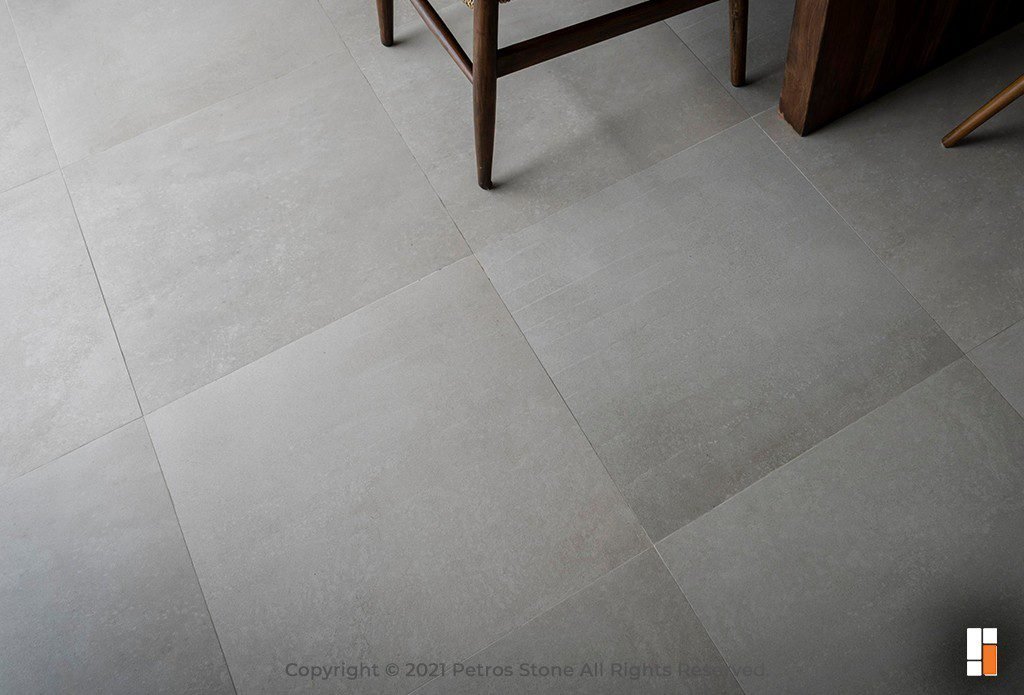 After all, limestone is formed organically out of the deposition of calcium carbonate by sea animals in warm waters, such as corals, algae, and seashells. This impressive natural process not just lends limestone its characteristic durability, but also its unique aesthetics even in the form of fossil deposits.
Pros
Therefore, when thinking of using limestone for bedroom flooring, the first advantage that comes to mind is its impressive durability and strength. The stone has a very long life naturally, thanks to its mineral composition, making it resistant to scratches and abrasion.
Secondly, limestone is quite affordable compared to other natural stone alternatives such as marble or granite for bedroom flooring. Therefore, if you are thinking of renovating your bedroom but have a tight budget, limestone is the perfect choice for you.
Added to all these advantages is that of the exotic beauty of limestones. Some samples contain imprinted fossils of marine animals, adding to the uniqueness an aesthetic value of limestone surface is. This also makes it easy for the stone surface to blend in with any interior style.
Limestone is also quite environment friendly, with no toxic emissions to fret over either during its manufacture, processing, or installation.
Cons
Not very easy to maintain.
Limited colour options.
---
Get Help by Experts for your Bedroom Flooring
Still confused about the best bedroom flooring options? Our expert consultants will guide you on the best options for you.
Interested? Get in touch today with Petros® Stone