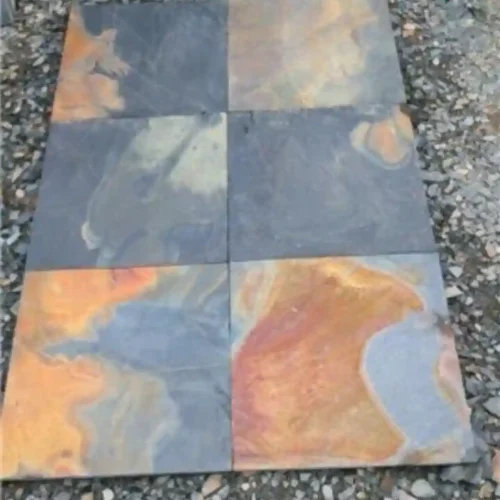 Description
Vijaya Gold Slate is a stunning natural stone that captures the essence of opulence and timeless beauty. With its rich gold and brown tones, along with unique textures, this captivating material adds a touch of luxury and warmth to a variety of interior and exterior design projects.

Key Features:

Luxurious Gold Hues: Vijaya Gold Slate showcases a captivating range of gold and brown tones, evoking a sense of luxury and grandeur. The shimmering colors create a lavish visual impact that exudes elegance.

Textured Sophistication: The natural textures of Vijaya Gold Slate create a tactile and visual experience. Its intricate patterns and variations add depth and character to surfaces, elevating the overall aesthetic appeal.

Versatile Glamour: From traditional opulence to modern chic, Vijaya Gold Slate adapts seamlessly. Its lavish appearance serves as a versatile backdrop for a range of design styles, infusing spaces with an air of sophistication.

Interior Splendor: Elevate your interiors with the splendid charm of Vijaya Gold Slate. Whether used for flooring, accent walls, or decorative elements, this slate imparts a sense of luxurious grandeur.

Enduring Durability: Crafted by nature's forces, Vijaya Gold Slate offers not only visual allure but also lasting strength. Its robust nature makes it an ideal choice for areas with high foot traffic, ensuring a design statement that stands the test of time.

Classic Fusion: Blend contemporary aesthetics with the classic allure of Vijaya Gold Slate's rich tones. This stone can seamlessly integrate into modern designs while adding a touch of timeless allure.

Indoor and Outdoor Elegance: Extend the opulence of Vijaya Gold Slate from indoor spaces to outdoor areas. This continuity creates a harmonious and inviting atmosphere that bridges the gap between interior and exterior design.

Practical Opulence: Vijaya Gold Slate's resistance to heat and moisture enhances its practicality. Incorporate it into kitchen surfaces, outdoor walkways, or decorative accents for a touch of enduring luxury.

Low-Maintenance Grandeur: Embrace the low-maintenance nature of Vijaya Gold Slate. Its straightforward care routine allows you to enjoy its opulent beauty without excessive upkeep.

Distinctive Identity: Each piece of Vijaya Gold Slate displays unique patterns and shades, contributing to an authentic and personalized design. These natural variations enhance the individual character of your space.

Timeless Grandeur: Vijaya Gold Slate's timeless charm ensures that your design projects radiate grandeur and sophistication for years to come. Its enduring allure makes it a valuable addition to any design endeavor.

Step into a world of opulence and luxury with Vijaya Gold Slate as it transforms your spaces into showcases of timeless elegance. Whether you're seeking to create a lavish retreat or infuse a modern design with a touch of richness, this natural stone offers the perfect blend of captivating aesthetics and lasting style. Embrace the allure of Vijaya Gold Slate and embark on a design journey that celebrates the luxurious beauty of nature.
Specification