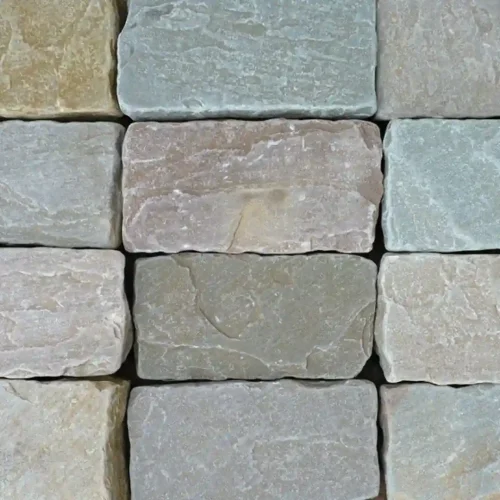 Description
Embark on a journey through history and elegance with our Raj Green Cobbles. These cobbles evoke the grandeur of ancient landscapes, infusing your outdoor spaces with a sense of regal charm and timeless beauty.

Key Features:

Echoes of Majesty: Immerse yourself in the majestic hues of Raj Green with our Cobbles. These stones encapsulate the aura of historic landscapes, bringing a touch of royal elegance to your outdoor sanctuary.

Crafted with Heritage: Each Raj Green Cobble is meticulously selected and crafted to reflect the essence of enduring quality. Their exquisite workmanship ensures a harmonious blend of history and aesthetics.

Versatility in Opulence: Whether you're curating a traditional opulent space or a fusion of classic and modern design, these cobbles seamlessly meld into diverse styles, allowing you to design spaces that embrace regality.

Textures of Legacy, Visual Grandeur: The cobbles' textured surface not only adds visual depth but also tells stories of the past. Engage with your outdoor space on an intimate level, as you experience the unique textures of each cobble.

Why Choose Raj Green Cobbles:

Regal Ambiance: The dignified hues of Raj Green cobbles recreate the grandeur of historic landscapes, enriching your environment with an air of majesty.

Design Heritage: From ornate pathways to elaborate patterns, Raj Green Cobbles offer you the canvas to recreate the charm of historical estates in your outdoor spaces.

Enduring Legacy: The timelessness of Raj Green, coupled with the durability of the stone, ensures that these cobbles continue to exude their regal allure over generations.

Elevate your outdoor spaces with the resplendent beauty of Raj Green Cobbles. Let the heritage of bygone eras inspire your landscapes, creating an outdoor haven that pays homage to the elegance of history. Your journey towards a majestic outdoor environment begins here.
Specification