Choosing the right kitchen countertop can be difficult, especially because picking the incorrect material can have irreversible consequences.
High-Grade Quartz is the best option for kitchen countertops followed by granite. Regular grade quartz and marble are less advised for kitchen countertops.
In this guide, we aim to help people choose the best of the above three options for their Indian kitchen countertops. Not only this, but we also uncover the honest truth about these materials and help you choose the right one for your kitchen.
Quartz or Granite – Which is the best countertop material for Indian Kitchens?
High-Grade Quartz is the best option for Indian Kitchen Countertops. High-Grade Quartz kitchen platforms might be relatively expensive but they last longer, incur lower maintenance costs and at the same time give you a lot of flexibility with colour and design.
Quartz Vs Granite Vs Marble – Which is the best for Kitchen Countertops?
Quartz – Sealing is not required and you want a beautifully engineered stone countertop that is low maintenance, quartz will be a great fit for your home.
Granite – If you are looking for a material that offers a variety of colours and styles, is durable and is low maintenance, granite is an ideal countertop choice for you. However, sealing is required to prevent absorption in some granite colours.
Marble – If you are looking for a countertop that possesses a timeless appeal, comes in a variety of colours, styles, with high durability, then marble is a perfect choice. Though, it is important to keep in mind that maintenance (includes re-sealing every few months) is mandatory and you should be willing to exercise an adequate amount of caution to prevent corrosive spills on the stone.
Three major options to consider for kitchen countertops are:
1. Quartz (Engineered Quartz Stone Slabs)
2. Granite
3. Marble
---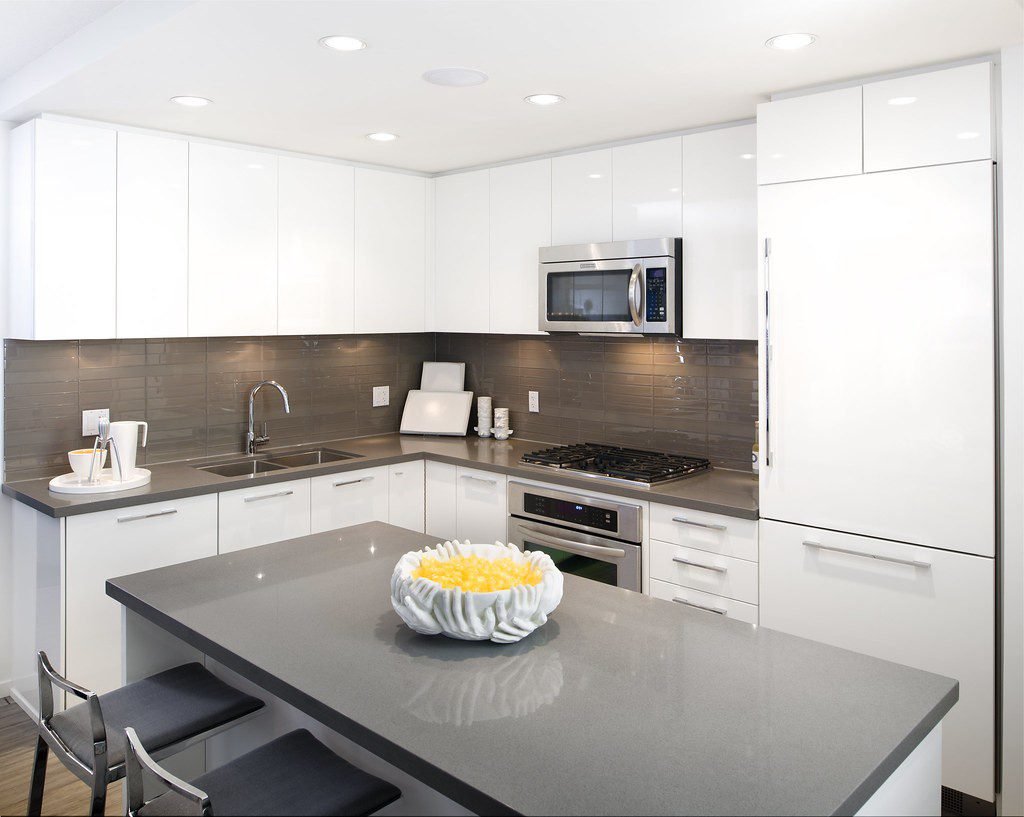 Quartz Stone Slabs for Kitchen Countertops
Quartz countertops consist of 90-97% ground natural quartz and 5-10% polymers & resins. The percentages differ between brands, a higher quartz composition ensures better overall quality of the slabs. Quartz countertops are becoming increasingly popular due to the various advantages they possess.
Properties of Quartz Stone Slabs (Engineered Quartz Countertops)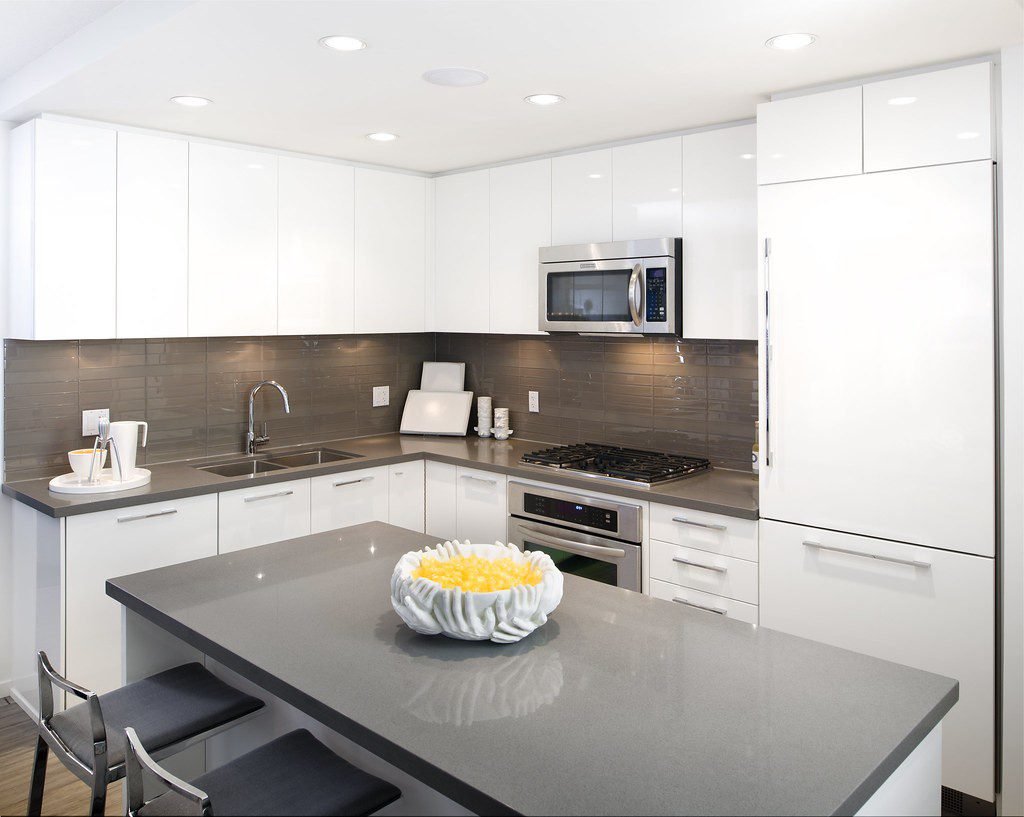 These surfaces are incredibly attractive as they are engineered and customized to produce any style – including styles that look natural (marble granite) as well as extra-ordinary (deep blues and greens)
The surface hardness of quartz is greater than glass, granite countertops and most metals – making it exceptionally scratch resistant.
Resistance to scorch Marks: It can resist short exposures to heat.
Non – Porous: They do not absorb water or other fluids
The overall quality level of a quartz stone slab is determined by the grade and composition of quartz used in the manufacturing process. There are various types of quartz available in the market such as:
High-Grade Quartz Stone Slabs
High-grade quartz stone slabs use a high composition as well as a better grade of quartz in their surfaces. They are considered to be the best for kitchen countertops due to their durability and easiness to clean and maintain. They are much more scratch and heat-resistant.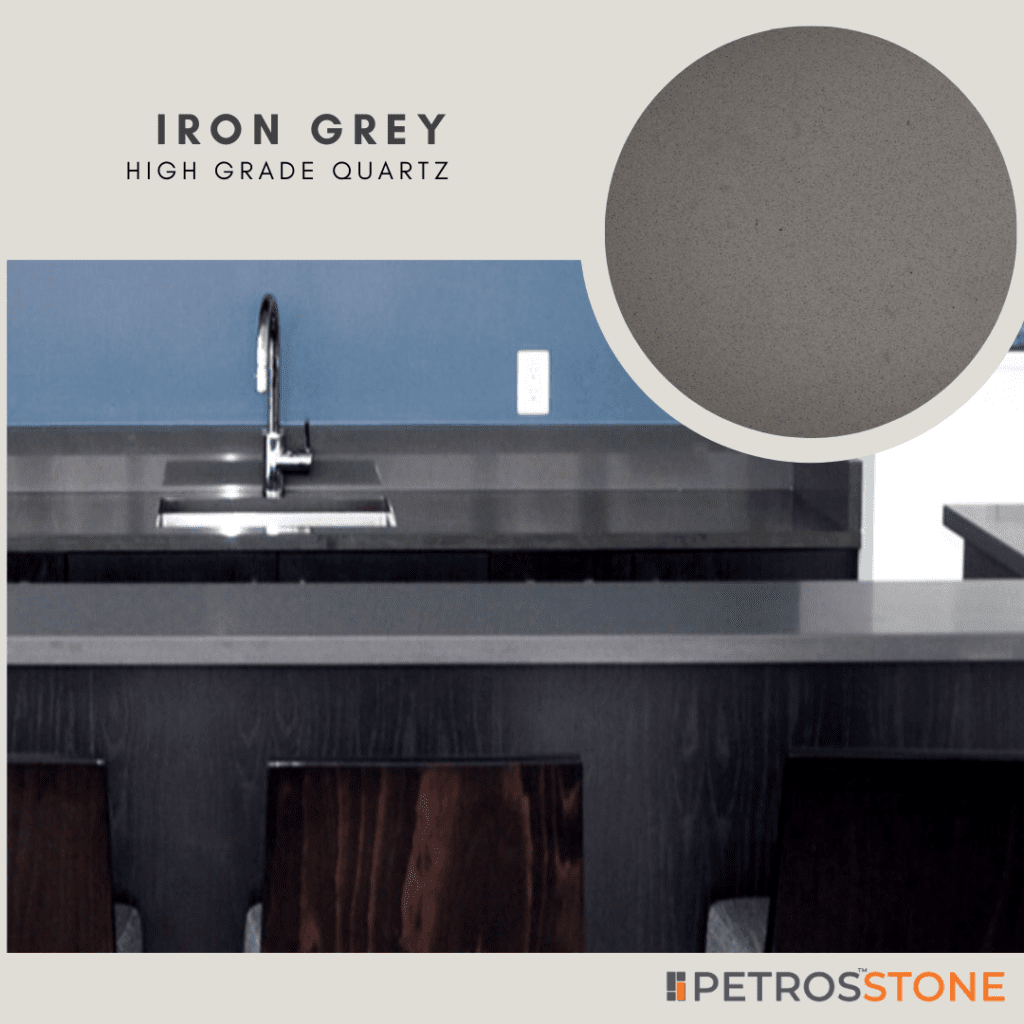 Regular-Grade Q.C & Tested Quartz Stone
These are considered to be good quality quartz which offers a lower but yet great quartz composition and quality.
Many rich colours and designs are readily available.
This is the most common type of quartz countertop.
Second Grade or Second Choice Quartz Stone
This quality has numerous spots, mixing errors and could include discolourations throughout the slab. Second-grade quartz is usually used for economical applications. They are rejected from the Q.C section due to manufacturing errors. Avoid these type of quartz stone slabs.
Advantages and Disadvantages of Quartz Countertops
Quartz is one of the hardest minerals on earth. Small amounts of metallic flecks and glass are added to form beautiful countertops. These have certain advantages and disadvantages attached to them:
| | |
| --- | --- |
| Advantages | Disadvantages |
| Ø Beautiful and attractive designs | Ø Cannot withstand very high levels of heat |
| Ø Large variety to choose from in terms of design, colours and textures | Ø Relatively expensive |
| Ø It is resistant to bacteria and staining since it is non-porous | Ø Difficult to handle and fit compared to granite |
| Ø It has a very high durability | Ø Not suitable for exterior applications |
| Ø They do not require sealing | |
Advantages and Disadvantages of Quartz Kitchen Countertops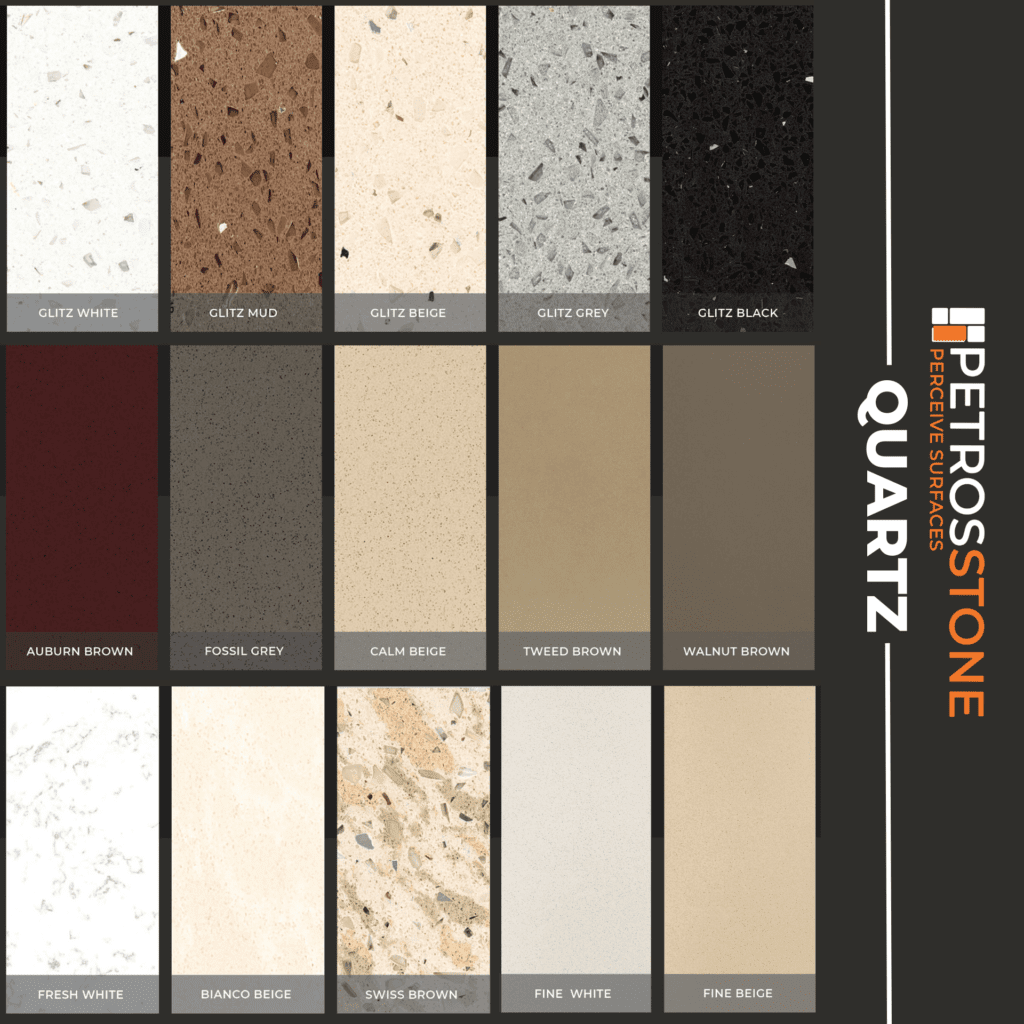 What is the price of Quartz Countertops in India?
The price of Quartz Countertops begins at ₹195 per square foot. However, high-grade quartz stone slabs are usually priced between ₹375-₹675 per square foot. Imported and exotic quartz stone slabs may be priced above ₹1275 per square foot
What is the price of installation of Quartz Countertops in India?
The cost of installation of a quartz countertop is approximately ₹850 to ₹2000 per square foot, inclusive of supplementary material and labour charges. Fitting charges may be high but it's better to hire skilled personnel as these surfaces are expensive and may be tricky to properly fit.
What is the thickness of Quartz Stone Countertops?
The right thickness of quartz stone slabs ranges between 12 and 30 millimetres.
What is the size of Quartz Stone Slabs?
The usual Quartz Stone Slab Size is 4.75ft x 10ft. It is exactly 1400mmx 3100mm. However, high-Grade quartz stone slabs can be 1600mm x 3200mm in size.
How to buy Quartz Stone Slabs?
To buy quartz stone slabs, you can look into all the major brands. In India, some of the major brands are Petrosstone, Caeserstone, Silestone, and Corian. Sticking to these high-grade quartz brands is usually safe. Make sure you check the size and note the warranties provided by the brand.
To learn more, visit our article on the best quartz brands in India to get more details and information on how.  Quartz can closely compare with granite and marble but it is a far better option than solid surface countertops
---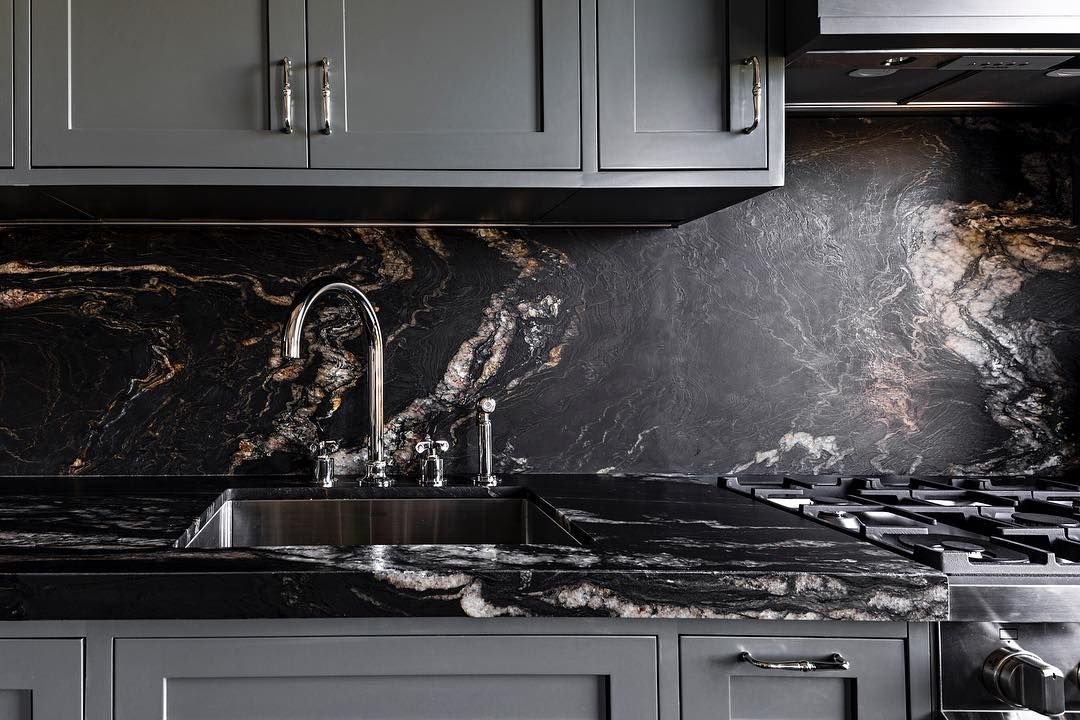 Granite Countertops – Granite Slabs for Kitchen Countertops
Granite a natural stone and a durable one. It does not stain like marble would, though it does stain with time. They have always been the most popular, beautiful, and tough surfaces one can find. There is plenty of variety in terms of colour and styles to choose from. Most customers prefer granite because of its durability which stands to be one of the most important attributes of any kitchen countertops.
Some granite countertops require sealing. If sealing a countertop is not a problem for you then granite offers various advantages. Sealing has to be taken care of roughly once per year which is no major maintenance. Granite's mineral composition is mostly quartz and feldspar.
Properties of Granite Slabs
One of the most beautiful and natural stones available in a variety of colours and styles.
Durable if kept with proper care.
They are heat resistant
Scratch and stain-resistant
Granite Kitchen Countertops – Advantages and Disadvantages
| | |
| --- | --- |
| Advantages | Disadvantages |
| Ø Attractive designs and colours | Ø Requires yearly sealing. (Not required for some granite) |
| Ø Resistance to heat, scratches, and stains. | Ø Granite can be expensive |
| Ø Durability | |
| Ø Brings natural beauty in home spaces. | |
| Ø They do not require sealing | |
Advantages and Disadvantages of Granite Kitchen Countertop
Which is the best granite for Kitchen in India?
The granites from India are hard and acquire excellent polish. The quality is much superior to Chinese and Brazilian granite. And there are more than 140 types of granites available in India alone.
We have listed some types of granite which are more often used in a kitchen set-up:
1. Lakha Red Granite
Also known as the Royal Red Indian granite is a great choice for interior and exterior walls and countertops. Imperial red granite usually costs about ₹250/square feet.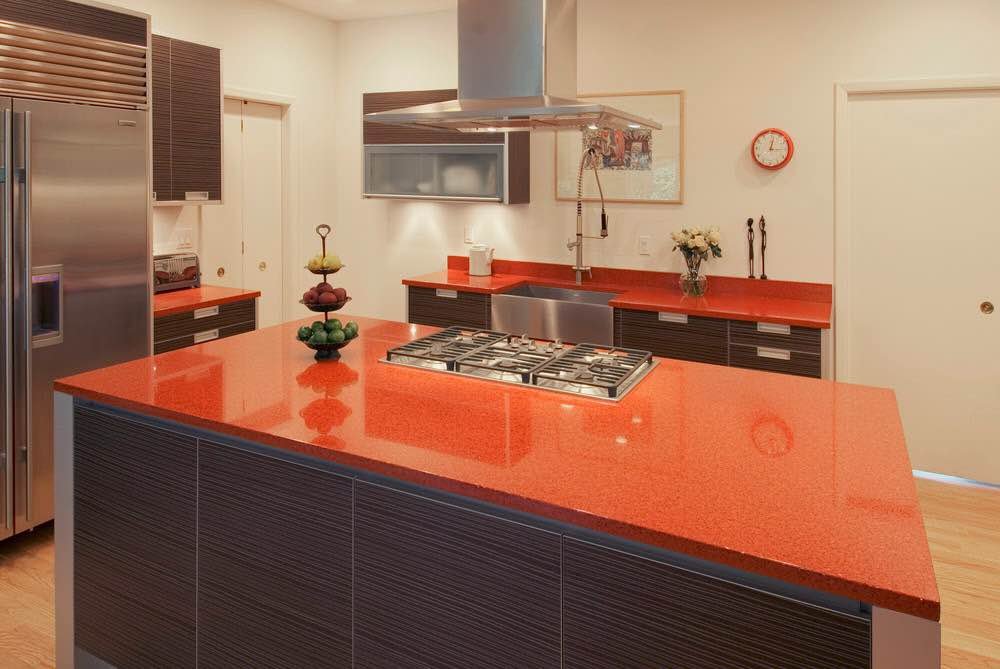 2. Black Cosmos Granite
It is one of the best black granites in India. These are very common and popular among Indian households as they tend to look the same for years. It is usually available for ₹190/Square feet.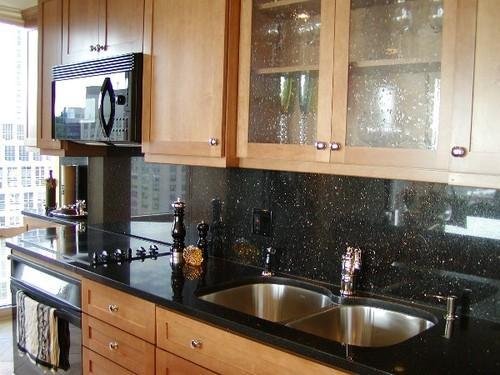 3. Flash Blue Granite
It gives an amazing non-textured and smooth look. It has beautiful crystals that flash when light hits them. These are available for Rs. 120 – 275/Square feet.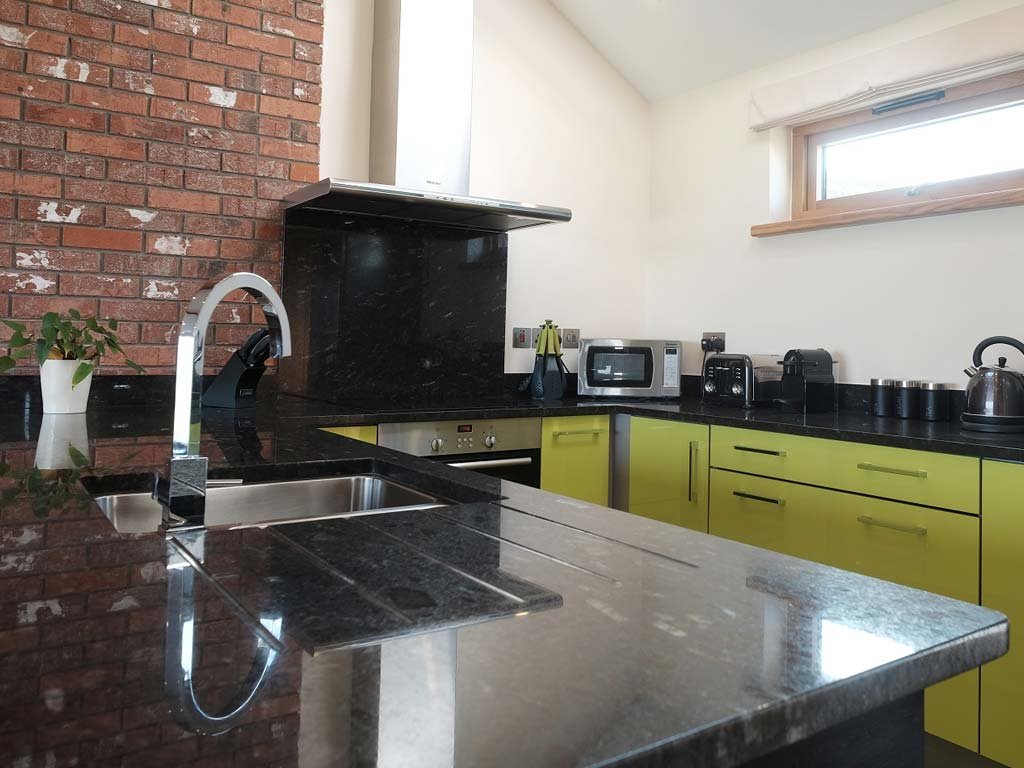 Granite is a natural rock that is cut in its natural state and is then polished for use in homes. The above table gives us a fair idea of the mineral but let's dive into details that can help you find it at the right location and right price.
Where to buy Granite for Kitchen Countertops?
For certain needs, it may actually be easier to just get in touch with local granite and marble dealers in your city. However, it is essential to ensure the quality of granite. You can learn more about the best granites in India as well as their prices here.
Petrosstone provides a wide range of varieties for granites in India. We follow very strict quality control measure to ensure that your kitchens look and stay excellent for decades. These have been procured from all across the world and can be specially curated for you according to your needs.
In India, the Aravali Mountains and the plateau of Deccan are the major sources of granite. Most of it sources from the states of Tamil Nadu (Shoolgiri, Selam, Madhurai, and Chennai) Karnataka (Bangalore Mysore), Andhra Pradesh (Vishakhapatnam, Ongole), Telangana (Khammam, Hyderabad, Karimnagar), Rajasthan, Gujarat, Orissa, and Madhya Pradesh. Even West Bengal, Jharkhand, and Chhattisgarh are very rich in granite deposits. India is a huge hub for a variety of granites
What is the price of Granite for kitchen countertops in India?
An average kitchen countertop granite averages around ₹100 – ₹200/ square feet depending upon the type of granite chosen. Commercial qualities can be as low as ₹60/square feet and imported granite slabs can cost as high as ₹5000/square feet.
What is the thickness of granite for kitchen countertops?
The thickness of Granite slabs ranges between 16 and 20 millimetres. Usually thickness is not a major concern as granite is extremely hard and durable.
---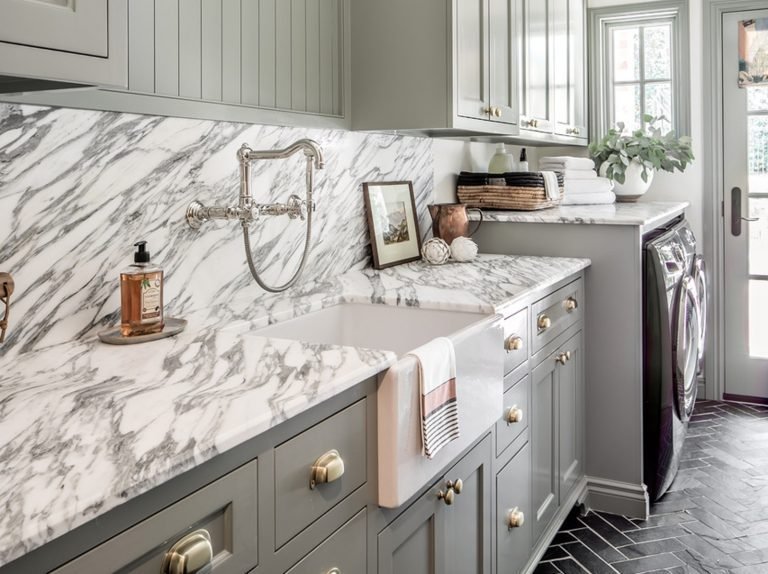 Marble Kitchen Countertops – Marble for Kitchen Platforms in India
Marble is a classic when it comes to building materials. It has been used for centuries and is widely popular and accepted in India. This is evidenced by the fact that natural stone has been used to build the world's most famous statues. Since marble has been residing in houses of individuals for generations, many homeowners simply feel that there is no stone as beautiful as marble.
Properties of Marble Slabs for Kitchen Countertops
The properties of marble are:
Marble is also a porous stone, so it's more prone to staining due to harsh cleaning products or acidic liquids
They scratch and scuff more easily than other surfaces, such as granite or quartz.
Marble is considered as the "blue jeans of countertops" – they show the wear and tear of life, but that's also what gives them their character.
Despite the popularity and widespread usage, marble comes with various disadvantages, when being used for kitchen platforms. Thus it is important to take a look at all the pros and cons before making a purchase decision:
Marble Kitchen Countertops – Advantages and Disadvantages
| | |
| --- | --- |
| Advantages | Disadvantages |
| Ø Timeless appeal | Ø Requires frequent maintenance |
| Ø Huge variety of styles and colours are available | Ø Acidic substances and harsh cleaners can cause damage |
| Ø It can be carved into and be customized | Ø Requires sealing very often. (Few times a year) |
| Ø Brings elegance in home spaces | |
Advantages and Disadvantages of Marble Kitchen Countertops
Which is the best marble for Kitchen countertops in India?
Here, we have curated some popular types of marble which are widely known for their use as kitchen countertops:
1. Calacatta Marble Kitchen Countertops
Calacatta is considered to be the most luxurious marble type due to its rarity. It has veining patterns and is bright white. It is extremely expensive but can add a different level of rich tone to your kitchen.
2. Crema Marfil Marble Kitchen Countertops
It is a Spanish marble known for its varying tones with irregular patterns. Generally, it is used in combination with dark coloured marble to subdue the light colour. Also an excellent choice for your kitchen countertop.
3. Levadia Black Marble Kitchen Countertops
It is a Greek marble with greyish white fine veining in a smoke spot pattern. It looks classy and is recommended to those kitchens with a high ceilings.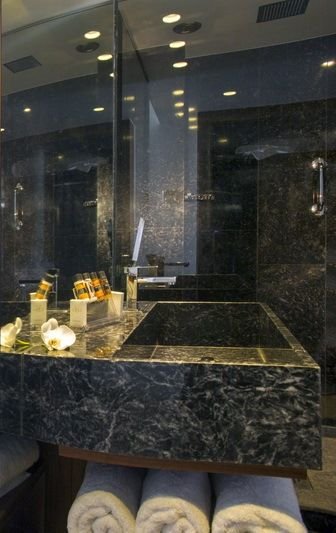 Where to buy Marble in India?
India has various locations to buy marble from. Petrosstone provides premium quality marble to its customers which makes it an ideal stop for purchase.
Price of Marble Kitchen Countertops
The price of marble is very variable across India. You could get it for as cheap as ₹19/Square feet to ₹800 /Square feet for Indian marbles. The price range for imported marble range from ₹170-8000/ Square feet.
Petrosstone, which is also one of the largest importers of marble from places like Italy which is very well known for its marble qualities. We at Petrosstone can help you navigate through the whole journey seamlessly. Please contact us and get a free consultation from our experts.
Alternative Kitchen Countertop Materials – Other than Granite, Quartz and Marble
There are several other types of countertops that are available in the market such as metal, glass or solid-surfaces. Though a stone has its charm and richness, other types of countertops can also be highly attractive in a kitchen space.
Metal Kitchen Countertops
Recently, these have displayed themselves as a very stylish and unique kitchen countertop material. They are sleek, heat, and chemical resistant. They are very easy to clean. On the other hand, they also have their disadvantages such as inferior durability, prone to get a lot of smudges and fingerprints and turn out to be noisy. In India, metal kitchen countertops would cost around ₹350 – ₹750 per square feet.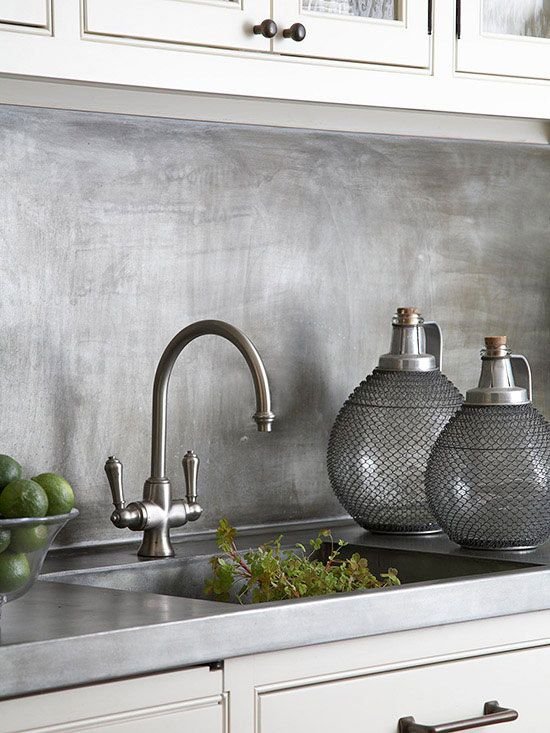 Glass Kitchen Countertops
Glass is one of the most versatile and unique materials available and is becoming more and more popular in the kitchen as designers and homeowners embrace more imaginative designs. Variety of colours and textures and available. Advantages include high durability and excellent stain-resistance.
On the other hand, sharp or heavy objects can lead to cracks or dents. They can be very costly to repair. In India, they would cost around ₹285-₹550 per square feet.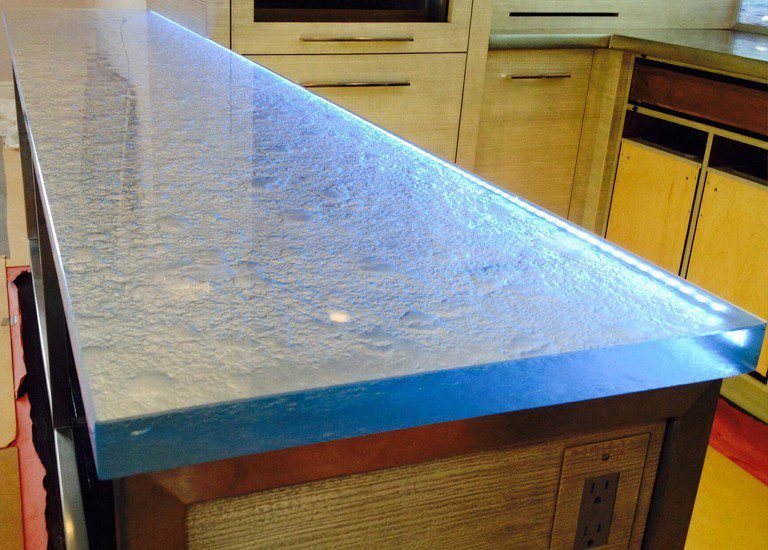 Solid Surface Kitchen Countertops (e.g. Corian)
Residential kitchen designs are moving up to a whole new level – fashioned from high-performance solid-surface countertops.
In India, these would cost around ₹700 – ₹1400 / Square feet.