Natural Stones have been considered a staple of building materials for the longest time now. In fact, down the ages rulers and builders have been resorting to such exquisite natural stones for the most delightful wall cladding solutions.
The impressively durable natural-quartzite and aster-grained granite have always been considered two of the best options for exterior wall cladding in India. The reason behind such preference is that they not only offer impressive strength but also striking resistance to damage from UV rays and inclement weather conditions. Further more, they look extra-ordinarily beautiful.
However, there is an entire range of other natural stones that can also be used to create magnificent buildings in the form of external wall cladding solutions. In this article, Petros Stone Surfaces will be exploring 11 such interesting examples that are a favorite among architects and engineers for different reasons.
---
11 Best Natural Stones for Exterior Wall Cladding in India
River Basalt
The dark, blue-grey volcanic stone of river basalt comes under the category of igneous natural rocks. The brilliant stone is suitable for both interior and exterior wall cladding needs, thanks to an array of important characteristics that make it durable, resilient and long-lasting.
Pros
One of the most important highlight of river basalt natural stone is its characteristic hardness and durability, thanks to its long history of formation within fiery volcanoes.
The stable wall cladding solution does not corrode away easily, and puts up stiff resistance against any damage from harsh rays of the sun.
The classic and timeless elegance that river basalt can lend to your building is unmatched, with a characteristic raw look and vigour that makes your building appear much more seasoned and stronger.
Once installed, maintenance of river basalt exterior wall cladding is pretty hassle-free. They do not need to be replaced often, and any dirt or dust does not reflect easily on their textured surface.
Cons
However, one of the strongest drawbacks of using river basalt exterior wall cladding is that the material is fairly porous. Hence, it might not be the best option in areas with high rainfall, unless the surface has been treated for waterproofing.
Another disadvantage of using river basalt exterior wall cladding is that it offers poor resistance to twists and turns. Therefore, if you are planning on using basalt natural stone over a large area of your building, ensure that the region is not prone to frequent earthquakes and ground movements, lest your external cladding should reflect cracks and damages.
Takeaway
River Basalt can turn out to be the perfect stone cladding option for areas with less rainfall and less susceptibility to harsh weather. Opt for this natural stone exterior wall cladding for its characteristic blue-grey colour and handsome style statement.
---
Gneiss
One of the most common commercial varieties of natural stones used in buildings, gneiss is often misconstrued for granite. Though the two stones are quite similar in their make and characteristics, there are quite a few characteristics that render them apart.
Gneiss is actually a metamorphic version of granite, which means that it forms when granite is subjected to extreme heat and pressure. The components of the two stones are quite similar, and both boast of interlocking minerals that lend them their characteristic non-porosity.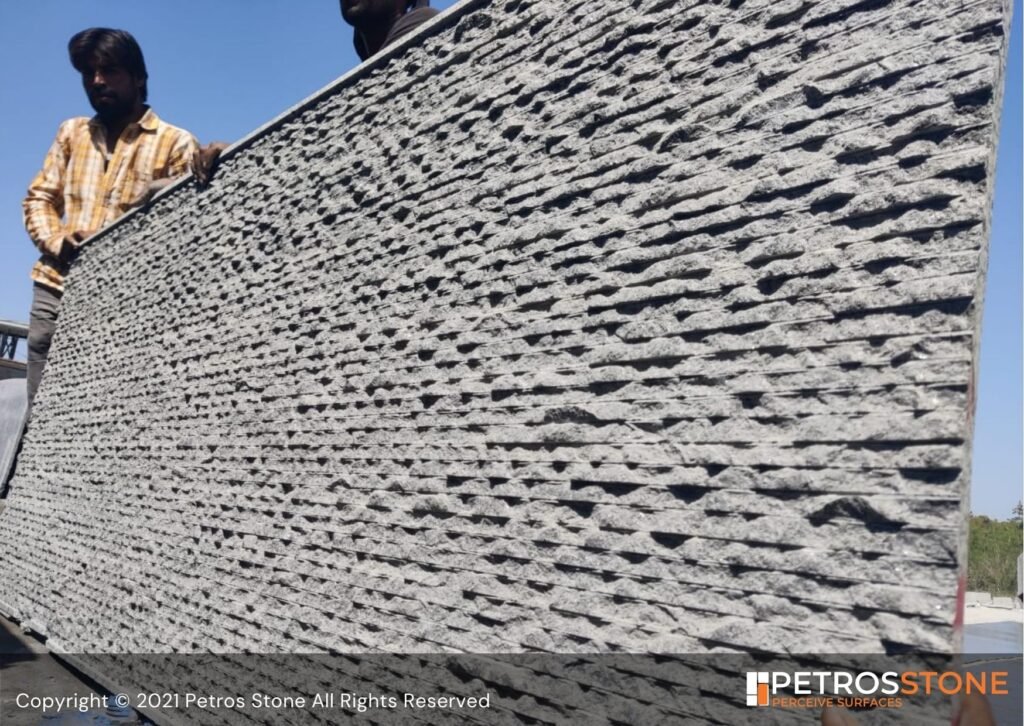 Pros
The first highlight and also one of the differentiating points between gneiss and granite is that gneiss offers a much more visually interesting premise. From stripes to linear bands, flowy striations to grainy swatches, gneiss boasts of an interesting appearance detail.
Besides its aesthetics, gneiss tends to be blocky and dense, which has a straight impact on its application as an exterior wall cladding material. Its durability and performance even in adverse weather makes it stand out as a most favourable option for such function.
Cons
One of the major drawbacks of gneiss, especially the ones with linear grain structure, is that it could split along those layers in case of a large overhang or under the impact of seismic forces. Although this is not common, it is quite possible in unique conditions.
Secondly, those gneiss samples which have large mica content – you can understand this by looking out for a glittery look – tend to be weaker. This could have an impact on the stone's performance as an exterior wall cladding choice.
Takeaway
Overall, gneiss is fairly durable and stunningly beautiful, and a smart investment for anyone looking for a unique wall cladding choice. The stone can lend a unique personality to your building with its signature appeal.
---
Granite
One of the toughest and most gorgeous natural stones on this list, Granite is easily one of the most preferred choices when it comes to exterior wall cladding. The natural stone adds value to your home not just in terms of appearance and class, but also real estate dealings.
Pros
The highlight of this exotic natural stone has to be its durability. Besides offering stiff resistance against abrasion, chips and cracks, the stone also stands up fairly well to weather anomalies and sun rays.
At the same time, granite is extremely low-maintenance. It wouldn't hurt your pocket at all to keep the granite exterior wall cladding of your building spic and span every now and then.
The product is also quite hygienic, and naturally keeps dust, dirt and germs away. It does not promote the infestation of mould or mildew in any way and keeps moisture at bay.
Cons
Among the drawbacks of granite, the foremost has to be the extreme variety of options available in terms of design, shades and style. Such a vast array of options can get anyone confused! Unless you have some professional assistance to make the process easier for you, being able to finalise one granite wall cladding option out of those on the list can be exhausting.
Granite might also fade in colour with time, and give a dated look. However, this drawback is actually a blessing in disguise for the many who want a more period and grand look to their building.
Takeaway
While granite does not perform absolutely brilliantly in terms of waterproofing, it can be sealed to perform better in areas with high susceptibility to rainfall. The material is an ideal solution for exterior wall cladding for buildings that want to achieve a classy, elegant and period look.
---
Natural Quartzite Stone
Relatively lesser known and experimented with, natural quartzite stone is a fantastic option to try out for exterior wall cladding needs. A combination of limestone and dolomite, natural quartzite stone boasts of a natural beauty and enticing character that is tough to spot elsewhere, and is largely embraced in kitchens for their unique look and feel.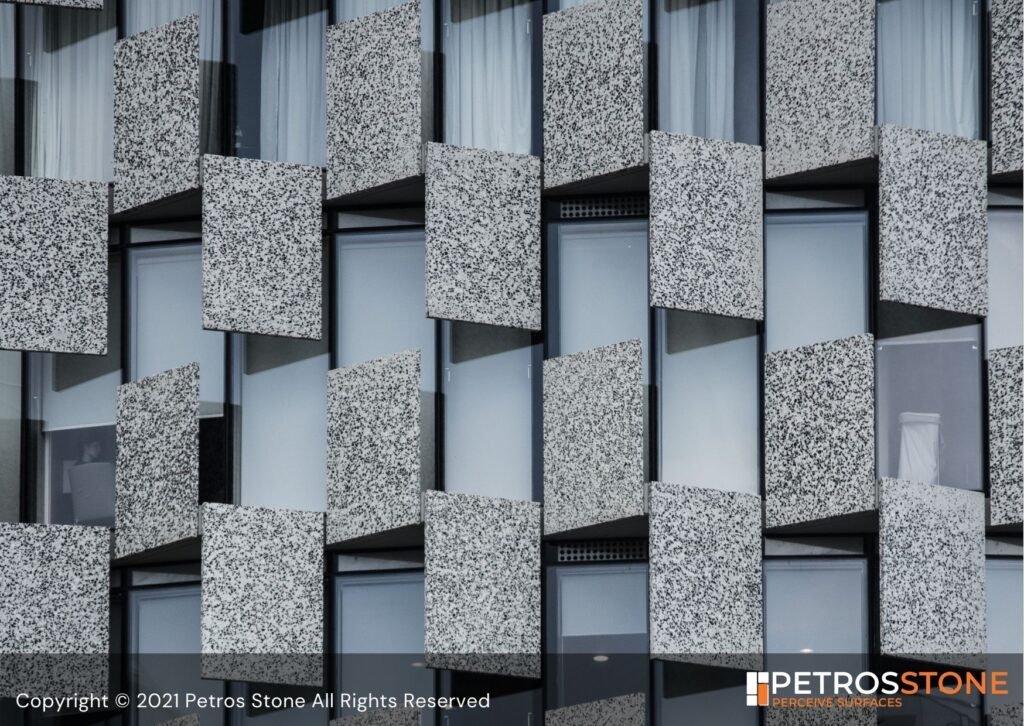 Pros
The first highlight about natural quartzite stone that catches the eye is the wide variety of colours and styles in which it is available. From pale white to dark grey, stately beige to gorgeous pink – there is no dearth of options when looking at natural quartzite stone for exterior wall cladding options.
The stone comes with a naturally matte finish. This makes it all the more appealing, considering the fact that most wall cladding materials have to be mattified to achieve such a look.
Thanks to its dolomite content, natural quartzite stone are more durable than plain limestone. Its strength and durability can be compared to granite in this regard. With a good sealant, this stone can resist abrasion and moisture damage to a fair extent.
Cons
Coming to the disadvantages of natural quartzite stone, the first that comes to mind is its porosity. While it is not as porous as other natural stones due to its dolomite content, Jerusalem stone requires some additional treatments to be used as exterior wall cladding in areas susceptible to high rainfall.
The stone is also susceptible to damage from acids, and therefore must not be cleaned with such harsh chemicals, lest it should break down and get damaged. Sealing is a must in certain climates.
Another factor to consider here would be the price. natural quartzite stone falls slightly at the higher end of the price spectrum, comparable to marble in this regard. Since it is quarried in Israel, the steep prices of transportation get added to overheads automatically.
Takeaway
If you are on the lookout for a reliant and durable natural stone for exterior wall cladding, without any constraints on costs, natural quartzite stone turns out to be an ideal fit for you. Be sure to experiment with different colours and styles before finalising your perfect choice.
---
Butched Stone
Traditionally avoided in masonry constructions due to its relative weakness, Butched Stone can well be used as an attractive exterior wall cladding solution, where it does not have to support the structure in any way. The unique look and organic rustic appeal of Butched Stone is what draws several architects and designers towards using this material as an exterior wall cladding option.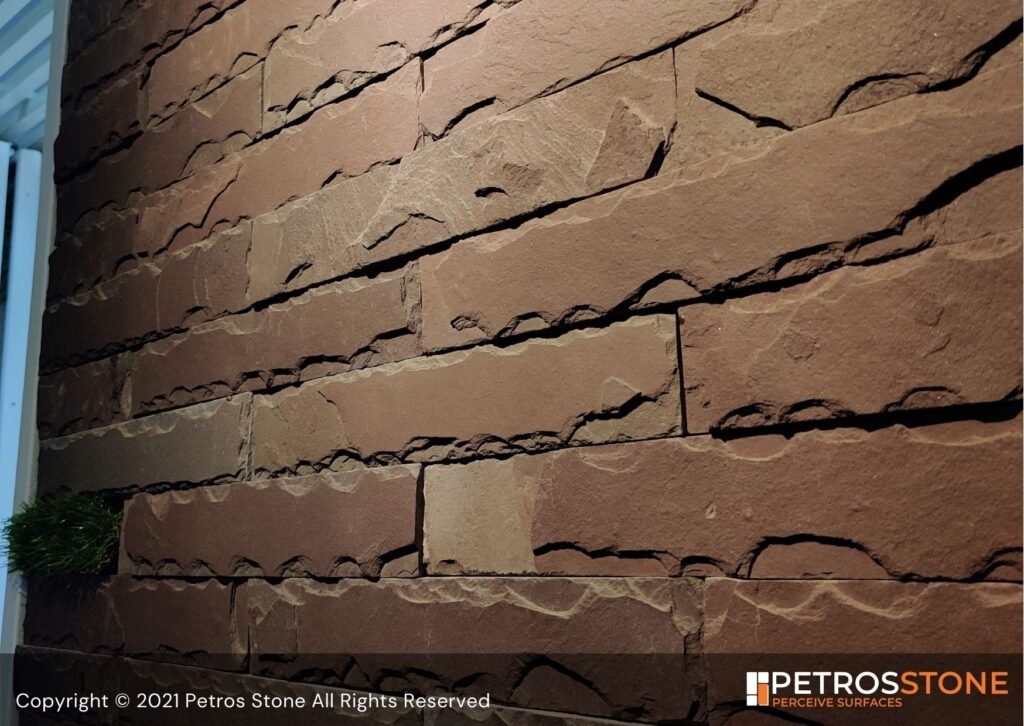 Pros
Talking about the advantages of Butched Stone for exterior wall cladding, it is one of the most environment-friendly options you could consider for your building. Abundantly available all around the world, and especially in India, the reduced need for transportation not just decreases costs but also pollution related to it.
The product comes with optimum thermal mass and thermal insulation properties. Therefore, you can use Butched Stone stone exterior wall cladding for buildings that want their façade to provide additional insulative protection. This helps keep interiors cooler in summers and warmer in winters, helping reduce electricity consumption indirectly.
Cons
However, Butched Stone is considered one of the weaker natural cladding materials on this list. While this might not pose any problems if used as exterior wall cladding, make sure you always use the cladding in conjunction with a stronger framework.
Many people also do not prefer using Butched Stone exterior wall cladding due to the rustic look it lends. As design options in terms of colours and styles are very limited, Butched Stone might be suitable only under specific conditions and tastes.
Takeaway
Butched Stone exterior wall cladding could turn out be an affordable option with a characteristic rustic appeal that you would like to consider. Make sure that you have researched well about its suitability as far as your climate is concerned, and whether or not this is the look you want to achieve.
---
Limestone
Whether it is the affordability of natural limestone, or its characteristic rustic appearance, limestone continues to be a favourite among architects, designers and owners when it comes to exterior wall cladding. The natural stone is the predecessor of marble as far as its natural formation process is concerned, and has seen wide adoption down the years for different building needs.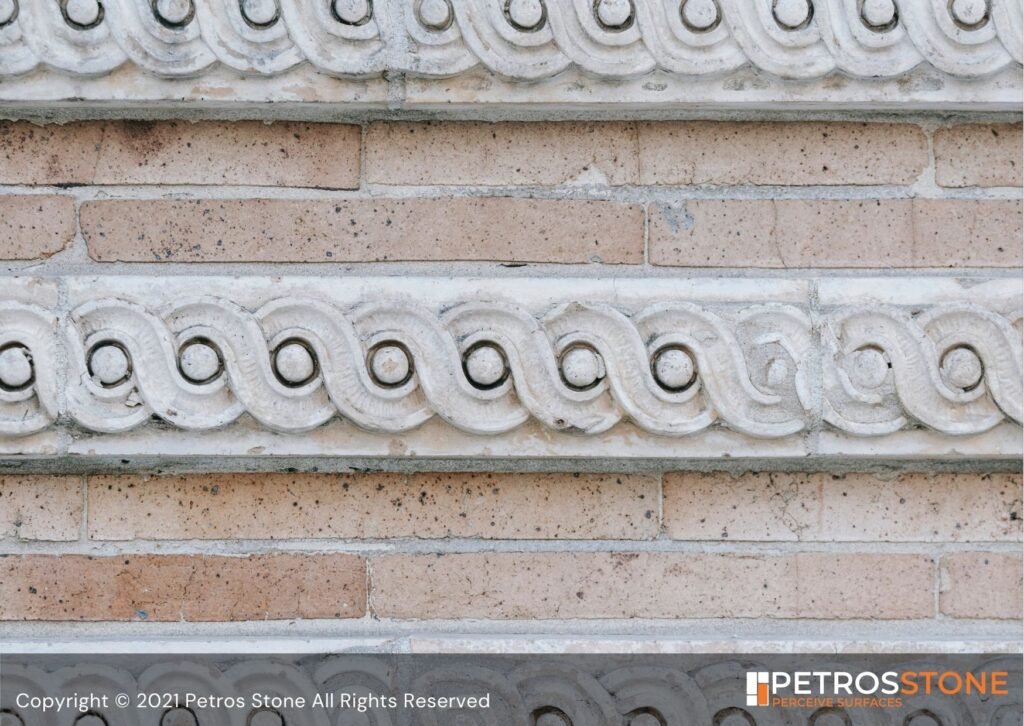 Pros
The highlight of limestone has to be its affordability, despite the other range of benefits it has to offer. Compared to other natural alternatives such as granite and marble, limestone does not hurt the pocket no matter how large the area to be served.
Another advantage of limestone has to be its characteristic appearance. With a soft and light earthy tone, limestone can naturally brighten up your building within its context, while lending a very regal and stately appearance. Each limestone tile is unique in itself, for these are obtained from nature and not factories.
The stone is incredibly versatile both in terms of price and colour options. It is easy to install, and also lends great market value to your building.
Cons
One of the biggest drawbacks of limestone has to be the hassles of maintaining it over longer periods. The stone demands frequent sealing besides other treatments for staying put against high rainfall in certain climatic conditions.
The natural stone has plenty of crevices and an uneven profile that might attract dirt and dust pretty rapidly, making sealing a must.
The stone is comparatively much softer than other natural alternatives such as quartzite or granite. This makes it important to take special care about not damaging the surface with sharp objects or any application of heavy tools.
Takeaway
Opt for limestone if you want to accentuate your building with a characteristic raw, organically appealing look. With its warm, soft undertones and impressive durability, limestone is certainly one of the best exterior wall cladding solutions to opt for.
---
Marble
One of the most popular natural stones used widely across the world for a number of elegant solutions, marble continues to signify elegance and grandeur since time immemorial. The stone has already proved its durability against the tests of time through solid examples in the form of the Taj Mahal and the Humayun's tomb, to name a few.
Pros
The best aspect about marble has to be its stunning appearance. Naturally available in several colours and shades, marble comes interesting variations of striations and tones.
Besides, marble is naturally available in multiple Indian states, which means the costs of transportation are comparatively low for Indian marble.
If maintained and handled with care, marble can last for an impressively long time. At the same time, it can augment the real estate value of your building manifold. The upscale appearance and soft elegance of marble is impossible to beat with any other natural stone.
Cons
One of the biggest drawbacks of marble has to be its weight, which makes it unsuitable for heavy cladding or exterior wall cladding over expansive surface areas of a building.
At the same time, the porosity of marble makes it difficult to sustain the surface in regions prone to high rainfall. Any exterior wall cladding in such a region would demand additional treatments and frequent sealing.
Marble can also turn out to be a delicate natural stone, and thus prone to damage from sharp or heavy objects.
Takeaway
Nothing can beat the elegance and luxury of marble. If you are indeed planning on using this material for exterior wall cladding in your building, make sure you opt for the right precautions and treatments to keep the material from getting damaged easily.
---
Quartzite
Very close in look to marble, quartzite is one such natural stone that is incredibly easy to maintain and strikingly durable. In fact, it makes up for most of the shortcomings of marble with its characteristic strength and low-maintenance properties.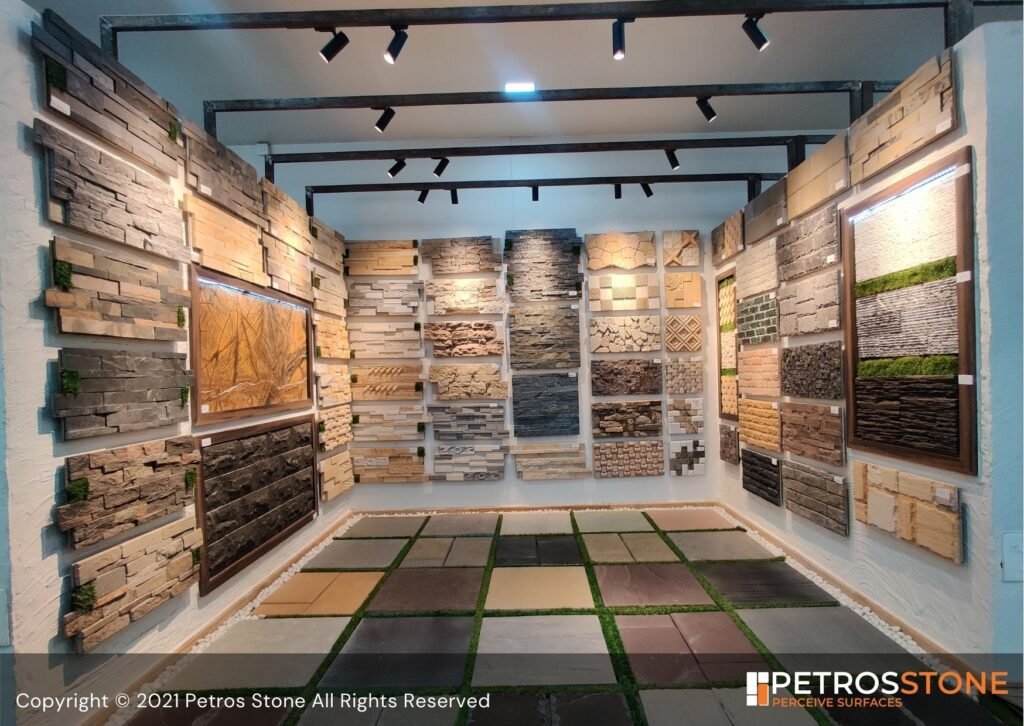 Pros
Out of the several advantages of quartzite, the first has to be its durability. Quartzite is one of the hardest natural stones on this list. Therefore, you do not have to worry about it wearing down or developing chips, cracks and abrasions in the short run.
The stone is incredibly easy to clean and maintain. A simple damp cloth usually works the trick, without the need for unusually harsh cleaners.
At the same time, quartzite's resistance against damage by UV rays makes it perfectly suitable for exterior wall cladding needs. There will be no fading with time, as sometimes happens in granites.
Cons
Coming to the shortcomings of quartzite, the stone may be hard but cannot resist damage from moisture. The stone requires sealing every now and then to stay protected in areas susceptible to high rainfall statistics.
At the same time, quartzite does not boast of as many options in colour, design or style compared to other materials such as granite. The choices may be stunning, but not too vivid or varied.
Quartzite is a versatile natural stone, which makes for the perfect exterior wall cladding solutions in almost any kind of climate with some additional care. You can always get in touch with professional experts to guide you in this aspect and make the most favourable choice accordingly.
Takeaway
The versatile and resilient natural stone quartzite offers tremendous potential when it comes to application as a exterior wall cladding option. Always make sure that you invest in the product from a high-quality source. Seal the stone at frequent intervals to optimize its performance for longer life.
---
Sandstone
Pros
The first merit of sandstone that immediately catches the eye is its striking beauty. The appealing natural look in warm shades is marked by unique tiles, each different from the other.
Sandstone is also extremely durable, and can last for decades if taken care of with adequate concern. Though it is not as hard as other natural materials such as granite or slate, it is ideal for use as a resilient exterior wall cladding solution.
The natural stone also comes across as an eco-friendly option. A product of the earth, sandstone biodegrades over time, without any room for pollution of land or air during its life. Some artificial products, on the other hand, emit harmful VOCs into the air.
Sandstone is also relatively quite easy to repair and renovate. Although the stone is less susceptible to damage and breaking or chipping, any damaged stone tiles can easily be replaced with a fresh one with no hassles.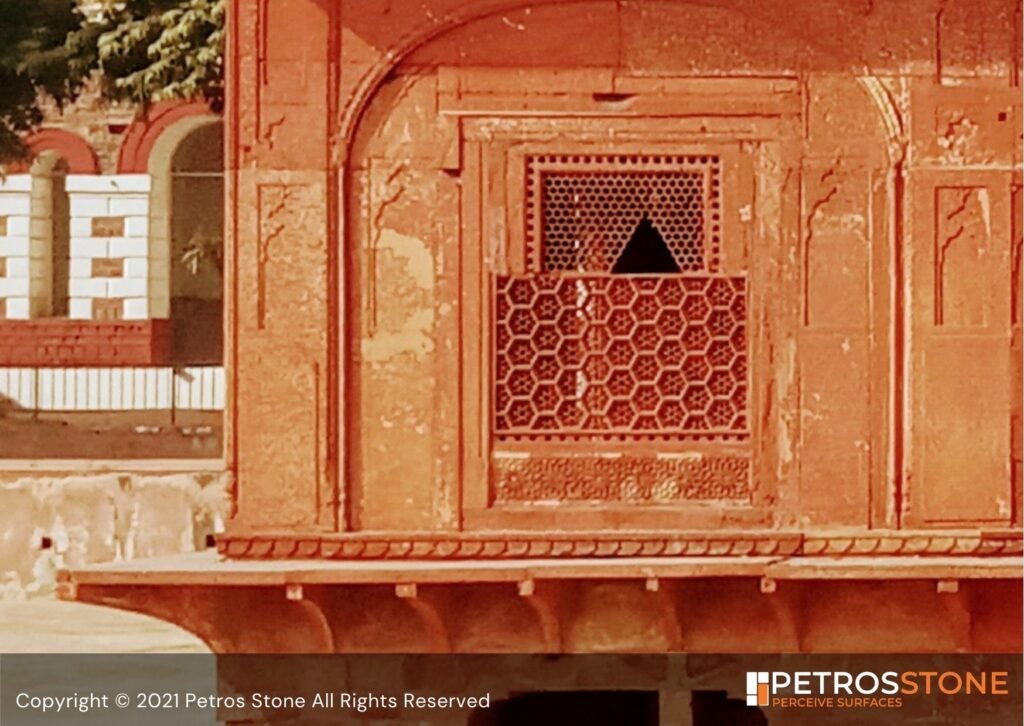 Cons
Sandstone, however, is not water-resistant to an impressive extent. The relatively porous material is likely to absorb greater water extent, get damaged from within, and get stained easily. This can be prevented by using a relevant sealant during installation as well re-application from time to time, say every few months.
Sandstone naturally ages with time. In case you are looking for a more sleek and modern look, the wearing away of sandstone leading to a faded, period appearance might not be the best option for you.
---
Slate
A less popularly used natural stone when it comes to exterior cladding, slate not only offers an impressive gorgeous look, but also comes with an entire list of advantages to explore and exploit.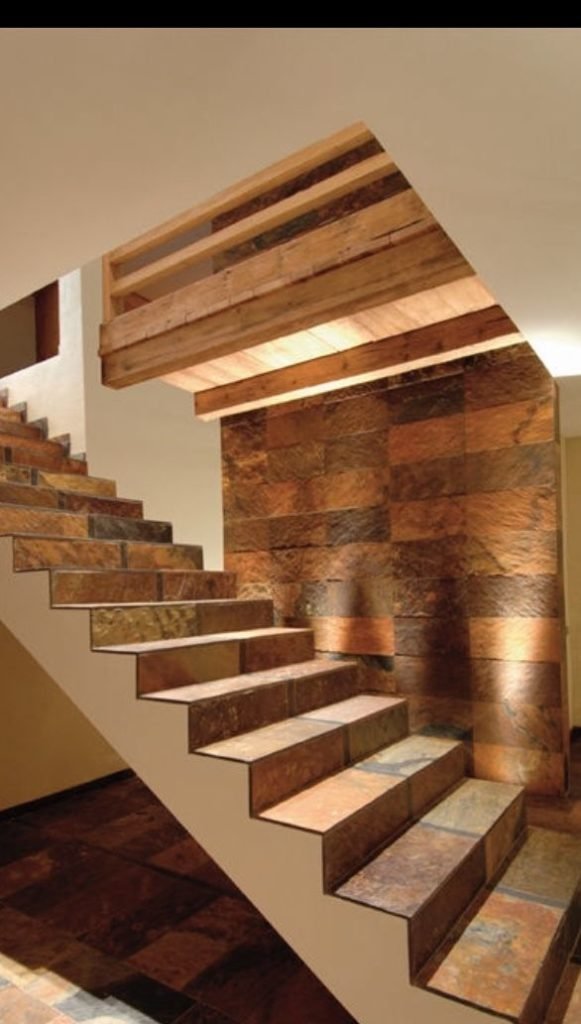 Pros
Besides its unique attractive beauty, slate has also proved its durability in the form of long-lasting exterior wall cladding solutions. At the same time, slate offers incredible real estate value, at par with other natural stones such as granite.
Cons
The biggest drawback of slate has to be that the stone cladding could be extremely difficult to repair or replace.
The installation of this tile itself is quite difficult a process, which requires extensive sealing to prevent damage from dust, dirt and water.
Slate is also a costly material to opt for when looking for exterior wall cladding solutions.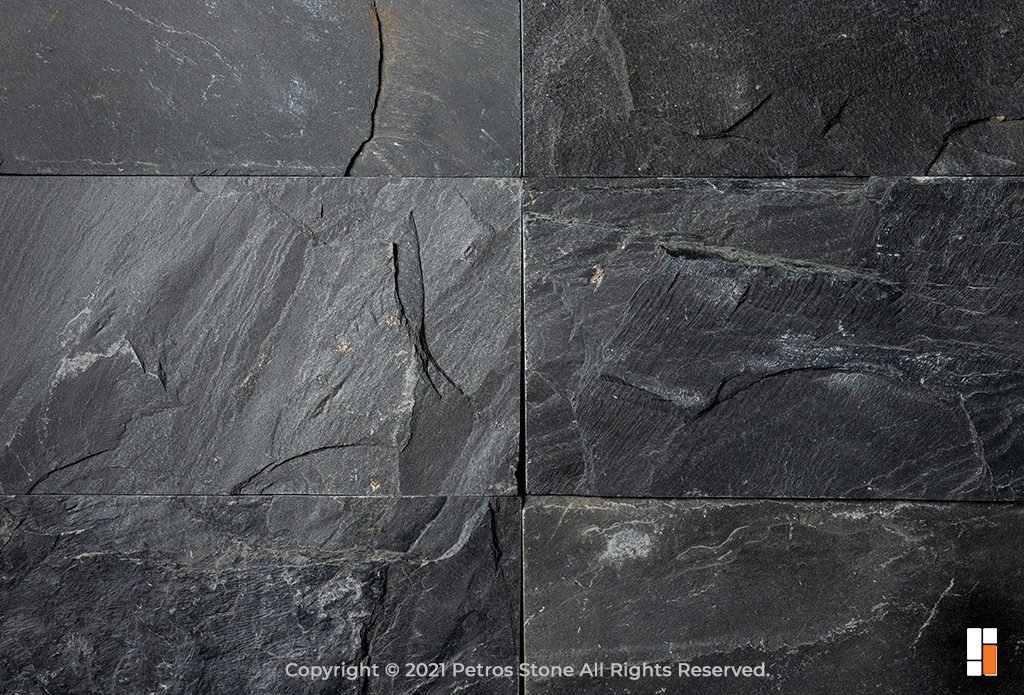 Takeaway
Slate can turn out to be one of the most interesting natural stone options for exterior wall cladding, thanks to its unique beauty and optimum durability. If cost isn't a bar, you can conveniently opt for and rely on slate tiles for your building in any setting.
---
Travertine
One of the most commonly used natural stones for exterior wall cladding, travertine forms a perfect solution for any kind of building. The material comes with a characteristic appearance that is difficult to ignore, and lends a soft edge to any building.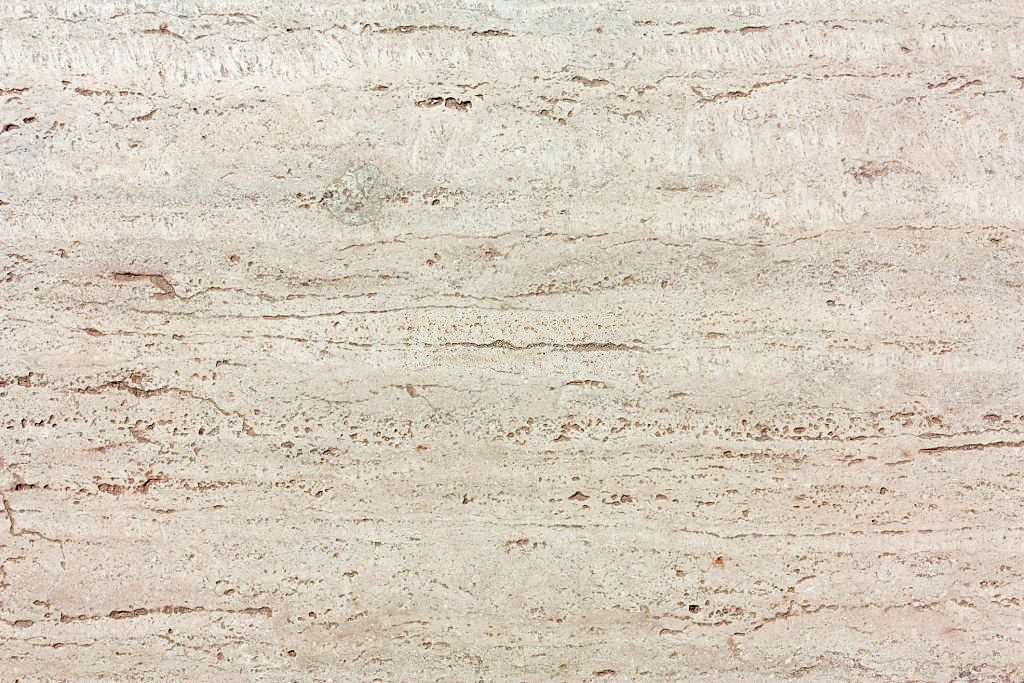 Pros
Travertine tiles are quite pocket-friendly, and could be tagged around half the price of costlir materials such as marble. Yet, the reduced costs have no impact on the durability or performance of the stone.
The second highlight of this natural stone has to be its characteristic appearance. Travertine grants a very timeless edge to buildings, and comes in a variety of stunning colours and shades. Related shades can even be used in conjunction to deliver interesting patterns for exterior wall cladding.
Travertine tiles are also impressively durable and offer premium resilience against difficult weather conditions, making it perfectly suitable for outdoor usage.
These tiles are also incredibly easy to maintain, cut and shape. Neither the customisation, nor the installation or repair processes are difficult in any manner.
Cons
One of the few shortcomings of travertine has to be its porosity, which leads to the material being prone to damage from water, dust and dirt. The material is also sensitive to acid, meaning you must refrain from using harsh chemicals to clean the surface under all conditions.
Travertine's surface is naturally uneven and comes with a lot of crevices and depths. These can be potential zones of settling of dust and dirt.
Takeaway
Travertine continues to be one of the most widely used and adopted materials for different building solutions. It is ideal for using as an exterior wall cladding solution in almost any climatic region if treated properly beforehand.
---
Expert's Advice for Exterior Wall Cladding
Petros has been working relentlessly in the field of interior and exterior surface solutions. Our extensive collection of natural solutions is the one-stop solution for all your needs. Get in touch with our experts today and find your best pick with us!