When it comes to picking the best flooring for your kitchen, the choice is guided by a number of different factors – aesthetics, resilience, performance, safety and so on. Most importantly, however, your kitchen flooring must be able to withstand stains, heat and chemicals, besides being waterproof to some extent, if not entirely. It should also be able to resist scratches and abrasion, without being too dull to look at.
Considering all the above criteria, Petros (High Grade Natural) Quartz comes across as the most suitable & apt kitchen flooring materials. Besides offering impressive durability, Petros Quartz comes in a wide variety of design options that can completely redefine your kitchen in terms of looks, grace, class and style.
Apart from this, there is an entire range of materials that you can look into when it comes to kitchen flooring materials. Let us look at some of the most commonly used options, along with those that are not so common but can prove to be equally beneficial for your kitchen.
---
11 Best Kitchen Flooring Materials in India
Durable and Classy
| | | |
| --- | --- | --- |
| Sl. No. | Kitchen Flooring | Approx. Price (₹/sq. ft) |
| 1 | High Grade Natural Quartz | ₹180-₹480/sq. ft |
| 2 | Granite | ₹75-₹325/sq. ft |
| 3 | Vitrified Tiles | ₹30-₹165/sq. ft |
| 4 | Indian Marble | ₹50-₹350/sq. ft |
| 5 | Travertine | ₹180-₹280/sq. ft |
| 6 | Engineered Marble | ₹180-₹580/sq. ft |
| 7 | Vinyl Flooring | ₹35-₹80/sq. ft |
| 8 | Hardwood | ₹95-₹210/sq. ft |
| 9 | Wooden Laminates | ₹75-₹200/sq. ft |
| 10 | Bamboo | ₹240-₹380/sq. ft |
| 11 | Limestone | ₹60-₹170/sq. ft |
Kitchen Flooring Price list
---
High Grade Natural Quartz
As already described earlier, high-grade, superior-quality Petros Quartz has always been one of the most preferred and suitable choices for kitchens in all climatic and geographic regions alike. With an impressive performance checklist and an unending variety of design options, Quartz makes for one of the most reliable and aesthetic choices for kitchen flooring solutions.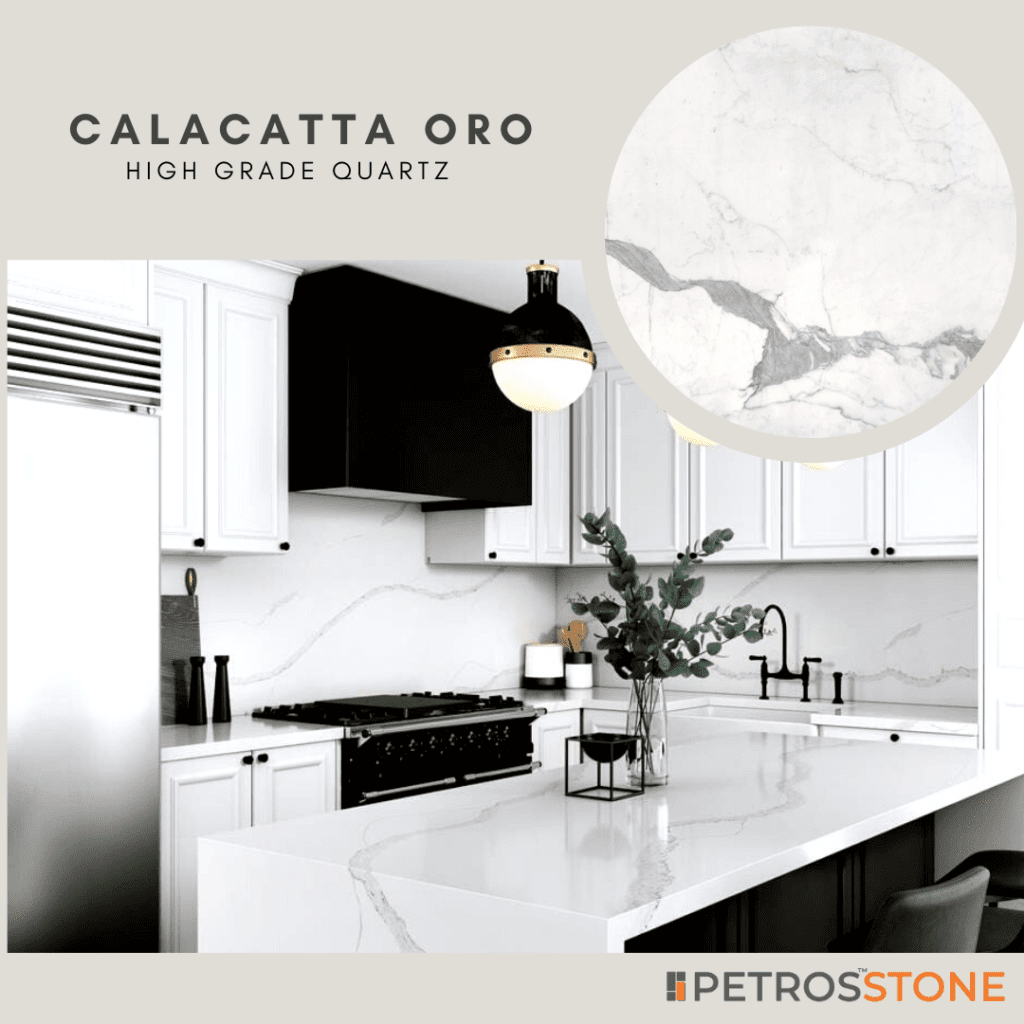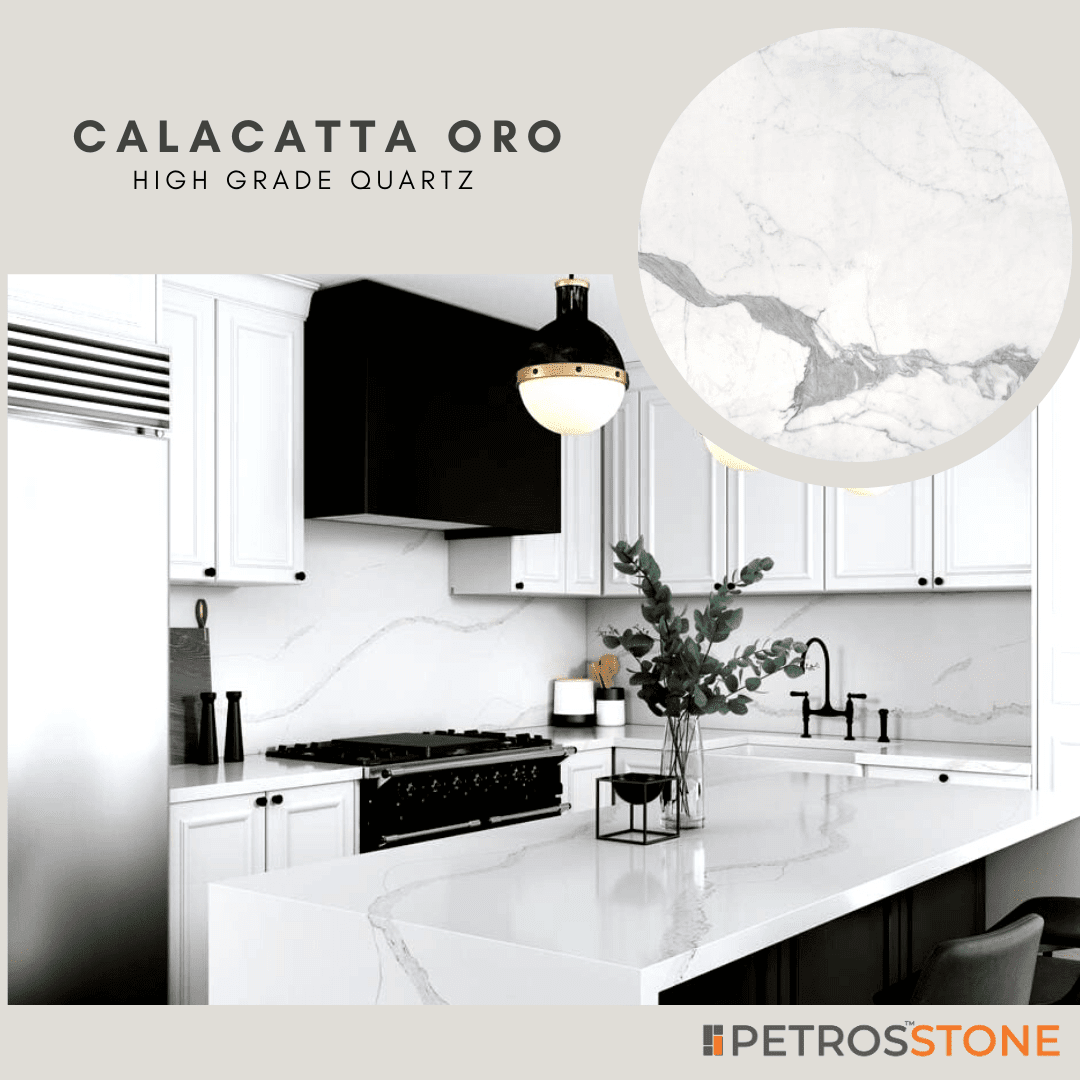 Quartz may not be a completely natural material, but has such impressive properties to offer that make it an instant preference compared to other kitchen flooring options. It is extremely low-maintenance yet high-performing, which means the surface has impressive resilience to offer without frequent cleaning.
Pros
The only demerit that one would face when using quartz as a kitchen flooring solution would be that they must spend hours and hours of their time choosing between the plethora of options available. Unless you reach out to professional experts in kitchen flooring solutions, it can be quite the hassle to derive at the most aesthetically compliant choice of quartz for your kitchen. The most prominent advantage of Petros Quartz is its inherent non-porosity, which lends it a waterproof nature, making it the perfect match for kitchen flooring. Petros Quartz can essentially retain its waterproof character over the years, making it one of the most long-lasting and resilient flooring options to consider.
Quartz is also highly slip resistant, which makes it perfect for kitchen flooring, as kitchens tend to stay damp for many hours during the day.
Quartz already has an impressive variety of designs, colours and patterns available at its disposal, which makes it possible to design your kitchen in the most unique ways possible. You can rest assured that your vision of a dream kitchen will always come true with quartz flooring to complement it.
Quartz floor surfaces also offer another superior advantage – hassle-free cleaning. There is no need to use chemical cleaners frequently. A simple damp mop can do the trick.
Also, quartz is incredibly durable and long-lasting as a kitchen flooring material option. You can rest assured that the surface will endure any scratches and abrasions.
Quartz is quite environment-friendly compared to other commonly used flooring products. It does not release any harmful toxins or chemicals during either its manufacturing or installation processes.
Despite such a line-up of advantages, quartz is quite economical as well, and the perfect partner for a quick, hassle-free and budget kitchen makeover.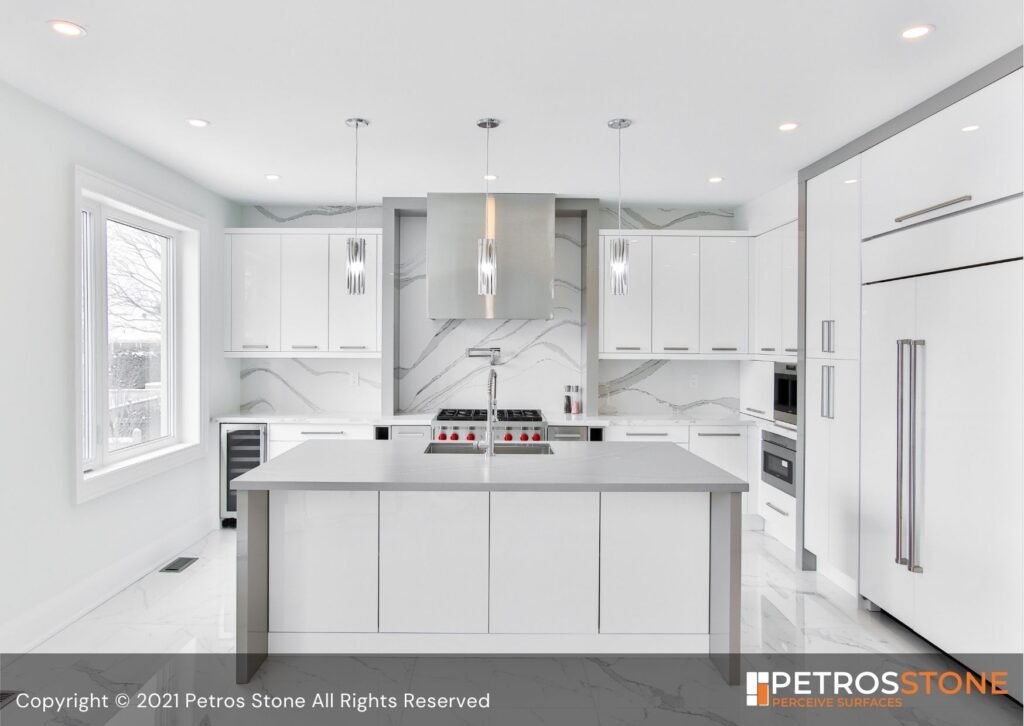 Cons
The only demerit that one would face when using quartz as a kitchen flooring solution would be that they are relatively expensive. Unless you reach out to professional experts in kitchen flooring solutions, it can be quite the hassle to derive at the most aesthetically compliant choice of quartz for your kitchen.
---
Granite
Another most interesting option for kitchen flooring must be granite, which comes with the same qualities of high performance and luxurious beauty as quartz. The use of granite in your kitchen can actually lend it an added charm and raw magnificence, though it is conventionally limited to kitchen countertops.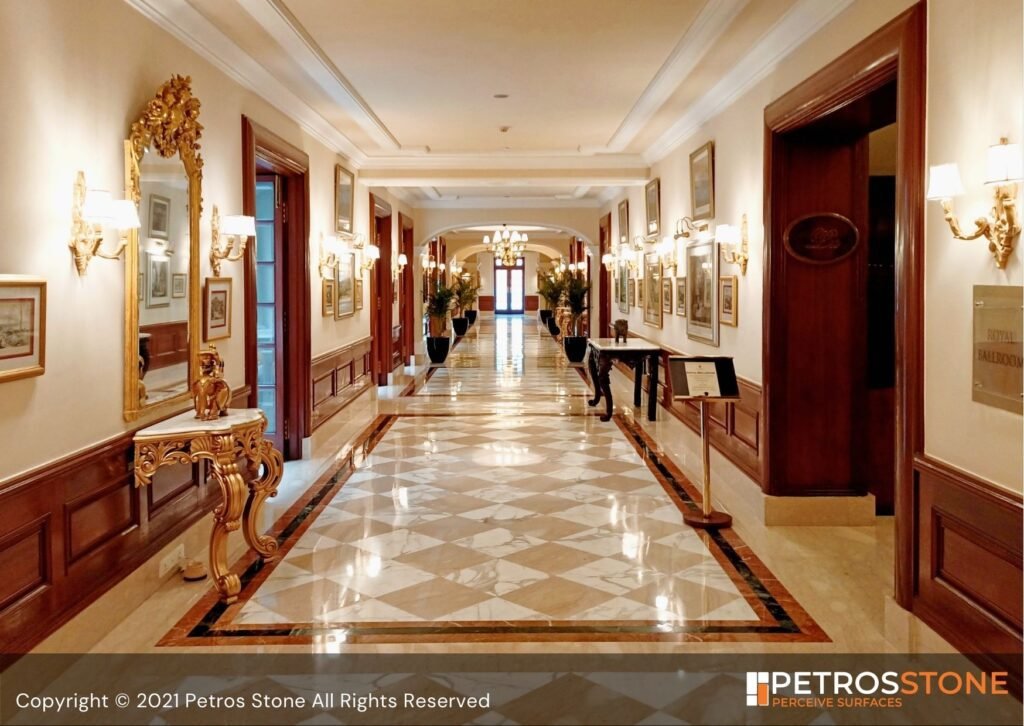 What makes granite an immediate choice for kitchen flooring is its unique natural beauty. Granite surfaces come decked in interesting grainy patterns, patches and colour dashes that add to its unique beauty, and leave a bold statement. The brilliant and intricate composition seems like nature's artwork, and comes in such fabulous colour variations.
Pros
First and foremost, granite has amazing durability and resistance to scratches, abrasion and even temperature variations. Installing a granite floor means you can relax that the stone will last you a lifetime, without even having to go overboard with its maintenance. At the same time, granite's natural hardness contributes to its superb strength.
Secondly, granite is available in several interesting design and colour variations. Another interesting feature is that no two granite slabs are exactly identical.
A granite stone surface can also be brilliantly waterproof. Therefore, you do not need to worry about water percolation and damage when using granite for your kitchen.
Cons
Granite does not have the best options in terms of design and colour. Some textures may not be as appealing as granite or marble.
Just like any other natural stone, granite also can get very cold under foot. This makes it difficult to install the stone as a kitchen flooring solution for colder climates.
---
Vitrified Tiles
Vitrified Tiles have gradually become one of the most popular flooring solutions for homes as well as commercial spaces. The reason behind this popularity is their affordability. These tiles are specifically used in kitchens and bathrooms these days due to their brilliant resistance to moisture and staining.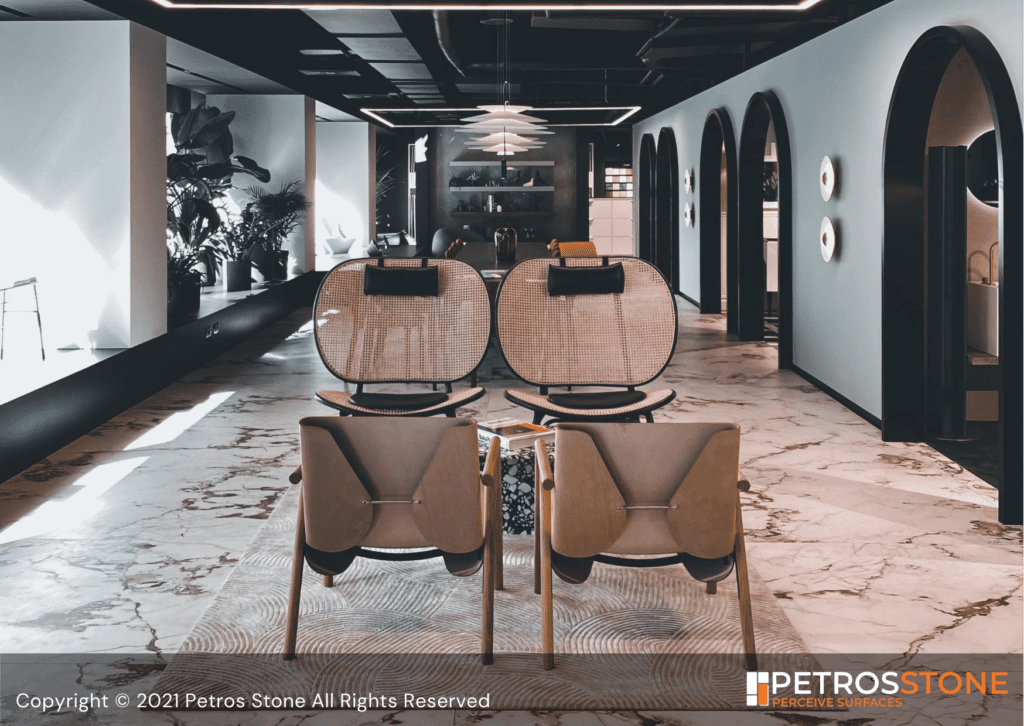 One of the key characteristics that you should know about vitrified tiles is that they are designed for delivering high performance even in high traffic and highly utilitarian areas including kitchen and bathrooms. Vitrified tiles perform brilliantly under adverse conditions, therefore there is no question about their durability.
Pros
One of the first advantages that comes to mind when talking about vitrified tiles for kitchen flooring is their impressive durability, and their waterproof characteristics. You can absolutely rely on vitrified tiles when it comes to water absorption even during regular use.
Vitrified tiles offer brilliant resistance against scratches and abrasions, which means you can use it in not just your kitchen but in any other space of your home with heavy or sharp objects.
The impressive design variety available when it comes to vitrified tiles is another cherry on the cake. There is no dearth of options when it comes to multiple colors, patterns, shapes, and sizes.
Vitrified tiles are also one of the most hygienic kitchen flooring options that you could consider. These flooring solutions are nonallergenic in nature, and keep dust dirt and germs away while also preventing infestation from molts, mildew, and pathogens.
Cons
However, there are a few drawbacks of using vitrified tiles as kitchen flooring, the first being that they can feel rather cold and hard under foot.
Vitrified tiles are also quite heavy, making transportation, installation, renovation and replacement hectic and tedious every time you want to use vitrified tiles in your kitchen.
The installation process of vitrified tiles requires expert supervision and cannot be dealt with on your own, left you should leave any area of your kitchen imperfect or unprecise.
---
Indian Marble
One of the most elegant and luxurious kitchen flooring options that you could consider in present times has to be Indian marble. While some may not prefer using marble for their kitchen flooring, with proper prevention and you care this natural stone can prove to be one of the most delightful and sophisticated additions to your space.
The most remarkable highlight about using Indian marble for kitchen flooring has to be its exotic appearance. Indian marble is known for its characteristic venation, no two marble slabs ever being exactly identical! Indian marble can prove to be one of the wisest and most appealing choices that you could consider for kitchen flooring, which is why it should always be part of your checklist.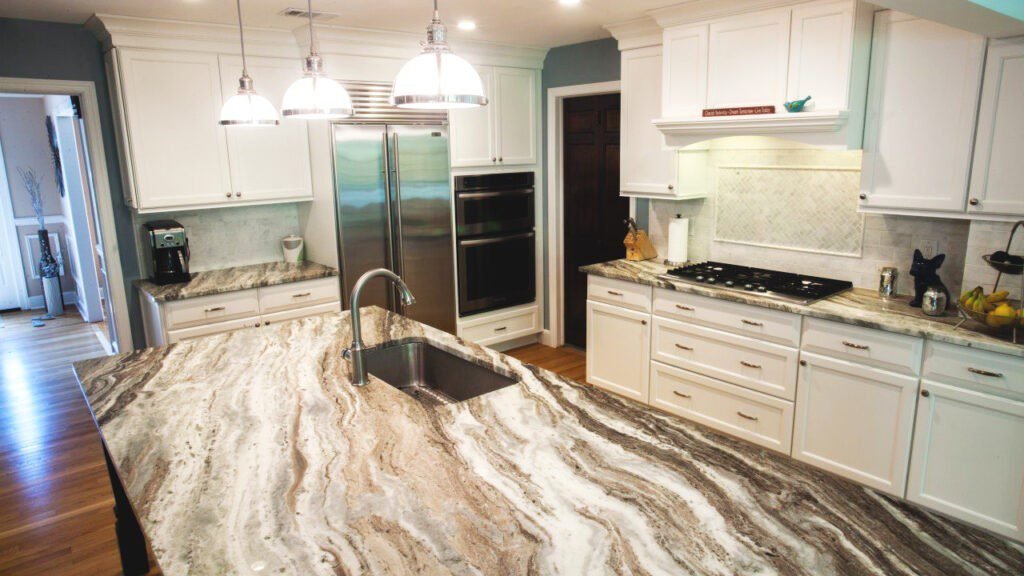 Pros
Out of the several advantages of using Indian marble for kitchen flooring, the first has to be its exotic looks. Marble has been used down generations in interiors as well as exteriors for its luxury and charm. You can derive the same benefit for your kitchen flooring an add a sense of elegance to your space with Indian marble kitchen flooring

Indian marble can also have a luxury appearance.

Marble is very easy to polish, but Indian marble is also available in anti-skid varieties. You can use these varieties for adding more safety and slip resistance to your kitchen flooring, as needed.

Using marble for kitchen flooring will also add considerably to the real estate value of your project, whether residential or commercial. Therefore if you plan ever on leasing or selling your property, you can rest assured that Indian marble for kitchen flooring will always fetch you those extra bucks.
Cons
The chief and most obvious drawback of Indian marble for kitchen flooring is its porous nature.

Another drawback of Indian marble is not as strong as compared to tougher alternatives such as quartz and granite.

Marble also feels cold under foot hence using it in your kitchen may or may not be problematic, considering your climate and lifestyle.
---
Travertine
Travertine continues to be in less common use in the Indian context, though it is quite popular as a kitchen flooring solution in the western world. Offering similar looks an feel as marble, travertine saves up on the cost spectrum, proving to be a smart investment to your home. The urban tone colors an characteristic rustic charm of travertine are other advantages that this material offers to design lovers like you and us.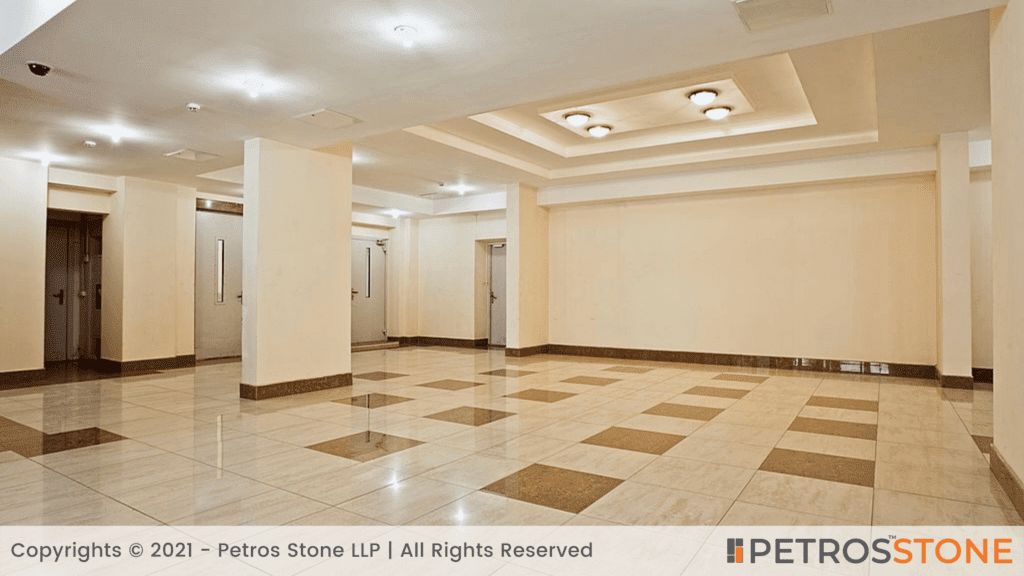 Pros
The most interesting aspect of using travertine is its characteristic early appearance. The material naturally forms around mineral spring deposits, which leads to its appearance in various shades of tans, Browns, rust, beige and more.

At the same time, travertine flooring is incredibly easy to maintain. Simple mopping with a damp cloth often does the trick.

The stone is also impressively tough as well, making it perfect for both high traffic an highly utilitarian areas such as kitchens.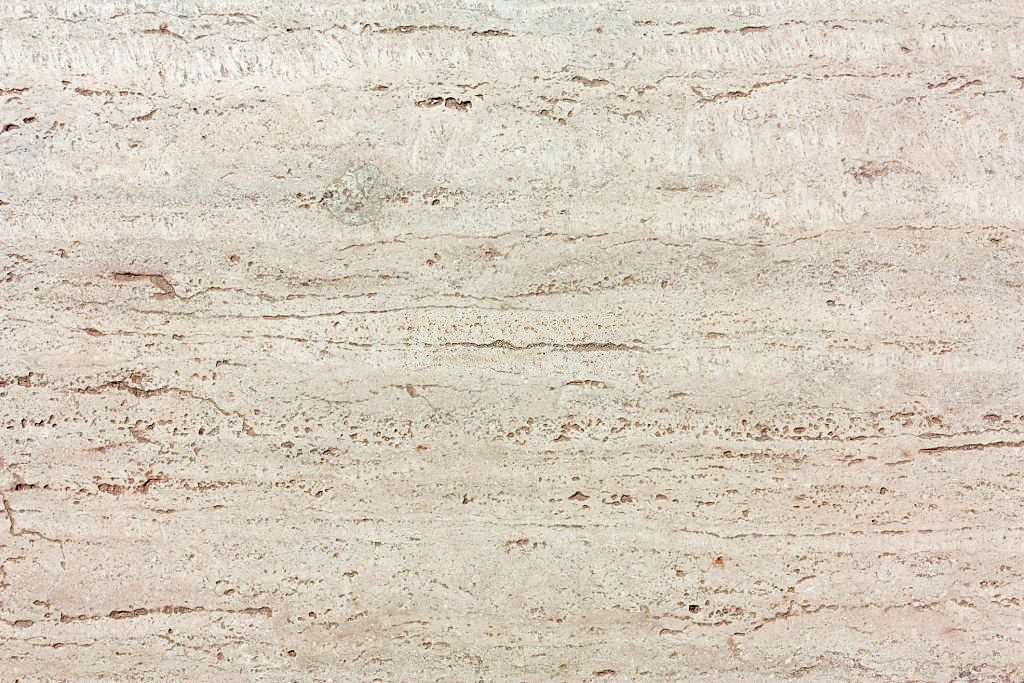 Cons
The downside of using travertine has to be its giant wait. Travertine stone slabs are usually difficult to transport, install and renovate because of their weight and massiveness.

The material also needs frequent sealing from time to time because it does not put up the same level of performance against liquid or water percolation.

Despite all its advantages, travertine is quite costly an option for kitchen flooring. Therefore, this material might not be suitable as kitchen flooring for homes that are on a budget.
---
Engineered Marble
Engineered Marble is an interesting alternative to its natural counterpart that brings in myriad additional benefits while costing only a fraction of the latter. Formed by crushing materials such as quartz and marble together and binding them with a polymer resin, engineered stone addresses several of the shortcomings that natural marble comes with, without taking away its elegance and characteristic lustre.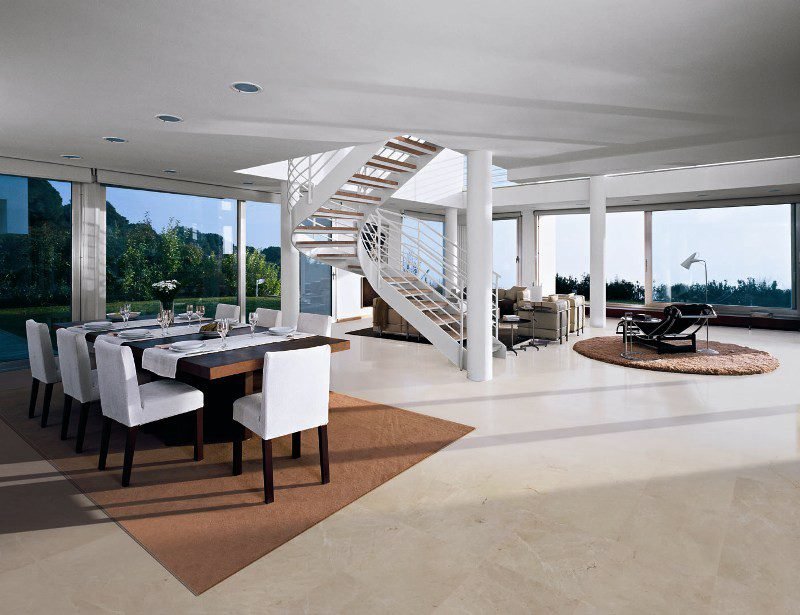 Pros
Engineered marble is relatively easy to clean and maintain compared to natural marble, which is prone to staining and damage due to its high porosity.
Since the stone is made out of a combination of crushed marble pieces strengthened with quartz and bound by resins, the resulting product comes with a hard surface resistant to scratches and abrasions.
The man-made nature of this stone allows room for greater flexibility and variety when it comes to design patterns. Compared to natural marble, which is elegant yet limited in appearance options due to its natural formation, engineered marble can be customised endlessly.
Cons
Engineered marble is not a complete winner when it comes to susceptibility to damage due to harsh chemicals. This is the reason why you should avoid subjecting the material to harsh cleaners.
Some people complain that the uniformity and imaginative design patterns of Engineered Marble take away the naturalness that marble and granite otherwise boast of.
Engineered stone tends to be on the heavier end, making both its transportation and installation a tedious affair. The stone must be provided with a firm support underneath lest it should give in to its own weight.
---
Vinyl Flooring
An emerging popular choice for kitchen flooring that you will come across in several modern homes has to be vinyl flooring. This pocket-friendly flooring solution is not just incredibly easy to maintain, but it is also available in a range of interesting design and color varieties that make it more suitable for kitchen flooring compared to natural stones.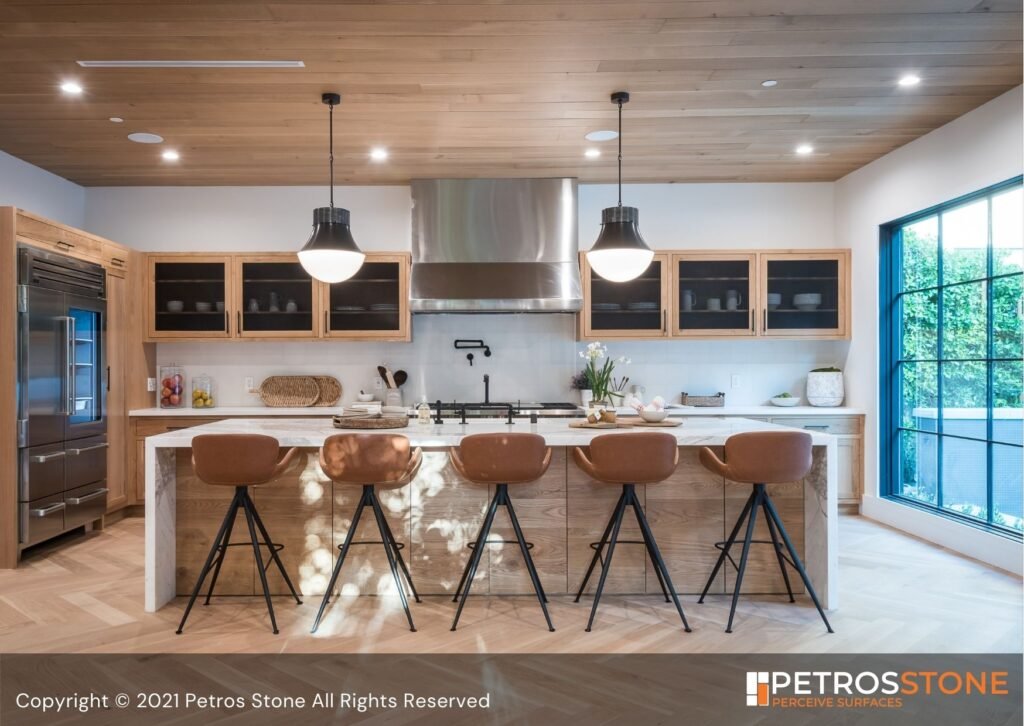 The top reason why people opt for vinyl flooring is its excellent waterproof quality. Considering that kitchens tend to be moist and damp or might face liquid spillage, such waterproof characteristics of vinyl make it a suitable choice for kitchen flooring.
Pros
Unlike most natural stones, vinyl flooring is quite lightweight and cheap/

Putting in some extra efforts from time to time can ensure longer life of vinyl flooring.

The clear wear layer on top of vinyl flooring offers it extra protection, water resistance, and anti slip properties.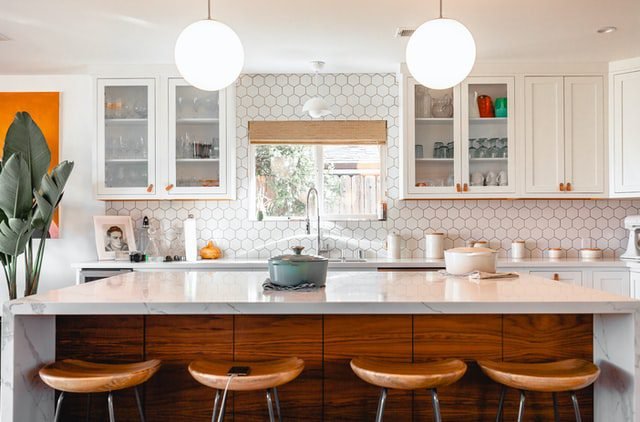 Cons
Notably, vinyl floors are not very durable.

Vinyl flooring is also not suitable to be used in outdoor kitchens for the same reason. UV rays can permanently discolour vinyl floors, and so can harsh chemical cleaning agents.

Vinyl floors are durable but they cannot perform equally well against sharp and heavy objects, which might end up creating dents in the floor profile. Therefore if you are thinking of moving heavy furniture, for instance, your refrigerator, you might have to be extra cautious with vinyl kitchen flooring.
These floors are also not the most environment friendly options that you could consider for your kitchen. Newly installed vinyl floors emit harmful volatile organic compounds or VOC's. These fumes are also quite dangerous if consumed by humans.
---
Hardwood
By far one of the most elegant and luxurious kitchen flooring options that you could consider, hardwood is an eternally loved material that never seems to lose its appeal. It's characteristic natural beauty and inherent warmth make it perfectly suitable for homes that want to add style within a budget.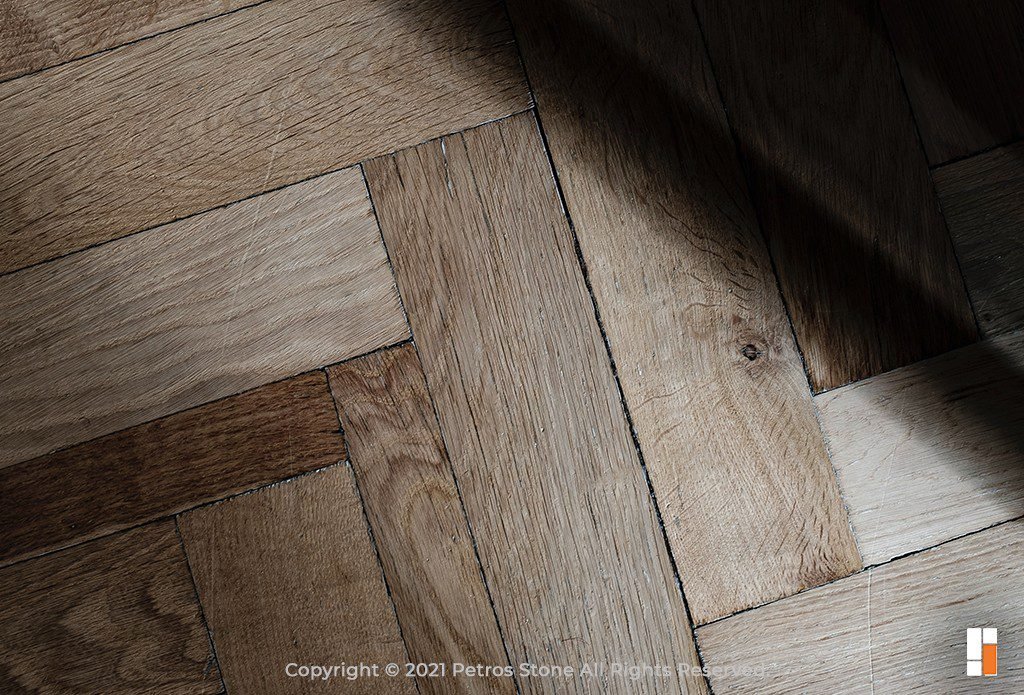 The most interesting aspect of hardwood flooring has to be the natural striations, colors, an characteristic pleasant smell associated with this material. This is the reason why interiors with hardwood flooring are always considered a class apart.
Pros
The prime advantage of using hardwood kitchen flooring has to be the same natural appeal that we were talking about earlier. Its elegant striations, patterns, attractive smell and feel automatically add much needed luxury to your space. This also increases the real estate value of your building my dance.

If invested in with proper care and maintenance, hardwood kitchen flooring can easily last a lifetime. Such durability and longevity is quite impressive when compared to other alternatives such as laminates or linoleum, even for such a highly utilitarian area such as kitchen.

There are many colours patterns and designs available when it comes to hardwood kitchen flooring. From Brazilian Cherry to Tigerwood, Brazilian Walnut to Oakwood, Mahogany and Hickory, hardwood flooring is available in several interesting design and quality variations to choose from..
Cons
However, hardwood flooring has its own drawbacks. The first is that it can be quite expensive for those seeking kitchen flooring options on a budget.

Secondly, even though hardwood flooring is generally considered a healthy and hygienic option, it fails to perform against termite infestations. If you have chosen poor quality and older wood, termites can cause cavities in the hardwood floor, weakening it from within. A common symptom associated with such infestation is the production of squeaky sounds whenever there is any movement on the floor.

Hardwood flooring is also not quite resistant to water an other liquids. Using harsh detergents can cause a lot of internal damage, and so can standing water. However considering you want to use it as kitchen flooring and not in bathrooms, you might still be good to go.
---
Wooden Laminates
A popular alternative to hardwood flooring, wouldn't laminates offer an attractive choice for kitchen flooring. While giving you the same look and feel as hardwood floors, wooden laminates come at around half the price of the former.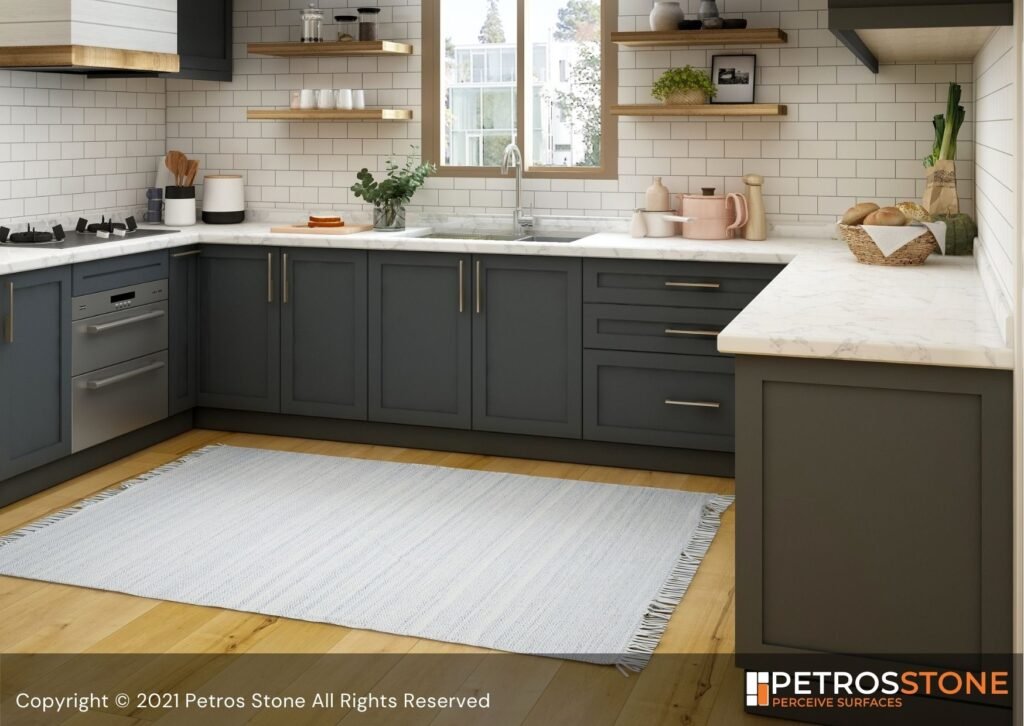 Add to that the advantages of incredibly easy maintenance and wider design variations, and it becomes clear while so many people are using wooden laminates instead of hardwood for kitchen flooring.
Pros
The first advantage of wooden laminates has to be that it is so identical to hardwood flooring that it is difficult to tell the two apart. This is because these days laminate companies are offering high definition, improved seeming, and real wood veneer layers to provide an added sense of natural exoticness to your floors.

Oak, maple, heartwood, and so on are just some of the examples of the interesting species that are reflected in wooden laminates.

Wooden laminates are fairly stable, meaning that there are no seams from opening up due to changes in temperature or humidity, which is a common issue with hardwood flooring. These laminates are quite lightweight, and can even be installed over existing flooring by applying a thin form of cushion underlayment alone.
Cons
One key point to note is that wooden laminates are not all powerful against moisture damage. Therefore, while it may be suitable for kitchens that are well lit, an not too damp throughout, they do not make for suitable options for bathrooms.

If the top wear layer of wooden laminates somehow gets damaged, it is not possible to refinish it because of its tin dimension. This would call for the entire plank to be replaced, unless you have invested in high quality wooden laminates that come with an optimally thick top layer that can be refinished for up to a few times
---
Bamboo
The less commonly used kitchen flooring options that is making quite a mark for itself in the design an commercial world is bamboo. Receiving a lot of attention these days for its strength, resilience, and environmental sustainability, bamboo flooring is one of the most interesting and elegant options that you could consider for kitchen flooring.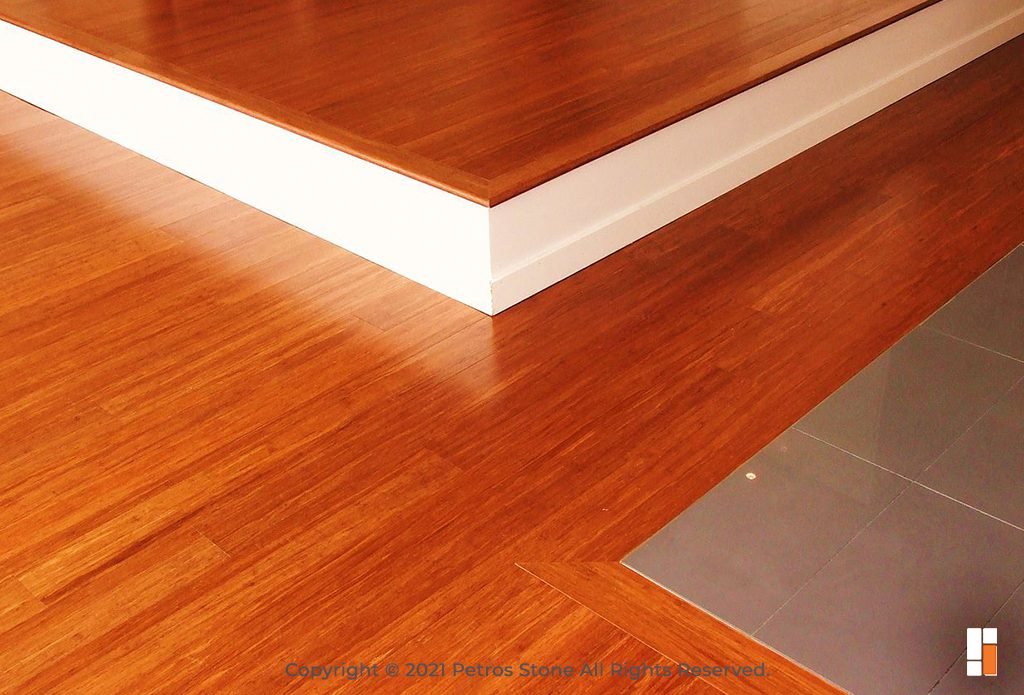 It is difficult to differentiate between bamboo and hardwood flooring in the first glance. Bamboo is actually a type of grass that is processed tremendously to produce robust planks, which are then pressed back together with heat and glues to form resilient flooring boards that can be installed in any space that you want.
Pros
The prime advantage of using bamboo flooring is their impressive durability. Bamboo has been traditionally used in tribal homes for many years now and lasts them a lifetime with proper care and maintenance. The same characteristics can be implied in modern kitchens as well call mom with bamboo flooring to add the much-needed resilience and longevity to your space.

If you are designing your house around a special eco theme, then bamboo flooring is your go-to choice. This flooring option offers a sleek and contemporary look to your space; and it adds a natural organic flavor to your design.

With variations in striations, such as vertical for uniformity, horizontal for interesting grain patterns, and strand woven for interlocked grass fibers, bamboo flooring offers impressive design variations to choose from.

Another advantage of using bamboo flooring is the minimal maintenance and care that you must put in on a day-to-day basis. Depending on the thickness of the planks and the addition of a laminate layer, bamboo flooring could also be refinished and is a DIY friendly solution for those who are looking for a pocket friendly kitchen flooring alternative.

Cons
Unless you have invested in the right type and superior quality of bamboo flooring, you cannot expect your bamboo flooring to be resilient against common damages such as scratches and abrasions. Bamboo is also quick to absorb water and might face internal damage due to population of standing water. This is the reason bamboo floors are not the best choice for areas with high humidity or rainfall.

Without a doubt, bamboo's sleek and minimalistic look can be an amazing choice for some interiors. However, the limited design and color variations available might force you to become too selective, making available only a narrow spectrum of design possibilities.

---
Limestone
Stone has always been very much in demand as a natural flooring solution these days, because of an impressive set of advantages that it brings to the table. The natural stone is formed out of the disposition of calcium carbonate by sea animals in warm waters, such as corals algae and seashells. No wonder, this stone comes with a natural characteristic durability an unique aesthetics, which includes fossils.
Pros
Limestone is an incredibly affordable natural stone, which is quite an anomaly considering options such as granite and marble which can prove to be quite costly. This is the reason many people actually prefer limestone to other natural stone alternatives, because it offers comparable physical strength and ability while costing much less.

When taken good care of, limestone can last a lifetime. The material comes with impressive resistance against scratches and abrasions. Despite this toughness, the stone is easy to cut into desired shapes and sizes, making it a perfect choice for architects and designers who want to experiment.

Limestone is also available in an interesting variety of colours and patterns. You might even find some imprinted fossils of marine animals within limestone surfaces, which adds to the aesthetic and real estate value of your space.

This versatile stone surface is also one of the most environment friendly kitchen flooring options you could go for, as it has no toxic emissions to fret over.
Cons
However, one of the key shortcomings of limestone is that it is not as easy to maintain. The stone surface being quite porous, it easily gives into stains and chemicals. This is the reason why the surface needs to be sealed every now and then, which might bring in additional costs for you.

Limestone is also not one of the most convenient materials to transport an install, thanks to its tremendous weight. Its softness makes it susceptible to damage by sharp objects and heavy movements, making it slightly unsuitable for kitchens where you might want to move objects such as refrigerators, island tables, and other furniture from time to time.
---
Your Safest Bet for High-Qualtity Kitchen Flooring Solutions
Wondering which of these stone surfaces might be the perfect solution for your kitchen flooring? Have experts at Petros® guide you when it comes to choosing the most suitable materials for your floors.