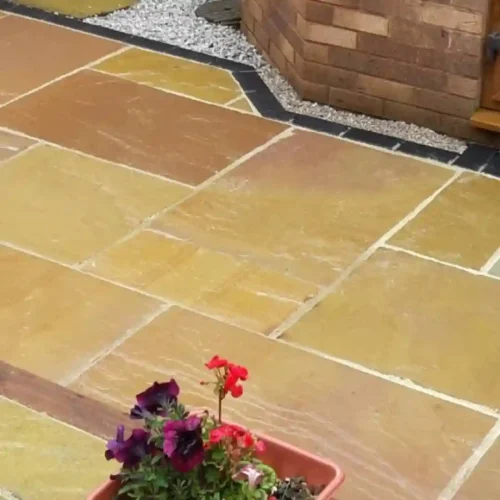 Lalitpur Yellow Sandstone
Description
Lalitpur Yellow Sandstone is a beautiful and captivating natural stone variety known for its warm yellow color and inherent charm. It is highly regarded in the construction and design industry for its striking appearance and versatility. Here are some key details about this exquisite stone:
Color: Lalitpur Yellow Sandstone is characterized by its vibrant and sunny yellow color. The stone's warm tones create a cheerful and inviting ambiance, making it a popular choice for various architectural and landscaping projects.

Origin: Lalitpur Yellow Sandstone is primarily quarried in the Lalitpur district of the state of Uttar Pradesh, India. The region is known for its abundant and high-quality sandstone reserves, and Lalitpur Yellow is one of the prized offerings from this area.

Texture: The stone features a fine to medium-grained texture, providing it with a smooth and consistent surface. It may showcase natural patterns and occasional mineral markings, adding to its visual appeal.

Durability: Lalitpur Yellow Sandstone is a durable and weather-resistant stone, making it well-suited for both interior and exterior applications. It can withstand varying weather conditions, making it an excellent choice for outdoor cladding, paving, and landscaping.

Applications: Thanks to its warm yellow color and durability, Lalitpur Yellow Sandstone finds versatile applications in construction and design. It is commonly used for flooring, wall cladding, countertops, stairs, garden pathways, and various other architectural elements.

Finishes: Lalitpur Yellow Sandstone can be finished in different ways to cater to diverse design preferences. Common finishes include natural cleft, honed, polished, and brushed, each offering a distinct appearance and texture.

Aesthetic Appeal: The sunny and inviting hues of Lalitpur Yellow Sandstone create a welcoming and timeless ambiance in any space. It effortlessly complements various design styles, adding a touch of warmth and elegance.

Maintenance: Like other natural stones, Lalitpur Yellow Sandstone requires regular maintenance, including sealing, to protect it from stains and ensure its longevity and beauty.
Lalitpur Yellow Sandstone's warm and vibrant color makes it a favored choice among architects, designers, and homeowners seeking a stone that brings a sense of positivity and charm to their projects. Its versatility and durability ensure that it can be utilized in a wide range of applications, adding a touch of natural beauty and grace to both indoor and outdoor spaces.
Specification