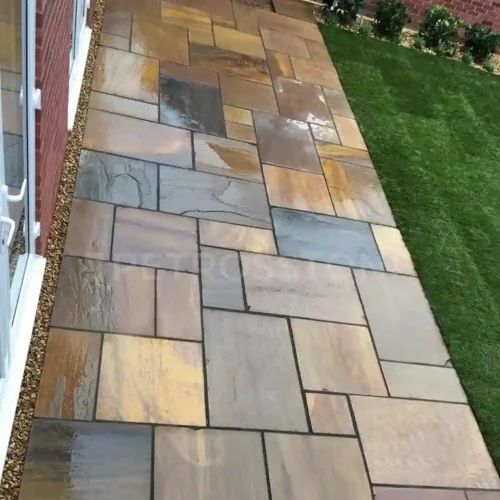 Description
Panther Sandstone is a captivating and unique natural stone variety known for its striking appearance, resembling the majestic and sleek coat of a panther. This stone's dark and dramatic coloration makes it an eye-catching choice in the construction and design industry. Here are some key details about this remarkable stone:

Color: Panther Sandstone features a dark and mysterious color palette, primarily composed of shades of deep black, charcoal gray, and occasional hints of dark brown. The stone's dark hues create a sense of elegance and sophistication.

Origin: Panther Sandstone is typically sourced from regions known for their high-quality natural stone reserves. The specific quarries may vary, but the stone is often found in areas with geological formations that result in its distinct coloration.

Texture: The stone has a fine to medium-grained texture, providing it with a smooth and consistent surface. It may showcase natural patterns and subtle variations in color, adding to its visual allure.

Durability: Panther Sandstone is a durable and weather-resistant stone, making it suitable for both interior and exterior applications. Its strength and resilience make it an excellent choice for outdoor cladding, paving, and landscaping.

Applications: Thanks to its dark and dramatic appearance, Panther Sandstone finds versatile applications in construction and design. It is commonly used for flooring, wall cladding, countertops, stairs, garden pathways, and various other architectural elements.

Finishes: Panther Sandstone can be finished in different ways to cater to diverse design preferences. Common finishes include natural cleft, honed, polished, and brushed, each offering a distinct appearance and texture.

Aesthetic Appeal: The dark and mysterious allure of Panther Sandstone creates a sense of drama and sophistication in any space. It effortlessly complements various design styles, adding a touch of luxury and visual impact.

Maintenance: Like other natural stones, Panther Sandstone requires regular maintenance, including sealing, to protect it from stains and ensure its longevity and beauty.

Panther Sandstone's unique and dark coloration makes it a favored choice among architects, designers, and homeowners seeking a stone that brings a sense of elegance and luxury to their projects. Its versatility ensures that it can be utilized in a wide range of applications, adding a touch of drama and grandeur to both indoor and outdoor spaces.
Specification