Italian Quartz – like Calacatta & Carrara are very durable and strong materials for constructing statues, buildings and bridges. Apart from being mechanically adept at withstanding strain and stress, marble is also chemical resistant. This feature plus the elegant design of marble is the reason why it is also used as countertops in bars and dining spaces.
Carrara Haze and Calacatta Quartz are amongst some popular choices for dining countertops as they are non-porous, durable, heat resistant, and easy to maintain. You can clean food or alcohol stains on these using just a simple cloth and natural surface cleaner.

Mable on the other hand, though beautiful, can be a little difficult to clean and maintian.
---
In this article, we are going to take a look at the 8 Best Dining Table Marbles & Designs. We will compare the physical and aesthetic properties of all these materials:.
Carrara Haze
Dark Emperador
Milan Grey
Crema Marfil
Travertine
Arabescato
Bardiglio
Beola
---
---
Carrara Haze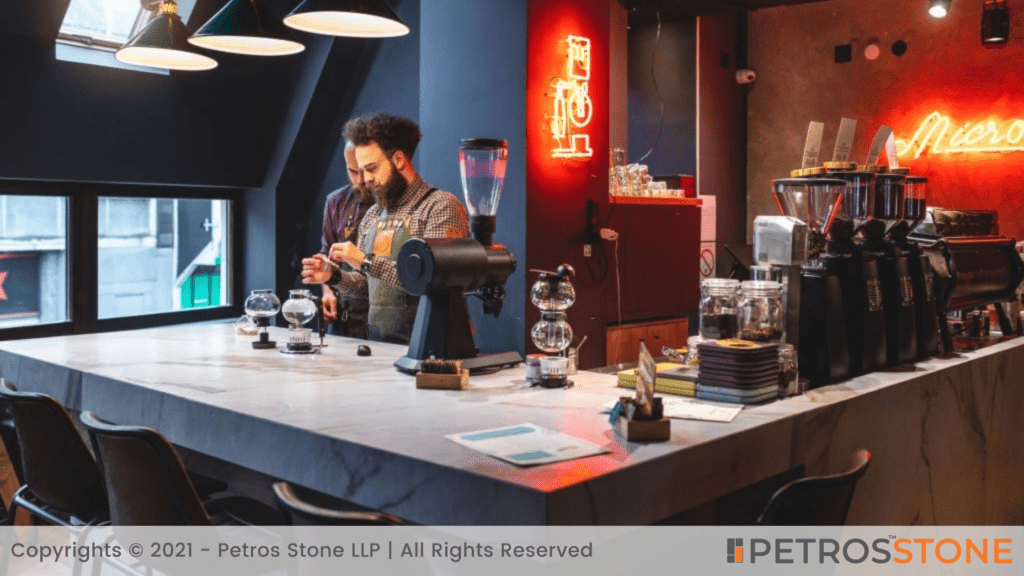 Origin
This marble is quarried from a single mountain range outside the famous region of Carrara in Italy.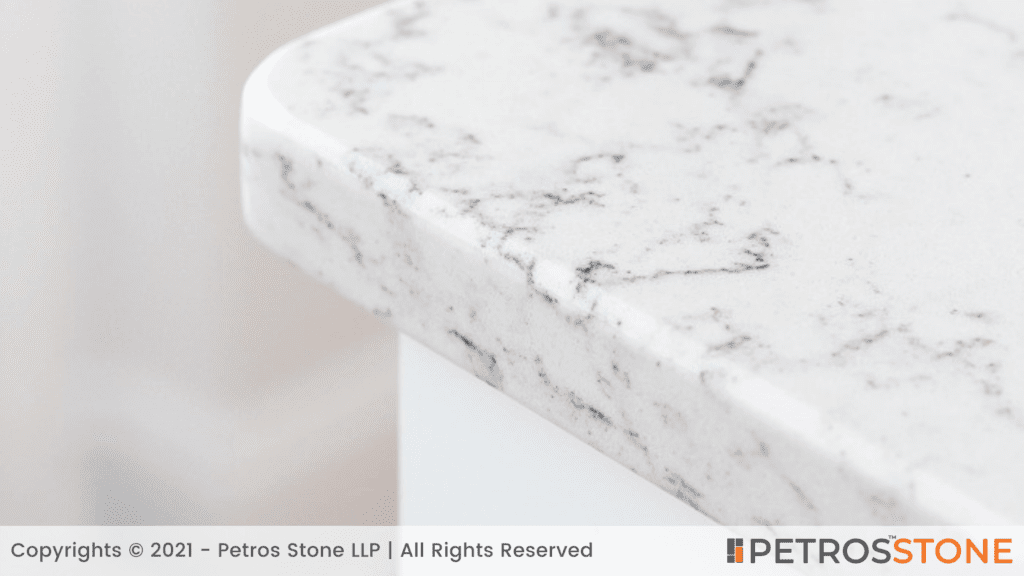 ---
Mechanical Properties
When it comes to the best marble for your countertop or dining table, Carrara is as good as it gets.
A polyester resin-bound Carrara marble will not only give the marble strength but also provide resistance against alcohol.
---
Design
Carrara marble is white with irregularly thin blue and grey veins running randomly across. This creates a very abstract pattern that can be used for constructing interesting designs.
The veins give the marble a blueish hue and each slab produces is different from others. Hence, the best use of this marble is to use it as a giant bar or dining countertop. This way there would not be irregularities in pattern and quality.
Being white, Carrara only blends in with certain colour combinations such as light brown, black, or white. Carrara marble slab goes along with wooden or metallic framed bar stools.
For fine dining and luxury spaces, a white Carrara marble table can add an elegant ambience to the dining room. Whether its light brown ash wood chairs or dark brown teak chairs, Carrara is appropriate for most of the wooden furniture available.
When honed and finished in matt texture, Carrara provides a sturdy dining or bar top for drinks and food cutleries. Carrara has good heat resistance, hence leaving no scorch marks behind.
---
Maintenance
Carrara has the best open porosity as well as the absorption rate is low. The heat and chemical resistance overall ensures that this one is the most cost-effective marble.
However, being white in colour, it does require a timely cleaning for food or drink stains. A good natural stone cleaner is adequate for Carrara marble. This helps in even getting rid of any dust accumulation on the countertops.
The design of Carrara marble is such that scratches are hidden to an extent depending upon its finishing.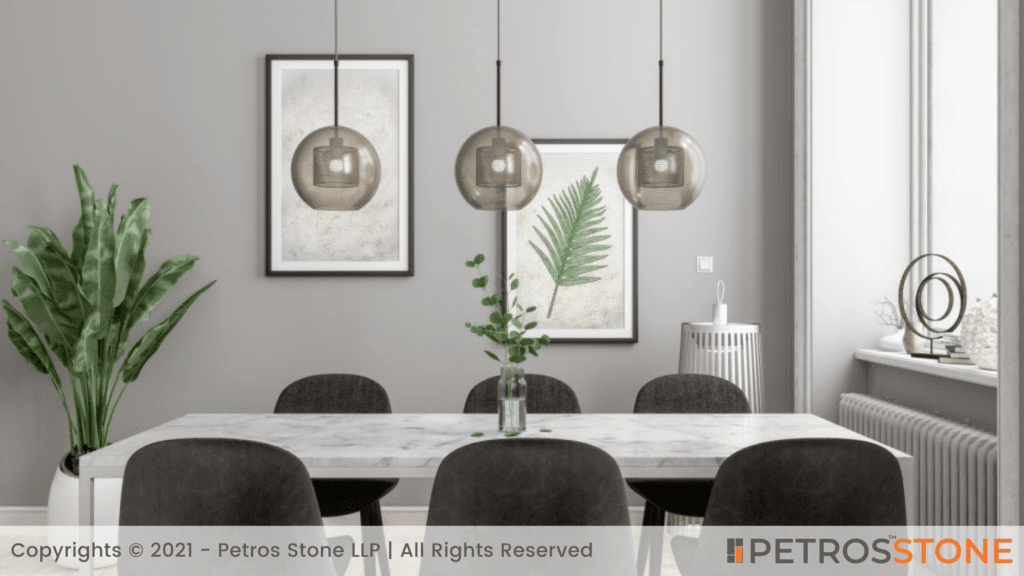 ---
Dark Emperador
---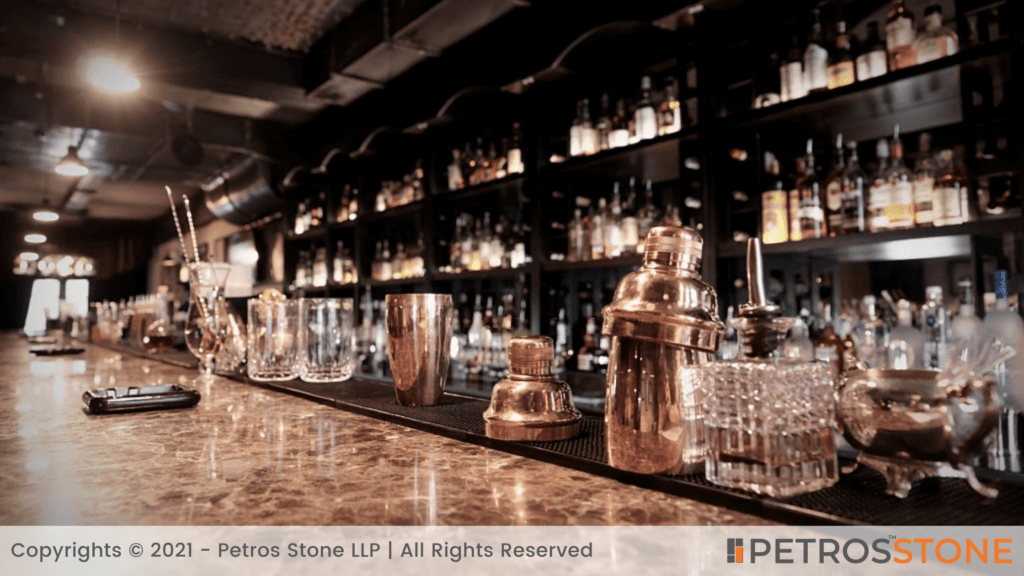 Origin
Dark Emperador is a famous marble primarily from the Murcia region of Spain. However, there are other quarries for the same in the regions of Valencia.
---
Mechanical Properties
This marble has a water absorption rate of 0.25%, making it a decent material for dining and bar countertops. What it lacks in water retention, Dark Emperador makes up in strength and design.
Dark Emperador is strong with a flexural strength of 12 Mpa. It has a very good resistance against scratch and alcohol with an open porosity below 0.4%.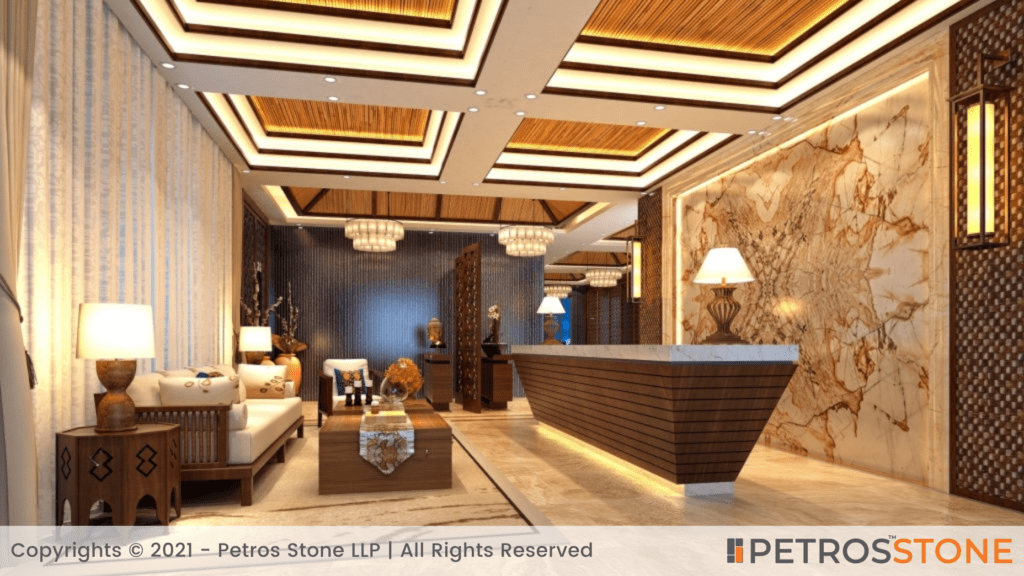 ---
Design
Dark Emperador is a dark brown coloured marble with contrasting light brown and white veins that run across the marble haphazardly. Just like Carrara marble, the veins criss-cross each other forming interesting patterns and textures.
Each slab is unique and the shade of dark brown background can vary from a lighter tone to a darker one. Dark Emperador is perfect for those bar counters in a jazz club.
Dim lightings, rustic furniture and dark wooden claddings are the way to get the best out of a Dark Emperador marble. A well-polished Dark Emperador slab will reflect those dim lights to create an enigmatic ambience.
For a dining setup, Dark Emperador is perfect for a corporate dining experience. It has an elegant and chic design to go along with sharp and formal furniture. Either grey, brown, or white monotonic interior design is perfect for this marble slab.
Maintainence
Dark Emperador is a decent material to maintain as it has a good open porosity and alcohol resistance.
It also has a very high tolerance towards heat and cold. This makes it a perfect material for exclusive dining restaurants which serve hot items such as sizzlers and grilled items.
Its design easily allows scratches to be catalogued within itself. However, it has a pretty average water absorption rate, hence requiring regular sealing with high-quality resin and wiping for accumulated moisture.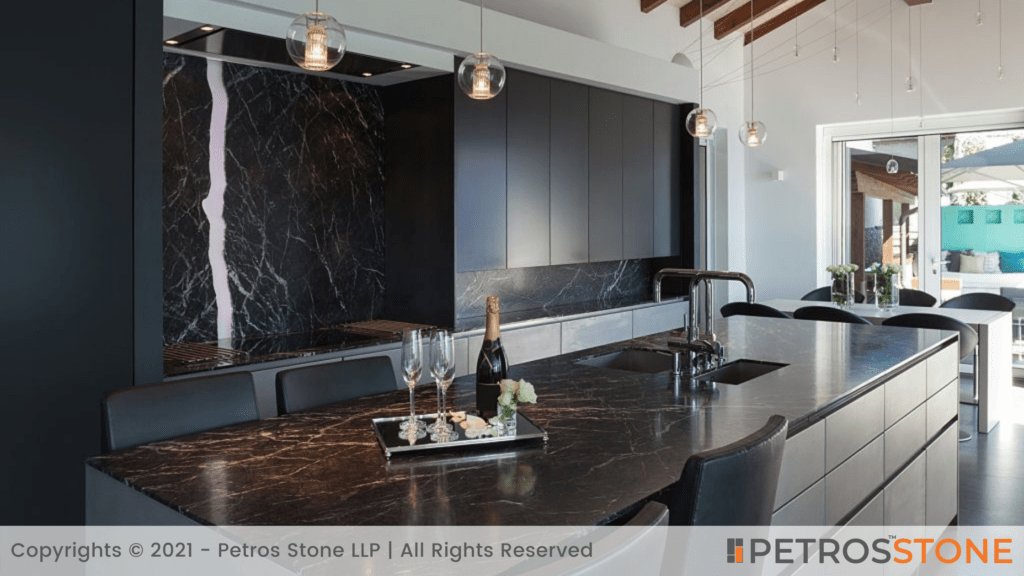 ---
Milan Grey
---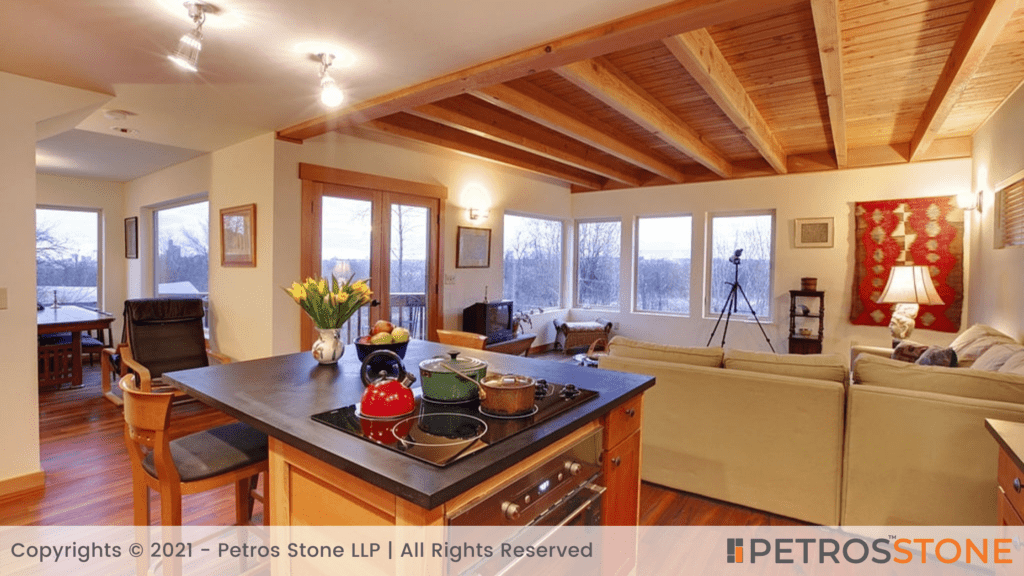 Origin
Milan Grey marble can be quarried from multiple locations around the globe, but the most prominent source is Turkey. Apart from this, it is also found in certain regions of Egypt and China.
---
Mechanical Properties
This marble has few variants, hence the rate of water absorption can range from 0.25% to 0.5%. Its open porosity can is 1.76% which makes Milan grey a decent material for countertops.
Milan Grey has a flexural strength of 17 mpa. If you have kept up with the reading till now then Milan Grey is a very strong and durable marble.
---
Design
Name indicative, Milan Grey is a grey marble with streaks of white, silver and grey veins. These veins are thin and branch out uniformly across the marble.
The best way to utilise this marble is to hone it for the bar countertop and sandblast it for dining countertops.
A honed Milan Grey marble with a book matt finish is perfect to slide those cocktails to your customers without worrying about spillage.
A sandblasted Milan Grey marble is the perfect surface for dining countertops as it provides grip to the cutlery. To avoid water accumulation or chemical damage from alcohol or food, it is better to provide a thin coat of Teflon.
Milan grey is perfect due to its design to not only be used as those indoor fine dining setups with stylish wooden and metallic furniture but also use it for outdoor dining with rustic or organic furniture.
---
Maintainence
Due to its average porosity, additional care and sealing are required for this type of marble to ensure its lustre. Regular wiping and cleaning the surface with a dry cloth is a must.
Milan Grey marble is generally heat resistant. A coating of Teflon on an air gap filled sandblasted slab is the perfect choice for your dining countertop. Its rugged design is perfect to camouflage scratches and scars.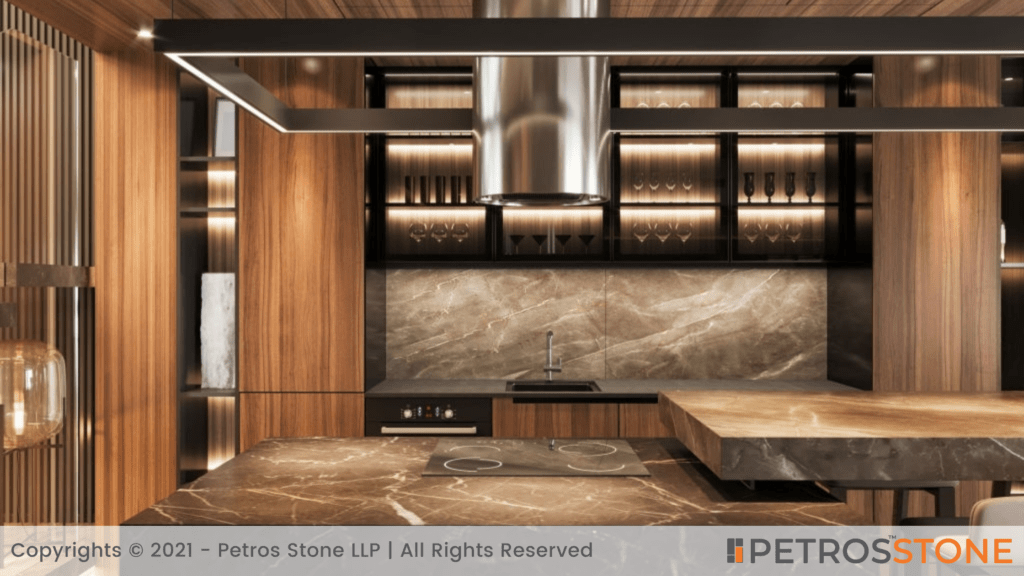 ---
Crema Marfil
---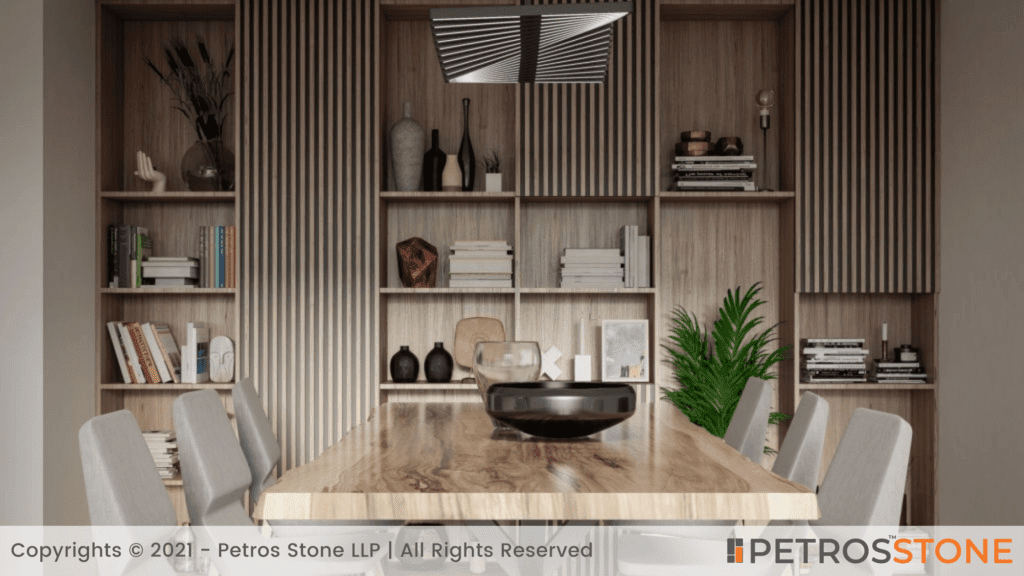 Origin
Crema Marfil is renowned all over the world and is mostly procured from the quarries of Alicante in Spain.
---
Mechanical Properties
Crema Marfil has a water absorption rate anywhere between 0.07% and 0.15%, an excellent reading on the scale while choosing your bar or dining countertop. Crema Marfil has an open porosity of 1.3%.
It has a flexural strength of 17.3 mpa, making it one of the strongest marbles on our list.
---
Design
Crema Marfil is a beige marble with smooth white and dark brown veins. The design is very similar to Cappucino and can fit into dining interiors like a charm especially if coupled with antique furniture.
Usually, Crema Marfil needs to be polished for a smooth finish with a resin coating to ensure no irregularities. This marble is also high in calcite meaning it requires a sealant.
This marble is perfect for Mediterranean style dining and the reason for it is its colour that goes with simplistic to stylish furniture. Especially if the wood is of light colour tones such as ash or teakwood.
For dining and bar countertop purposes this marble can be honed for matt finished, or bush hammered to provide grip to the cutlery.
---
Maintainence
Crema Marfil when honed can be prone to scorch marks. So use this type of finish for your bar countertops only.
You need to clean the surface regularly with a cloth and natural surface cleaner to ensure there is no water accumulation. Crema Marfil is quite porous and so one needs to ensure good care.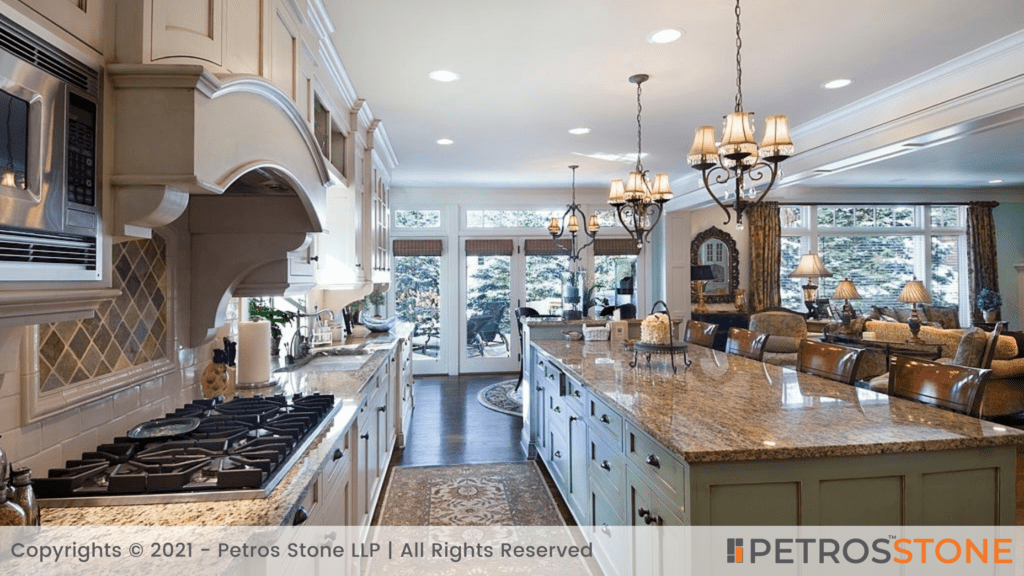 ---
Travertine
---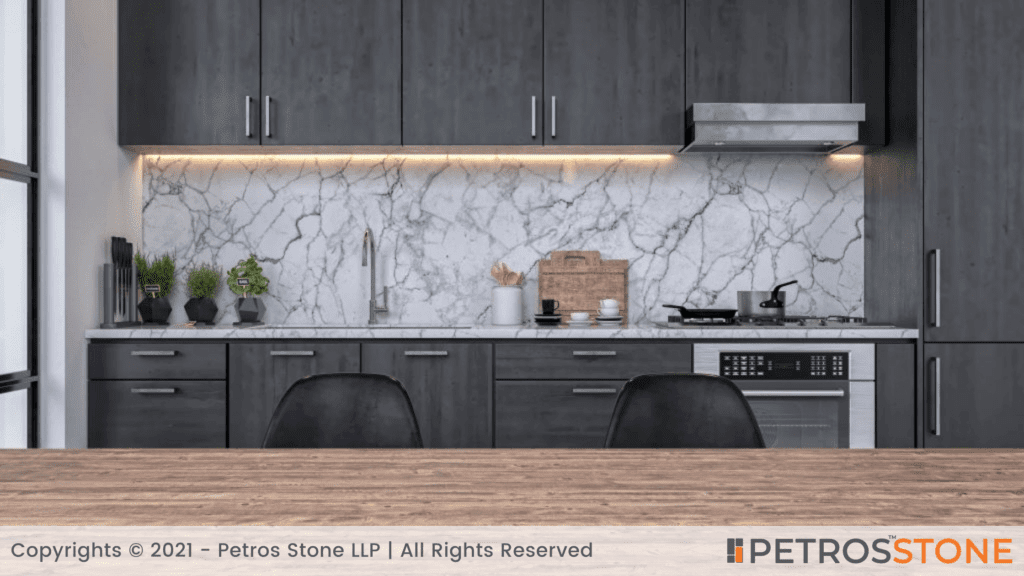 Origin
The spread of Travertine quarries is traversed across the globe. From European countries like Turkey and Italy, all the way to Mexico and the United States. But as we speak about the origins, then the Tivoli quarries in Italy would be an accurate depiction of its history.
---
Mechanical Properties
This marble has a water absorption rate of 0.35% and open porosity of 2% which is pretty high to be qualified for a great bar and dining countertop. Wondering why Travertine makes into this list? Read on…
When sealed with a high-quality resin, Travertine makes up for its poor porosity and turns into a compact countertop material. Moreover, Travertine is commonly used as kitchen countertops and its design is another factor that makes it a choice amongst interior design peeps.
---
Design
Travertine is technically not marble, but more of limestone found around hot springs. Due to its popularity in architecture and design spaces, it is considered a part of the marble family.
This natural stone looks more like wood than any other marble. Its base tone differs from light beige to dark brown. This is overrun with parallel lines of black, brown, blue, grey and white.
Due to its pattern, it makes for a perfect semi-casual dine and wine space. It can easily fit in with any kind of wooden furniture and other natural stones.
Travertine can be honed, polished, bush-hammered, and sandblasted for the final finish. Travertine is known for its superior grip and so it makes that perfect dining countertop material.
---
Maintenance
Being a highly permeable material and easily scorched by heat, Travertine requires sealing, Teflon coating and good care. The best way is to use this marble for cafe type setup where you are not dealing with extremely hot food or beverages.
Natural stone cleaner and regular sealing are important to maintain this material and ensure its longevity. Scratches on this material are also tough to hide so this one needs a bit of care.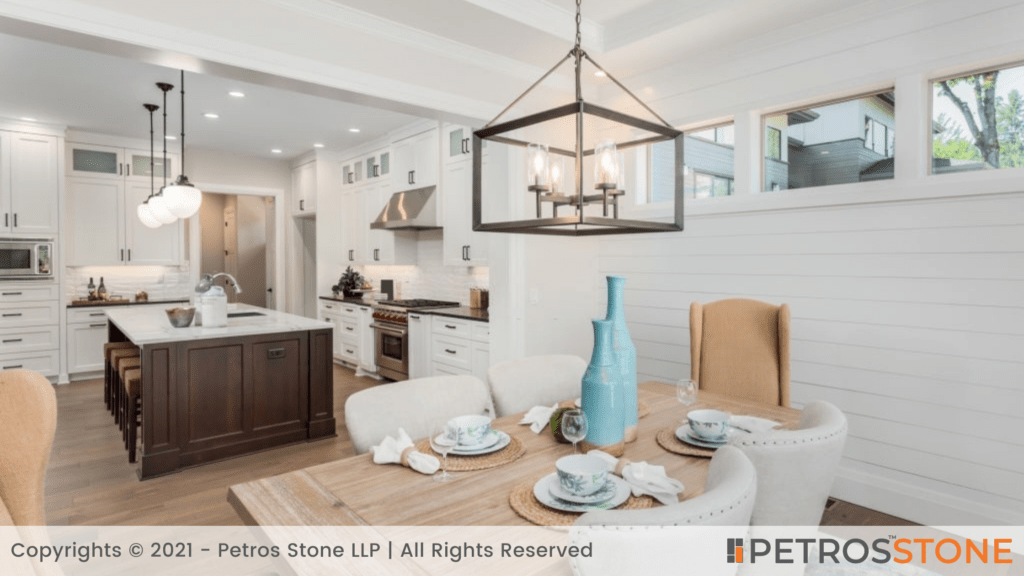 ---
Arabescato
---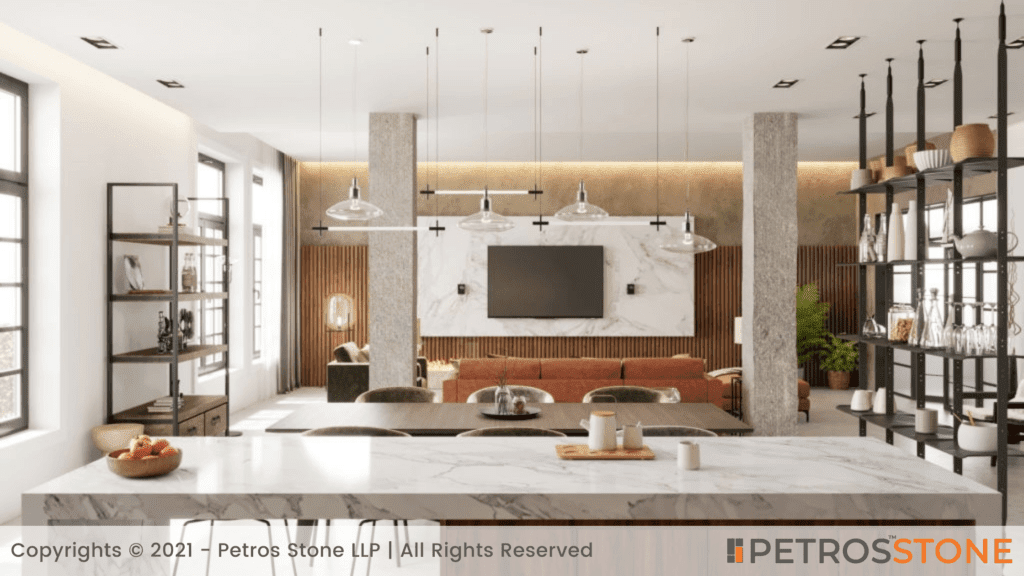 Another Italian marble on the list with its origin being the quarries of Carrara in the province of Toscana.
---
Mechanical Properties
The water absorption rate of Arabescato is 0.4% and its porosity is 1%. This marble comes close to Carrara marble if you are looking for non-permeable countertops.
Arebescato is naturally a very strong and durable marble with high resistance to heat or scratches. This marble is a test of time.
---
Design
Arabescato is very similar to Calacatta marble from Italy, with the difference being the prominence of the dark grey lines on the marble. These lines are more coherent and form a net-like pattern on a brilliantly white surface.
This marble is naturally perfect for a bar countertop due to its low water absorption and chemical resistance. It requires good sealing and a smooth polished finish before fitting into the design.
Arabescato is perfect for those bar counters that go through the heavy traffic of activities. This marble can withstand friction and chemicals.
As for countertops, Arabescato can be found in busy and sophisticated ding spaces due to its sturdy nature along with the abstract but intriguing pattern for the eyes.
---
Maintenance
This marble has very low porosity and so it just needs regular wiping using a natural surface cleaner and a cloth.
Being durable, Arabescatto is also scratch-resistant. However, it is white so it needs regular polishing and sealing.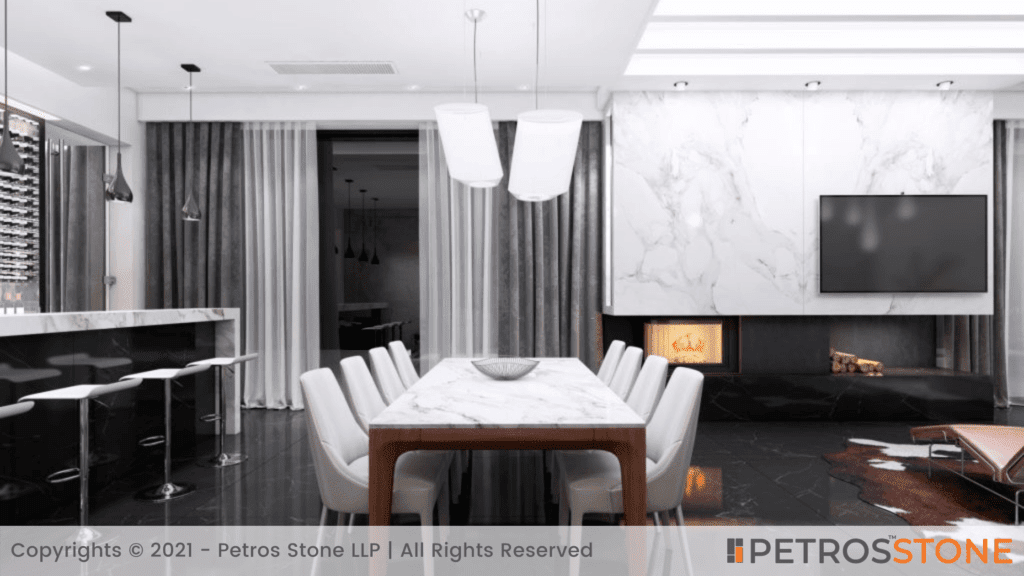 ---
Bardiglio
---
Origin
This marble is sourced from the Resecetto regions, outside the city of Carrara in Toscano.
---
Mechanical Properties
Bardiglio is a low water absorption material with a reading of 0.15 to 0.18%, and open porosity of 0.4%. Another marble that is very good for bar and dining countertops.
This is a tough Italian natural stone descendant with great chemical and heat resistance.
---
Design
Bardiglio is a grey marble with smooth, parallel, thin, white and grey lines. The industrial pattern of Bardiglio can be crafted into countertops for economical, as well as fast-food restaurants.
This marble is highly impermeable and durable is best used for those outdoor casual restaurant and bar setups. They can withstand heat, rain and chemical.
Bardiglio is honed for a matt finish as a bar countertop. This is due to its ability to withstand massive amounts of friction and scratches. Helps in keeping the drinks flow and business smooth like its surface.
With a sandblast finish, it allows the countertop to provide grip to the cutlery and also the air gaps help in preventing any kind of scorch marks or stains.
---
Maintenance
It is one of the best marbles to maintain as it does not require much to maintain. Perhaps, soap water and a soft wiping material are adequate.
This marble does not require much sealing due to its resistance to chemicals and water. Its pattern is more economical, making scratches disappear within itself.
---
Beola
---
Origin
This marble is quarried from the Province of Verbano-Cusio-Ossola in Italy. It is named after the village it is mined from, Beola.
---
Mechanical Properties
Beola has a rate of water absorption ranging from 0.28% to 0.4%, thus making it a decently impermeable material. It is also highly resistant to alcohol and other chemicals.
This marble is quite durable and has supremely high resistance to heat. This is evident as it was used as a cooking stone during ancient Roman times.
---
Design
This marble is available in quite a few ranges of grey variants. The base colour is white or beige, but the grey hue is due to the silicates of various grey colours that are peppered across the surface.
It is best used in its natural state. Beola is one of the toughest marbles and has physical properties that are very similar to a granite slab. Therefore, sandblast or slight honing is adequate for this marble slab.
Beola was used as a cooking stone in ancient times, meaning its heat resistance is impeccable. This makes for a perfect dining countertop.
Due to its design, it is best used for Mediterranean restaurants or cafes. It can combine with metal or wooden based furniture to create the perfect southern European vibe for your restaurant.
---
Maintenance
Keeping this short, Beola is one of the best marbles to maintain over a long time.
Its heat and chemical resistance is an additive to all the great features it already possesses.
If it wasn't for its simplistic design and limited application, this marble would have been on top of this list. Last but not the least, Beola is a marble to look out for as a trend setter in interiors spaces.
---
Now you might have made up your mind on choosing that perfect marble countertop for your bar or dining purpose. But how sure are you that the slab is of the highest quality and is chemical or stain-resistant? At Petrosstone, we not only help you procure the best-imported marble but also suggest testing methods to ensure quality services are delivered at your convenience.