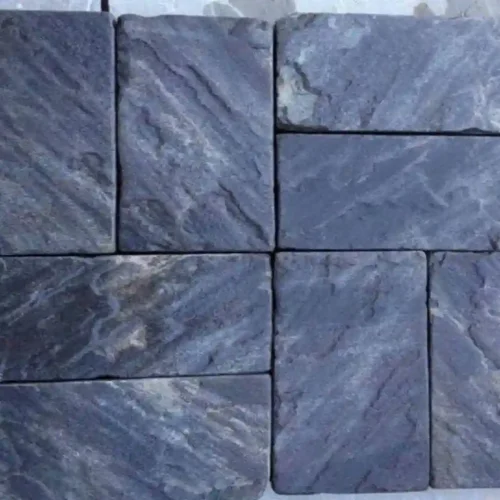 Description
Unveil a world of sophistication and charm with our Black Sandstone Cobbles, a true masterpiece crafted to perfection. These cobbles redefine elegance while adding a touch of mystique to your outdoor spaces.

Key Features:

Majestic Sophistication: Experience the allure of deep, velvety black tones that exude an air of opulence. Our Black Sandstone Cobbles redefine classic beauty with a contemporary twist, making them a statement piece for any landscape.

Crafted for Excellence: Our commitment to quality is reflected in every cobble. Meticulously handcrafted and selected, these cobbles carry the mark of unparalleled workmanship. You can trust in their durability, ensuring they stand the test of time.

Endless Versatility: These cobbles transcend design boundaries, effortlessly blending into various aesthetics. Whether you're aiming for a sleek modern look or a timeless traditional appeal, Black Sandstone Cobbles enhance your vision.

Subtle Texture, Bold Impact: The cobbles feature a refined texture that not only adds to their visual appeal but also ensures a secure footing. This tactile experience enhances safety while offering an invitation to explore your outdoor space.

Why Choose Black Sandstone Cobbles:

Timeless Beauty: Black never goes out of style. These cobbles capture the essence of timelessness, creating a lasting impression that stands strong through changing trends.

Aesthetic Versatility: Elevate your landscape with a touch of drama or blend them seamlessly for a sophisticated backdrop – these cobbles adapt to your creative direction.

Unforgettable Moments: With each step, you're walking on elegance. Black Sandstone Cobbles don't just adorn your outdoor space; they craft memories that resonate.

Elevate your outdoor spaces with the sophistication of Black Sandstone Cobbles. Let them be the foundation of elegance and grandeur, marking each moment with style and grace. Your journey towards an extraordinary landscape begins here.
Specification