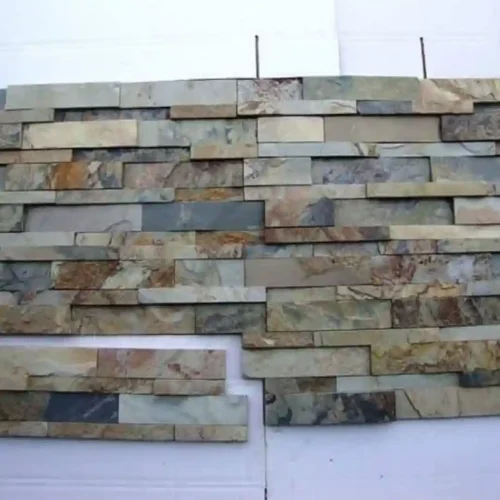 Slate Mosaic Stone Panels
Description
Slate Mosaic Stone Panels offer a unique and captivating way to enhance interior and exterior spaces with the timeless beauty of natural stone. These panels are intricately crafted from individual slate pieces, creating a mosaic that adds texture, depth, and visual interest to various design projects. Here are some key features and benefits:

Key Features:

Artistic Composition: Slate Mosaic Stone Panels are carefully composed of smaller slate pieces, creating intricate patterns, designs, and color variations that add artistic flair to any space.

Texture and Depth: The varying thicknesses and textures of slate pieces in the mosaic panels provide depth and dimension, adding a tactile element that enriches the overall visual experience.

Natural Variations: Each individual slate piece has its own unique characteristics, such as color tones and surface textures. When combined in a mosaic, these variations create a truly distinctive and authentic design.

Versatile Application: Slate Mosaic Stone Panels can be used in a variety of applications, including accent walls, backsplashes, fireplace surrounds, flooring, and even outdoor features, adding a touch of natural beauty to both indoor and outdoor environments.

Customization: Mosaic panels offer the flexibility to create custom designs, patterns, and layouts, allowing for personalized and tailored aesthetics that match the desired style of a space.

Durability: Slate is a durable and long-lasting natural stone that can withstand daily wear and tear. The mosaic panels retain the inherent strength of slate, making them suitable for high-traffic areas.

Timeless Charm: The combination of slate's inherent beauty and the mosaic arrangement results in a design element that stands the test of time, adding a touch of elegance and charm that never goes out of style.

Visual Focal Point: Slate Mosaic Stone Panels serve as captivating focal points within a room or outdoor area, drawing attention and creating a sense of visual intrigue.

Easy Maintenance: Slate is relatively low-maintenance, and the mosaic panels can be easily cleaned and cared for to retain their beauty over time.

Interior and Exterior Harmony: These panels seamlessly bridge indoor and outdoor design aesthetics, allowing for a cohesive flow between different areas of a property.

Design Versatility: From rustic and traditional to contemporary and modern designs, Slate Mosaic Stone Panels can be integrated into various design themes, adding versatility to your creative endeavors.

Experience the beauty and versatility of Slate Mosaic Stone Panels as they transform your spaces into showcases of natural elegance and creativity. Whether you're looking to add a focal point to an accent wall or infuse your surroundings with the timeless charm of slate, these mosaic panels offer a stunning way to celebrate the beauty of natural stone in your design projects.
Specification