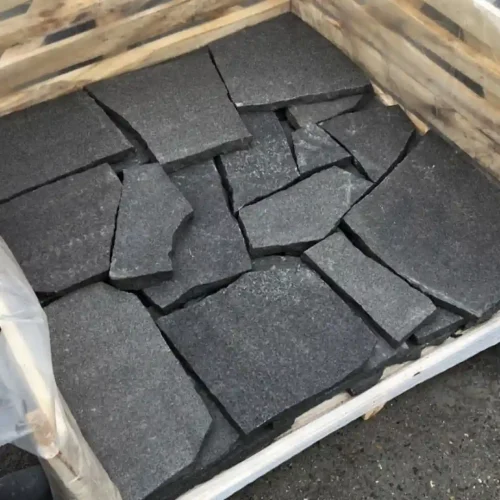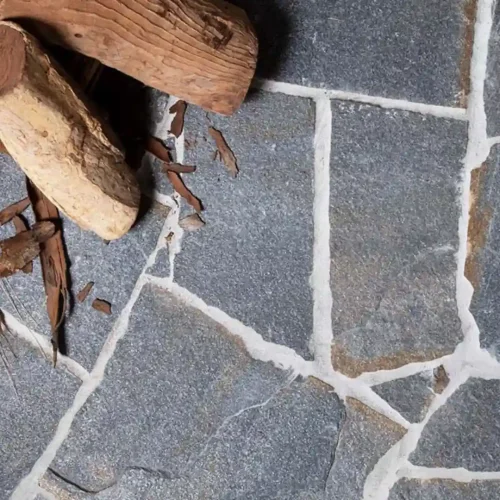 Description
Crazy Slate Stones, also known as Crazy Paving Slate, are a unique and creative option for adding a distinctive touch to various interior and exterior design projects. These irregularly shaped slate pieces are arranged in an artistic and random pattern, creating a visually captivating mosaic that adds texture, color variation, and a sense of playfulness to spaces. Here are some key features and benefits:

Key Features:

Eclectic Aesthetics: Crazy Slate Stones exhibit an eclectic and unconventional appearance due to their irregular shapes and random arrangement. This results in a design element that stands out and adds a touch of whimsy to any environment.

Artistic Arrangement: The irregular shapes and sizes of the slate pieces allow for creative and artistic arrangement, enabling unique patterns and designs that reflect the creativity of the installer.

Texture and Depth: The varied thicknesses and surface textures of the slate pieces contribute to a sense of depth and tactile interest, creating an engaging and visually appealing surface.

Natural Variation: Just like other slate materials, Crazy Slate Stones display natural variations in color, texture, and pattern. When combined in a crazy paving arrangement, these variations contribute to a dynamic and authentic aesthetic.

Versatile Applications: Crazy Slate Stones can be used for a wide range of applications, such as walkways, pathways, patio surfaces, accent walls, and even as artistic focal points in gardens or outdoor areas.

Rustic Charm: The irregular and unstructured nature of crazy paving aligns well with rustic and cottage-style aesthetics, adding charm and character to spaces.

Customizable Patterns: Installers have the flexibility to create custom patterns and arrangements, tailoring the crazy paving to match the desired design theme of the space.

Visual Interest: Crazy Slate Stones serve as visual focal points, attracting attention and becoming conversation starters in both indoor and outdoor settings.

Durable and Weather-Resistant: Slate is a durable natural stone that can withstand various weather conditions, making Crazy Slate Stones suitable for outdoor applications.

Timeless Appeal: The uniqueness and creative flair of crazy paving ensure that the design remains intriguing and appealing for years to come.

Personalized Design: The irregularity of the arrangement allows for a more personal and individualistic design approach, giving spaces a distinct and bespoke appearance.

Experience the playful and artistic charm of Crazy Slate Stones as they transform your spaces into showcases of unconventional beauty and creativity. Whether you're looking to add an artistic pathway or infuse your surroundings with the vibrant energy of irregular patterns, Crazy Slate Stones offer a visually captivating and unique way to incorporate the beauty of natural slate into your design projects.
Specification