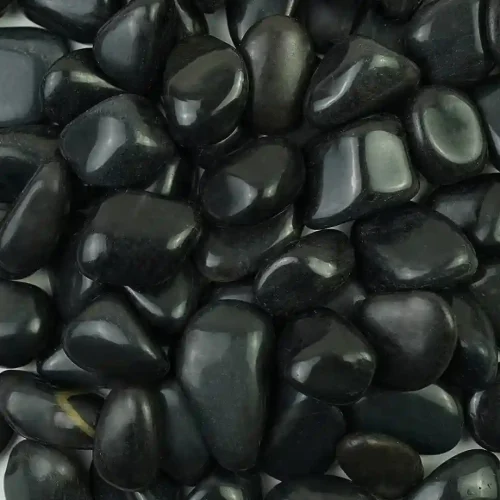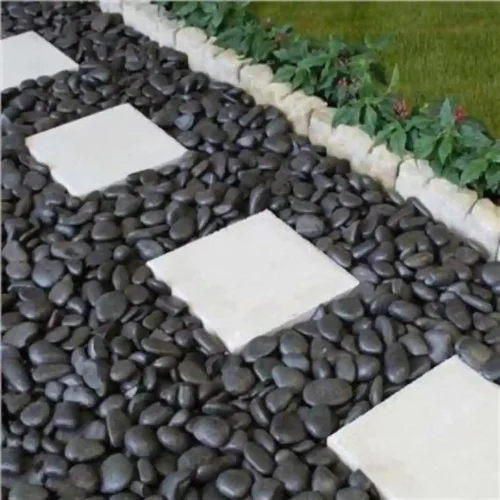 Description
Black River Pebbles are natural decorative stones that exhibit a sleek, dark black color and smooth, rounded shapes. These pebbles are formed over time through the natural processes of erosion and water movement, resulting in their unique appearance. Black River Pebbles are widely used for landscaping and design projects due to their striking contrast and versatile nature. They can add a touch of sophistication and contemporary elegance to various indoor and outdoor spaces. Here are the key features and details about Black River Pebbles:

Key Features:

Color: The pebbles boast a deep black color that creates a bold and dramatic look, making them a focal point in any design.
Texture: Natural polishing gives Black River Pebbles a smooth and tactile texture, making them comfortable for pathways and visually pleasing as decorative elements.
Size: Available in a range of sizes, from small to large, these pebbles offer flexibility for design and layout options.
Shape: The pebbles typically have rounded and irregular shapes, enhancing their natural and organic appearance.
Durability: Black River Pebbles are durable and resistant to weathering, making them suitable for outdoor applications. Their color remains consistent over time.
Versatility: The deep black hue of these pebbles allows for versatile design possibilities, adding depth and contrast to various settings.

Application Areas:

Landscaping: Black River Pebbles are popular for creating pathways, borders, and accents in landscaped areas, providing a striking contrast against greenery and other plants.
Water Features: The dark and smooth surface of the pebbles adds a contemporary and stylish touch to water features like ponds, fountains, and waterfalls.
Garden Decor: Black River Pebbles can be used creatively in garden beds, rock gardens, and planters to elevate the visual impact and create modern aesthetics.
Interior Design: These pebbles can be incorporated into interior design projects, such as accent walls, decorative bowls, and unique flooring patterns for a touch of sophistication.
Zen Gardens: The deep and calming appearance of Black River Pebbles makes them a suitable choice for Zen-inspired gardens or peaceful meditation spaces.
Driveways and Walkways: When combined with other materials like concrete or pavers, the pebbles can contribute to the design of visually appealing driveways and walkways.
Aquariums: Black River Pebbles are safe for use in aquariums and fish tanks, providing a sleek and modern backdrop for aquatic environments.

Whether you seek to create a contemporary outdoor space, add a touch of luxury to your interiors, or enhance the ambiance of a water feature, Black River Pebbles offer a distinctive and visually appealing option. Their deep and captivating color lends itself to a wide range of design applications, making them a versatile choice for both residential and commercial projects.
Specification