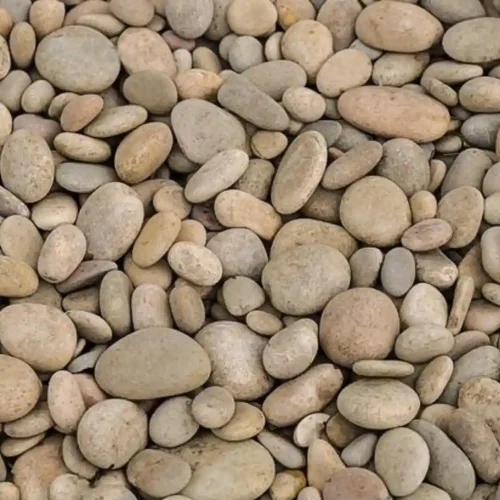 Description
Beige River Pebbles are natural decorative stones characterized by their smooth, rounded shapes and warm beige color. These pebbles are typically found in riverbeds, where the constant movement of water has polished and shaped them over time. Beige River Pebbles are a popular choice for landscaping and design projects due to their natural beauty and versatile aesthetic. Here are some key features and details about Beige River Pebbles:
Key Features:
Color: Beige River Pebbles exhibit a range of beige tones, from light to medium shades. The neutral color makes them easy to incorporate into various design schemes.
Texture: These pebbles have a smooth and tactile texture, making them comfortable to walk on and pleasant to touch.
Size: Available in different sizes, from small to large, Beige River Pebbles offer flexibility for creative design arrangements.
Shape: The pebbles typically have rounded and irregular shapes, contributing to their natural and organic appearance.
Durability: Beige River Pebbles are durable and well-suited for outdoor use. They can withstand weather conditions without fading or deteriorating.
Application Areas:
Landscaping: Beige River Pebbles are commonly used for landscaping projects. They can be employed to create pathways, borders, and accents in gardens, courtyards, and outdoor spaces.
Water Features: The smooth and warm appearance of the pebbles adds a natural touch to water features such as ponds, fountains, and streams.
Garden Decor: Beige River Pebbles can be creatively used in garden beds, rock gardens, and planters to enhance the visual appeal and create a harmonious atmosphere.
Interior Design: These pebbles can be integrated into interior design projects, such as in decorative bowls, vases, or as accent elements in various indoor spaces.
Zen Gardens: The calming and neutral appearance of Beige River Pebbles makes them suitable for creating Zen-inspired gardens or relaxation areas.
Driveways and Walkways: When combined with other materials like concrete or pavers, the pebbles can contribute to the design of driveways and walkways.
Aquariums: Beige River Pebbles are safe for use in aquariums, adding a natural and aesthetic element to aquatic environments.
Whether you're aiming to create a serene outdoor space, add a touch of nature to your interiors, or enhance the aesthetic of water features, Beige River Pebbles offer a versatile and visually appealing solution. Their warm and neutral tones can blend seamlessly with various design styles, contributing to the beauty and tranquility of your surroundings.
Specification