Hotel interiors are as much about grandeur and identity as about function and favour. This reflects directly in the choice of hotel lobby flooring options, which communicate splendour and shape impressions at the very first look.
Combining aesthetics with function, Petros Italian Stone surfaces happen to be the number one choice for hotel lobby flooring, with their scratchproof, resistant and easy-to-maintain surface ideally suited for hotel lobbies, where both footfall and use variance is high. At the same time, the sheer variety of colours, textures, and striations that Petros Stone is available in makes it suitable for an elegant and classic environment like a hotel, no matter what the theme. 
---
There are a few other flooring materials as well that pose a similar advantage of a wonderful combination between aesthetics and performance. We have listed the top 12 best floorings for hotel lobbies below.
---
Factors to consider when selecting Hotel Lobby Flooring
The hotel lobby is easily the first thing one sees when visiting a hotel. Therefore, it must also be one of the grandest and most splendidly designed aspects of the building. It is the hotel lobby that casts the first impression on any visitor, besides setting the tone for their entire experience and stay in the premises. The hotel lobby flooring, therefore, must be carefully curated, and there is a set of factors that can help you with this.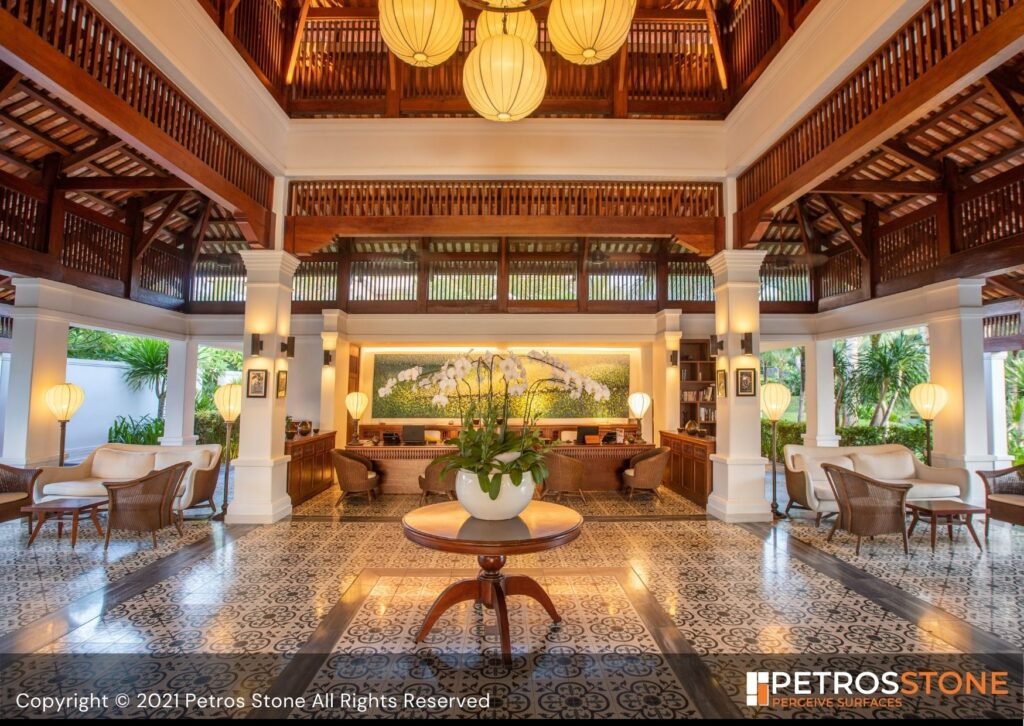 Design
Nothing compares to the charm and elegance of a grand hotel lobby flooring that not just welcomes the visitor but enhances the overall ambience as well. Therefore, do pay attention to the final design outlook of your hotel lobby flooring. While patterns and textures could be fun for some types of hotels, sheer lustre and monochromatic grandness could make a statement for another.
---
Foot traffic
The hotel lobby would easily be one of the busiest spaces of your entire building, always in public view and access. Therefore, pay attention to the element of foot traffic, and thus durability needed for your hotel lobby flooring. This would prevent having to replace the flooring material time and again due to damages such as chips, cracks and scratches.
---
Acoustics
Since the hotel lobby is going to be such a busy place, it is best to avoid materials that are too noisy to walk on. Also, the hotel lobby flooring must be able to absorb as much sound as possible, making the entire space much more clutter-free to walk around.
---
Safety
The hotel lobby might require constant cleaning and upkeep from time to time. This also means that it is natural for multiple janitors to be attending to the lobby floor with brooms and mops from time to time. Pick a flooring material that is not slippery to avoid any untoward accidents. If possible, try avoiding highly glossy surfaces for they tend to be equally slippery. Keeping the aesthetics and elegance aside, try not to use combustible materials for hotel lobby flooring to keep untoward accidents at bay.
---
Maintenance
It is natural for guests to expect the hotel and all its spaces to be sparklingly clean at all times. Therefore, pick a hotel lobby flooring that is easy to clean with simple utilities, such as brooms, damp mops, vacuum cleaners, and so on. Whether during the peak hours or early and late during the day, the floor must be easy to maintain at all times, and also over as many years as possible without losing its charm.
---
Budget
Lastly, depending on the kind of hotel you are thinking of adding the flooring to, the material, its transportation, installation and maintenance must all fit within your budget. Different flooring materials come with different overall price tags. It is important to realise which one you can go for depending on your pocket size.
---
12 Best Flooring Materials for Hotel Lobbies
Based on a compilation of the above decisive factors when it comes to hotel lobby flooring, we have compiled a set of 12 best options that you could look into. Each of these flooring materials comes with its own set of advantages and disadvantages. We have also tried highlighting a pro-tip if you plan on using any.
Petros® Stone
One of the raging new trends in the world of elegant flooring options, Petros Stone emerges as a resilient, high-performing and attractive hotel lobby flooring material. Its impressive durability and unique aesthetics are more than ideal for augmenting the grandeur of your hotel lobby.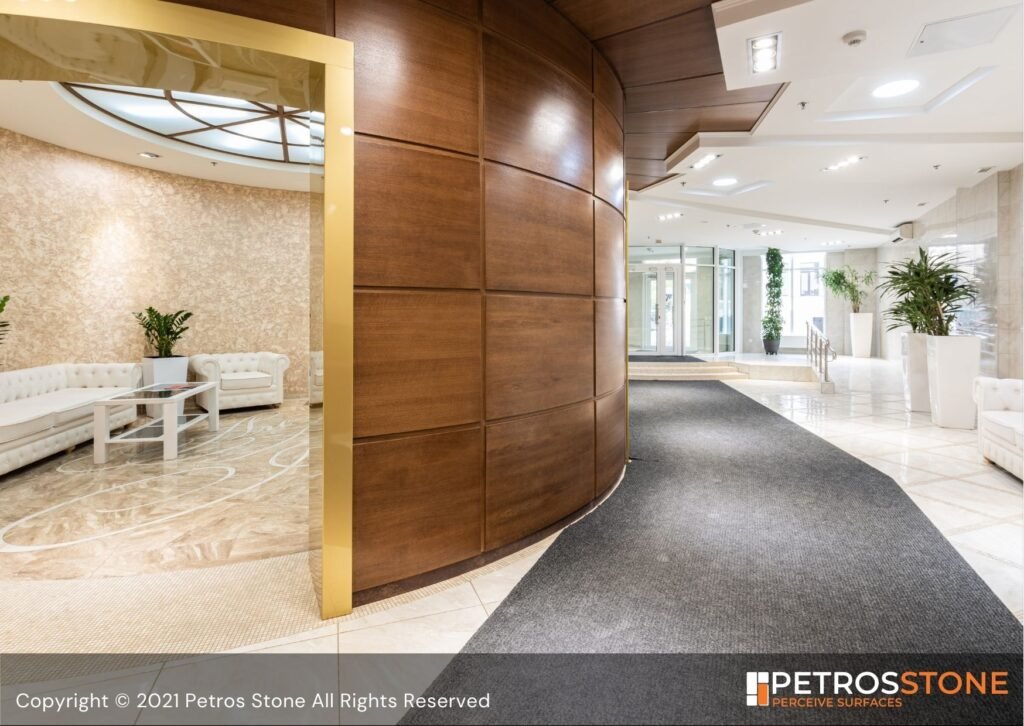 This is one of the easiest to maintain options you could go for, which comes with its own natural durability and longevity. Made from quartz, it is one of the hardest materials on earth, which means you do not have to worry about it getting cracked or chipped any easily, no matter how much the footfall in your hotel.
Pros
First of all, there is no dearth of attractive colours, patterns and designs when it comes to Petros Stone flooring surfaces. Making an elegant appearance, this flooring option does not require any sealing as well, for it is naturally non-porous. This makes it perfectly resistant to liquid seepage or stains, taking off the worry of damaging the stone surface due to spills and washing.

At the same tine, Petros Stone is pretty easy to clean using any chemical cleaner of your choice, without any harmful effects, though the best option in our opinion would be a simple damp cloth or vacuuming. The surface is also slip-resistant, making it a safe choice for hotel lobbies.

It is a highly hygienic stone surface as well, offering impressive resistance against molds and mildews. Despite its borderline maintenance and attractive designs, It does not burn a hole in your pocket, being the affordable option that it is!
Cons
The slip resistance of Petros, though superbly impressive, may fade away with time. This is because the surface is naturally non-porous and does not absorb liquids at all. These liquids are left behind to dry naturally and make the stone surface slippery when wet over time.

Another drawback that one may feel would be the unending choices and variety in Petros quartz surfaces. Once you have so many starkly different options, you end up devoting much more time and energy, because it is tough to choose what to pick and what to reject.
---
Granite
One of the best natural stone surfaces to go for when designing hotel lobby flooring, granite has always been associated with luxury and flamboyance. Aren't these the very qualities you want from your hotel's most public space too?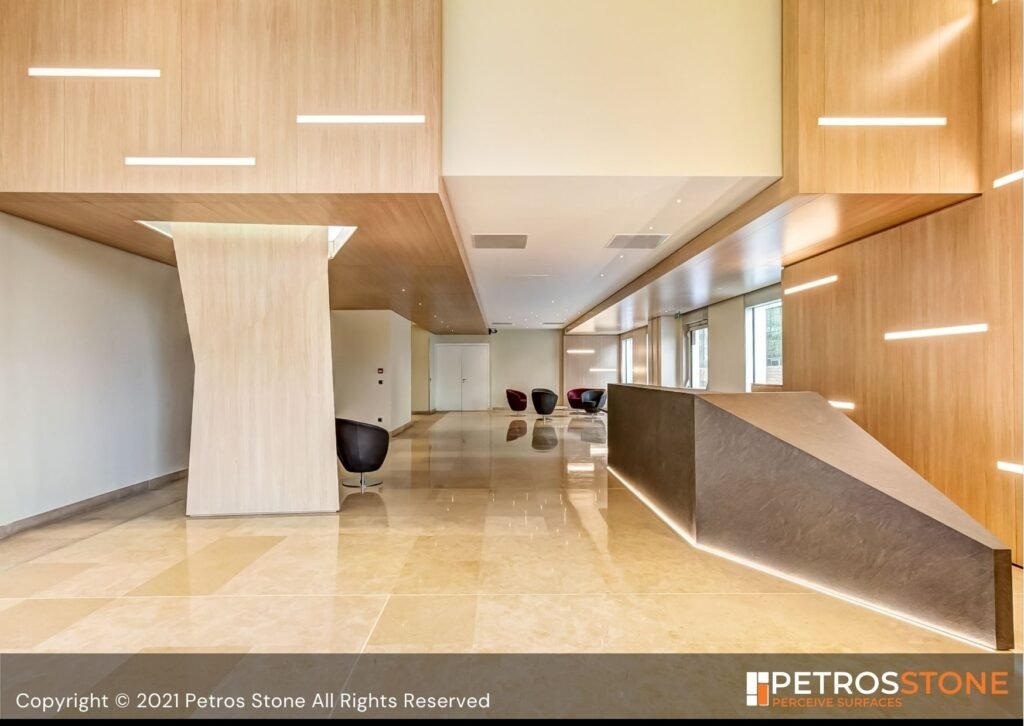 Pros
The natural beauty of granite is its characteristic feature, and comes in mind-boggling varieties of colours, patterns and textures. The rich and impressive striations are so unique that no two granite slabs are ever completely identical! That's not all – granite surfaces come with the option of multiple types of finishes – honed, polished, unpolished, blasted, and so on – to match all types of interior looks.

The greatest asset of granite surfaces has to be their amazing durability. With proper care and maintenance, granite stone surfaces can last longer than a lifetime, even with heavy foot traffic, furniture, movements and more.

When sealed properly, granite is resistant to moisture, taking away your worries over liquid spillage or seepage. The incredibly low maintenance stone surface suffices with regular sweeping and occasional mopping alone.
Cons
One of the biggest drawbacks of this amazing choice for hotel lobby flooring is its price tag. Granite can turn out to be comparatively more expensive, especially when dealing with spacious areas. The installation process of granite demands professional expertise as well. This means you need to devote both time and money to the process.

Using granite surfaces in colder climatic regions might not turn out very well. This is because granite tends to get really cold underfoot. However, the material is suitable for in-floor heating. Therefore, with a little more money, you can easily opt for a gorgeous flooring solution like that of granite.
Pro-Tip
Always look out for experienced professionals when installing granite, lest you should receive an improper, imperfect finish. Make sure the granite variation you pick matches your overall vibe. It should also sum up the theme of your hotel lobby's design.
---
Italian Marble
Quarried from Northern Italy, Italian Marble is one of the most exquisite and elegant choices you can make. The highly lustrous and glossy stone surface is easily one of the most luxurious style statements for a space. No wonder, so many hotel lobbies all around the world boast gorgeous Italian marble lobbies.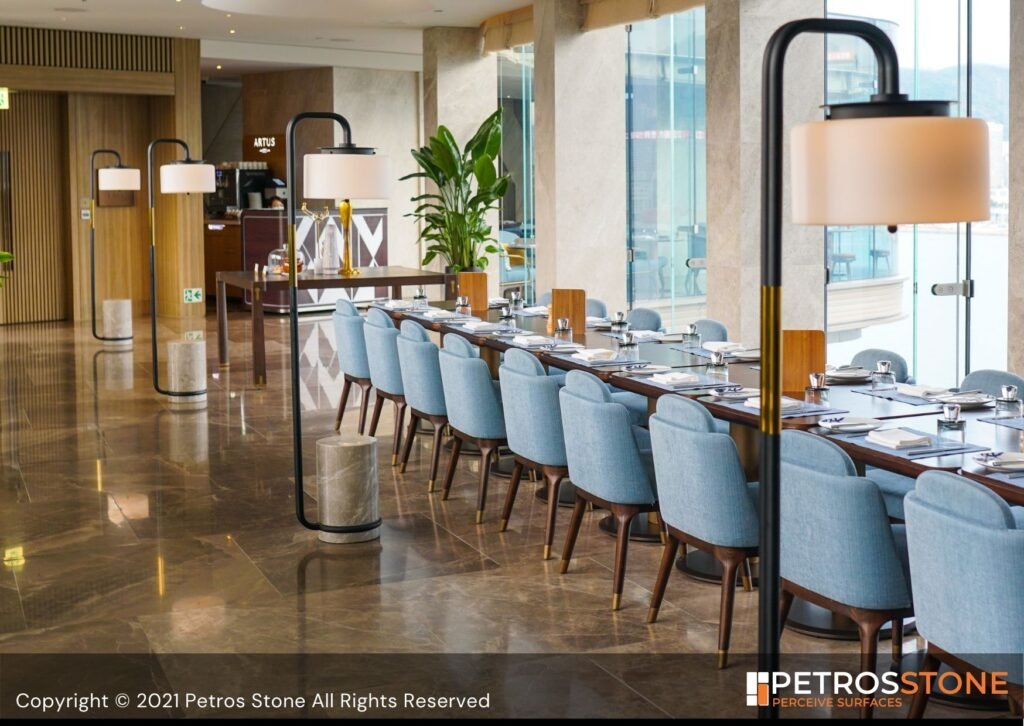 Pros
The first and foremost advantage of Italian marble, as mentioned earlier, is its unmatched sheen. This stone surface is more lustrous than any other natural stone variety you know of. This is why it is used in those spaces which need to emit a sense of luxury and charm, such as hotel lobbies.

Secondly, Italian marble is available in a rich assortment of colours, including white, grey, blue-grey, rose, green, and more. Marble is naturally associated with bold statements. In this light, having Italian marble flooring adds to the real estate value of your project as well.
Cons
With so many benefits comes the con of pricing. Italian marble is slightly on the more expensive end of the spectrum. Besides, its installation requires high0quality, experienced craftsmen for perfect laying. This is not just a costly but also a time-taking process.

Italian marble is weaker than other natural stones like granite or Indian marble and is quite brittle. Unless provided with a nylon sheet backing or extra reinforcement with epoxy resins, Italian marble is prone to chipping and cracking with greater footfall.
Pro-Tip
Opt for Italian marble for its brilliant lustre and characteristic luxury. The only concern is if you can manage to fit it within your budget. Always make sure the marble surface has been provided with adequate reinforcements. This is because a hotel lobby flooring is sure to experience high footfall on almost all days.
---
Composite Marble (Engineered Marble)
Composite marble, unlike the others on this list, is an industrial product. It is relatively inferior to Petros stone and other quartz surfaces – but is much cheaper. As the name suggests, this material uses a blend of various inputs. These include marble chips, resins, strength polymers, gel coat and pigments, among others. The result is an artificially produced stone that looks exactly identical to natural marble.
Pros
Also called engineered marble, composite marble offers the same looks and elegance as natural marble. This includes the characteristic striations and colours of natural marble. However, it is much easier to install as well as much more affordable compared to natural marble.

The material is incredibly versatile, being available in an array of thicknesses – normally 15, 16 and 18 mm. Special thicknesses can also be ordered as per your wish. The prefabricated product will come in determining sizes, which makes these slabs easy to install, besides helping reduce any wastage.

Also, composite marble is much easier to maintain than natural marble. In fact, it fares better in this regard than most other types of hotel lobby flooring options. This is because the surface does not attract dirt and dust easily due to the presence of resin binders. Unless textured deliberately, there is no need for sealing either.
Cons
One of the biggest drawbacks of composite marble is that it does not come with the characteristic hardness of natural marble. Its heat and stain resistance are also no match to more durable materials like Petros Quartz, which makes it comparatively less suitable for hotel lobby flooring.

Though composite marble is non-porous, its surface porosity increases upon deliberate application of texture to the surface. In these cases, the material would require extra attention. Such a shortcoming is absent in materials that have natural texture, such as Petros Quartz or Granite.
Pro-Tip
Composite marble is a great choice for hotel lobby flooring if you are on a budget and would like to experiment with a stylish statement. Just keep in mind that composite can be restrictive in terms of external texture application, and in terms of its hardness.
---
Indian Marble
Another rich and elegant variety of marble, Indian marble is one of the most befitting choices for hotel lobby flooring. Quarried from the Indian states of Rajasthan, Gujarat, Andhra Pradesh and Madhya Pradesh, Indian marble is known for its impressive durability and hardness compared to its Italian counterpart.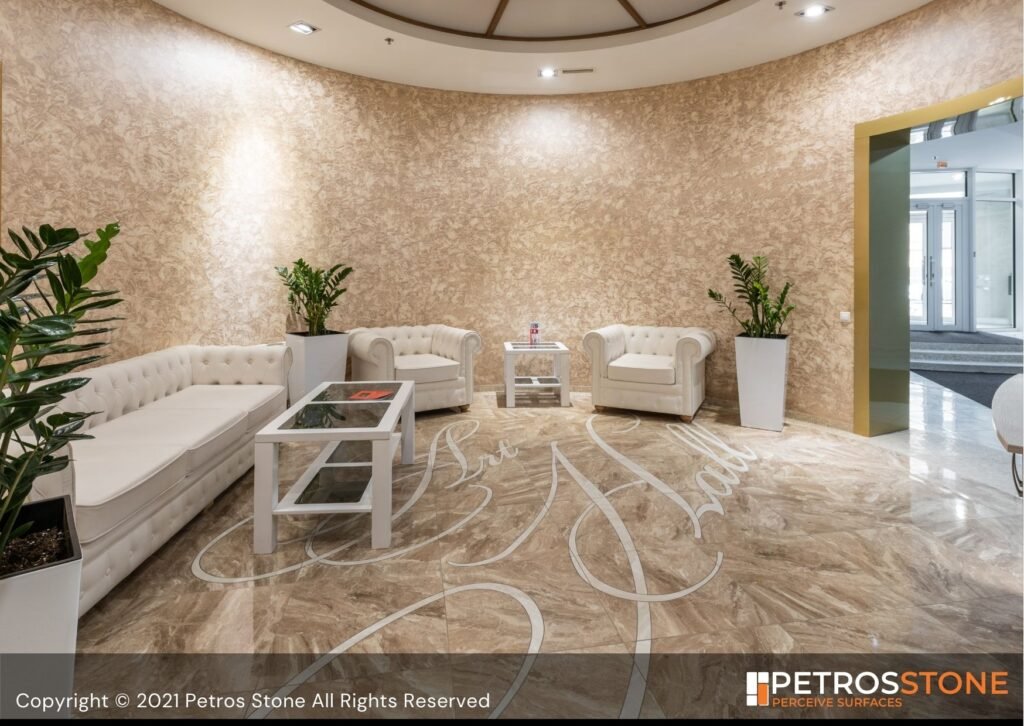 Pros
Indian marble is harder and hence less susceptible to damage as compared to Italian marble. This makes it more suitable for use as hotel lobby flooring, for it can endure high footfall with ease. Its hardness and durability have a pronounced impact on its longevity as well.

Indian marble is available in both polished and unpolished varieties, which makes it easier to make a choice, as not everyone wants to have a super-slippery highly polished hotel lobby in areas with high foot traffic.

Installation and laying of Indian marble require a comparatively lesser level of skills and experience. Therefore, you do not have to spend hefty amounts on labour and professional charges. Indian marble is also comparatively cheaper than its Italian counterpart and can be obtained easily without too much hassle or costs of transportation.

Indian marble is also much more environment-friendly, as its manufacture does not entail the use of any toxic chemicals, and neither does its reinforcement or application.
Cons
Despite all its advantages, Indian marble does not offer as much sheen and lustre as Italian marble. This is the reason many luxurious spaces prefer Italian marble instead. At the same time, its heaviness can become a deterrent during its installation and transportation, making costs and time go higher up.
Pro-Tip
Indian marble is a smart choice for hotel lobby flooring when you are interested in making a statement without spending too much. A stylish statement, this is the flooring to go for when you want luxury together with safety in one.
---
Vitrified Tile
Characterised by its strength and hardness, vitrified is more water-resistant than the common ceramic tiles used in flooring. This provides them with intense durability and longer life. At the same time, vitrified tiles are quite versatile, fitting seamlessly into the demand and nature of space with ease.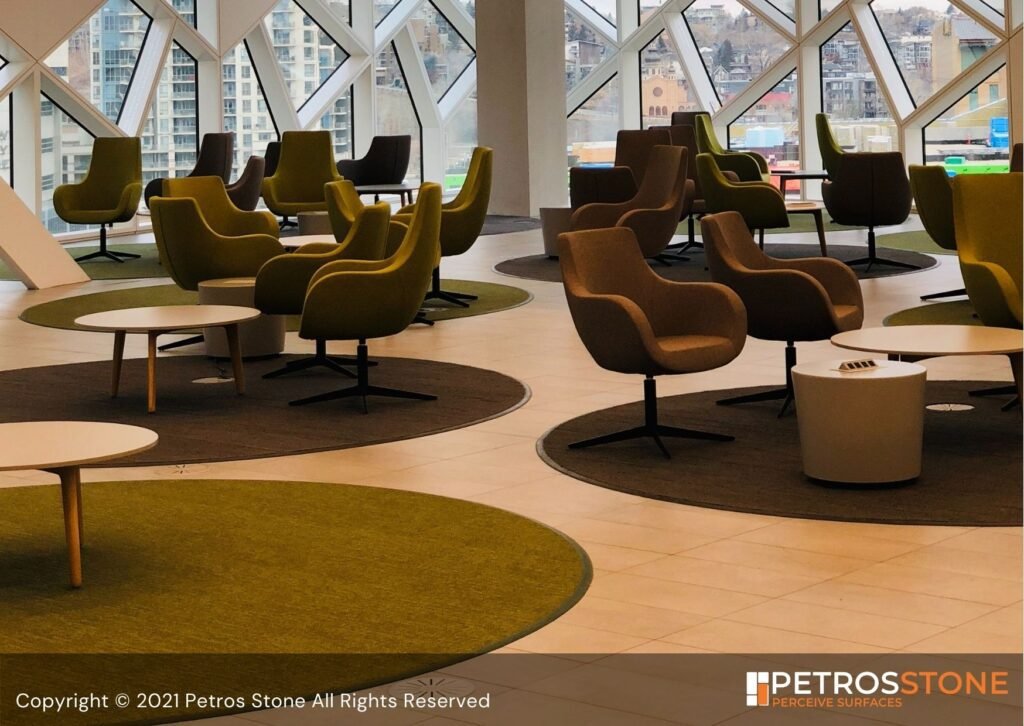 Pros
The most interesting aspect of vitrified tiles is the myriad design options that are available. Gone are the days when vitrified tiles were available in only limited shades and patterns. These days porcelain tile manufacturers are experimenting with a wide variety of options when it comes to colour, pattern, striations, and overall look.

Vitrified tiles are brilliantly durable and can withstand the tests of time with ease. This makes them ideal for use in hotel lobby flooring where high footfall is always expected. Vitrified also exhibits water and stain resistance, which means these floor tiles are incredibly low maintenance. Regular brooming and occasional sweeping with a damp cloth will suffice.
Cons
One of the biggest shortcomings that you will face with vitrified tiles is the high costs associated with them. Despite all their benefits and unique look, it is difficult to cover as large an area as a hotel lobby with porcelain tiles if you are on a tight budget.

Vitrified tiles are also incredibly heavy, especially when compared with materials such as laminates or vinyl. Besides being heavy, vitrified tiles are also quite brittle in nature, which leads to easy chipping off if sudden force is applied. The surface tends to be slippery when polished, making it unsafe for areas with different types of users.

The installation process of vitrified tiles is not very user-friendly. It is both time-taking and tedious and requires professional assistance in the process. Also, the grouts in between vitrified tiles require sealing from time to time to prevent seepages and damages. All this could entail further costs, which will only keep increasing with time.
Pro-Tip
Opt for vitrified tiles when you are sure you can pull off the extra maintenance costs as it is comparatively not so durable . It goes without saying that vitrified tiles add an elegant charm to your space, especially when paired with the right furniture.  
---
Hardwood
One of the most elegant and luxurious options for hotel lobby flooring, hardwood is one material that never loses its appeal. The material boasts of a characteristic natural beauty, paired with much warmth – all this while still not jumping your budget.
The natural brilliance of hardwood's colours and striations along with its characteristic pleasant smell adds to the charm and sophistication associated with the material. No wonder, interiors using hardwood are often considered magnificent and classy.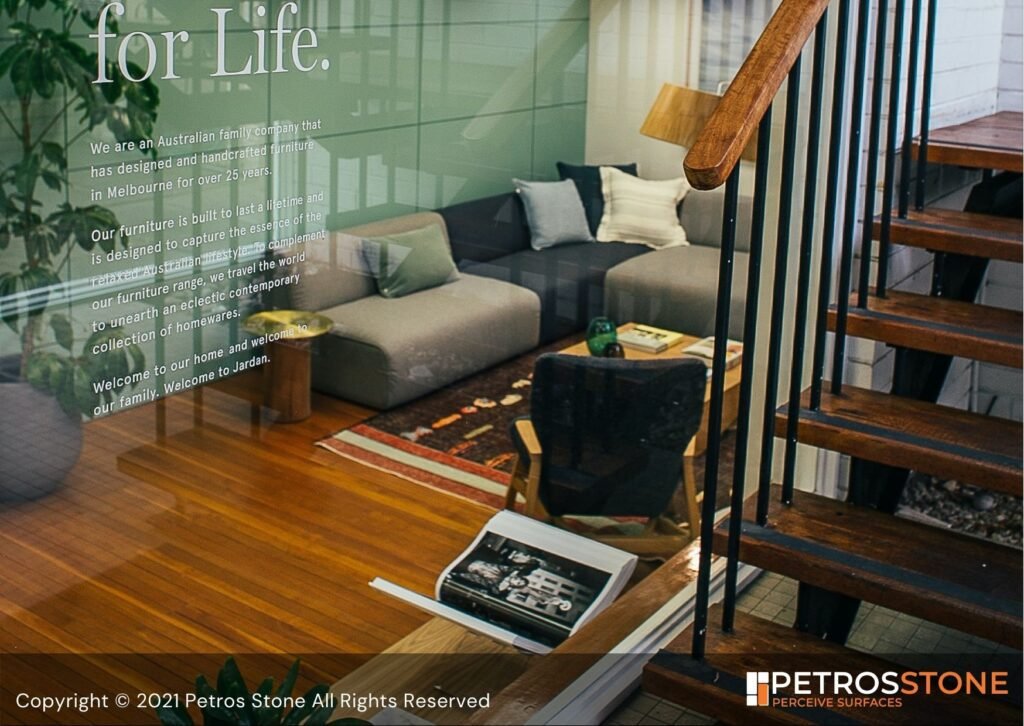 Pros
The best part about hardwood flooring is its unique natural appeal, with elegant striations and patterns along with the attractive smell and feel of wood. Hardwood flooring automatically adds the much-needed luxury and essence to your space, besides increasing its real estate value by tons.

With proper care and maintenance, rest assured that your hardwood flooring could last you a lifetime. Compared to other flooring alternatives such as linoleum or laminates, such durability and longevity is not just impressive but also much needed for spaces such as hotel lobbies with high foot traffic. No wonder, hardwood flooring is considered a smart investment.

There is no dearth of colours, patterns, and designs when it comes to hardwood flooring. Some of the top choices include Brazilian Cherry, Tigerwood, Brazilian Walnut, Hickory, Oakwood, Mahogany, and so on. At the same time, hardwood flooring is relatively easy to install and an environment-friendly option with no toxic emissions during its life.

Maintaining a hardwood floor is pretty simple as well. Regular brooming and vacuuming along with occasional mopping does the trick. This is because hardwood naturally does not attract dirt and dust due to its electromagnetic nature. It is also naturally resistant to liquids to a certain extent, thus preventing percolation and damage.

Using hardwood hotel lobby flooring also means that you can stay assured of freedom from common parasites and pest infestations, including moulds. This makes hardwood one of the healthiest flooring options around, without the risk of odours or allergies.
Cons
Hardwood flooring, despite its myriad advantages, is a costly affair, making it an unsuitable option for those on a budget or for very large areas. Especially when compared to affordable materials such as carpets, laminates and vinyl tiles, hardwood flooring cannot really be termed as a budget option.

Secondly, even though hardwood is considered a healthy flooring option, it does not work so well against termite infestations, especially when the quality and age of the wood go wrong. Termites lead to cavities in the hardwood floor, thus weakening it from within. Such hollowness may cause squeaky sounds during any movement on the floor, impacting the experience and impression of hardwood.

The resistance that hardwood offers to liquids is also quite limited in nature. Excess water or harsh detergents can cause significant percolation and damage from within. The surface is not resistant to abrasion and scratches as well and must be polished every few years to make it look anew. This is especially true for places with a high footfall, such as hotel lobbies.
Pro-Tip
Hardwood flooring can add much-needed elegance and sophistication to a hotel lobby, even though it entails higher costs and more careful maintenance. In case you are not ready to make such an investment, you can always opt for wooden laminates that give you the same looks as hardwood, minus the feel and appeal.
---
Limestone
Limestone is one of the most in-demand natural flooring solutions these days, as it comes with an impressive set of advantages to its credit from performance to attractiveness and more. The stone is formed organically out of the deposition of calcium carbonate by sea animals in warm waters, including corals, algae and sea shells. This is the reason behind the characteristic durability and unique aesthetics of limestone.
Pros
The first advantage that comes to mind when one thinks of limestone flooring is its impressive affordability. Compared to other natural flooring options such as marble and granite, limestone can be quite pocket-friendly.

At the same time, the durability of limestone cannot be questioned, especially when taken good care of. The mineral composition of limestone is such that it provides the stone with a very long life naturally. Although termed as a "soft" stone, the material boasts of impressive resistance to scratches and abrasion. Despite this toughness, limestone is versatile enough to be cut into desired shapes and sizes as you please.

The stunning variety of colours, patterns and even imprinted fossils of marine animals add to the aesthetic value of the unique stone surface, making it blend easily into any interior style. The naturally formed stone is also one of the most environment-friendly options you could consider for your space, with no toxic emissions to worry after.
Cons
One of the biggest shortcomings of limestone is that it can be incredibly difficult to maintain. This is because the porous stone surface is susceptible to staining. Unless sealed frequently, which entails impressive additional costs, limestone flooring could act poorly in the presence of liquids.

Limestone is also one of the heaviest flooring options on this list. The heaviness of the stone makes it difficult to not just transport the stone from one place to another, but also during installation and repair. Despite the heaviness, limestone is a soft stone. Sharp objects and heavy movements can leave marks on the surface that are difficult to get rid of.
Pro-Tip
Limestone is a unique flooring option indeed, which is both affordable and elegant. If you prefer a space that lets its sophistication do the talking, limestone flooring is the best choice for you.
---
Wooden laminates
One of the simplest alternatives to hotel lobby flooring that can double up as an attractive choice would have to be wooden laminates. They give a similar look as hardwood flooring, while costing only a fraction of the latter's price. At the same time, they are incredibly easy to maintain, in contrast to real wooden flooring.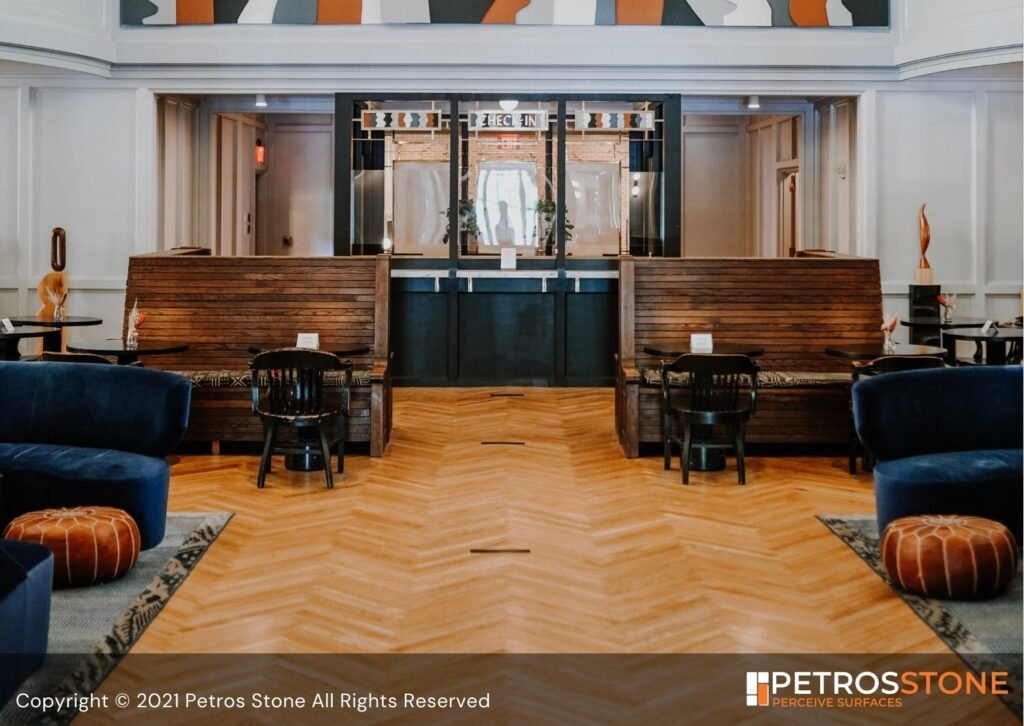 Pros
The best part about using wooden laminates is that it is difficult to differentiate at first glance between real hardwood flooring and wooden laminates. These days, several laminates offer high definition and much better seaming than before. This gives them a completely natural look and an elegant appearance overall.

At the same time, these laminates come in a variety of interesting species – oaks, maples, heartwoods, prado, and more. Installing laminates is super easy, and you can even go the DIY route. Available both as straight planks and tiles, the edges and ends of these laminates come with a snap feature so that there is no need to delve into the hassles of nailing. This also makes repair, removal and reinstallation incredibly easy.

Also, laminates are fairly stable. There are no seams from opening up due to changes in temperature or humidity, as happens in hardwood flooring. Laminates are comparatively lighter in weight and therefore can be installed even over existing flooring using a thin foam of cushion underlayment.

Laminates are also an environment-friendly option, as they eliminate the need for VOC-releasing glues due to their snapping feature. The wear layer in laminates provides optimum resistance to wear and tear and is easier to maintain than most flooring surfaces.
Cons
Laminate flooring is not entirely free from moisture damage – so if you are thinking of a semi-outdoor hotel lobby, or an open-to-sky feature within, wooden laminates might not be the best option.

Once you have installed them, it is impossible to refinish because they come with a thin wood or stone look layer on top. If it wears out, the entire plank would have to be replaced. Wooden laminates may look like real wood, but do not feel like it. Instead, they might feel unnaturally harsh-sounding compared to real wooden floors.
Pro-Tip
As the life and durability of wooden laminates depend on their quality and warranty, make sure that you invest only in real wood veneer laminates instead of image and wear layers.
---
Ceramic tiles 
Ceramic tiles continue to be, hands down, one of the most popular and affordable flooring solutions that can work in almost any space you desire. More preferably used in spaces such as bathrooms and kitchens where there is greater susceptibility to moisture and stains, ceramic tiles are also ideal solutions for high-traffic areas such as hotel lobbies, no matter what the climate.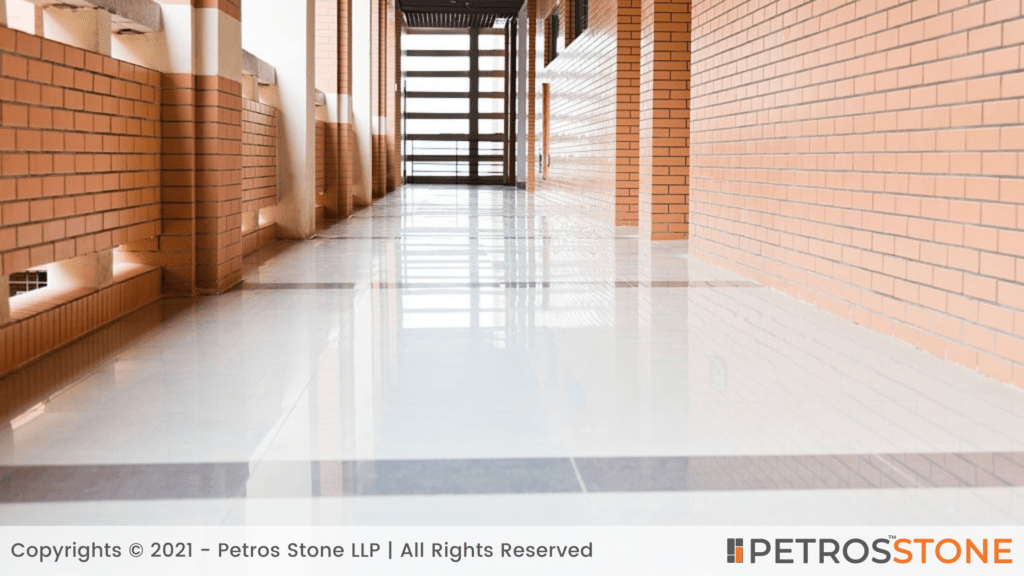 Pros
One of the most important aspects of ceramic floor tiles is their impressive durability. The material is impervious to water and stains, as well as to scratches and abrasion. Therefore, you can completely rely on this material in areas with high foot traffic not just from the point of view of sturdiness but also in terms of easy maintenance and cleaning. Regular mopping and wiping do not damage a ceramic floor surface.

At the same time, ceramic floor tiles are super hygienic solutions. They do not naturally attract dust and dirt or pathogens and are also not damaged upon using chemical cleaners to rid the surface of any of the above. The number of design options in ceramic tiles is equally mind-baffling, leaving you confused as to what to pick from the myriad shades, colours and patterns.
Cons
Despite all its advantages, ceramic tiles can feel unnaturally hard underfoot. This can make regular walking a little tough, but considering that you want to use it for hotel lobby flooring, it might not turn out to be that unpleasant an experience.

Also, ceramic tiles are on the heavier end of the weight spectrum, making their transportation, installation and repair all hectic processes. No doubt, these tiles are both difficult and time-taking to install.
Pro-Tip
Opt for ceramic tiles when you are on a budget but do not want to compromise on the looks and performance. Make sure you invest in good quality ceramic flooring for the best outcomes.
---
Travertine 
Travertine hotel lobby flooring can turn out to be a smart choice if you want the looks and feel of marble without its soaring costs. This lesser talked about material is already a rage in the West due to its brilliant earthen-tone colours and characteristic rustic charm.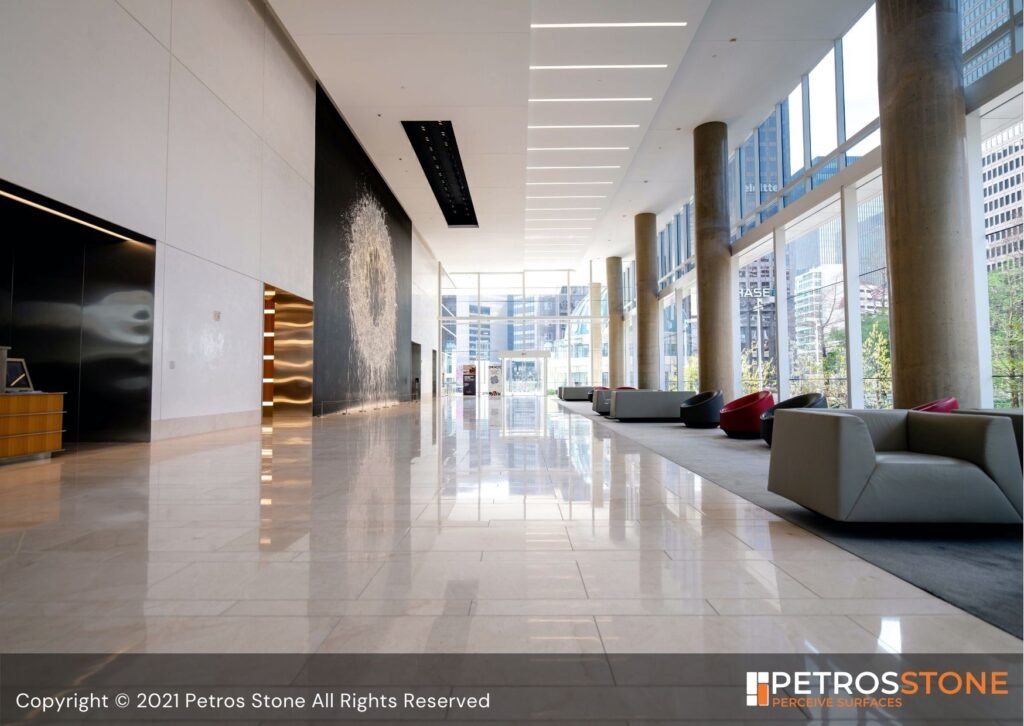 Pros
The material travertine forms around mineral spring deposits, which leads to its characteristic earthy appearance in shades of tans, browns, rust, beige and more. Easy to maintain and impressively tough, travertine is counted among the hardest stones that make for the perfect hotel lobby flooring solutions due to their optimum performance even in areas of high footfall.
Cons
The impressive hardness and rigidity of travertine come at the cost of its weight. Travertine stone slabs can be difficult to transport, install and renovate because of this massiveness. Besides, the material must be sealed often due to prevalent high porosity in order to maintain a longer life. To add to that, travertine is one of the costlier materials on this list, and may not fit every budget.
Pro-Tip
If you are looking for a rustic, appealing floor finish, laced with earthen tones and natural goodness, travertine is the one for you. In case you are constrained on the budget end, you can always opt for natural textures instead of polished and honed surfaces for a more cost-effective bargain.
---
Bamboo
Eco-tourism resorts and hotels are very much in vogue these days, which is why bamboo flooring has been receiving a lot of attention. Very similar in looks and feel to hardwood flooring, bamboo is actually a type of grass that undergoes tremendous processing to produce sturdy planks pressed back together with heat and glues to form flooring boards.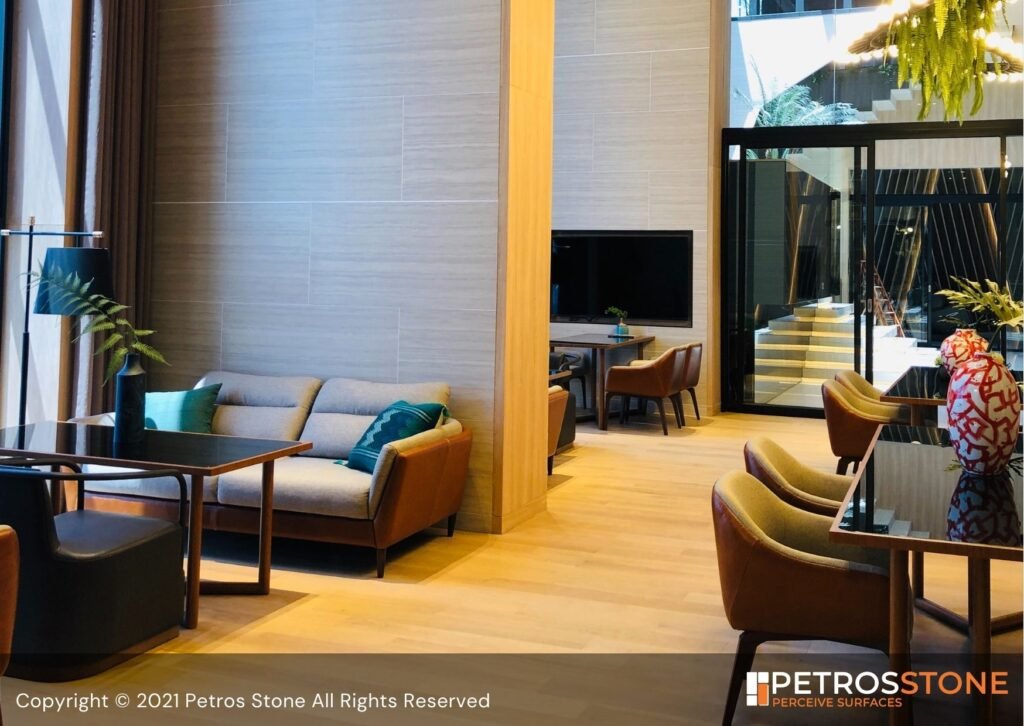 Pros
Bamboo flooring is one of the most durable hotel lobby flooring options, almost as effective as hardwood flooring if picked out wisely. The sleek, contemporary look offered by bamboo floors is one of a kind and goes pretty well with eco-themed hotels and resorts with stress on organic products.

There are various types of bamboo flooring to choose from, including vertical for a more uniform striped look, horizontal for interesting grain patterns, and strand woven ones for interlocked grass fibres. The last one is also the most expensive out of the three.

Easy to clean and maintain, bamboo flooring requires simple mopping with a mild detergent for effective cleaning. Depending on the thickness of the planks and the addition of a laminate layer, bamboo flooring could be refinished and also DIY-friendly.
Cons
It all depends on the type and quality of bamboo flooring you have opted for. Cheaper bamboo flooring is more likely to be at the receiving end of damages due to scratches and abrasions. The material is also quick to absorb water and get damaged by its percolation in the process. This is the reason bamboo floors might not be the smartest option for areas with high humidity.

Bamboo offers a very sleek and minimalistic look, but this might not go well with all kinds of interior themes. Therefore, one might have to be very selective about décor when using bamboo flooring. The number of tonal shades is quite restrictive as well, making available a narrower spectrum of design possibilities.
Pro-Tip
Bamboo is a sustainable, environment-friendly flooring option to introduce in your hotel lobby. Therefore, if you are concerned about which material to use for the most optimum environmental impact, bamboo is your go-to choice.
---
Some of the Top Flooring Trends for Hotel Lobbies to Check Out
Hotel lobbies are one of the most important spaces when it comes to experimentation and design with the latest trends. After all, it is this space that is going to dictate what kind of impression one leaves on the hotel visitor. The hotel lobby flooring is easily one of the first visual elements that catch the eye, which is why we have compiled a few trends you could look into.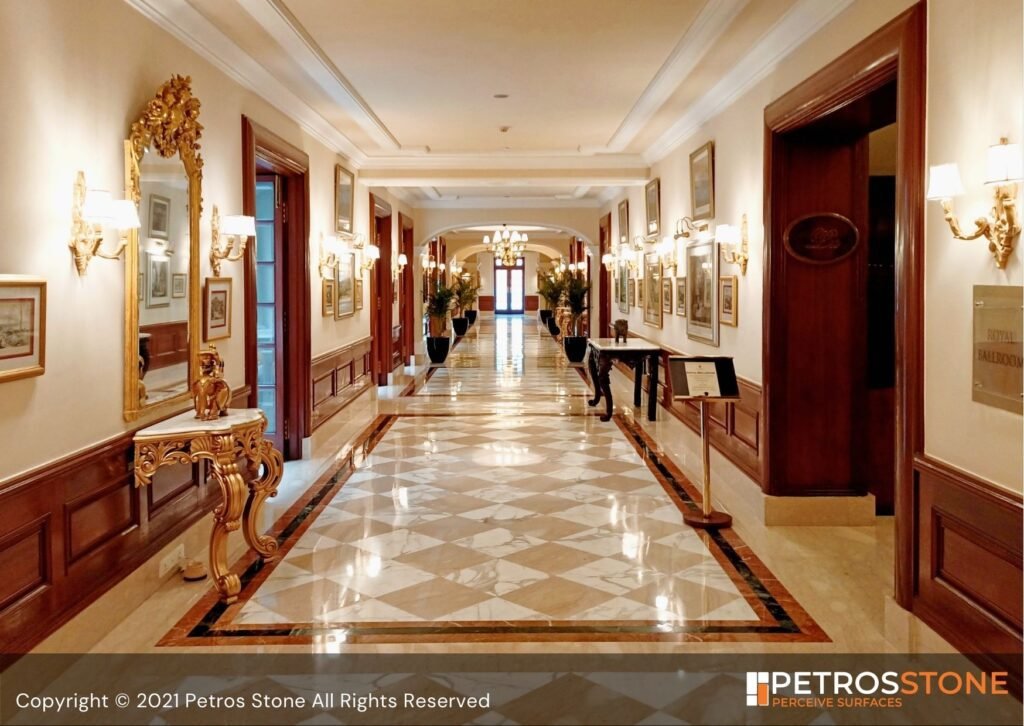 Patterns, Textures and Shapes
Yes, minimalism is definitely a raging trend, but so is the shift towards vivid patterns, textures and shapes. In fact, by keeping other elements such as furniture, ceiling and walls to a subtle minimum, you can let your floors do all the talking! Try experimenting with bolder patterns, brighter colours and geometric variations to catch the visitor's eye and make a lasting statement.
---
Carpets
Accentuate your monochromatic hotel lobby flooring with interesting carpets. From lobby seating to grand staircases, hotel entrance to reception foyer, you can place eye-catching carpets at strategic locations to add a delicate touch to the space, besides a dash of colour!
---
Mixed Materials
Out of all the hotel lobby flooring materials we have listed above, it can become really tough to come down to just one. Worry not if that's the case for you, because going for mixed materials is the latest trend these days when it comes to the best flooring designs. Mix and match between limestone and hardwood, marble and quartz, travertine and bamboo, and so on, and see the visual and textural contrast work its way to brilliance.
---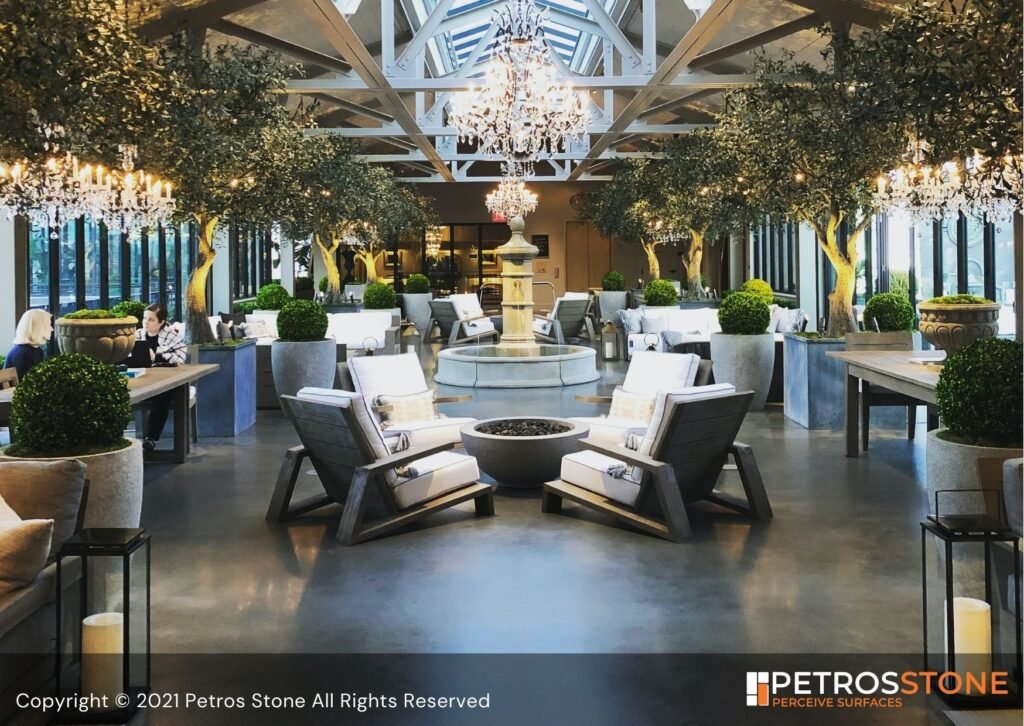 Still confused about the Best Hotel Lobby Flooring materials?
Get in touch with the experts at Petros and have a professional guide you through the process of deciding upon the best flooring options for the most sophisticated and elegant hotel lobbies. Call today!