The choice of flooring for your Living Room can easily make or break the entire impression that this relatively public space in your home can create. In India, only a few materials have been traditionally used for most living room floorings.
In this comprehensive study, we aspire to present some of the best flooring materials for living rooms – considering a variety of factors: design, durability, affordability and ease of maintenance.
Nothing matches the versatility and toughness of natural quartz stone slabs when it comes to the ideal flooring choice for Indian Living Rooms, which not only need extra-ordinary resistance against wear and tear but also need a comprehensive design catalogue.
To help you find the best living room flooring for your home, in this article, we have discussed the USP, pros, cons and some design tips on 12 Best Flooring for Living Rooms in India.
---
---
12 Best Flooring Options for Living Room in India
1. Natural Quartz Stone (High Grade)
Natural Quartz Quartz has gradually evolved into one of the hottest new trends in interiors for living room flooring. One of the hardest materials on earth, Natural Quartz offers the right blend of durability and aesthetics for all the functional needs of your living room.
USP
Natural Quartz is made using high-grade quartz minerals making it extremely low-maintenance, which means you do not have to fret over high-end cleaning and scrubbing. There is no need for sealing or buffing as well, which means it will be the longest lasting flooring for living rooms that you can get.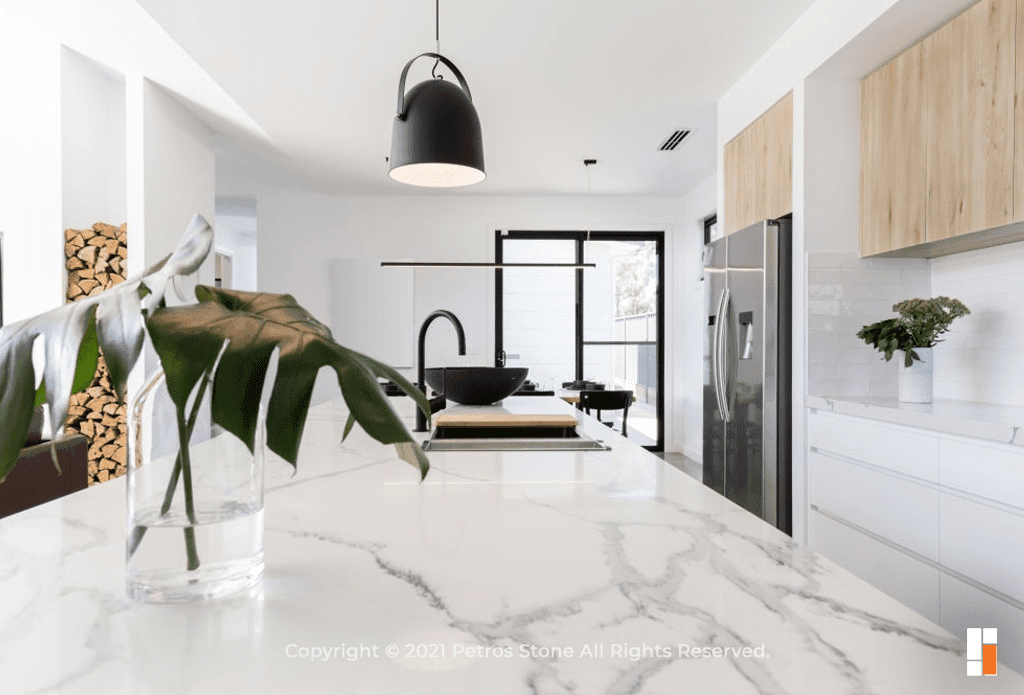 Pros
Petros® Natural Quartz flooring comes in attractive, vibrant and colourful designs that do not fade away with time or use.

The surface does not need any sealing – it is naturally non-porous and therefore perfectly resistant to liquid seepage or stains.

You can use any chemical cleaner you want to maintain your Natural Quartz living room flooring.

Besides, Natural Quartz can be ideally customised to match any setting of your choice. The enormous number of colours, patterns and striations in the stone surface ensure this fact.

The extremely durable stone surface is also impressively sustainable. Despite these qualities, it is much more budget-friendly compared to terrazzo, marble and other products.

It is also slip-resistant, therefore you do not to worry if you have young children or elderly family members who will use the living room often, and might face accidents in case of a slippery surface.

Petros® Natural Quartz is also resistant to moulds and mildew besides being extremely environment-friendly. The low to borderline zero maintenance makes it perfect for living room flooring.
Cons
Downside of Natural Quartz is that there is far too much choice! While this might actually be an advantage, it is going to take you much time, energy and thought to be able to finally decide upon one option in terms of the never-ending list of colours and patterns.
Pro-Tip
Begin with a short list – do not go overboard with Petros options lest you should spend days after days to make the right choice! Try consulting an expert in stone surfaces to guide you with the best choice.
---
2. Marble
One of the most opulent and elegant flooring options you can choose for your living room, Marble has been a top favourite among homeowners for decades. No wonder, the material continues to remain a top trend for good measure.
USP
No two marble slabs are exactly the same. It is no surprise that this completely natural flooring material comes in impressive colours and striations, which are never exactly the same for two or more slabs. This is why there is no limit to the kind of shade or pattern you want to pick. At the same time, such uniqueness lends a special character to marble flooring in your living room.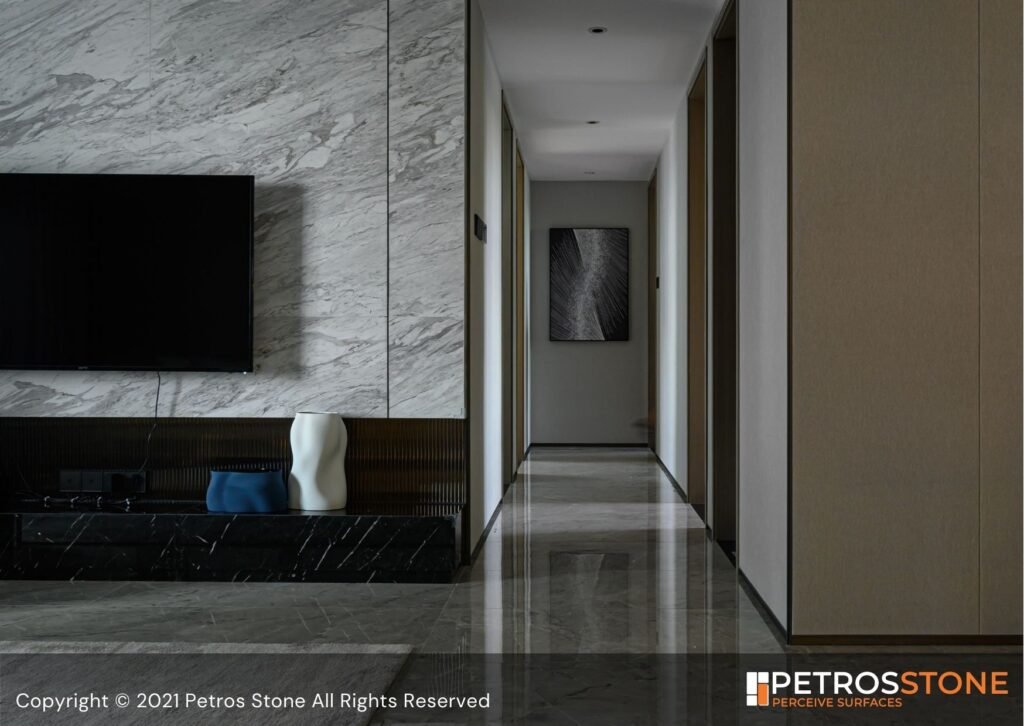 Pros
Prized for its beauty and elegance, the gorgeousness of marble has to be its first advantage. The material has for ages been the choice of kings and queens. Therefore, when you are using marble flooring in your living room, you are inviting a sense of royalty and luxury to your space.

Apart from its elegant, upscale appearance, the fact that marble is a completely natural material contributes to its environment-friendliness.

Compared to artificial products, which use plenty of toxins in their production and manufacture, marble is quarried from natural reserves and treated with minimal processing.

Marble can also be easily polished, which means it is the best bet if you want a lustrous look to your living room. This natural flooring material can accommodate radiant floor heating without any hassles, which is a must for some climates.

Marble flooring also considerably heightens real estate value, which can be a point to consider.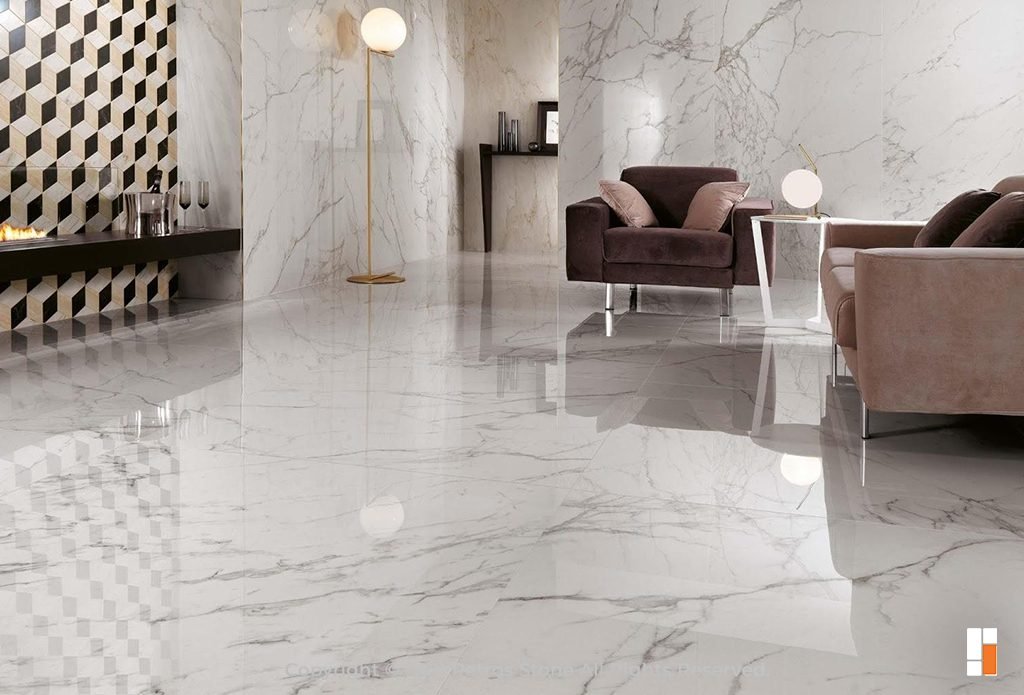 Cons
Marble is a fairly porous stone, which means you need to seal its surface lest there should be water or liquid percolation within. This porosity also makes marble susceptible to easy staining, which is something other stones like Petros® are resistant to.

Marble is considered a costly material throughout, hence you must ensure it fits your living room décor budget.

Marble is comparatively much softer and brittle, and therefore prone to cracks and scratches. Its highly polished finish tends to make it slippery, which can be an issue for families with young kids or the elderly.

Marble tends to feel cold underfoot, which might lead to sickness during the cold season if precautions are not taken.
Pro-Tip
Never allow standing water to puddle on a marble surface. Standing water can percolate the stone and discolour it from within. At the same time, prevent contact of marble with acidic substances, which can chemically react with marble and discolour it permanently. The best idea would be to use a surface sealer annually to keep your marble surface intact.
---
3. Granite
Granite being a natural stone material has always been considered a luxury material that can add much elegance to your home interiors. Besides being durable and long-lasting, granite is also one of the most diverse flooring choices for accentuating your living room, no matter what the style and theme of décor.
USP
Granite boasts of a unique characteristic beauty that comes naturally. The stone tends to make a quite statement when used in spaces such as living rooms, and can be picked to match any kind of interior style you are planning for your space. The sheer variation in colour and pattern is vastly impressive.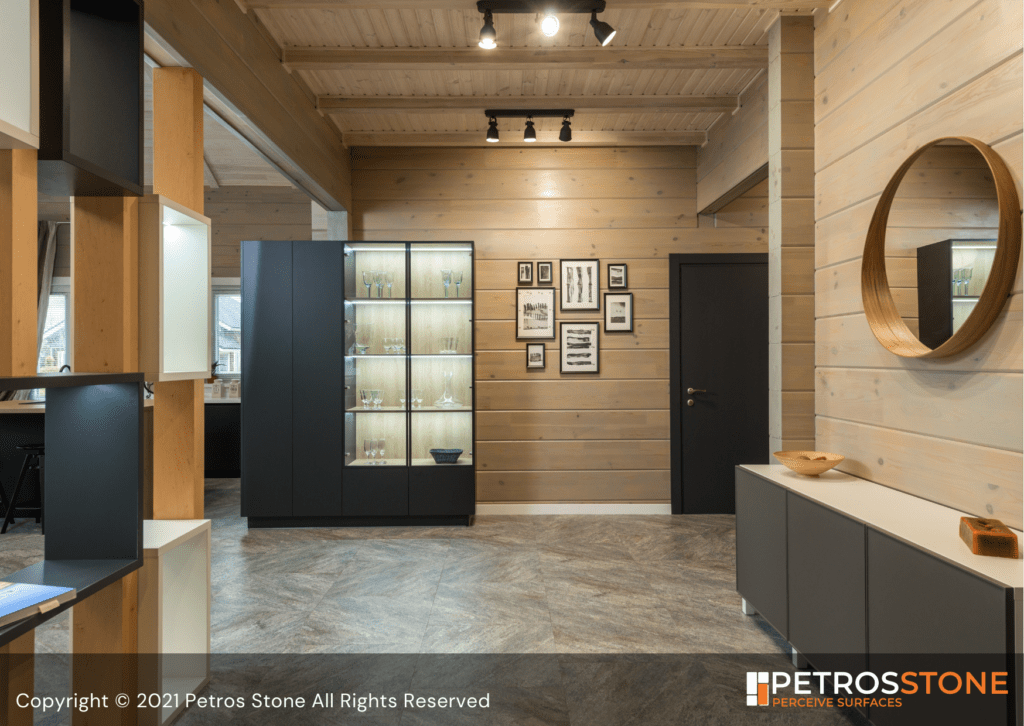 Pros
Granite's durability is, by far, its greatest asset. Installing a granite floor in your living room will practically ensure that the flooring will last a lifetime. Being one of the naturally hardest stones you will come across, granite can stand up to moving around of heavy furniture, heavy foot traffic, and more.

When properly sealed, granite can act very resistant to moisture, therefore you do not need to worry about staining or liquid seepage. This also makes granite an ideal choice for homes, which would want to go low on maintenance.

At the same time, granite has a characteristic natural beauty that is difficult to ignore. Granite can come in rich impressive varieties of colours, patterns and striations, such that no two slabs of granite are exactly identical. You can obtain granite floor slabs in rich diversity – polished and unpolished, glossy and muted, rustic and modern, and so on, plain and sparkled, and so on.

Granite floor surfaces are incredibly low-maintenance, which means you do not have to spend tons on cleaning the surface every now and then. Simple sweeping and occasional mopping usually do the trick well.
Cons
The fairly high number of advantages also mean that Granite comes with a hefty price tag. Compared to cheaper alternatives like ceramic tiles, granite is not a suitable choice for your living room if you are on a tight budget.
At the same time, the installation process of granite requires technical expertise and is quite tedious and time-taking. You must always look out only for experienced experts lest anything should go wrong.
Highly polished granite surfaces are a strict no-no for homes with young children and the elderly. This is because such surfaces tend to get very slippery. Besides, while the material is suitable for in-floor heating, it tends to get very cold underfoot without such installations. Therefore, granite for living room might not be suitable for places situated in colder climatic regions.
Pro-Tip
Pick the right granite flooring option that matches your home's existing or planned decor. Don't worry – you will always get the best fit due to the sheer variety available in granite. The durability and long life of the stone is a plus.
---
4. Wooden Laminates
An easy-to-install and attractive alternative for your living room flooring would be to use Wooden Laminates, which give a similar look as hardwood flooring at half the maintenance. These days, wooden laminates come with much better definition and seaming than before, which lends them a completely natural and defined look as an elegant option for your interiors.
USP
Wooden laminates offer the looks of real wood without the hassles of its maintenance or expense. With time, superior quality wooden laminates have overtaken the market with dozens of variations in wood species available as laminates – oaks, maples, heartwoods, prado, and so on.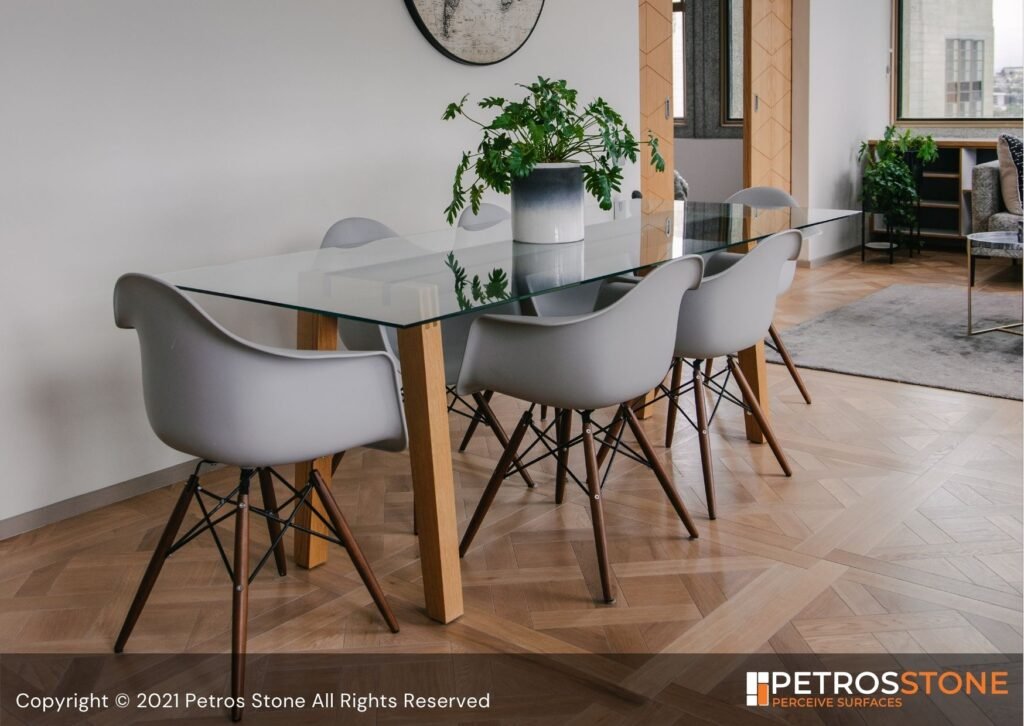 Pros
The biggest advantage with laminate flooring is its super easy, DIY installation. This flooring material is available straight as planks or tiles, with edges and ends designed to snap together. Therefore, there is no need to delve into the hassles of nailing to set things right, and you can easily repair, remove or install wooden laminates as per your wish.
Secondly, laminates are fairly stable, with no seams from opening up during changes in temperature or humidity, which can be a pertinent issue with natural hardwood flooring. The lightweight laminates are installed over a thin foam cushion underlayment, which makes it easy to install the laminates even over existing flooring. So, when thinking of revamping your living room flooring, you do not have to fret over tearing out the existing one (with the exception of carpet, of course).
At the same time, modern wooden laminates eliminate the need for VOC-releasing glues due to their "snap together" technology. With an extremely tough wear layer, cleaning and maintenance is super easy. Simple occasional sweeping will keep the surface free from abrasive grit. The material is already stain resistant and non-allergenic, while also being quite pocket-friendly.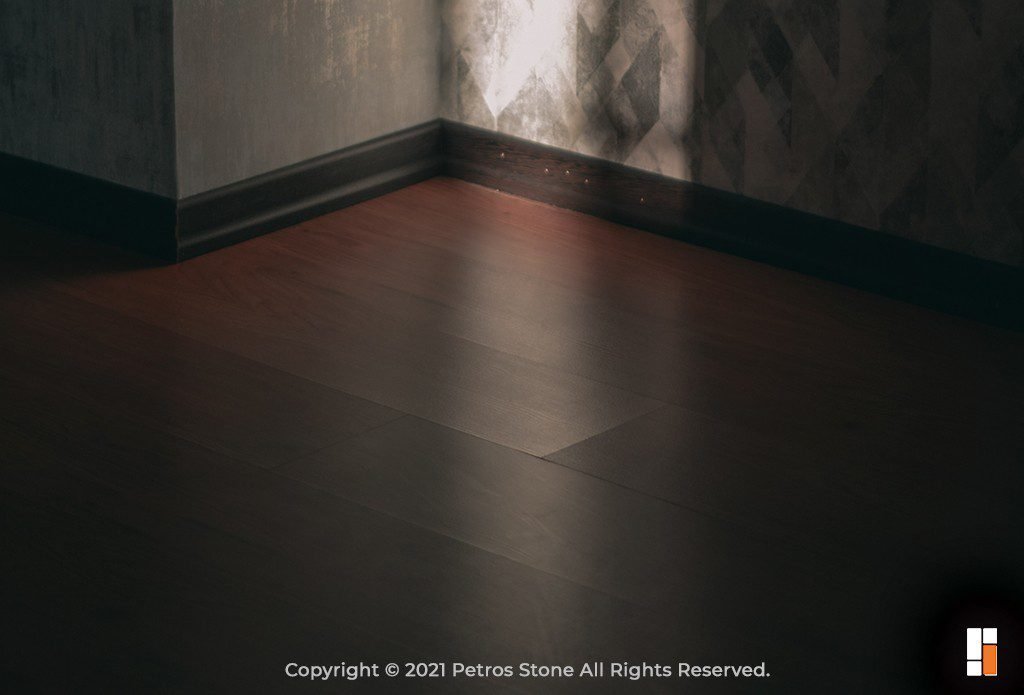 Cons
The matter of concern with laminate flooring is that it is always susceptible to moisture damage, no matter what the quality. Therefore, while you can easily install it in your living room, it is better not to use it in bathrooms or laundry rooms as long as you haven't provided additional sealing.
Wooden laminates cannot be refinished due to its fibreboard core and thin wood-look or stone-look layer on top. Once this thin layer wears out, you will have to replace the entire floor itself. This warranty period depends on the quality of the product, so be very mindful about avoiding cheap laminate flooring.

Besides, wooden laminates may give a completely realistic look, yet feel unnaturally hard or harsh-sounding compared to real wooden floors. Most wooden laminates com with a wear layer made of non-biodegradable plastic, other than toxic chemicals such as formaldehyde that are not healthy for the environment.
Pro-Tip
Prefer thicker wooden laminates for longer life and the possibility of occasional refinishing. Opt for real wood veneer laminates instead of image and wear layers for added life and quality.
---
5. Stone Inlay
Stone inlay flooring is easily one of the most attractive and elegant flooring options, allowing you to play with both natural elements and artificial additions in one. Leaving behind a stunning impression, stone inlay goes perfectly well with living room flooring, and is available in myriad designs, patterns and inlay material options.
USP
The most unique and admirable aspect of stone inlay flooring has to be the extent of customisation possible with it. While you simply do not have the chance to alter a set piece of flooring tile or slab once picked out of a catalogue, stone inlay flooring can be customised in terms of choice material substitutions, dimensions, overall thickness, patterns, and more.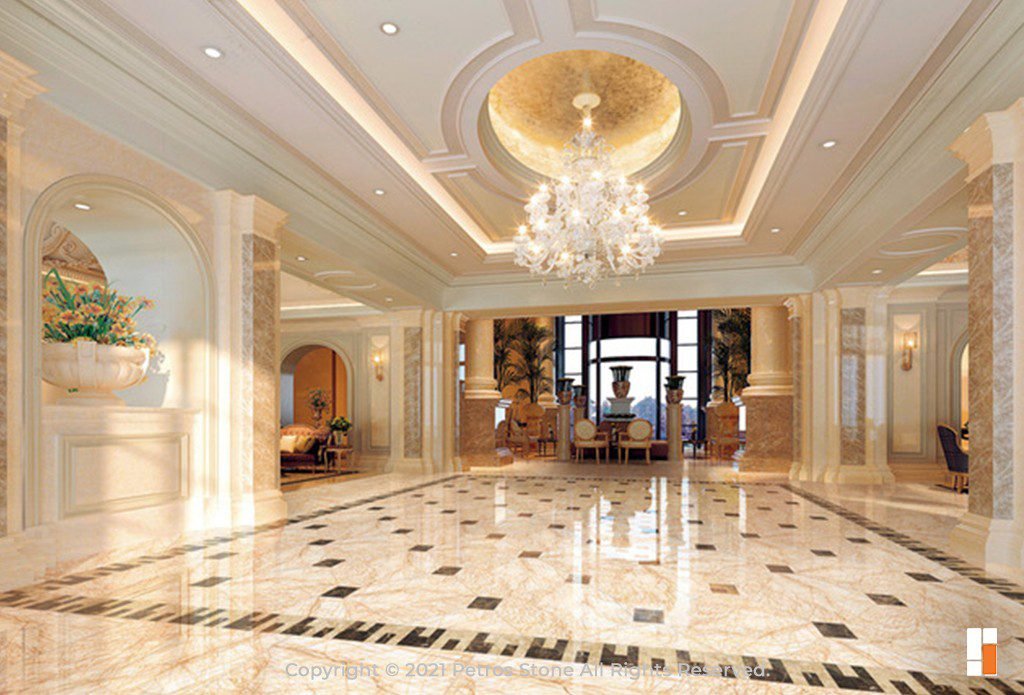 Pros
Stone inlay flooring is always set to stand out of the crowd due to its distinct grandness, striking geometrics and impressively wide range. From waterjet mosaics to richly embellished decorative pieces, stone inlay flooring presents the most unique design options for every kind of home interior.

It wouldn't be wrong to call such intricate flooring as a one-of-a-kind timeless work of art. Apart from appearances, stone inlay flooring comes with the impressive durability of natural stone, and can tolerate heavy furniture, regular wear and tear or abrasions without so much as a scratch. The surface would clean easily, without acting as a hub for allergens or dust.

Adding stone inlay flooring automatically takes the value of a home a notch higher, making it easy for you to gain huge profits on real estate selling or renting. The extent of customisation and the range of designs available make it possible to achieve a unique look, exactly how you want it to look like, no matter what the theme or style you have in mind.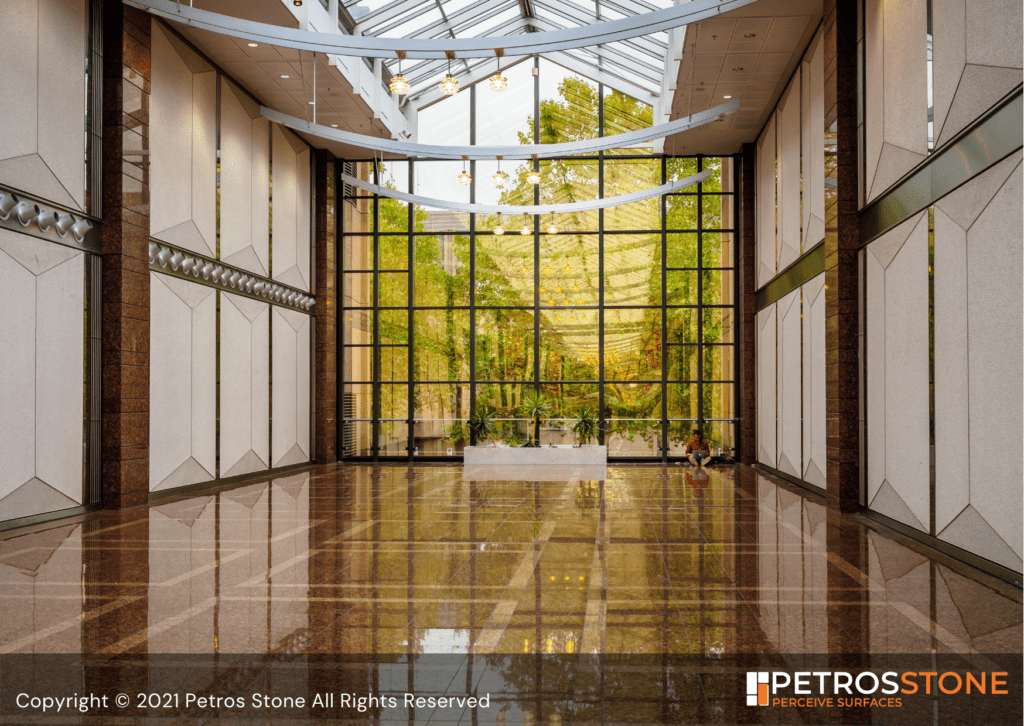 Cons
With all its advantages in mind, stone inlay flooring is comparatively an expensive living room flooring option to go for. Unless you are ready to splurge, it can come down heavy on the pocket, especially for a large living room.

At the same time, the merits of stone inlay flooring highly depend on the kind of stone used. Some stones are brittle and may chip easily, while others provide impressive durability. The extent of porosity would vary from stone to stone as well, and some samples would require treatment with a sealing agent to prevent damages from percolating liquids.
Pro-Tip
Appearances matter, but so does quality. Always make sure that you have carefully picked out the base stone for inlay flooring based on your needs. At the same time, try being mindful of your budget, because choice stone inlay flooring can get too expensive.
---
6. Vitrified Tiles
Almost similar to ceramic tiles, Vitrified Tiles are high-performance flooring options manufactured by vitrification, which helps reduce porosity of the tiles to a minimum. These strong and hard tiles offer stiff competition to materials like granite or marble, while also sporting assorted looks that make them a really commendable choice for modern-day living room flooring.
USP
The best part about Vitrified Tiles has to be their non-porosity, but one of the most interesting factors about them is the sheer variety in colour, pattern and design. This makes Vitrified Tiles the right choice for any kind of space, and especially living rooms.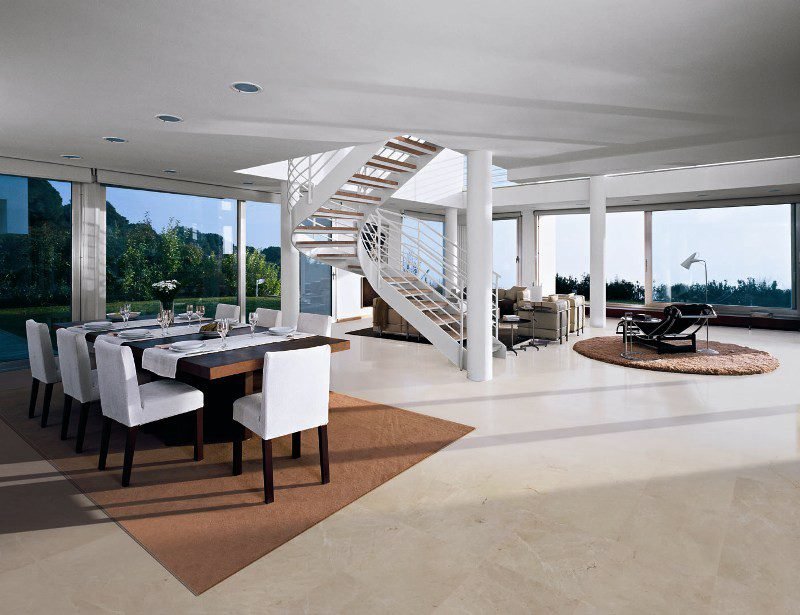 Pros
One of the biggest advantages of Vitrified Tiles is their durability. When compared with marble, granite or ceramic tiles, vitrified tiles emerge as a comparatively more durable alternative, and offer greater longevity than these flooring materials.

Secondly, vitrified tiles are super easy to clean and maintain, and do not require strong chemicals for regular maintenance. These tiles can be polished to lend a sparkly, glossy finish that adds a certain brightness and sophistication to your living room.

Vitrified tiles are also around 50% less thicker compared to natural stone options such as marble and granite. The reduced thickness helps prevent any shabby looks and imperfect layering, which makes vitrified tiles much easier to work with.

As already mentioned earlier, vitrified tiles are extremely non-porous, which makes them impressively water resistant. You do not need to worry about liquid seepage or moisture damage when it comes to vitrified tiles. With such an impressive range of advantages, these tiles are quite pocket-friendly, and are a perfect choice for living room flooring for any budget.
Cons
Not absorbing water at all tends to make vitrified tile flooring more slippery when wet, which can be a cause for concern if you have children or the elderly in your house.
At the same time, vitrified tiles are not really an environment-friendly option to consider for your home. Their energy-extensive manufacturing process releases tremendous carbon dioxide, which is an atmospheric pollutant. The installation of vitrified tiles is an expensive affair too.
When it comes to repair and renovation, vitrified tiles pose yet another set of challenges. If the tile gets damaged at any point of time, the only option is to remove it by cutting the grout lines on the sides. The result is that even the surrounding tiles might get damaged, leaving you to spend extra on repairs each time every few years.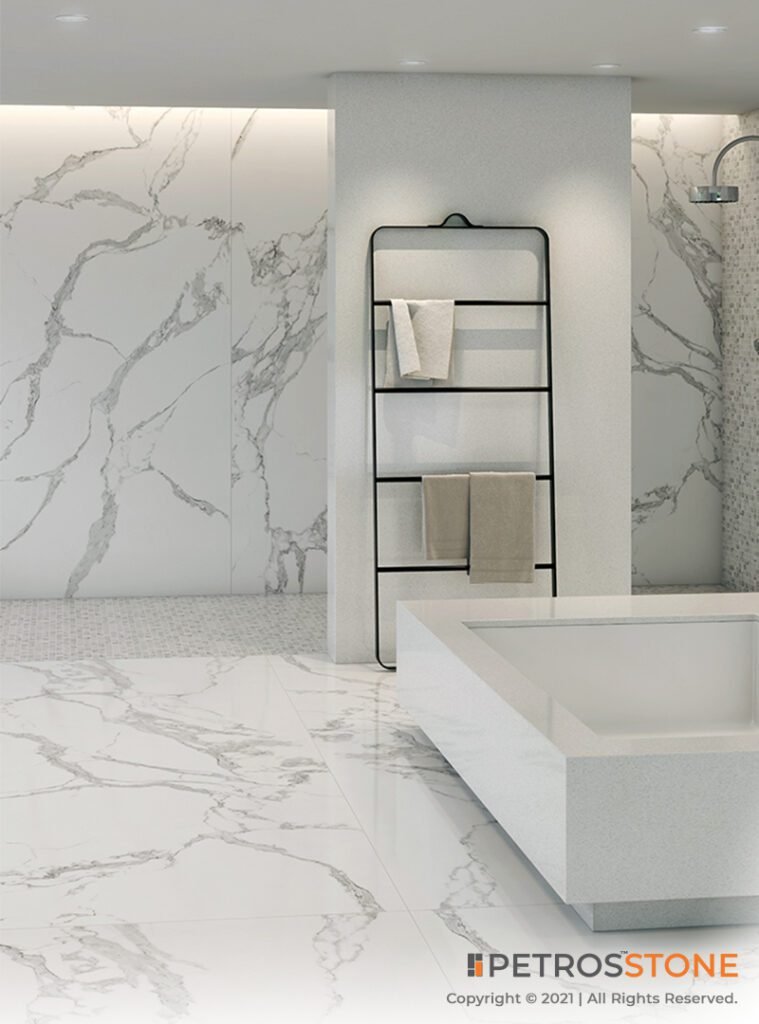 Pro-Tip
While vitrified tiles possess amazing qualities, they are also a tad bit expensive and difficult to repair. Therefore, choose vitrified tiles carefully, keeping quality, expert assistance and a timeless design in mind.
---
7. Vinyl Flooring
Vinyl is easily the most effective solution to adding the much-needed charm to your living room at the friendliest of costs and easiest of maintenance routines. You might even want to call vinyl the shortcut to new-age flooring. Wondering whether it would be a good fit for your living room? Let us answer that question for you.
USP
The prime highlight of vinyl flooring is its durability, despite its negligible weight. Vinyl flooring is perfect for almost every kind of space in your house, including living room flooring, because of a brilliant combination of impressive strength and attractive variations in one.
Pros
The lightweight yet durable material of vinyl flooring can last between 10 to 20 years, making it an amazing choice for sustainable homes. With proper care and maintenance, you can extend this lifespan as well, which is why vinyl flooring could turn out to be a great investment for you.

Its excellent water resistance is yet another merit to consider, but more importantly its anti-skid property. Comparing it with vitrified tiles, which are water-resistant but slippery, vinyl flooring is a much safer alternative. The tiles are also stain-resistant due to a clear 'wear' layer followed by a vinyl layer for added protection.

The flooring material is easy to clean and maintain over a long period of time, with just a broom, vacuum cleaner or damp cloth being enough to get rid of any dirt and grime. Unlike other types of tiles, you do not have to harm surrounding pieces if one gets damaged – individual pieces can easily be replaced. Vinyl flooring is highly resistant to scratches and abrasions, meaning you can easily use and move heavy furniture without damaging the floor.

Vinyl flooring is quite soft on the feet as well, compared to harder stones such as granite. They come with a thin foam or felt backing layer, which makes it easier to stand on the floor for a longer time without feeling tired. This reduced hardness also means that glass objects are less likely to shatter if they fell by accident.
Cons
Vinyl tiles might be resistant to water but do not display such high performance against harmful chemicals. They can get permanently discoloured and damaged when harsh chemicals are used on their surface. This is the reason vinyl tiles are no preferred for outdoors, lest they should damage due to exposure to the sun's UV rays.

At the same time, sharp or heavy objects can create dents and cuts in vinyl tiles, as they are not particularly hard flooring materials. Even high, pointed heels are known to leave marks on vinyl floors.

From an environmental perspective, vinyl floor tiles are not sustainable choices as newly installed vinyl floors emit VOCs (Volatile Organic Compounds). These fumes might even emit a characteristic odour and are injurious both to human health and the environment.
Pro-Tip
Vinyl floors score high when it comes to diversity of patterns, colours and designs. At the same time, they are useful as flooring materials for a wide variety of spaces, including your living room. Just make sure you handle the surface with care and avoid using sharp objects or harsh chemicals.
---
8. Hardwood
Hardwood is one flooring option that never seems to lose its appeal, while staying within your set budget. The natural beauty of wood, its warmth and attractive appearance are factors that make almost anyone swoon over this exotic material for their home.
USP
The most attractive feature of hardwood flooring is the special class and elegance attached to it. Be it the natural brilliance of its colour and striations or the subtle touch and pleasant smell of wood, hardwood flooring certainly adds the much-needed charm and magnificence to your home interiors.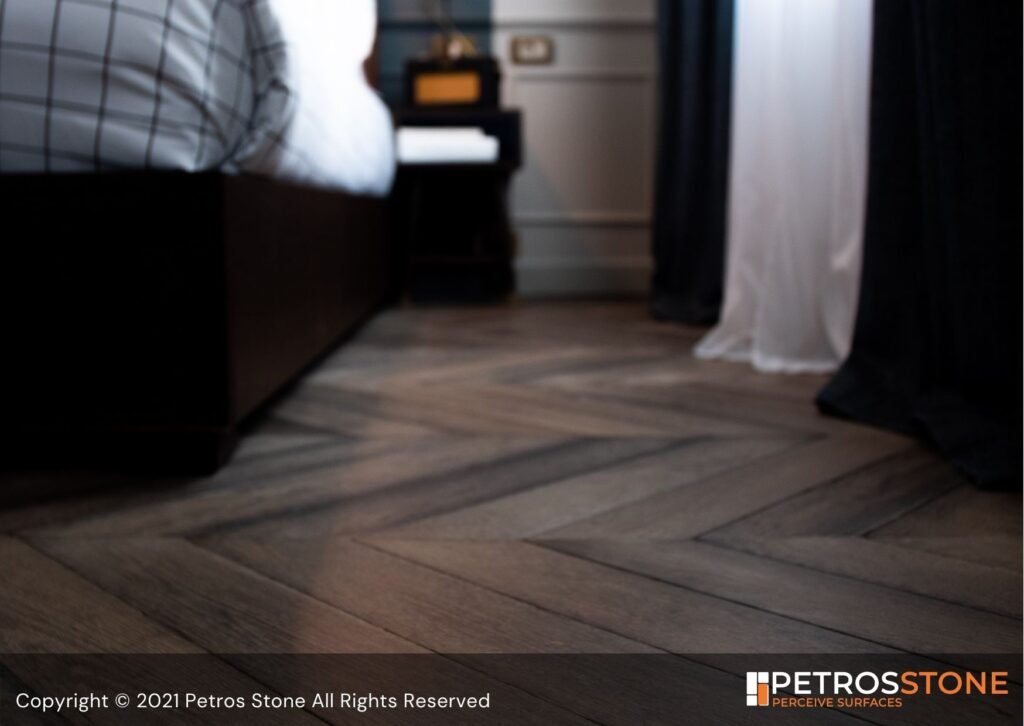 Pros
With proper care and maintenance, hardwood flooring can last over a lifetime. This impressive longevity is in stark contrast to flooring such as carpets, linoleum or laminates, which cannot resist wear and tear and get damaged too soon. This is why hardwood flooring turns out to be a smarter investment.

Apart from its long life, hardwood flooring offers an impressive variety of choices depending on colours, shades, patterns and striations. From Brazilian Cherry to Tigerwood, Brazilian Walnut to Hickory, Oak to Mahogany – the list is endless. The easy to install flooring material augments the value of your home and is an environment-friendly option to go for.

Hardwood flooring is also relatively easy to maintain – simple vacuuming, brooming and mopping can do the trick. This is because wood naturally does not acquire much dirt due to its electromagnetic nature. At the same time, wood is naturally resistant to liquid spills to some extent.

Wood never acts as a breeding ground for parasites and pests like fleas, dust mites or moulds, thus keeping your home air quality healthy. Hardwood flooring, therefore, is a great option for someone who is more susceptible to allergies. Without trapping any unpleasant odours, hardwood flooring does a great job by allowing underfloor heating or cooling systems.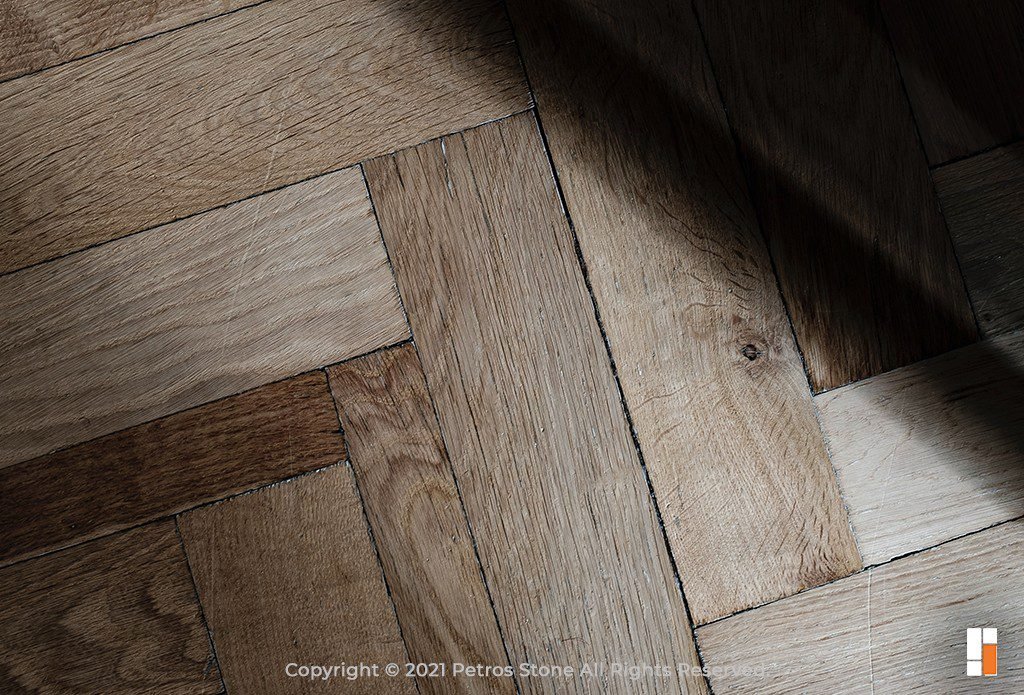 Cons
The first big drawback of hardwood flooring is the costs it entails. Compared to regular tiles, carpets or laminates, organic hardwood might not fit every pocket size.

While the material is resistant to germs, it cannot resist the growth of termites if you have picked the wrong type of wood. These termites can cause cavities and weaken the hardwood floor over time, leading to squeaky sounds.

Hardwood flooring is also not completely resistant to water, which is why you better not use a dripping mop to clean it regularly. Excess water or harsh detergents must be avoided lest you should want any seepage and internal damage.

Hardwood is also not abrasion-resistant, and can develop stains and scratches over time. While these might actually end up giving a naturally antique look to your space, it is not something everyone wants. Hardwood flooring requires polishing every 3-4 years to maintain its regal look, which means additional costs every now and then.
Pro-Tip
Opt for hardwood living room flooring only when you are absolutely certain you can invest in it for the years to come. If you can, this organic, sustainable flooring choice can turn out to be the smartest investment you could make.
---
9. Terrazzo
One of the lesser talked about flooring materials around, terrazzo comes across as an ideal choice for budget homes, focussed more on the performance and durability.
USP
Terrazzo flooring is made up of embedded granite, marble, quartz and glass chips bound together by epoxy resin. This means the aesthetic qualities of these materials can be combined in any pattern or design you desire and transformed into a brilliant piece of art or abstract using terrazzo.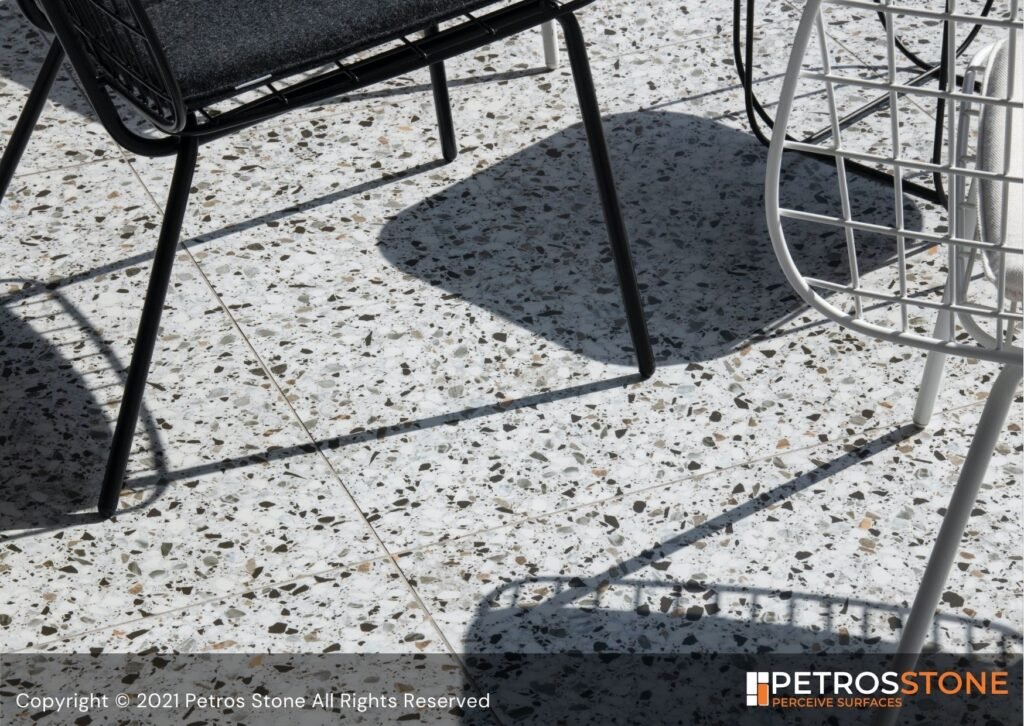 Pros
The first advantage of terrazzo flooring is its impressive durability. When properly sealed, the material can act impervious to water and resistant to stains. Compared to softer materials like Italian marble or vinyl flooring, it does not chip, dent or wear easily.

Terrazzo makes for a great choice for commercial areas for these reasons, and can turn out to be great for your living room as a long-lasting flooring choice.

The sheer variety in design, thanks to the stunning, endless combinations possible with component elements of marble, granite or glass chips, is another highlight.

Terrazzo floors are environment-friendly as well, for they are made using recycled materials without using any toxins during the manufacturing process. The low VOC content of terrazzo tiles eliminates the dispersal of harmful gases into the air, thus maintaining healthy air quality of your home.
Cons
Despite all its advantages, terrazzo could turn out to be a costly affair in the initial stages.

The durability of the material would demand only few repairs during its lifetime, but the initial per square foot of terrazzo is much higher than traditional materials.

Experience-wise, terrazzo does not retain heat well during the winter months, making it uncomfortable to walk on the surface barefooted. The installation process is not very easy as well, and demands professional assistance throughout.
Pro-Tip
Despite the several pros and cons of terrazzo, it can turn out be one of the smartest choices for living room flooring due to its spectacular combination of durability and design.
---
10. Quartzite
Often confused with Quartz, Quartzite flooring is a natural material that is quarried on similar lines as granite. Commonly used as bathroom and kitchen countertops, Quartzite can prove to be a great choice for living room flooring as well.
USP
The best part about Quartzite is that it has the look and feel of marble, but is much easier to take care of and much sturdier than marble itself. Therefore, you can easily alternate your living room flooring with Quartzite without having to spend heftily on marble floor.
Pros
Apart from its similarity in appearance to marble, quartzite is also more durable, being a naturally hard stone. Just like granite, it does not wear down or develop problems with use, unless of course it has turned too old.

The low maintenance stone can be easily cleaned with a simple combination of soap and water, without the need for any unusually harsh chemicals to get rid of dirt and grime.

Quartzite is also highly resistant to chemicals and UV Rays of the sun, which makes it suitable for outdoor and semi-outdoor spaces, such as an extended deck from your living room.
Cons
Quartzite might be durable and long-lasting, but it cannot resist scratches and abrasions from sharp objects, such as particular furniture types.

At the same time, a few varieties of the stone are not particularly resistant to moisture and require frequent sealing – at least once a year or even more often. This entails additional costs besides the nuisance of frequent renovations.

Quartzite also does not come in as many different colour options as other materials like Quartz. Most of the variations are limited to white and grey bases with various shades in between. Though these assortments are quite attractive, you do not have a long vivid list to choose from.
Pro-Tip
Quartzite living room flooring can prove to be a cheaper and more durable substitute for marble, though it might leave you craving for more variations. It would be best to have these facts in mind before deciding on quartzite flooring for your living room.
---
11. Limestone
Another natural stone on this list, limestone is already a big hit because of its multiple advantages. The combination of impressive durability and attractive looks means that this stone is an ideal choice. You could use it for a variety of spaces, such as a subtly adorned living room.
USP
Limestone is a natural stone that forms organically when sea animals retrieve calcium carbonate in warm waters to make bones and shells. Their formation process involves corals, algae and sea shells, which also lend it its characteristic durability.
Pros
Compared to other natural stones such as marble or granite, limestone is quite pocket-friendly. This makes it a suitable choice for all kinds of living room flooring. The range of prices for limestone varies from location to location, but you will always get something that fits your budget.

Limestone is fairly durable, especially when you take good care of it. Its mineral composition is such that the stone can potentially last a very long time. Although it comes under the category of "soft" stones, its durability and long life cannot be questioned.

This living room flooring choice offers your space a warm, subtle undertone and is available in a stunning variety of colours – beige, pink, bluish grey, white, ivory, black and more. Some limestone samples might even come with the imprinted fossils of a marine animal, adding to the aesthetics and value of the stone surface. This also makes the stone perfectly blendable with all kinds of interior styles.

Limestone being a naturally-occurring stone is also environment-friendly. Renovations and constructions of your limestone living room flooring will have no negative repercussions on the environment. The stone is non-flammable, does not emit any toxins, and is impressively versatile. You can cut limestone into any desired shape and size as you please.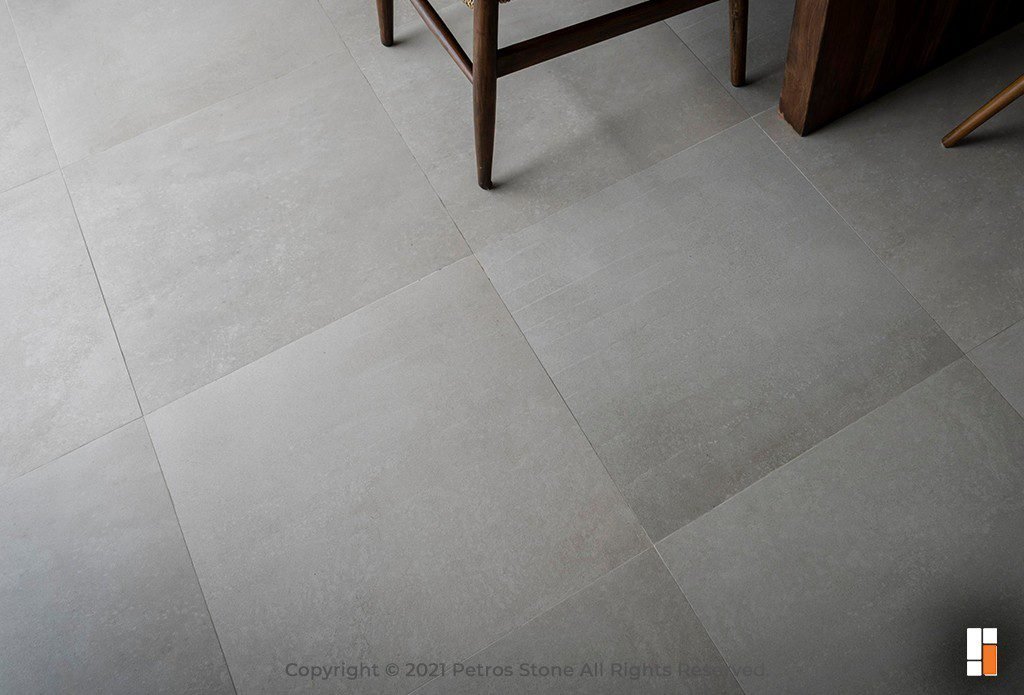 Cons
A big drawback of limestone is that it is relatively difficult to maintain. The stone surface can stain pretty easily, and therefore is better kep away from kitchens. Its porosity requires frequent sealing treatments to increase its longevity, which will entail extra costs.

Larger limestone slabs can turn out to be quite heavy and hence difficult to transport, install and renovate. The softness of the stone can be another problems when dealing with sharp objects.
Pro-Tip
Go for limestone if you are looking for an affordable yet aesthetic natural option for your living room flooring that comes with unique details at a much less price compared to other natural stones.
---
12. Travertine
A special and attractive form of limestone, travertine boasts of a characteristic marble-like texture that lends it its unique aesthetic appeal. The new-age material is not much talked about in the mainstream Indian market, but poses such benefits as most other materials do not.
USP
The blend of marble's beautiful striations and limestone's amazing earthen-tone colours, Travertine is quite popular as a building material in the West. It forms around mineral spring deposits and hence comes with a characteristic organic appearance chiefly in earthen shades of tans, browns, rust and beige.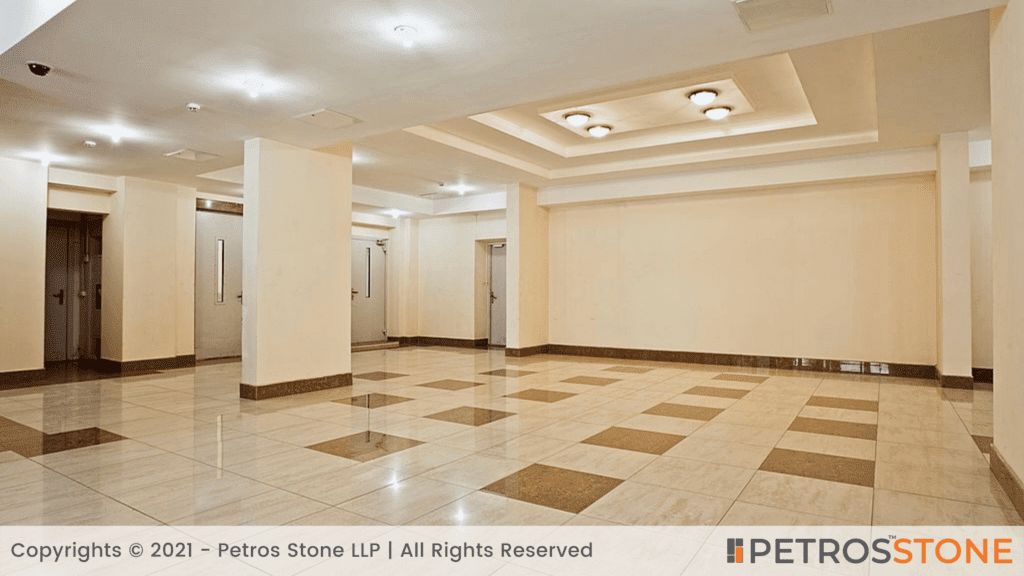 Pros
The stylish flooring surface lends a dignified, subtle look. Its earthen shades go well with any kind of living room design you want, especially the more traditional route. Travertine is also impressively durable and easier to maintain, and comes under the category of hard stones.
Cons
Travertine is pretty heavy as a flooring material, which makes its transportation and installation a tad bit difficult. The porous material requires frequent sealing to maintain its longevity. It can feel cold and slippery underfoot, and is overall costlier in contrast to other living room flooring alternatives.
Pro-Tip
Opt for the high-range travertine flooring depending on the type of finish you want. Natural texture is the least expensive, while honed, polished and sealed surfaces are costly.
---
Get Personalized advice for your project
Get in touch with us today and discuss the brilliant combination of your vision and flooring materials. Call now!