Bathrooms are easily the most neglected yet the most important spaces of your house when it comes to paying attention to planning and design needs. Every element of your bathroom, and especially its flooring, must be chosen with utmost care and focus on both aesthetics and performance. After all, the bathroom is probably one of the most frequently and rigorously used spaces in your house.
When it comes to picking the best bathroom flooring options, Natural Quartz is the numero uno choice from all respects. With its resistance to stains and non-porosity, along with a wide variation of characteristic styles, Petros Quartz sure emerges as a reliable solution for any bathroom flooring.
---
However, there is an entire list of other suitable materials that could make for a perfectly suitable choice for bathroom flooring as well. The most important characteristic of all these materials is moderate to high waterproofing, which makes them ideal for use in bathrooms where there is a lot of moisture and wetness throughout the day. Apart from this much needed feature, let us explore what else each of these flooring materials has to offer.
---
---
11 Best Bathroom Flooring Materials in India
1. Natural Quartz (High-Grade)
What if performance and looks could combine to produce one of the most aesthetically pleasing and functionally reliant bathroom flooring options? That is exactly what natural high-grade quartz by Petros can do for your luxurious haven. Quartz being one of the hardest materials on earth brings the right durability and charm for your bathroom.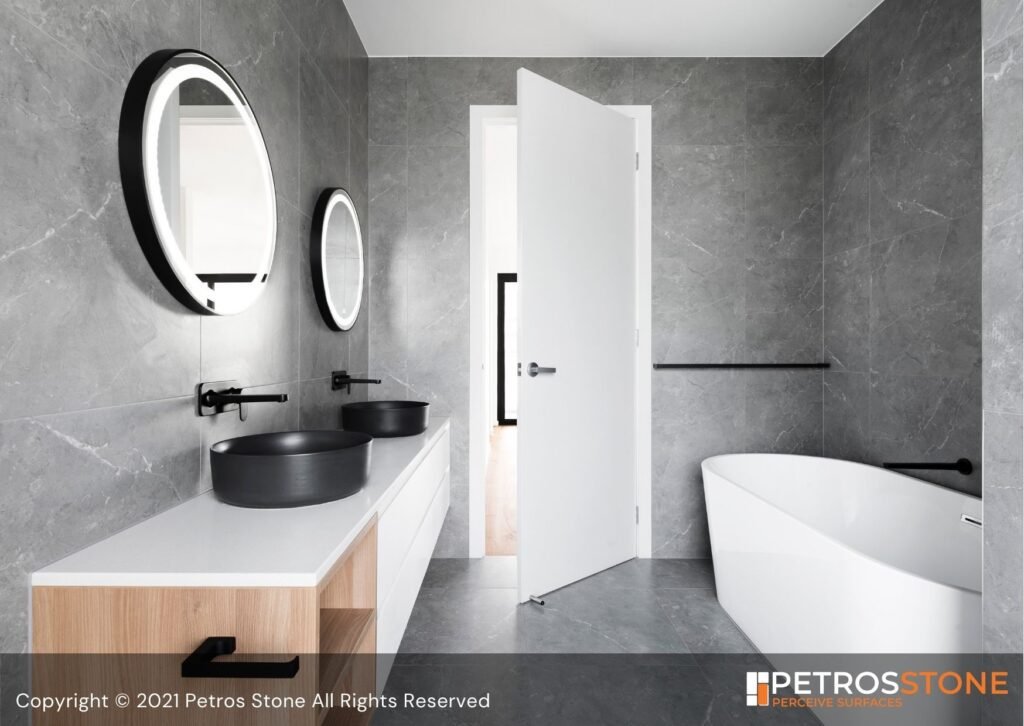 USP
Natural Quartz is one of the most low-maintenance yet high-performing flooring materials on this list, which means it offers considerable resilience without having to fret over regular scrubbing. The naturally waterproof flooring material does not require any additional sealing or buffing, and continues to be one of the most long-lasting flooring solutions these days.
Pros
The most significant highlight of Petros Quartz is its natural non-porosity, which makes it effectively waterproof and thus a perfect solution for bathrooms. You can rely on Petros Quartz to not have any water seepage over the years, and come across as an ideal flooring material for a soothing retreat.
The surface is also impressively slip-resistant, making quartz bathrooms perfect for all age groups.
Secondly, the sheer variety of designs, colours and patterns available in quartz stone surfaces can make you go gaga over which to pick and which to reject. In short, there is something for every style when looking at a quartz catalogue.
Quartz floor surfaces are incredibly easy to clean and maintain. You do not need to use chemical cleaners frequently. Even if you do, they do not have any harmful effects on the stone surface.
At the same time, this incredibly durable stone surface is super sustainable and environment-friendly. No toxins or harmful chemicals are released during its manufacturing or installation.
Despite all its advantages, quartz is not too heavy on your pocket either. For someone who is looking to give their bathroom a modern twist, quartz can turn out to be a budget option to consider.
The stone surface is naturally hygienic and healthy. It does not attract moulds and mildew, which is great for bathroom flooring as these spaces tend to always remain damp.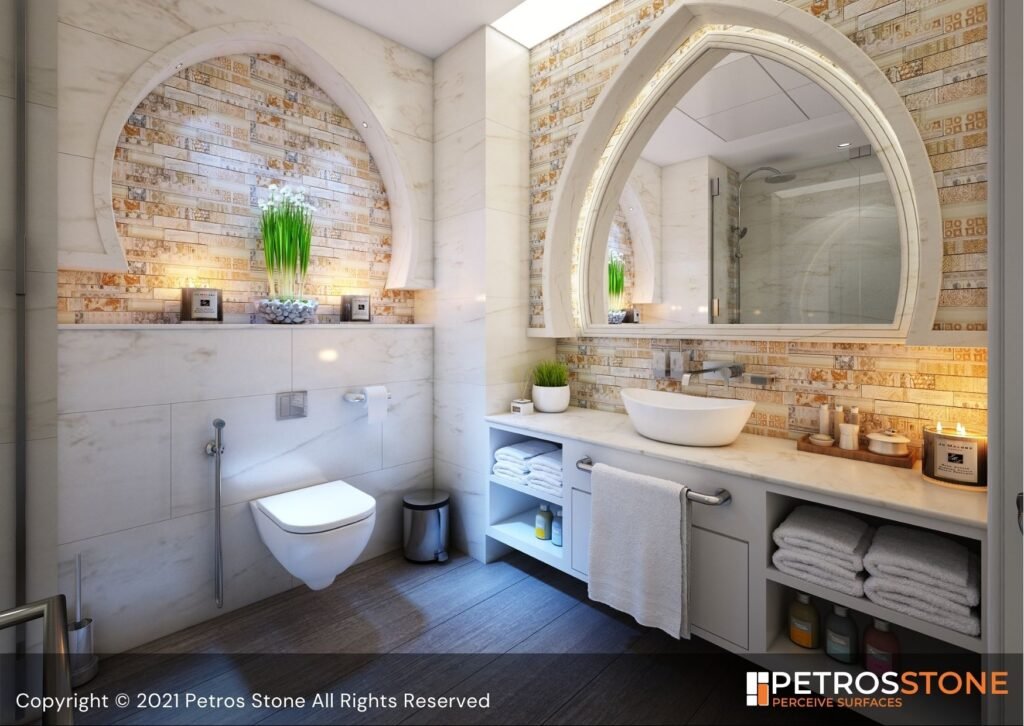 Cons
The only downside of quartz that we can think of is the plethora of choices available! You would literally have to spend hours and hours of your time choosing between one variety or the other. There are innumerable shades, patterns and striations to get confused in, unless you have sought help from an expert to guide you through the selection process with utmost clarity and professionalism.
---
2. Granite
Another high-performing natural stone you simply cannot get enough of is granite. The luxurious beauty adds a certain charm and elegance to your space with its raw magnificence. Without a doubt, it is one of the most gorgeous and resilient bathroom flooring options you could look into, though it is not conventionally used much in this area.
USP
The one characteristic that makes granite stone surfaces stand out of the crowd is the unique natural beauty that comes with it. People use granite in their interiors when it comes to making a bold statement, for the stone boasts of a brilliant and intricate composition, complete with grains, striations and interesting colour variations. Quite easily, granite can blend into any kind of interior style you visualize.
Pros
The most prominent advantage of granite is its amazing durability. The tough and resilient stone can practically last you a lifetime, and you don't even have to go overboard with the maintenance for this purpose.
Granite is a naturally hard stone, in fact one of the hardest you will come across. This is why it isn't easy to cause chips or cracks on its surface.
Granite is an incredibly low-maintenance stone as well, as already stated above. There is no need to use harsh chemicals time and again to keep its surface squeaky clean.
When sealed properly, the granite stone surface can put up brilliant waterproofing characteristics as well. There is no need, therefore, to fret over water percolation and damage.
The natural stone is available in such interesting variations that one is sure to find something for each style. No two granite slabs are ever exactly identical – such is the design variety available.
The best thing is that you can even opt for unpolished granite varieties that will keep you safe from any kind of slipperiness in the bathroom.
Cons
Granite stone slabs are quite expensive and might not be suitable for every pocket size. Compared to cheaper alternatives such as vitrified tiles, investing in granite is something that not everyone is readily comfortable with.
The installation process of granite demands a lot of technical control as well, which means you will need expert consultations throughout. Therefore, if you are looking for a DIY solution to your bathroom flooring upgrade, granite might not be the very best fit.
Also, just like another natural stones, granite tends to get very cold underfoot. This might make it unsuitable as a bathroom flooring option for regions in colder climates.
---
3. Concrete
What comes to mind when thinking of concrete flooring? Well, incredible toughness and strength are just a couple of things that do. Concrete flooring has traditionally been associated with those parts of the house that require greater resilience against wear and tear, such as driveways and garages. However, it can serve as an ideal bathroom flooring solution for pretty much the same reasons.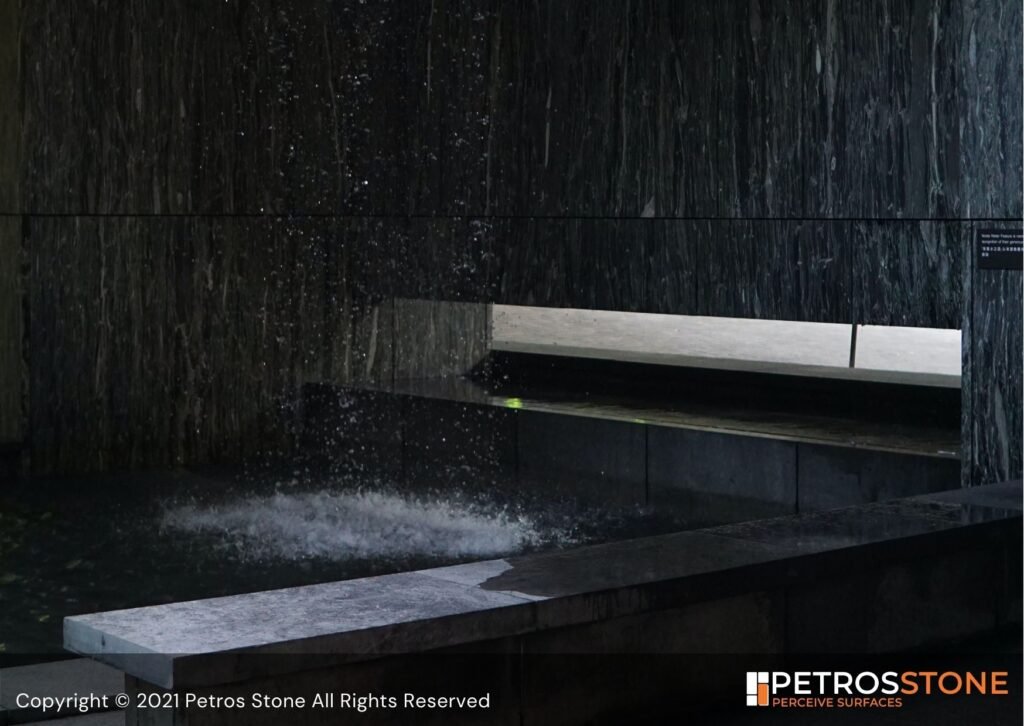 USP
The highlight of concrete flooring would have to be – wait for it – not its strength but the bold fashion statement it makes. Concrete goes brilliantly with industrial style interiors, and can give your bathroom the powerful, raw edge that it needs.
Pros
One of the best advantages of using concrete floors is the negligible maintenance that they demand. The same characteristics that make concrete so durable also make it incredibly low-maintenance.
Once sealed properly, concrete floors keep away dirt, grit, stains, spills and more. All you need to keep the concrete floor looking like new is occasional cleaning.
Concrete finishing, unlike popular perception, is synonymous with luxurious interiors. When paired with other raw-look materials such as earthy porcelain or exposed bricks, concrete floors emerge as beautifully rustic.
Besides, you can stamp concrete with rubber stencil for extra texture to the surface.
Cons
One of the biggest drawbacks of concrete flooring is that it can be incredibly cold and hard underfoot, which can make it unsuitable for bathroom flooring. At the same time, without proper sealing, concrete floors tend to become unacceptably damp, leading to irreparable damage.
No matter with how much precision concrete slabs is installed, they could end up with cracks over time due to variations in temperature, moisture and settling. Besides, the environmental sustainability of this flooring material is quite questionable. The manufacture of cement requires a lot of energy and also emits huge amounts of carbon dioxide, which is especially great when compared to other materials.
---
4. Indian Marble
Indian Marble is, hands down, the most luxurious and elegant bathroom flooring options you could consider. We cannot say that marble and bathrooms go hand-in-hand together ideally, but what we can be sure of is that this natural stone can add the much-needed charm and sophistication to your space like no other.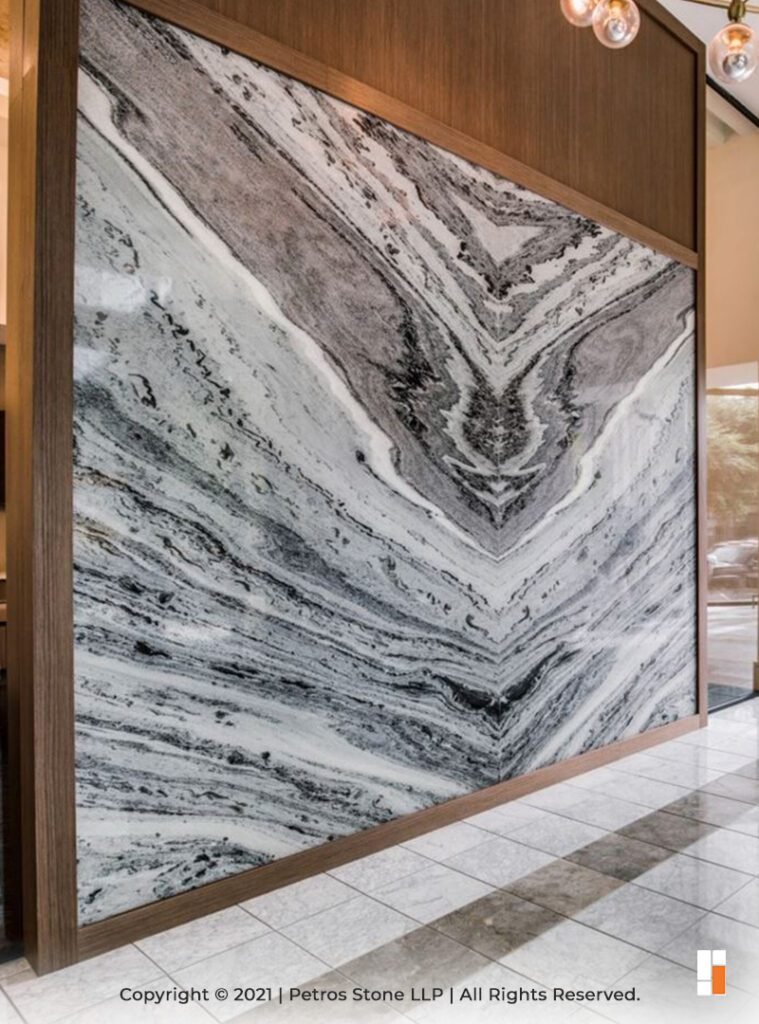 USP
Probably the best thing about Indian marble is its exotic looks. The characteristic venations of Indian marble are its USP – no two marble slabs are exactly identical! Therefore, when looking for the most gorgeous and eye-catching bathroom flooring options, you can never leave marble off your list.
Pros
The biggest advantage of Indian marble draws from the same exoticness of its looks. Prized for its sophisticated charm, marble has been used in royal interiors and exteriors down the centuries, and has always been preferred for its luxury and looks.
The unique veins and striations of marble lend it a charm like no other natural stone can boast of.
Indian marble, however, is not just about its upscale appearance. The natural stone poses other benefits such as environment-friendliness, as it is quarried directly from natural reserves and treated with minimal processing.
The stone is easy to polish, though Indian marble is also available in unpolished varieties, in case you want to give polishing a miss for a safer bathroom floor surface.
Without a doubt, marble adds to the real estate value of your home or office. Therefore, if you are keen on leasing the property or selling it in the future, you can rest assured that marble interiors will call for greater value.
Cons
One of the main drawbacks of Indian marble, especially when it comes to bathrooms, is the extent of porosity that the stone exhibits. The marble stone surface must be sealed frequently to prevent seepage of water and internal damage. This is clearly an area where Indian marble is defeated poorly by high-performance stones such as Petros Quartz.
Secondly, though Indian marble is harder than its Italian counterpart, it is still more brittle compared to other tougher stones. The stone feels cold underfoot, hence using it in bathrooms in colder climatic regions could turn out to be an issue.
---
5. Vitrified Tiles
One of the most popularly used flooring solutions due to its affordability and performance, vitrified tiles can blend in almost any space you want them to. However, these tiles are still much more preferred for use in kitchens and bathrooms due to their notable resistance to moisture and stains.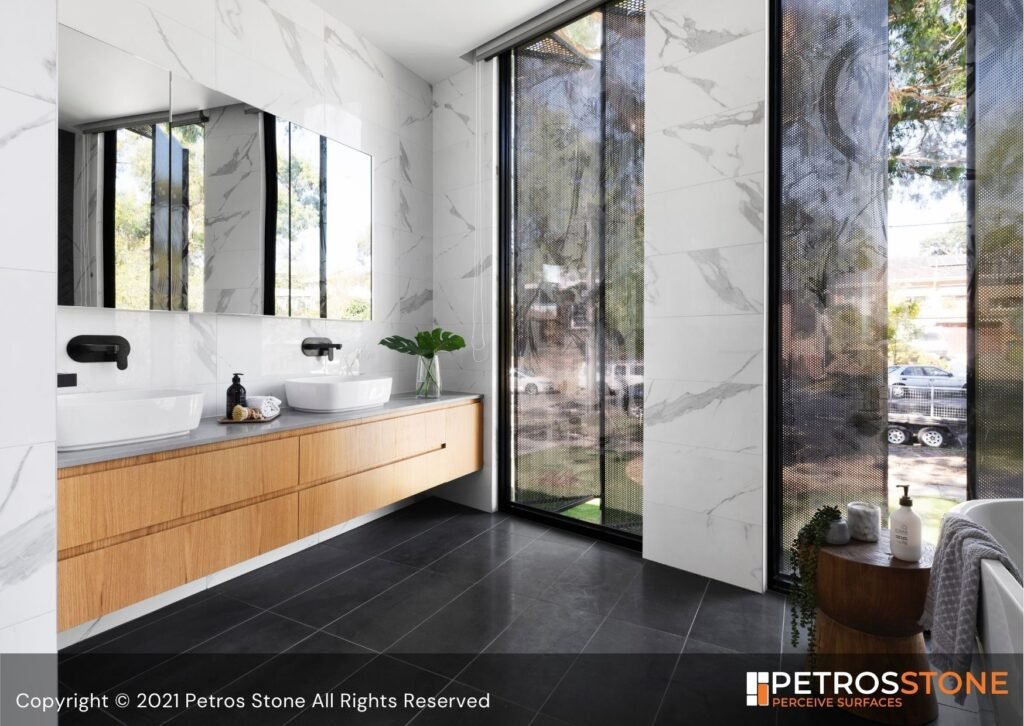 USP
Vitrified tiles have quickly grown the popularity ladder and assumed a top spot when it come to high-traffic areas and highly utilitarian areas such as kitchens and bathrooms. Their characteristic performance under adverse conditions is what should be considered as their charismatic USP.
Pros
One of the biggest advantages of using vitrified tiles for bathroom flooring is that these tiles are impressively durable, and almost impervious to water. You can completely rely on vitrified tiles to not absorb any moisture eve upon regular use.
At the same time, the surface offers stiff resistance against scratches and abrasions, making it suitable for almost any space in your home.
Vitrified tiles also come in a wide variety of options, just in case you were wondering if you could get experimental with this material. There is no dearth of options when it comes to interesting colours, patterns, shapes and sizes.
This flooring solution also comes across as one of the most hygienic options you could install in your bathroom. The non-allergenic surface keeps dust, dirt and germs at bay, and prevents infestation from moulds, mildew and pathogens.
Cons
One of the biggest drawbacks of vitrified tiles is that they can feel rather cold and hard underfoot, which is an area of concern for a bathroom, as it tends to be damp and moist throughout.
At the same time, vitrified tiles are quite heavy, which makes their transportation, installation, renovation and replacement a tedious affair.
The installation process is cumbersome not just because of the weight of the tiles, but also because of the precision required. We would not recommend you to go the DIY way with vitrified tiles.
---
6. Limestone
Limestone is one of the most unique natural stone choices in this list of the best bathroom flooring options you could consider. Why? This resilient stone surface comes with a long list of advantages, the chief among them being long-lasting durability, and the flexibility of usage and application for myriad spaces in your home.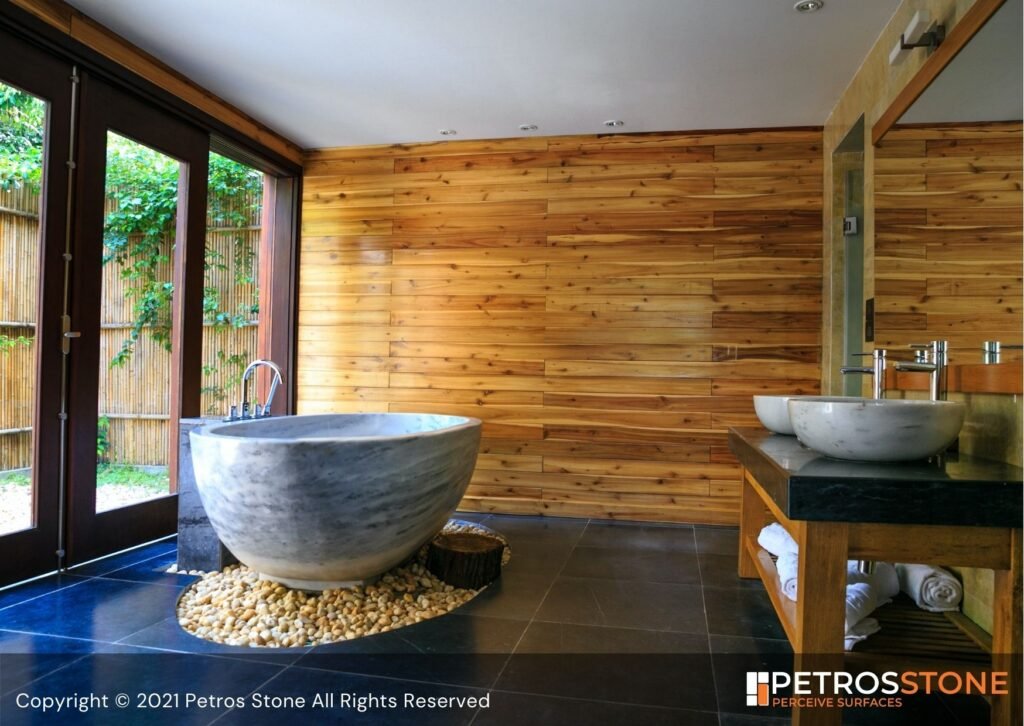 USP
The highlight of limestone as a flooring solution has to be its characteristic natural strength. The process of formation of limestone involves retrieval of calcium carbonate by sea animals in warm waters, during the process of making bones and shells. These creatures include corals, algae and sea shells. The natural building up and deposits of the shells and bones of these creatures contributes to the resilience and strength of limestone.
Pros
By far, the most important advantage of limestone, considering it is a natural stone like marble or granite, has to be its affordability. While many are forced to opt for less expensive materials like vitrified tiles or composite to make up for the high costs of natural stone, limestone comes across as a suitable choice for any home due its pocket-friendliness.
At the same time, the wide availability of limestone means that you do not have to incur high transportation costs either. The fairly durable stone can last incredibly long with proper care and maintenance.
Also, the stone is available in a variety of stunning shades – beige, pink, bluish-grey, white, ivory, black, and more. You can also spot real fossil samples within some limestone slabs, which add to their organic beauty and uniqueness like no other.
The naturally occurring stone does not involve any harsh chemicals or industrial anomalies in its extraction, making it come across as one of the most environmentally-sustainable flooring products you will come across.
The extremely versatile stone can also be cut into desired shapes and sizes, making it perfect for bathroom flooring.
Cons
One of the biggest drawbacks of limestone has to be its relatively difficult maintenance, compared to easier-to-handle flooring options. Limestone gets stained pretty easily, making it unsuitable for kitchens unless treated first.
Also, the porosity of limestone is questionable. Sealing the surface is a must, and you might have to repeat the process every now and then to prevent percolation and internal damage.
Another disadvantage would be the heaviness of limestone slabs, which makes it difficult to transport them from one location to another, or even during installation and renovation process.
The softness of the stone might be advantageous in respect of flexibility and customisation, but it also makes the stone more susceptible to damages in the form of chips, cracks and abrasions.
---
7. Vinyl Flooring
Probably the most common bathroom flooring choice you will come across in most modern homes, vinyl flooring is not just effective but also pocket-friendly. Incredibly easy to maintain and clean, vinyl flooring is available in such interesting varieties that you might even want to replace natural stone flooring with vinyl floors for your bathroom.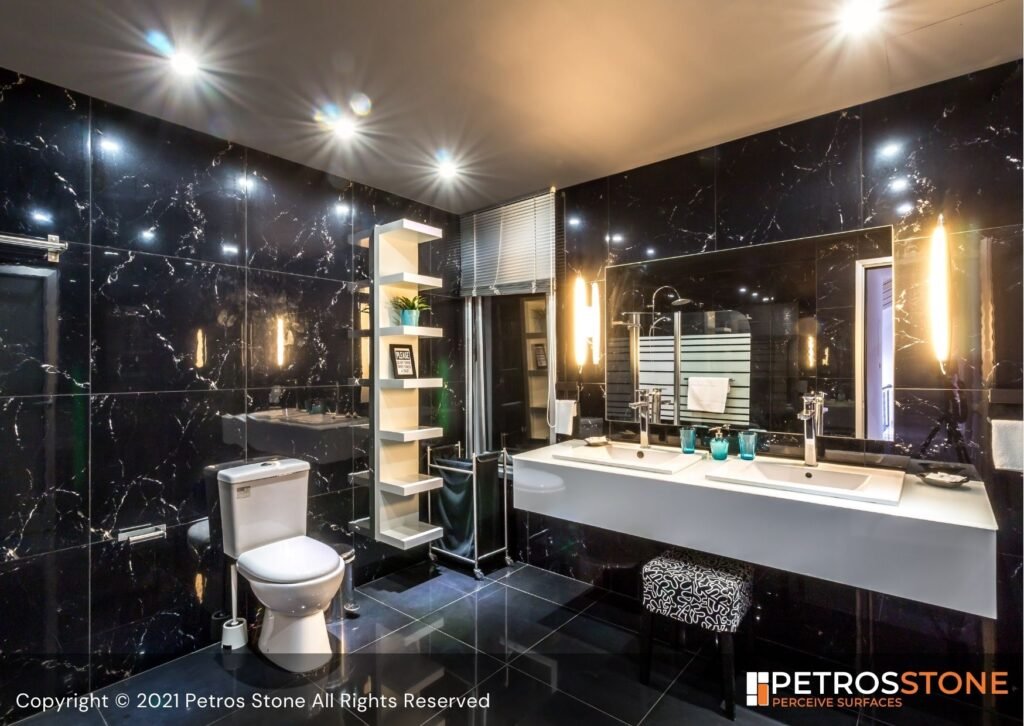 USP
The biggest USP of vinyl flooring has to be its excellent waterproof qualities. Considering your bathroom requires this quality first and foremost, vinyl flooring does an excellent job in providing a water-resistant, anti-skid floor surface.
Pros
Coming to other advantages of vinyl flooring, the first has to be its durability despite its light weight. When treated with care, good quality vinyl flooring can last anywhere between 10 to 20 years, which is impressive considering its cost.
This lifespan could be extended even further if you could put in some extra efforts from time to time, thus making it one of the smartest investments you could make.
Vinyl flooring comes with a clear "wear" layer on top of a vinyl layer, which offers the floor added protection, much-needed water resistance and anti-slip properties. This is also the reason this flooring solution is so easy to clean and maintain over longer periods of time. Simple wiping or mopping would do the trick, for this type of flooring does not attract any dust or grime.
Vinyl flooring also offers impressive resistance against scratches and abrasions, making it ideal for almost any space in your house. Despite these qualities, it is quite soft underfoot due to the presence of a thin foam or felt backing layer.
Therefore, vinyl flooring is just perfect for use in bathrooms, where you might have to stand and move around barefoot for longer.
Cons
A significant drawback of vinyl flooring has to be its poor performance against harsh chemicals. Considering you might want to clean your bathroom once in a while with chemical cleaners, vinyl flooring could be potentially problematic.
The flooring might get permanently discoloured and damaged on using tough chemicals, which is another reason why this flooring is not preferred for outdoor spaces where the sun's UV rays might affect it.
Vinyl flooring is also too delicate for sharp or heavy objects, that may end up creating cuts and dents in its profile. They are not very environment-friendly either, for newly installed vinyl floors emit harmful VOCs (volatile organic compounds).
Besides harming the environment, these fumes are also unhealthy when consumed by humans.
---
8. Glass Mosaic Tiles
Glass mosaic tiles have traditionally been used for countertops, backsplashes and shower walls, but the recent trend of using them for bathroom flooring is one that you cannot give a miss. Radiating a sense of prolific luxury, glass mosaic tiles can give your bathroom the look and feel of an upscale spa, by adding a stylish edge to the overall ambience.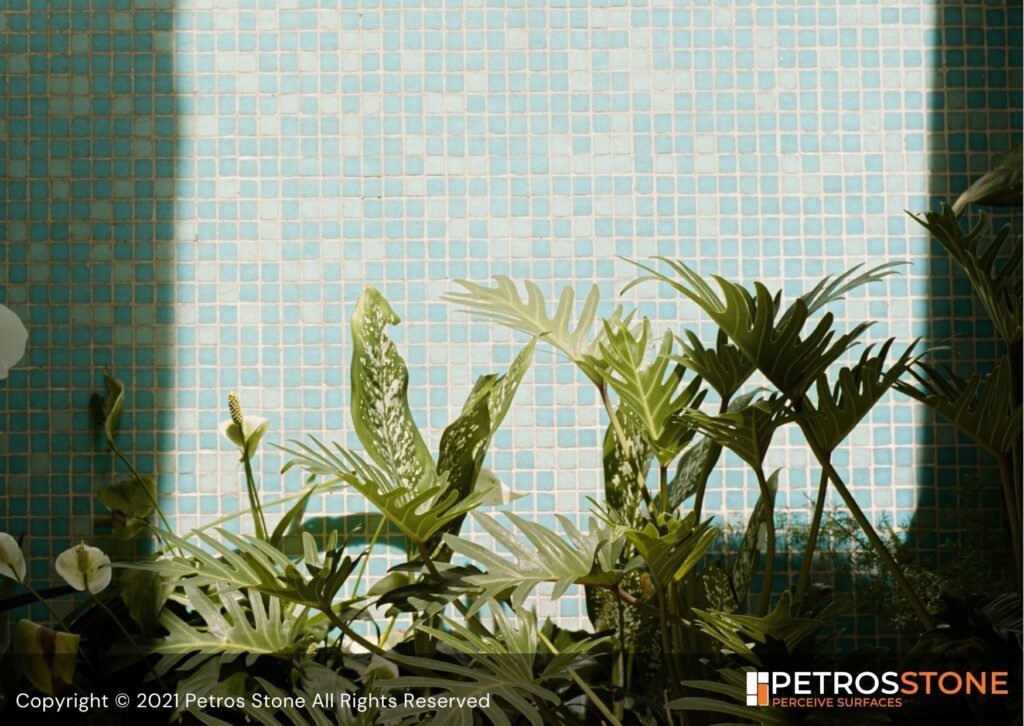 USP
The USP of glass mosaic tiles is their extreme versatility – you could really create any pattern, design or artwork you want with these interesting tile pieces, or simply keep it abstract, if you wish. All that these tiles demand is impressive workmanship and some investment of time to create picture-perfect outcomes of interesting bathroom flooring.
Pros
One of the foremost merits of using glass mosaic tils has to be the beautiful and unique final outcomes you could get. With a proper installation with help from skilled experts, you could experiment with a number of different patterns, styles and pictures to as intricate a level as you want.
Glass mosaic tiles offer another superior advantage that comes handy for bathrooms – they are incredibly easy to clean and maintain. These bathroom flooring solutions are resistant to any damages by chemical cleaners, which you can easily use to clean these tiles.
They are non-porous materials, which means you do not have to worry about liquid percolation or even soap-scum buidup. These can be cleaned with a damp cloth and simple vinegar solution.
Glass mosaic tiles are quite environment-friendly, for it takes around half the energy to produce a glass tile compared to one ceramic tile of corresponding size. These tiles can also be recycled and use to produce further tiles, which means there is scope of zero wastage.
Also, glass mosaic tiles tend to be reflective in nature, which means they glow with a luminous radiance even if they are dark in colour. This characteristic can be said to be unique to glass mosaic tiles.
Cons
The biggest shortcoming with glass mosaic tiles is that they tend to be at the higher end of the cost spectrum. The more attractive shades and designs will cost even more than other traditional options of bathroom flooring, and repeating these for desirable patterns can take prices off the ceiling.
Besides, glass mosaic tiles require expert assistance during installation. Unlike vinyl flooring, which can take the DIY route, or natural stone flooring, which can be handled by less trained professionals, glass mosaic flooring requires skilled and experienced experts for the best outcomes. This brings in additional overhead charges.
While glass mosaics offer optimum resistance against stains and are waterproof, not all varieties offer the same level of toughness against scratches. Over time, scratches will accumulate on the glass floor and must be replaced.
Glass mosaic tiles are also susceptible to chips and cracks when you use heavy or sharp objects on the surface, or even drag furniture or fixtures from one point to another. Broken glass mosaic edges could easily harm anyone walking barefoot on the surface, while their repair turns out to be quite expensive.
---
9. Porcelain Tiles
Porcelain tiles are all about strength, durability and toughness. These flooring solutions have been around for ages now, and have traditionally been used for the same characteristic durability in a range of spaces. At the same time, they are quite versatile as flooring tiles, and can be obtained in any shape, size and design as befits your space.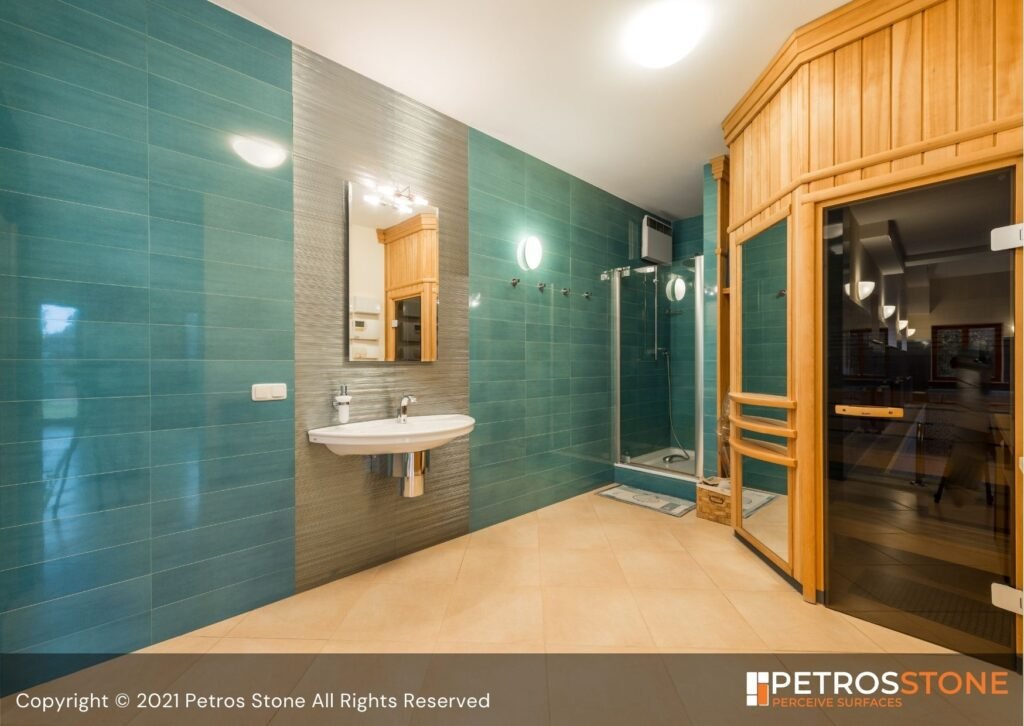 USP
Without question, the USP of Porcelain Tiles has to be their remarkable durability. The manufacturing process of porcelain tiles is such that it can implement the strength of a wide array of materials with impressive efficiency.
Pros
Porcelain tiles are available in limitless design variations today, unlike a few years ago when the number of shades and patterns that they were available in was largely limited. Manufacturers are coming up with new and interesting varieties to suit the evolving tastes of homemakers. You can be sure about finding something or the other for your unique interiors in a porcelain tile catalogue.
Porcelain tiles are also amazingly durable and can withstand scratches, abrasions and pressure with ease. You can rest assured that any heavy furniture movement will not lead to dents and scratches in this material.
Porcelain is also highly waterproof, which means these floor tiles do not let liquids seep in and are also incredibly low maintenance. This characteristic sounds perfect for bathroom flooring, doesn't it?
Cons
One of the biggest drawbacks of porcelain tiles is that they are rather costly. With all their benefits and unique looks, the complete package of impressive durability with striking sophistication comes at a high price tag.
Porcelain tiles are quite heavy relative to materials such as laminates or vinyl. This makes their transportation and installation difficult as well as time-consuming.
The brittle nature of porcelain tiles can cause easy chipping off if sudden force is applied.
As polished porcelain tiles could turn out to be very slippery, it becomes unsafe for use as bathroom flooring.
The grouts in between porcelain tiles require sealing from time to time to prevent seepages and damages. This step adds to the already high costs of porcelain tiles, and tend to keep scaling up with time.
---
10. Engineered Wood
For those who would love to have wooden flooring in their bathrooms but cannot, because of the poor performance of natural hardwood in moist conditions, we have the perfect alternative. Engineered wood offers much better waterproofing and durability compared to hardwood in the context of bathroom flooring solutions.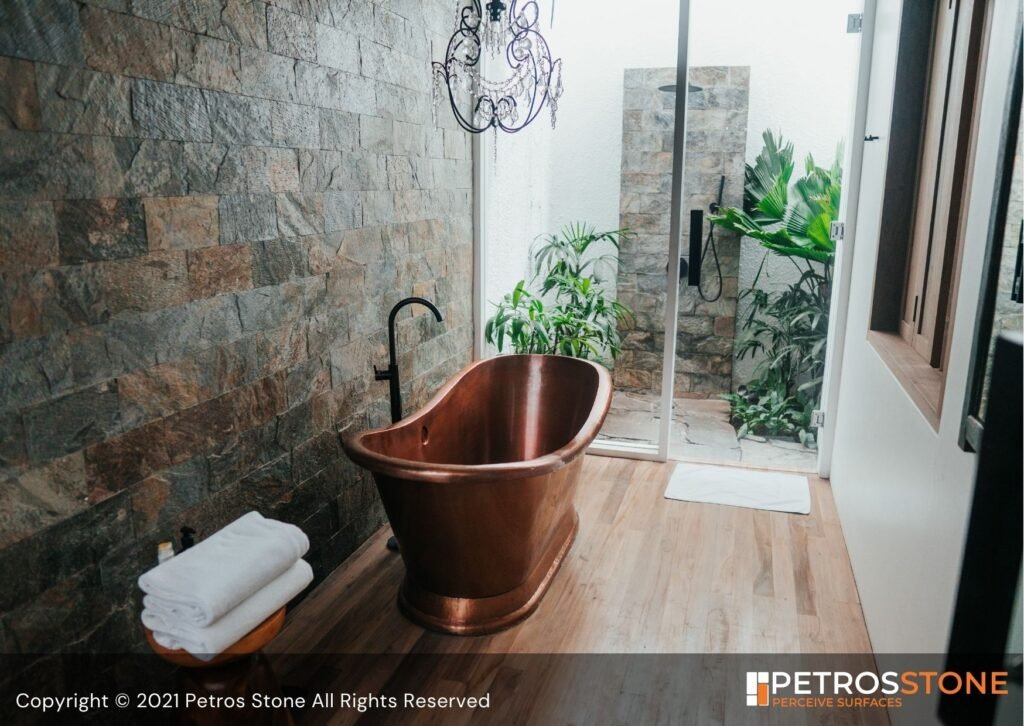 USP
The most remarkable highlight about engineered wood has to be its identicality in appearance to natural hardwood. After all, the topmost layer of engineered wood is composed of real hardwood veneer! This makes it the ideal choice for someone who wants the looks of real wood without the hassles of installing and maintaining it.
Pros
The first advantage of engineered wood over other bathroom flooring solutions has already been stated above – it offers the look and feel of real wood. With authentic hardwood on the top, no one can make out the difference between the real and engineered versions at all!
At the bottom is a durable plywood base, which performs much better when it comes to holding up moisture and humidity. Water resistant materials such as wax are often used to avoid soaking up standing water.
Engineered wood costs much, much less than exotic natural hardwoods, while boasting their looks. For instance, you could easily get Brazilian Walnut engineered wood without having to pay as high as the real exotic hardwood variety. Installing these engineered wooden planks is also much quicker, cheaper and easier than their real counterparts. This is because these planks often come with a snap-together system, and can be used the DIY way.
There is no dearth of options when it comes to engineered wood bathroom flooring. You can rest assured that there are tons of varieties to choose from. Without any professional assistance and with such wide variety available, engineered wood comes across as an amazing solution, doesn't it?
Cons
One of the biggest drawbacks that must be mentioned here is that all engineered wood products cannot be refinished, while some can be refinished only once. This is because the topmost hardwood veneer layer is very thin in these types of flooring. Hence, you might want to opt for a thicker veneer layer for refinishing your floor multiple times.
No matter how resistant and durable the engineered wood, it is always prone to some scratching and denting if not handled well. Again, when it comes to using engineered wood in bathrooms, the flooring is not completely waterproof. If left with standing water for long, the engineered wood surface can swell and buckle.
It is definitely less susceptible to moisture damage than natural hardwood, but not omnipotent. Therefore, you have to invest in sealing the floor surface from time to time for the best results. Also, make sure you do not leave standing water on its surface for a long time.
---
11. Bamboo
With environment-friendly products already taking up quite some headspace in the current shift towards sustainability, bamboo flooring has emerged as one of the top choices for homes as well as commercial establishments everywhere. Bamboo is a type of grass that can be processed further to produce tough, sturdy planks. These planks are then glued together to form resilient flooring boards that are beacons of sustainability and strength.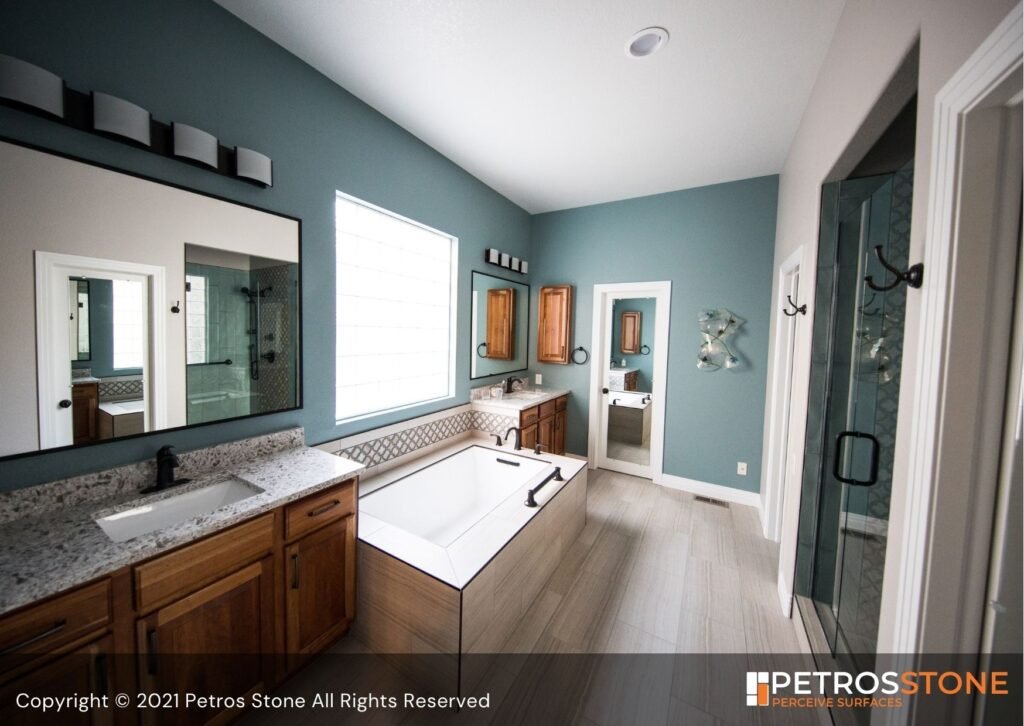 USP
The prime highlight of bamboo flooring has to be its environment-friendliness. Out of the various bathroom flooring options on this list, bamboo flooring is one that offers the most optimum environmental impact in terms of both manufacture and use, especially in areas where bamboo is a native species.
Pros
Bamboo flooring is one of the most durable and resilient bathroom flooring options you can consider, offering similar characteristics like hardwood flooring if chosen wisely.
Besides, bamboo flooring boasts of a characteristic contemporary look that no other material has to offer. This simple style of bamboo flooring goes well with almost any kind of interior style. It comes out as the best choice for one around an eco-theme.
Bamboo flooring has amazing and plentiful design varieties to offer, whether vertical or horizontal stripes, intricate grain patterns or interwoven strands of interlocked grass fibre. Prices vary from one design to another, with the last one being the costliest of the lot.
When using bamboo bathroom flooring, rest assured that you do not have to bother about cleaning and maintenance of this floor tile. You could either use a simple mild detergent for the purpose or a simple damp cloth for occasional cleaning.
Some bamboo flooring options come with a discrete laminate layer, which can be refinished even by yourself.
Cons
Depending on the type and quality of bamboo flooring you choose to invest in, the floor planks might be susceptible to varying degrees of damage. Cheaper bamboo flooring, for instance, is more likely to give in to scratches and abrasions. It is also quick to absorb water and damage due to swelling and rotting. This is the reason that bamboo flooring requires sealing and lamination properly if you want to use it for bathrooms. Also make sure you invest in only superior quality options.
The sleek and minimalistic look of bamboo flooring planks is available in different design patterns, but there's only so much variety in terms of shades or themes. Compared to this, options such as wooden laminates have much more variety to offer.
---
Materials that You Should Never Use for Bathroom Flooring
Carpet
Carpets are a big no-no for bathroom flooring, and for obvious reasons too. Carpeting can retain moisture for a pretty long time, which means it can take days to dry out within the confines of your bathroom. Not just uncomfortable to step foot on, it could also start emanating a foul smell that you certainly do not want to entertain.
These days 100% inorganic carpets in the form of olefin or nylon are available in the market, which have been able to thwart the problem of moisture retention as well. If you do wish to introduce some form of carpeting to your bathroom, we would suggest you go for specific materials such as the above.
---
Hardwood
Solid hardwood is a pleasure to the eyes and the feet when used in the right places – and your bathroom isn't one. Firstly, hardwood has no natural waterproofing to offer. Moisture will eventually find its way to the internal layers of wood and rot it with time. At the same time, organic hardwood flooring can cost you a ton, not to mention the number of times you would have to seal or repair it.
If you are indeed inclined upon having hardwood flooring for your bathroom, noting a few points could help. Firstly, make sure there are absolutely no gaps between the hardwood planks and that they are perfectly installed. Secondly, always opt for site-finishing instead of pre-finished flooring so that moisture is blocked away more effectively with additional coating.
---
Linoleum
While linoleum flooring might come across as a fairly reliable and strong option with a long lifespan, it has some striking disadvantages due to which you should refrain from using it for bathroom flooring. Firstly, the surface is highly susceptible to moisture. Besides bathrooms, it should also not be used in laundry rooms, areas exposed to high humidity, spills and splashes.
Secondly, linoleum flooring is subject to darkening or yellowish stains over time, especially whe subjected to sunlight. New and freshly waxed linoleum tends to be very slippery. Add to that the presence of water on the surface when used as bathroom flooring, and this option could turn out to be very unsafe for use in your home.
---
Need Help Picking the Right Bathroom Flooring Option?
At Petros, our team of dedicated experts can take care of all your bathroom flooring queries and needs. Get in touch with our experts and decide upon the best options for your home today