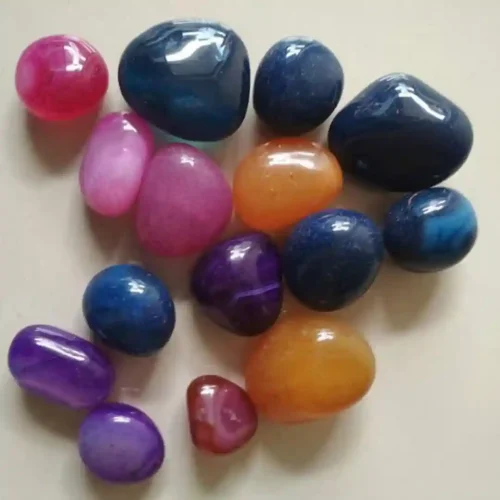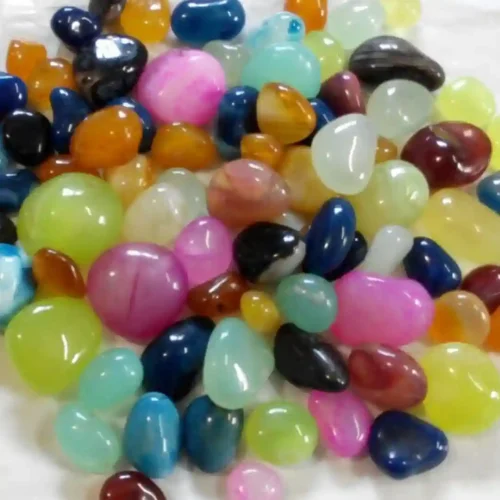 Mixed Onyx Polished Pebbles
Description
Mixed Onyx Polished Pebbles are a captivating blend of natural decorative stones showcasing a harmonious assortment of colors, patterns, and textures. These pebbles have been meticulously polished to achieve a smooth and reflective surface, enhancing their innate beauty. Sourced from diverse onyx formations and shaped by geological processes, these pebbles offer a unique and visually dynamic option for landscaping and design projects, infusing spaces with a sense of creativity, diversity, and artistic allure.

Key Features:

Color and Variety: Mixed Onyx Polished Pebbles exhibit a delightful mix of colors, ranging from rich earth tones to vibrant hues. The diverse colors create a visually appealing mosaic, adding depth and intrigue to design settings.
Polished Finish: The pebbles' polished surface intensifies the colors and patterns, contributing to an elegant and refined aesthetic.
Texture: The polished surface of Mixed Onyx Polished Pebbles is sleek and inviting to touch, showcasing the unique textures and characteristics of each stone.
Size and Shape: Available in various sizes and shapes, including rounded, irregular, and angular forms, offering endless possibilities for creative design arrangements and layouts.
Translucence: Some onyx varieties within the mix may display a subtle translucence, further enhancing the play of light and shadow.

Applications:

Landscaping: Incorporate Mixed Onyx Polished Pebbles to create captivating pathways, borders, and accents in gardens and outdoor spaces, infusing them with a sense of diversity and artistic expression.
Water Features: Enhance water features such as ponds, fountains, and streams with a captivating mix of colors and textures, adding visual intrigue and artistic flair.
Garden Decor: Thoughtfully integrate into garden beds, rock gardens, and planters to create a vibrant and visually captivating ambiance.
Interior Design: Utilize Mixed Onyx Polished Pebbles to introduce unique flooring patterns, decorative elements, or accents that celebrate the diverse beauty of natural stones.
Artistic Creations: Leverage the variety of colors and shapes to create captivating artistic installations, focal points, or mosaic designs that showcase the beauty of mixed onyx pebbles.
Custom Projects: Explore endless possibilities for custom designs that embrace the eclectic and dynamic nature of mixed onyx stones.
Design Flexibility: The blend of colors and shapes offers the flexibility to create unique and personalized design arrangements.

Whether you're aiming to create a visually dynamic landscape, infuse your designs with a spectrum of colors, or enhance the visual allure of water features with a touch of diversity, Mixed Onyx Polished Pebbles offer a visually enchanting and creatively inspiring solution. Their diverse colors, polished textures, and potential translucence can add a sense of creativity and artistic beauty to your design endeavors.
Specification