Sandstone is one of the most most beautiful hardscaping and landscaping materials. This stone is not as hard as granite, but much more beautiful , anti-slip and robust. In this article we will look at some of the best manufacturers and exporters of sandstone slabs, sandstone tiles, and various other sandstone and quartzite products. In this article we will take a look at all the sandstone types, their price, best snadstone manufacturers and exporters.
The Best Indian Sandstone Exporters and Manufacturers are:

Petros Stone LLP
Oswal Granite
Pravin Stones
Trident Stones
Stone Drone
Vihaan Stone
Rajasthan Slates and Stones
Stone Impex
---
---
Top 10 Indian Sandstone Manufacturers & Exporters
After conducting thorough research, we have found the best companies that offer high-quality sandstone products.

1. Petros Stone LLP
Petro Stone has the greatest collection of premium natural sandstones in India. There are many different patterns, hues, and designs available in the sandstone category.
The company offers its consumers premium sandstones by utilizing cutting-edge Spanish and Italian technology. The technology consists of gangsaws, multi-cutters, and 24-head polishers. Professionals at Petros can assist you in selecting the ideal sandstone for both your interiors and exteriors.
In addition, Petros Stone is one of the best sandstone exporters in India that should be considered by people seeking advancements in stone technology for architecture and design.
The company has been successfully exporting finished products such as snadstone pavers, coping, other landscaping and hardscaping products to more than 50 countries, including USA, Canada, Poland, Russia, and many countries in Europe, Middle East and Africa.
Petros Stoe LLP also has a lot of experience in international projects and competitive international markets- with excellent quality control, reliability and customer service.
This company which was established in the year 1987, is effectively expanding its service to the additional global markets.
Sandstones are available in several colors including yellow, ivory, gray, black, pink, red, and green. Furthermore, popular sandstone finishes offered by them are riven, tumbled, sandblasted, honed, and flamed.

Contact Details:

Website: https://petrosstone.com/

Corporate Office:

Petros Stone LLP

Sr.25, Handewadi Rd, Kanade Nagar, Undri, Pune, Maharashtra 411060

Contact Person | Contact Number :

Rishabh Jain | Exports Head | +91-8446360361
---
Petros Stone LLP
(Best Sandstone Manufacturer)
Experience and Certifications
The age of the company tells a lot about its nature. In simple words, the more experience a particular Indian sandstone slab business has, the more chances of success for any project. A company with years of experience will offer flawless products at great prices. Another advantage of working with an experienced business is that you can take advantage of their harmonious relationships with their business partners. Petros Stone was established in the year 1987 and has ISO 9001:2015 certification. That being said, experience and certification ensure that Petro's products are up to industry standards.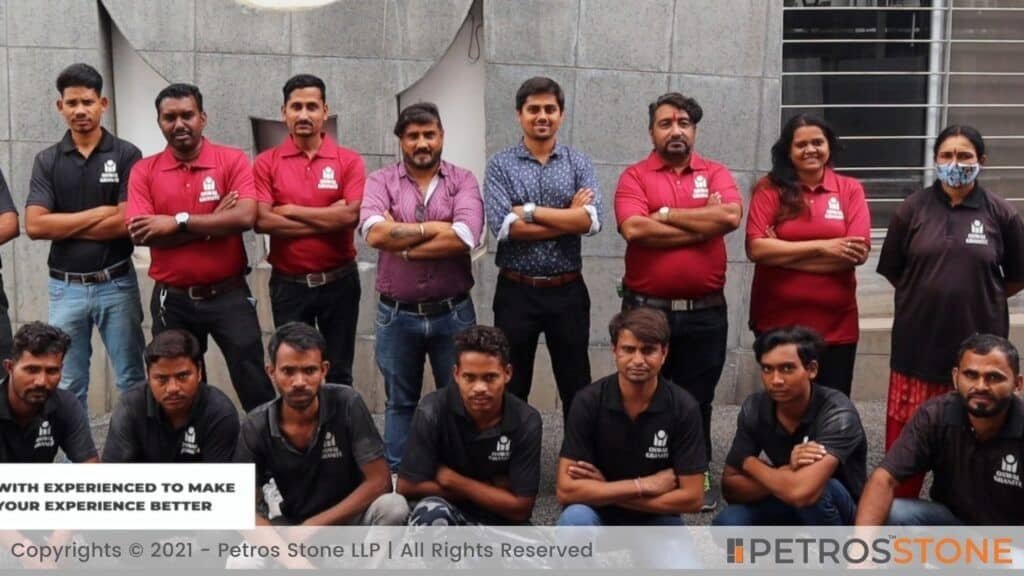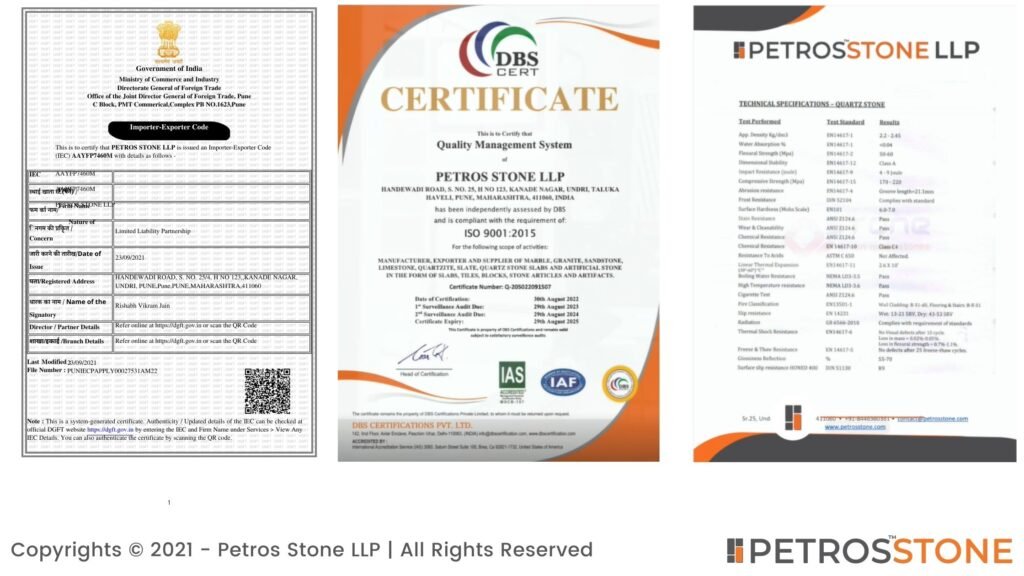 ---
Superb Customer service
A good Indian sandstone slab company offers the finest customer services. Their representatives are respectful, polite, and warm and help you in choosing the best stone for any application. Not only this, they also help in calculating the cost of the project. On the other hand, if representatives are not concerned about your requirements and show negligence, it's a bad sign. Customer service representatives at Petros Stone give positive experience to the customers. Right from the first phone call or showroom visit, Petros stone meet customer's needs.
---
Fair Pricing
An ethical Indian sandstone slab company gives an honest pricing even before the project begins. They won't charge any hidden Indian stone price per m2 or have a selfish agenda. Petros Stone lets you have a custom quote to find out the cost of your project. Petros stone are also open to in-person visits so that customers can get more details on the goods and services. It gives you a chance to get suggestions on the kind and quantity of supplies you may need.
---
Timely Delivieries
Another important factor that makes Petros Stone best is delivery time. A short delivery time ensures effective project completion. A responsible company offers quick delivery services without causing any damage to the transported products. On the other hand, some companies have slow product deliveries that might as well show delay in project completion. So, one should pick the Petros Stone brand if they want fast delivery services.

---
Samples | Shipments
Making a decision based only on images found online is difficult. It's important to compare the sandstones to other construction components in your property, such as walls and furniture. Petros Stone is a top Indian sandstone slab business that provides samples you can view in the privacy of your own project. You can decide which styles are best for your requirements by examining them in various lighting conditions. After that, you can confidently place an order.
In short, choosing an Indian sandstone slab company like Petros Stone LLP that really stands out is rewarding.

---
2. Oswal Granite
Since its establishment in 1989, Oswal Granite has developed into a leading manufacturer of all-inclusive surfacing solutions. They have worked hard over the years to introduce elements of harmony and design into the realm of building materials. This makes sure that the areas where these materials are surfaced exhibit an unusual amount of synchronization. They have selected over 221 surfacing options suitable for any type of space.

Contact Details:

Website: https://oswalgranite.com/

Corporate Office: Survey No. 25, Handewadi Rd, Kanade Nagar, Undri, Pune, Maharashtra 411060

Contact: +91-9422079858
---
3. Pravin Stones
Pravin Stones has emerged as a well-known player in the dealing of natural stones. They are considered among the top suppliers and exporters of finest natural stones from India. They are establishing roots in numerous nations throughout the world, including the United States of America, Australia, Korea, France, and nations in Europe and the Middle East.
Contact Details:

Contact: +91-8208103527
---
4. Trident Stones
Trident Stones Pvt. Ltd., founded in 2000, is an ISO certified Indian sandstone slab company from Banswara, Rajasthan, India. They are renowned as outstanding manufacturers, suppliers, and exporters of sandstones. Tripura Stones is the most dependable and well-respected company in the marble and granite industries. Before sending sandstone products to the customers, they meticulously inspect the products to assure their quality. Their goal is to offer their customers the highest quality products, thus they never compromise on it. Bulky order deliveries are made on schedule and without causing any product damage.
Contact Details:

Contact: +91-7757081061
---
5. Stone Drone
Since its establishment in 1986, Stone Drone has become a renowned Indian sandstone slab exporter. Nearly 2 million square meters of quartzitic sandstone for hard landscaping are processed and exported by them to clients in the UK, USA, Germany, Japan, and many other nations. Their frost-resistant Quartz sandstones have very low porosity and can be used for roads, patios, and interior floor tiles. Additionally, they have direct access to over 250 quarries, ensuring the availability of the highest quality sandstones. They have headquarters in Mumbai and 5 plants totaling 250,000 square meters distributed across North and South India.
---
6. Vihaan Stone
The Indian sandstone slab company Vihaan Stone was founded in 2014 and provides Natural Stones and Semiprecious Stones products to meet the needs of the home décor, construction, and interior design industries as well as numerous stone importers from across the world. They initially supplied in India only. After two years of successful selling of White Marble domestically, they expanded into the international market with a wide range of categories.
Contact Details:

Contact: +91 8010745211
---
7. Rajasthan Slates and Stones
Natural Indian sandstone varieties are produced, processed, and delivered by Rajasthan Slates & Stones in the most opulent shades, including yellow, beige, brown, gray, pink, red, black, and chocolate. For improving the appearance of your interiors and exteriors, they provide a variety of Indian sandstone solutions. The Indian sandstone slab company is a supplier of 30 high-grade varieties of Indian sandstone that adhere to rigid quality controls and international standards
Contact Details:

Corporate Office: Regd. & Corp. Office: CG-1 Silver Spring, Off N.H.-8, Navratan Complex, Udaipur – 313001, Rajasthan, INDIA

Contact: +919828558944
---
8. Stone Impex
Stone Impex is a famous name among natural paving stone suppliers in India and the biggest producer of the natural stone range. The brand distributes natural stones in more than 40 nations worldwide and follows strict guidelines to ensure high production standards, excellent customer satisfaction levels, and a quick delivery system. Their sandstone collection comes in a variety of designs, vibrant colors, and endless variations.
Contact Details:

Contact: +91-8285651111
---
Types of Indian Sandstone | Image + Price List 2023
---
Why is Sandstone Used For Wall Cladding and Flooring?
Sandstone is a sedimentary rock having sand or quartz grains glued together. These grains can be red, yellow, or brown. It is widely used in walls, floors, stairs, fountains, fireplace surrounds, garden furniture, pillars, and outdoor spaces. They can also be used as decorative stones.
Here are top 7 reasons why sandstones are preferred for interior as well as exterior decoration in commercial and residential projects.

1. Durability
Sandstone is extracted from the core of the mountains. Thus, it is a hard and durable material. Sandstones last longer than a decade if treated with proper care. In addition, sandstones can bear any weather condition, environmental factor, and human action. Thus, it is worth spending money on Rajasthan sandstone price!

2. Easy to Process & Handle
What makes sandstones standout among other natural stones is the fact that these can be easily carved into any shape. Whatever size, shape , or form of floor or other structures you have in your mind, sandstone will not disappoint.

3. Weather Proof
Sandstone is a good conductor of heat. Heat released by sandstones can minimize your dependence on heating systems in winters. This, in turn, reduces electricity bills. Alternatively, sandstones maintain coolness during sunny days. In short, regardless of season, sandstones are meant to offer your plethora of benefits.

4. Extensive Colour and Finishes available
Sandstones are rich in hues, including red, brown, tan, gray, pink, white, and black. Unlike other natural stones, Indian sandstone colors don't fade away when exposed to heavy foot traffic and other elements. In addition, red and pink sandstones come with an anti-slip surface, which makes it the best option for paving, pool decks, driveways, and walkways.

5. Timeless
Sandstone will never go out of style. No matter how many trends leave and enter in the market, sandstone's value will remain the same decades or centuries later. That implies the value of your property having sandstone products will increase as the years pass by. Even if you decide to sell your property 30 years later, the buyer will accept it at the price you set.

6. Inexpensive
Sandstone price per square foot in India is not at all expensive as you think. The demand for sandstones has been increasing, which has reduced their cost. Moreover, the maintenance cost of sandstones is low as well. One only needs a mop and mild cleaning soap solution to remove dirt from the sandstone floors.

7. Replaceable
Sandstone floors are installed in individual pieces and tiles. That being said, tiles can be easily replaced. While choosing sandstone replacement services, make sure you own a few sandstone tiles from the original installation so that they go well with the floor to be repaired.
Last but not least, sandstones give the feelings of earth that can be missing in other natural stones.
---
Get in Touch
Petros Stone is one of the top-notch sandstone suppliers in the industry that offer high-quality materials at reasonable prices. Among these companies, Petros have a great reputation of exporting as well as manufacturing engineered natural stones designed to render a unique sensation of touch. Plus, Petros outshines other Indian sandstone slab companies in terms of experience, certification, customer service, quality, and timely deliveries.
Feel free to get in touch for a free consultation, quote and get a detailed understanding from our experts here at Petros®. Visit https://petrosstone.com/ or call +91-8446360361 and WhatsApp
---