Granite slabs are manufactured by slicing blocks of granite mined from the earth's crust. These blocks of granite are initially dressed to the right size and shape for the slicing machinery. The cutting machines then slice these blocks into slabs of the required thickness. Granite slabs are then polished on one side using automatic machines. There are over 200 shades of granite in India. We at Petrosstone manufacture almost all the colours imaginable. If you are looking to explore the colours and the prices of granite: Click here and fill out the form.
There are two types of granite size standards:

Vertical – smaller and usually thinner
Gang Saw – Larger and usually thicker
Vertical granite slabs are smaller and thinner compared to gang saw sized granite slabs. Vertical Granite slabs are common in the domestic markets of India. They are preferred for their relatively cheaper price and easier handling. However, there are certain drawbacks to vertical granite sizes. To know which one is the perfect for you, keep reading.
What is the standard granite slab size? (Vertical)
The granite slab size (in India) is 3′ x 8′ or 900mm x 2400mm.
The size of granite slabs may, however, vary between 3′ to 4′ in height and 8′ to 12′ in length.
There are variations in the size of granite slabs because of the variation in the size of granite blocks they are sliced from. Though the size of granite blocks varies, all the slabs from a single granite block must be the of the same size. In other words, all the slabs of a particular block of granite must be of the same size. Granite is a natural product and there might be unappealing variations across different blocks and buying an entire block protects you from that.
What is the standard thickness of granite slabs? (Vertical)
The standard thickness of granite slabs (vertical size) is 18mm or 0.7″
Some manufacturers may, however, produce thinner slabs to cut down costs. Granite slabs thinner than 18mm may or may not be suitable depending on the area of application. When used for wall-covering and elevation cladding, slightly thinner granite slabs may not make much of a difference. However, for granite flooring and granite countertops, thickness of the granite slab is imperative. For such purposes, granite slabs with thicknesses of at least 18mm are recommended. Moreover, for some applications like, for example, stepping stones, the granite thickness may even be greater than 40mm.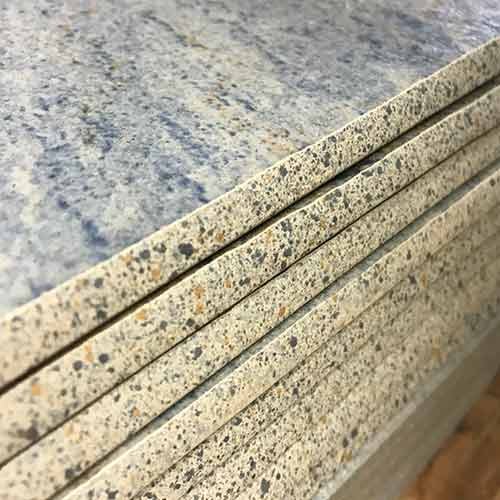 Why you may want to go for vertical granite slabs?
Vertical granite slabs are thinner and smaller than gang-sawn granite slabs. This, surprisingly, may be an advantage. For instance, if the granite will eventually be cut into a size that fits the vertical granite slab size (3ft x 8ft), one might waste a lot of surface area by using a larger gang-sawn granite slab. Additionally, for elevation cladding, thinner slabs are preferred since they are easier to handle on account of them being smaller and lighter.
What is the standard granite slab size? (Gang Saw)
The standard granite slab size (gang saw) is 5′ x 10′ or 1500m x 3050mm.
The size of gang sawn granite slabs may, however, vary between 5′ – 6′ in height and 10′ to 12′ in length.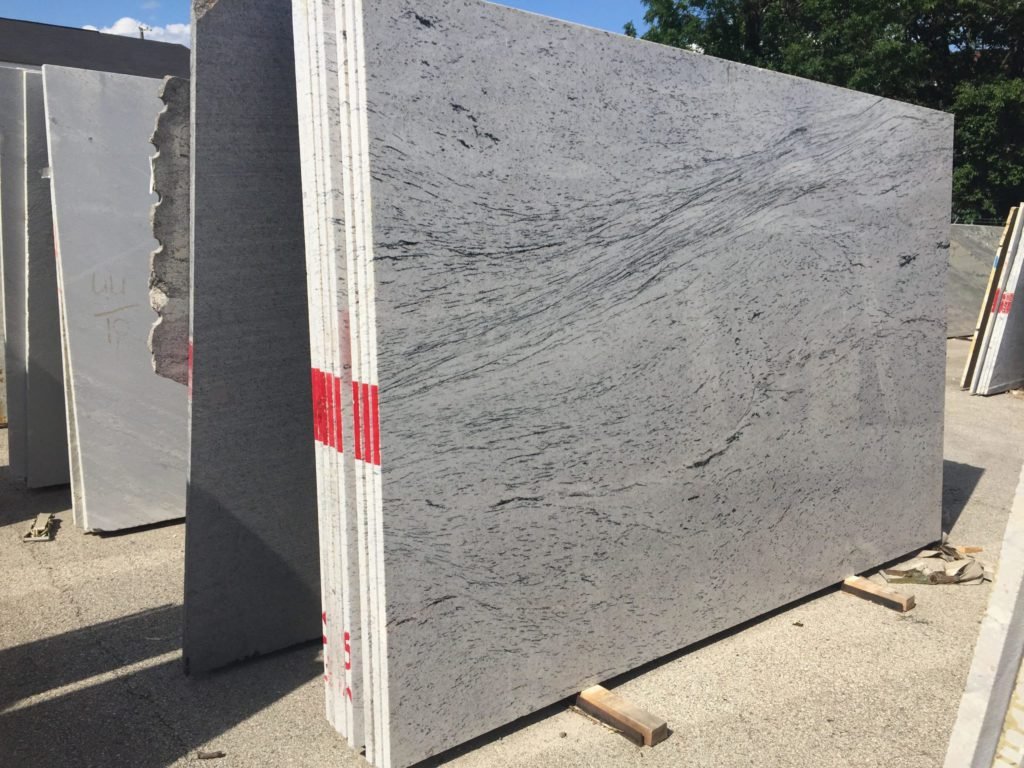 What is the standard thickness of granite slabs? (Gang Saw)
The standard thickness of granite slabs (gang saw size) is 20mm or 0.78″.
The thickness of gang-saw granite slabs is consistent. Gang-Saw machinery allows tight tolerances, consistent and precise thickness slicing.
Why you may want to go for gang-saw slabs?
Gang-Sawn Granite slabs are preferred for their reliability, consistency and strength. For granites that have extensive patterns, gang-sawn slabs provide a befitting canvas to exhibit their entire beauty.
How to measure granite slab thickness?
A simple inch-tape can measure the thickness of a granite slab. For more precise measurements, we advise using a vernier calliper. It is also imperative to measure the thickness of all the slabs to ensure that the thickness is consistent across them.
Vertical Vs Gang-saw Granite Size – Which is the best for you?
Now that we know what each of these granite sizes entail, let us find out which is the right one for you.
With the possibility of custom sizing, it is possible for you to get vertical granite slabs in 20mm thicknesses. So, if you will only choose Gang saw slabs for that reason, reconsider. On the other hand, if the granite you absolutely love, has large patterns that would otherwise be incomplete in a smaller-sized slab, gang-saw is the only options for you!
Which is the best granite for me?
Choosing the right granite colour depends not only on your aesthetic preferences but also on the area of application. To make sure you use the right granite for your purpose, we offer free consultation to everyone! (Get in touch with us here)
Custom sizing of Granite Slabs
Since granite blocks are available in a range of sizes, custom sizing is a strong possibility. Given enough time and specifications, custom sized blocks can be manufactured. Custom sizing of granite can drastically cut down project costs by reducing material wastage. Custom sizing of granite slabs is also imperative for specialized applications and projects. For custom size slab ordering, a large enough quantity of requirement is vital to make the entire process worthwhile.
Custom Thickness of Granite slabs
Granite slabs can be manufactured with custom thicknesses. This is usually the case for specialized forms such as kerbstones, paving stones, stepping stones. Getting granite slabs ordered with custom thicknesses is much easier than custom sizing of entire granite slabs.
You can also go through the following articles where we explore a variety of granite options for each area of application:
Where can I get the best quality granite slabs?
Whether you are a civil contractor, a home-owner or an importer of granite, we at petrosstone really believe in quality over quantity. At petrosstone, we offer high-quality granite slabs for everybody. If you would be interested in exploring our products, prices and services please fill out this form and we will get back to you.