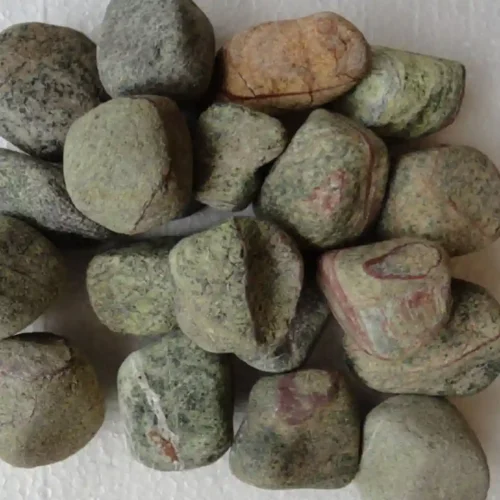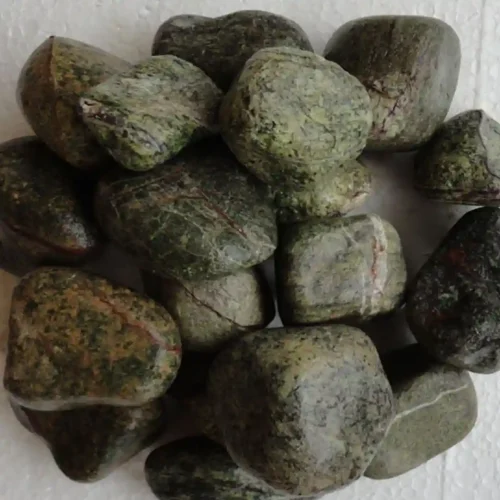 Forest Green Marble Pebbles
Description
Forest Green Marble Pebbles are exquisite natural decorative stones known for their deep and luxurious green tones, combined with the timeless elegance of marble. These pebbles are sourced from natural marble formations and can be found in riverbeds or along shores, where the passage of water has artistically shaped and polished them over time. Forest Green Marble Pebbles offer a sophisticated and visually captivating option for landscaping and design projects, infusing spaces with a sense of opulence and natural beauty. Here are some key features and details about Forest Green Marble Pebbles:

Key Features:

Color: Forest Green Marble Pebbles showcase a range of deep and rich green hues, reminiscent of lush forest foliage. The captivating color adds a sense of elegance and tranquility to design settings.
Texture: The pebbles possess the classic and smooth texture characteristic of marble, offering a refined and tactile surface that exudes luxury and sophistication.
Size: Available in various sizes, Forest Green Marble Pebbles offer flexibility for creative design arrangements and layouts.
Shape: The pebbles typically exhibit rounded and irregular shapes, contributing to their organic and natural aesthetic.
Durability: Forest Green Marble Pebbles are robust and well-suited for outdoor applications. They maintain their allure even when exposed to varying weather conditions.

Application Areas:

Landscaping: Forest Green Marble Pebbles are often employed in landscaping projects to create serene pathways, borders, and accents that infuse gardens, outdoor spaces, and naturalistic landscapes with an aura of opulence and natural beauty.
Water Features: The luxurious and textured appearance of the pebbles makes them a compelling choice for water features like ponds, fountains, and streams, imbuing a sense of sophistication and visual enchantment.
Garden Decor: These pebbles can be thoughtfully integrated into garden beds, rock gardens, and planters to establish a refined and visually captivating ambiance.
Interior Design: Forest Green Marble Pebbles can be artistically incorporated into interior design projects to introduce unique flooring patterns, decorative elements, or accents that bring the luxurious beauty of natural marble indoors.
Zen Gardens: The elegant and tactile presence of Forest Green Marble Pebbles lends itself beautifully to designing Zen-inspired gardens or tranquil spaces with a touch of luxury.
Hardscape Elements: Forest Green Marble Pebbles can be seamlessly integrated into hardscape features such as pathways, patios, and walls, contributing to an inviting and visually engaging design.
Aquariums: Forest Green Marble Pebbles can be employed in aquariums to create a refined and textured underwater landscape, providing a sophisticated backdrop for aquatic life.

Whether you're aiming to craft an upscale outdoor haven, infuse your interiors with the luxurious aesthetics of natural marble, or enhance the visual allure of water features with a touch of opulence, Forest Green Marble Pebbles offer a visually enchanting and elegantly inspiring solution. Their deep green tones and classic marble texture can add a sense of sophistication and natural beauty to your design pursuits.
Specification