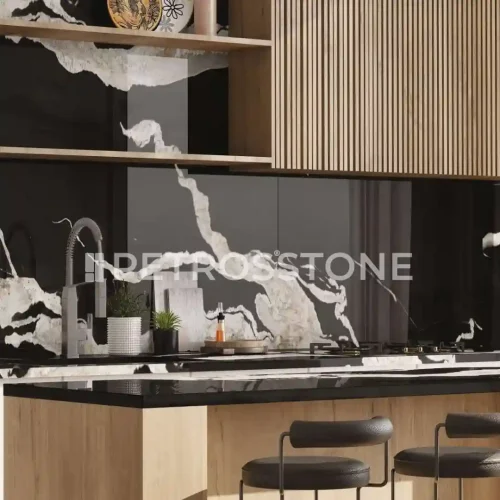 Copacabana Porcelain Slab
Description
Embark on a journey of coastal splendor with Copacabana Porcelain Slab, an ode to the mesmerizing beauty of the famous Brazilian beach. Immerse yourself in the tranquil charm of this porcelain slab, inspired by the sun-kissed shores and azure waters of Copacabana. Elevate your spaces with the seamless fusion of beachside allure and modern practicality, presented in the exquisite craftsmanship of Copacabana Porcelain Slab.
Material Composition: Impeccably curated, Copacabana Porcelain Slab showcases a perfect blend of premium clay, refined minerals, and state-of-the-art raw materials. The result is a robust, non-porous surface that radiates both coastal charm and durability.

Size Options: Embrace versatility with an array of sizes to suit diverse design visions. From expansive floor installations to captivating wall designs, Copacabana Porcelain Slab adapts effortlessly to your unique preferences.

Thickness: Choose from multiple thickness options, including 6mm, 12mm, and 20mm, allowing you to achieve your desired aesthetic finesse and structural strength, tailored to your specific design requirements.

Finish Variations: Personalize your space with a choice of finishes, ranging from polished to matte and textured. Each finish enhances the inherent beauty of the slabs, adding depth and character to your design.

Design and Appearance: Embodying the coastal allure of Copacabana, these slabs feature gentle waves and hues inspired by the sun, sea, and sand, creating an ambiance of serene tranquility and beachside elegance.

Water Absorption: With minimal water absorption, typically less than 0.5%, Copacabana Porcelain Slab exhibits exceptional resistance to moisture, stains, and mold, ensuring effortless maintenance and lasting allure.

Scratch and Stain Resistance: Engineered for remarkable scratch and stain resistance, Copacabana Porcelain Slab preserves its pristine appearance, making it ideal for both residential and commercial spaces with high foot traffic.

Applications: Embrace the versatility of Copacabana Porcelain Slab, perfect for various applications, including countertops, backsplashes, wall cladding, flooring, shower walls, fireplace surrounds, and exterior facades.

Maintenance: Experience effortless care with Copacabana Porcelain Slab, requiring only regular cleaning with mild soap and water to preserve its coastal charm. The non-porous surface eliminates the need for additional sealing.
With Copacabana Porcelain Slab, bring the tranquil allure of the Brazilian beach into your living spaces, and embrace the functionality and coastal elegance of porcelain, creating a serene and enduring design that exudes the essence of beachside bliss.
Specification