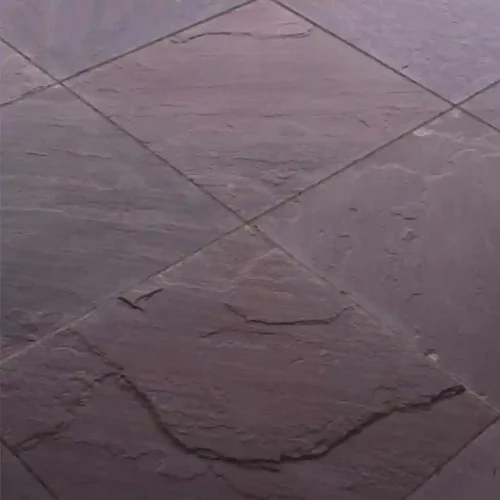 Chocolate Color Slate Flooring
Description
Discover the luxurious and inviting world of Chocolate Color Slate – a captivating natural stone that brings warmth, depth, and sophistication to your design projects. With its deep, rich tones reminiscent of indulgent chocolate, this slate offers a harmonious blend of aesthetics and functionality, creating a truly indulgent atmosphere.

Key Features:

Rich Chocolate Tones: Chocolate Color Slate is characterized by its sumptuous range of deep brown hues, evoking the richness of fine cocoa. This natural color palette adds an air of opulence to any space, creating a sense of comfort and elegance.

Timeless Elegance: The classic and timeless appeal of Chocolate Color Slate makes it an ideal choice for both traditional and contemporary design styles. Its versatile beauty seamlessly integrates into various aesthetics, enhancing the overall ambiance.

Texture and Depth: The slate's naturally textured surface adds depth and tactile interest to surfaces. The interplay of light and shadows across the textured grains enhances the stone's visual allure, creating an engaging visual experience.

Interior Sophistication: Elevate your interiors with the sophisticated charm of Chocolate Color Slate. From flooring that exudes understated luxury to accent walls that command attention, this slate imparts a sense of refined opulence to every corner.

Enduring Durability: Crafted by the forces of nature, Chocolate Color Slate boasts impressive durability. Its robust nature makes it an ideal choice for high-traffic areas, ensuring that your spaces remain both stylish and functional.

Versatile Design Possibilities: Whether adorning countertops, fireplace surrounds, or outdoor patios, Chocolate Color Slate offers versatile design possibilities. Its warm and inviting tones complement a variety of color schemes and materials.

Natural Resilience: Chocolate Color Slate is naturally resistant to heat and moisture, making it a practical choice for spaces where durability is paramount. Create inviting kitchen environments or outdoor retreats that stand up to the elements.

Low-Maintenance Luxury: Embrace the convenience of Chocolate Color Slate's low-maintenance attributes. Routine care is simple, allowing you to enjoy the stone's luxurious beauty without the hassle of extensive upkeep.

Distinctive Patterns: Each piece of Chocolate Color Slate features unique patterns and veining, ensuring that your design projects are truly one-of-a-kind. The stone's natural variations contribute to an authentic and organic aesthetic.

Indulgent Atmosphere: Immerse yourself in an atmosphere of indulgence with Chocolate Color Slate. Its luscious hues create a sense of comfort and relaxation, turning ordinary spaces into havens of luxury.

Infuse your designs with the delectable charm of Chocolate Color Slate and transform your spaces into havens of warmth, elegance, and indulgence. Experience the allure of natural stone that not only enhances aesthetics but also enriches the sensory experience. Elevate your projects with the irresistible allure of Chocolate Color Slate.
Specification