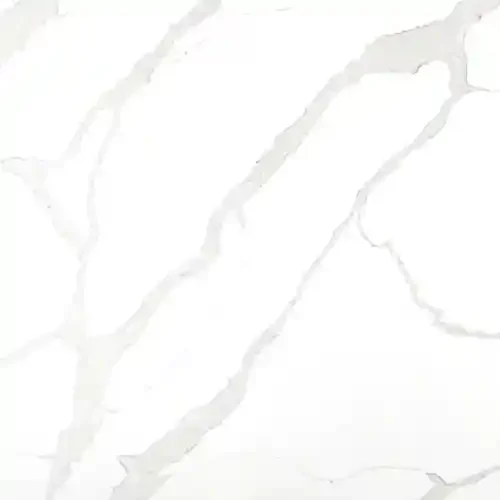 Description
Calacatta Ibiza Quartz Stone Slab is an engineered stone that mimics the natural appearance of Calacatta Ibiza marble. It is made by combining natural quartz with resins and pigments to create a durable and beautiful material for use in countertops, flooring, and other decorative applications.
Calacatta Ibiza Quartz Stone Slab offers the luxurious and sophisticated appearance of natural marble, but with the added benefits of being more durable, low maintenance, and resistant to scratches, stains, and heat. It is an ideal choice for high-traffic areas such as kitchens and bathrooms, as well as commercial spaces such as hotels and restaurants.
In terms of appearance,Calacatta Ibiza Quartz Stone Slab has a white or off-white base color with bold and dramatic grey veining patterns that resemble lightning bolts. The veins can vary in thickness and intensity, giving each slab a unique and natural look. The finish of Calacatta Ibiza Quartz can also vary from polished to matte, depending on the desired look and application.
Calacatta Ibiza Quartz Stone Slab come in a variety of sizes and thicknesses, making them suitable for a wide range of projects. They are also easy to clean and maintain, requiring only regular wiping with a damp cloth or mild detergent to keep them looking their best.
Overall, Calacatta Ibiza Quartz Stone Slab is a beautiful and practical choice for anyone looking for a durable, low maintenance, and elegant material for their home or commercial space. It offers the beauty of natural marble without the drawbacks of its softness and susceptibility to scratches and staining.
Specification