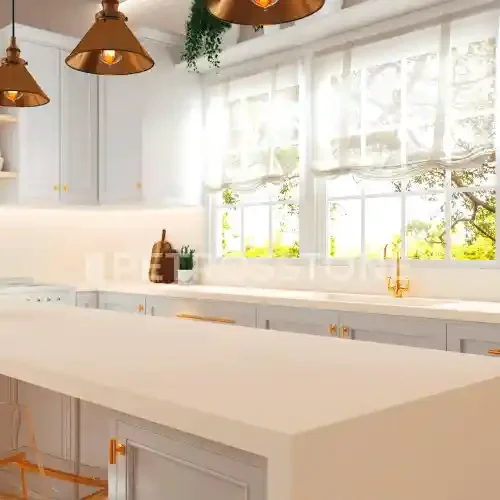 Description
Calm Beige Quartz Stone Slab is a high-quality engineered stone that is made from a blend of natural quartz and resin. It features a beautiful beige color with a smooth and consistent texture, creating a calm and serene atmosphere in any space.
This stone is highly durable and resistant to scratches, stains, and heat, making it an ideal choice for a wide range of applications, including kitchen countertops, bathroom vanities, wall cladding, and flooring. Its neutral color and smooth finish make it a versatile option that can complement a range of different design styles.
The Calm Beige Quartz Stone Slab is available in a variety of sizes, allowing you to choose the perfect dimensions for your project. It is also easy to clean and maintain, making it a great choice for high-traffic areas that require a low-maintenance solution.
This stone is highly versatile and can be cut and shaped into custom designs to fit your unique specifications. Whether you're looking to create a modern, minimalist aesthetic or a classic, traditional look, the Calm Beige Quartz stone is a great choice.
Overall, the Calm Beige Quartz Stone Slab is a premium product that offers both style and durability, making it a popular choice for designers, architects, and homeowners. Its beautiful beige color and smooth texture create a calming and elegant atmosphere, making it a great addition to any space.
Specification